A rescue cat and lizard, who were both grumpy and didn't like any other living creatures, met each other and changed their lives forever.
Meet Din Din the cat and Joanna the bearded dragon.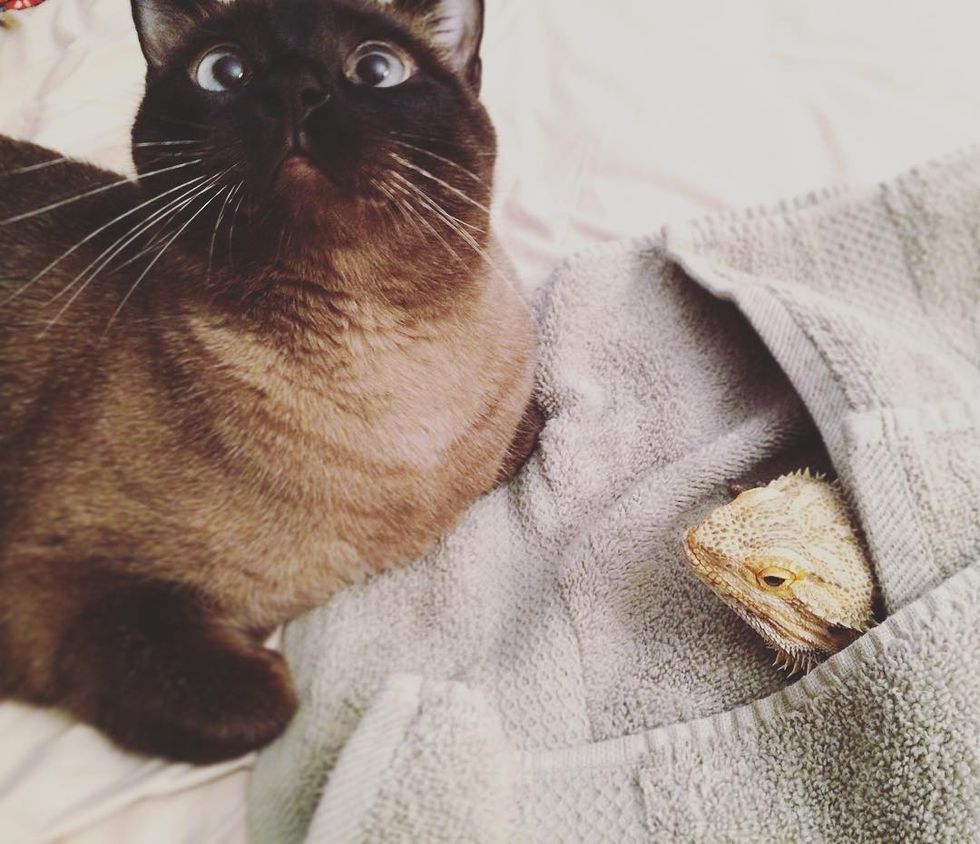 Courtesy: @twobadgals
Din Din the cat had always been a grump and never got along with any other animals, but that changed when she met Joanna the bearded dragon, who also hated everyone.
"I adopted Din Din about four years ago and then I adopted Joanna about 8 months ago," Kimi Joyner told Love Meow.
Din Din came from an abusive past when she was a kitten, and couldn't find a home because she was not friendly, but Kimi saw something special in her and took a chance on her. For the first time Din Din felt loved and accepted her human mom, but not anyone else.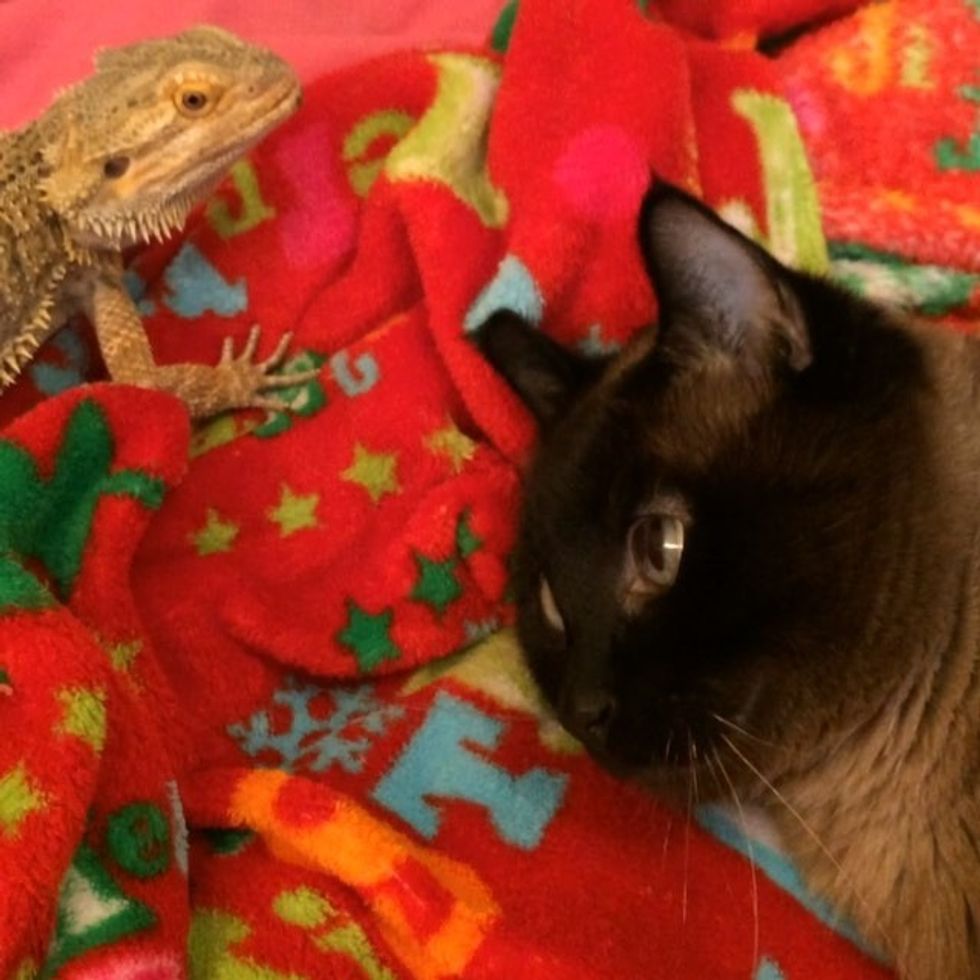 Courtesy: @twobadgals
Joanna was rescued from a neglectful situation, and as a result, she became aggressive towards others.
Kimi rescued her and brought her home. She never expected that Din Din would have the slightest interest in interacting with this new addition to the family.
But something quite extraordinary happened...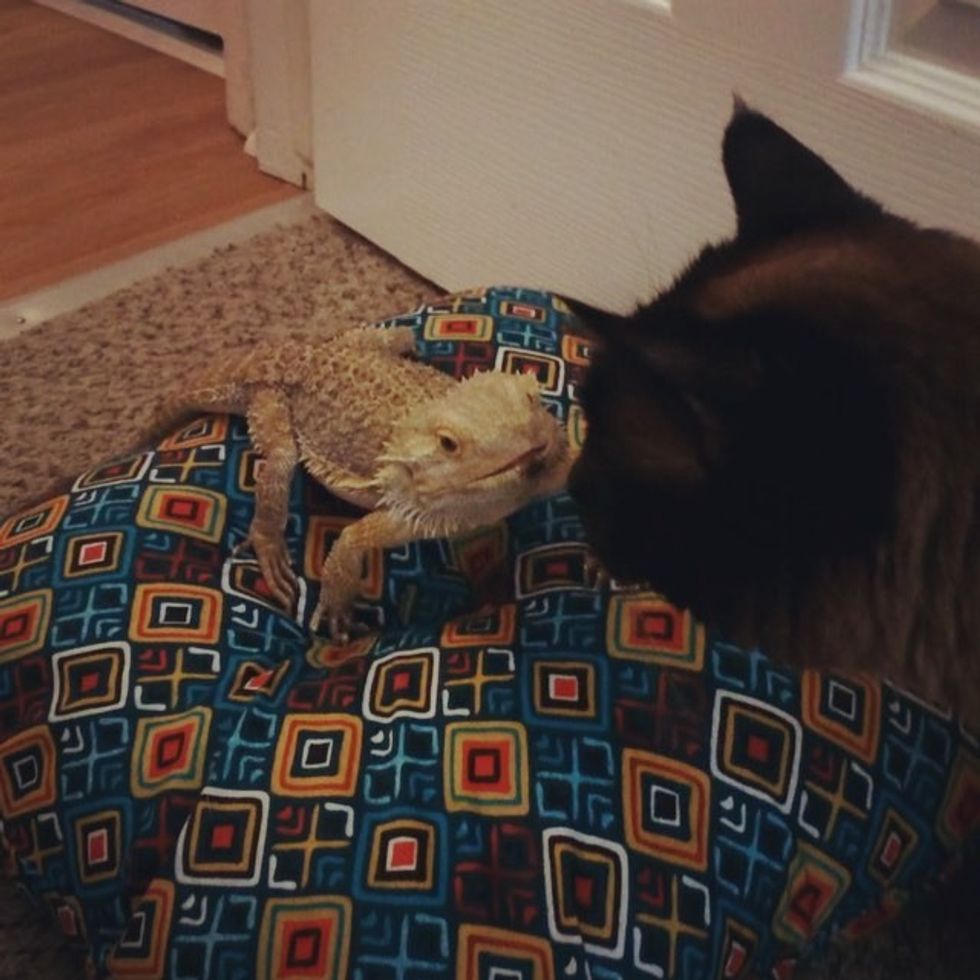 Courtesy: @twobadgals
As she took Joanna out wandering one day, Din Din's attitude changed. "Din Din came up and sniffed her," Kimi told Love Meow.
They were curious but never aggressive towards each other. After a while, they seemed to just click.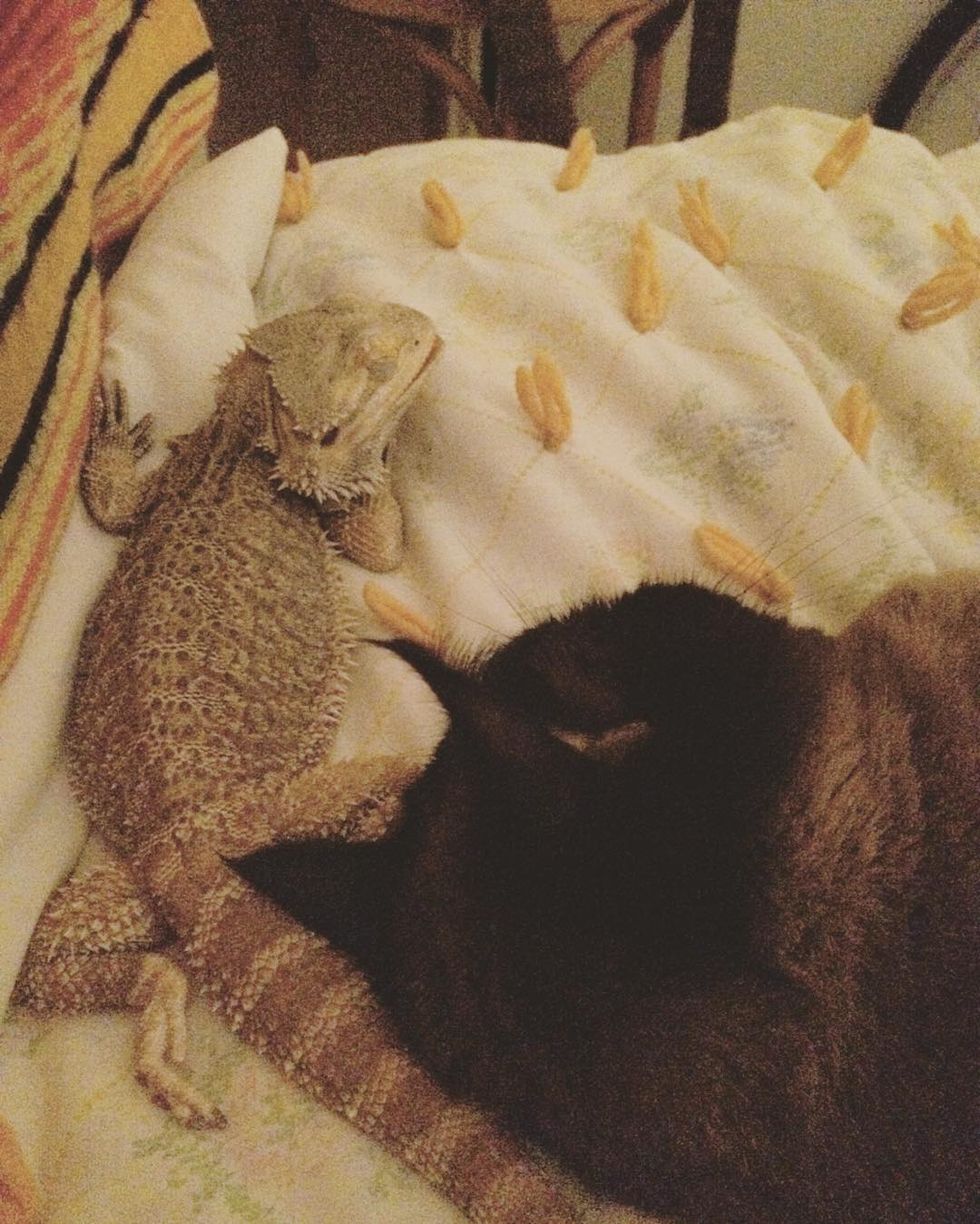 Courtesy: @twobadgals
"They've loved each other since. They have both always hated other animals but now they follow each other, nuzzle and sleep together," Kimi told Love Meow.
The two unlikely friends have become a bonded pair. Din Din follows her hairless buddy around the house and loves to snuggle up to her when they nap.
If Joanna is in her enclosure, Din Din stays right outside, waiting for her reptile friend to come out and play.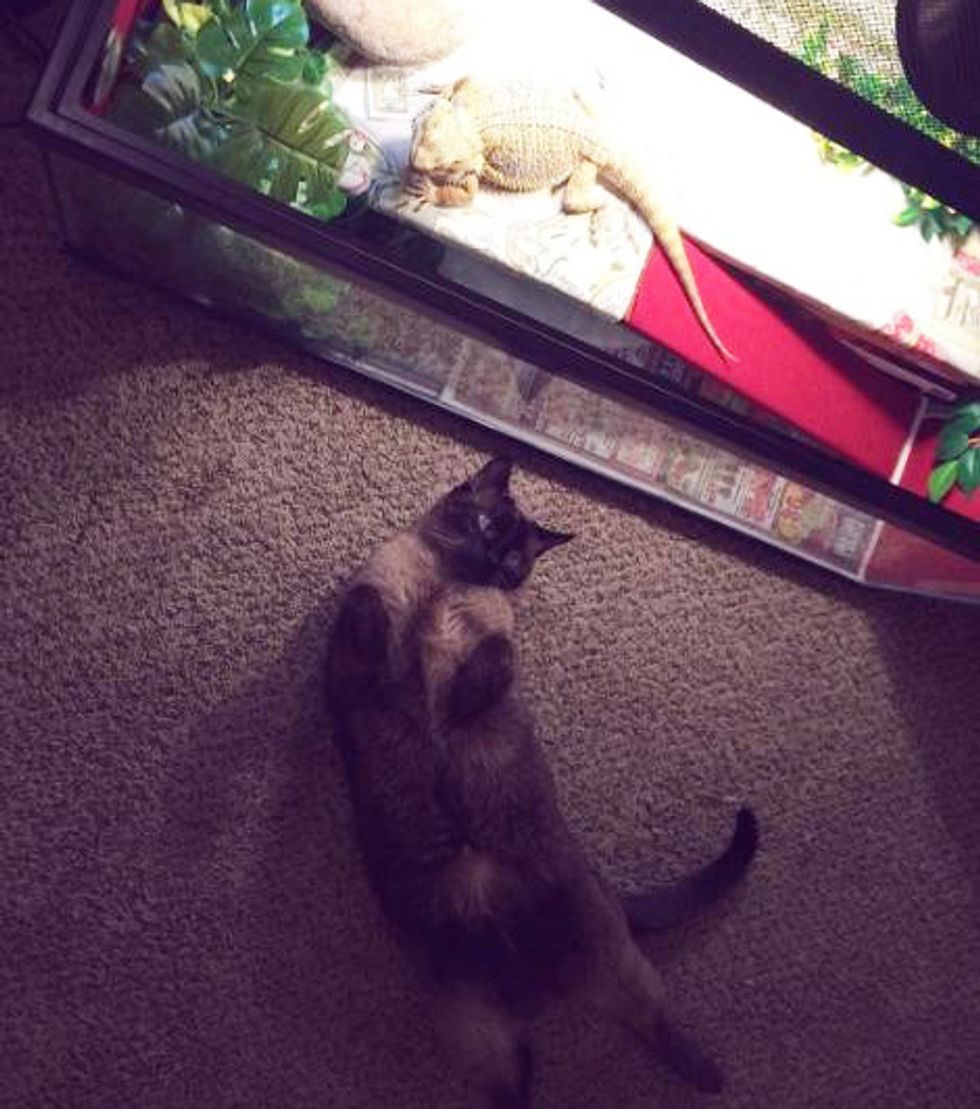 Courtesy: @twobadgals
"They also chase each other like tag but never show aggression. When one sees the other they run towards them very excited," Kimi told Love Meow.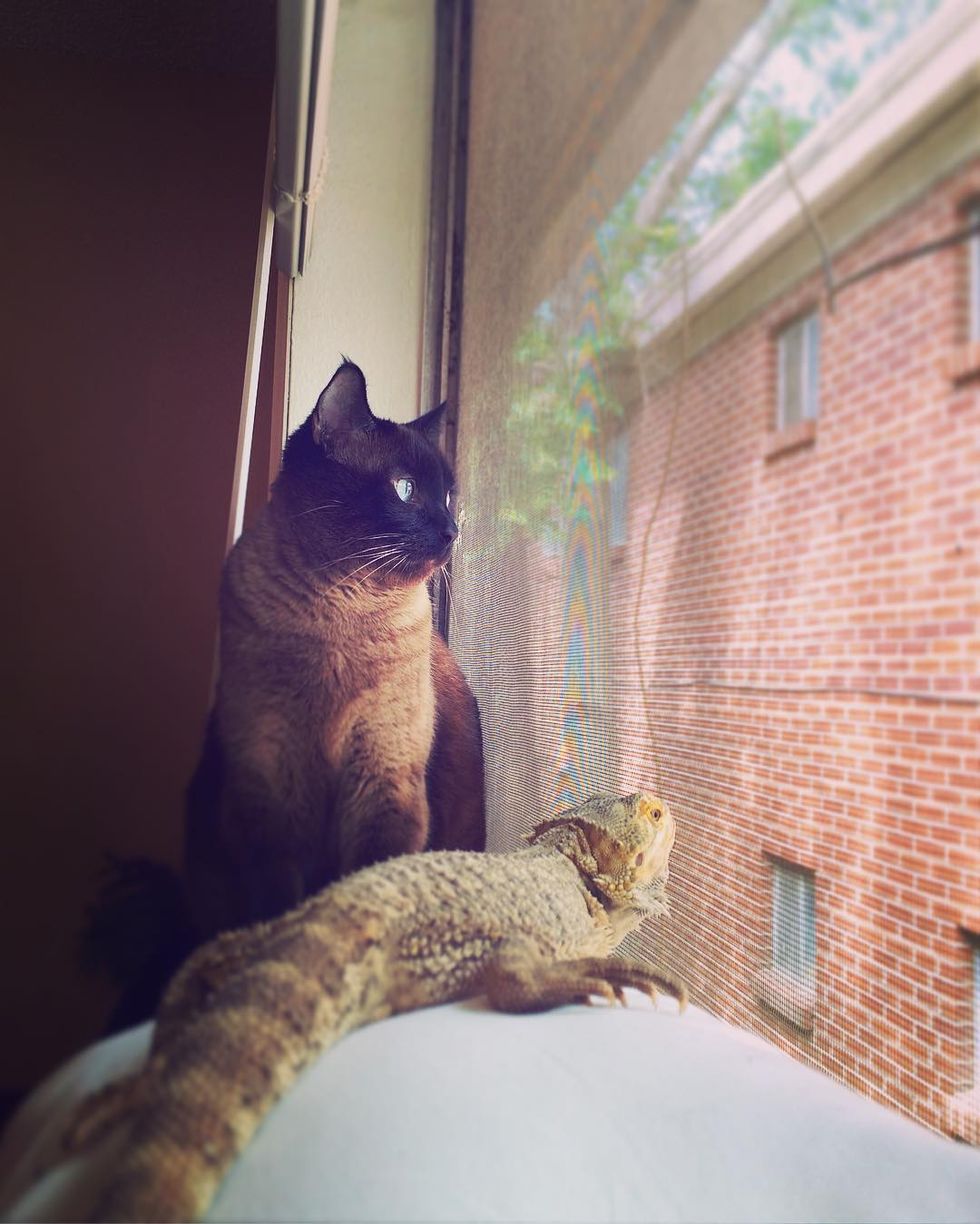 Courtesy: @twobadgals
Since they met, Joanna's become more relaxed, friendly, playful and happier than ever. She shows affection by cuddling with her human mom and her feline friend.
Din Din loves her mom and her best friend but is still not fond of anyone else. Little Joanna is helping her every day to learn to trust.
The two buddies have changed each other to be better and happier.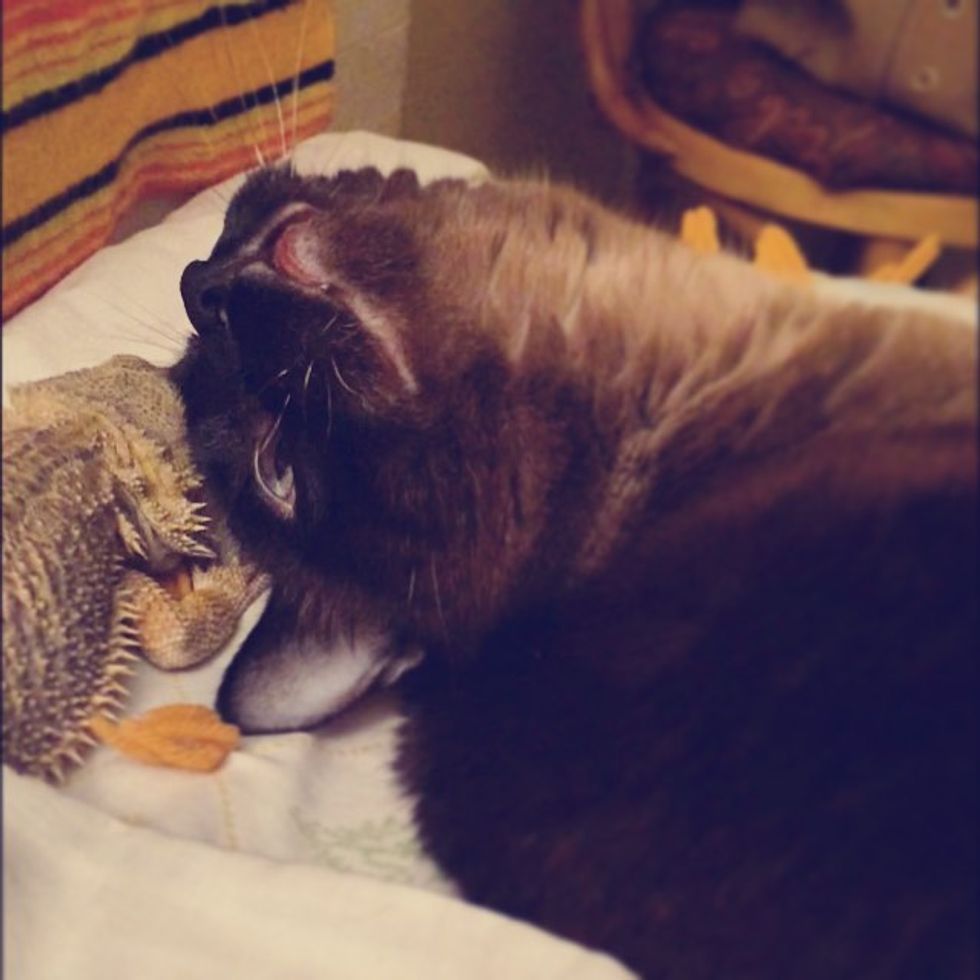 Courtesy: @twobadgals
Best of friends!
Enjoying the bird TV together!
Share this story with your friends. Follow Din Din and Joanna on Instagram.

Related story: This Cat and Bearded Dragon Couldn't Look More Different, but Their Bond Will Inspire Everyone