A kitten wandered up to a couple in a barn and insisted on going home with them.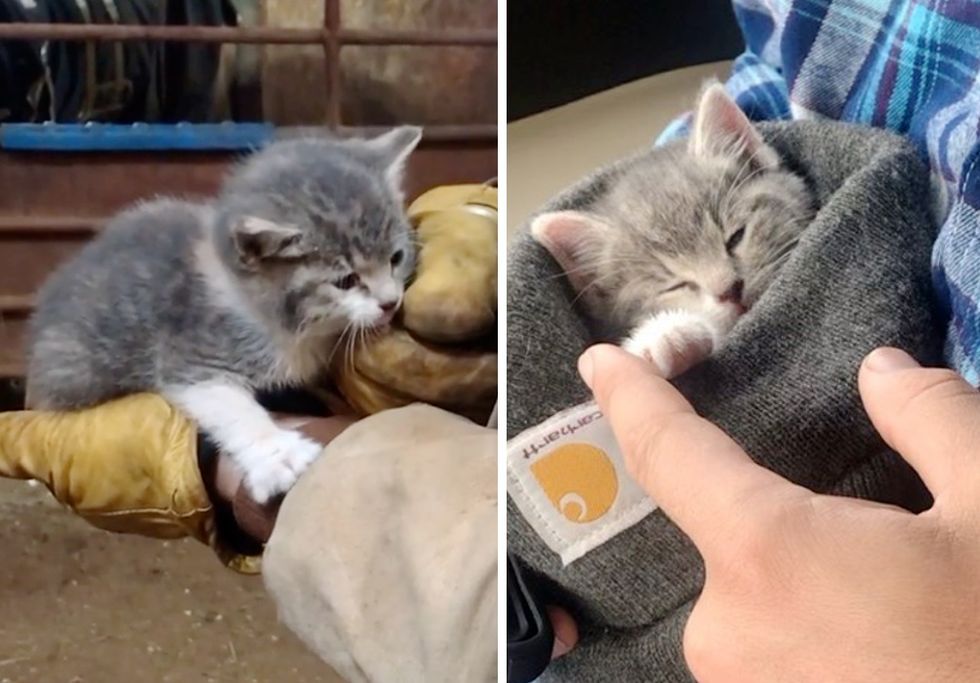 Claire A
Claire A and her partner Kyle were working on a barn when they saw a little crying kitten wandering up to them. "She was walking up to us, shivering, and she wouldn't stop following us," Claire told Love Meow.

There was a feral cat in the area, that the couple had been trying to spay but hadn't had any success. Since the kitten was very young, they decided to wait for her cat mom to return. "We put her back where she had crawled out from, and she came right back out trying to follow us."
The tiny ball of fur insisted on being wherever they were, trailing behind the couple, and wouldn't take no for an answer.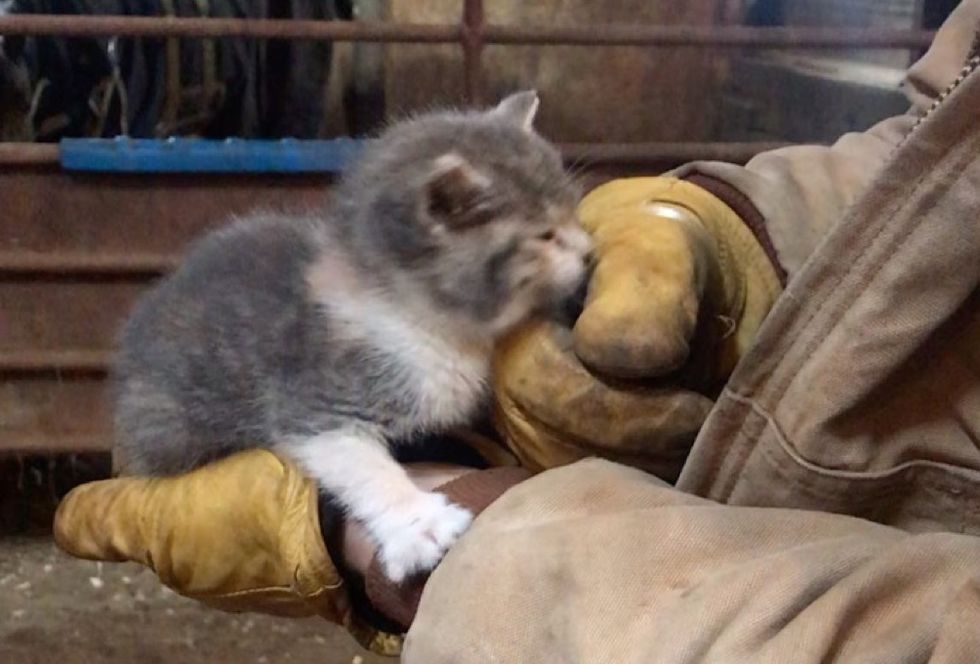 Claire A
After some time, they finally spotted the feral cat mom, but she didn't show any interest in the kitten and just walked away from her. Knowing the kitten wouldn't survive on her own, the couple scooped her up and decided to intervene.
"The mom didn't want anything to do with her. We ended up taking her home and got her warmed up," Claire shared with Love Meow. "She had stolen our hearts already."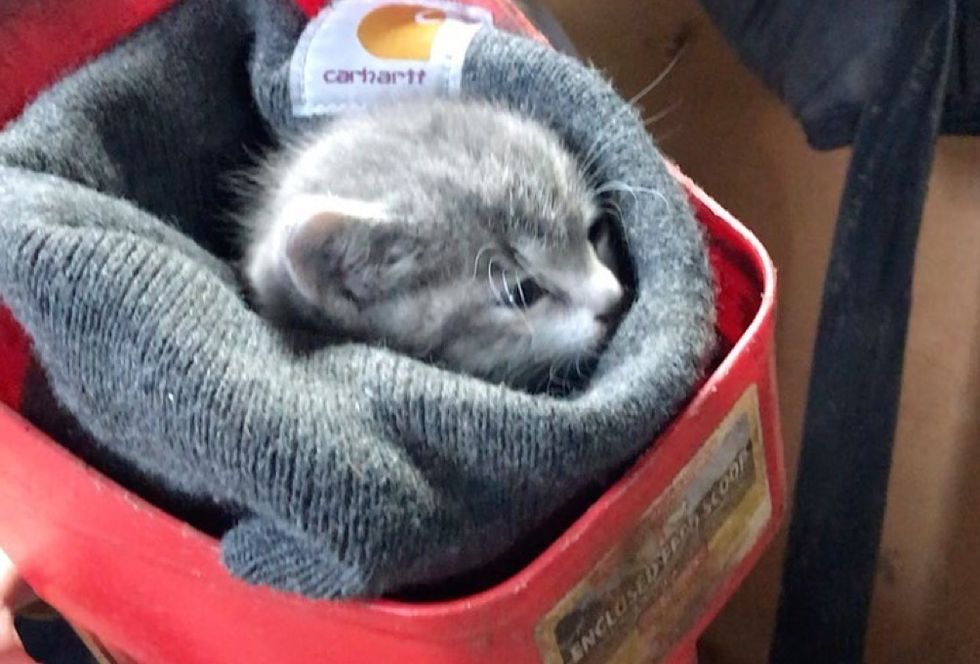 Claire A
They named the kitten Millie. That night, the little ball of fur fell asleep cuddled up to her human mom, as if she knew she was finally home.
Millie won over everyone in the family including Sadie the resident dog. When the two were introduced, they instantly connected.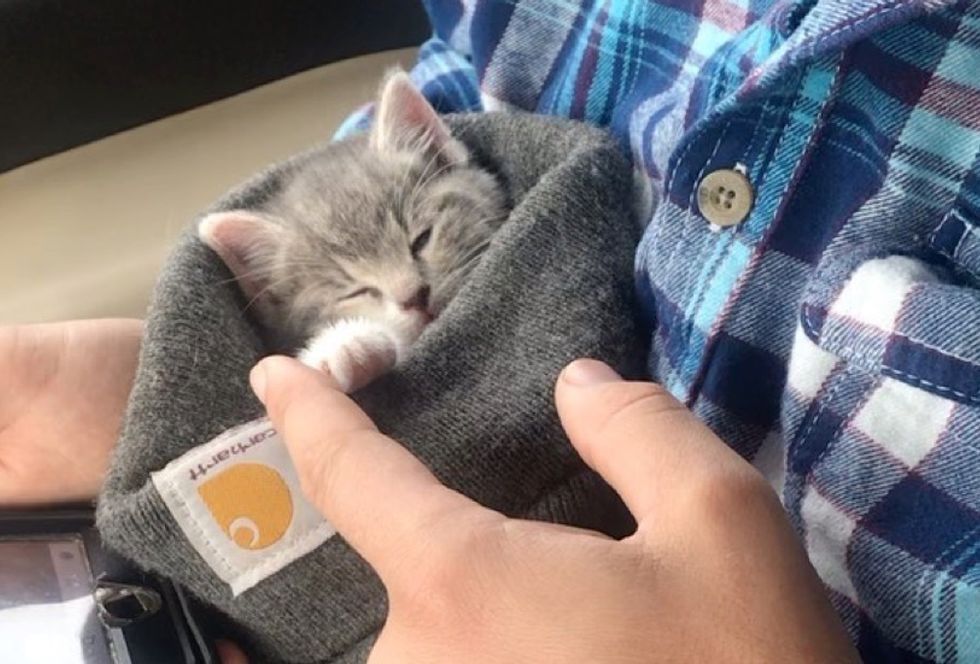 Claire A
Millie would meow at her canine friend whenever she demanded attention, and Sadie would lie down by her side and guard her when she napped.
Watch Millie and her journey in this cute video:
Millie the Kittenwww.youtube.com
Sadie became the kitten's protective sister. She kept the little one company at all times and tried to reassure her that she was loved.
Millie was thriving in her new home, and couldn't get enough cuddles from everyone around her.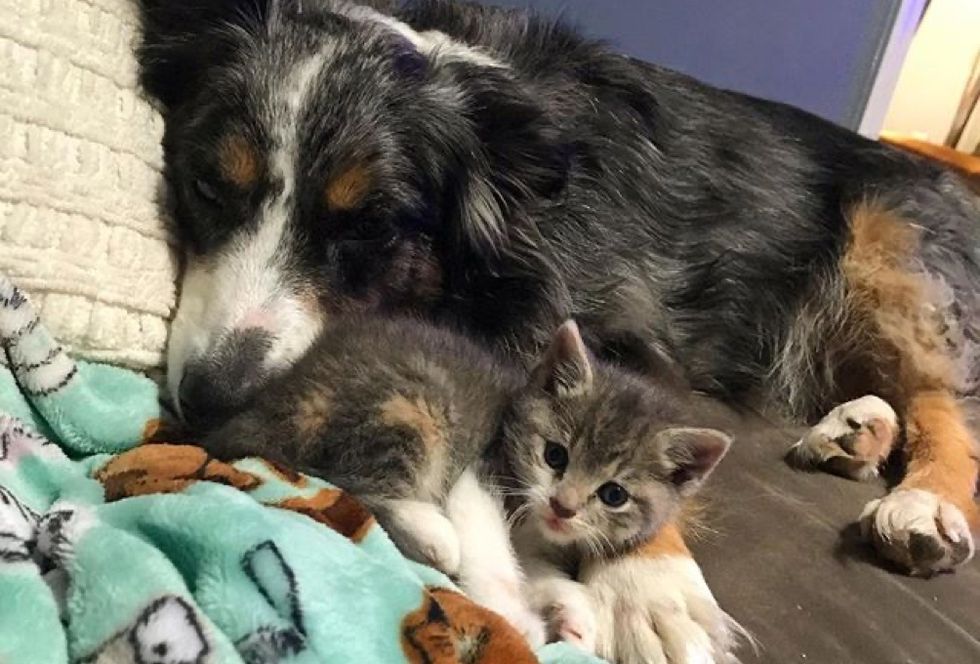 Claire A
They took the kitten to the vet, and the little cuddle-bug stayed in the comfort of Kyle's beanie and purred up a storm. She was estimated to be three weeks old at the time, and would need to be bottle-fed around the clock.

Over the next couple of weeks, the couple brought the kitten to work every day, so they could feed her and care for her every few hours. They drove home from work with the kitten in their arms and cuddled with her into the night.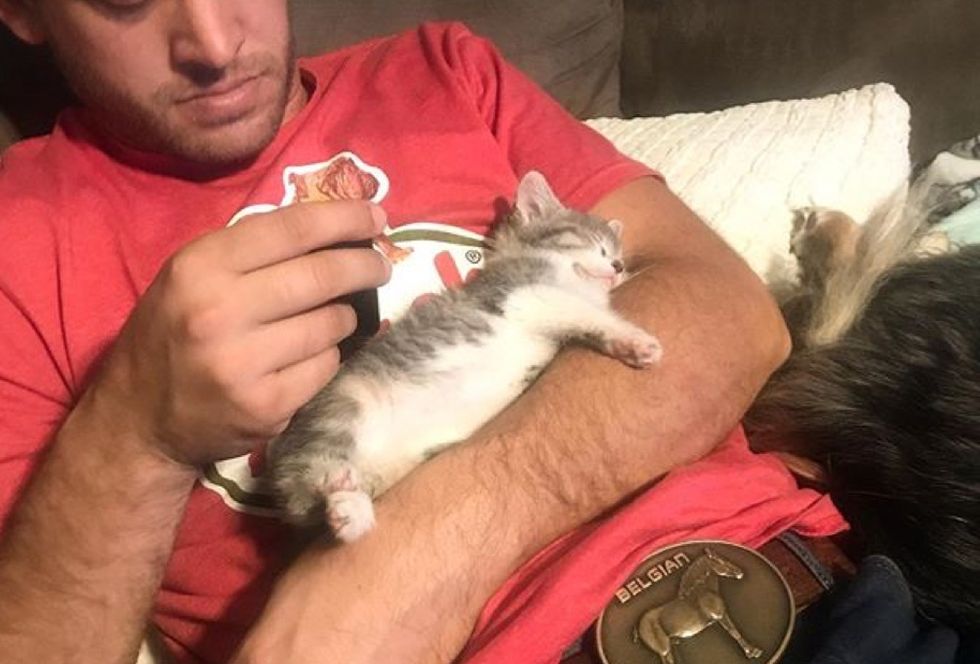 Claire A
Sadie the canine protector was never far away and would come running whenever she heard Millie cry. She was very attentive to the kitten and watched over her every step of the way.

The family continued this routine until the kitten was weaned.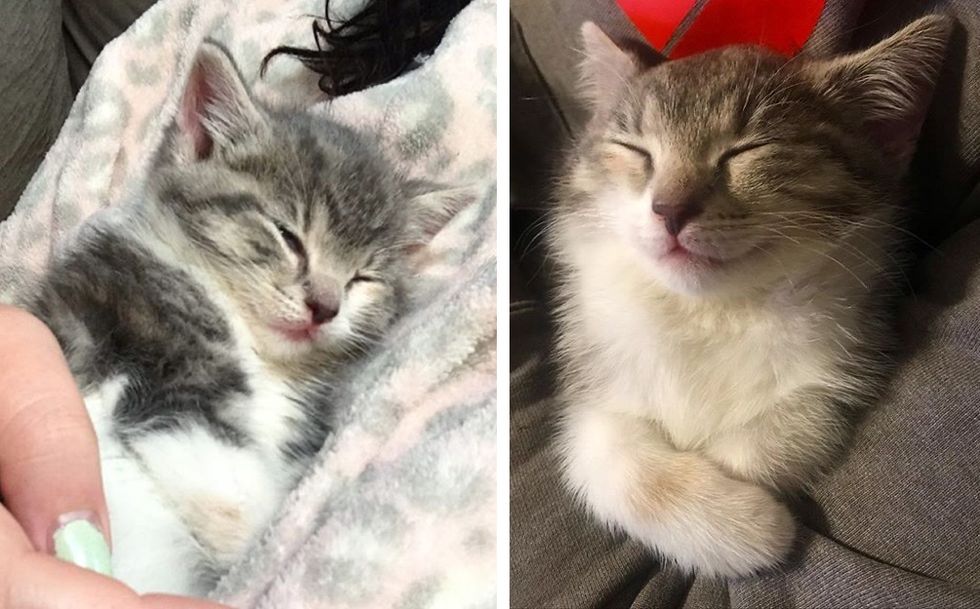 Claire A
The kitten has grown by leaps and bounds since, and she is more playful and mischievous than ever. Sadie puts up with all her antics and tolerates her rough play.
"Millie is such a whirlwind of energy. When she mellows out and gets all cuddly, it reminds us how lucky we are to have her."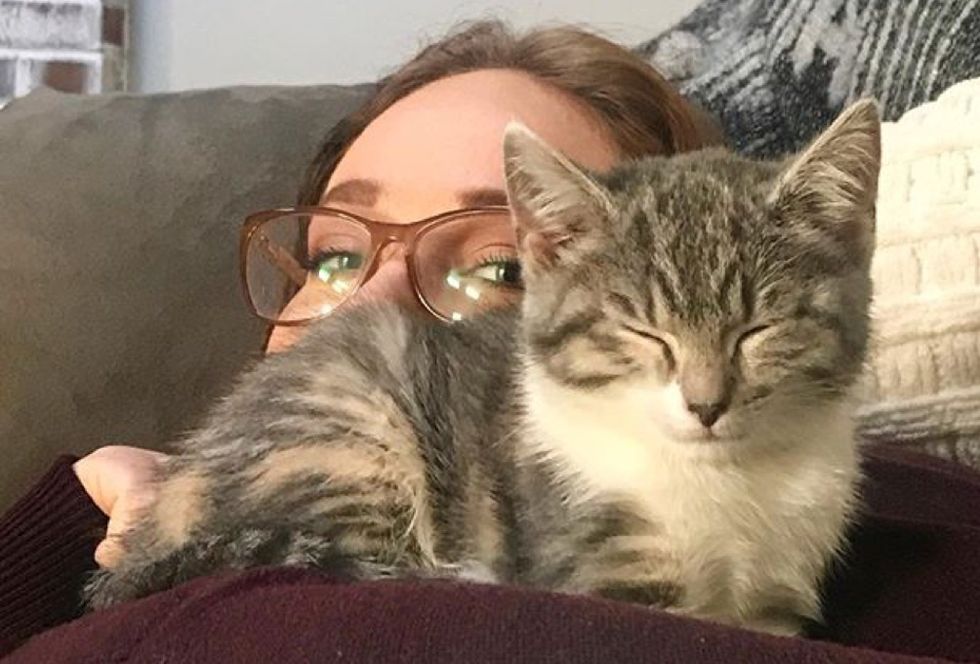 Claire A
The little former farm kitten is all grown up now.
"She is now quite the spoiled little cat. She gets into everything but we love her," Claire shared with Love Meow. "She has found her way into our hearts and home."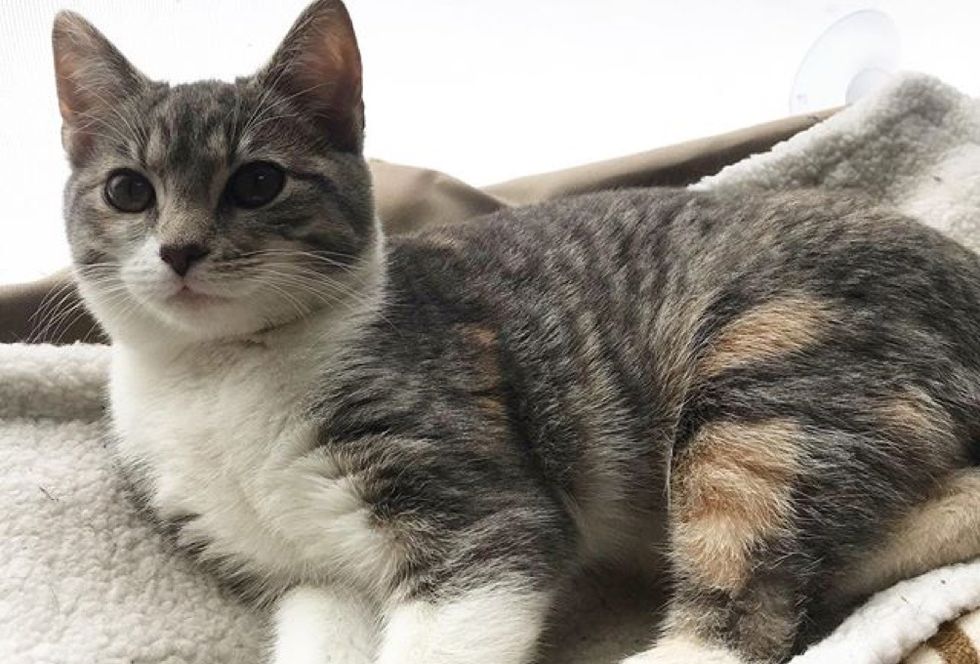 Claire A
Share this story with your friends. Follow Millie and her adventures on Instagram.
Related story: Stray Kitten Sneaks in Family's Yard for Food and Has Her Life Turned Around