A tiny kitten who was rejected by his cat mom, found comfort when a volunteer of a cat rescue swaddled him in a warm blanket.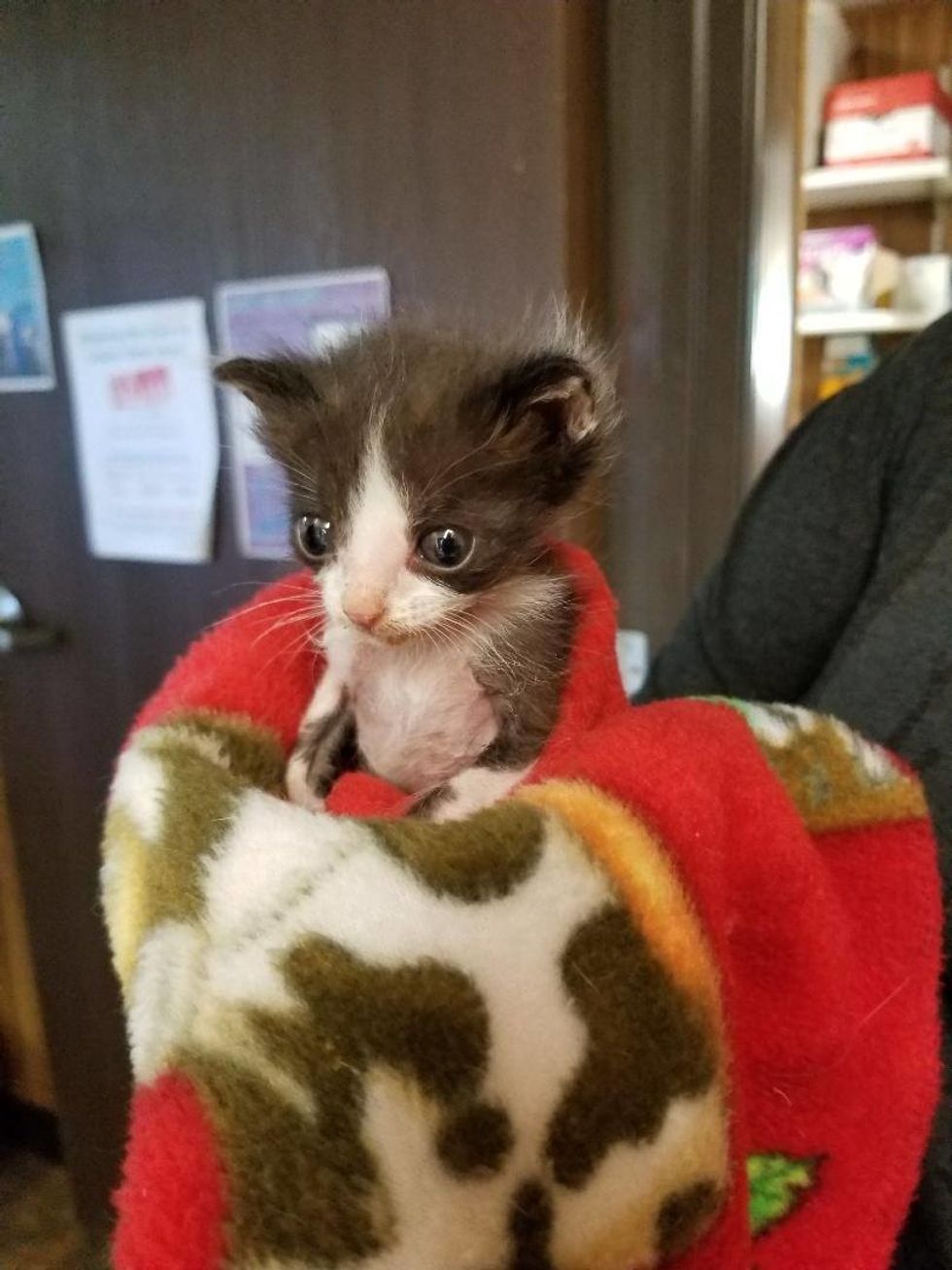 The Cat House On The Kings
This little kitten was rescued by The Cat House on the Kings, in Parlier, California, along with his cat mother and the rest of his litter.
"This time of year, we get dozens and dozens of calls a day from people who have found stray cats with kittens (or kittens by themselves) on their property, and when The Cat House on the Kings (no-cage, no-kill sanctuary) has space and resources, we do our best to help them out," Harvie Schreiber of the rescue told Love Meow.
Staff quickly noticed that the runt of the litter was left alone by his mother. The mama cat had stopped caring for him and just kept pushing him away.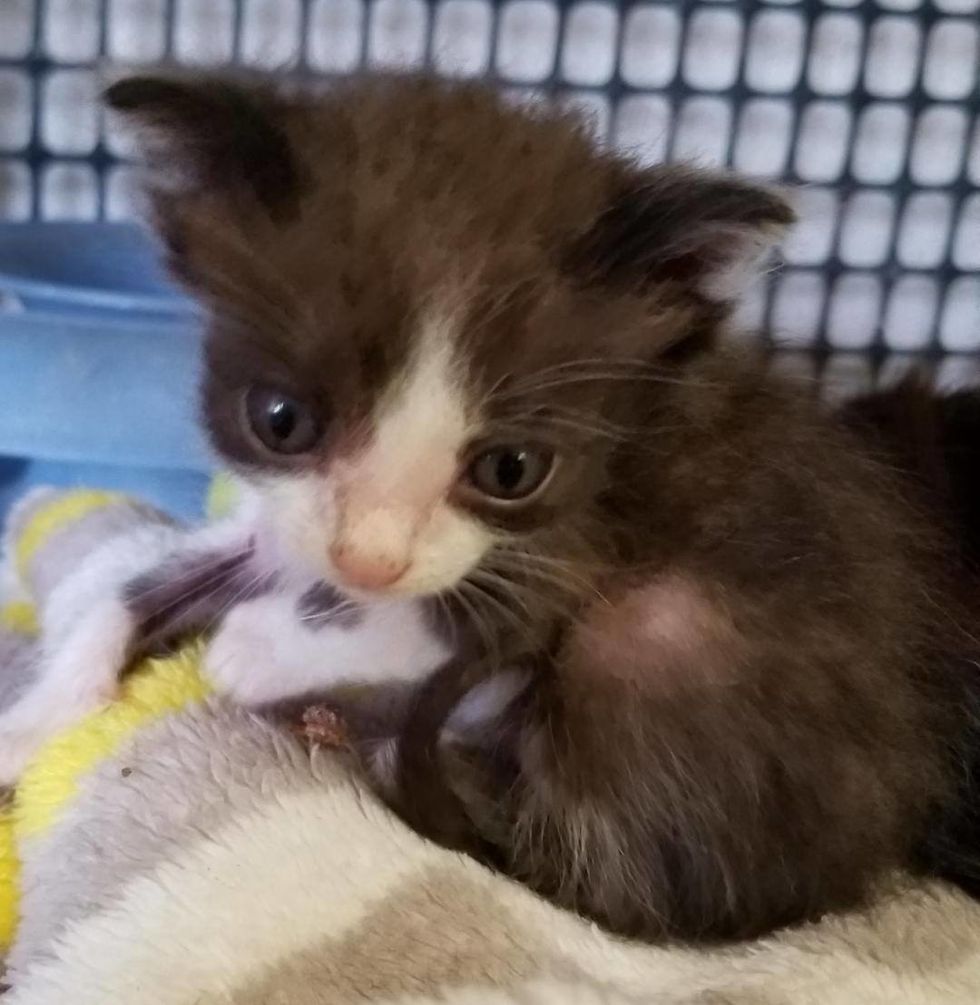 The Cat House On The Kings
The kitten needed round-the-clock feedings, so Kristen Shepherd of the Cat House took him home to foster.

She kept him fed, warm and gave him all the extra attention a bottle baby needs. "While giving him some one-on-one care, our staff noticed that he really enjoyed being swaddled. It makes him feel safer and warmer," Harvie added.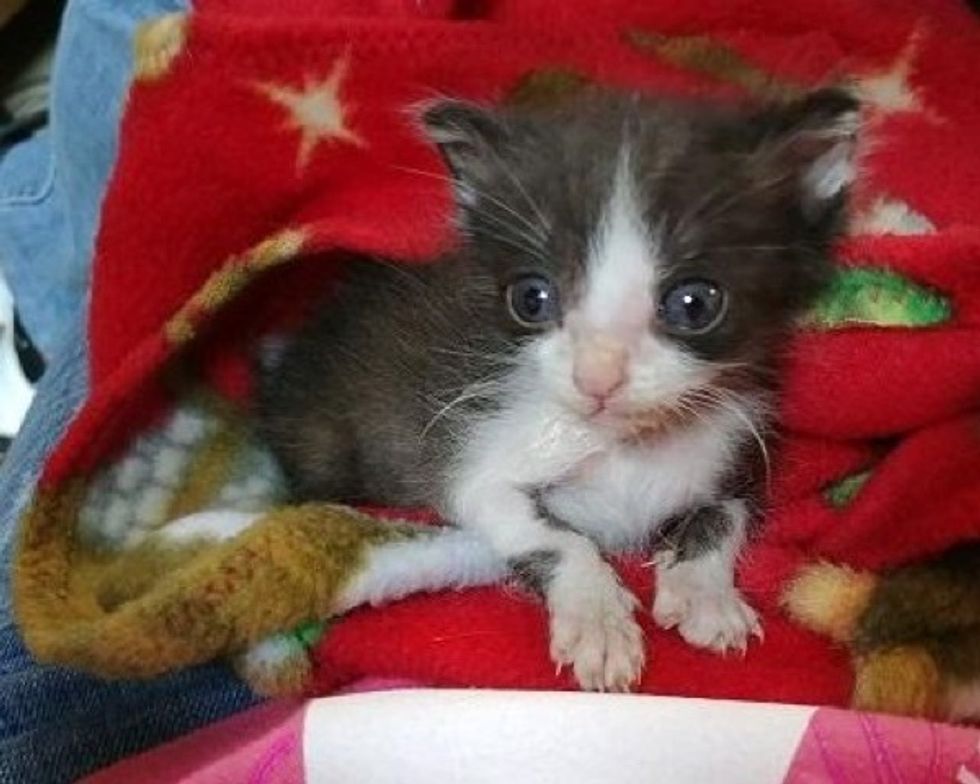 The Cat House On The Kings
"Sometimes a kitten just needs some extra help to catch up with his littermates and if his mom can't give it, we will," said Karla Cortez, the Kitten Quarters Supervisor for The Cat House on the Kings.

He was half the size of his siblings and was in need of a lot of TLC. To help him get more sleep, Anjanette, one of his caretakers, used a warm blanket to provide some much-needed comfort.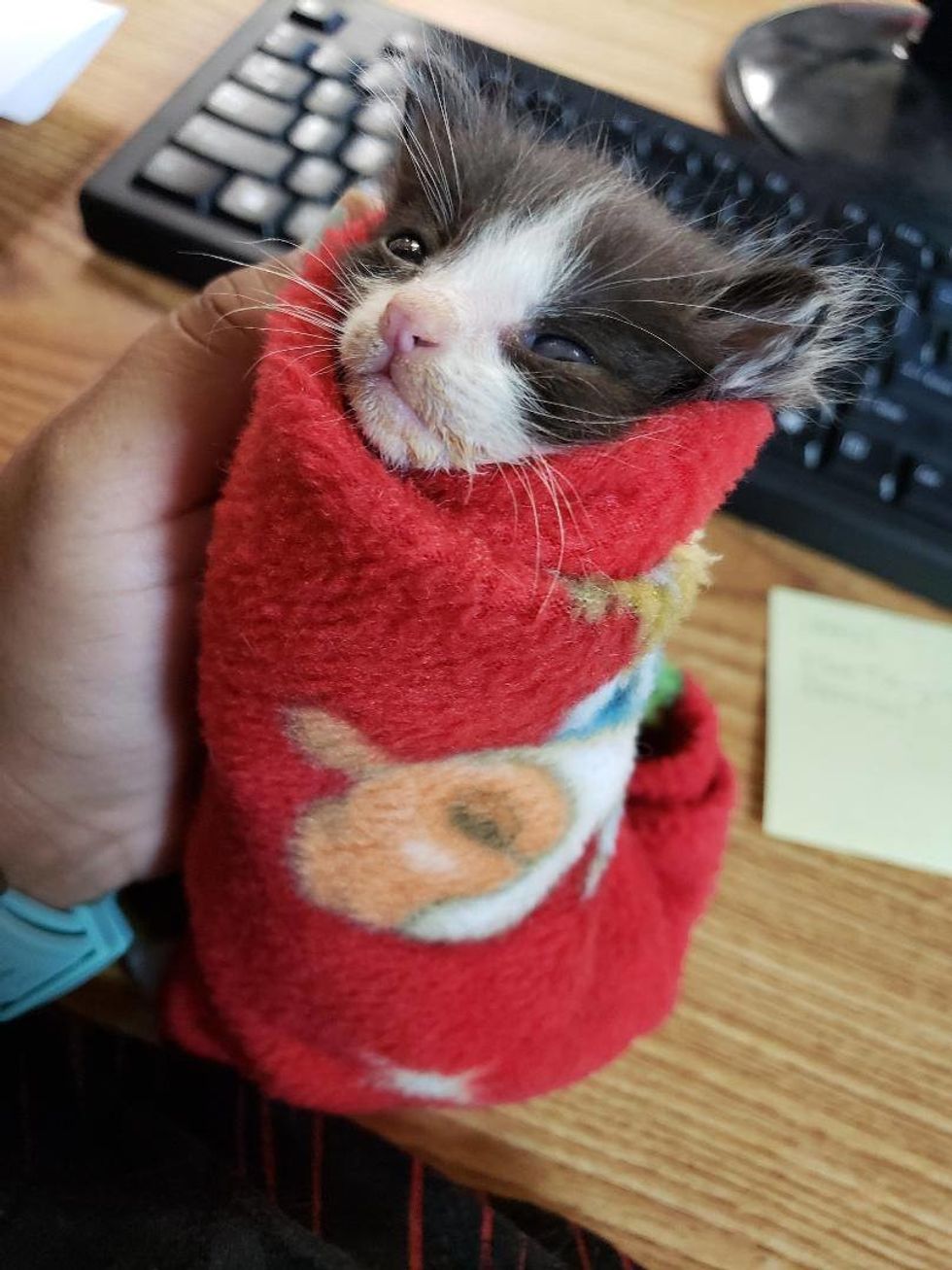 The Cat House On The Kings
"From fostering the cat that I adopted, I knew that kittens felt pretty cozy when being swaddled. So I wrapped him up in an effort to get him to sleep a little bit," Anjanette told Love Meow.
"When I started to massage his face, he fell right to sleep and stayed all snuggled up in his little kitty purrito for a while."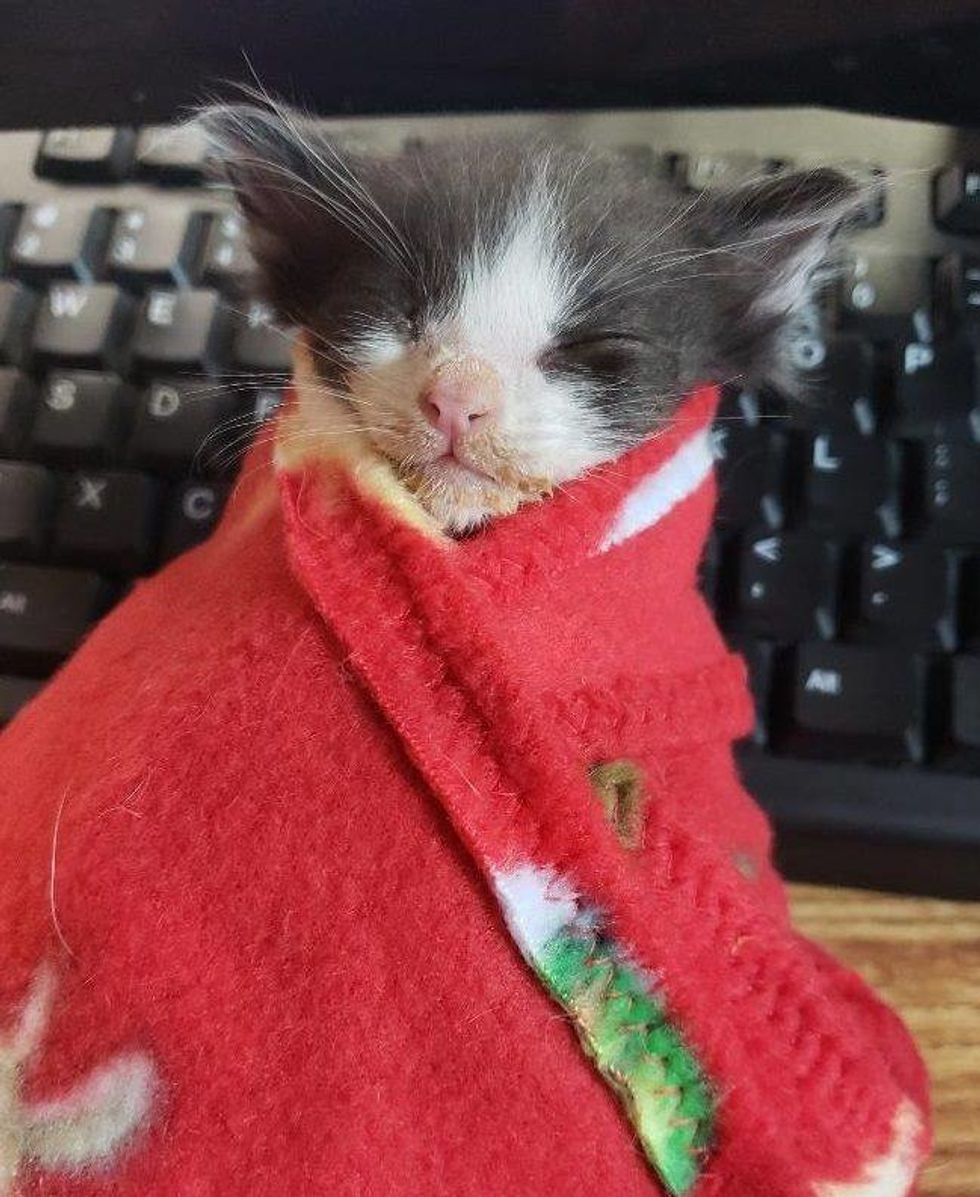 The Cat House On The Kings
Knowing that having a cat mom would be vital to the kitten's health, Kristen placed him with another nursing mom who has a litter of younger kittens.

The tiny runt is now seven weeks old but smaller than his new siblings who are around four weeks old.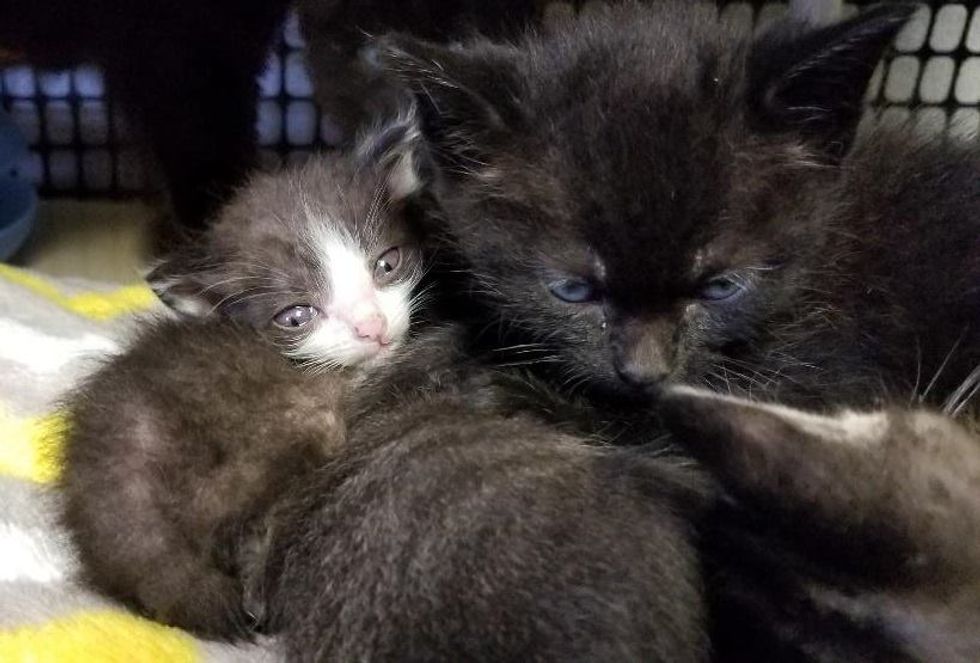 The Cat House On The Kings
"He fits in very well with his surrogate mom and siblings, always snuggled up with them. He looks and is doing a lot better, although he is still pretty small," said Anjanette.

The tuxedo boy has a lot of growing up to do.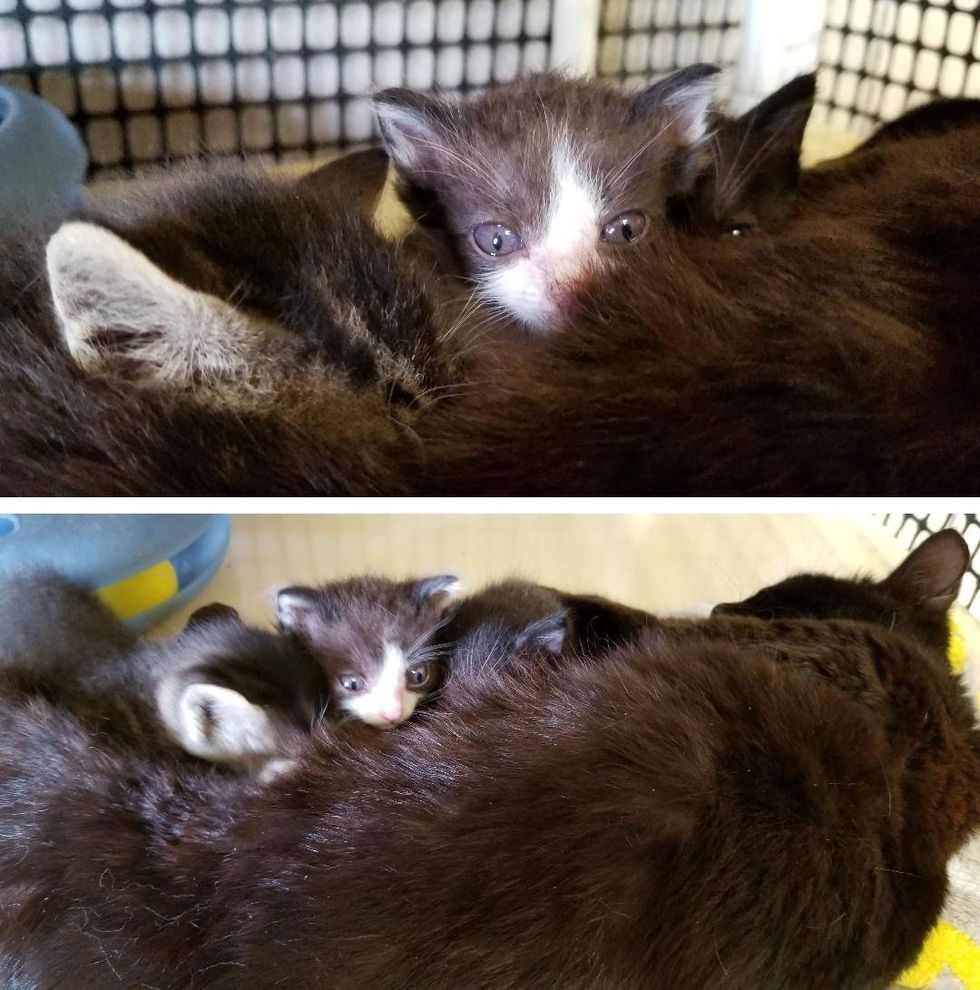 The Cat House On The Kings
"Many (too young) moms have a hard time caring for kittens that are runts or who need extra help," Harvie told Love Meow. "It's really important to get your own cats, community cats, stray cats and even feral cats spayed and neutered so that we can lessen this cycle of teenage cat moms having kittens in sad situations like this."
With help from many dedicated staff members and a loving surrogate cat mama, the sweet little boy is now thriving.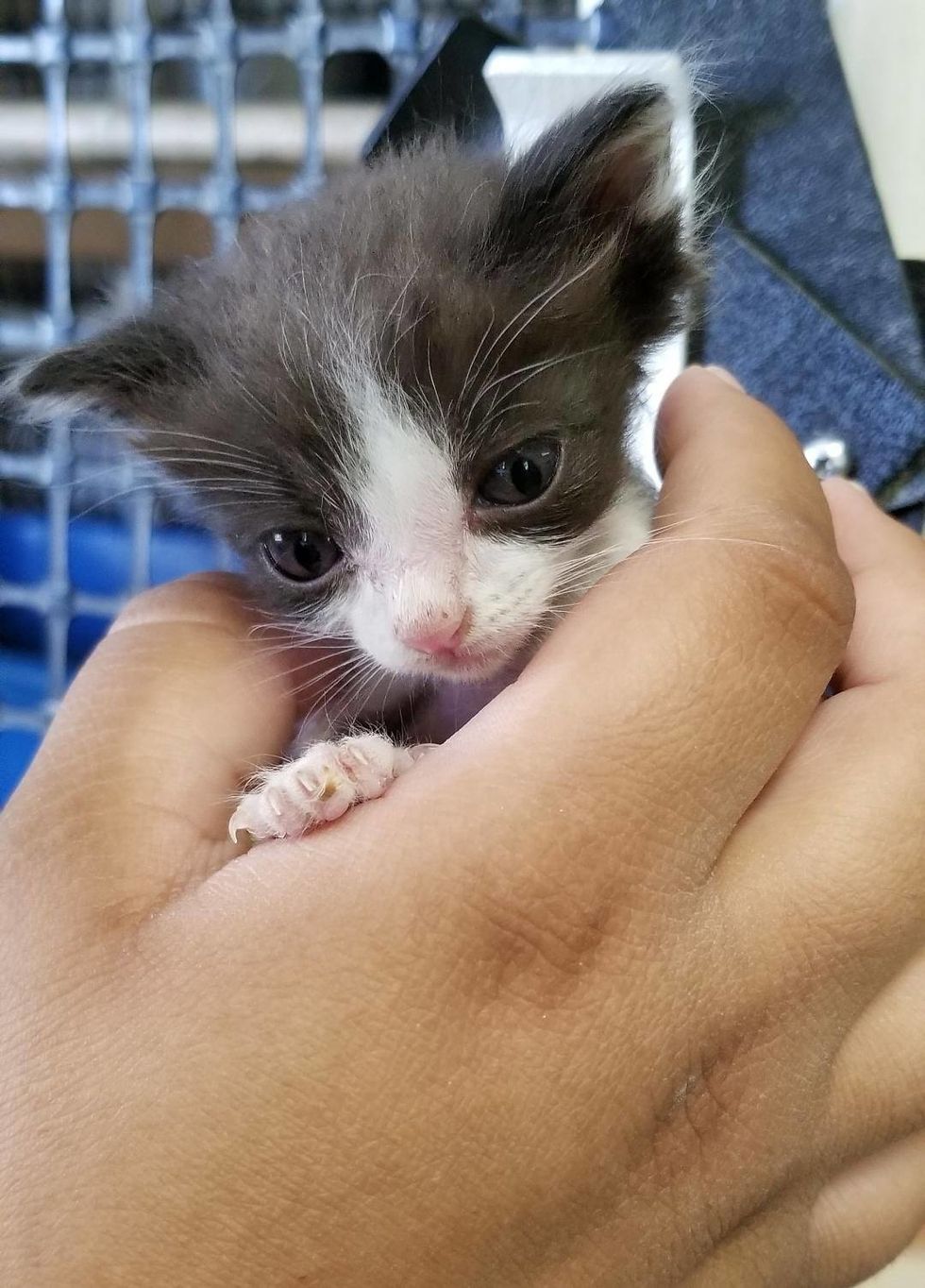 The Cat House On The Kings
The kitten still needs a name. Follow his updates on Facebook! If you would like to support their rescue efforts, click here to see how you can help.
Snuggling with his younger siblings, purring aloud in a cuddle puddle.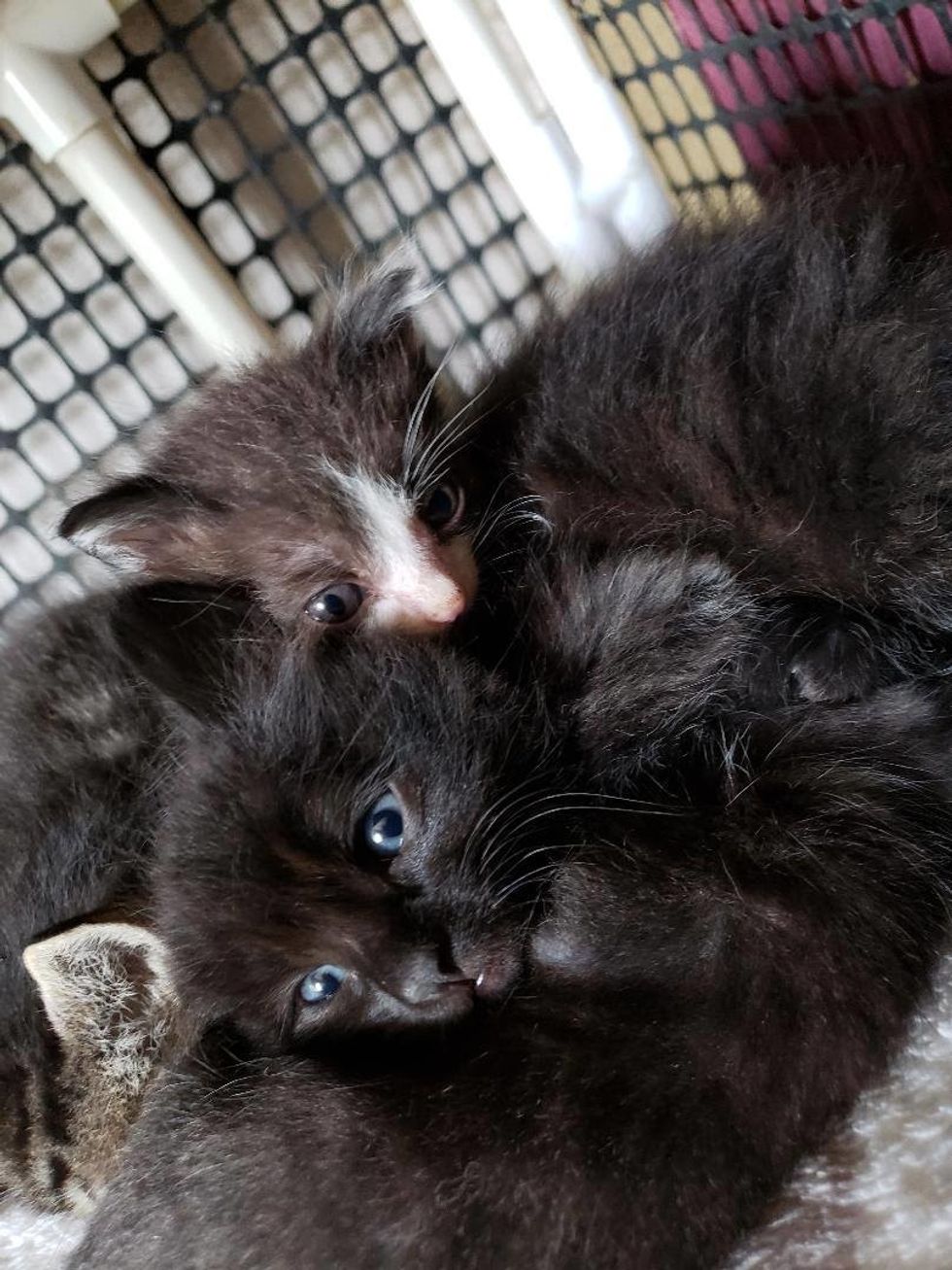 The Cat House On The Kings
Share this story with your friends.
Related story: Tiny Kitten Rejected by Her Own Mom Finds Love in This Guy