This tiny kitten named Baby G had a hard time growing until she came to a family of many uncles and aunts. Her life began to thrive...
Little Baby G came to Nine Lives Foundation when she was a tiny sickly 4-month-old kitten. She was skin and bones because the tiny baby wasn't growing and needed around the clock medical attention.
Margo, one of NLF volunteers, started taking Baby G home every night about a year ago.
"I take her home with me every night and she comes to work with me. She will only eat her wet food when she is on the desk at NLF and she has company. She is a social eater. She has lots of aunts and uncles that love her at the shelter," Margo wrote.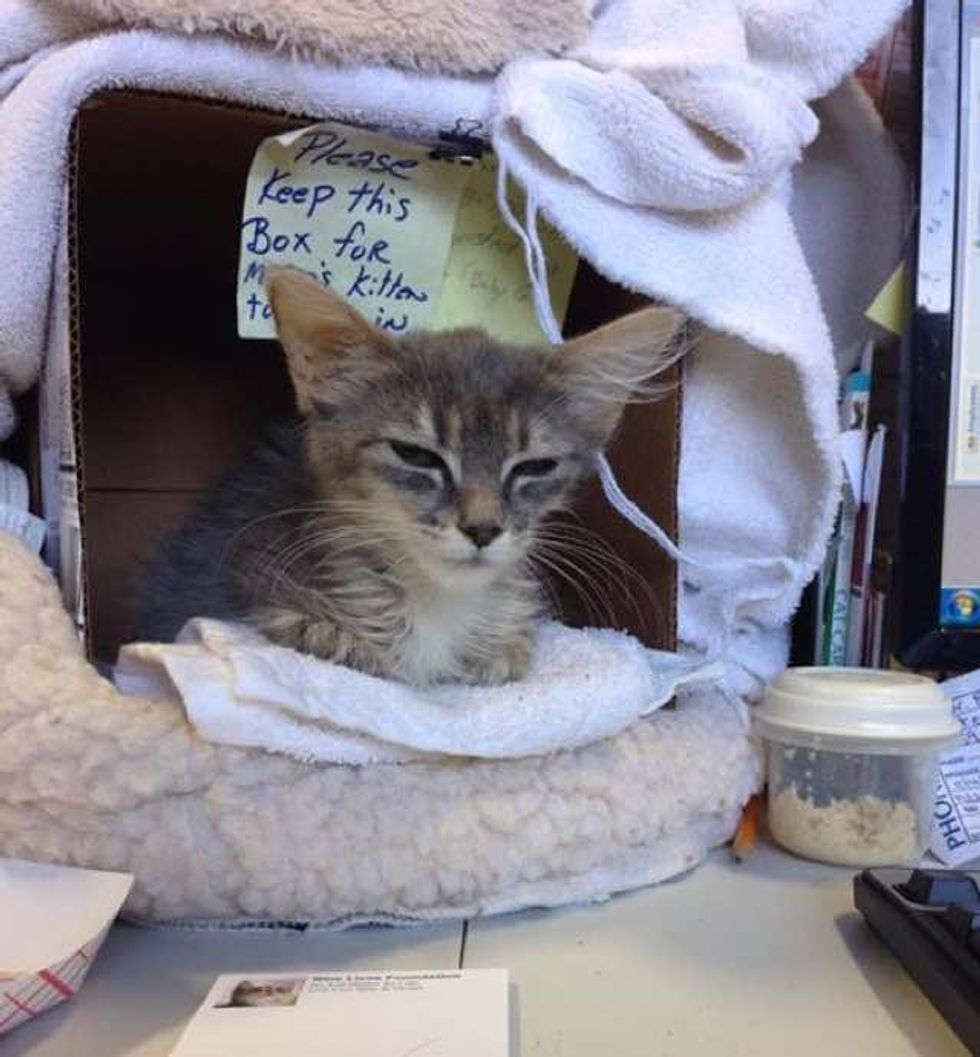 Baby G was born with an enlarged heart. They were not sure if she was going to make it. "She got used to coming to NLF with Margo. Margo of course fell in love and adopted her. Needless to say Baby G has found her forever home and looks forward to her car ride, office manager role!" Angela of NLF told Love Meow.
When she was 6 months old, she weighed less than two pounds. "Baby G thinks this plate of foil covered warm pizza is the perfect place to supervise her staff."
Before they knew it, Baby G had stolen every staffer's heart and made herself very useful around the office. As she got better and stronger, her true self blossomed.
While she's not resting in her exclusive kitty deluxe box, she goes around the office checking on office supplies and making sure the staff are doing a good job helping other kitties get adopted.
The purrfect answering machine!
The printer supervisor! Baby G takes her job very seriously!
Baby G thinks they can't see her with her camouflage cape.
Baby G thinks we can't see her with her camouflage cape.

Posted by Nine Lives Foundation on Wednesday, April 29, 2015
At Nine Lives Foundation, they are constantly looking for fosterers, so Baby G. stays by the staffers' side to offer a paw when they are crammed with work and a purr when they need a breather.
Now she's outgrown her kitty deluxe box, when she needs a nap from a busy day of work, she will lay on the desk over a pile of notebooks next to a computer. To Baby G, she defines what bed means, and it often changes.
Watch video: Baby G is a lovebug. She hadn't seen her Auntie Stephanie in over a week and wanted her to know how much she missed her.
Baby G hadn't seen her Auntie Stephanie in over a week and wanted her to know how much she missed her. She loves her Auntie Stephanie.

Posted by Nine Lives Foundation on Sunday, October 25, 2015
They gave Baby G a second chance at life and she is repaying them with endless supply of love, purrs and snuggles.
Nine Lives Foundation is located in Redwood City, California. If you are interested in becoming a foster parent or adopting a kitty, go to Nine Lives Foundation or their Facebook page. (See their Hot Rods for Cool Cats fundraising event)
If you love Baby G, share this story with your friends!