A kitten who was found by the street, met a dog and insisted on being her friend.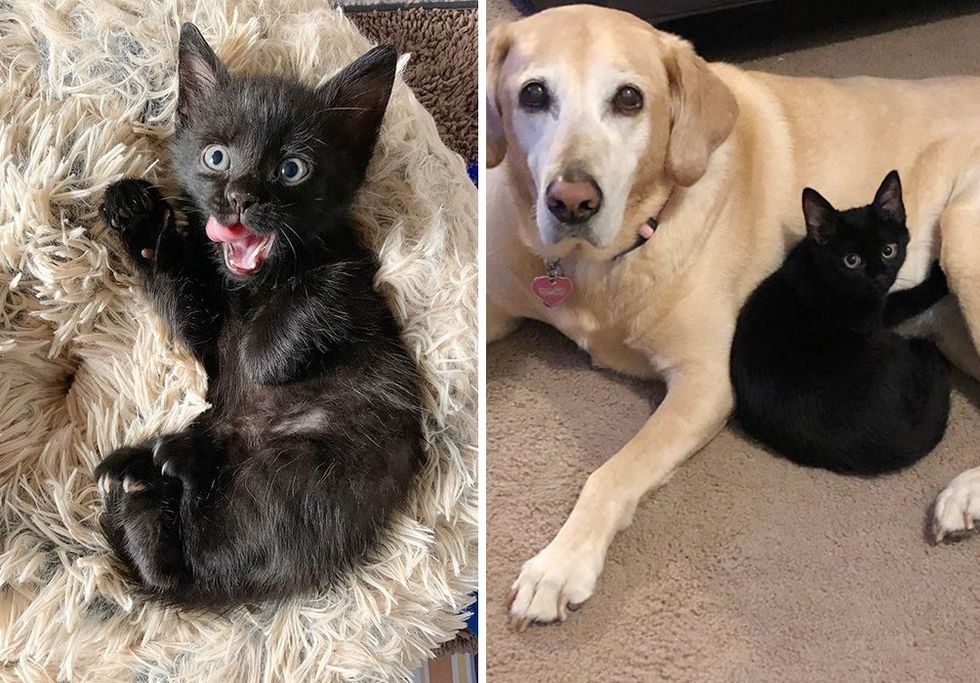 Kelsey @instabearrrr
Bear the kitten was found on the side of the road in Mebane, North Carolina a few months ago. He was alone without a cat mom in sight. An emergency medical technician spotted him near the busy traffic and brought him to his car.

Sparkle Cat Rescue, a rescue group in Burlington, took him in. Once the kitten was stable, they transported him to a loving foster home to be cared for by volunteer Sarah Kelly. "He is so lucky to have been found when he was," Sarah told Love Meow.
The kitten was a fighter who had survived the rough outdoors on his own. He was eager to be loved and would purr up a storm being cuddled in a purrito.
For a tiny body, he had an amazing appetite, and was never shy of voicing his opinions, especially when he demanded food.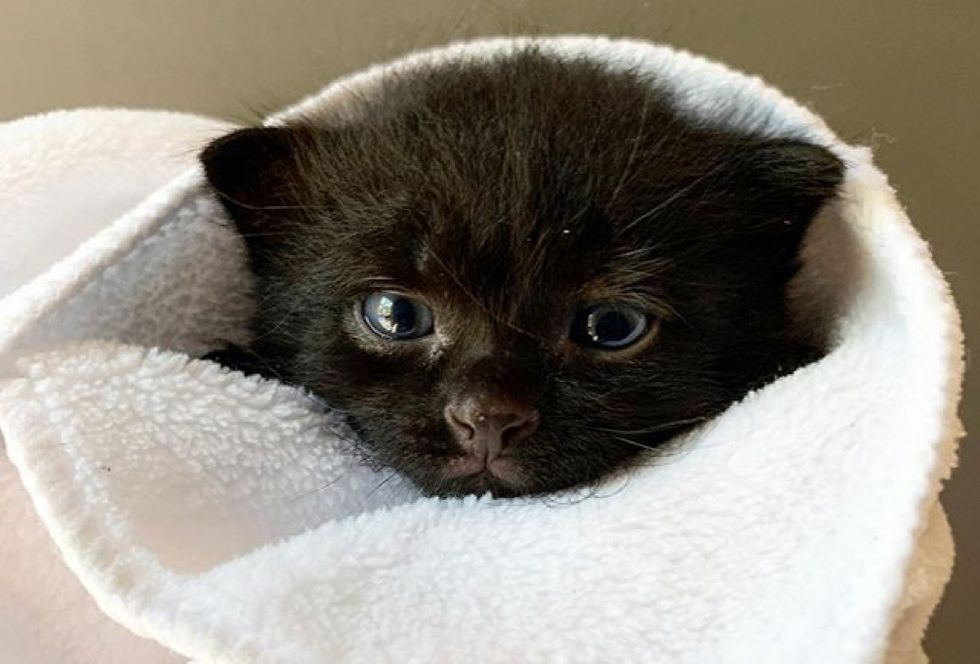 Sarah Kelly @kellyfosterkittens
Bear really blossomed over the next few weeks. He ventured out of his playpen to explore - jumping, hopping, and frolicking freely in his foster room. The curious kitty would play with anything that moved.

Around that time, a couple (Kelsey and Kasey) from High Point, North Carolina came across Bear through Instagram. They were instantly smitten with the rambunctious panther kitty.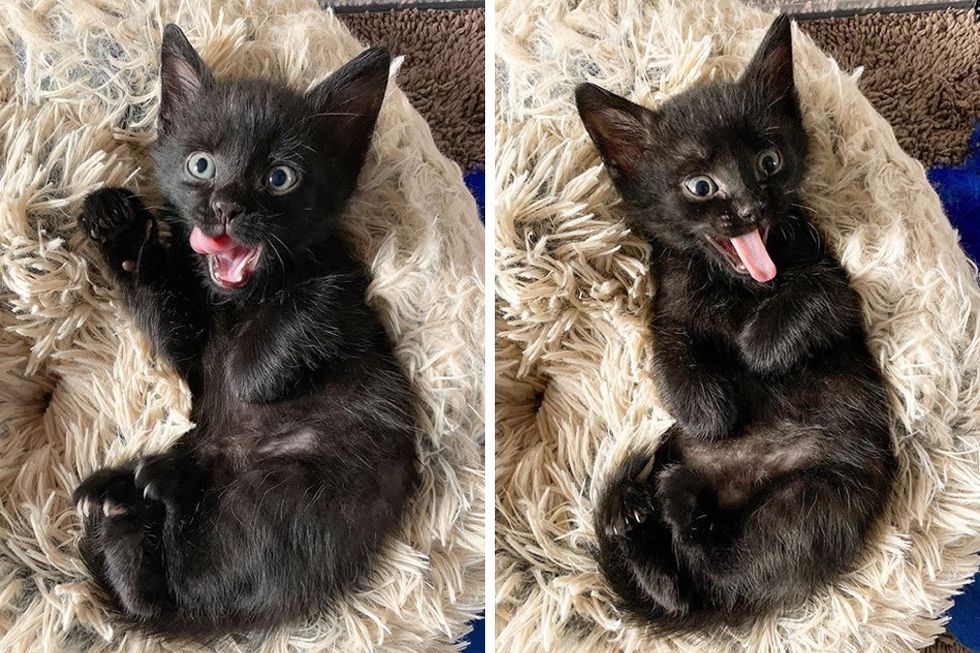 Sarah Kelly @kellyfosterkittens
They filled out the application and went to visit him one day. It was love at first sight. Little Bear made his way into their arms and nuzzled in for some kisses.
When the kitten was big enough for adoption, he moved into his new home where the couple's 10-year-old dog Riley awaited his arrival.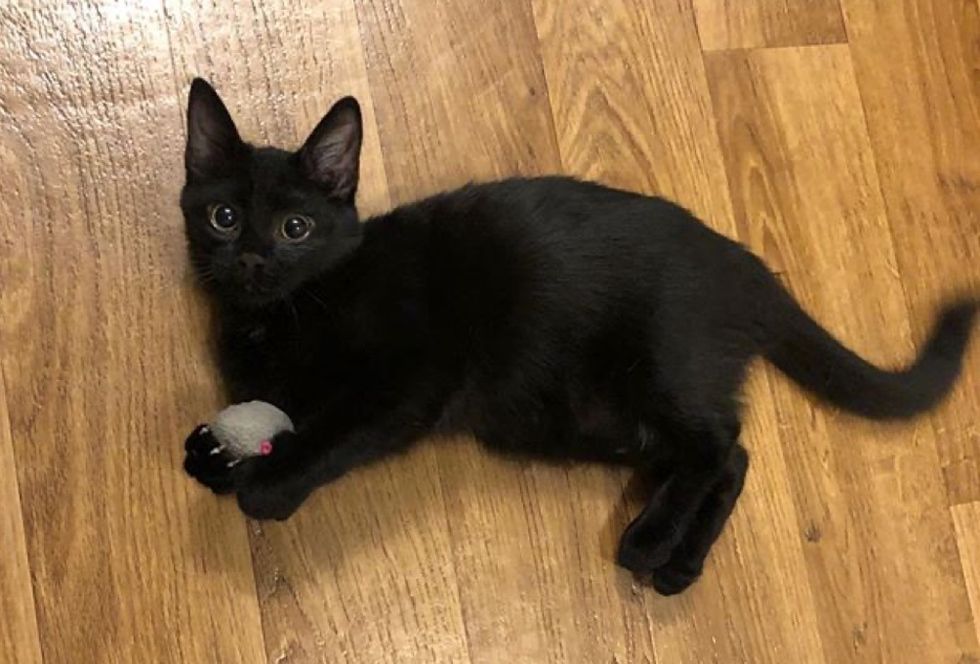 Kelsey @instabearrrr
"Even with how tiny he is, Bear is fearless. He ran right up to Riley and started to play with her ears and kiss her. It was so funny to watch this little poof of fur climb all over her," Kelsey told Love Meow.
The kitten started following his canine friend everywhere around the house, insisting on being her little shadow. He would play with her big paws, tail and ears before curling up next to her for a nap.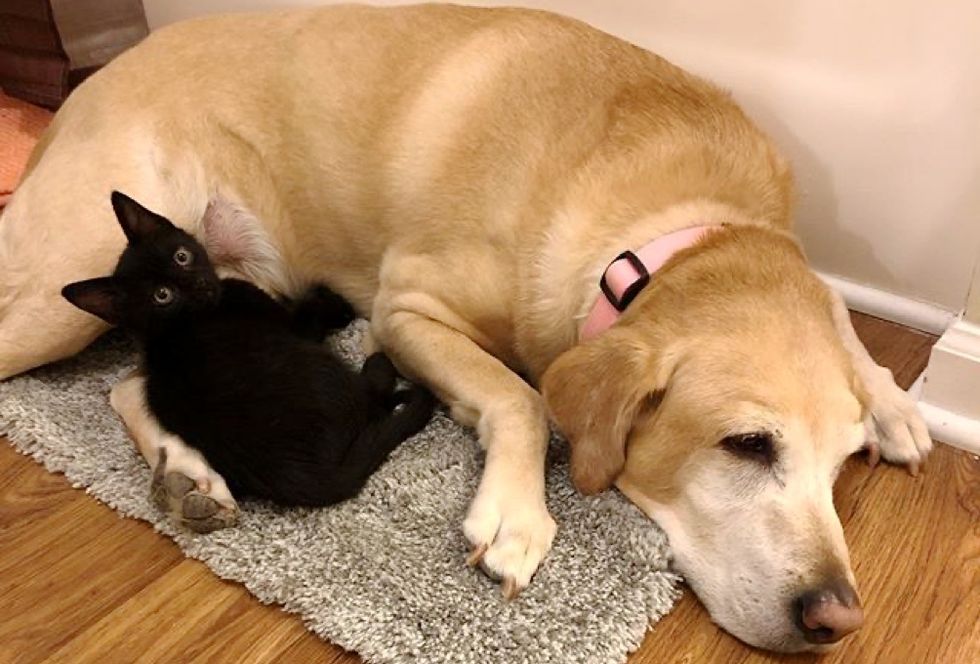 Kelsey @instabearrrr
Riley is a sweet Yellow Labrador who has a big, gentle heart. She doesn't mind the kitten's unbridled energy and tolerates his many antics. "She will be 11 in September. I've had cats my entire life so she is very gentle with other animals," Kelsey added.
Whenever Bear needs a friend to snuggle, Riley is always there to offer him cuddles.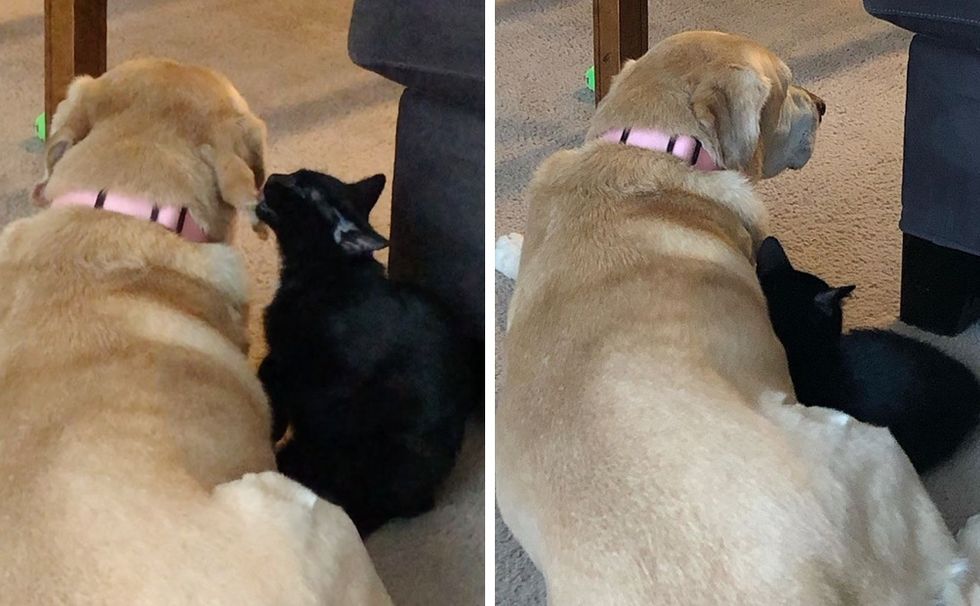 Kelsey @instabearrrr
Bear has grown very attached to his canine friend. He will lick her big floppy ear right before nap time. "He has to butter her up before he snuggles in so she won't move away," Kelsey shared.

Watch Bear the kitten and Riley the dog in this cute video:
Kitten and dog - best of friendswww.youtube.com
The two buddies always nap together and spend a lot of time watching the day go by.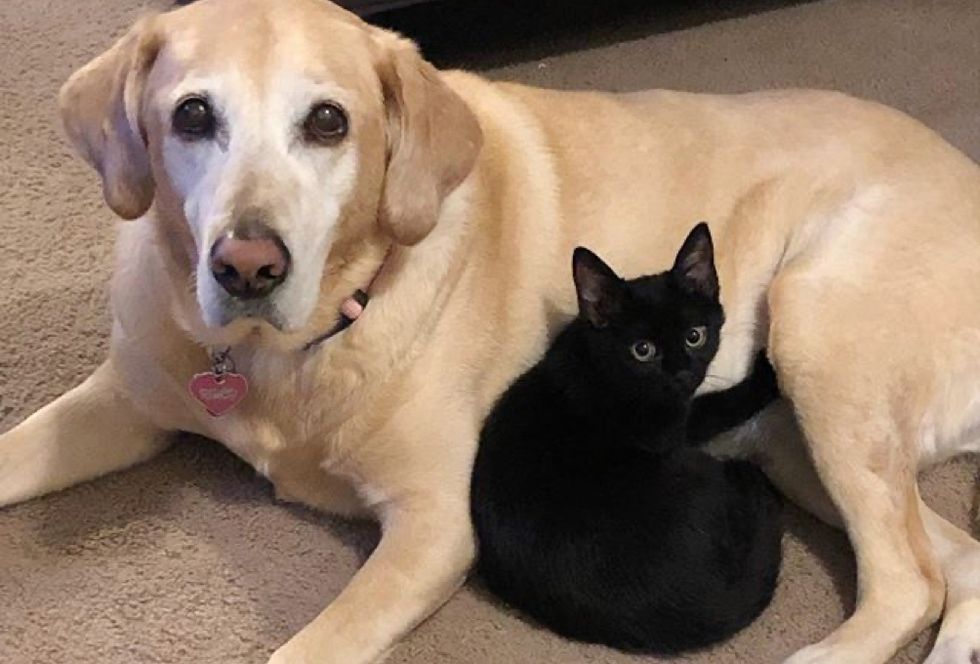 Kelsey @instabearrrr
Whenever Bear is investigating random things in the house or just being silly, Riley is never far, watching over him every step of way.

Bear returns the favor by washing her ears and giving her all the snuggles.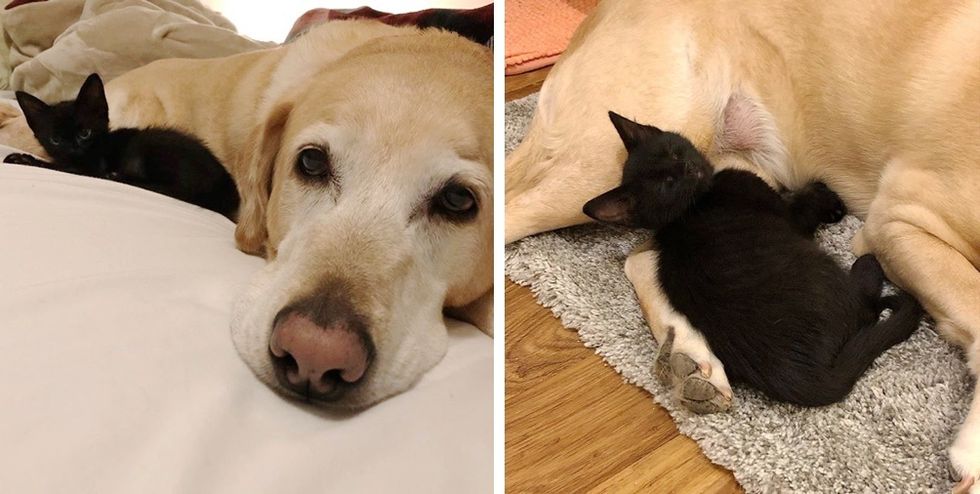 Kelsey @instabearrrr
Bear has grown into a handsome young cat. He thinks he is part canine and adores his loving family to bits.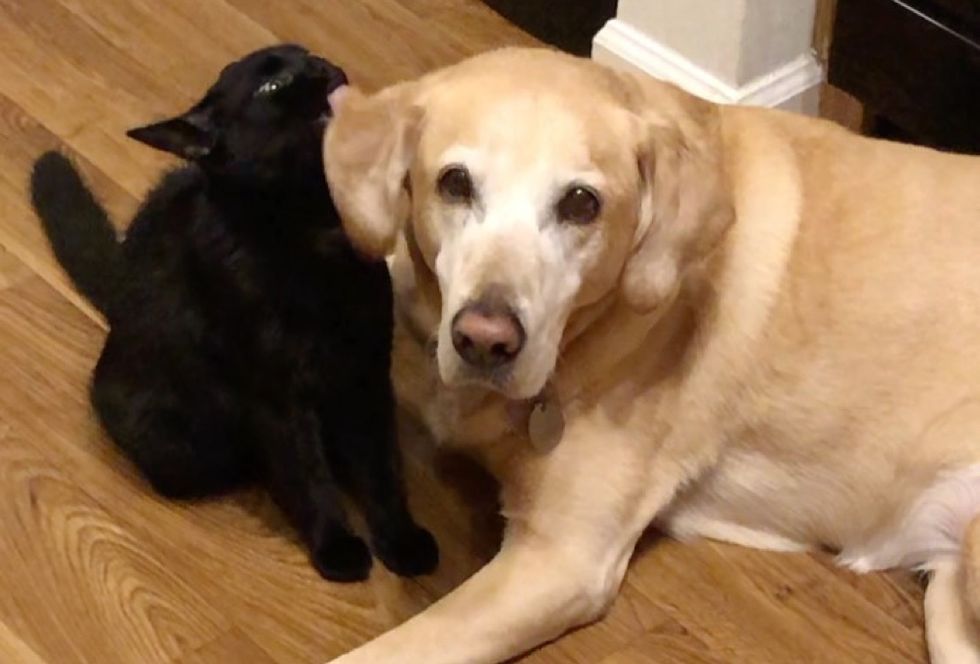 Kelsey @instabearrrr
Share this story with your friends. Follow Bear and Riley and their adventures on Instagram.
Related story: Dog Takes to Stray Kitten Who Was Found Alone on Farm