A kitten that looks like a mini panda, is so happy to be thriving after she was found in a box.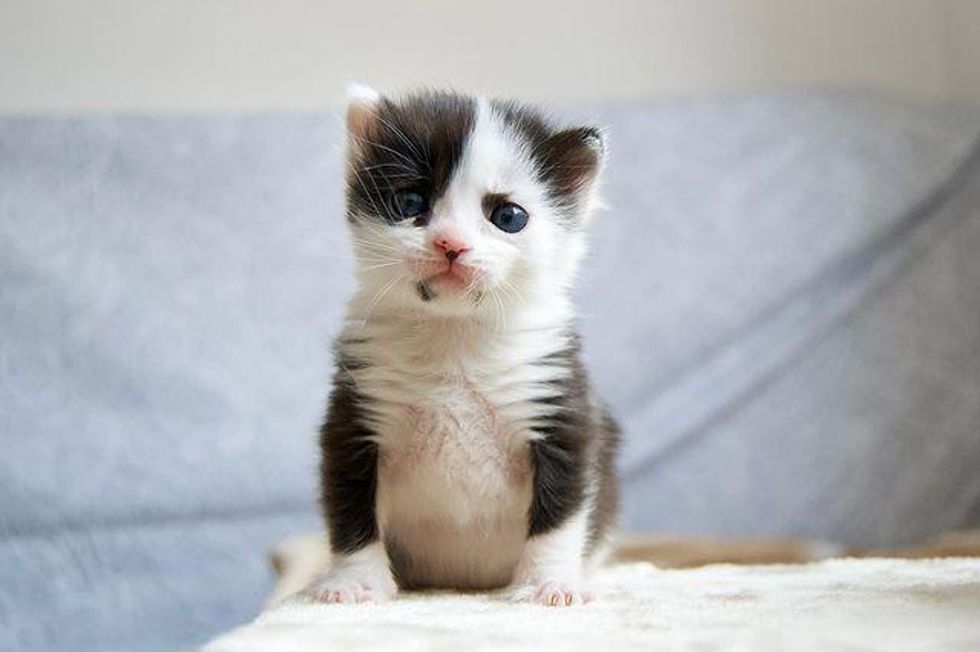 Marie the panda kittenOlga @giampicats
A few weeks ago, a kitten with panda-like markings was brought to ADAC Cerdanyola, an animal rescue in Spain, along with her two brothers. They were about 2-3 weeks old, found in a box in deplorable condition, and desperately needed critical care.

Olga, a fosterer for neonatal and critical kittens, took them on right away. "The box was wet and filthy, and we don't know how long they were in there before they were found," Olga told Love Meow.
Despite their very best efforts to save them all, the tiny panda kitten, Marie, was the sole survivor. She hung in there with all her might and was brought back to life through painstaking care.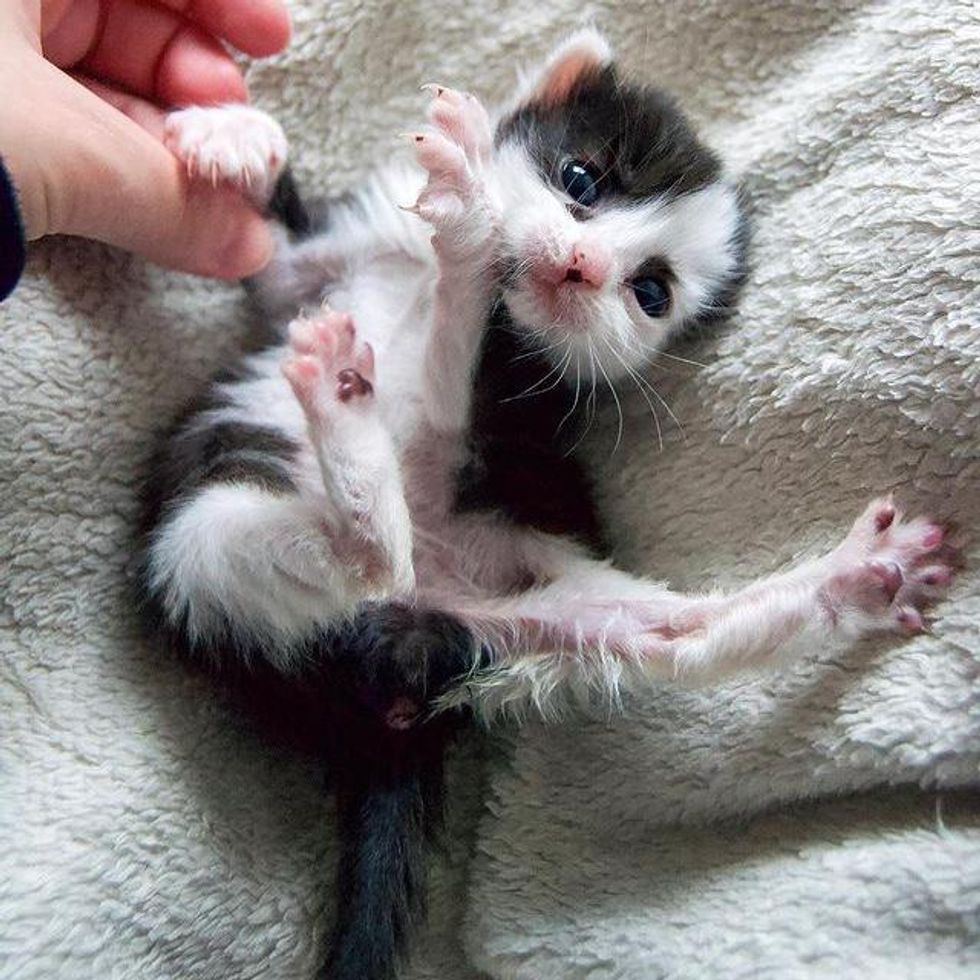 Olga @giampicats
Marie became very affectionate as she perked up. She would cling to her foster mom at feedings and insist on having a prolonged cuddle session after every meal. She was so content whenever she was cuddled.
The kitten was born with adorable markings that resemble those of a panda. She sports a pair of cute black spots around her ears and wears the perfect jacket with long sleeves as her coat.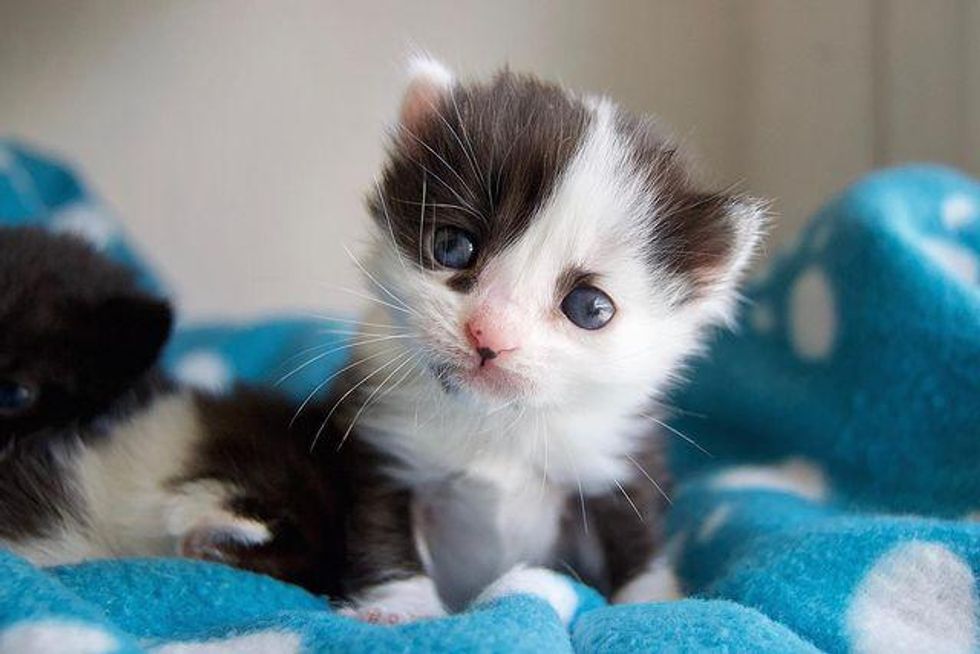 Olga @giampicats
As a singleton, Marie was exceptionally needy for attention and eager for a constant companion. When she figured out how to use her legs, she began to be on the lookout for a friend.
She would walk around her playpen, looking for playmates. Knowing how much she would benefit from having another foster her size, Olga had a plan for her.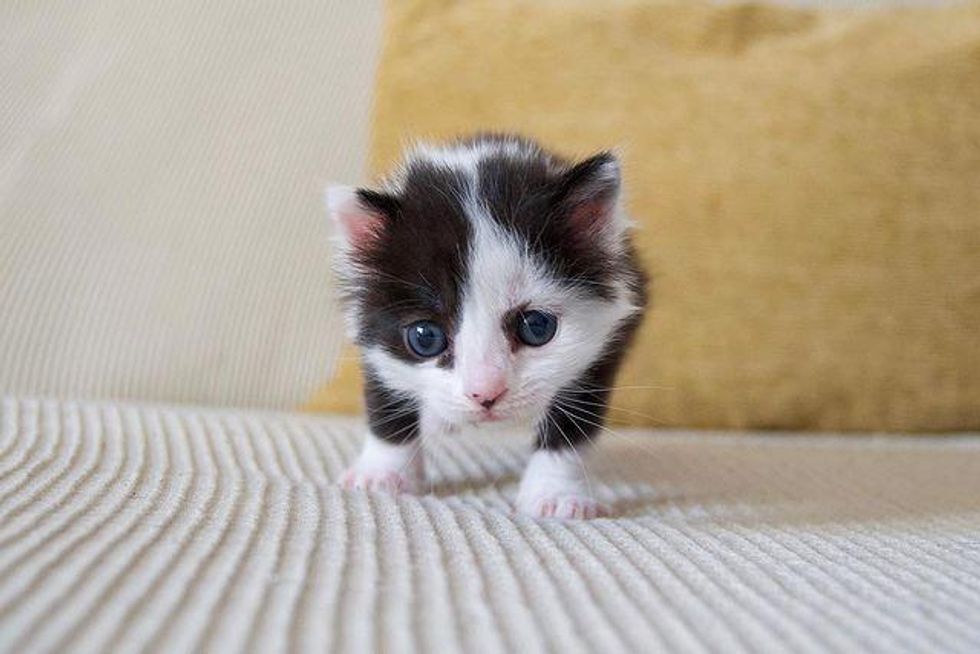 Olga @giampicats
Around that time, Olga was bottle feeding an orphan tabby (Kazumi) and had just brought home another singleton (Kiara) who was also in need of a buddy.

Once she was able to clear up Marie's tummy issues, a proper meet-and-greet for the kittens was in order.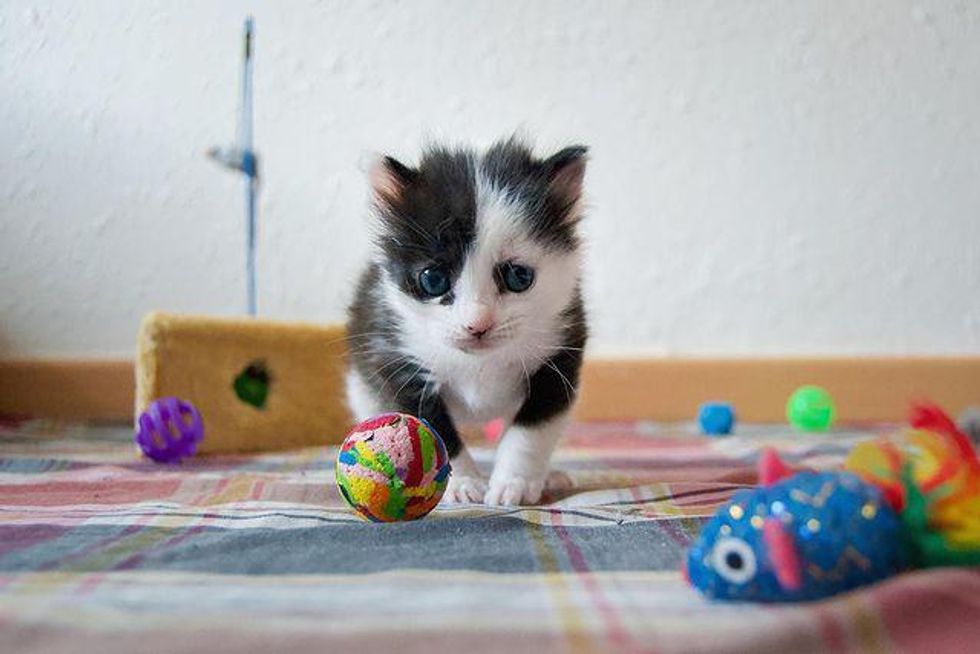 Olga @giampicats
A week later, Marie finally got a clean bill of health, and was ready to meet Kiara. The two quickly hit it off and started playing and even sharing a lap together. Marie would watch Kiara as she showed her how to play like a cat.

They got along so well as if they had always been siblings.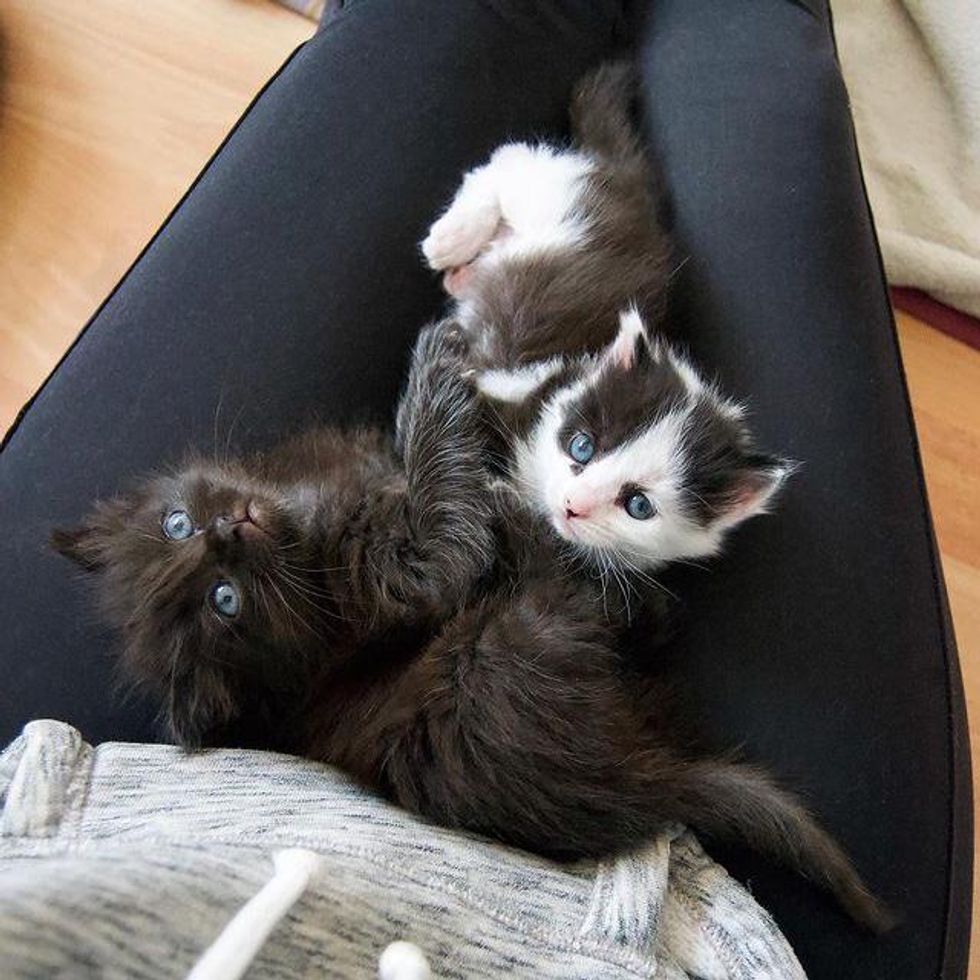 Kiara and Marie the lap catsOlga @giampicats
"She was really sad after her brothers passed away until Kiara arrived. A little while later, my other foster Kazumi also joined the foster room, so Marie got two new sisters," Olga shared with Love Meow.
Marie shared her favorite blanket with Kazumi and fell asleep right next to her.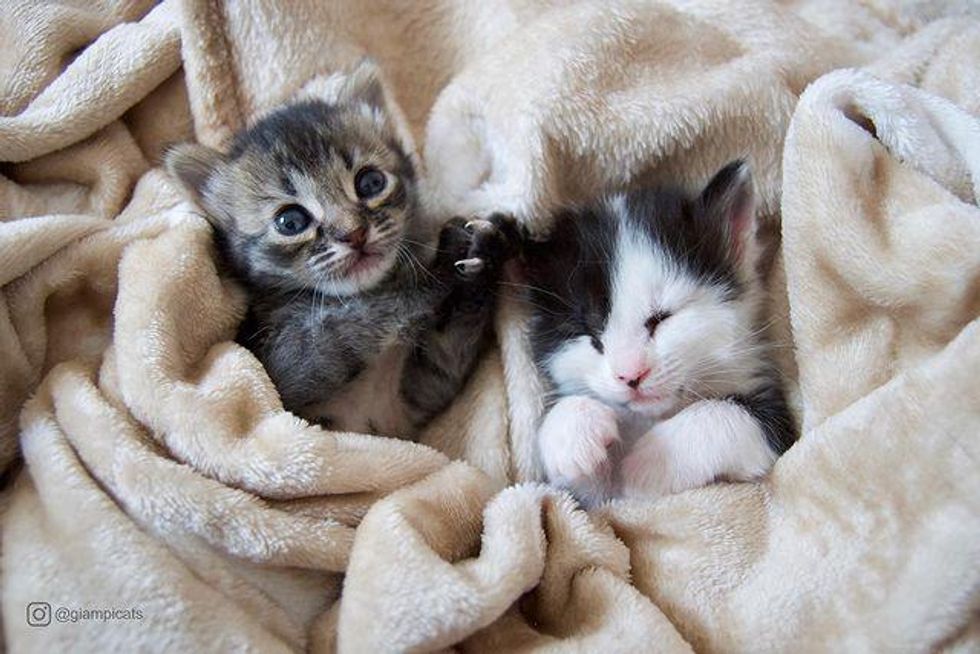 Kazumi and Marie snuggle timeOlga @giampicats
The panda kitten is thriving with other fosters around. While Kiara and Kazumi are starting to run and climb, putting their legs to good use, Marie enjoys being that laid-back little sister, always lounging about in her comfortable nest.

Marie is at peace knowing that she will never be alone, and naps away without a worry in the world. "She is the calmest kitten I have ever fostered. She is extremely easy-going," Olga added.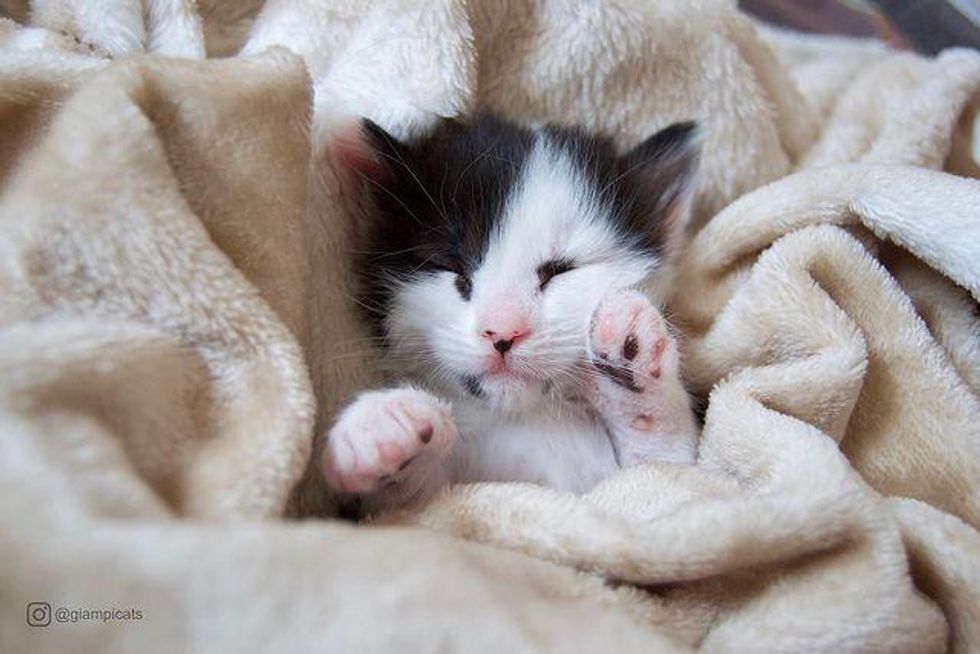 Olga @giampicats
"Marie is so cuddly. She loves to roll on her back and snuggle with the other foster kittens. You will pretty much always find her buried in soft blankets," Olga told Love Meow.
"She is not your typical rambunctious kitten. She'd much rather observe the other kittens play from the comfort of your lap."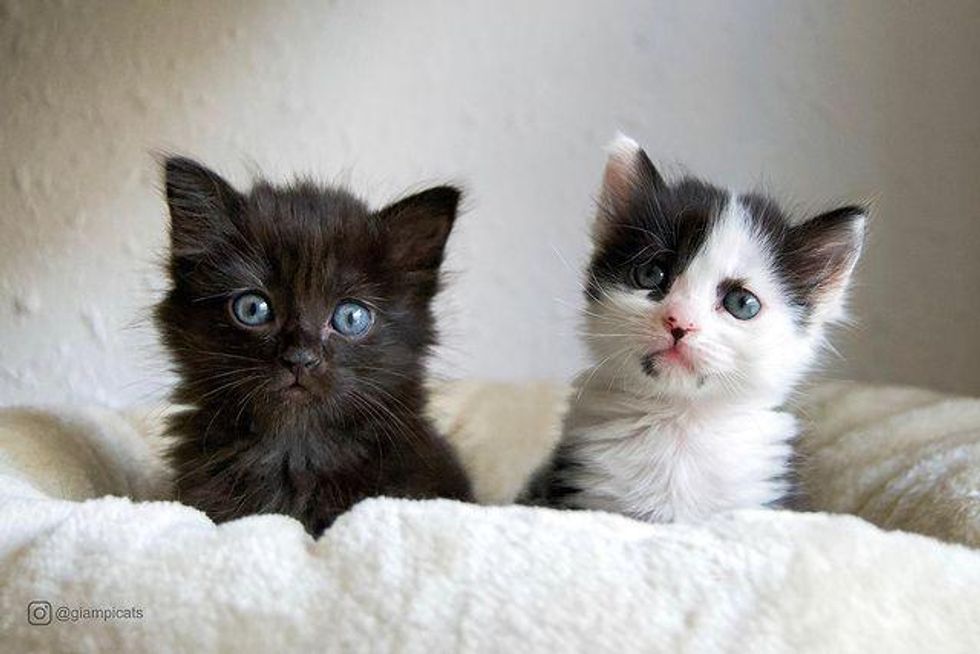 Olga @giampicats
The panda kitty is loving her VIP life as a spoiled indoor cat. She's come a long way from being a critical kitten to being a healthy, happy cuddle-bug.

"Whoever adopts her is going to be very lucky. She is the sweetest kitten ever."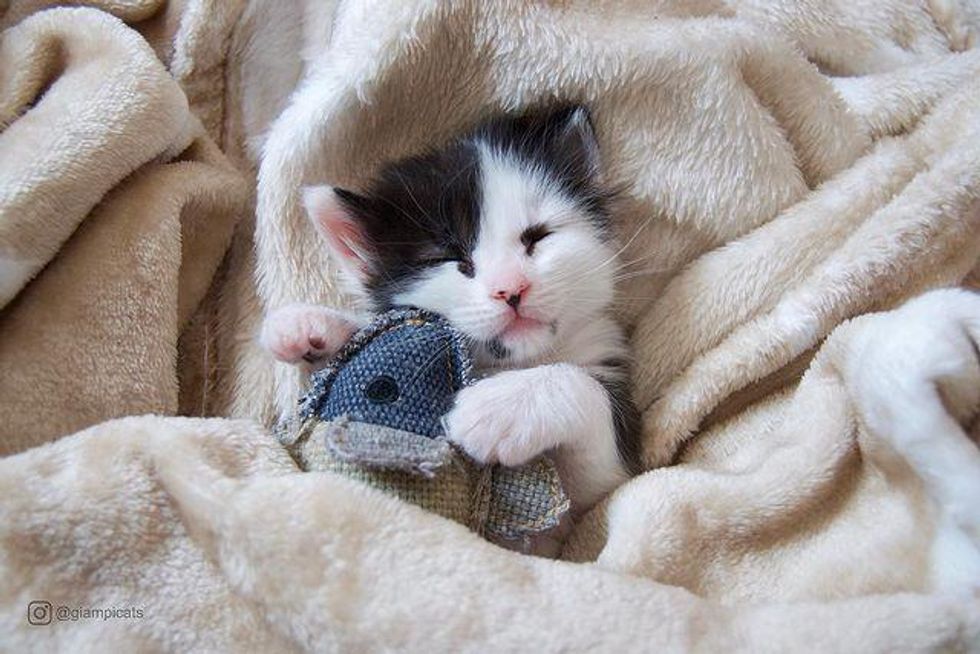 Olga @giampicats
Share this story with your friends. Follow updates on Marie and Olga's fosters on Instagram.
Related story: Kitten Won't Go Anywhere Without Her Teddy Bear After Being Found Alone Outside