A man rescued a tiny kitten from the side of the road and turned his life around.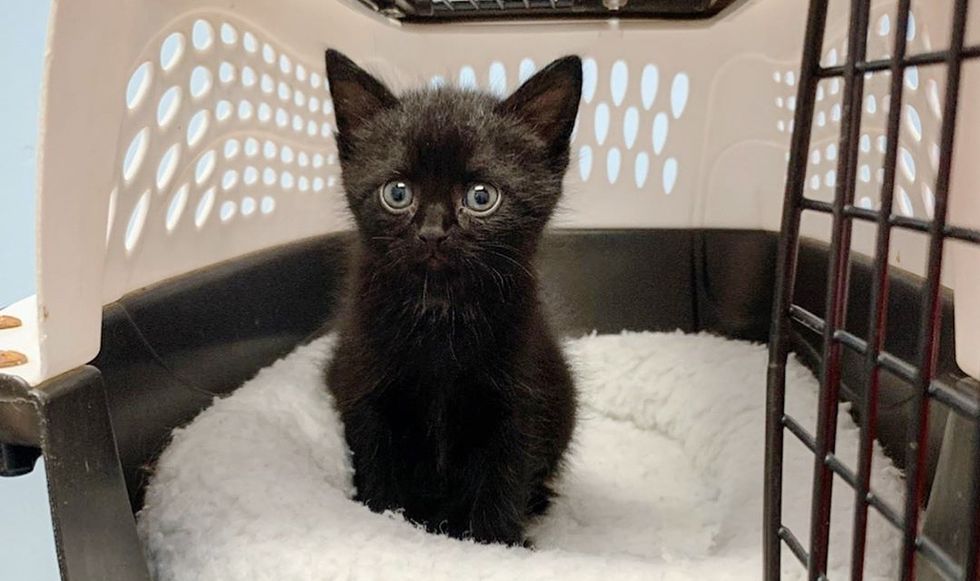 Sarah Kelly @kellyfosterkittens
A month ago, Stephanie Grantham, co-founder of Sparkle Cat Rescue in Burlington, North Carolina, was contacted about a motherless kitten needing help.

An emergency medical technician found the little orphan crying beside the road in Mebane. He looked around the area and couldn't find his siblings and cat mom. The kitten was too close to the traffic, so he picked him up and brought him back to his car.
He reached out to Stephanie and offered to transport the little one to their rescue. The kitten was pint-sized, but his will to live was strong.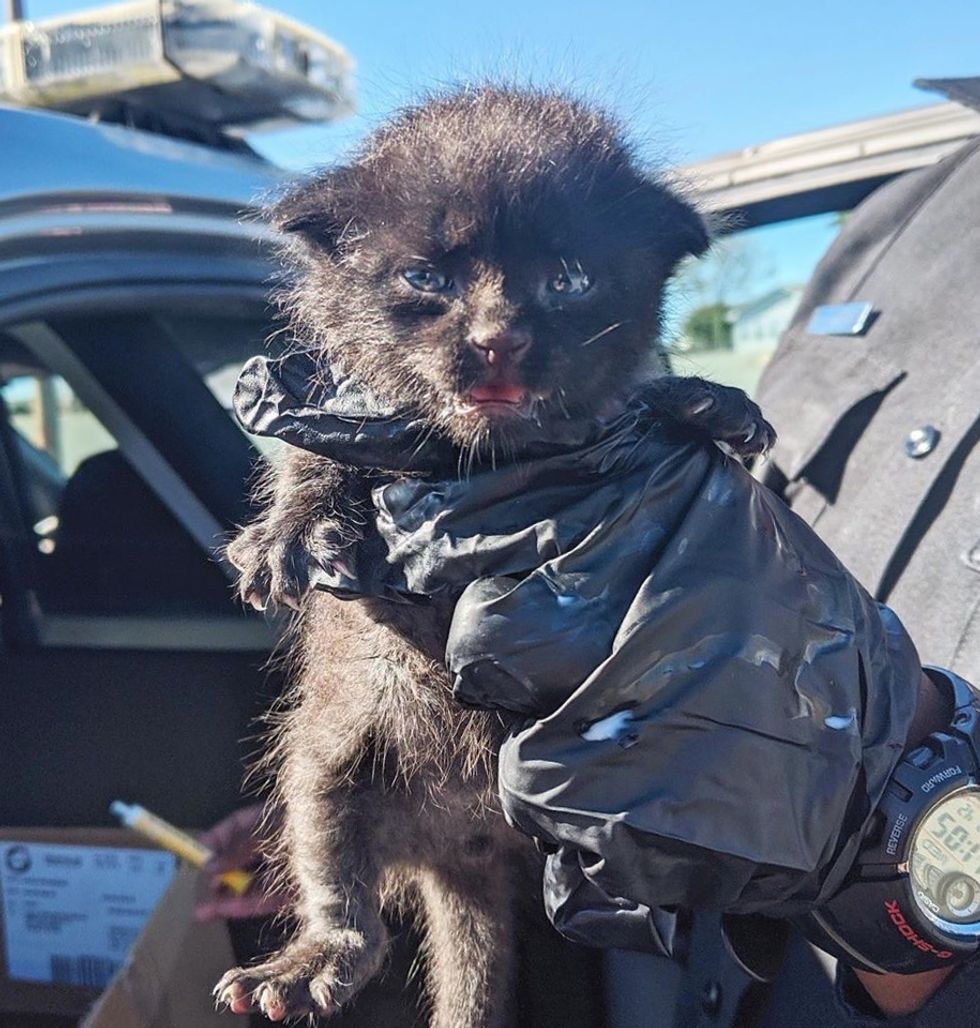 Sarah Kelly @kellyfosterkittens
Stephanie quickly wrapped the kitten in a warm blanket and slowly introduced food to him. When his belly was no longer empty, he began to perk up.

The rescue arranged a foster home for the feline baby so he could be cared for by an experienced foster volunteer, around the clock. Sarah Kelly welcomed him into her warm abode and named him Bear Grylls.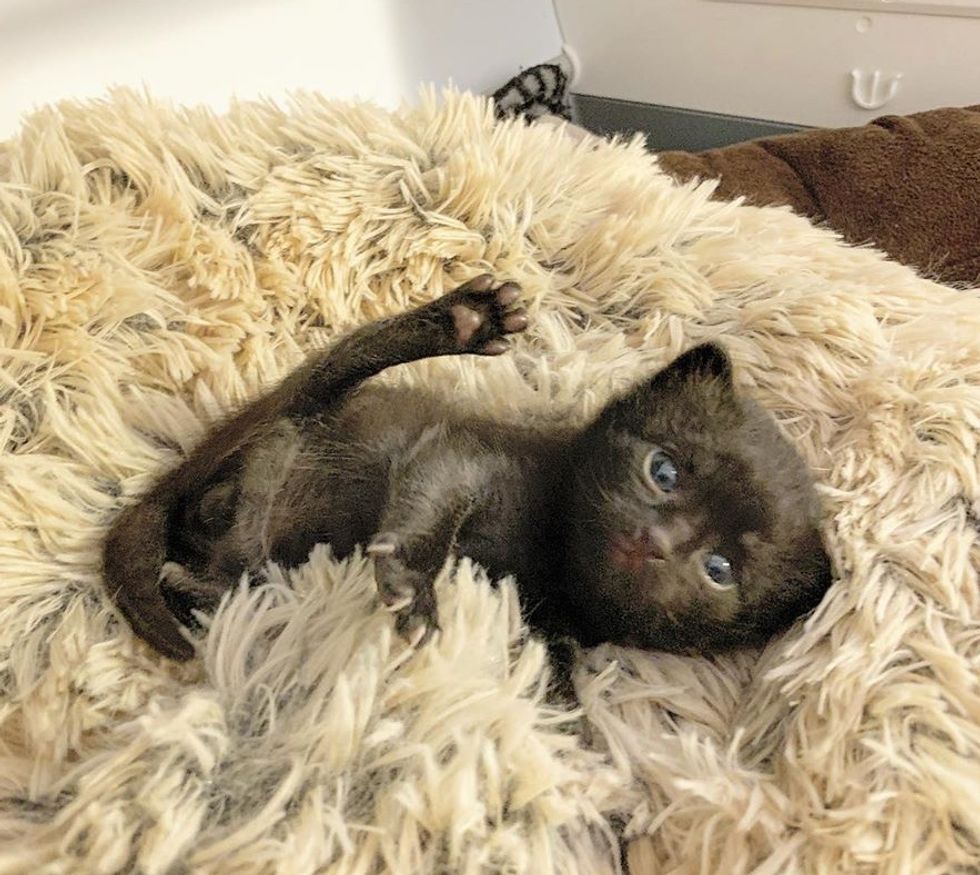 Sarah Kelly @kellyfosterkittens
"Just like his namesake, this little man is one strong survivor," Sarah told Love Meow.

Despite his rough start, Bear was always in good spirits and eager to be loved. He would meow and purr whenever Sarah came in with a bottle.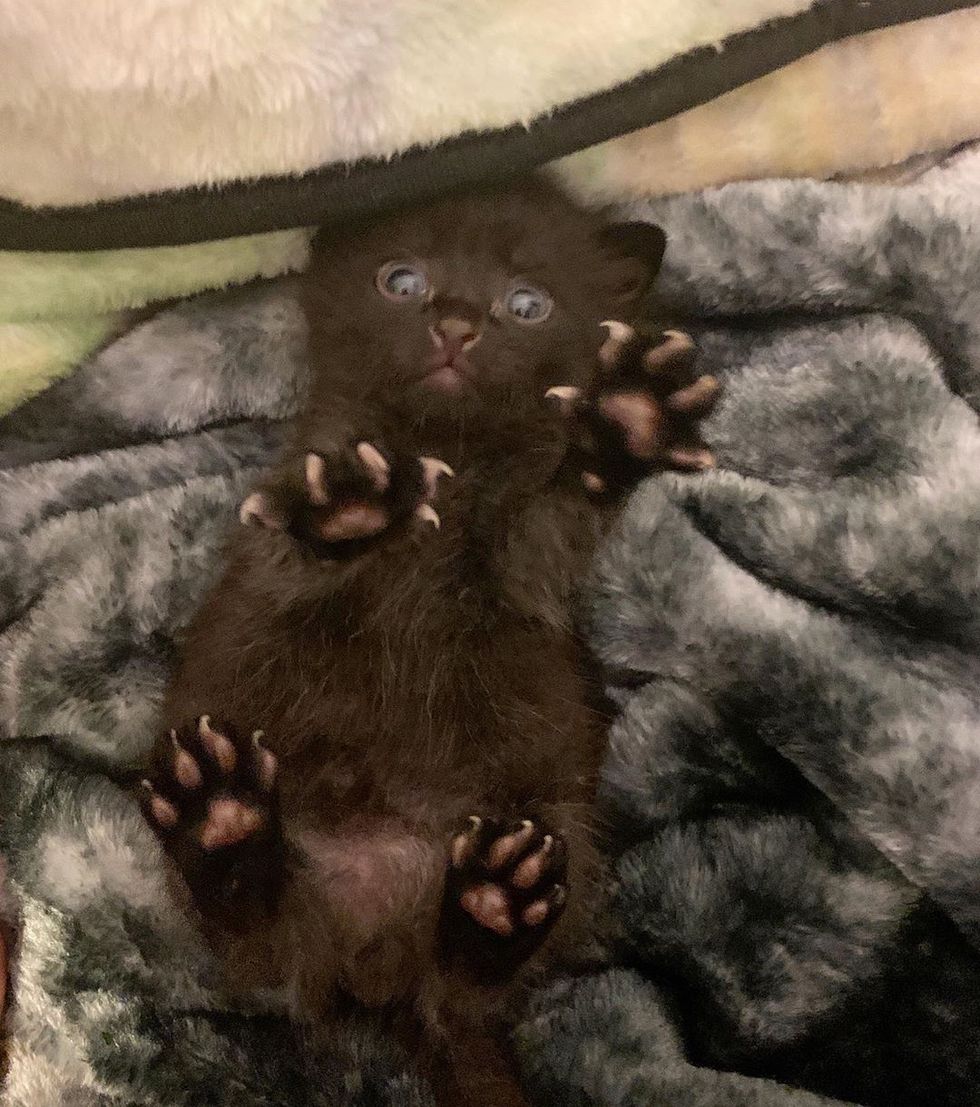 Sarah Kelly @kellyfosterkittens
For a tiny body, he had an amazing appetite.
Even during the wee hours of the morning, Bear was never quiet when he knew it was time for another feeding.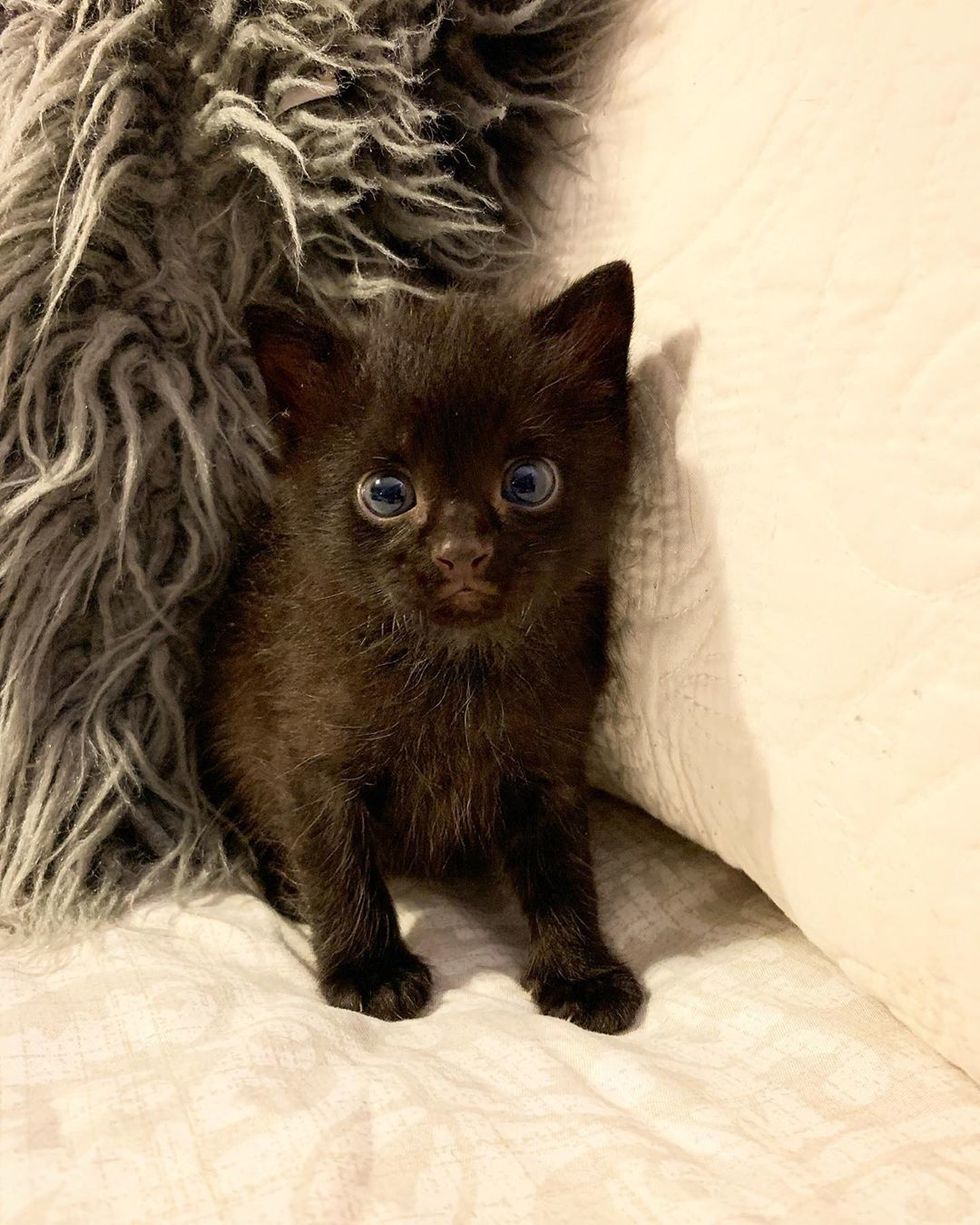 Sarah Kelly @kellyfosterkittens
Over the next few weeks, Bear took his first steps outside of the nursery pen, learned to play with toys and tried to eat big kitty food on his own.
"He is doing well and is so lucky to have been found when he was."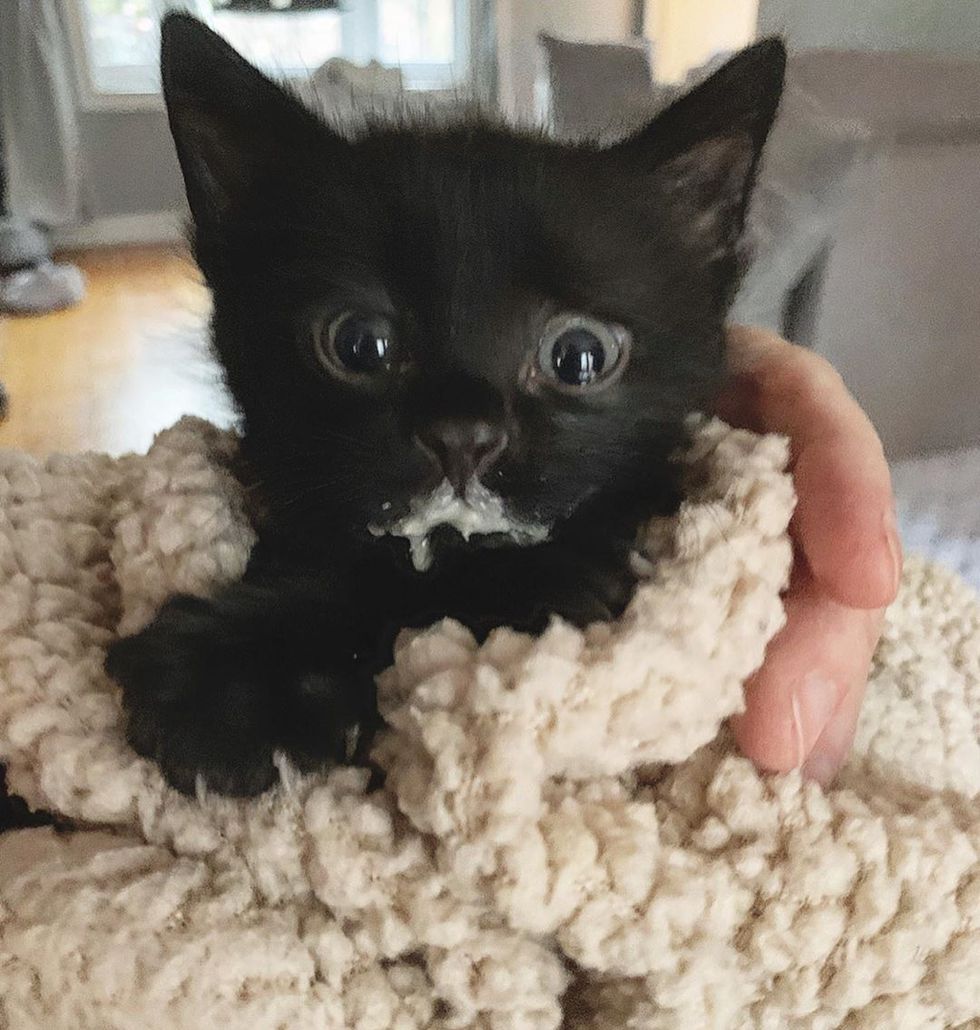 Sarah Kelly @kellyfosterkittens
They hoped they could find him a forever home in time for the holidays. Then, a perfect family found their way to him.

Watch Bear in this cute video:
Bear the kittenwww.youtube.com
A week ago, Bear's new mom and dad came to visit him at his foster home.
The little cuddle-bug nuzzled up to his human mom for a kiss as if to say, "you have been chosen."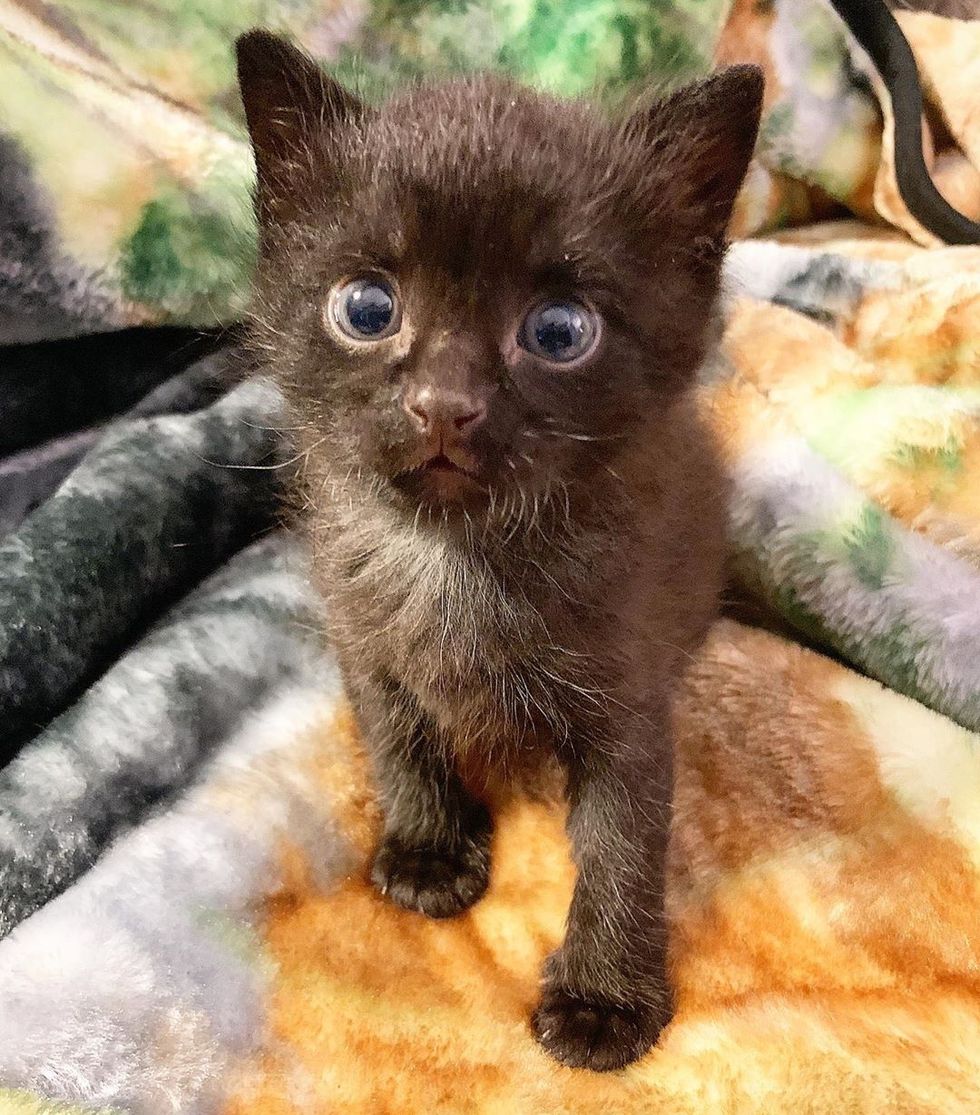 Sarah Kelly @kellyfosterkittens
He will soon be moving into his new home and enjoy a festive holiday season with his forever family. He still has some growing to do, and his foster sisters, Cara and CC, are taking turns helping him hone his kitty skills.

Bear has beat the odds and is loving his VIP life. "We are so grateful to his rescuer for stopping to save him and making sure he found his way to us."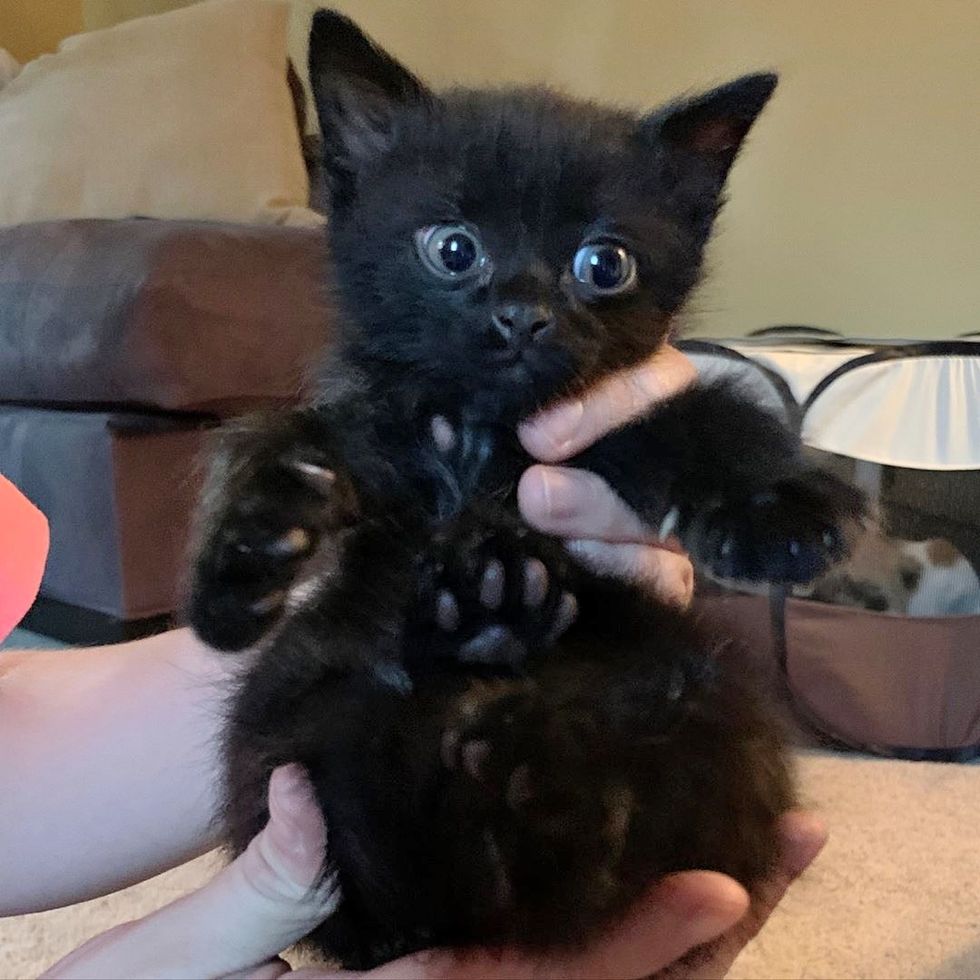 Sarah Kelly @kellyfosterkittens
Share this story with your friends. Follow Bear and his adventures on Instagram. Follow Sarah's foster kitties on Instagram. Follow Sparkle Cat Rescue on Facebook and Instagram.
Related story: Man Went for Walk with His Cat and Came Home with Kitten They Rescued