A sweet dog took a pair of shy kittens under her wing and showed them love and courage.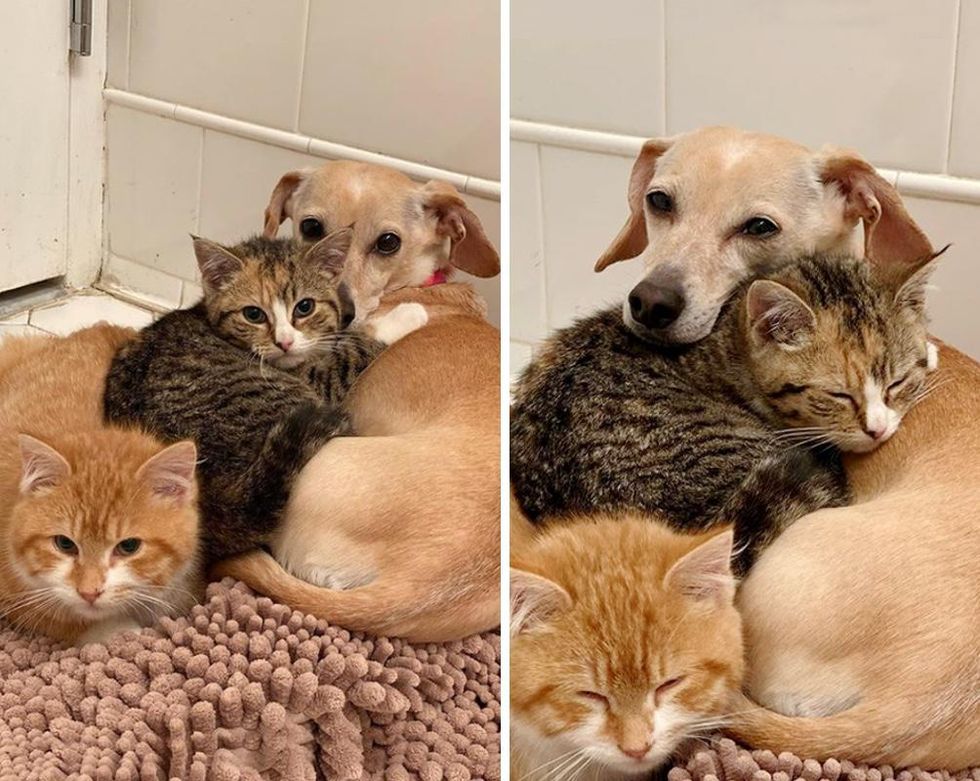 Asa @shibuyarollcall
Two kittens, about 10-12 weeks old, were found in the same backyard in New York City last month. They were very timid and wouldn't come near people. Rescuers set a few humane traps in hopes of getting them to safety.
After much effort, they got the kittens a week apart from each other, and brought them to a local rescue in New York City for a chance at a better life.
Asa, a foster volunteer, didn't hesitate to help when she heard that the kittens needed a foster home. Her 7-year-old dog Kona had been anticipating new foster babies to care for.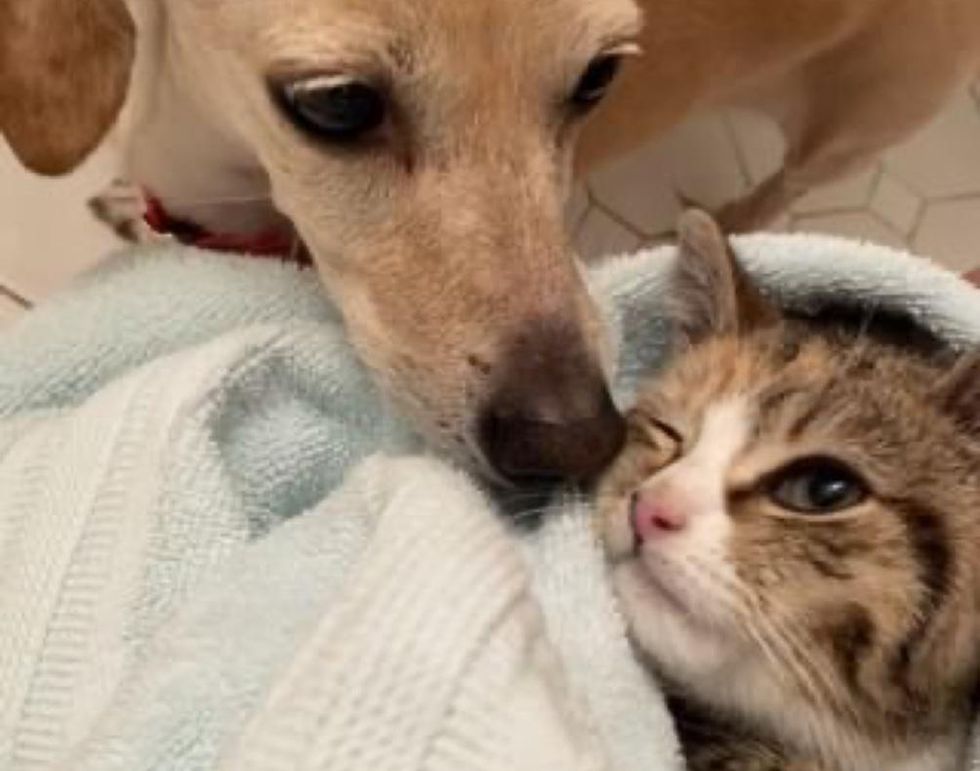 Asa @shibuyarollcall
Kona had been kitten-free for a few days since her last fosters left for their forever homes. "After three days of seeing sad little Kona moping around, we finally got to turn her frown upside down," Asa shared with Love Meow.
Blair, a beautiful torbie cat, was very shy when she first arrived. Having little human contact all her life, the kitten had no desire to interact with people, but Kona seemed to know exactly what she needed.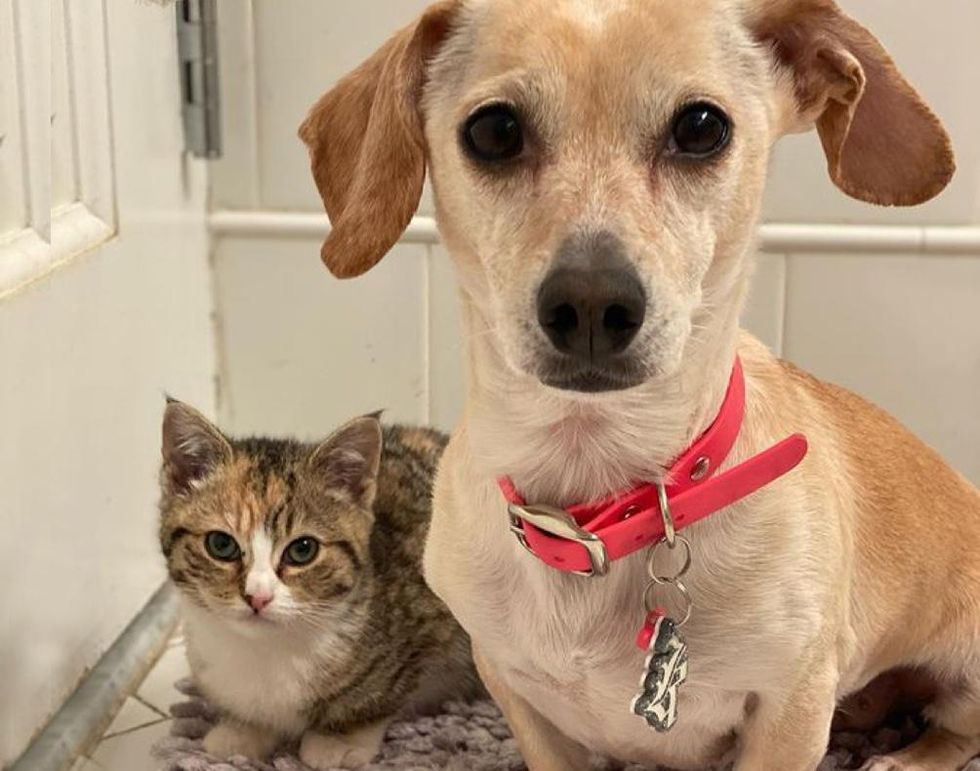 Asa @shibuyarollcall
Kona pawed at the carrier and eagerly wanted to meet the new kitten. She followed Blair around and insisted on giving her a bath and snuggles. The timid little feline was quickly overcome by the tender loving care.
As much as her instinct told her to run away and hide, she stayed and soaked up all the love bestowed by her canine friend.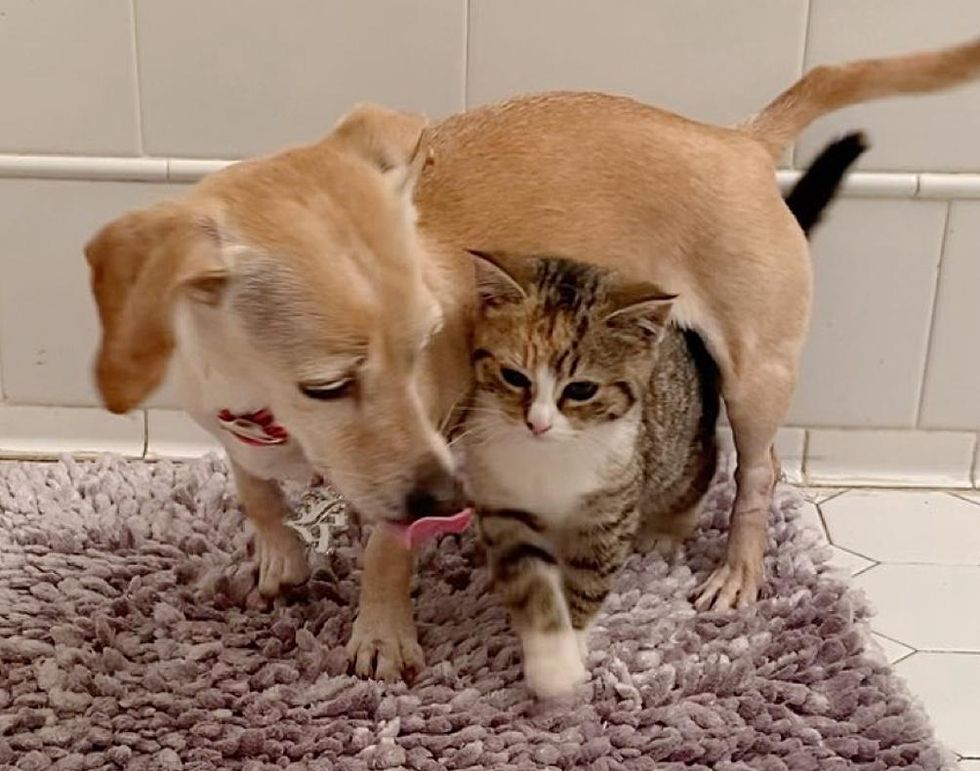 Asa @shibuyarollcall
It didn't take long till Blair started rumbling with her adorable purrs and even tried to comfort-nurse on Kona as if she was Mom.

The next day, Blair's brother Chester arrived at his foster home. The ginger boy was in need of a lot of socialization. He stayed cooped up inside the carrier and was too scared to come out. Needless to say, Kona came to his rescue.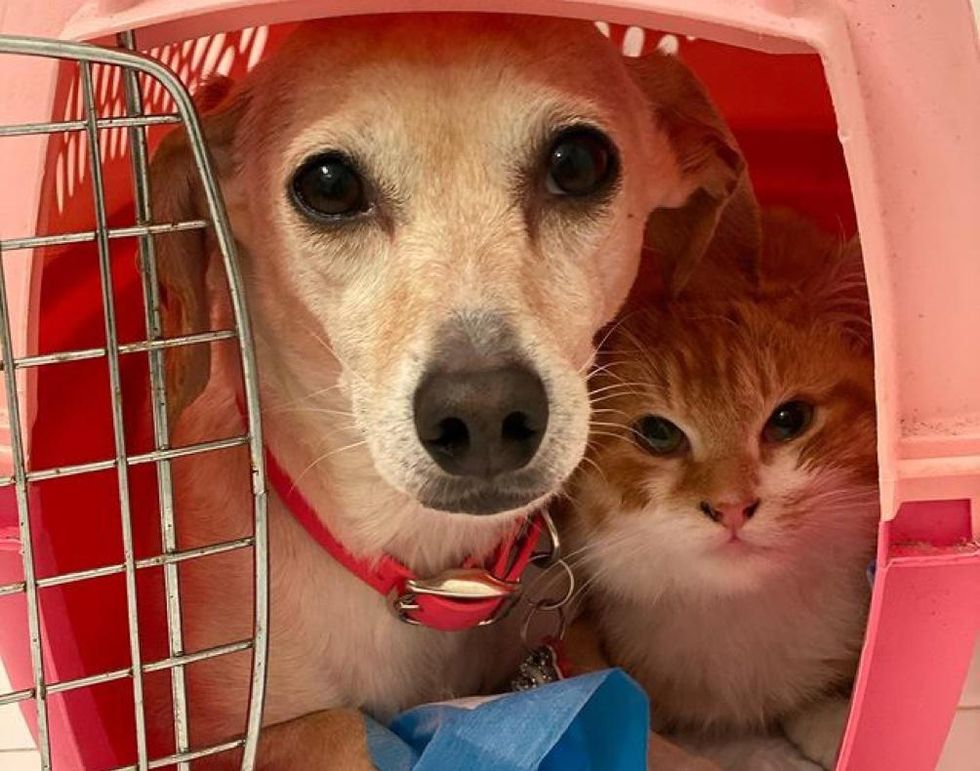 Asa @shibuyarollcall
She quickly came running to the new kitten and walked right into the carrier to cuddle with him. She leaned against Chester as if to reassure him that he was safe.
"I have no idea how Kona keeps winning these kittens over. She's got the magic touch," Asa told Love Meow.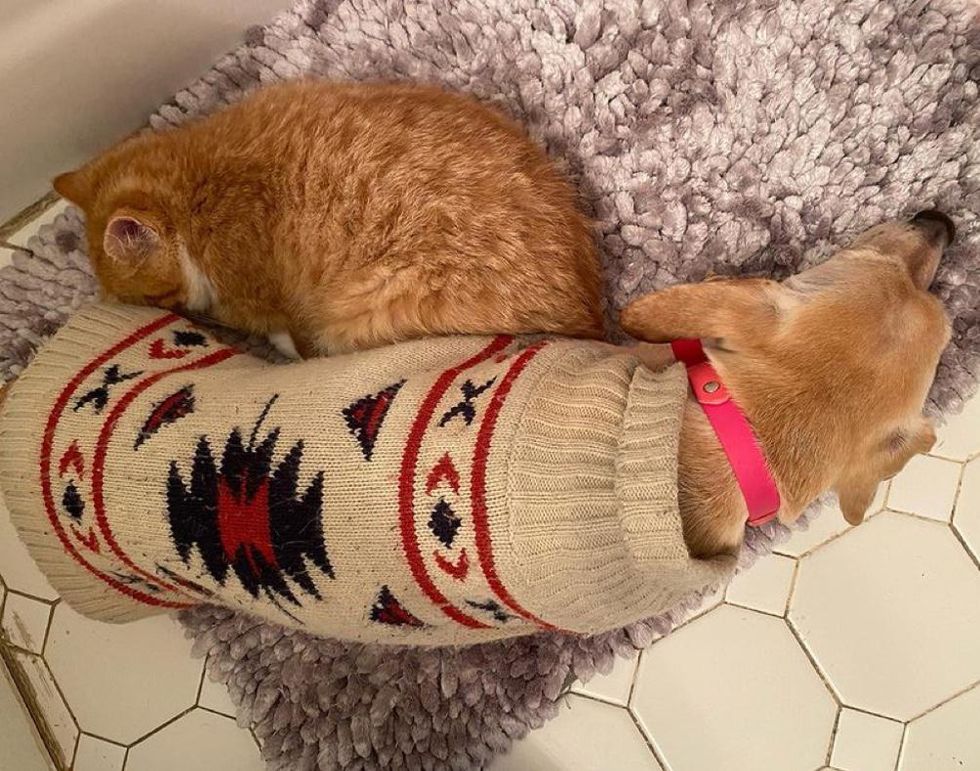 Asa @shibuyarollcall
With the help of Kona, both kittens slowly came out of their shells. They mustered enough courage to walk up to their foster mom for treats while Kona was right there with them, cheering them on.

Watch Kona and her foster kittens in this cute video:
Kona and her foster kittenswww.youtube.com
The three have been napping together in a cuddle-puddle since.
Despite still being a bit shy around people, the kittens feel safe and loved with Mama Kona by their side.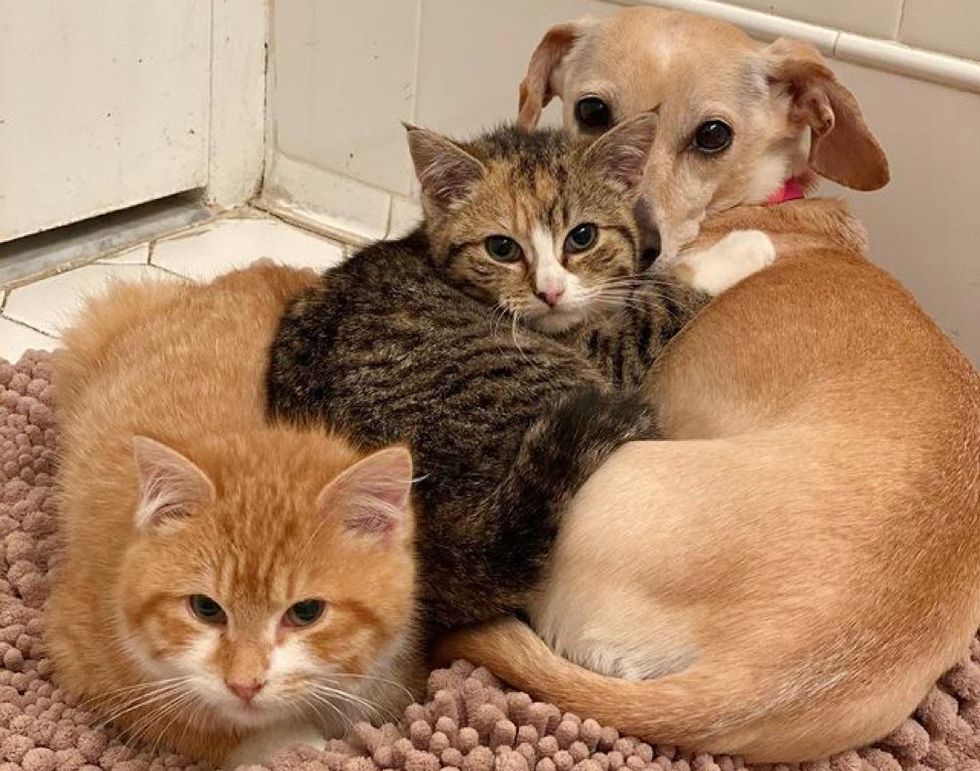 Asa @shibuyarollcall
Kona came to Asa as a foster when she was rescued along with her three puppies.
The sweet canine found her forever home with Asa and has been a doting mom to every foster kitten that comes through their door.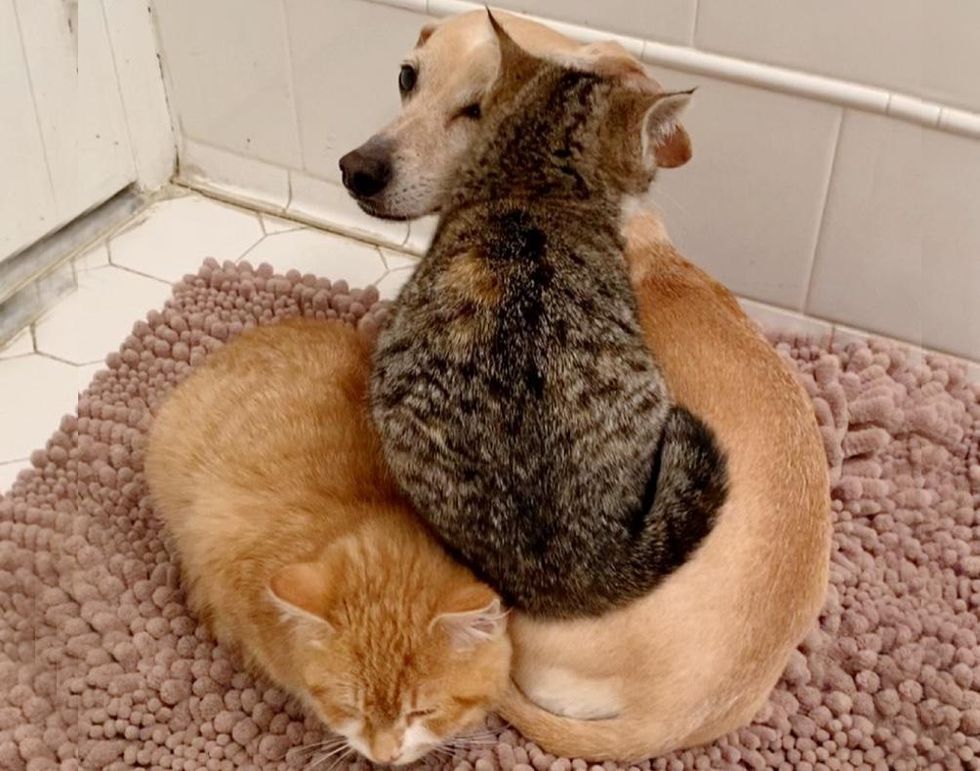 Asa @shibuyarollcall
Blair and Chester are slowly becoming more confident as Kona encourages them to play and try new things.
The sweet torbie has grown to enjoy being petted and even gives love back by licking her human's hand.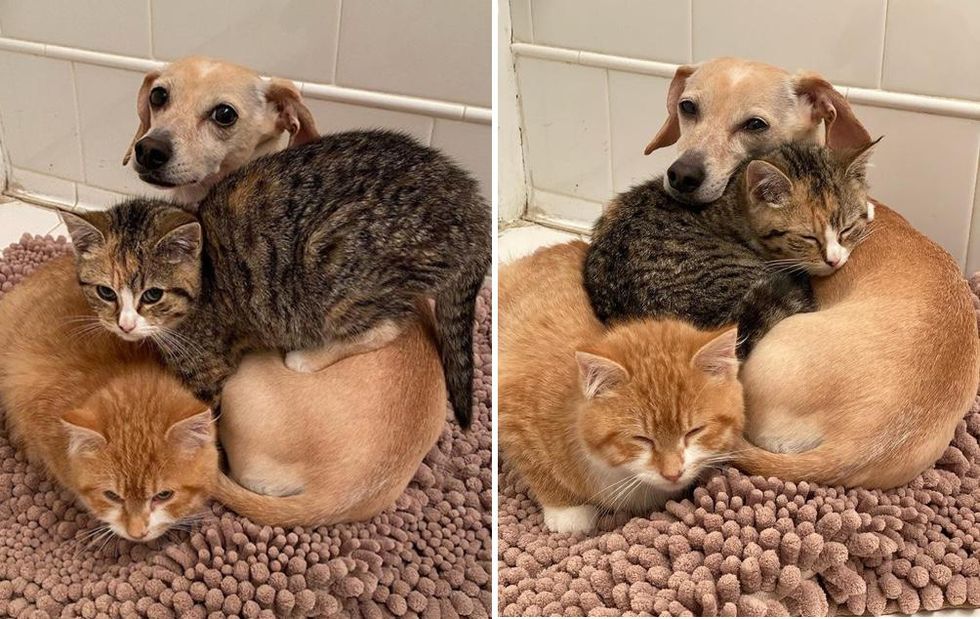 Asa @shibuyarollcall
Kona couldn't be more proud seeing how happy her new babies are, and continues to shower them with love every day.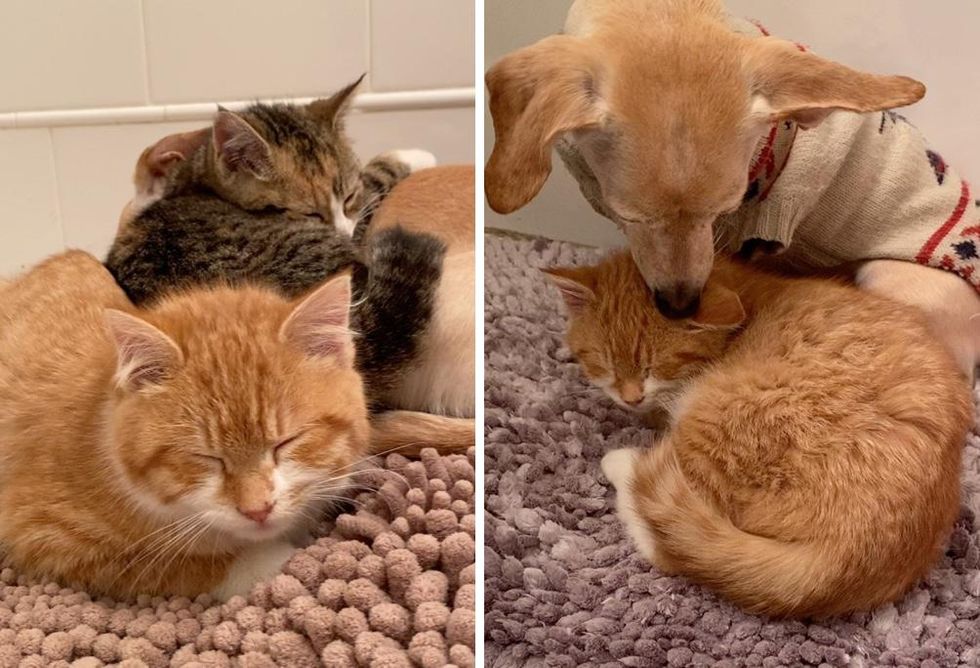 Asa @shibuyarollcall
Even the shyest kittens can't resist Mama Kona's love.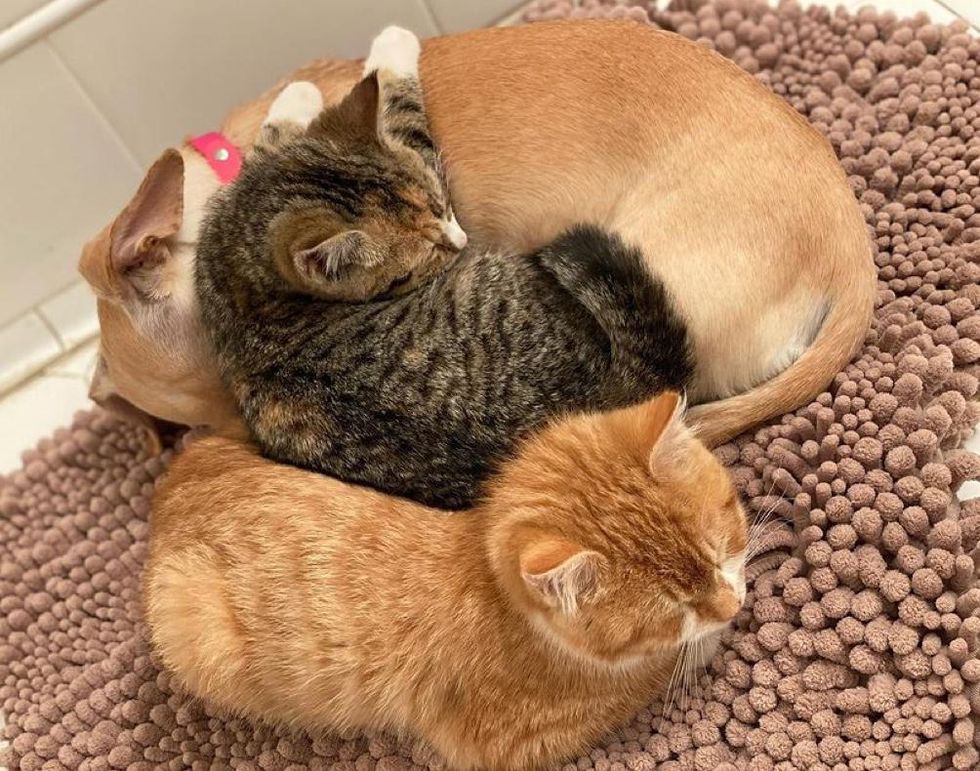 Asa @shibuyarollcall
Share this story with your friends. Follow updates on Kona and her foster kittens on Instagram.
Related story: Kittens Found Under House, Bounced Back and Blossomed Through Help from Big Family