Two kittens arrived at a rescue needing help and TLC. They met a dog who knew just how to cheer them up.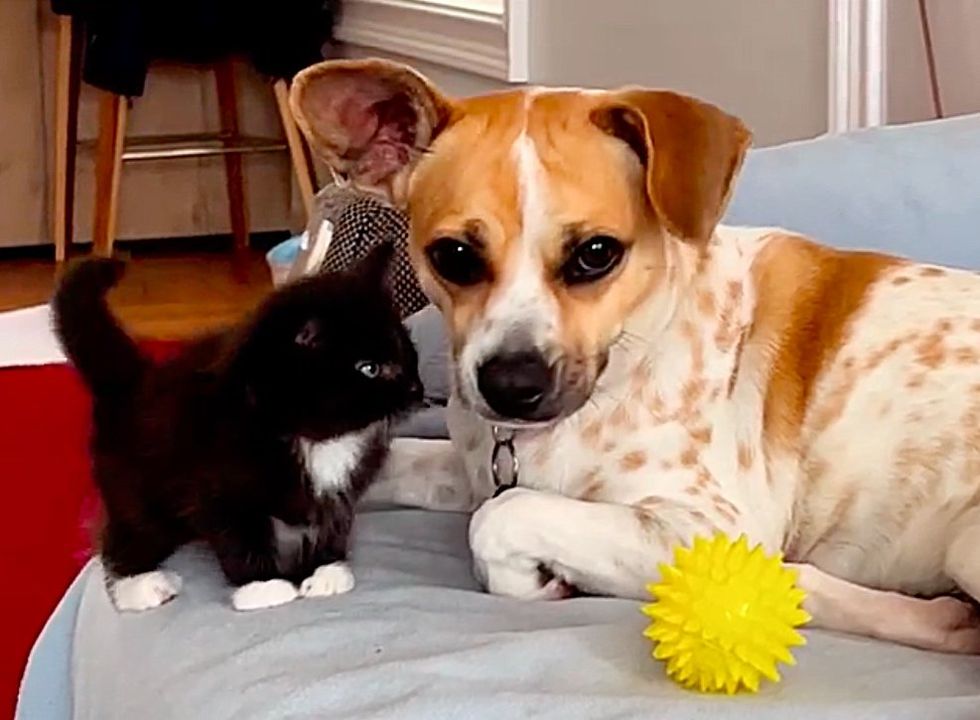 Joyce @kangaroothekitty
Amber Rose, founder of Saving Grace Rescue, was checking for kittens that needed care at San Jose Animal Care Center and Services when she came across two sisters with crusty eyes.
They had been found as strays and brought in to the shelter early this month. At around three weeks old, they were underweight, covered in fleas and had an upper respiratory infection.
They were the remaining two kittens that needed rescue at the time, so Amber and her team of volunteers sprang into action.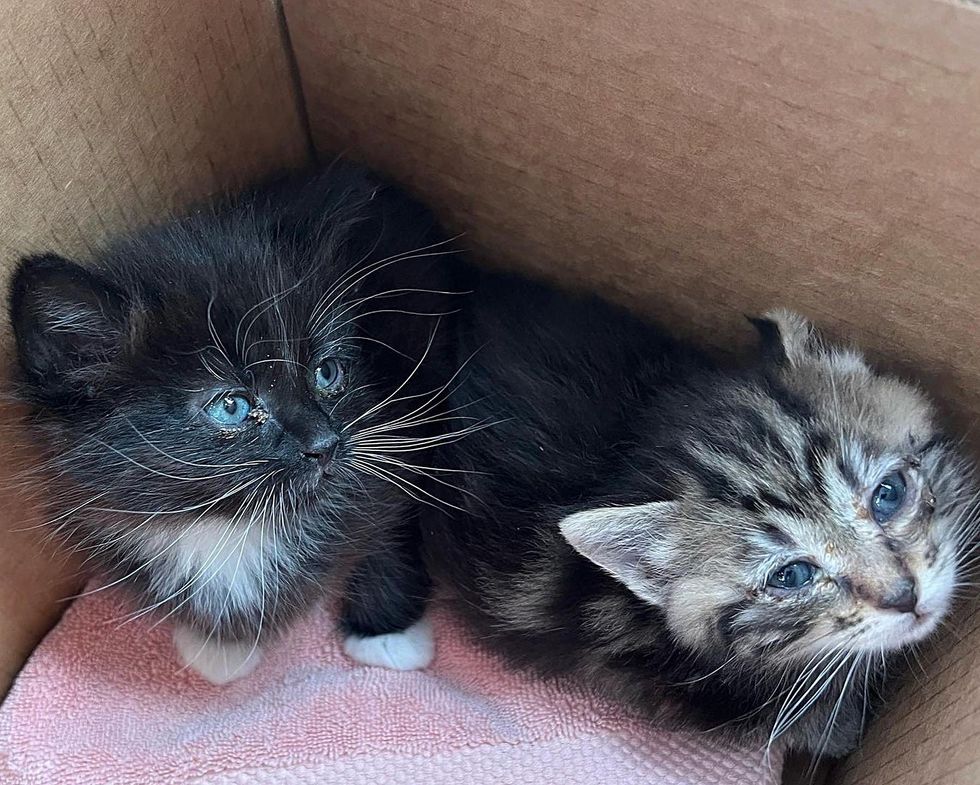 Coco and PuffJoyce @kangaroothekitty
Joyce, who fosters for Saving Grace Rescue, took them on and lovingly named them Coco and Puff. The sisters were treated for an infection, and their faces were all cleaned up.
They started their healing process in the warmth and comfort of their foster home. With proper care, good food and plenty of snuggles, they quickly perked up and began to make good gains.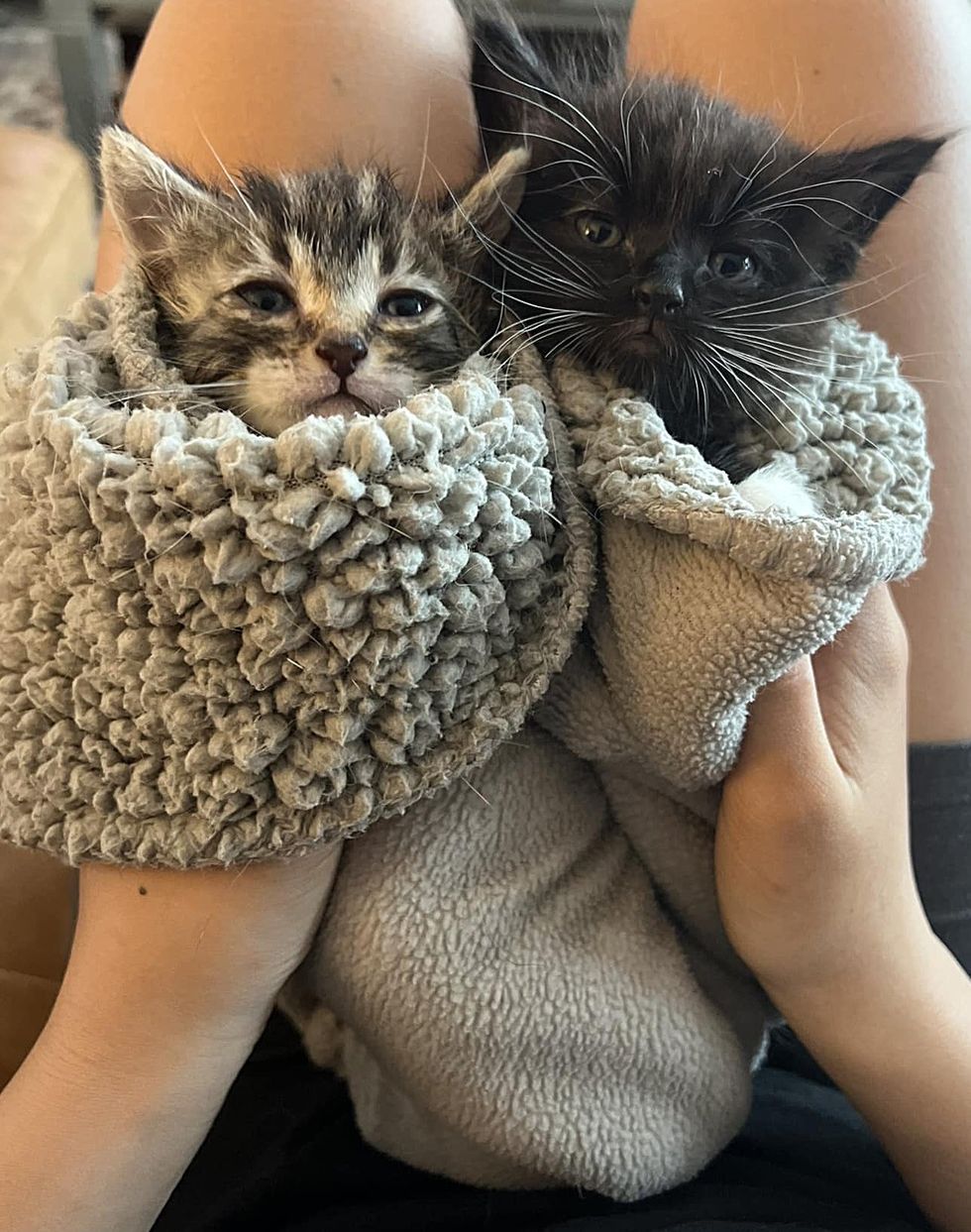 They were all cleaned up and happy to be snuggledJoyce @kangaroothekitty
When their voracious appetite returned, so did their voices. Coco, the black kitten with white mittens, started bellowing out her orders at mealtime and wouldn't take no for an answer.
"She is loud and hungry all the time. She's very opinionated," Joyce shared with Love Meow.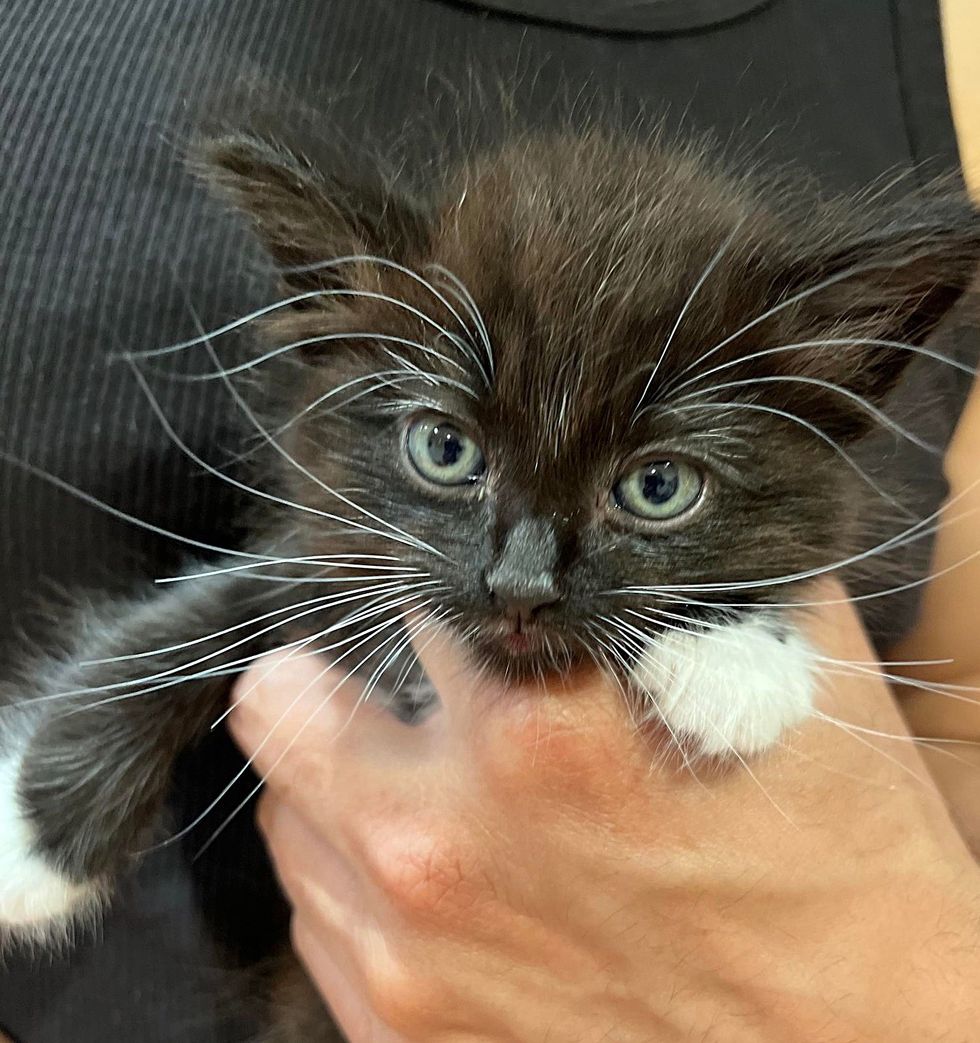 CocoJoyce @kangaroothekitty
Her sister Puff (tabby) would watch Coco venture out into the house and try to follow in her paw-steps. "She is more mellow, but she's very smart. She's figured out how to use the litter robot."
The kittens warmed up to their people and grew to adore their company. They became very curious and active, and were constantly on the lookout for new friends to play and cuddle with.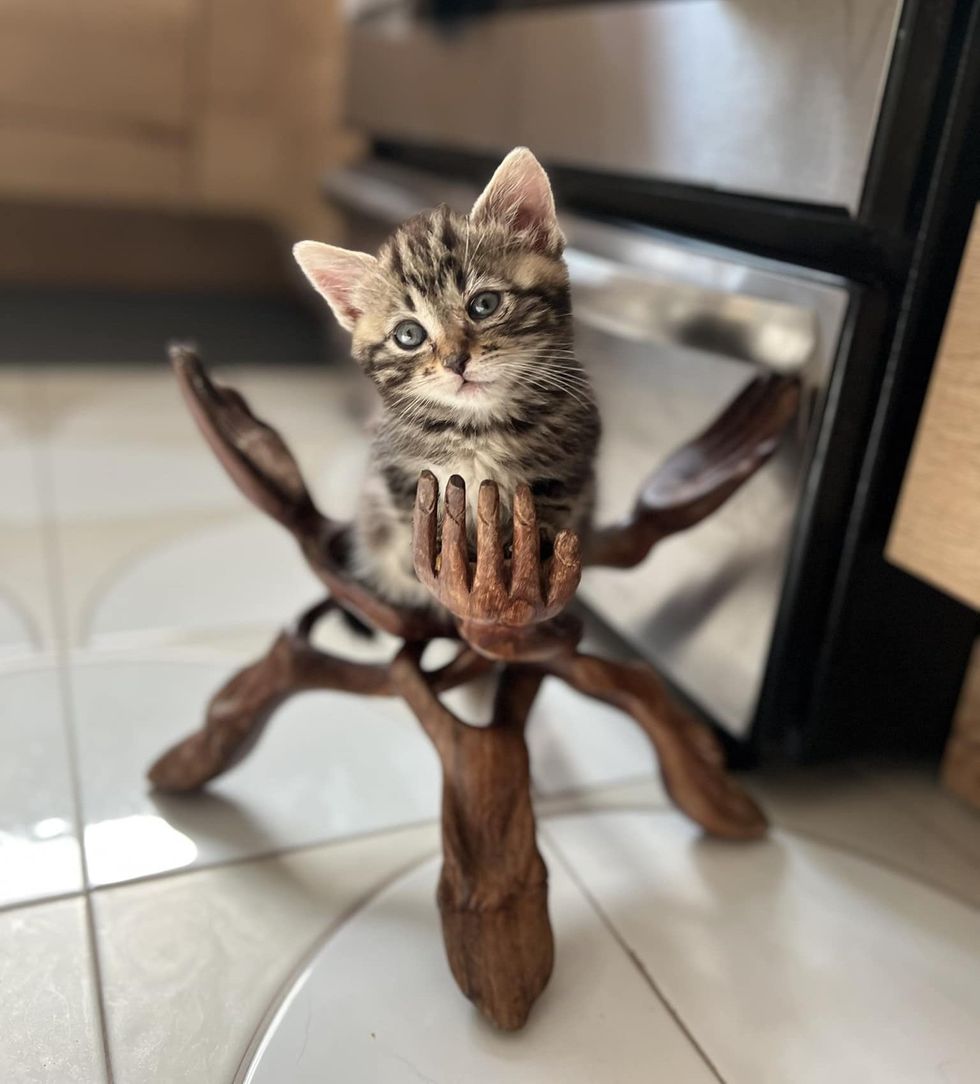 PuffJoyce @kangaroothekitty
Coco, the fearless talker, decided to go around the place befriending everyone, with her sister trailing behind. At the same time, there was another foster in the house that was equally excited to meet them.

Two months prior to the kittens' arrival, Joyce welcomed a rescue dog, Chobani, into her care. The 2-3 year-old terrier mix was found outside while she was pregnant.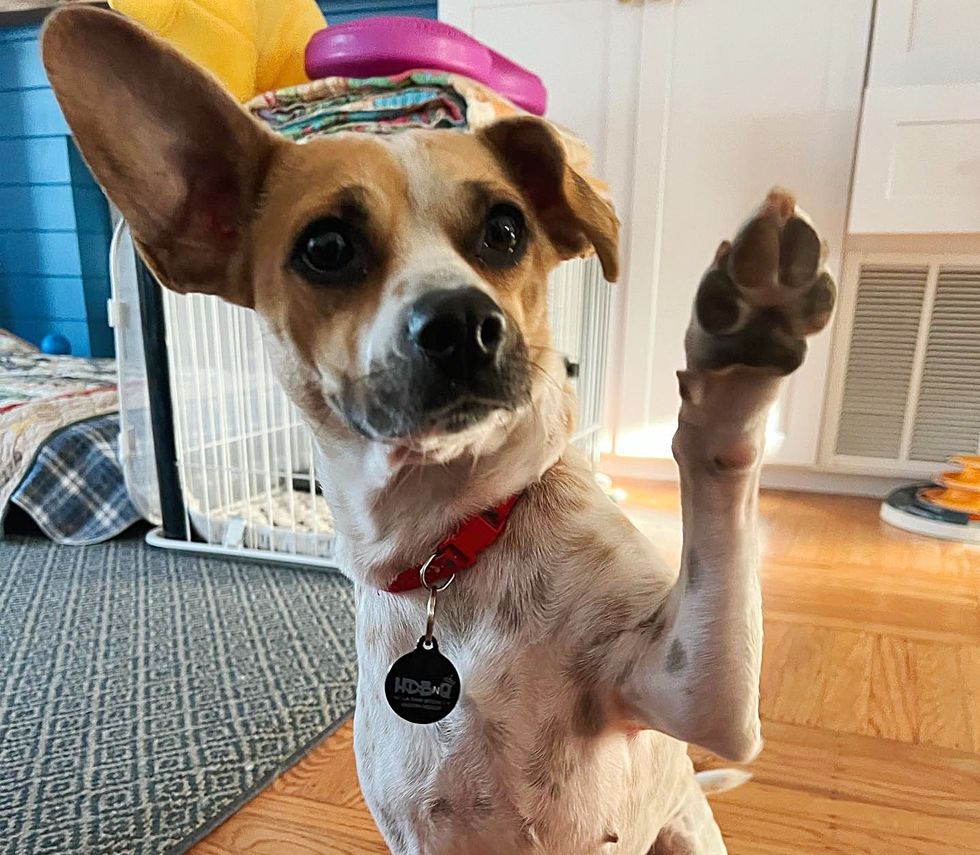 ChobaniJoyce @kangaroothekitty
After raising her puppies with the help of HDBnQ Rescue, she was ready to find a place of her own.
When Chobani heard the kittens meowing, her eyes lit up and her instincts kicked in. She was itching to see the babies, wanting to dote on them as her own.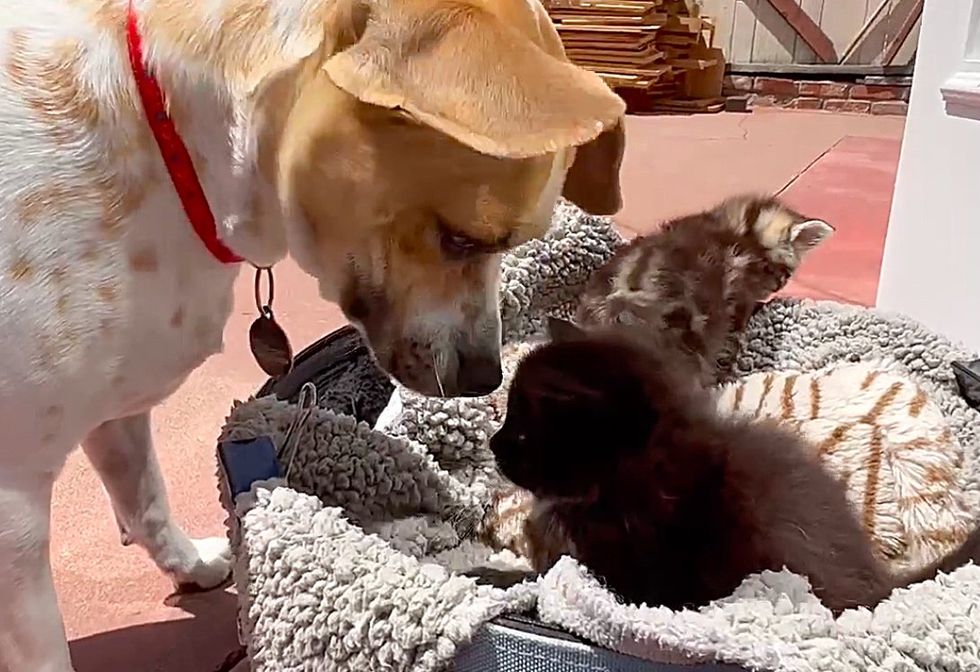 Chobani met the kittens and it was love at first sightJoyce @kangaroothekitty
"She couldn't resist and wanted to give them a lot of nudges and licks," Joyce told Love Meow.
When it was time for them to meet, Chobani came right over to greet the kittens. She showered them with kisses and cleaned their faces like a mother would.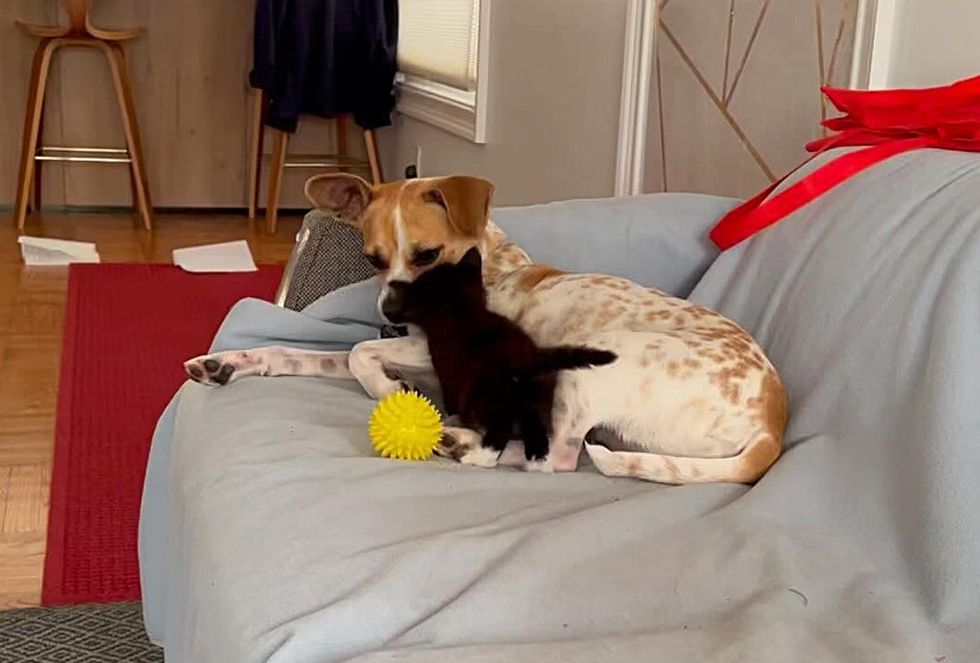 Coco took a liking to Chobani and decided they would hang out togetherJoyce @kangaroothekitty
It wasn't long until Coco, the braver one, took a liking to the sweet canine and leaned against her for extra snuggles.
Coco will hop on the couch to hang out with Chobani whenever she's there. After giving a few head bumps, she will curl up in her arms or lounge next to her. Puff who doesn't want to be left out, will join them in the cuddle fest.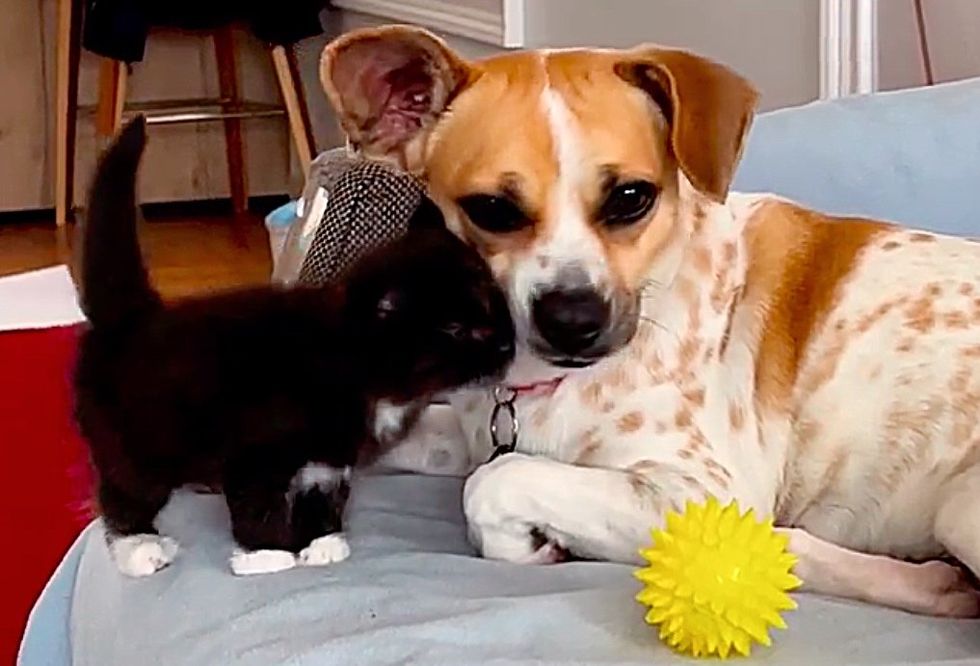 Joyce @kangaroothekitty
When Chobani lies down on her side, both kittens will nuzzle her belly and start comfort-nursing, kneading away with their paws and purring up a storm.
Chobani has happily accepted the role as their surrogate mama, providing them with pacifiers and being their pillow to nap on.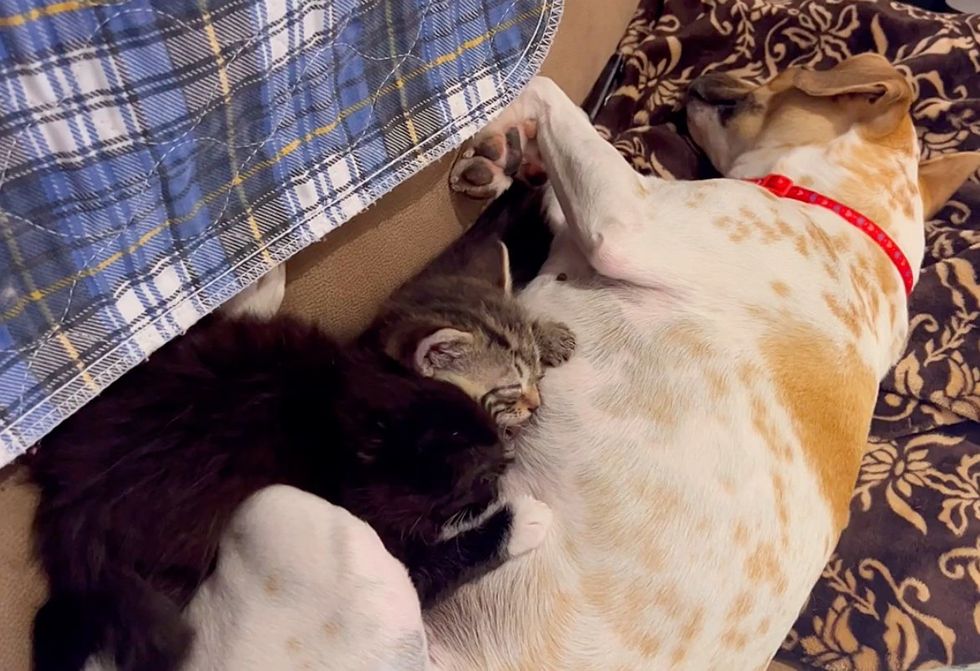 Coco and Puff started comfort-nursing on Chobani who happily let themJoyce @kangaroothekitty
Coco and Puff who arrived as sickly kittens, have made a full recovery and grown in size, strength and confidence.
They have a loving foster family to prepare them for their future forever home and a sweet canine mama to cater to their whims.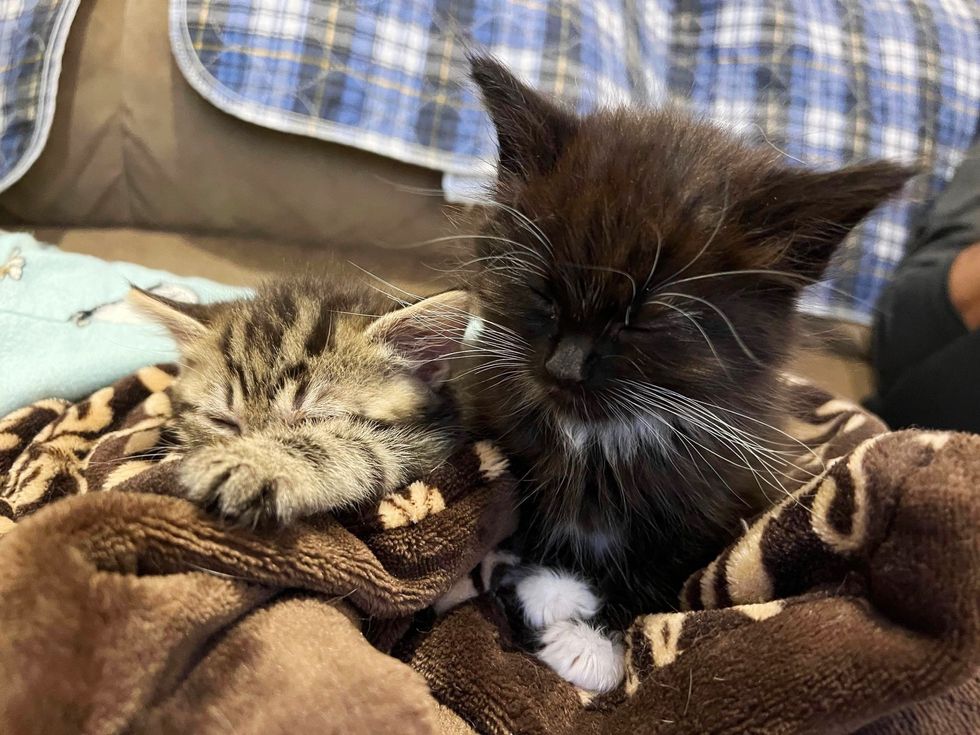 Joyce @kangaroothekitty
Share this story with your friends. More on Coco and Puff and Joyce's fosters on Instagram @kangaroothekitty and Facebook. Saving Grace Rescue @savinggracerescue. HDBnQ Rescue @hdbnqrescue.

Related story: Cat is Over the Moon to Have Kittens in a Warm Abode and Purrs Her Way Through Every Day