Staff at Wright Way Rescue are baffled why their 7-year-old polydactyl feline extraordinaire Bruno hasn't found a home yet.
The 25-pound kitty with extra toes has won everyone's heart at the shelter in Morton Grove, Illinois. He is quite the character with a few quirky traits.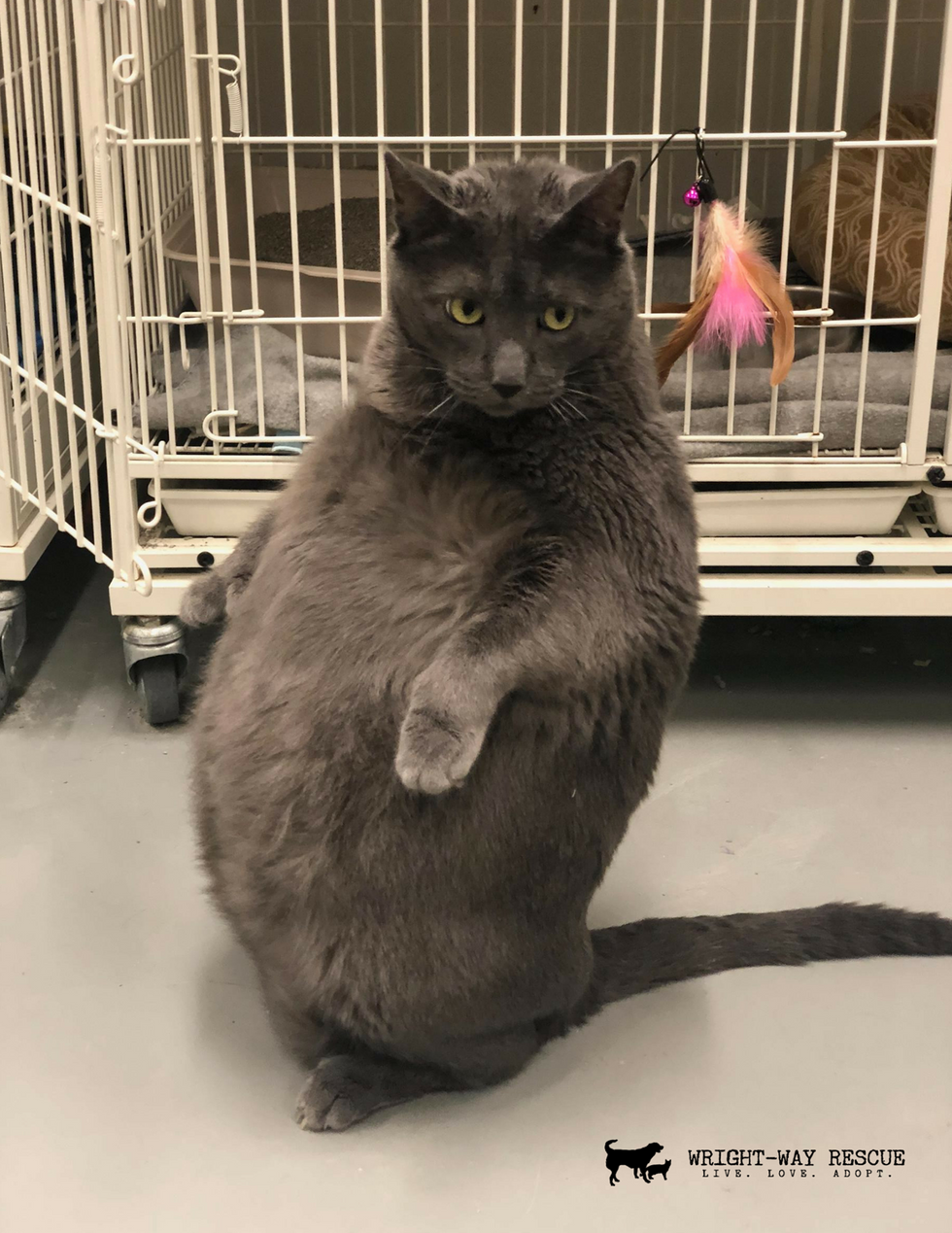 Wright Way Rescue
Bruno came into Wright-Way Rescue four months ago after being surrendered by his previous owner. "Sadly, he was not meshing well with the kids in the home. That doesn't come as a big surprise, given that he is very overweight and could not swiftly run away when he needed a break from the commotion," Jacoby Andrick of Wright-Way Rescue told Love Meow.

He is a healthy boy who needs to lose some weight. Since they put him on a diet, he's been walking, playing and even doing tricks to get in shape. "We have an incredible foster network and we're able to secure a foster home for him almost immediately. The only terms for the foster were that Bruno needed to lose weight. At 25+ pounds, he really needs to lose at least 10 pounds."
They also discovered a very special quirk of his that made him stand out instantly. The kitty has a habit of standing on his back paws when he spots treats and will use his incredible charm to beg for some.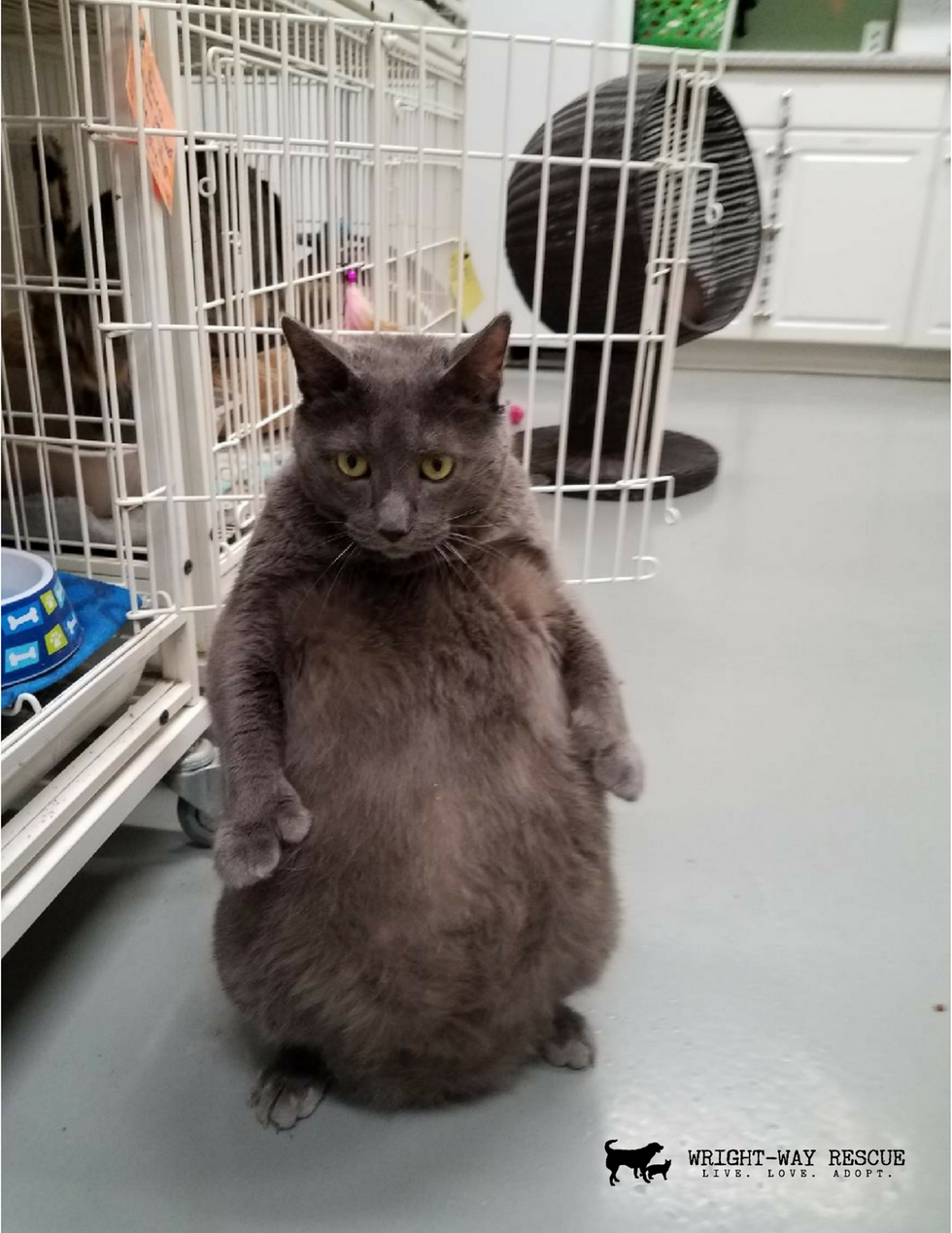 Wright Way Rescue
"He likes to sit up on his back feet and beg for food," Jacoby told Love Meow. "Sometimes he stands on his back legs for 20 minutes at a time. It's quite entertaining."

It took his foster mom some time to figure out why he meowed and stared at her for a while after she put food in his bowl. "Strangely enough, he also prefers to be pet while eating."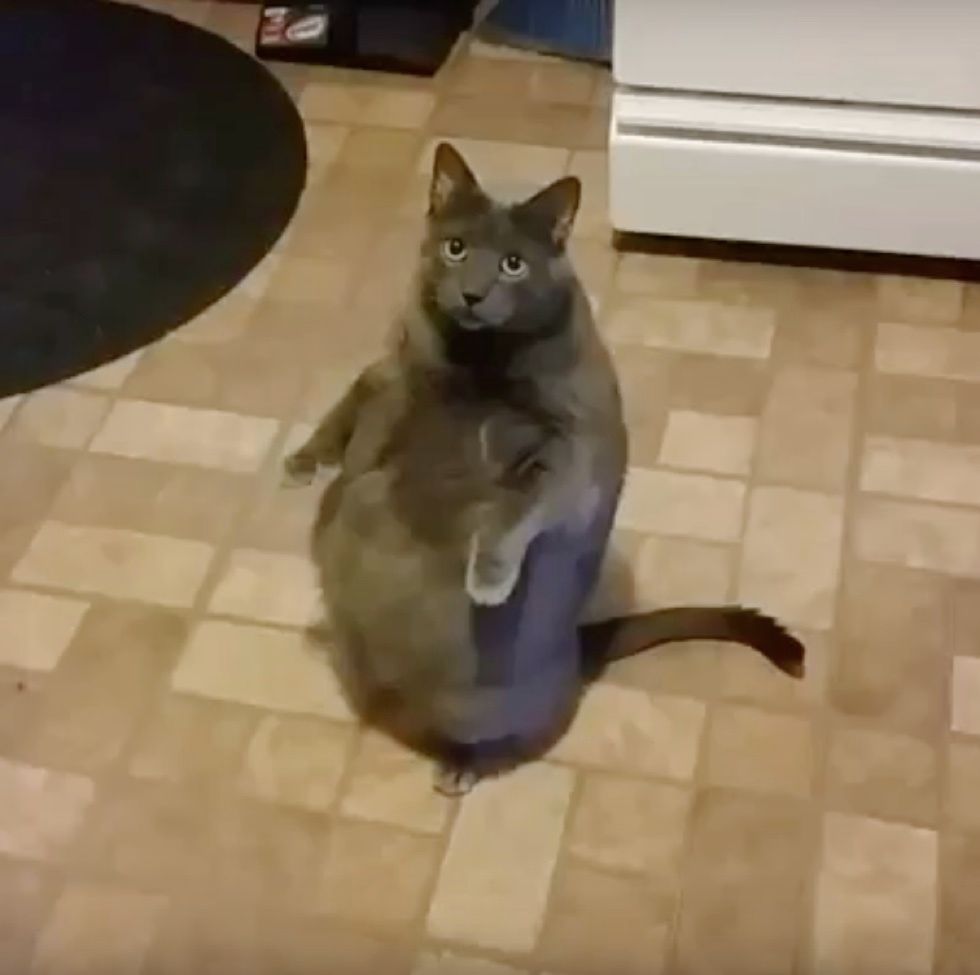 Wright Way Rescue
The adorable feline wants to be in the presence of his humans. He is never far from them. "He is a laid-back guy who likes to be in the company of his family. He is not entirely a lap cat but loves to snuggle next to people," Jacoby said.

Bruno does have a few things that he is particular about. He prefers fresh water bowls throughout the house and would love a cozy bed that is easily accessible to him. At night, the kitty gets in bed with his foster parents, guarding them while they sleep.
Watch this cute video of Bruno:
He is the happiest when he gets his back petted. Bruno is also very vocal and never shy of expressing his feelings. He says it like it is and will have a conversation with anyone who cares to join him.

Bruno is well on his way to a healthier self. "We are currently taking it one pound at a time. We believe his weight is a result of being 'over loved.' But he needs a family who loves him enough to guide him into better health," Jacoby told Love Meow.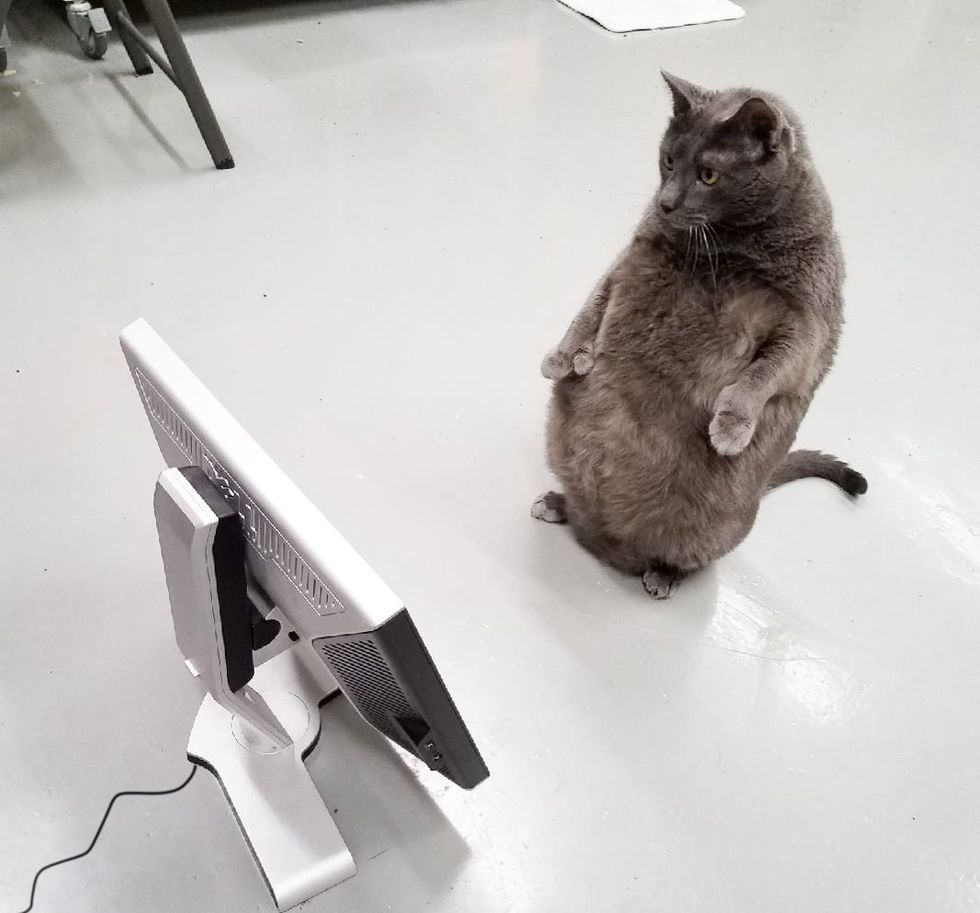 Wright Way Rescue
"He is a great cat who needs a home that will seriously keep him on a diet. A home without little kids would be best. He also needs someone who will play with him and keep him active."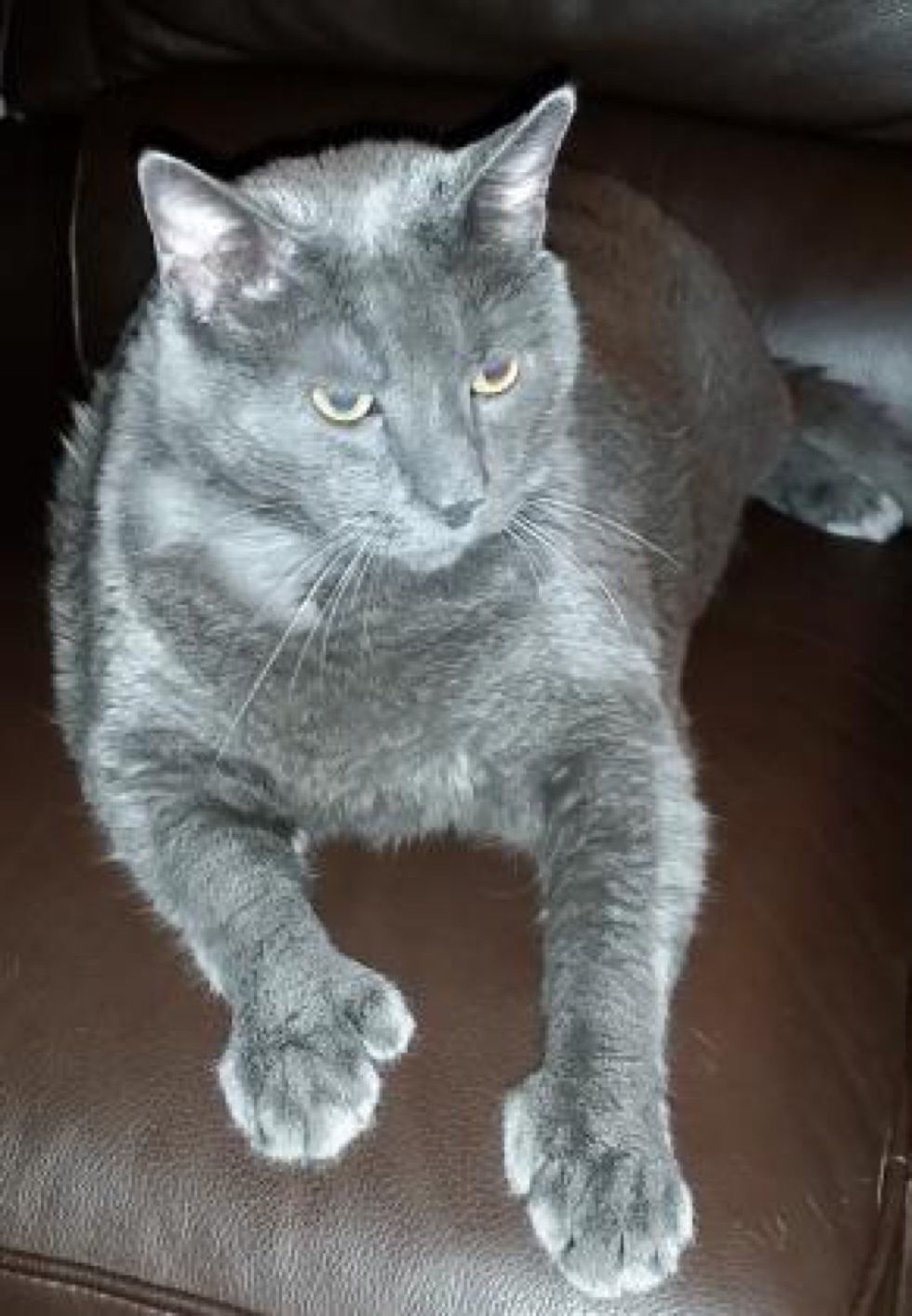 Wright Way Rescue
Updates:
Bruno has been adopted!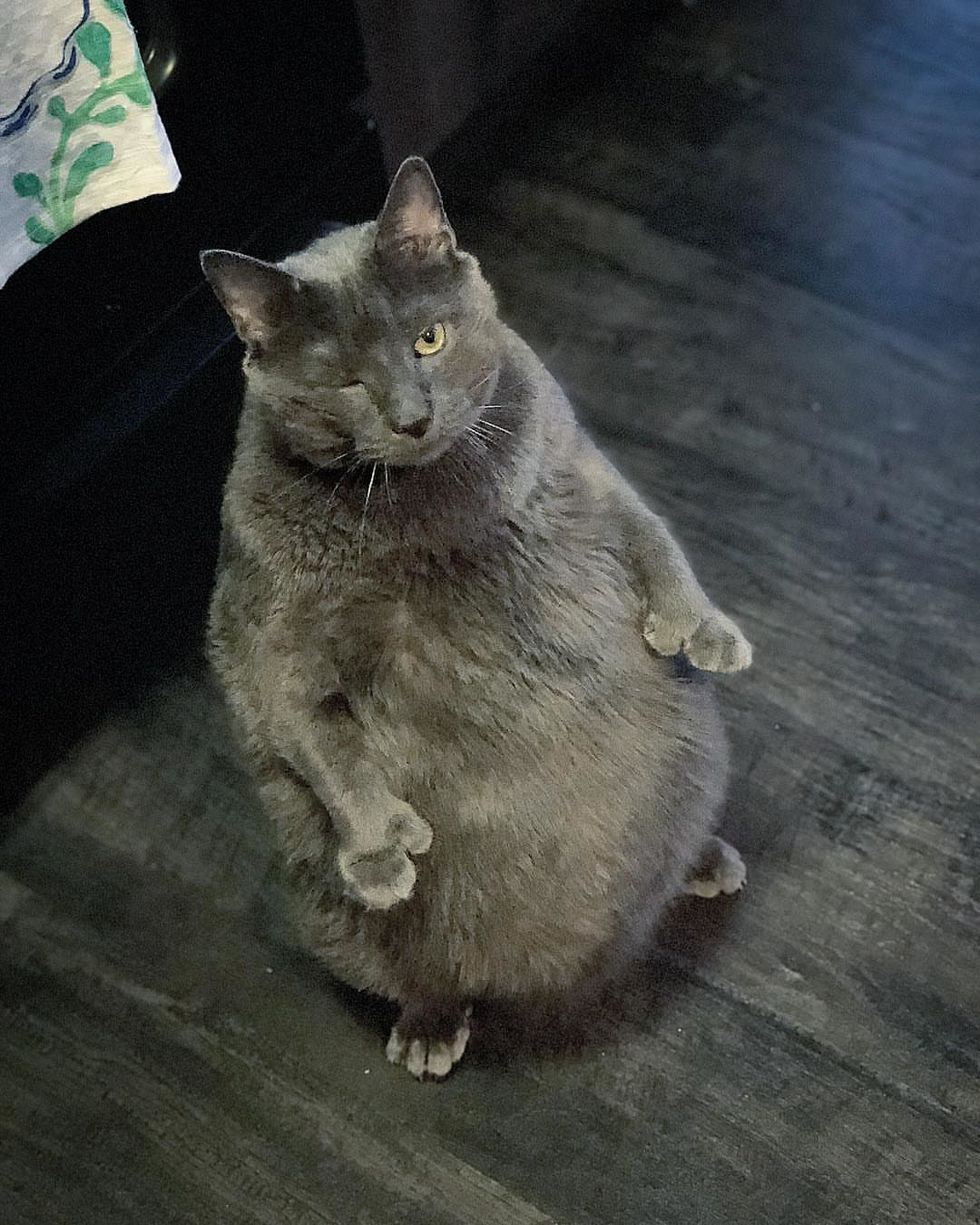 @theebrunobartlett
He loves his forever home!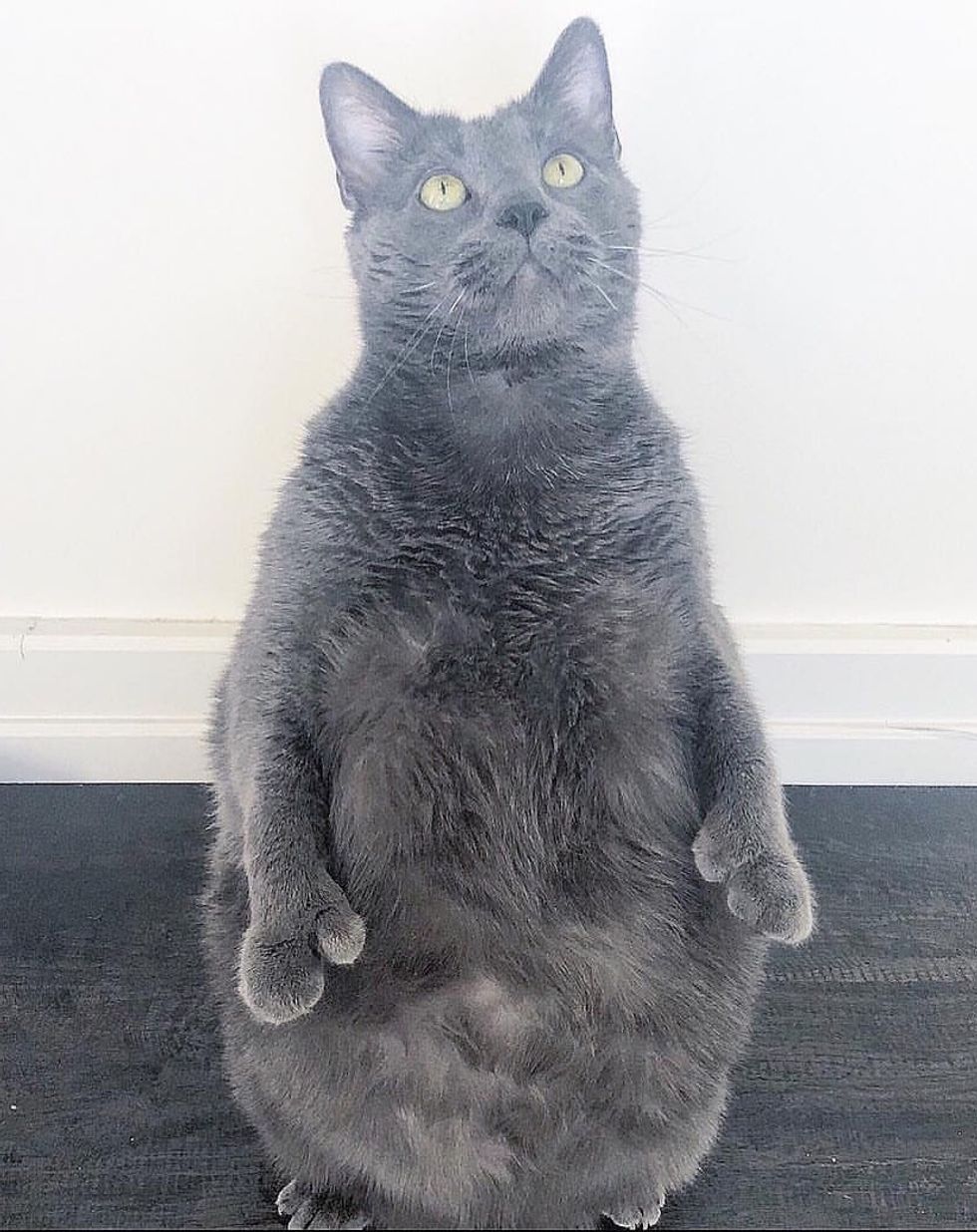 @theebrunobartlett
Share this story with your friends. Follow Bruno and his adventures on Instagram. Follow Wright Way Rescue on Facebook.
Related story: Couple Went to Shelter for a Kitten But Came Home with a Cat and a Mission to Help Him to Get Healthy