A box was spotted outside a shelter in Tracy, California. Staff were shocked to find a cat inside.
He was a big fella and eager to be loved.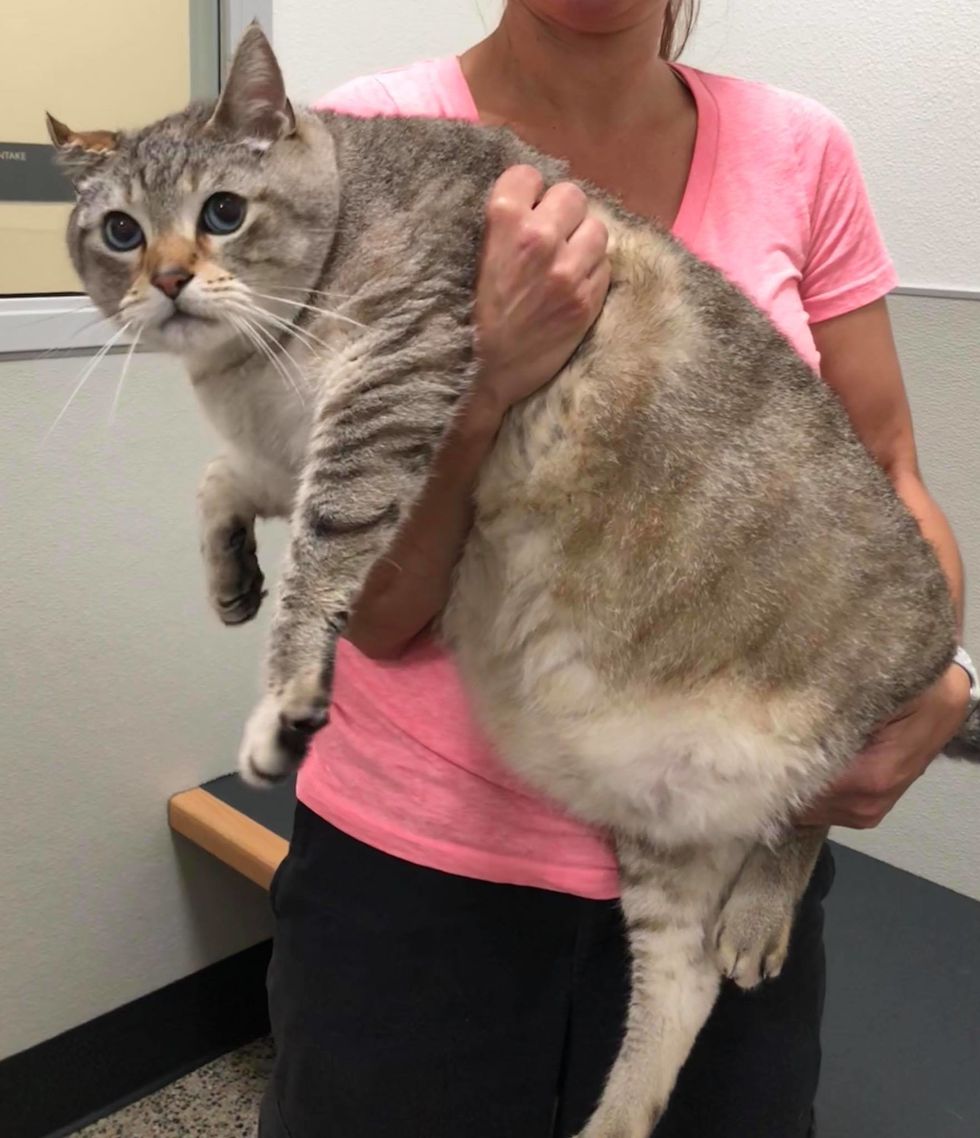 Tracy Animal Services
About seven weeks ago, Tracy Animal Services took in a big kitty that was found abandoned in front of the shelter. The cat was a lover from day one and would purr and ask for pets and head snuggles whenever he got a chance.

While at the shelter, the 27-pound cat was overwhelmed by the unfamiliar environment and would hide under his blanket for comfort.
"You never knew how big he was until he came out. It was shocking to everyone who would take the time to peek under his blanket or talk sweetly to him to get him to come out," Beth Palacios, an Animal Services Officer at the Tracy Animal Shelter, told Love Meow.
They named him Tommy Boy. "He was a lover boy, purr machine!"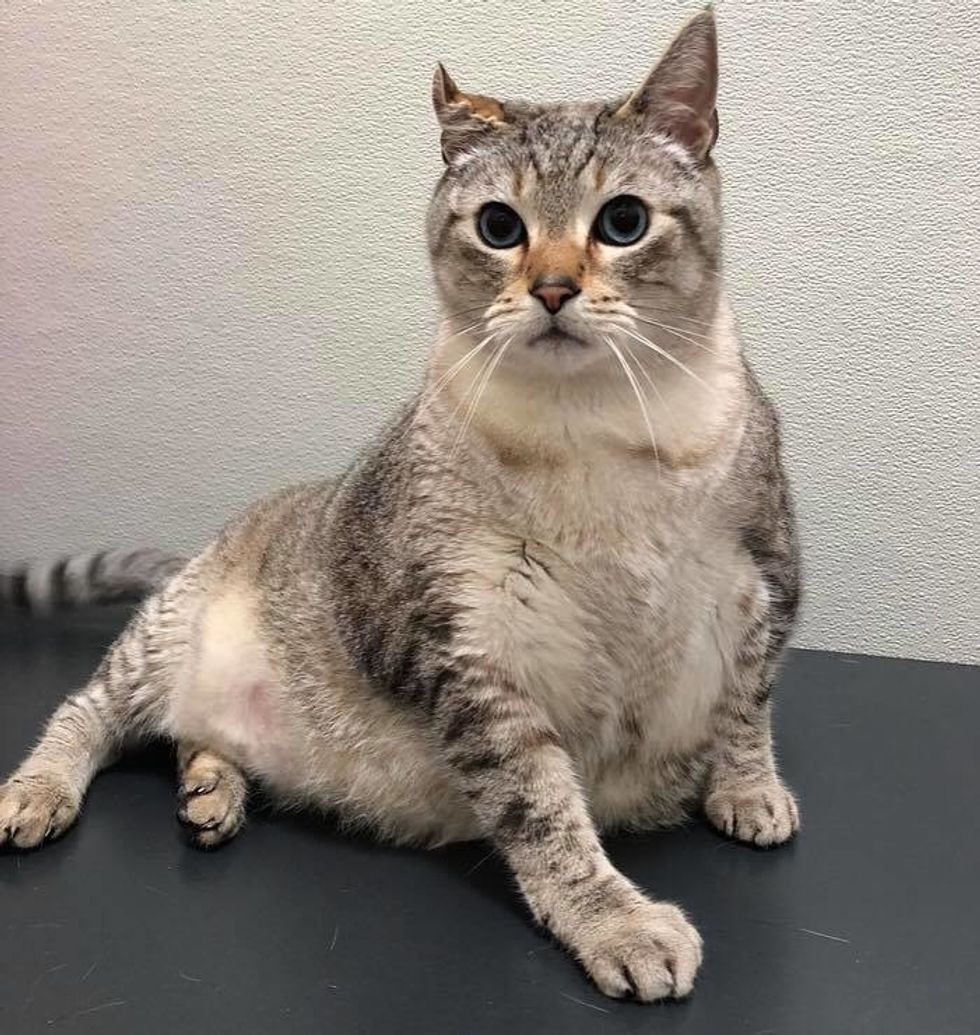 Tracy Animal Services
"Due to his size and weight, he may have some health issues and will require a diet under vet supervision. The new owner will be required to see to his veterinarian needs and follow a strict diet. He is well worth it! We want him to live a long and healthy life," the shelter wrote.

That's when Alex Sparks, a vet tech who had volunteered for the shelter, found Tommy Boy. "I had been talking with my family for a month or so about adopting a new cat after one of ours passed away earlier this year. I dropped into the Tracy animal shelter on a whim one day after work," Alex told Love Meow.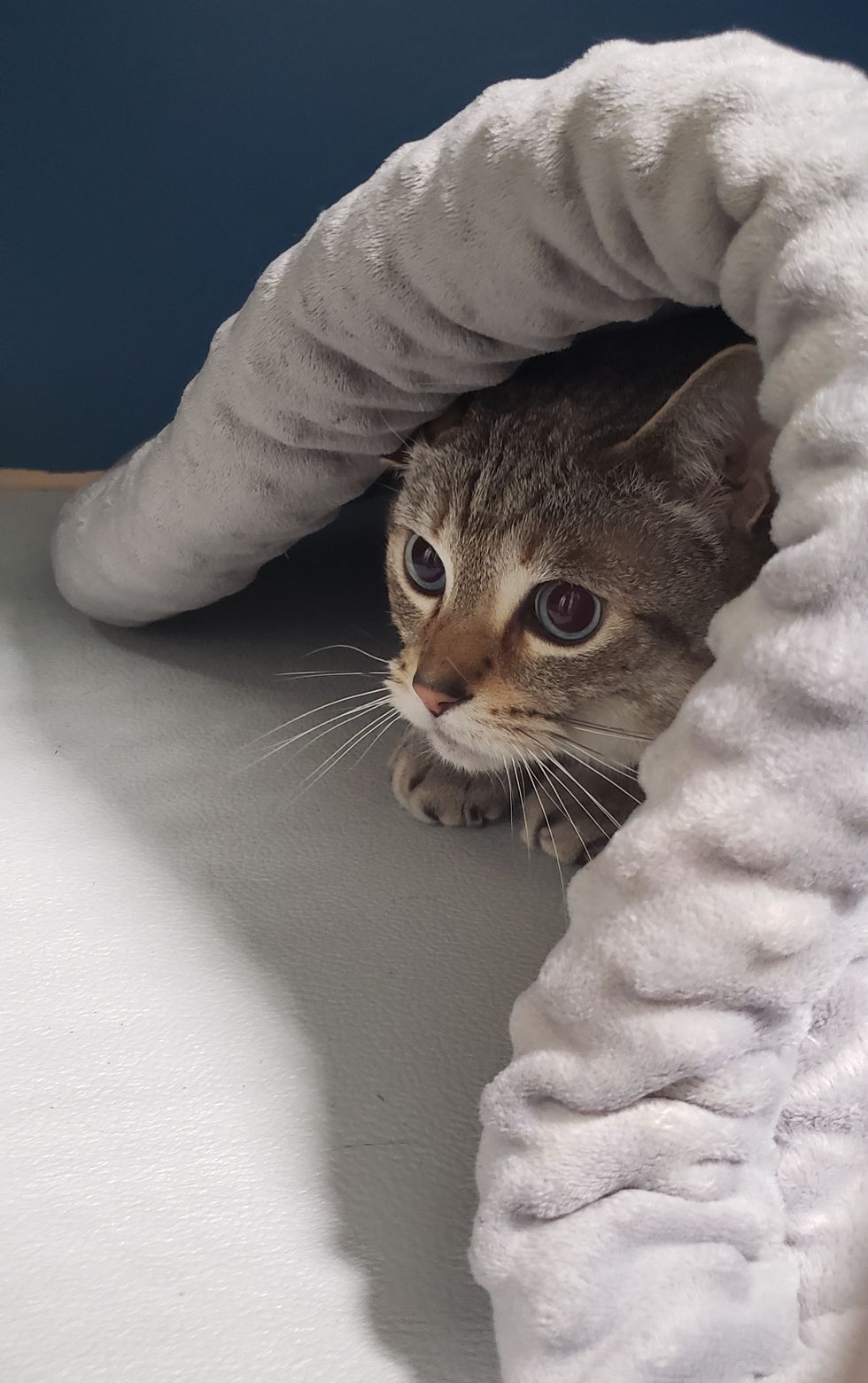 Alex Sparks
"I went into the cat room and they had a few kittens and adult cats, as I passed by one of the kennels I noticed a pet bed that seemed to be moving and realized there was definitely a cat hiding under it, I could see two bright blue eyes peeking out."

She stuck her finger through the bars and started calling 'kitty, kitty'.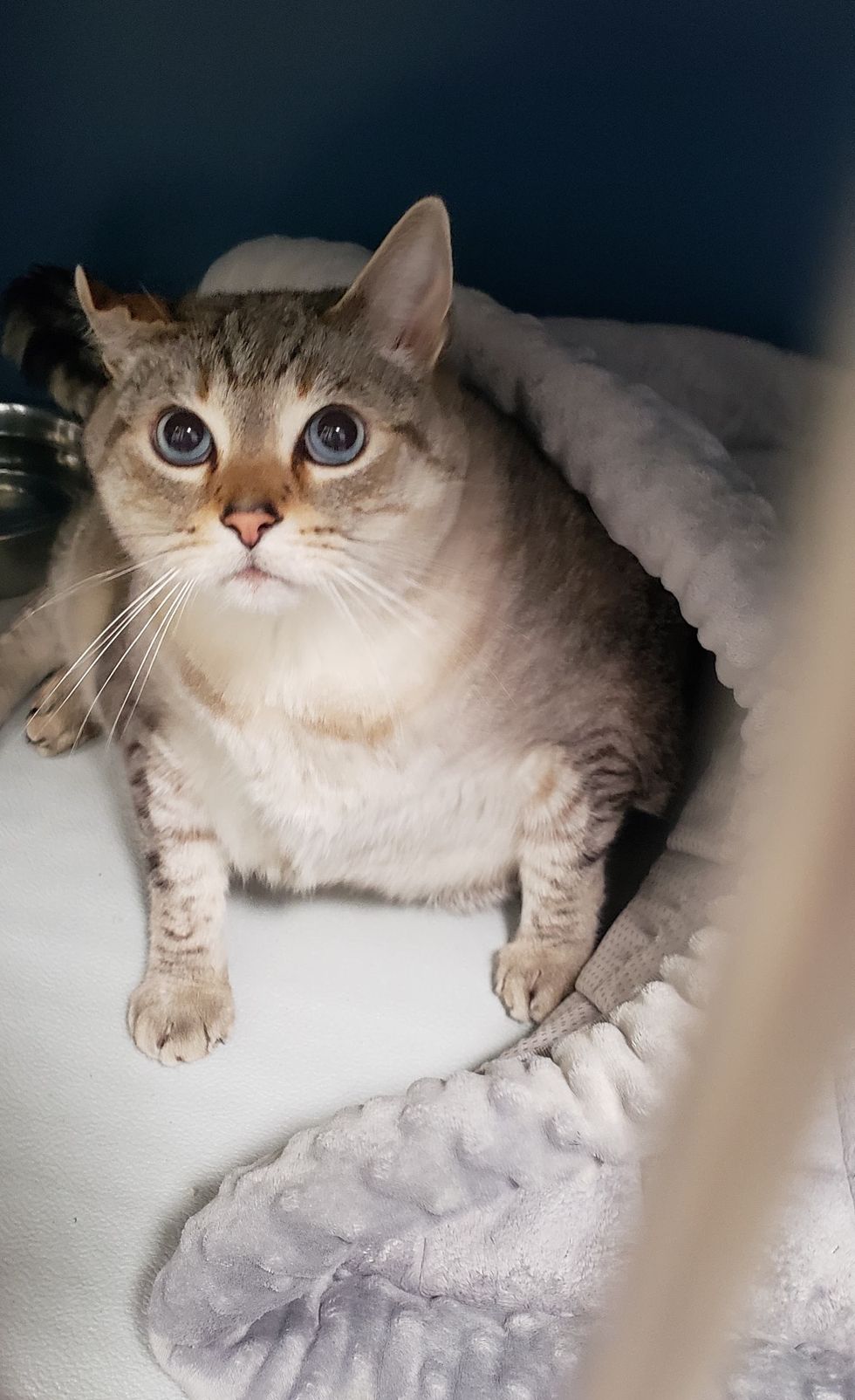 Alex Sparks
"To my surprise 27.2 pounds of cat wiggled out from under that blanket. He was definitely scared of this new environment but was kneading his paws and letting out little meows while rubbing against my hand through the bars. I instantly fell in love with him."

Alex went to the front desk to inquire about the kitty. Tommy Boy was not available for adoption until after the hold period, but Alex couldn't get him out of her mind.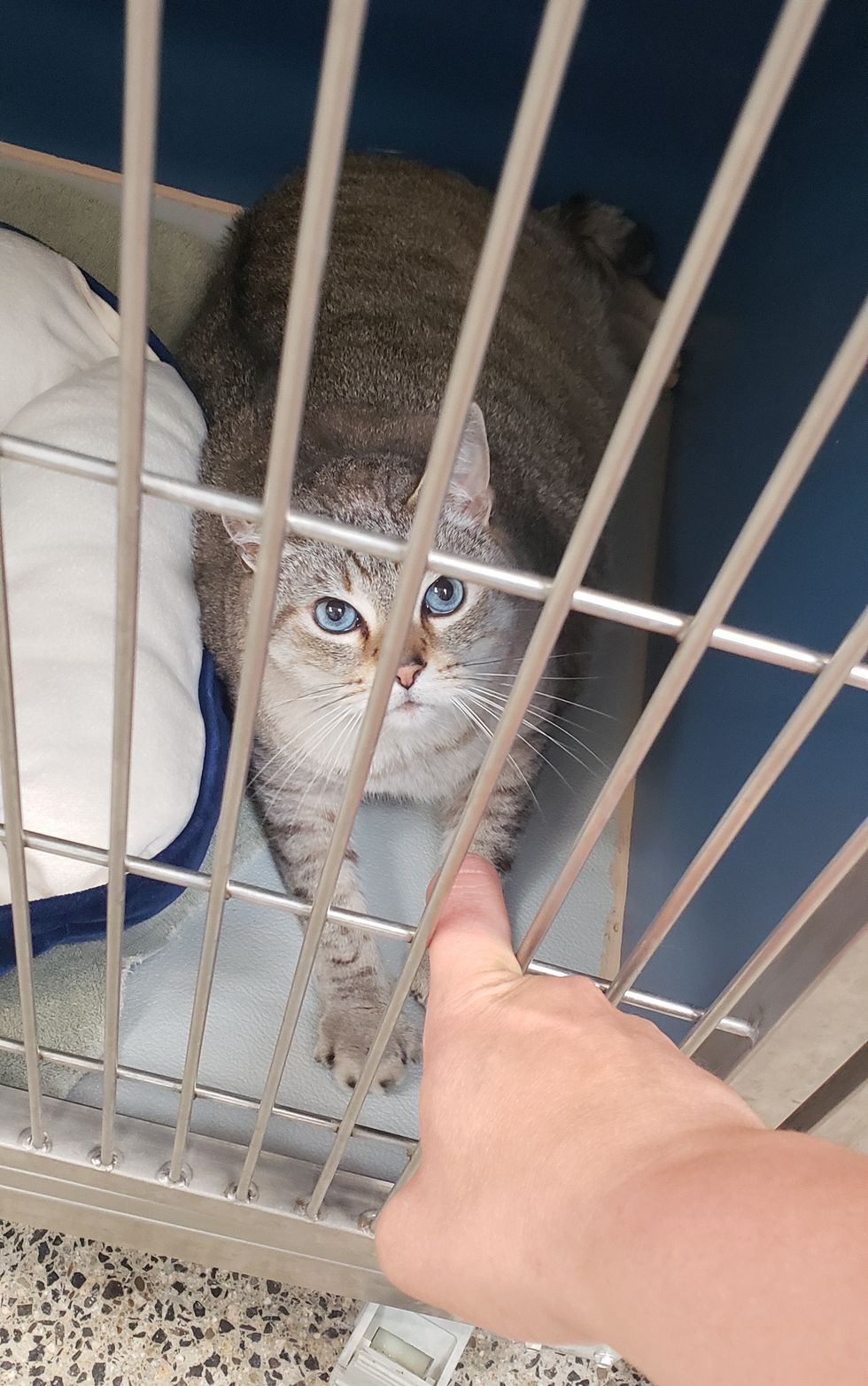 Alex Sparks
"I went back in to visit him the following day on my lunch break. He seemed to have come out of his shell a bit and was laying on top of the pet bed, he greeted me with purrs and rubs."
As soon as she walked up to his kennel, Tommy Boy rubbed up against the bars, trying to snuggle with his human friend. He purred the loudest purrs while getting pets and head scritches. He didn't want Alex to go when her visit was over.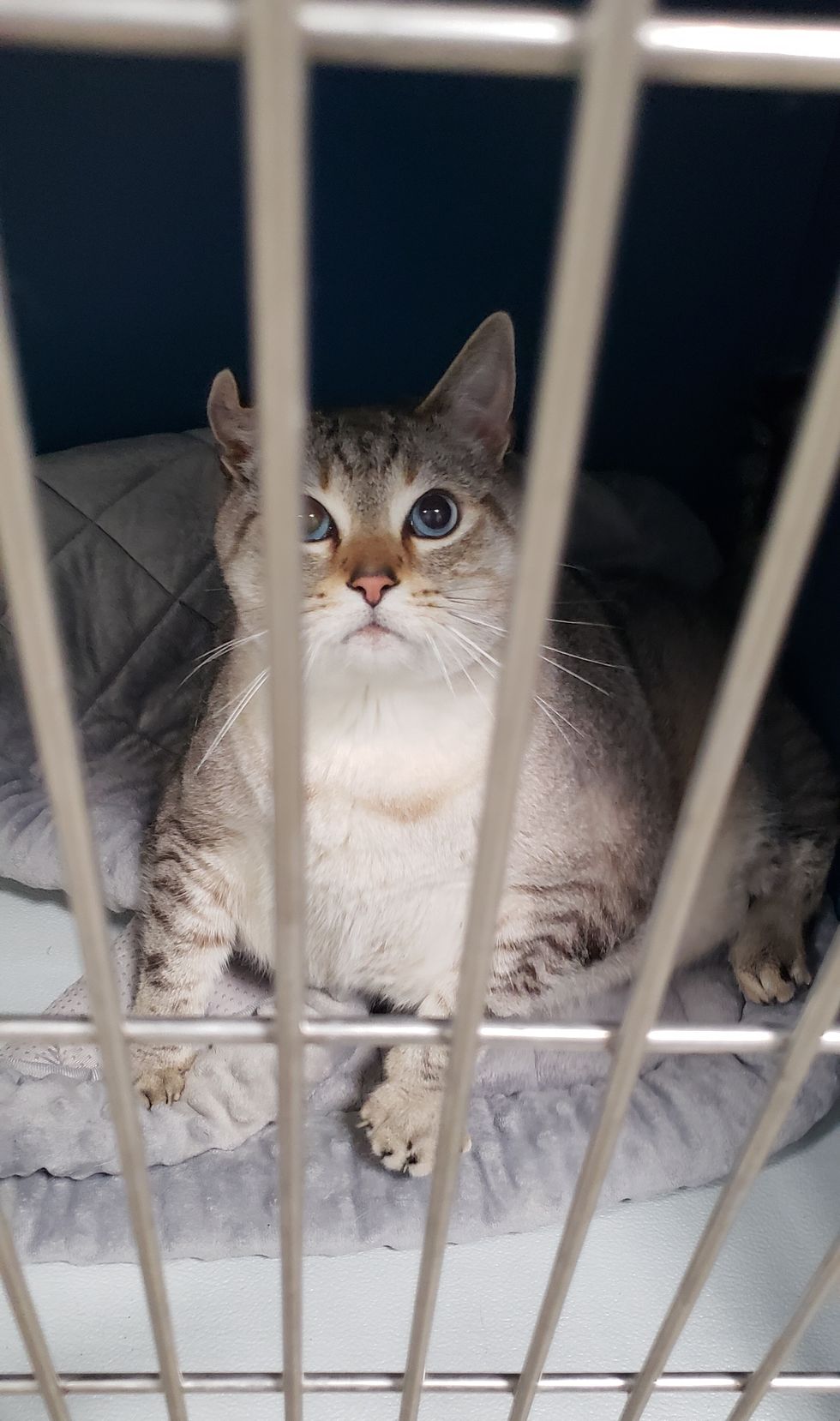 Alex Sparks
She went back a third time at the end of the week before his adoption day. "I spent some time again petting him, and knew by my third trip this was definitely the guy for our family," Alex told Love Meow.

Watch Tommy Boy in this cute video:
On adoption day, exactly seven days after they first met, Alex waited in line for 30 minutes before the shelter opened. "A line started gathering behind me as it got closer to opening, I was sure everyone had to be waiting there to adopt him like I was," Alex added.

"When the shelter opened, the original officer I had met the first day was there, she recognized me and asked how many people were there to adopt Tommy boy, luck be on my side. I was the only one there waiting to adopt him and he came home."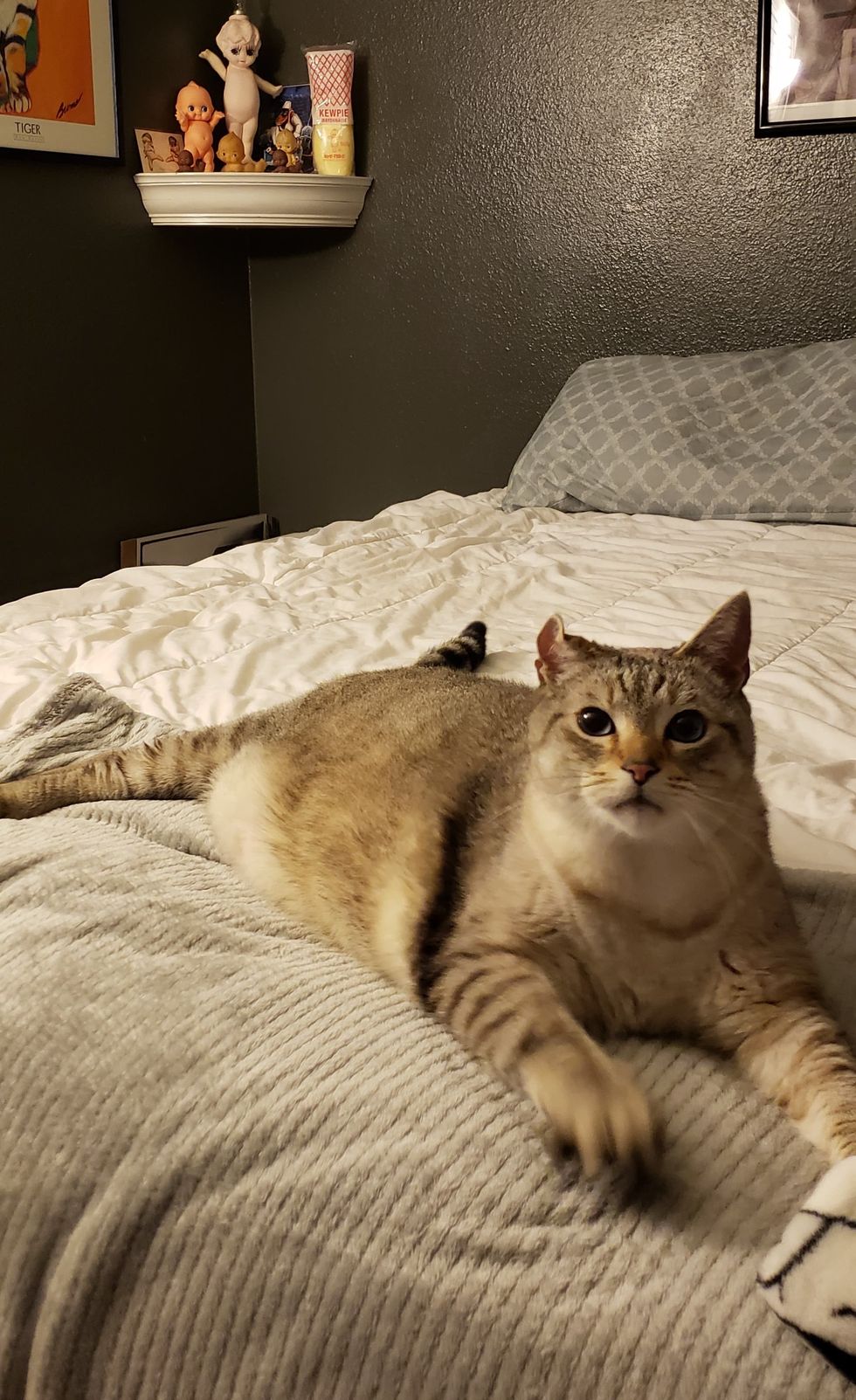 Alex Sparks
The shelter was so thrilled to know that Tommy Boy had found his perfect home.
"Of course, it was fate because she happened to be a vet tech who wanted to give him the healthy life he deserved and not just marvel at his awesomely large physique," Beth told Love Meow.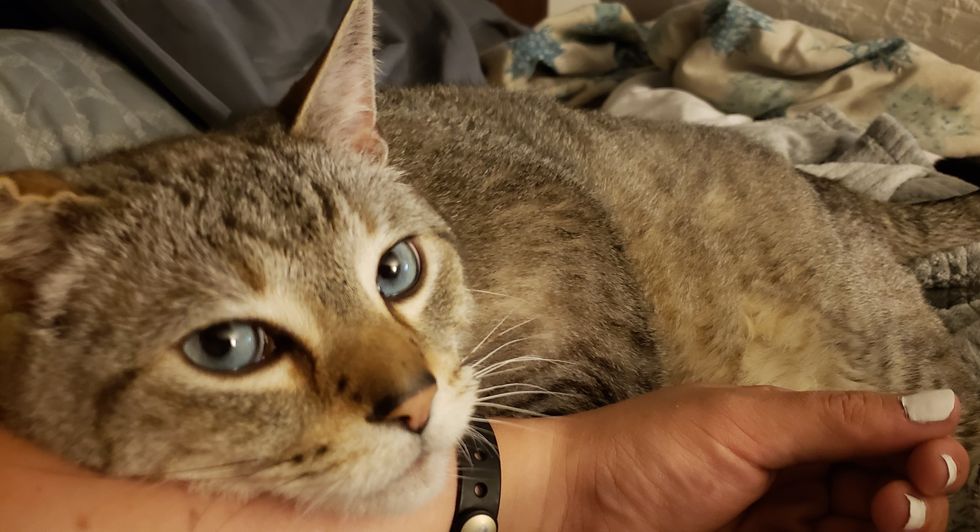 Alex Sparks
The tabby boy adjusted to his new abode and diet after a few days and decided that he would share his humans' bed forever. "Tommy had so many changes within a week's time. One of the conditions of his adoption was to monitor his weight, and bring him down to a healthy size," Alex added.

The sweet kitty is doing very well. He's currently on a high protein feline diet and has lost 4.4 pounds and gained a ton of energy since his adoption.
"He loves to chase the laser pointer light for exercise."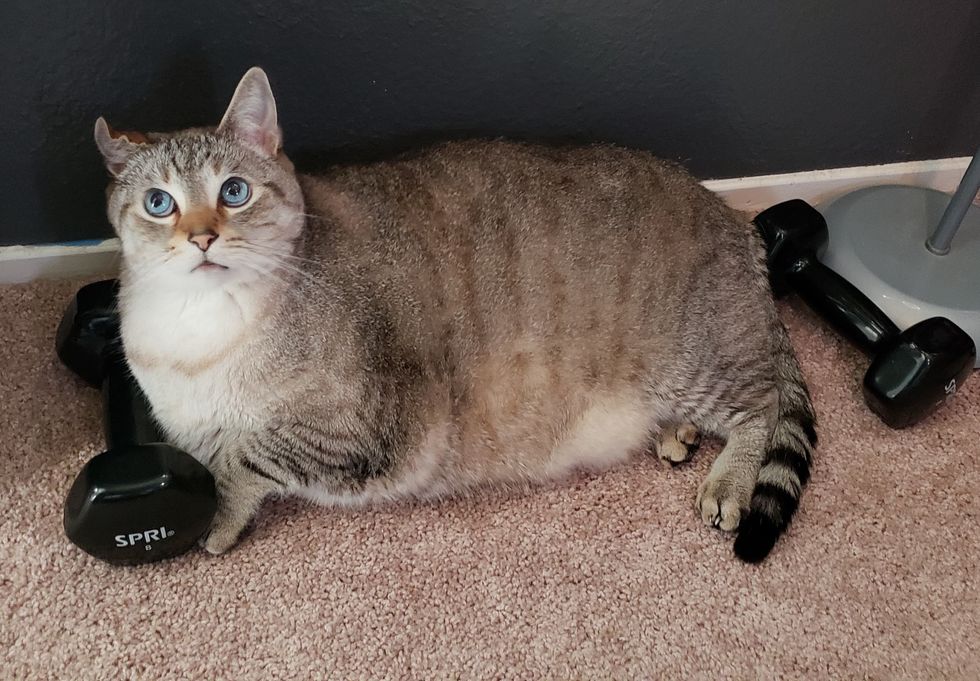 Alex Sparks
"He is a big time cuddler and sleeps in our bed on my pillow every night. Most nights when I go to bed, he puts his head on top of my head, he is a very happy guy," Alex told Love Meow.
"He loves to talk and loves all of the attention he gets at home from myself and our kids. He has become best friends with our dog named Dude who we rescued from the animal shelter fall of last year."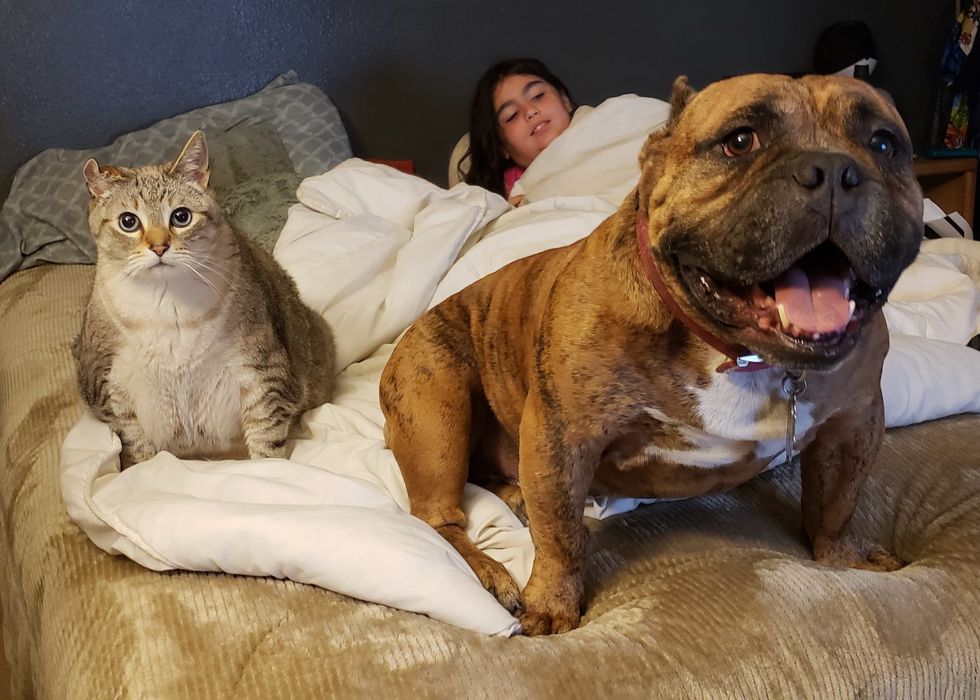 Alex Sparks
The kitty who was found in a box at the shelter, is now thriving and getting healthier every day with a family that loves him to bits.

"We are all very happy he has joined our family, and look forward to continuing to love him and help him get back down to a happy healthy weight."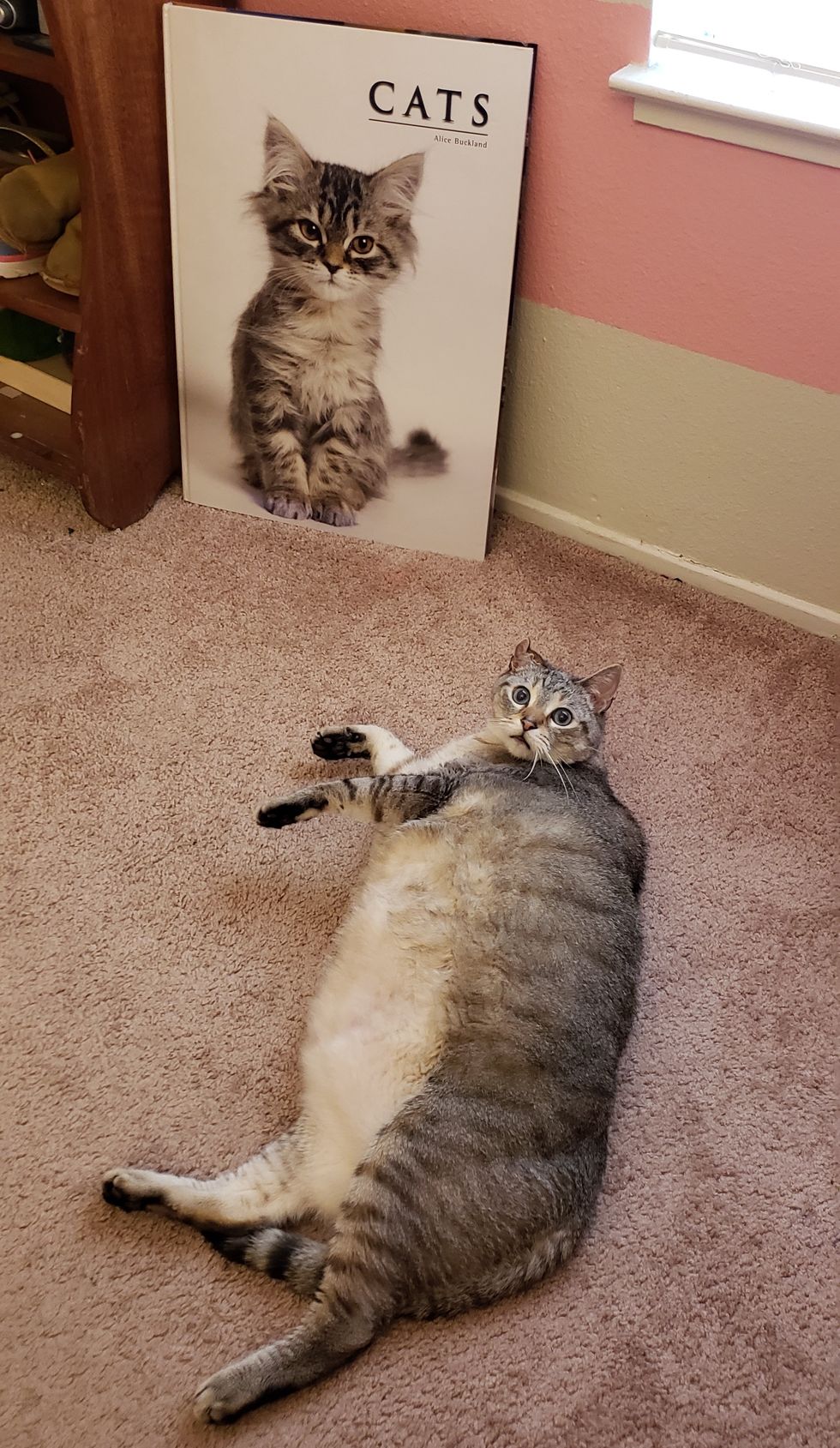 Alex Sparks
Share this story with your friends. Follow Tracy Animal Services on Facebook.
Related story: Couple Went to Shelter for a Kitten But Came Home with a Cat and a Mission to Help Him to Get Healthy