A tiny cow kitten who was found alone outside, got a second chance at life.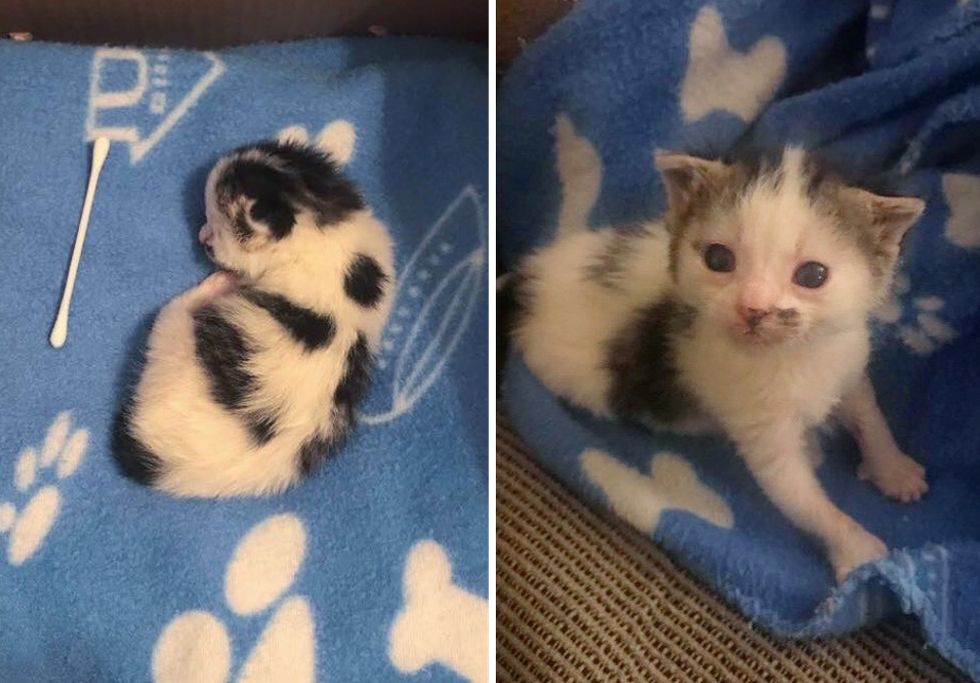 Chatons Orphelins Montréal
Animal Services in Montreal, Canada received a kitten who was just a few days old, found outside without a cat mother. The kitten was cold and still had her umbilical cord attached.
The team managed to bring her back from the brink and got her body temperature back to normal. With limited resources, they immediately sought help from Chatons Orphelins Montréal, a rescue group in Montreal, as the baby kitten needed round-the-clock foster care.
"Once she arrived, we continued to keep her warm since she couldn't regulate her body temperature at this age," Celine Crom of Chatons Orphelins Montréal told Love Meow.
"Her eyes were closed and she was tiny. A foster parent was her only chance of survival."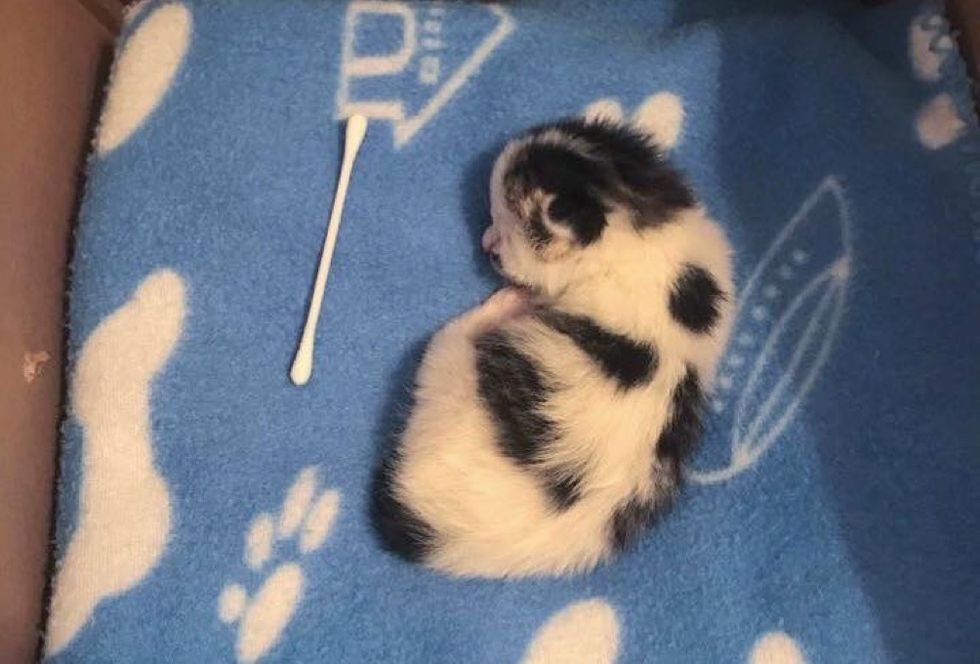 Chatons Orphelins Montréal
Miléna, a foster volunteer of the rescue, stepped up to help. She began bottle-feeding the kitten every 1-2 hours, and cuddled with her after every feeding to keep her warm and assure her that she was loved.

"The kitten (named Lou) was hungry and had a good appetite. She cried every hour for her bottle. After just 24 hours of foster care, she put on 30 grams. It was a great start."
Over the next few weeks, the kitten gradually grew out of the tiny scale.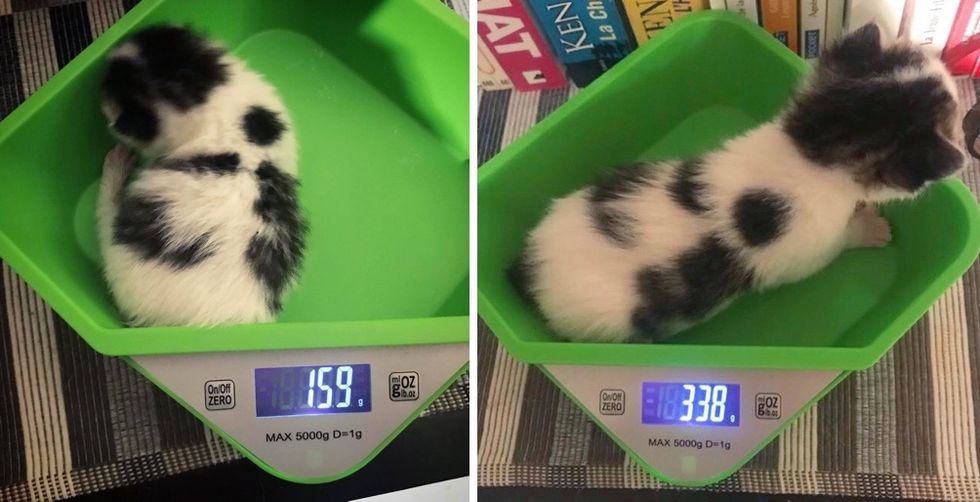 Chatons Orphelins Montréal
Baby Lou has adorable markings with black patches over her beautiful white coat. They make her look like a mini Holstein cow, hence cow cat or moo cat.
Her belly was full and round. She was eager for affection and very vocal about what she wanted. "Her instincts to survive were very strong from the start. She latched onto her bottle right away and was eating like a champ."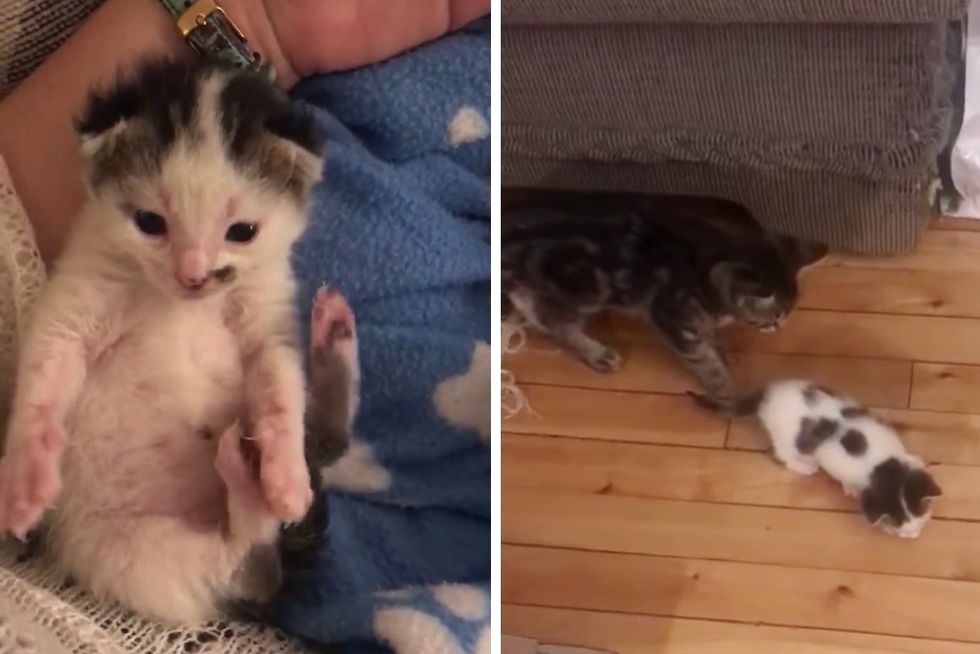 Chatons Orphelins Montréal
The little cow kitty is growing by leaps and bounds. Now that she has figured out how to use her legs, she will scamper around the room and attempt to climb anything that she can lay her paws on. "Baby Lou is curious and fearless. Her personality is starting to shine through," Celine shared with Love Meow.
Watch the cow kitty and her foster journey in this video:
Tiny cow kitty - foster journeywww.youtube.com
"She is doing well and gaining weight every day. She's grown very close to her foster mom who has been caring for her since her arrival."

At four weeks old, the kitten is learning to eat big kitty food but still very much prefers her bottle. She loves nothing more than being with her humans and having their constant attention.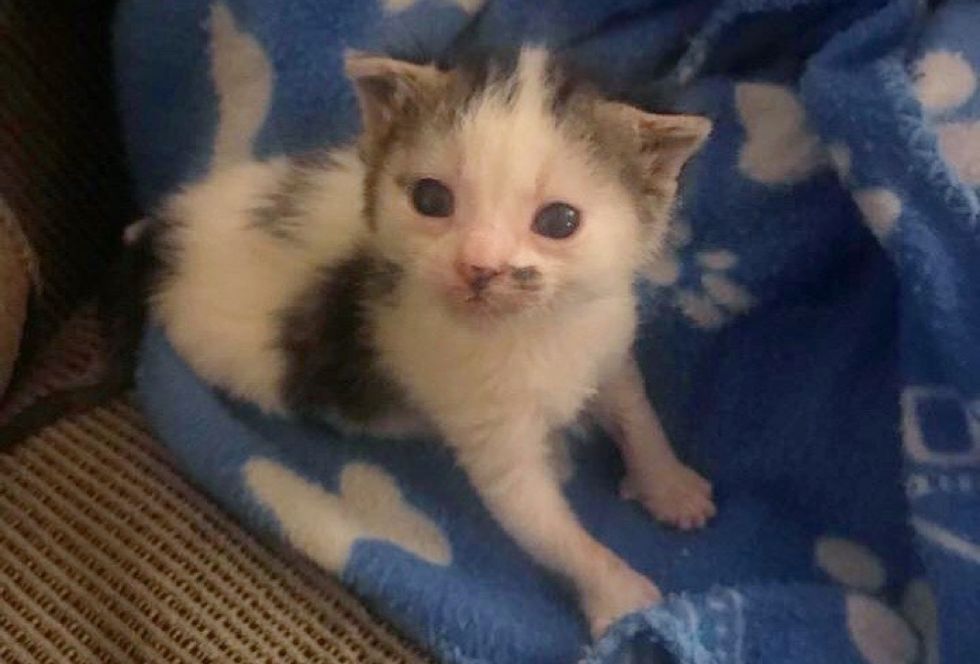 Chatons Orphelins Montréal
Lou is surrounded by friends as she never wants to be alone again. She will follow her foster mom from room to room like a tiny duckling, and share lap time with other cats.
The kitten has befriended other kitties in the house, and can hold her own during playtime with a much bigger feline friend.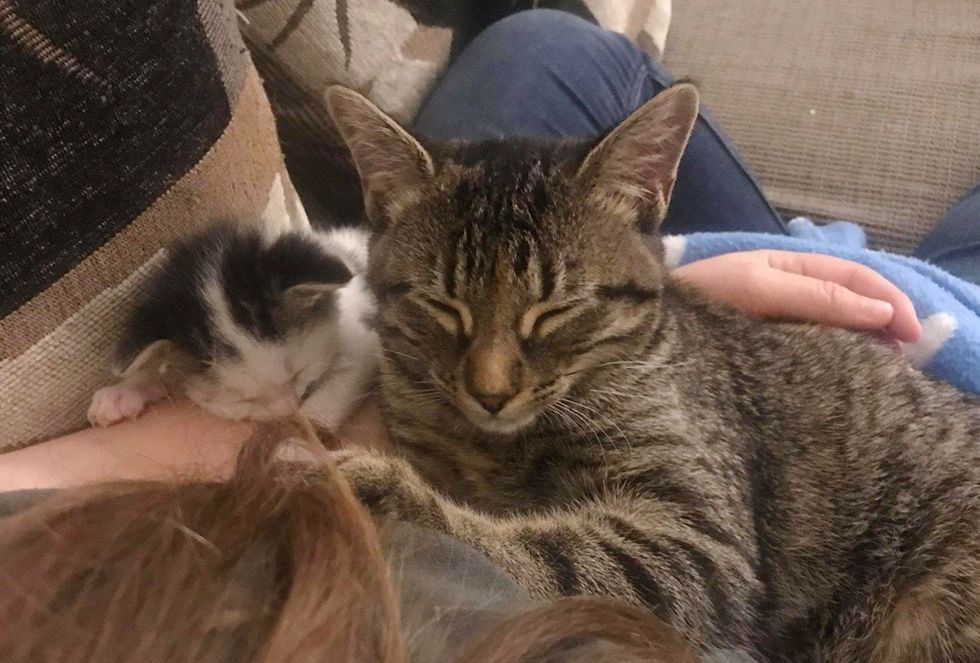 Chatons Orphelins Montréal
"Baby Lou loves to be petted and cuddled. She enjoys getting her belly rubbed and likes to be at the same eye level with her foster mom, giving her kisses and nibbles," Celine said.
They never gave up on the kitten and turned her life around. In a few more weeks, this adorable cow kitty will be big enough and ready for her next chapter in life.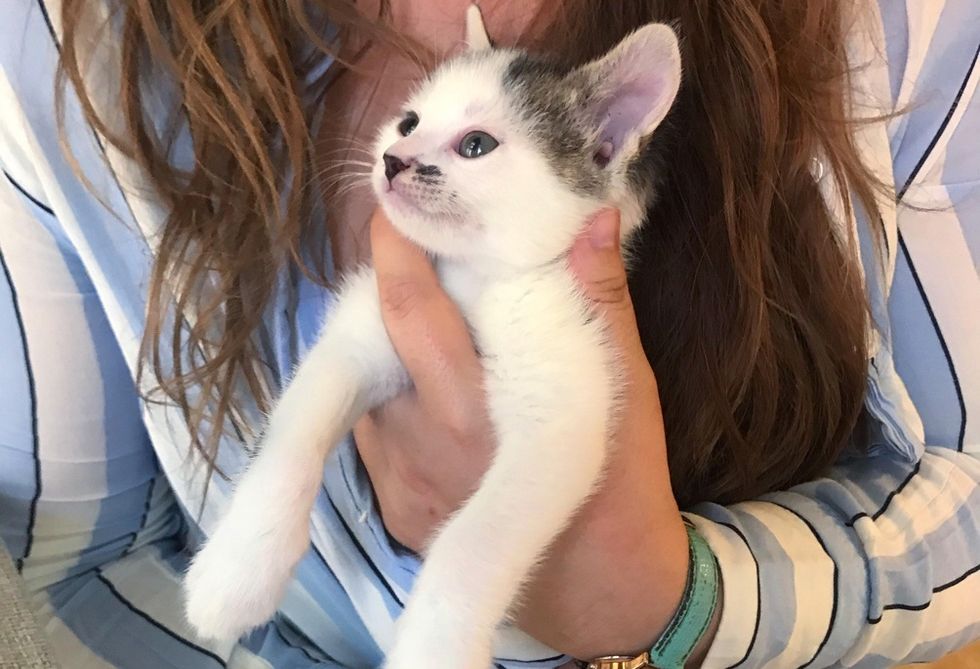 Chatons Orphelins Montréal
Share this story with your friends. Follow updates on Lou and Chatons Orphelins Montréal on Facebook.

Related story: Twin Kittens Never Leave Each Other's Side After Being Found Together in a Storm