A tiny kitten was found on a rainy day, crying for his mom. A worker heard his meows and rushed to help.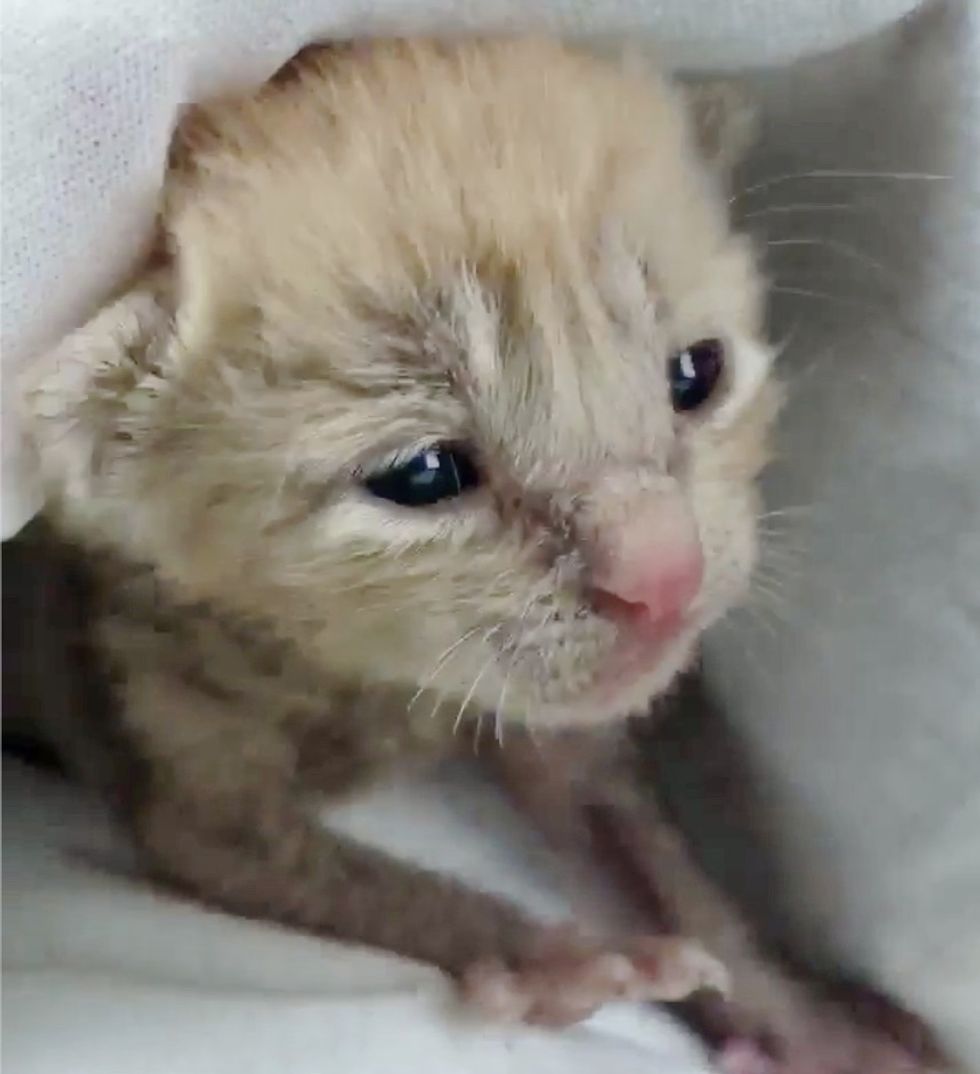 Carolina Carrera
Early this week, a construction worker was in Boca Raton, Florida when he heard a kitten meowing. Upon investigation, he discovered a ginger kitten soaked in rain water, crying nonstop. They couldn't find the mother cat and the kitten was in desperate need of bottle feedings.

They put the little guy in a box and immediately reached out to the community for help. Marnie Jelin, a local foster volunteer, saw the plea and offered to take him without hesitation.
Carmen Weinberg from Animal Friends Project came to pick up the kitten and help with transport. The little one was scrawny, a bit cold and undernourished but was otherwise in good health.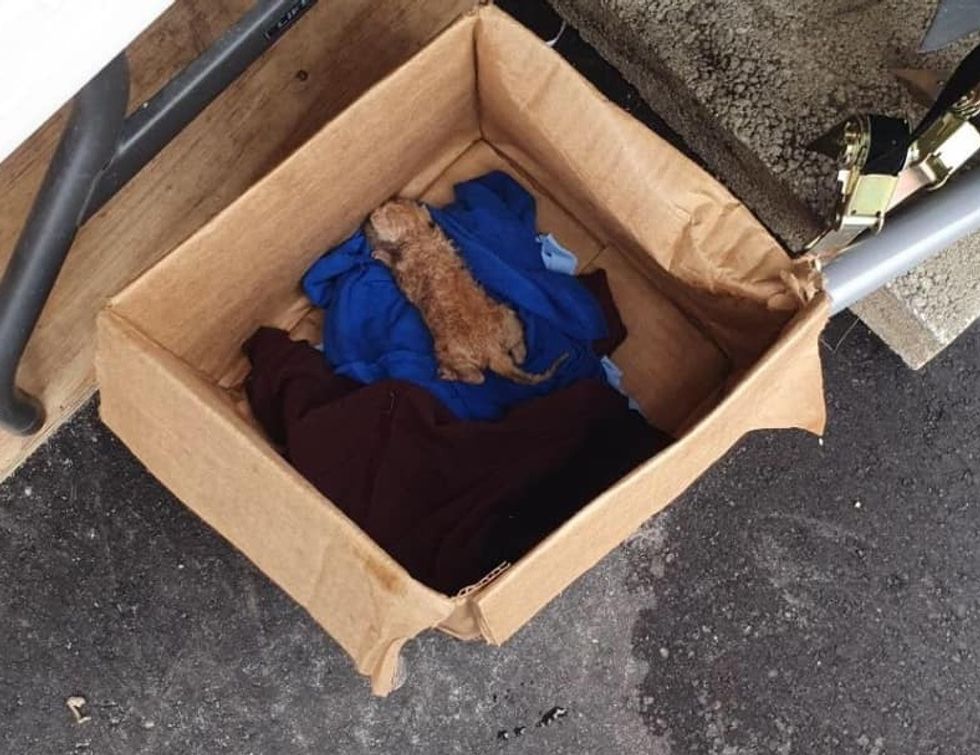 Carolina Carrera
"He was very hungry when I got him. Eduardo, the worker, said the kitten was crying but they didn't have anything to give him," Carmen told Love Meow.
The kitty was estimated to be 2-3 weeks old as he was starting to open his eyes.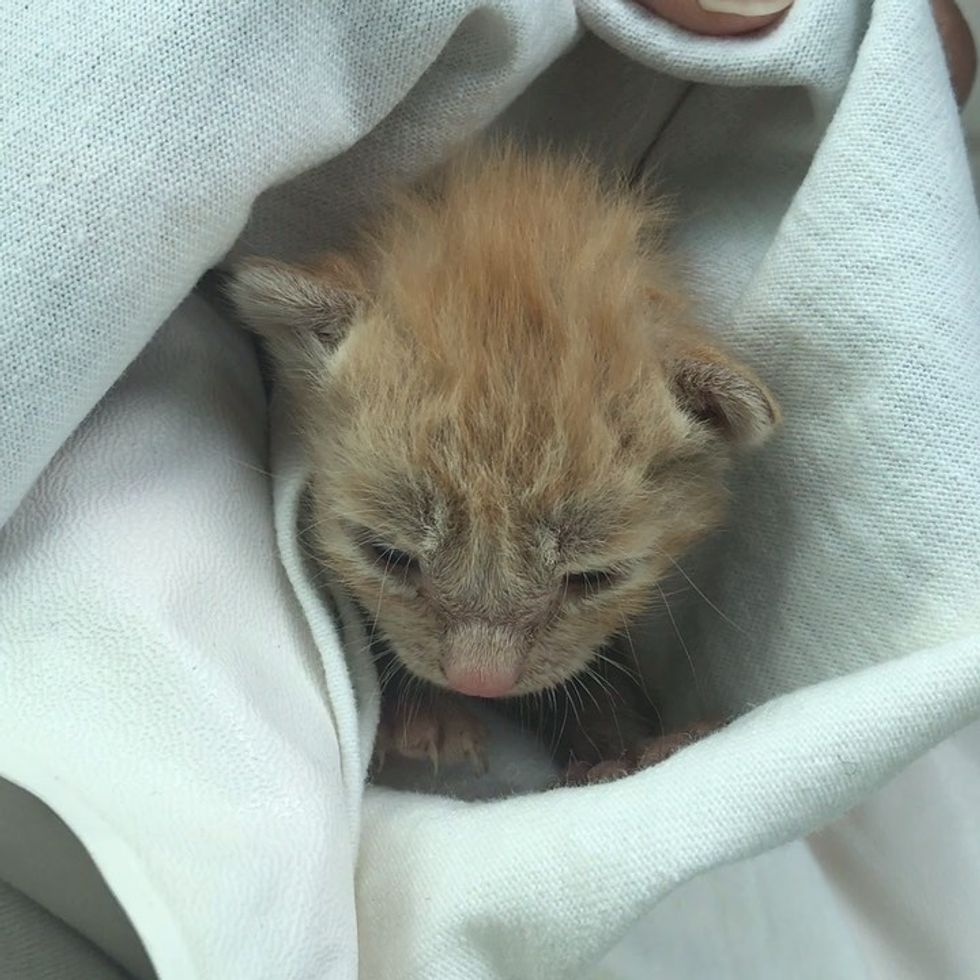 Carmen Weinberg
Marnie had recently rescued a feral cat mom who needed a safe place to raise her kittens.
Knowing a singleton would benefit tremendously with a mother, she wanted to see if the momma cat, whom she named Sarafina, would accept him.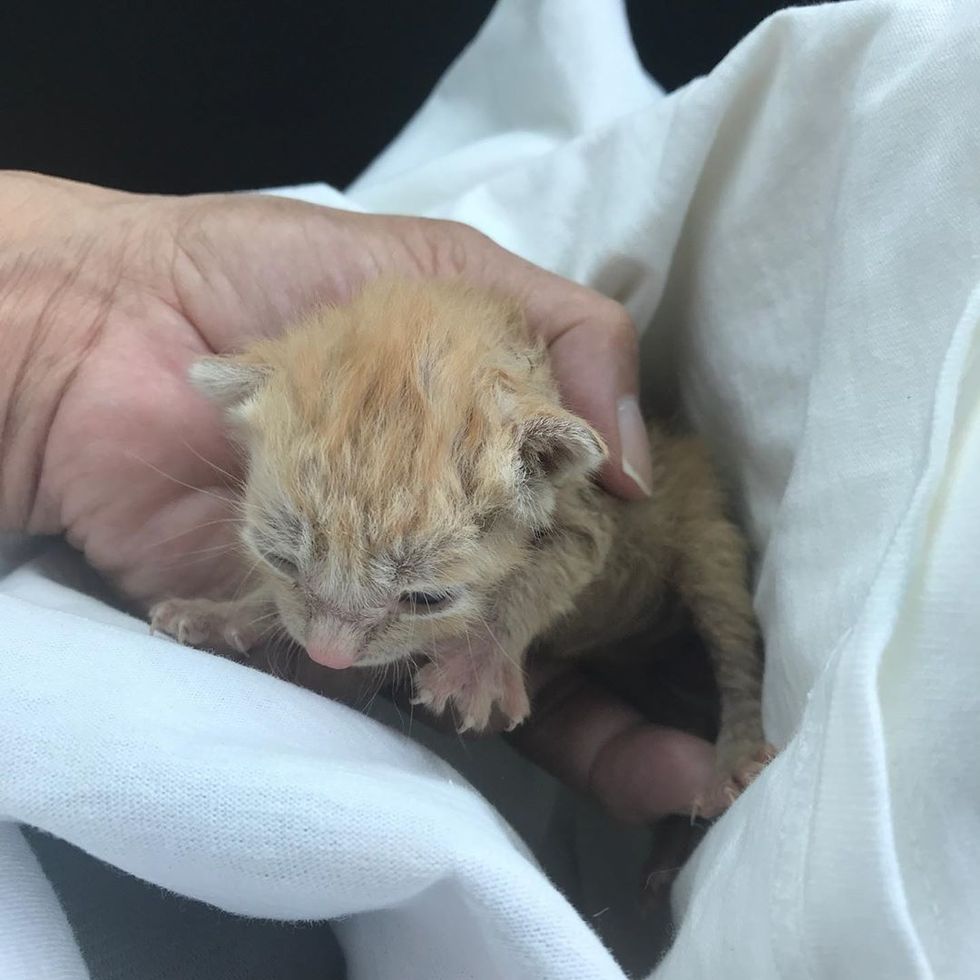 Carmen Weinberg
The ginger boy continued to cry throughout the entire trip home.

Watch video - when the kitten was rescued:
Kitten rescued from construction siteyoutu.be
Marnie took the little orphan from Carmen and brought him to his new mom. The kitten's cries immediately caught Mama Sarafina's attention.

"I think, she thought I stole her baby. After smacking me to put the baby down, she took him right in and started cleaning him as he started nursing," Marnie told Love Meow.
The kitty finally calmed down and crawled up to the milk bar, purring away. "I have yet to hear him meow like that again."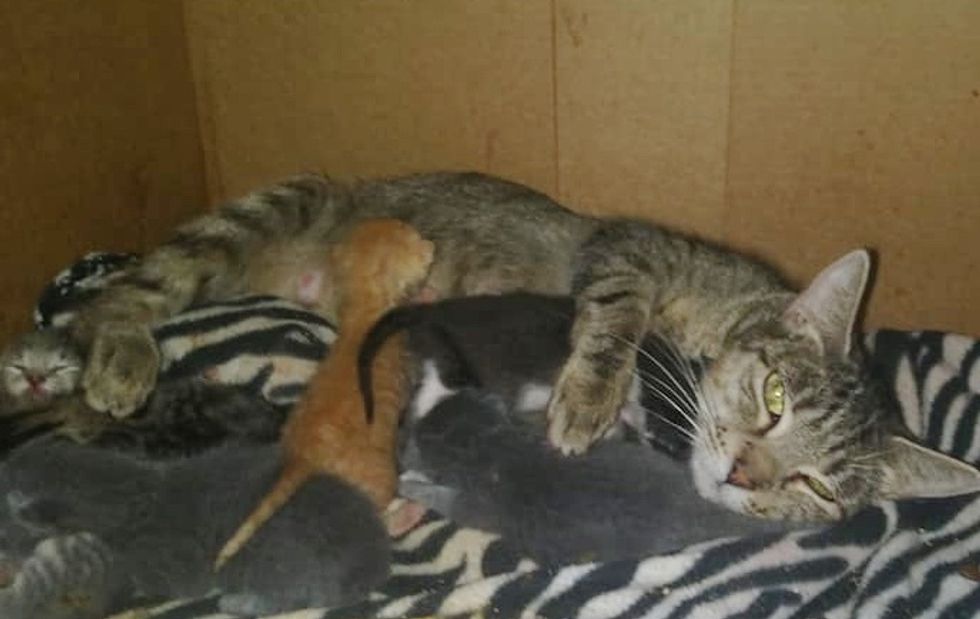 Marnie Jelin
The new kitten fit in perfectly with his little family, snuggling and purring alongside his litter mates while Sarafina was busy washing him up from head to toe.

In just one day, he had put on weight and strength. His belly was plump and his coat became shiny and fluffy.
"There has been a big difference since the first day I got him, You can tell he is happy to be with a mom and he is definitely flourishing," Marnie told Love Meow.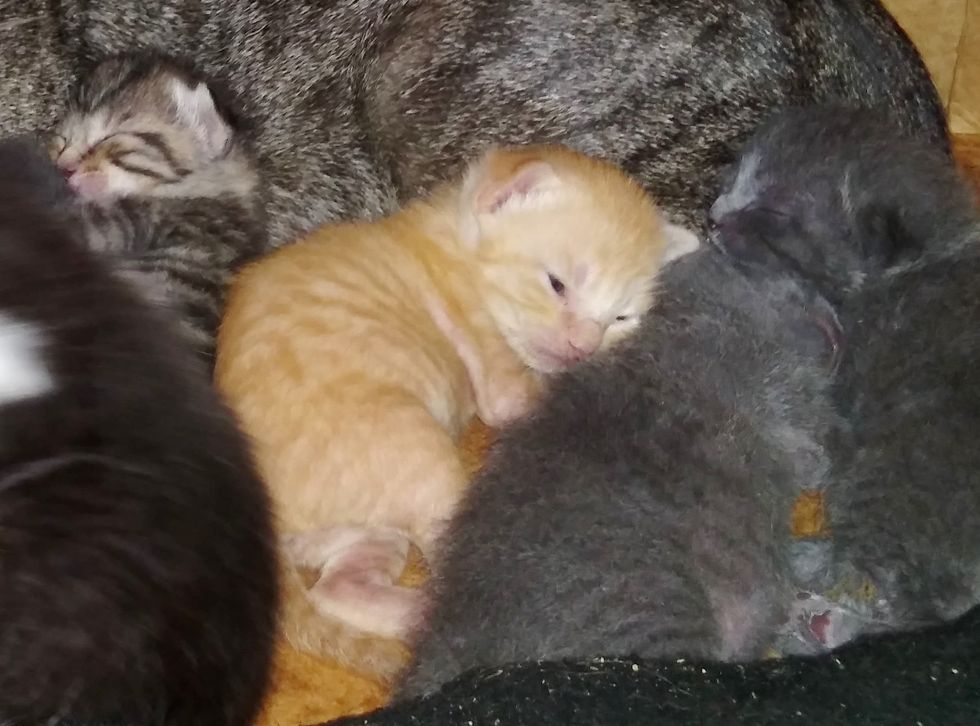 Marnie Jelin
"He is doing well. Mama Sarafina is taking very good care of him."

The little rescued baby is purring up a storm with his adopted family, feeling happy and loved.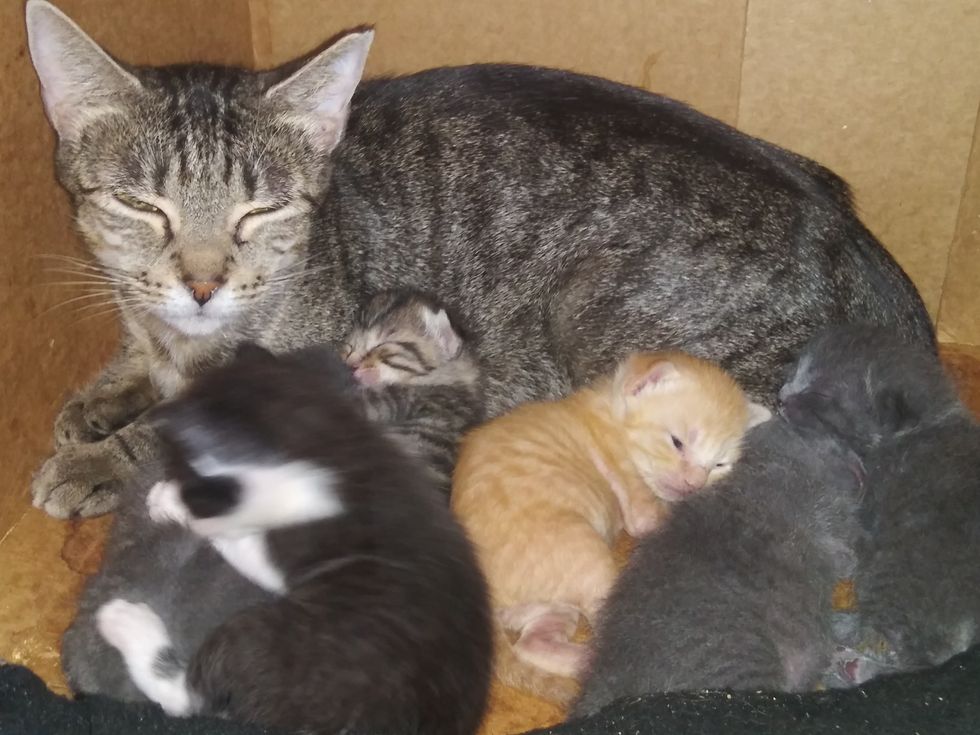 Marnie Jelin
Share this story with your friends. Once the kitties are big enough, they will be available for adoption through Peggy Adams Animal Rescue League.

Related story: Woman Rescues Kitten Sitting on Sidewalk When Others Just Pass Her By