A tiny kitten was found on the streets without a mother in sight.
No one knew how long he had been outside alone, but the kitten never gave up.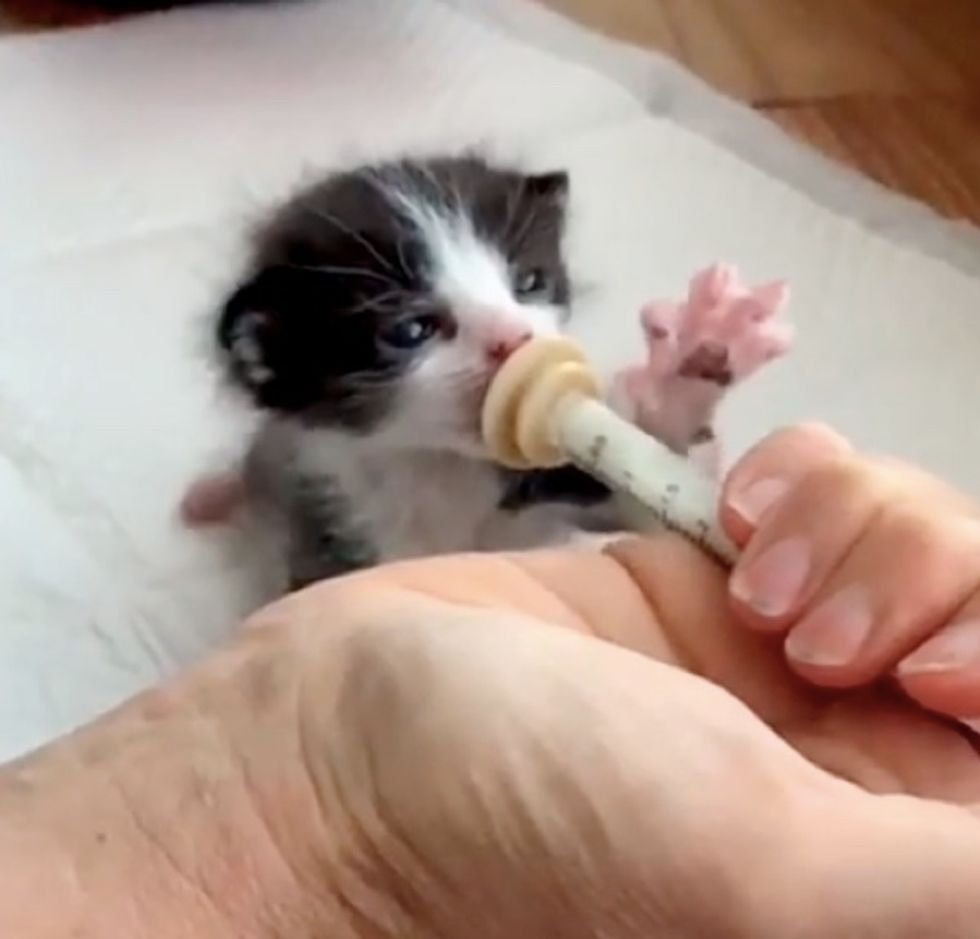 Alley Cat Rescue
Alley Cat Rescue was contacted about a little tuxedo kitten who was in need of rescue. He was just five days old when someone found him all by himself.

"It's been freezing cold, and he was found on the streets of the valley in Los Angeles," Desiree of Alley Cat Rescue Los Angeles told Love Meow.

The kitten was just the size of a newborn and had already used several of his nine lives. He was tiny, malnourished and covered in fleas. Desiree immediately offered to care for him as he needed round-the-clock care to survive.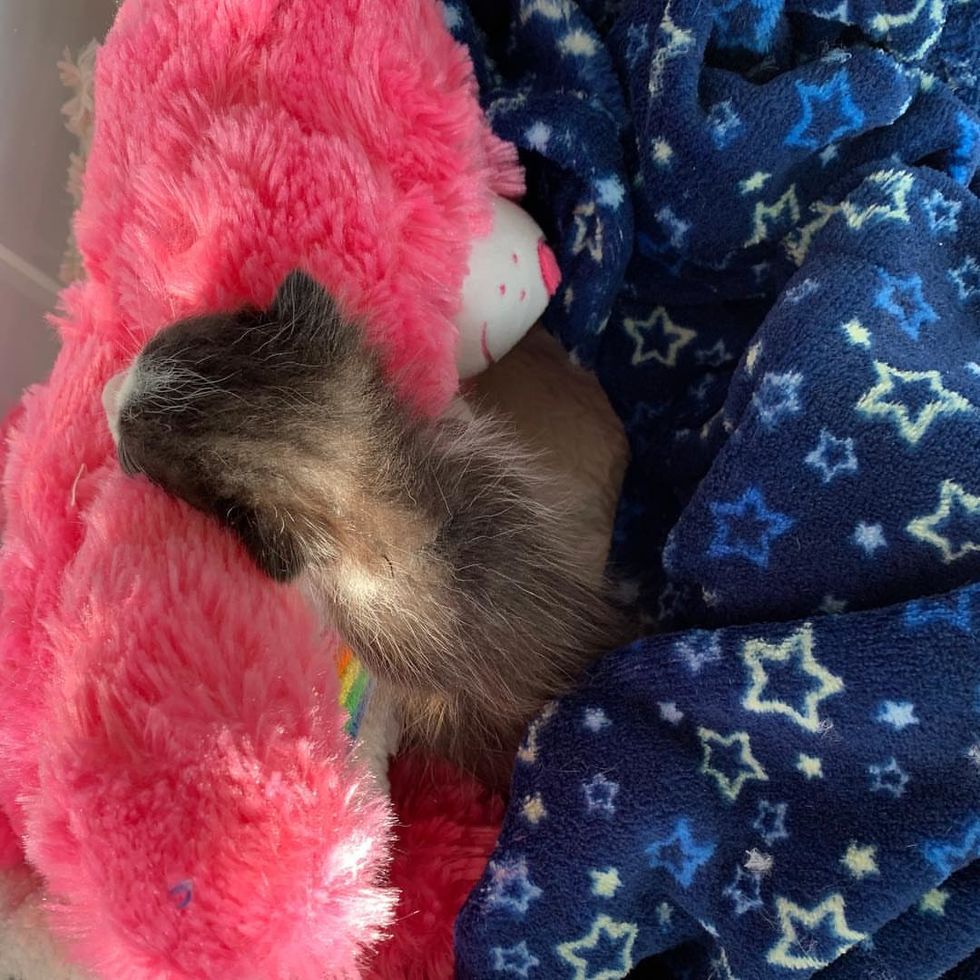 When the kitten arrived at Alley Cat Rescue Los AngelesAlley Cat Rescue
After a warm bath to remove the pesky fleas, he was given kitten formula and supplemented with fluids to help stay hydrated. "He wasn't sure about the formula, and it took him a little while to get the hang of it."
The kitten was in poor shape but tried with all his might to eat. Once he figured out how to drink from a syringe, he scarfed down every meal like a champ.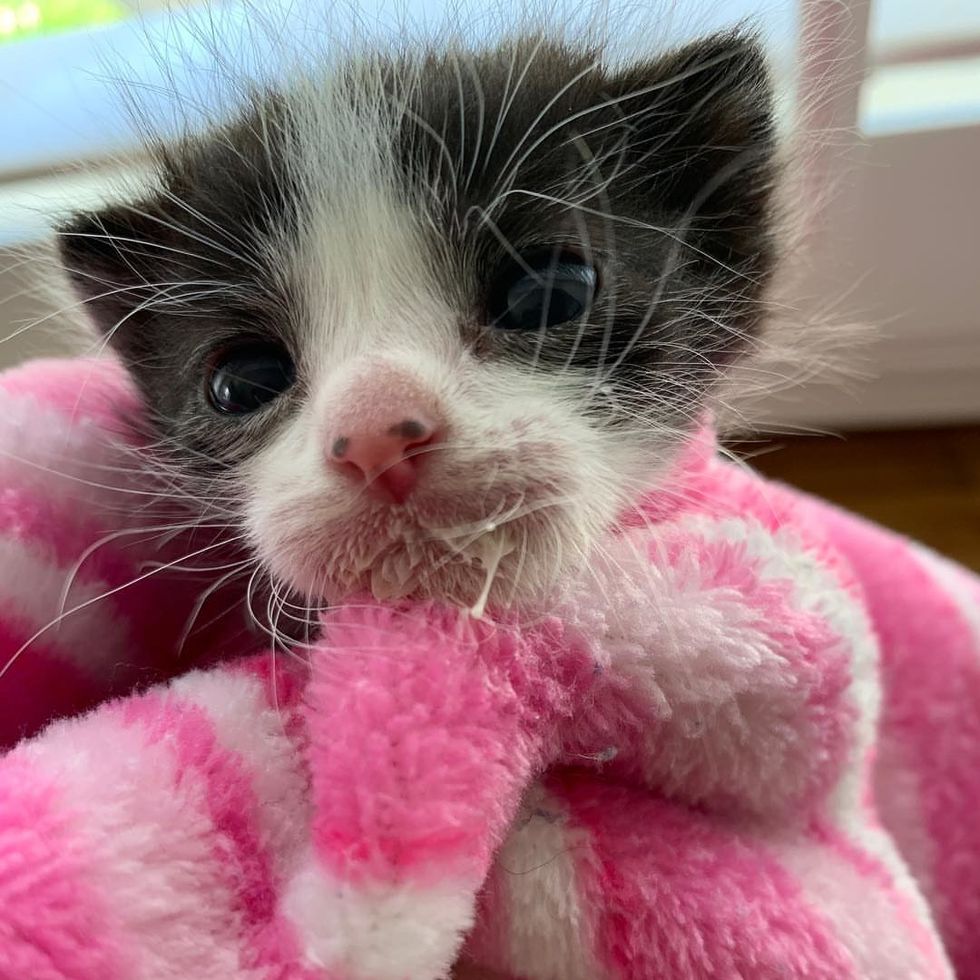 Alley Cat Rescue
They named him ButterBean, and the little tuxedo quickly grew attached to his foster mom. He would hold hands with her at mealtime and demand cuddles after eating.
"He loves his bottle, and spends the night sleeping next to us so he gets his 3-hour feedings."

He holds paws and wiggles his ears while suckling down the formula.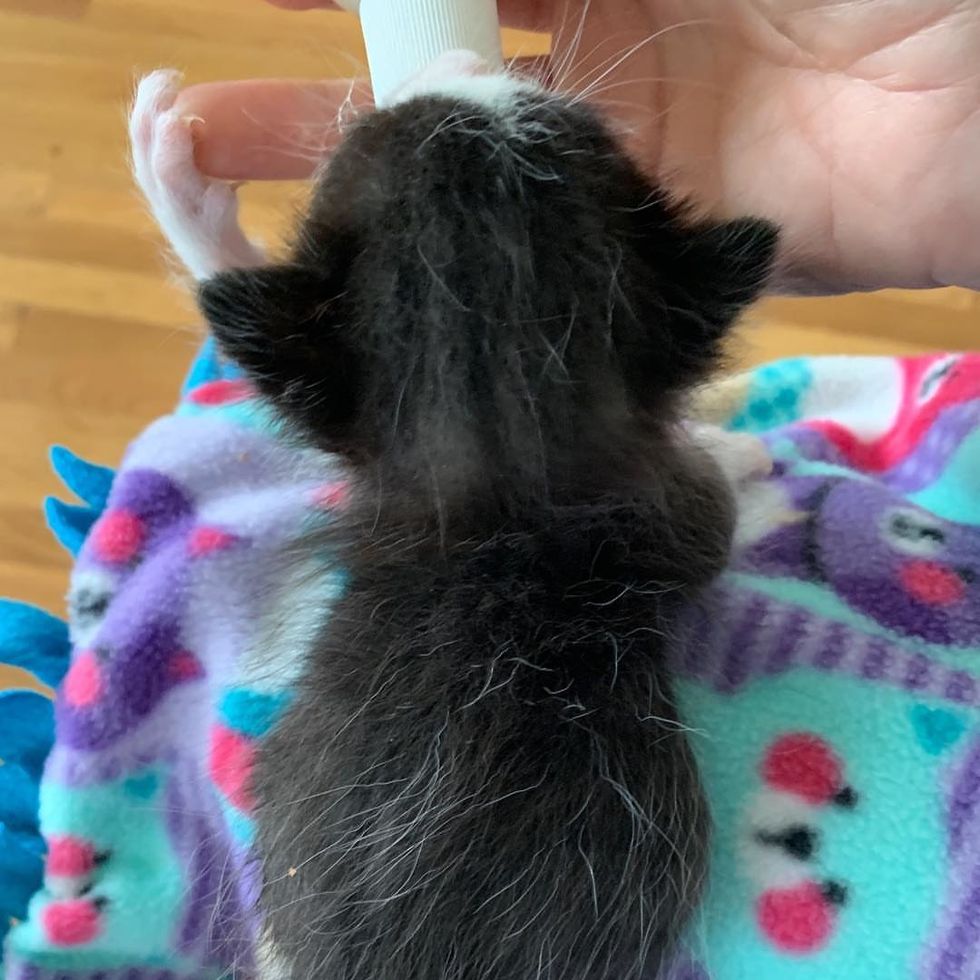 Alley Cat Rescue
When Foster Mom isn't available for cuddles, he has a faux mama, a teddy bear, to snuggle with and knead on. "He loves having you near him. He has an amazing will to live," Desiree told Love Meow.
In just one week, ButterBean tripled his weight and even started to meow for attention as he grew in strength and energy.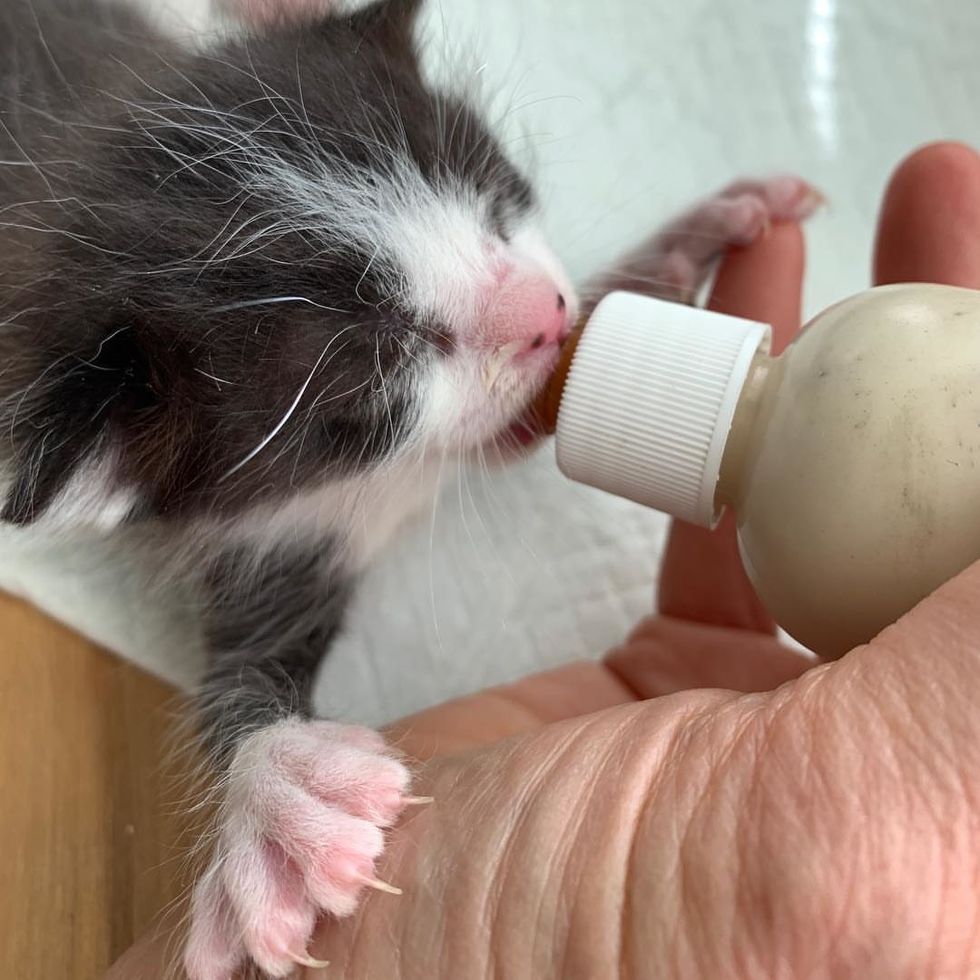 Alley Cat Rescue
"He became vocal over the past few days and started purring this Friday."

Watch ButterBean's rescue journey in this video:
little tuxedo kitten found on the streets gets second chanceyoutu.be
Now, he meows whenever he hears someone coming to feed him and purrs after filling his belly — he's made a complete 180 since he first arrived.

ButterBean may be tiny but he is a mighty little warrior who is determined to live and grow.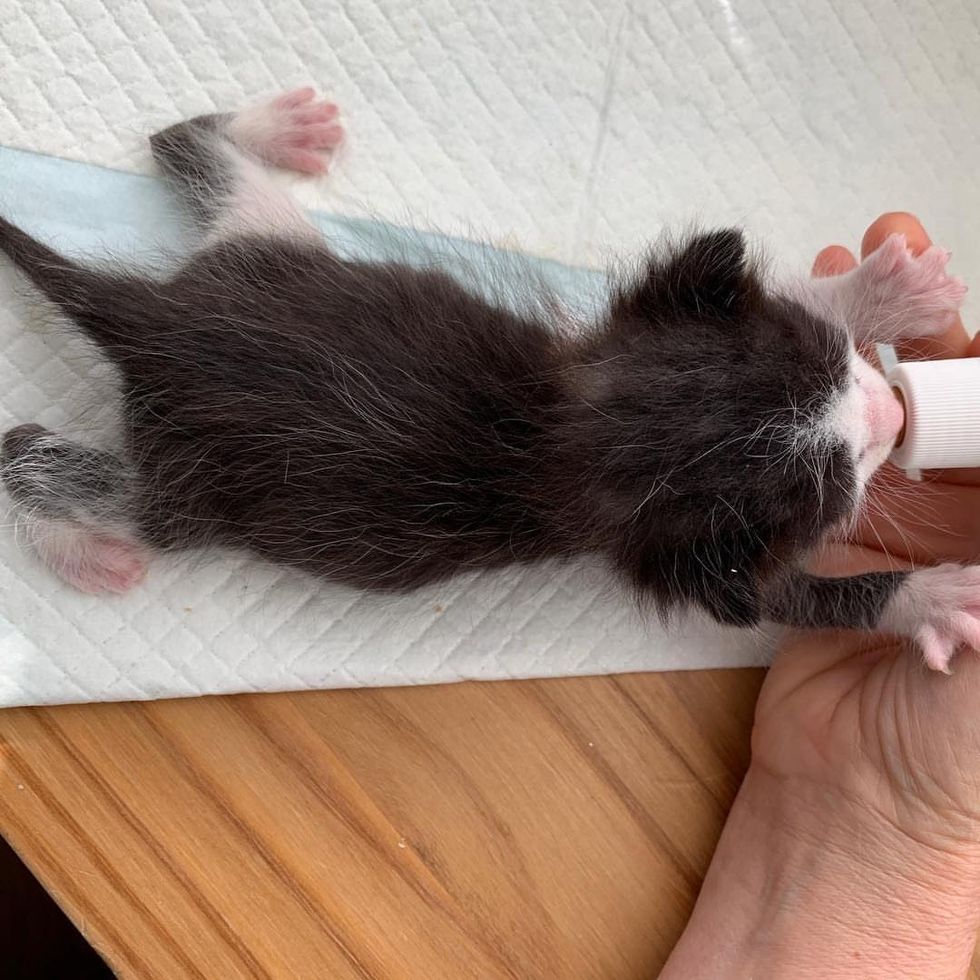 Alley Cat Rescue
Against all odds, the tuxedo boy has survived and is now thriving in foster care.
Look at that belly!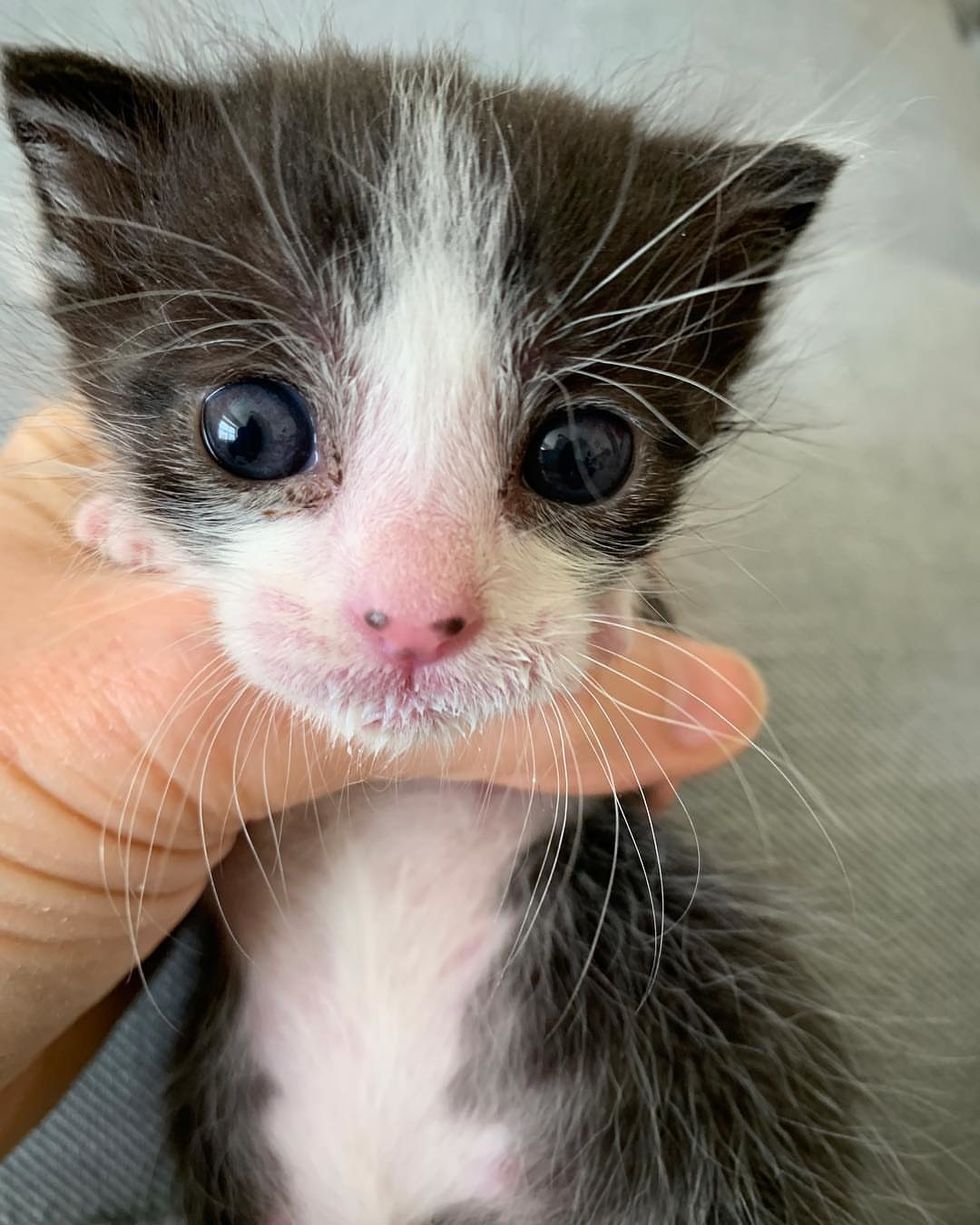 Alley Cat Rescue
Share this story with your friends. Follow ButterBean and rescues at Alley Cat Rescue on Facebook and Instagram.
Related story: Kitten Gets Her Smile Back After Rescuers Saved Her from the Street Hours After Birth