A kitten who was found outside at just two weeks old, shows "tiny but mighty" spirit and lets nothing stop her.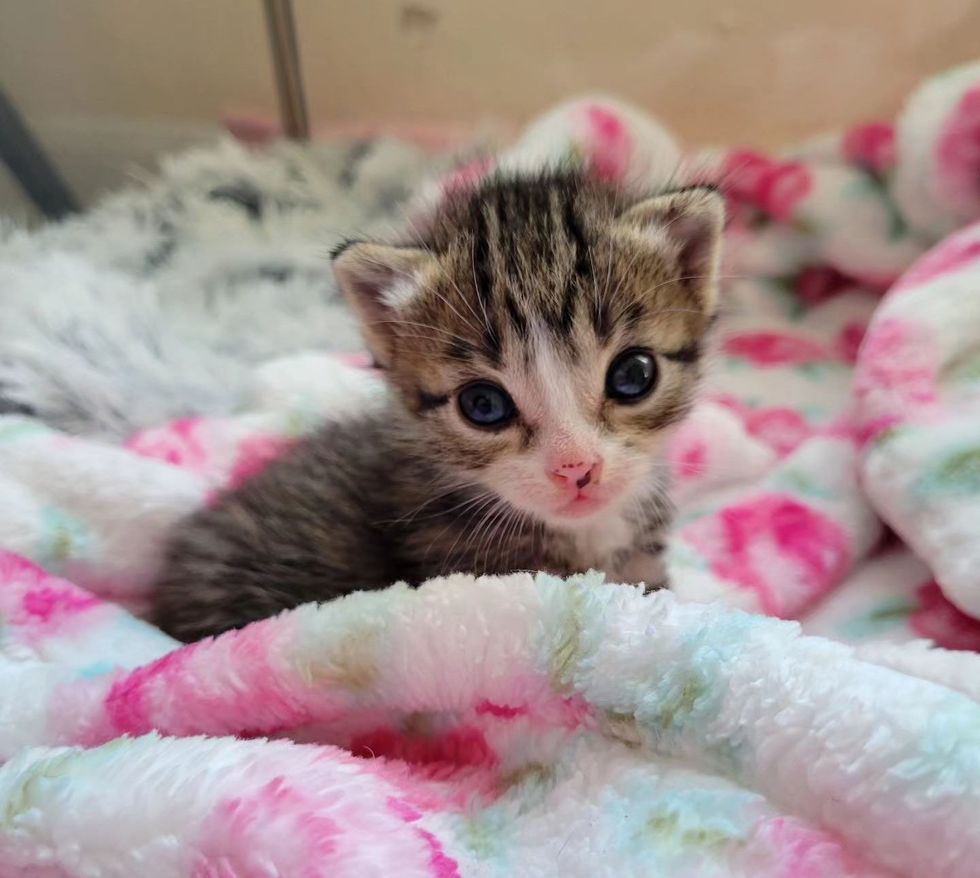 Nori the kittenTiny Paws Fosters
A Good Samaritan found a lonesome kitten outside without a mother or her siblings. She was brought into an ER animal hospital and estimated to be only two weeks old.
The kitten was just skin and bones but came with a big voice. She was hungry and desperately needed a bottle feeder to give her round-the-clock care. The veterinary staff reached out to their local animal rescue, hoping to get her into foster care.
When Nadija of AnimalLuvr's Dream Rescue arrived to pick up the kitten, she was instantly smitten with the palm-sized wonder screaming at her.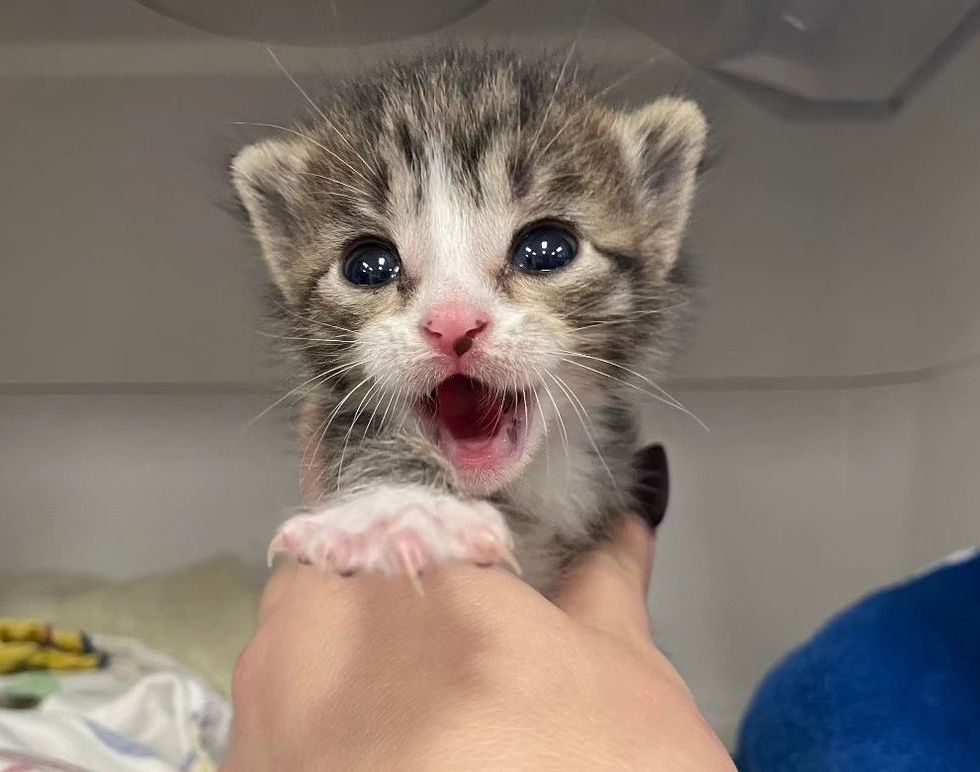 She was found outside all alone at just two weeks oldTiny Paws Fosters
"She has a nice set of lungs and is ready for her lunch," Nadija shared with Love Meow.
The kitten took to her bottle immediately and suckled down the formula like a champ. She wouldn't let go until she finished every last drop of the food. "She's gone a long time without eating prior to being rescued."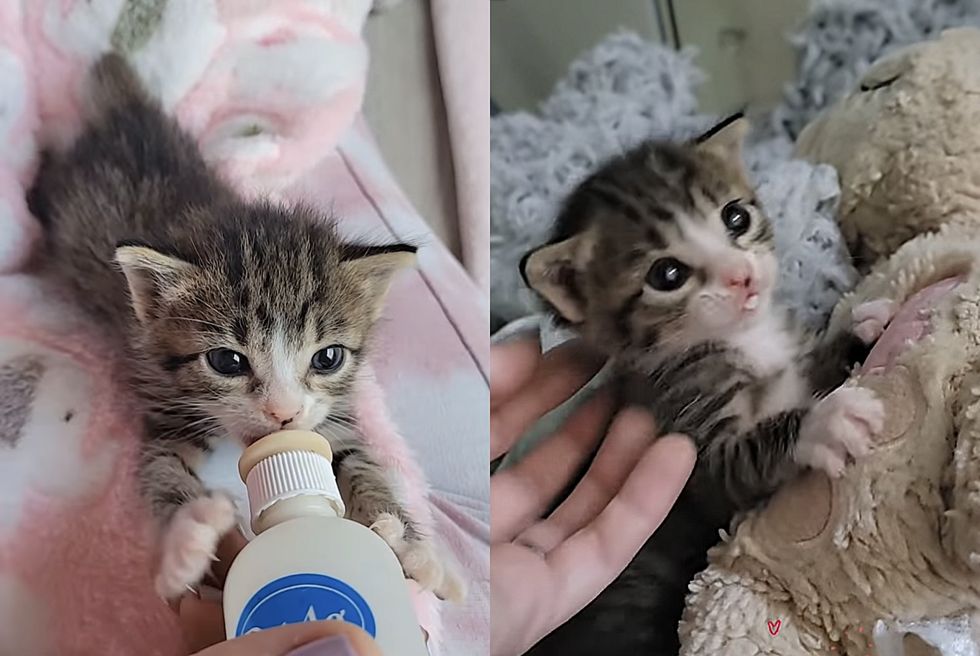 Tiny Paws Fosters
The kitten named Nori switched on her tiny purr motor and started rumbling after the hearty meal. That night, she was able to get some much-needed shut-eye in a comfy, warm bed, with a full belly.
The bottle baby quickly got into a rhythm as she was fed and cared for every couple of hours. She would eat to her heart's content and then purr herself to sleep.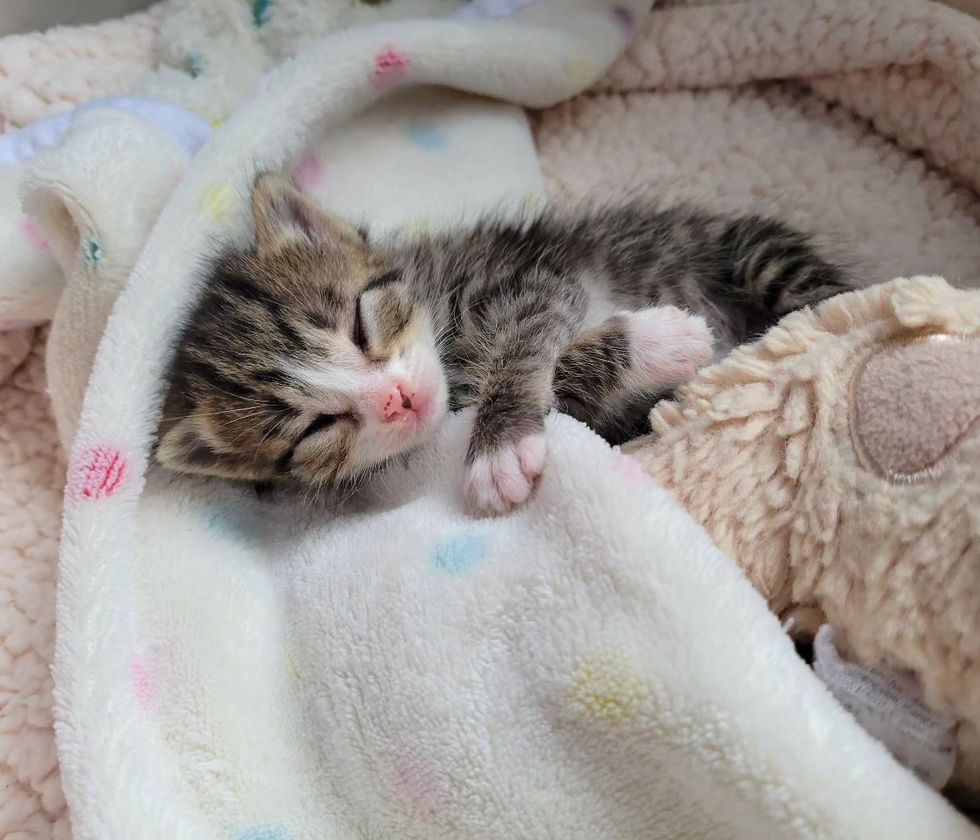 The kitten was given many soft things and a snuggle toy to comfort herTiny Paws Fosters
For a while, she cried for constant attention, so Nadija placed a snuggle toy with a heartbeat and a faux fur blanket in her crib to provide extra comfort.
"I'm hoping something 'furry' may help her snuggle up and sleep a little better too."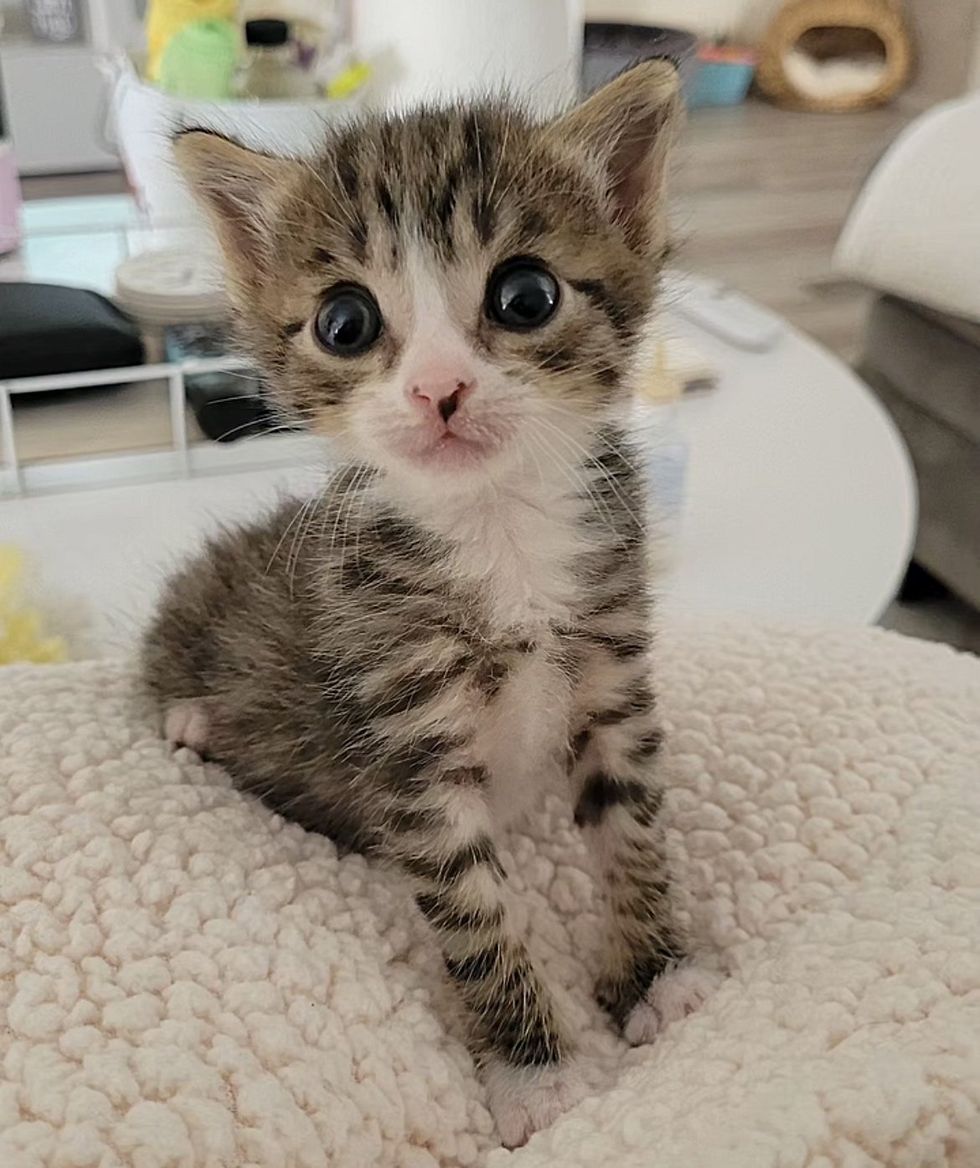 Tiny Paws Fosters
After a few days of painstaking care, the kitten was back on track, putting on weight and gaining plenty of energy. "Nori is growing so fast now and resembling a mini cat."
Once the tabby girl felt pep under her paws, she was up on all fours and ready to explore.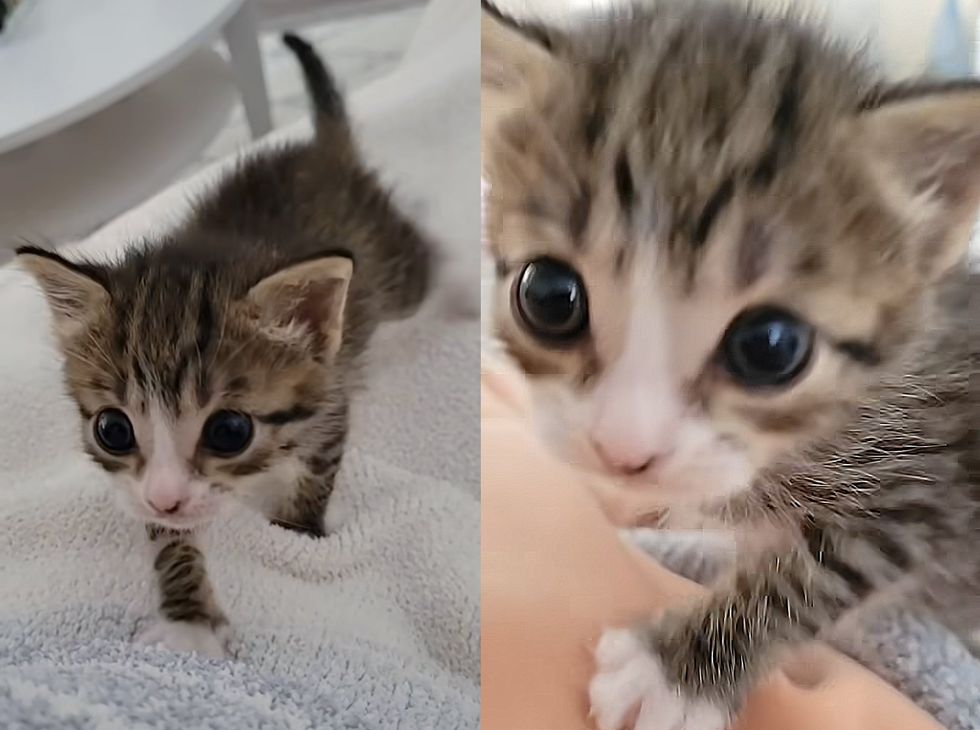 She climbed up her foster mom for post-meal snugglesTiny Paws Fosters
She was getting increasingly active and inquisitive about her surroundings, and needed a larger area to satiate her need for adventure.

Once she hit the floor of her new playground, she took off, cavorting around the place like a little dynamo.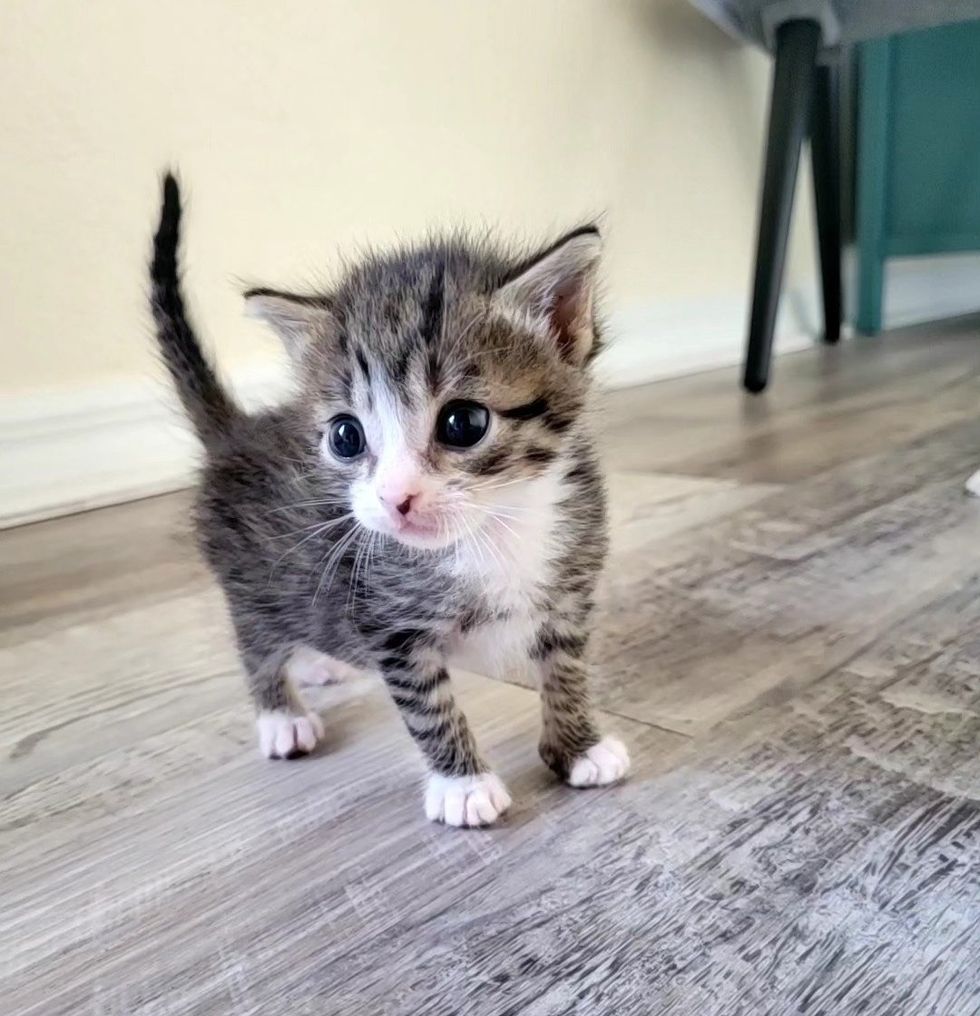 She became very active and was ready to exploreTiny Paws Fosters
"She got to check out the hallway with my dog, Ollie, watching over her closely, and then we snuggled on the couch."

The kitten may be tiny but mighty in spirit, the bravest in all the land.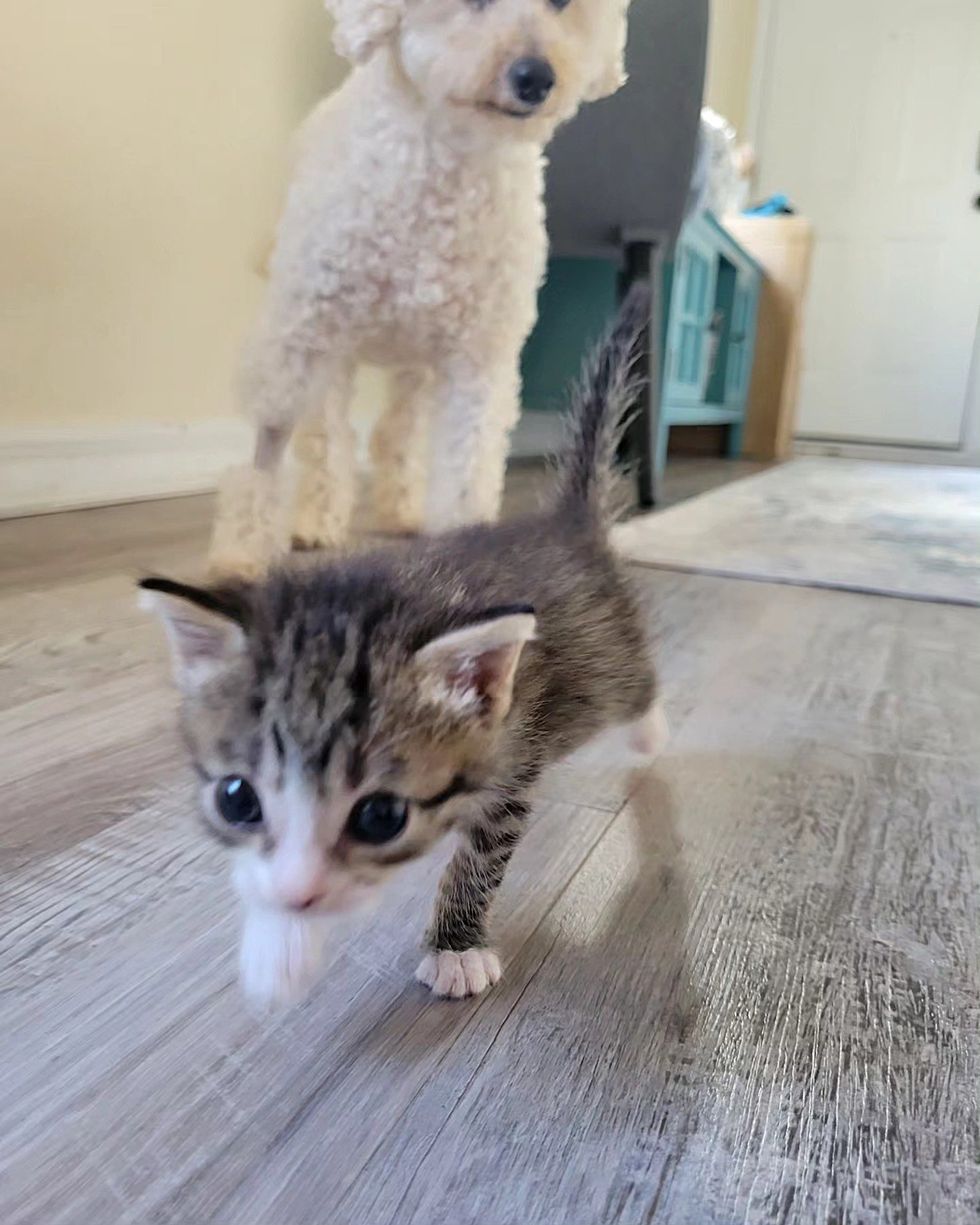 Ollie the resident dog watched the kitten as she ventured around the placeTiny Paws Fosters
Ollie the gentle giant took the kitten under his wing and let her nuzzle and knead on him for comfort.
This week, Nori has crossed yet another major milestone. She's starting to play with toys for the first time in her life.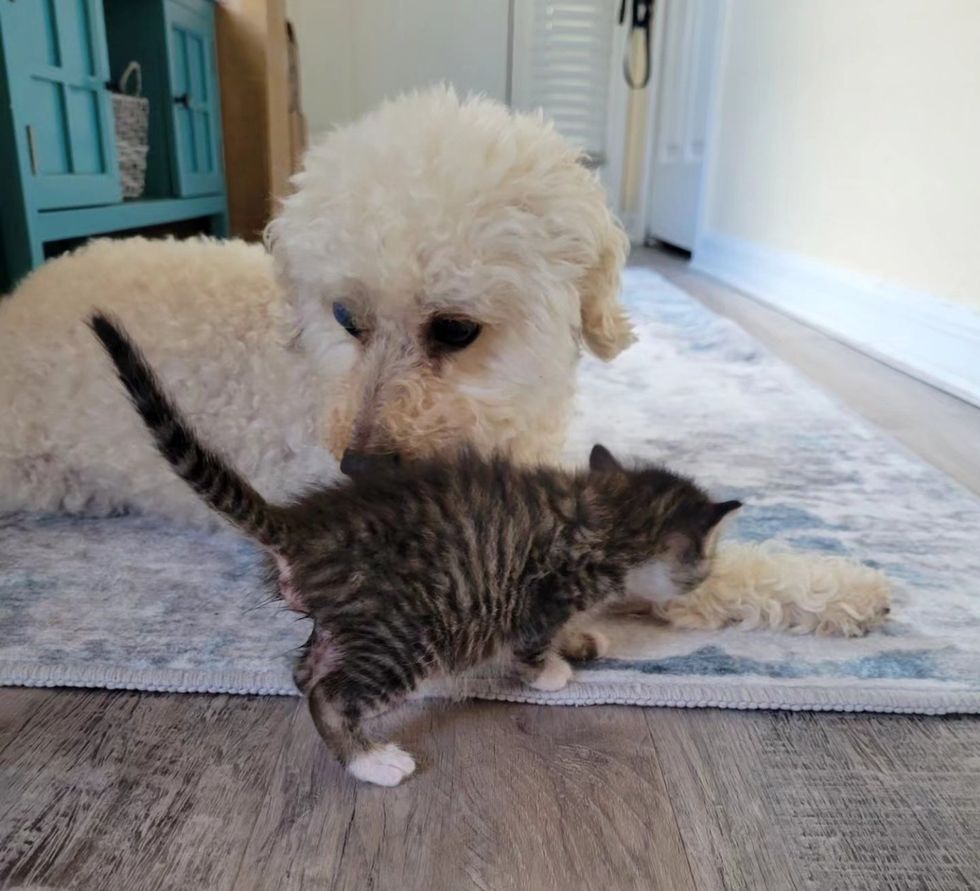 Tiny Paws Fosters
Nori had toys strewn about the playpen but never showed much interest until yesterday when she suddenly tackled a few adjacent toys and began grappling.
Nadija walked into the room to find the kitten wrestling with her toys, chomping on them with all her might.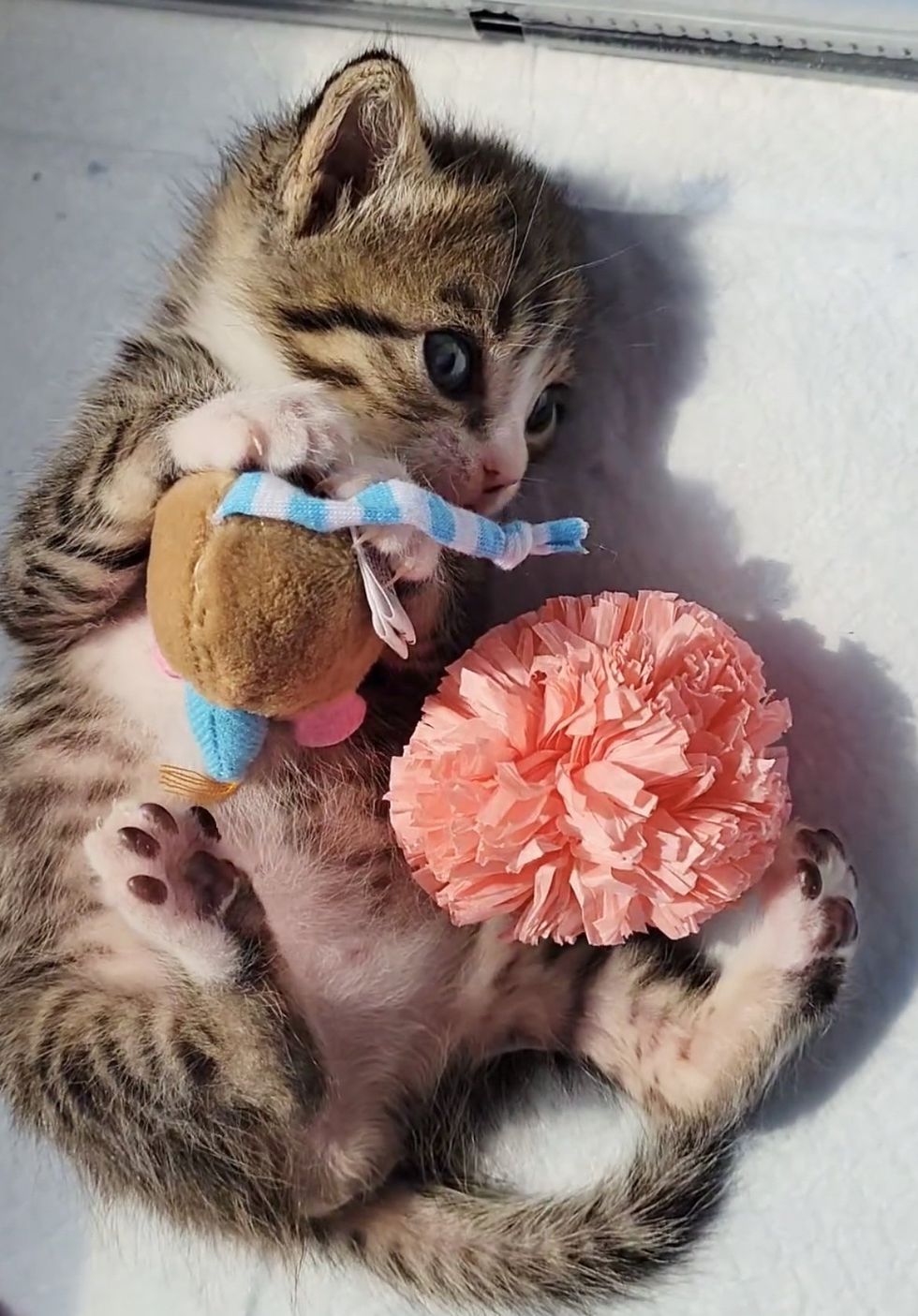 She started to play with toys for the first time yesterdayTiny Paws Fosters
With a loving foster home, the little feisty kitten is thriving, and her personality is emerging. She's living each day to the fullest, and nothing can stop her from loving life.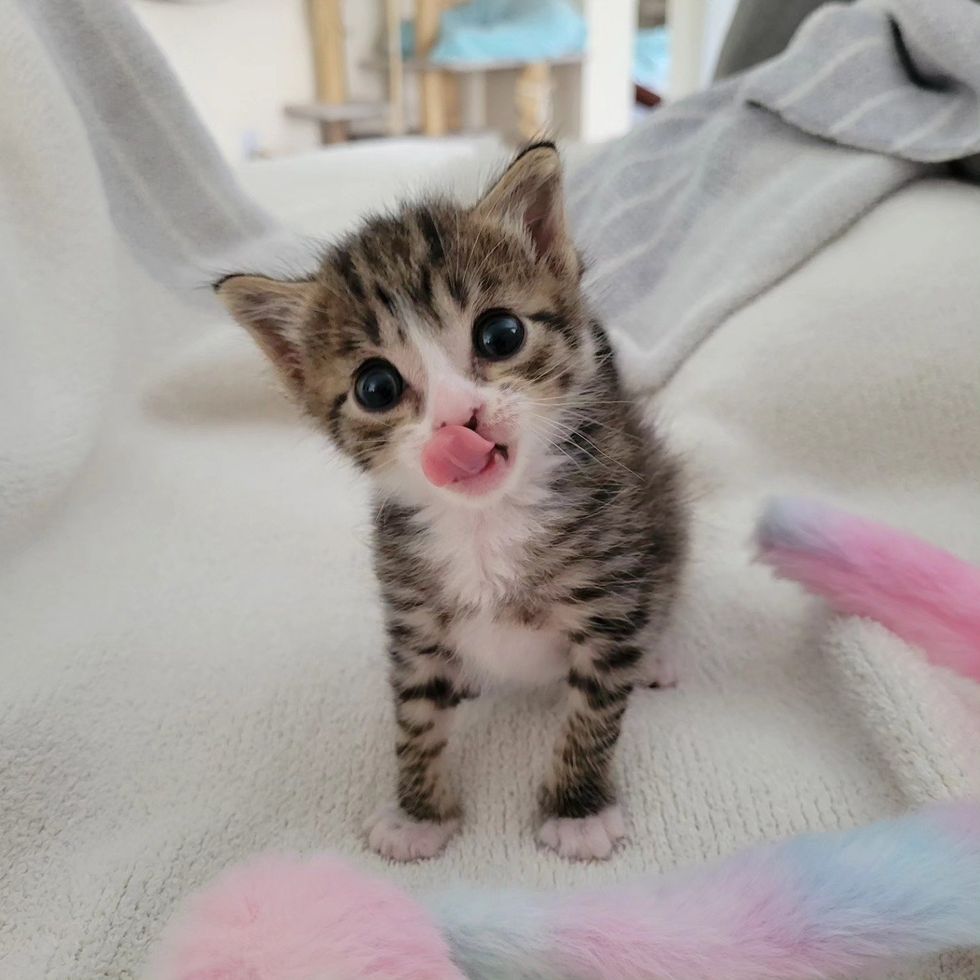 Tiny Paws Fosters
Share this story with your friends. More on the kitten and Nadija's fosters on Instagram @tiny.paws.fosters and AnimalLuvr's Dream Rescue @animalluvrsdreamrescue.
Related story: Cat Comes Home with Kind Person, within 24 Hours, They Find Kittens Under Their Bed