A lone kitten walked up to a door and demanded attention. Now, she has a cat that dotes on her.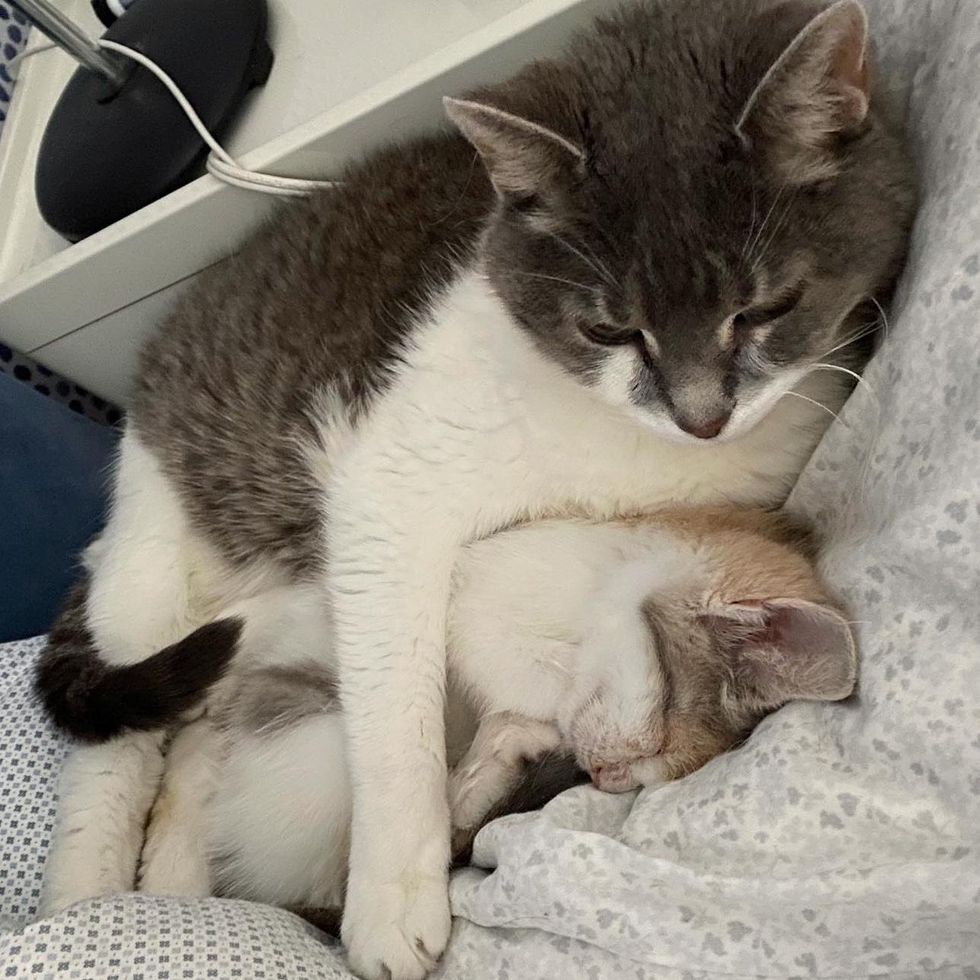 Marscha the cat and Moxxie the kittenCeline @comrescuemontreal
A few days ago, a stray kitten wandered up to a homeowner's doorstep without a mother in sight. She was sickly and frail but mustered her courage to seek help.
Chatons Orphelins Montreal was notified about the kitten who desperately needed medical attention. "We agreed to take her, and a volunteer drove two hours to transport her to Montreal for us," Celine Crom of the rescue shared with Love Meow.
The kitten was just skin and bones and came with a host of health issues, but she seemed at ease knowing she was safe.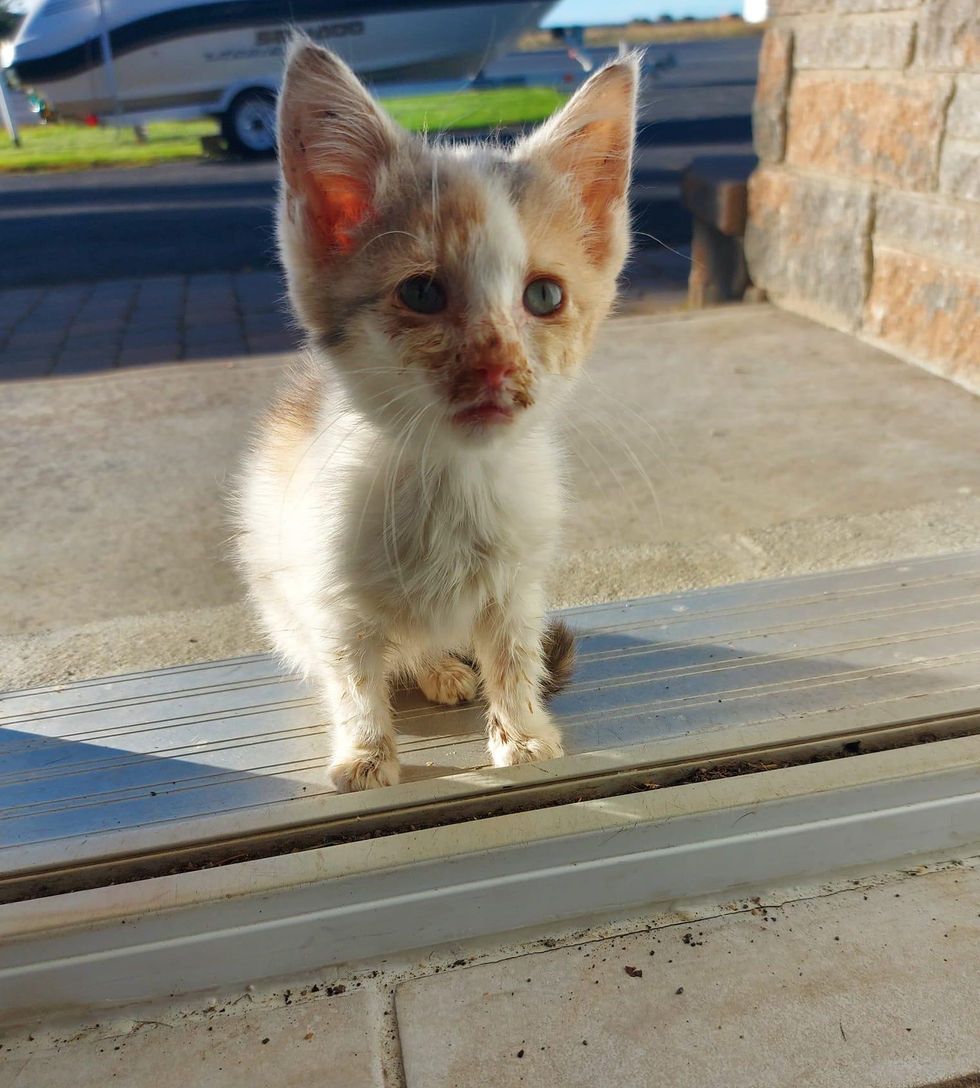 Moxxie wandered up to someone's door and asked for helpCeline @comrescuemontreal
During her ride to the rescue, she conked out in her carrier to catch up on some sleep. "We named her Moxxie. Against all odds, she survived on her own in that state. She is truly a little fighter."
Moxxie was estimated to be about two months old and bore the signs of braving the streets for some time. She had trouble breathing due to an upper respiratory infection (URI) but her purr motor never stopped running.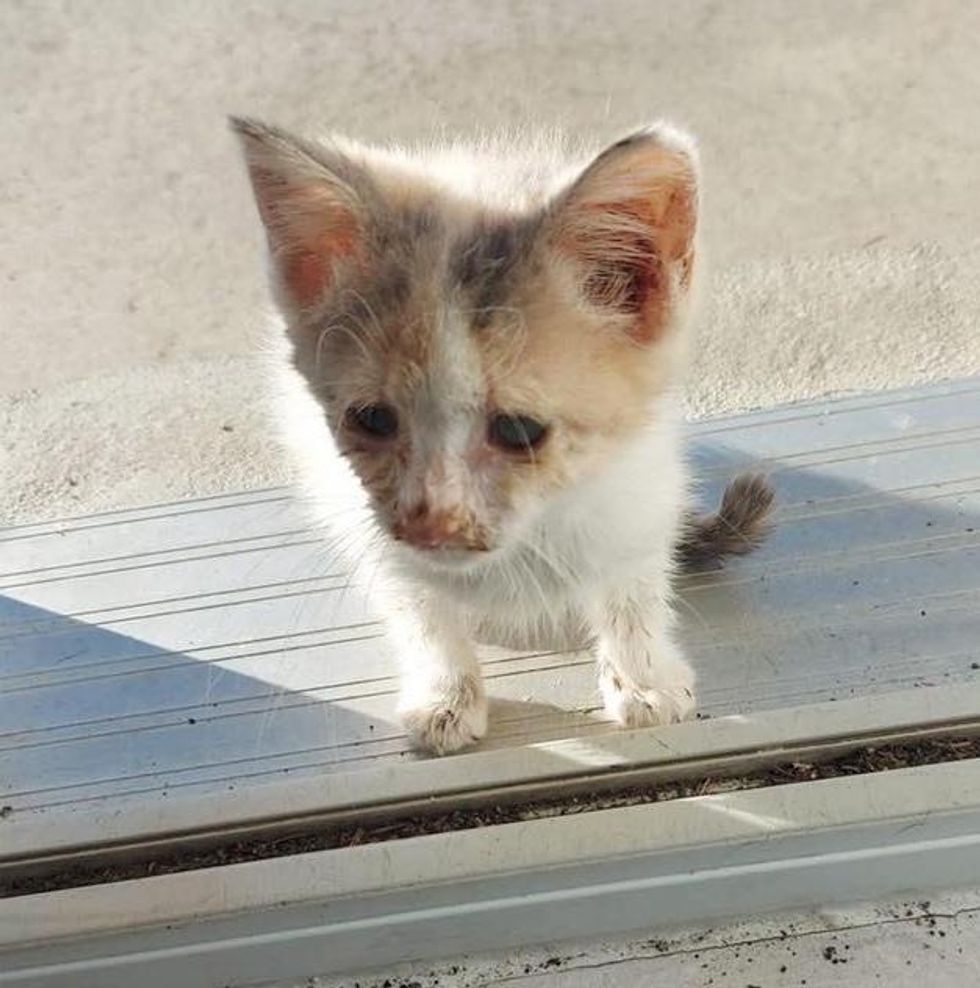 Celine @comrescuemontreal
"Moxxie was treated for the URI, fleas, ear mites, and stomach issues. She was so hungry that she threw herself at the food bowl. She purred as soon as we put her on a heat source to help her regain strength. Moxxie hugged her warm water bottle and purred herself to sleep."

After spending the first two months of her life fighting for survival, she could finally relax and recuperate. She would never go a day without food and shelter again.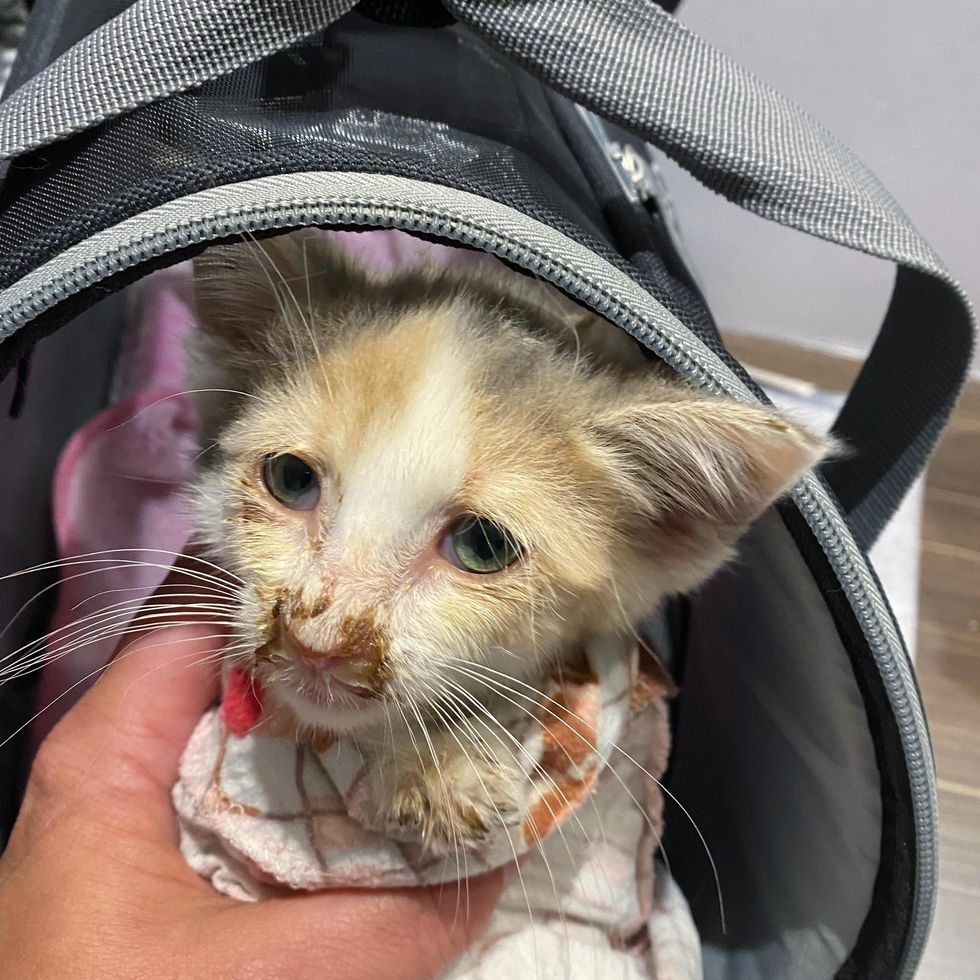 She was so happy to be safe and just kept purringCeline @comrescuemontreal
Moxxie quickly made strides with good nutrition, proper medication and clean sheets. She could breathe much easier, was all cleaned up from head to tail, and her tummy was no longer troubled.

After getting a clean bill of health, Moxxie was ready for socialization with another cat to keep her company and show her the ropes. Her foster family knew just the perfect friend to help her through the process.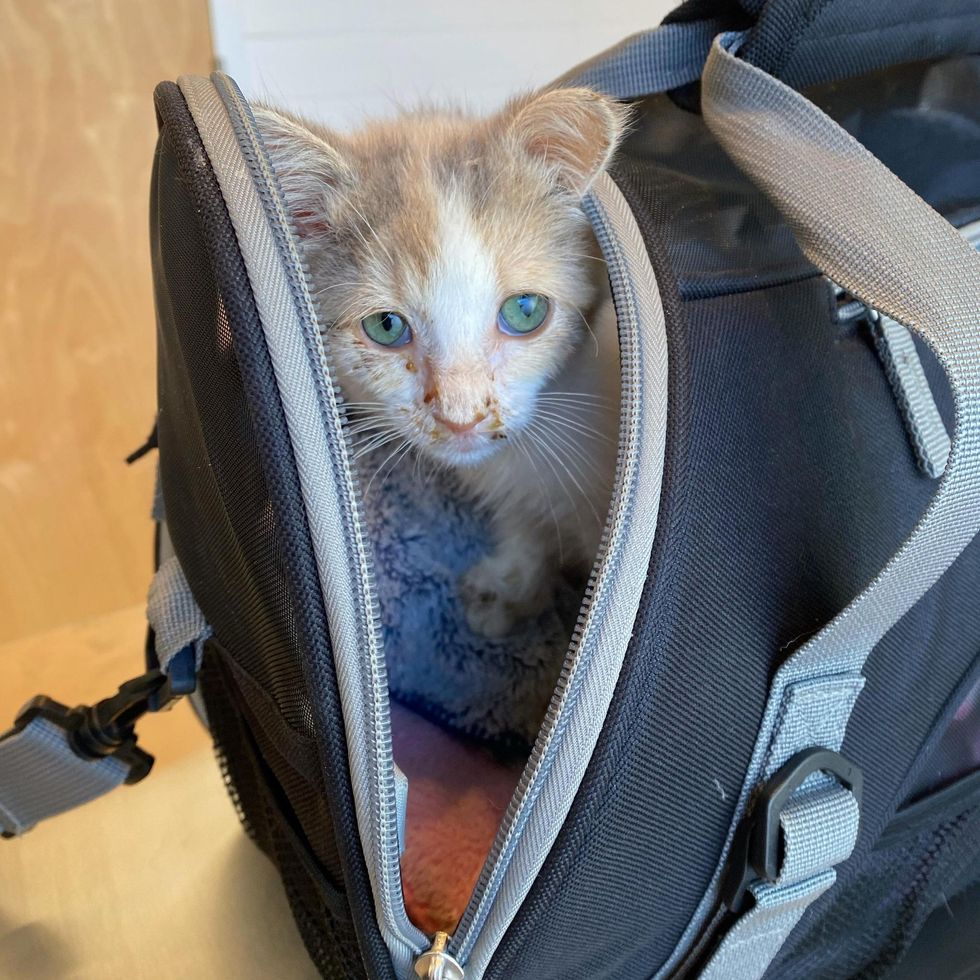 Celine @comrescuemontreal
Marscha, the 21-year-old resident cat, is an incredible foster extraordinaire and has helped countless kittens and cats over the years.

As soon as she heard Moxxie's commotion from another room, she was ready to extend her helping paws and accept the little newcomer as her own.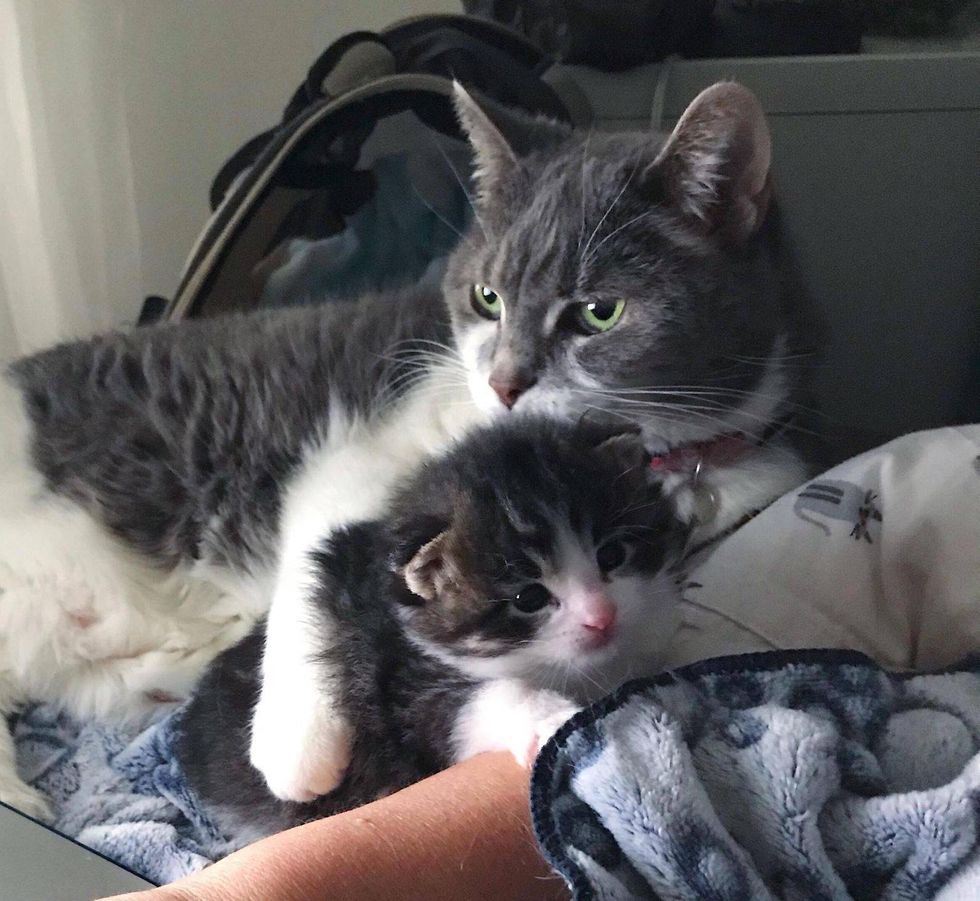 Marscha and one of her former fosters; she has helped countless kittens and cats over the yearsCeline @comrescuemontreal
Moxxie instantly gravitated towards Marscha and kept her purr motor rumbling incessantly. She nuzzled into Marscha's coat, slowly melted into her and fell fast asleep. "We see that she is always looking for a 'mom', and it comforts her to be near the resident cat."

Since then, Marscha has been showering the kitten with snuggles and baths. She often wraps her arms around Moxxie as if to reassure her that she is loved.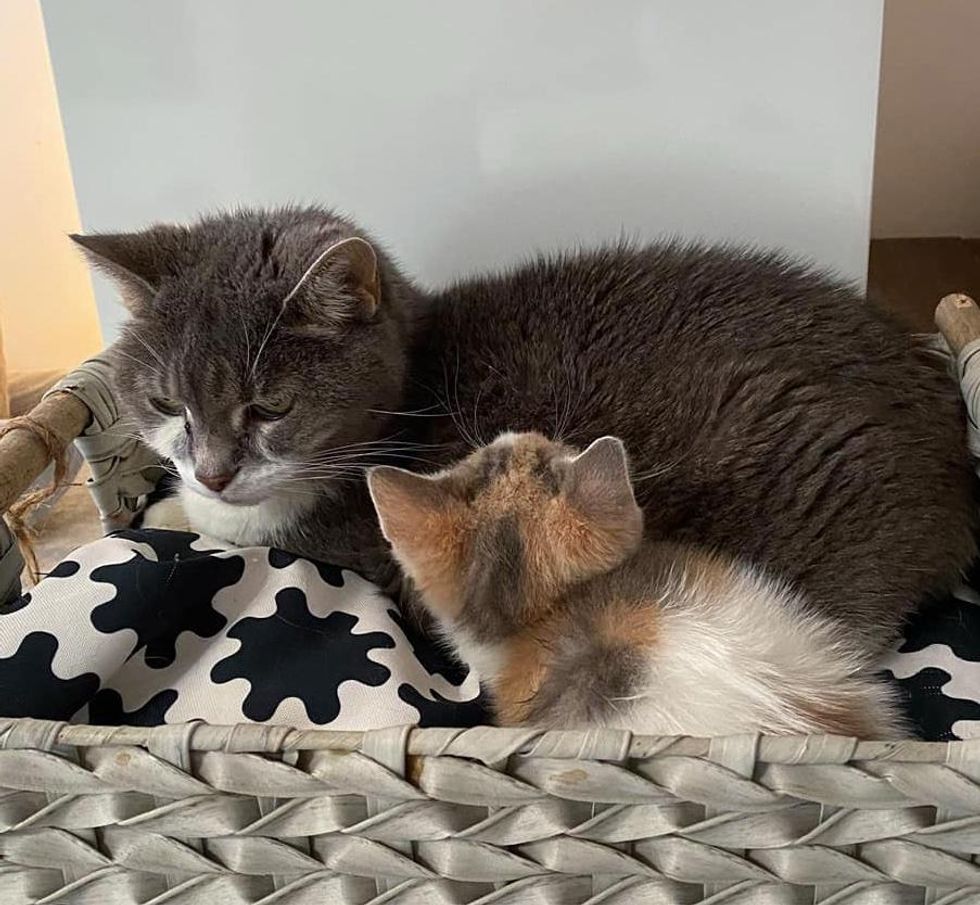 Moxxie immediately gravitated towards Marscha when they first metCeline @comrescuemontreal
"Moxxie was lucky to have been found just in time that day. She wouldn't have made it longer in that condition, alone outside," Celine said.

The kitten has found what she was looking for--kind people to help her thrive and a nurturing friend to dote on her every day.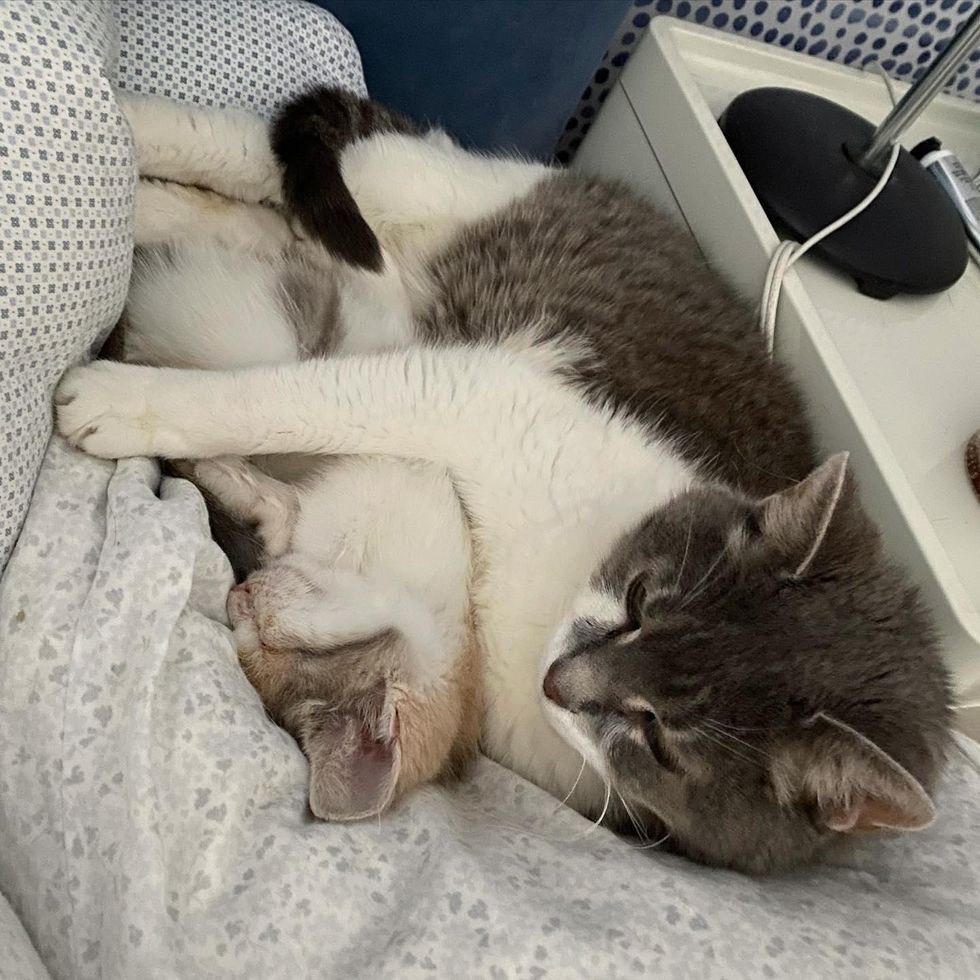 Happy and lovedCeline @comrescuemontreal
Share this story with your friends. Follow updates on Moxxie the kitten and Chatons Orphelins Montreal on Facebook and Instagram @comrescuemontreal.
Related story: Orphan Kitten Goes from Hiding Under Blankets to 'Roaring' for Attention and Melting Hearts