A tiny stray kitten was rescued and brought into a home of five ferrets. She grew up with them, and they became the family she never had.
Meet Komari.
She was found abandoned when she was still a wee kitten. They took her home and nursed her back to health.
She was very hungry and weak when she arrived in her new home, but soon that changed.

Komari was introduced to her many new brothers, and they are all ferrets.
The family had five ferrets at the time, and they were all boys. They accepted their feline sibling right away.
One of these guys just can't stay still. :)
They started snuggling together, playing and giving each other cuddles.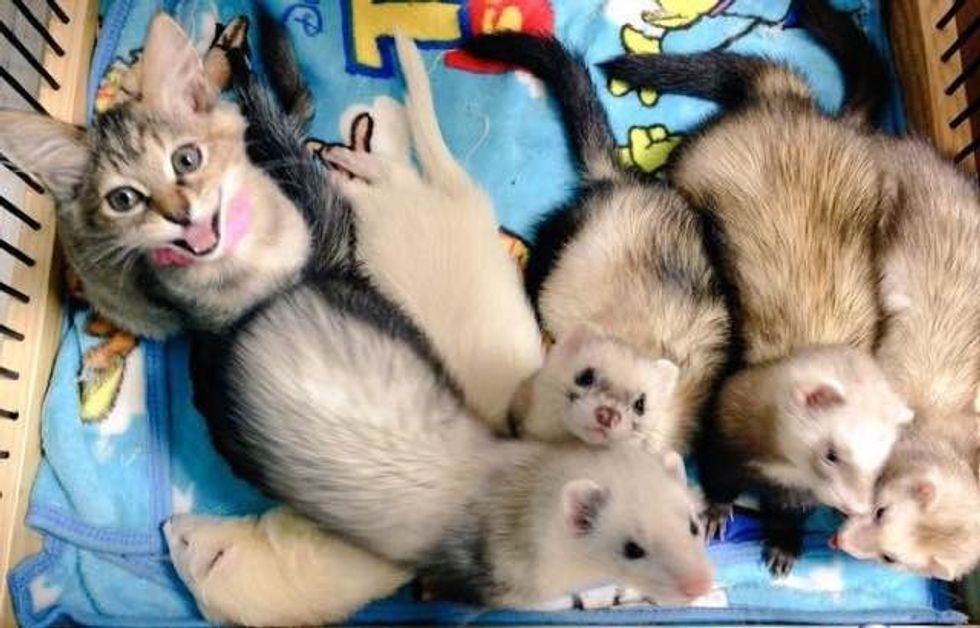 @garo004giru
It's a happy cuddly family.

They eat together but they don't share food :).
As time passed, one of them shot up in size. The family also grew in numbers. They added another ferret to the gang.
When they are not playing or eating, they are cuddling.
Komari thinks she's part ferret.
Sharing hammock time with her brother.
What a smile on Kamari's face! She loves being part of the ferret gang.
Komari never sleeps in her own beds. It's easy to know why.
Watch video: Komari falls asleep with her brother.
ペロペロ… スヤァ ( ˘ω˘) http://t.co/07qdro5KGJ

— イタ坊 (@イタ坊) 1444310642.0
Love has no boundaries.

Share this story with your friends! Follow them on twitter!