Sammy the cat was surrendered to a local shelter at 18 years old when his lifelong family was moving and couldn't take him along.
Rescuers from Purrfect Pals Cat Sanctuary and Adoption Centers in Arlington, Washington took him in so he could get a chance at a better life.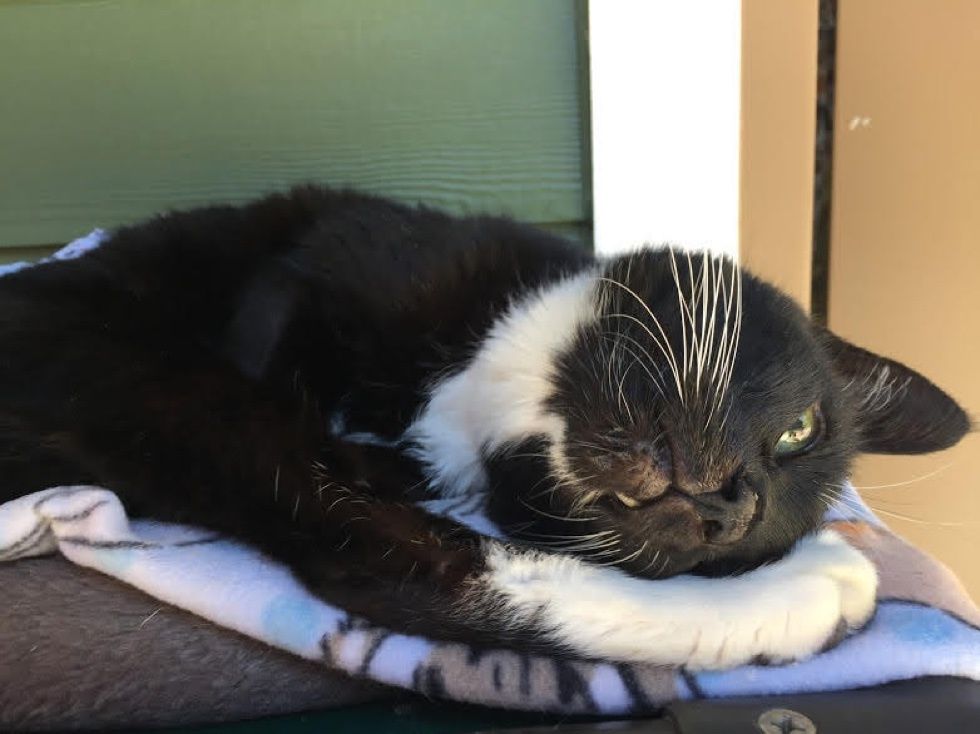 Purrfect Pals Cat Sanctuary and Adoption Centers
This remarkable senior cat quickly won the hearts of every staff and volunteer at Purrfect Pals. "He is a classy little pocket kitty at just under eight pounds and wearing a spiffy tuxedo coat with white mittens," the rescue shared with Love Meow.

Like many older cats, Sammy has chronic kidney disease and is on a prescription diet to keep him feeling his best. "18 years old and with medical issues often means long waits at the shelter for an adopter willing to take a chance."
They knew that this gentle, wise cat needed to get out of the shelter and into a real home.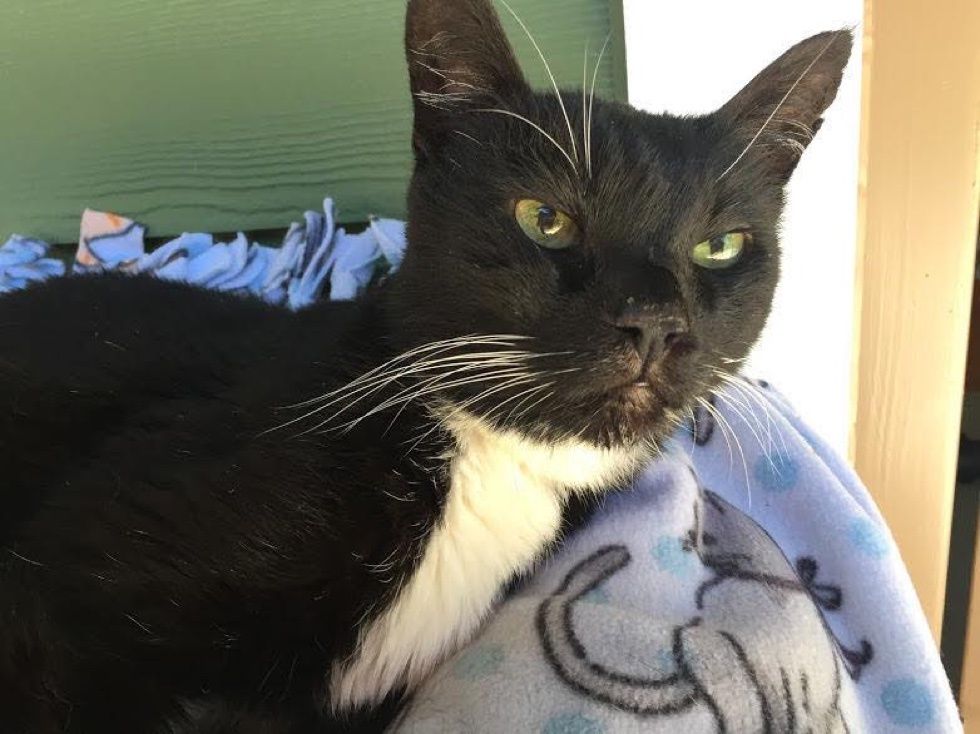 Purrfect Pals Cat Sanctuary and Adoption Centers
"Eighteen year-old kitties belong in homes with people to call their own, sunshine to warm their bones and soft places to lay their heads. No shelter, even the good ones like Purrfect Pals, come close to being that home," the rescue added.

Tim Adams came across Sammy's story on Facebook. "It just struck me as so sad that a family could give up a kitty they've had for 18 years. I know that people don't generally want to adopt senior pets. I also have a senior girl at home," Tim told Love Meow.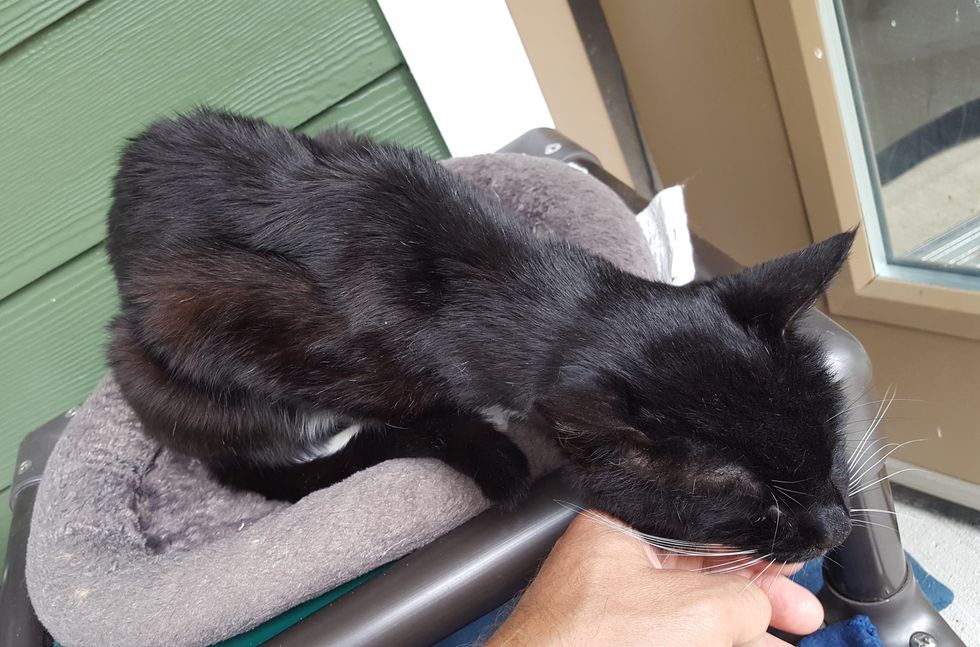 Tim Adams
Tim's 16-year-old cat Penny is also on a prescription kidney support food. She has lived with other cats in the past and has been missing having a feline buddy at home. "I decided to go see Sammy," Tim added.

"He seemed sad, but he was making the best of the situation. It felt like he took a liking to me right away. He rubbed his head on my hands over and over. I knew I would be taking him home."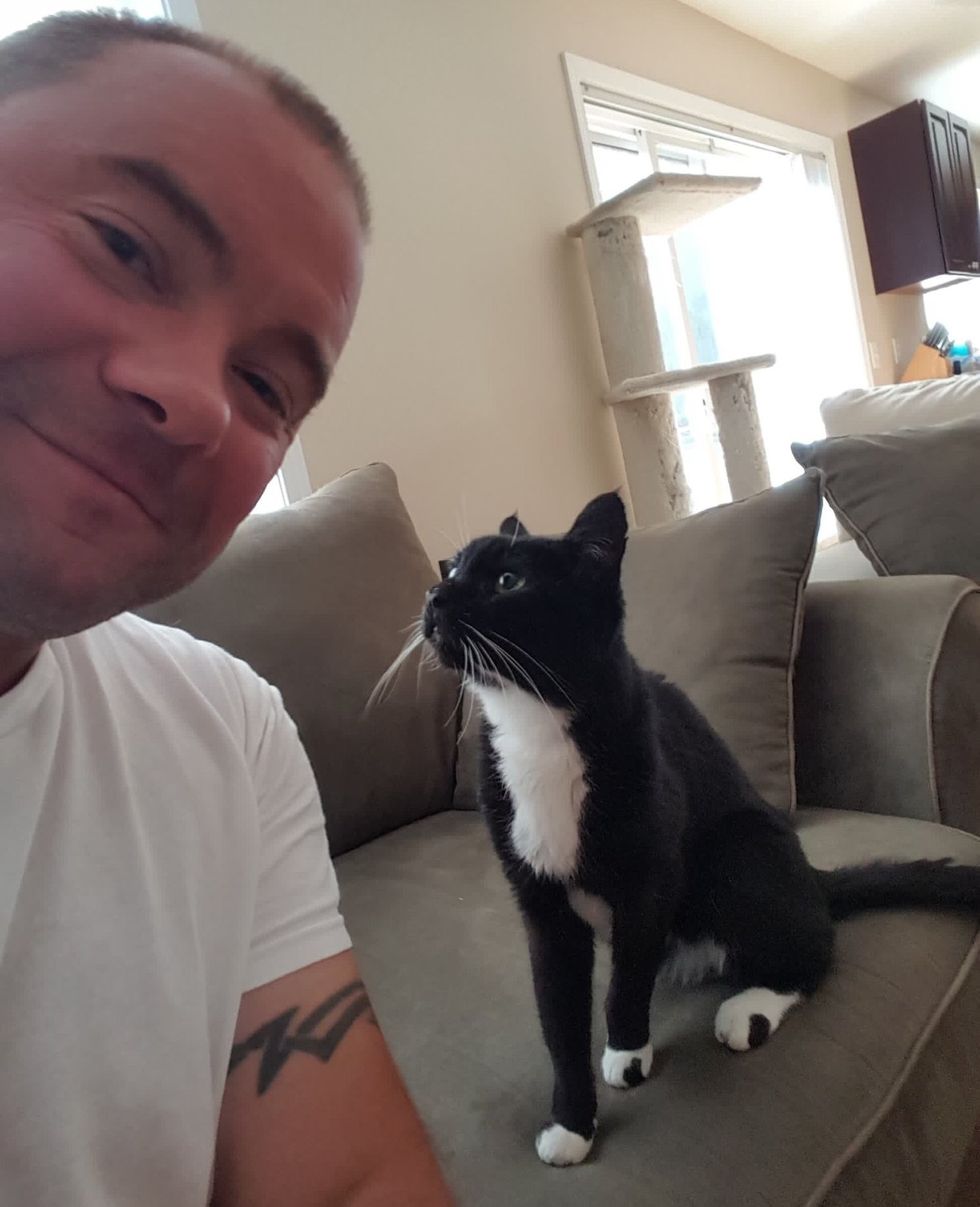 Tim Adams
Sammy quickly adjusted to his new abode. He was eating and using his litter box with no issues. The tuxedo boy followed Tim around the house and wouldn't leave his side.

"He bonded with me right away. He was my shadow the first few days. Whenever I sit or lay down, he's right there to curl up with me," Tim told Love Meow.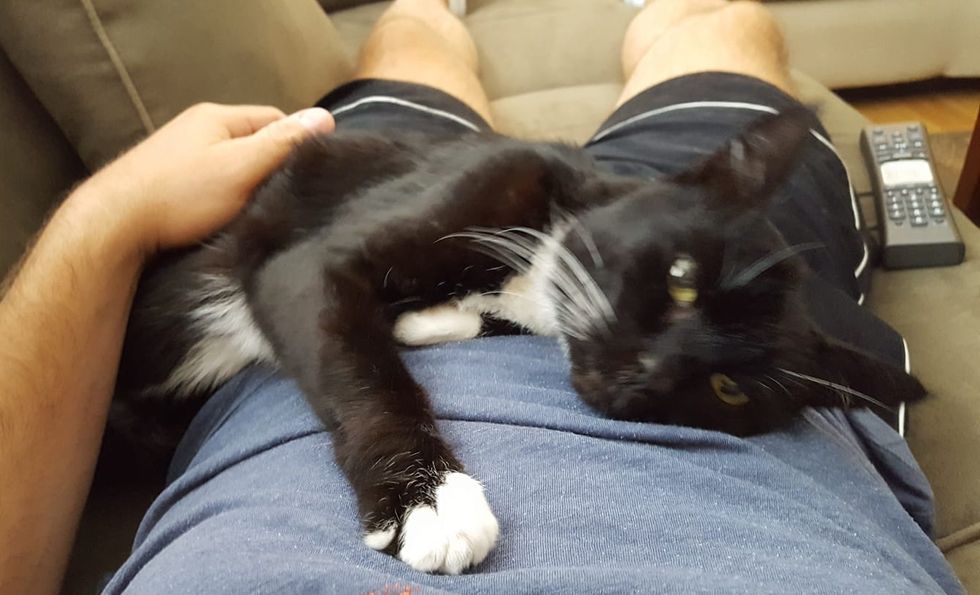 Tim Adams
In just a few days, Sammy has put on some healthy weight, and he and his new sister Penny are getting along better each day.

Sammy's favorite pastime is to cuddle in his human's arms and fall asleep.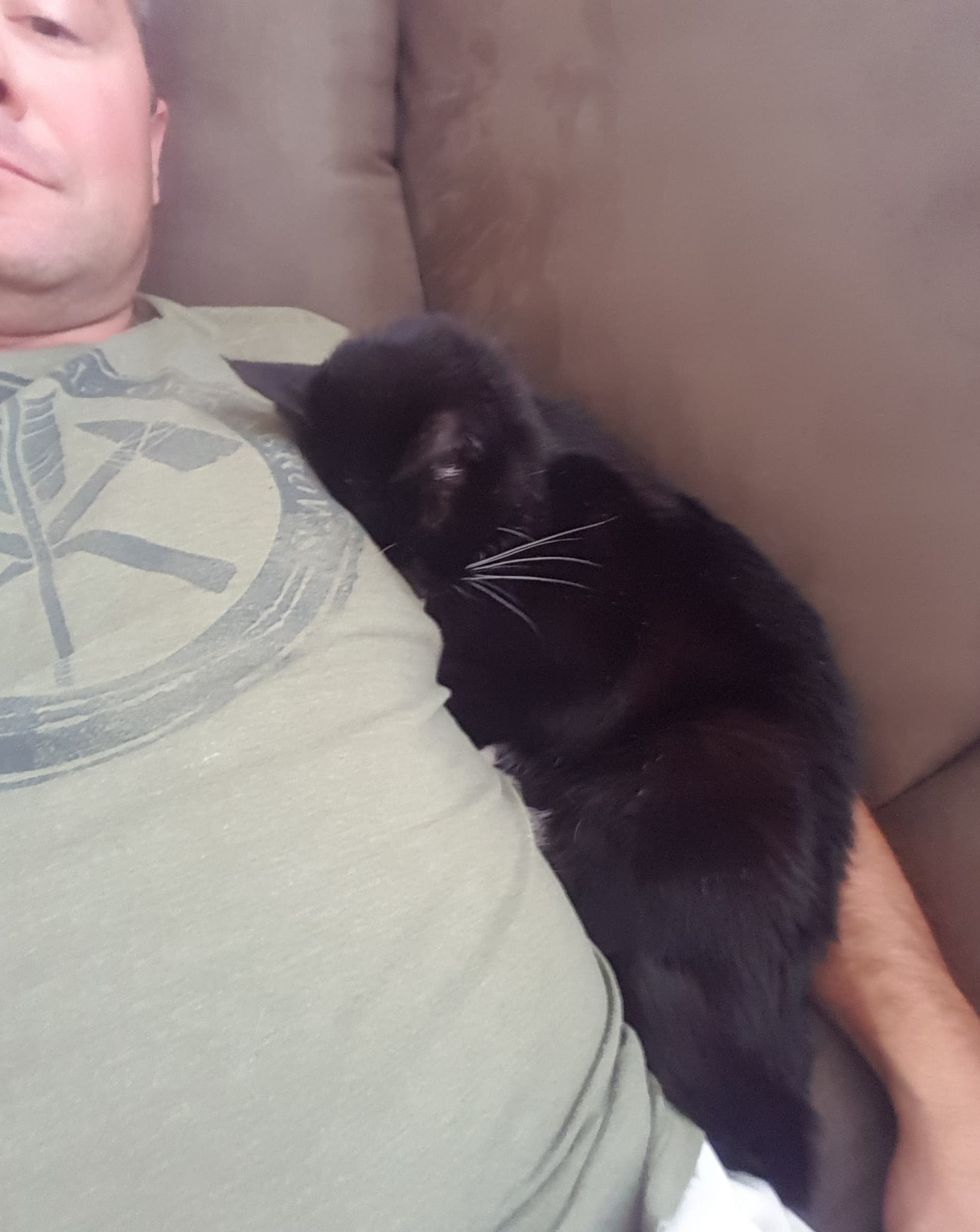 Tim Adams
"Tim not only rescued Sammy from a lengthy shelter stay, he revived our spirits and renewed our belief that all cats matter," Purrfect Pals said.

Sweet Sammy has found the person he loves to spend his golden years with. He couldn't be happier.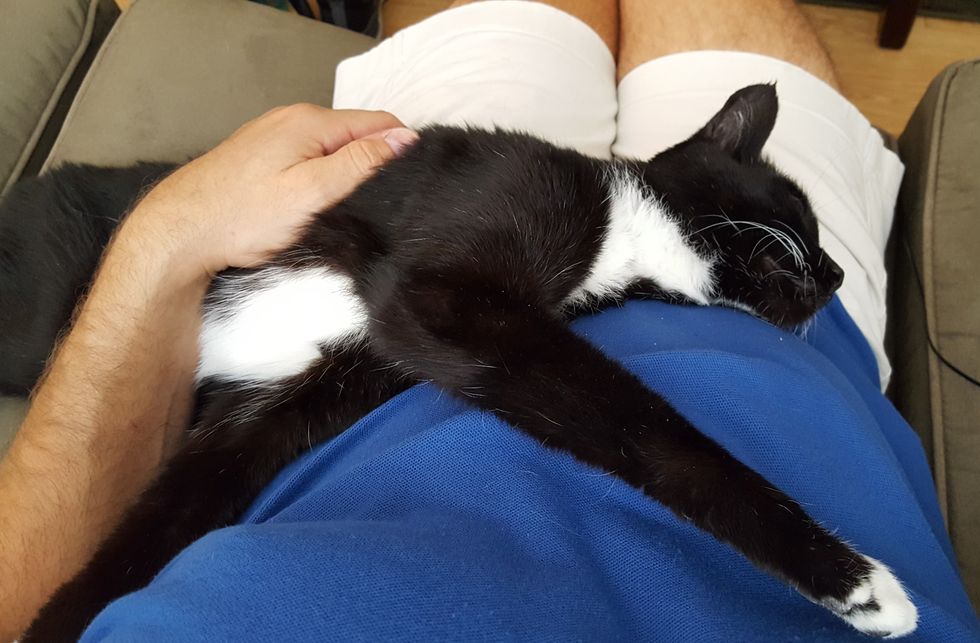 Tim Adams
Share this story with your friends. Follow Purrfect Pals on Facebook and Instagram.
Related story: Man Who Was Never Cat Guy, Went to Adopt Dog But Ended Up Getting Chosen by Kitten