A little stray kitty has taken over the office of an organization that offers service dogs, and is now leading the pack of canines and their humans, living large!
Meet Dee-Oh-Gee aka DOG!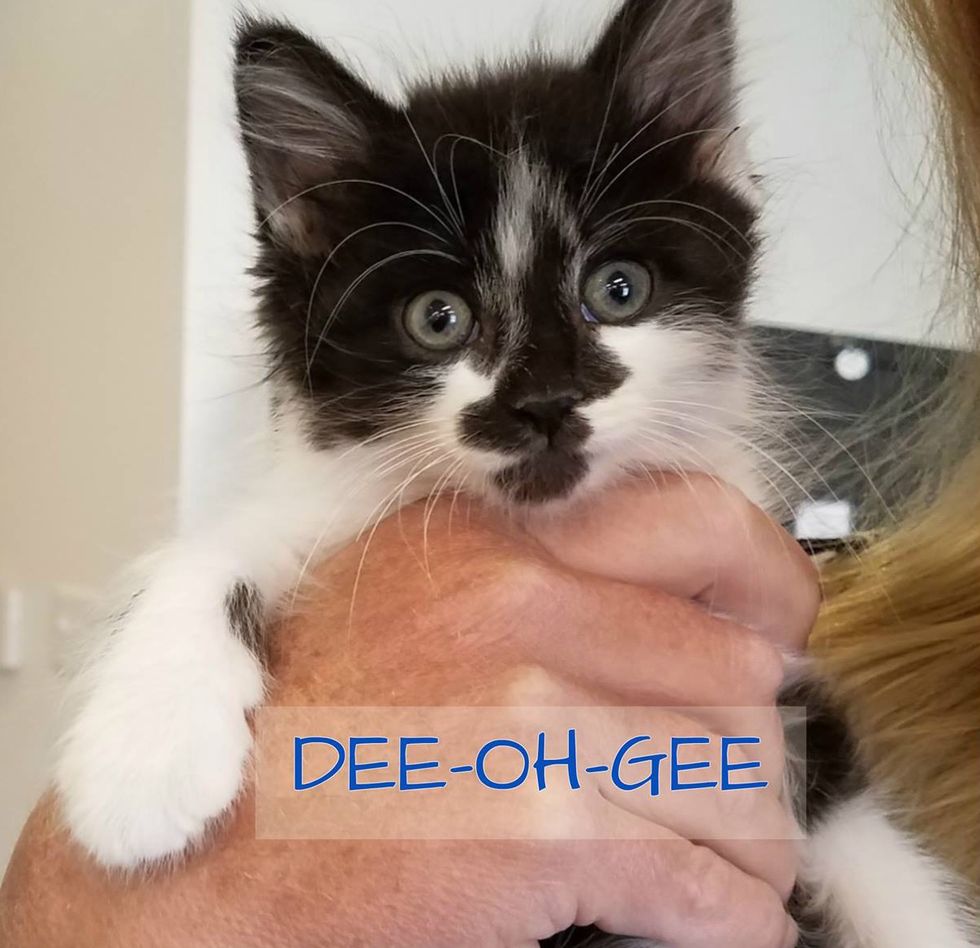 Support Dogs, Inc.
When Support Dogs, Inc., a nonprofit organization in St. Louis, Missouri, was looking for an office assistant, an idea of getting a feline staff member came to mind even though they had never had one before.
Meanwhile, a tiny tuxedo kitten wandered his way to the kind folks at Netherfield Natural Farm in Kansas after he was found as a stray. Despite having spent his early life in the wild with little to no human contact, the tuxedo boy quickly warmed up to his human friends and started to demand their attention.
Nadine Wenig, Director of Canine Services at Support Dogs, fell in love with the kitty and brought him into their office almost three months ago.
The kitten fit right in and took over the bed of Molly, a sweet canine, and made himself quite at home in her bed.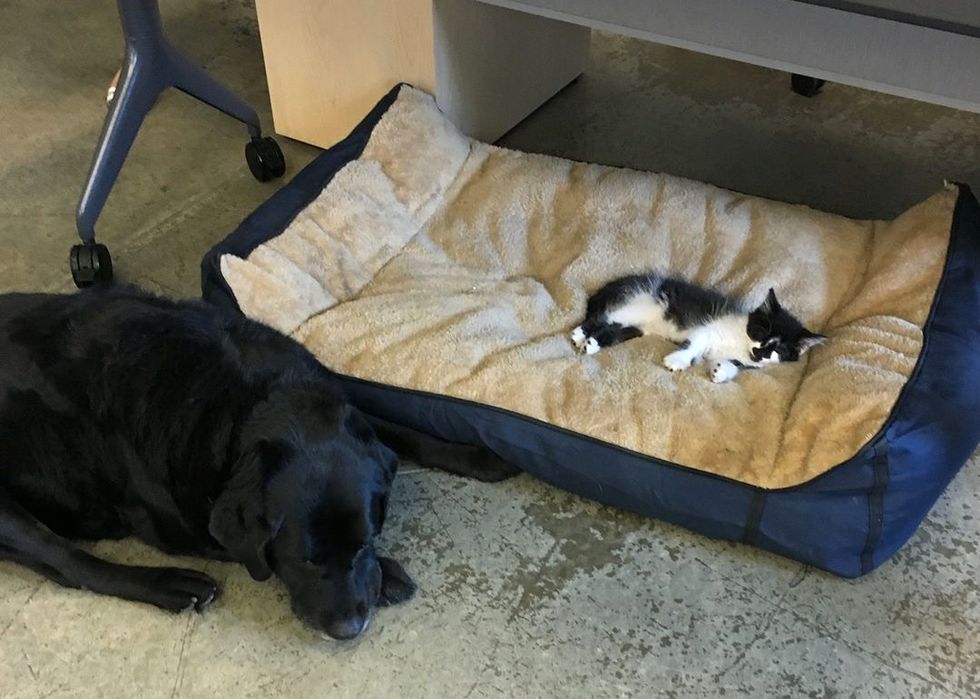 Support Dogs, Inc.
The clever feline, aptly named DOG, became the first ever office cat at Support Dogs.

The organization offers highly skilled service dogs to individuals with mobility issues and to those who are deaf or hard of hearing. Most staff members at the office are dog owners. The feline helper has added that missing element to their training--something that only the kitty can do!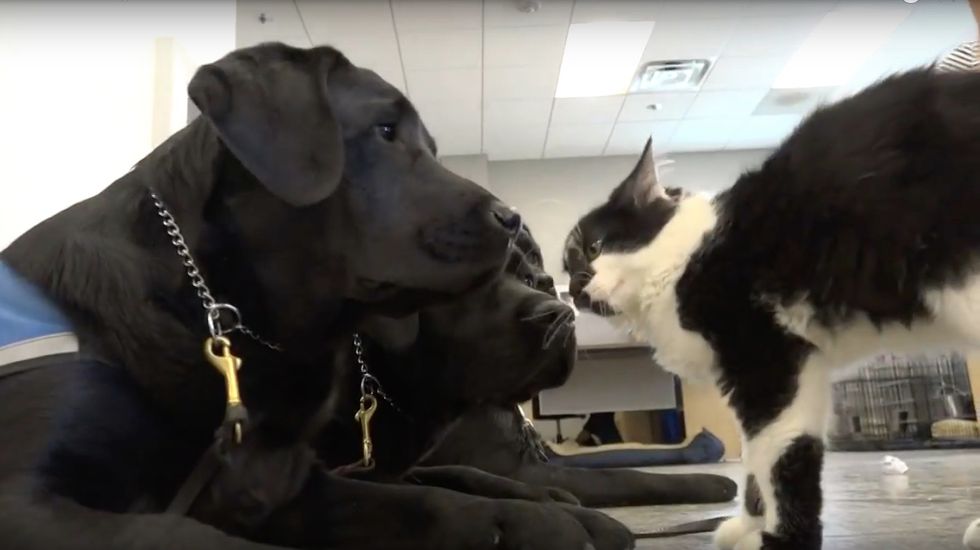 Show Me St. Louis
Many of their clients have cats at home. Now all their service dogs have been trained and passed the feline test thought the help from their very own feline purrfessional.
DOG loves his job at the office like he was born to do it. He has such a commanding presence with the dogs who look to him as the leader of the pack despite how much smaller he is in comparison.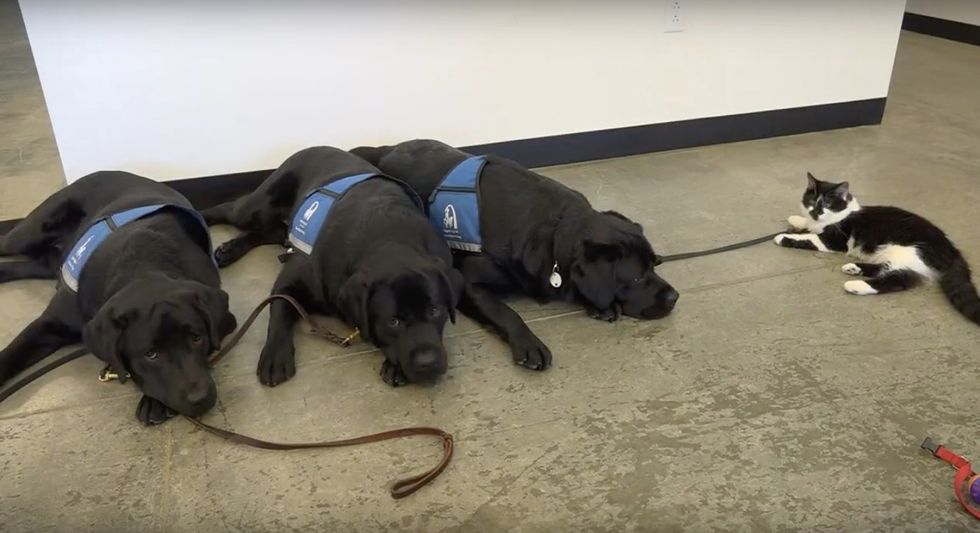 Show Me St. Louis
He's playful and very energetic. The dogs learn to be calm and stay focused with their feline trainer.

Besides interacting with his canine buddies, DOG often offers a helping paw to his humans in the cubicles.
The tuxedo boy teaches the canines all the subtle cues in feline communication, and in return, the dogs have helped shape his unique purrsonality.
The kitty thinks he's part dog.
He likes to participate in canine activities and prefers the dogs' bowls when he eats or drinks.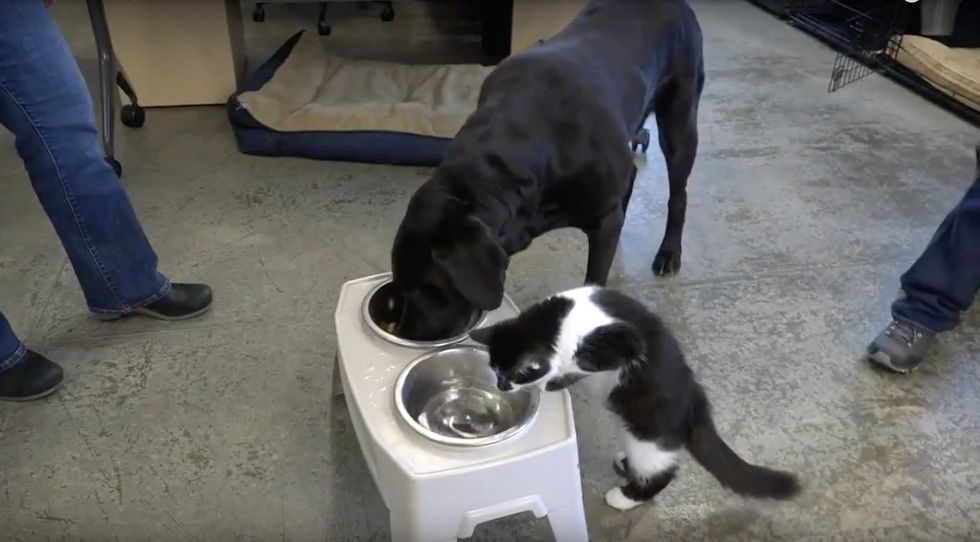 Show Me St. Louis
Despite having his very own fancy multi-level kitty condo, the fearless tuxedo likes to sprawl out in the dogs' beds for naps and relaxing time.
That's how DOG rolls!
A few die-hard dog lovers at the office couldn't resist the kitty's charm and became his secret admirers.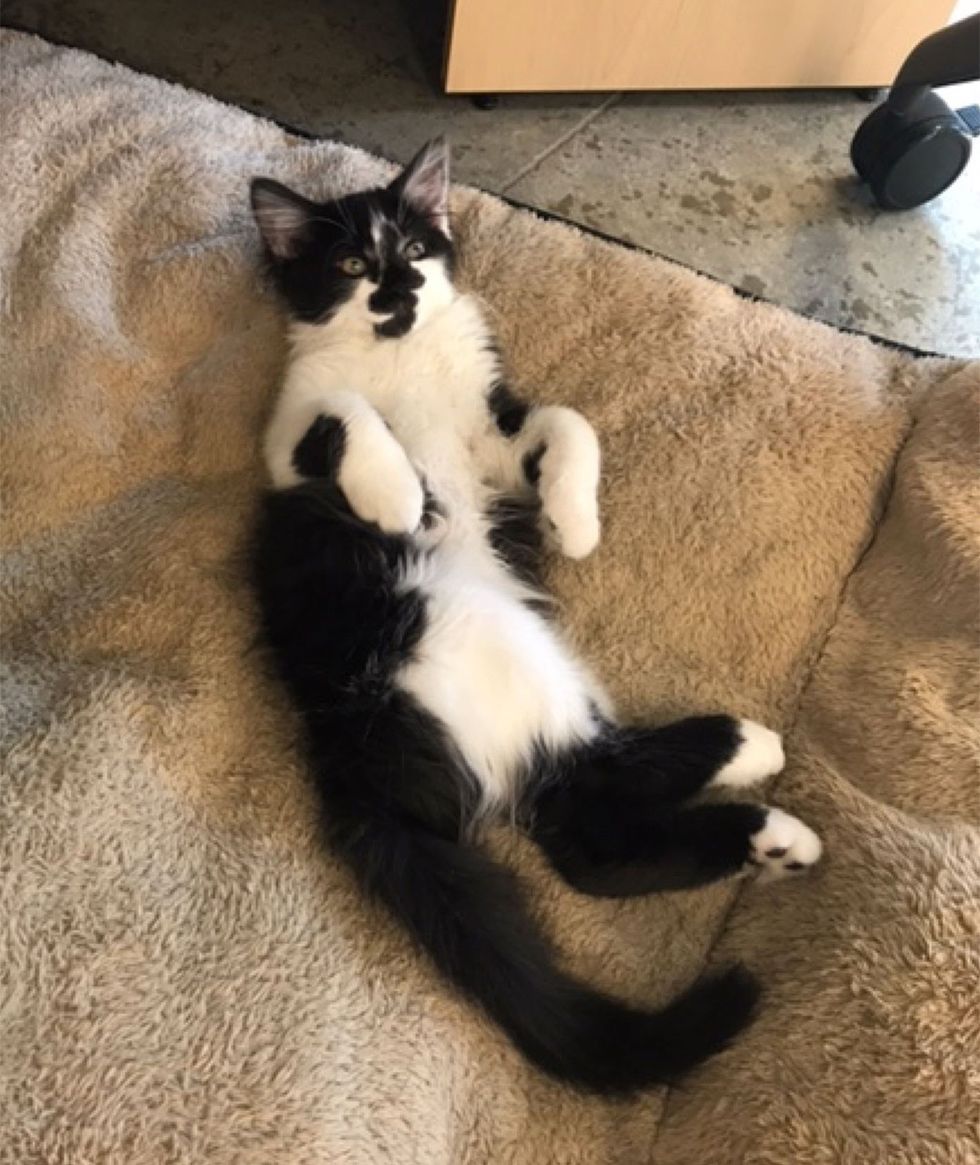 Support Dogs, Inc.
DOG is quite amazing! Follow him on Support Dogs' Facebook page!
Watch his story in this video:
Share this story with your friends.
Related story: Office Kitty Surprises His Humans When They Find Out He's Been Snatching Money From Passersby