An abandoned cat found help just in time so her kittens could be born in the comfort of a loving home.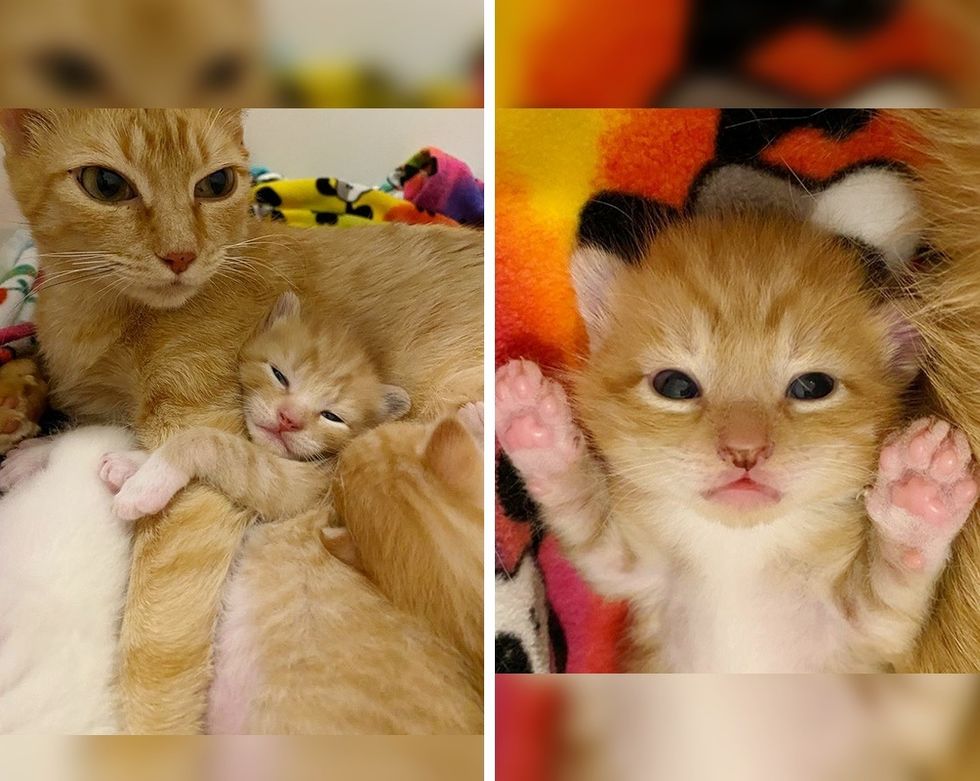 Kayla @salemfosterkittens
An orange cat found herself without a home when her family moved and left her behind. She was lost, confused and pregnant. When she was discovered by the new owner of the house, they brought her into Salem Friends of Felines (in Salem, Oregon) for help.

The one-year-old feline was a couple of weeks into her pregnancy and eager to find a safe place to raise her kittens. Kayla, a foster volunteer, immediately stepped up to help. "The shelter employees told me how she was so sweet, but I didn't expect her to be as sweet as she is," Kayla told Love Meow.
The tabby named Nakoma was a little shy at first. She slowly poked her head out of the carrier and carefully inspected every nook and cranny of her new digs. Once she knew she was safe, she nestled into her comfy bed and started kneading away, rumbling with her purrs.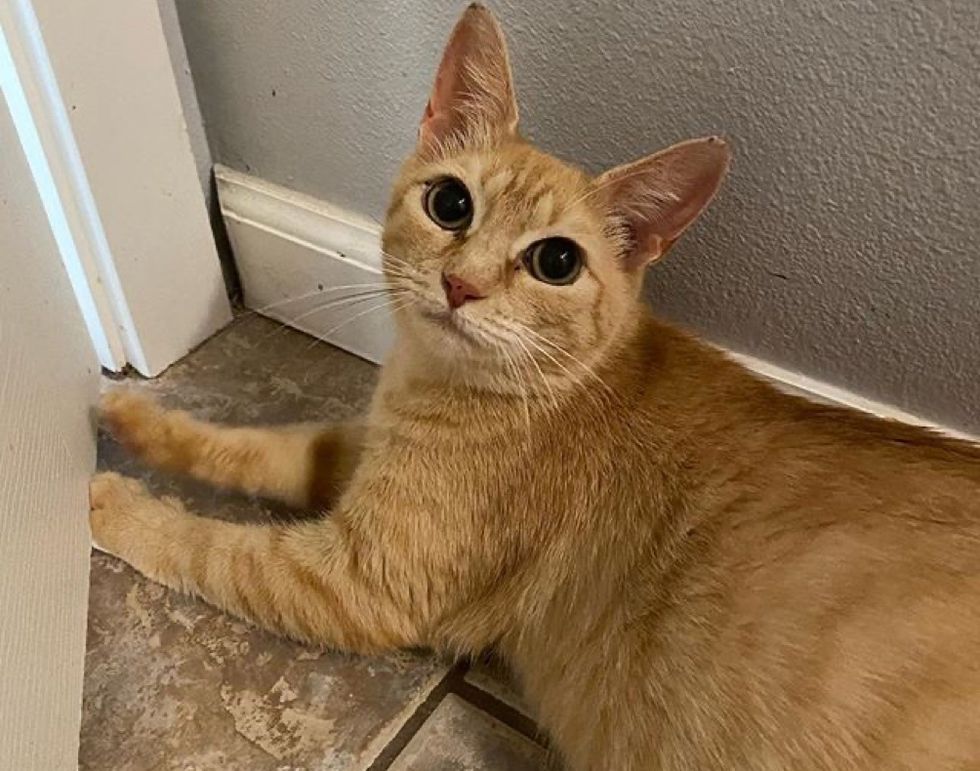 Kayla @salemfosterkittens
"She was so happy just laying there and making biscuits and purring. I could tell that she was incredibly sweet and just needed time to adjust," Kayla added.

Nakoma's belly grew rounder each day. About two weeks after she came to her foster home, she went into labor.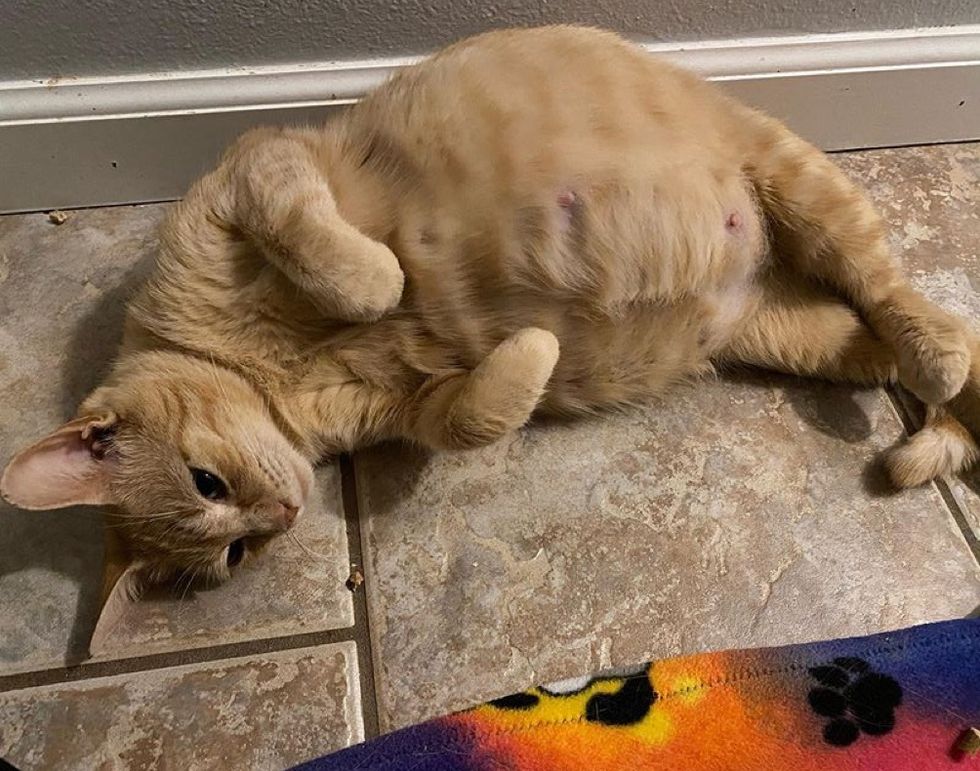 Kayla @salemfosterkittens
Kayla assisted the cat mom every step of the way to ensure safety for the babies and the mother. She gave birth to litter of six kittens, and five of them survived.

Mama Nakoma was exhausted but waved her paws in the air while her hungry little babies happily nursed away. Her purrs reverberated throughout the room as if she knew everything was going to be alright.
Kayla @salemfosterkittens
"She is one of the best mommas I've ever fostered! She's so good with her babies and you can tell she loves them," Kayla shared with Love Meow.
"If they make even the tiniest squeak, she's talking with them and has her eye on the babies to make sure they are ok."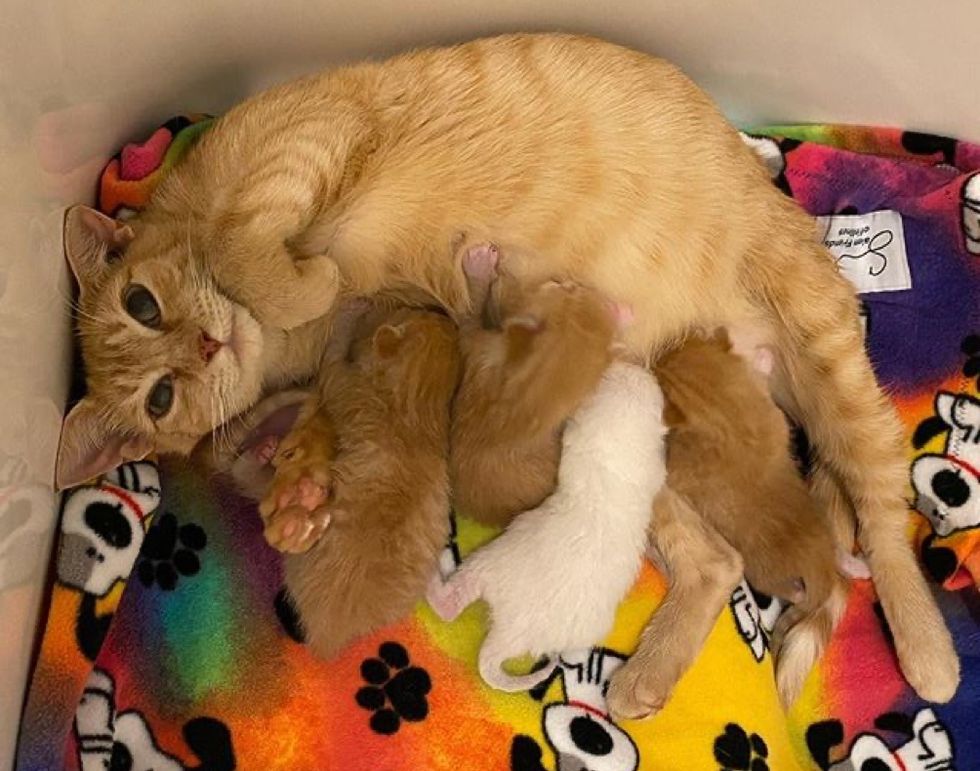 Kayla @salemfosterkittens
The devoted mother hardly left her kittens' side during the first couple of weeks. She made certain that all the mouths were fed and all the babies were kept clean from head to toe.
Watch this adorable family in this video:
Cat mom and her kittenswww.youtube.com
The kittens opened their eyes around the second week and their ears began to unfold. As their legs got stronger and their curiosity grew, they started to waddle about and explore.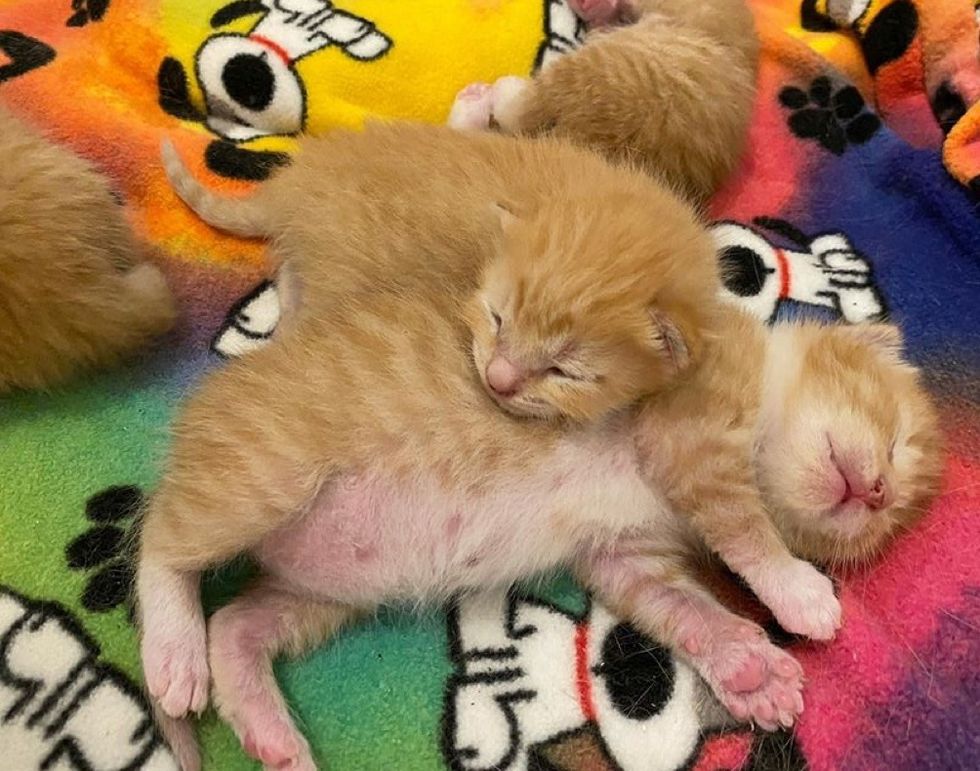 Kayla @salemfosterkittens
Nakoma is very protective of her little bundles of joy and makes sure they don't wander off too far. She comes running when she hears their cries, and bathes and grooms them diligently.
"I've had her for five weeks. She is still shy but she's out and wanting attention a lot more now than when she first came to me," Kayla said.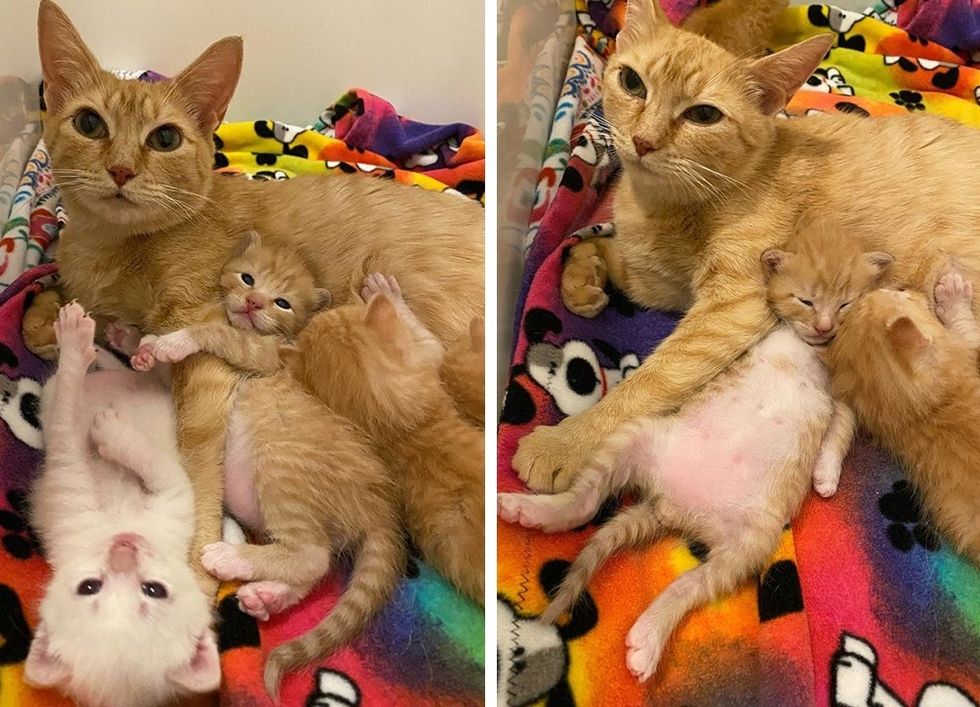 Kayla @salemfosterkittens
Four of the kittens are orange (Davey, Willie, Tommy boy and Buttons) and one is white (Smalls). "The babies are named after the broadway musical, Newsies."
They are thriving in foster care and getting more playful and rambunctious every day.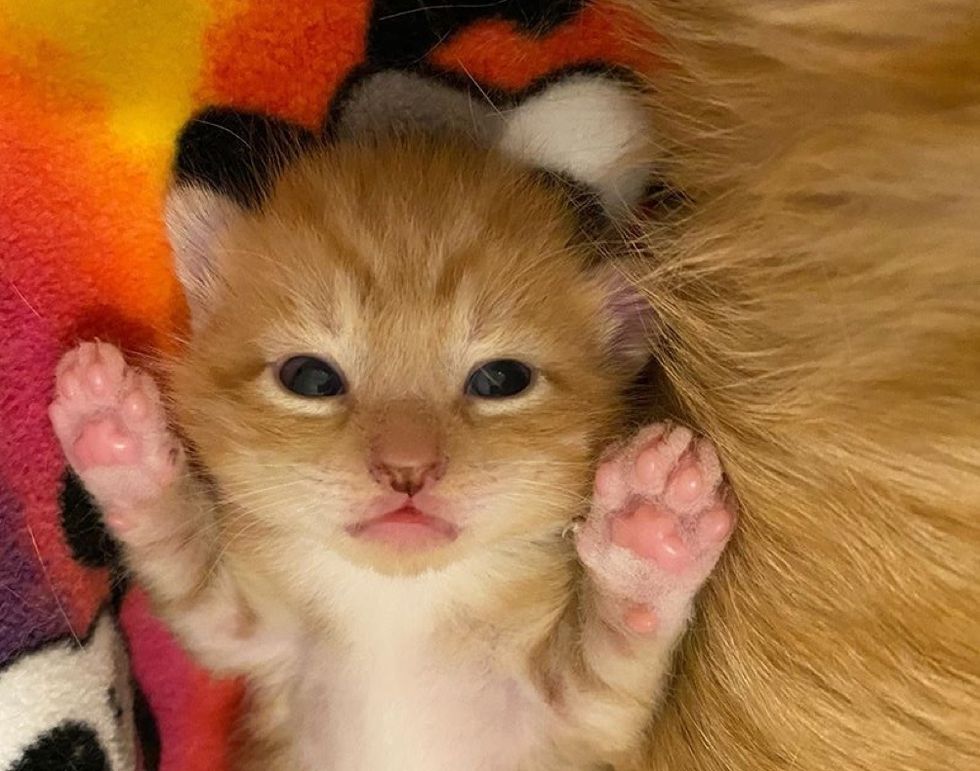 Kayla @salemfosterkittens
At 24 days old, the kittens' personalities are starting to emerge.
Tommy boy wears adorable white mittens and looks like a proper little gentleman.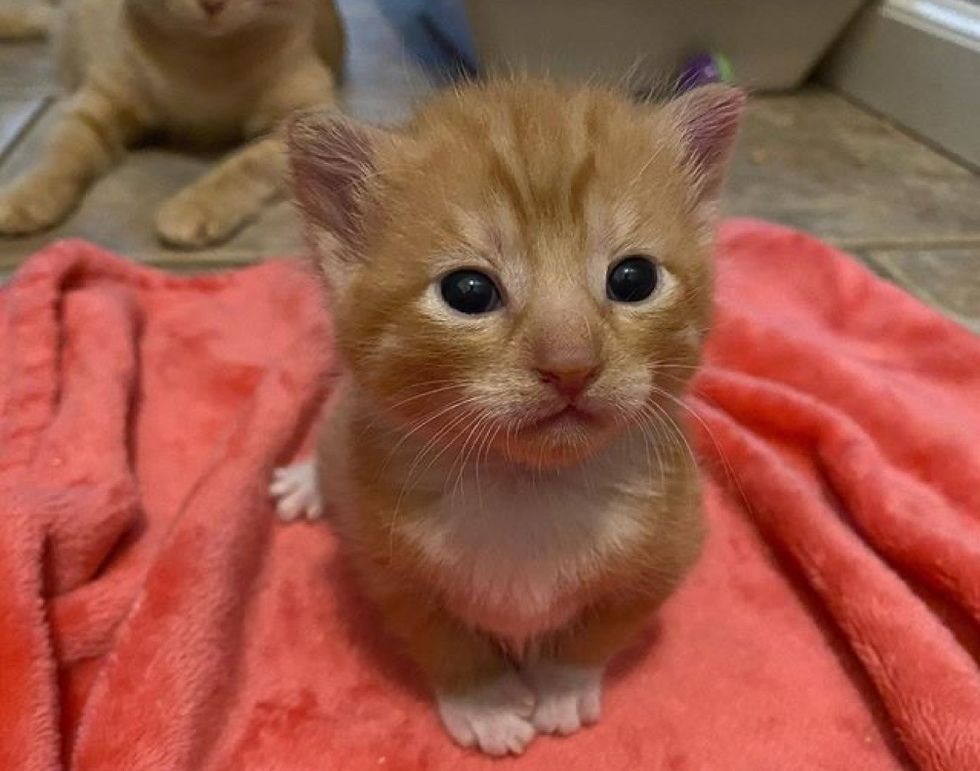 Kayla @salemfosterkittens
Nakoma is so happy that her kittens will grow up in a loving home and never have to spend a day on the street.
"Mama is so loving and sweet. She's always purring and making biscuits."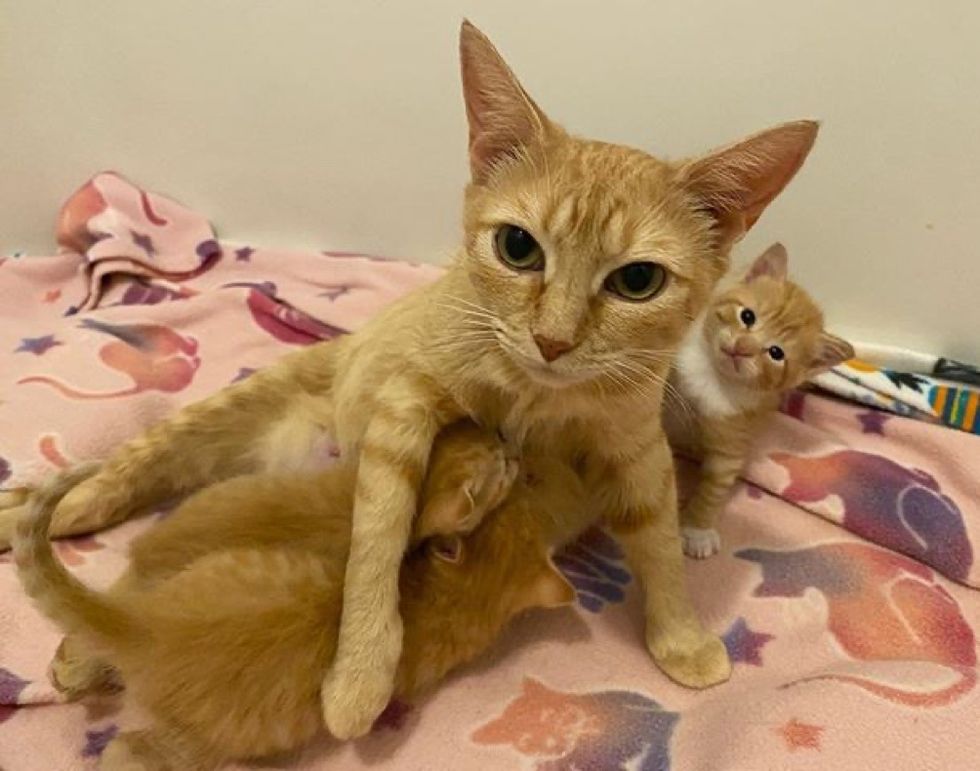 Kayla @salemfosterkittens
Share this story with your friends. Follow updates on the feline family and Kayla's fosters on Instagram.
Related story: Stray Cat Brought Her Kittens to Family's Yard So Their Lives Could Be Turned Around