A 5-year old girl never gave up saving a tiny frightened kitten who was found in the woods all alone. Now the kitty returns the favor by being her protector for life.
Meet Emmy and her kitty Dassy.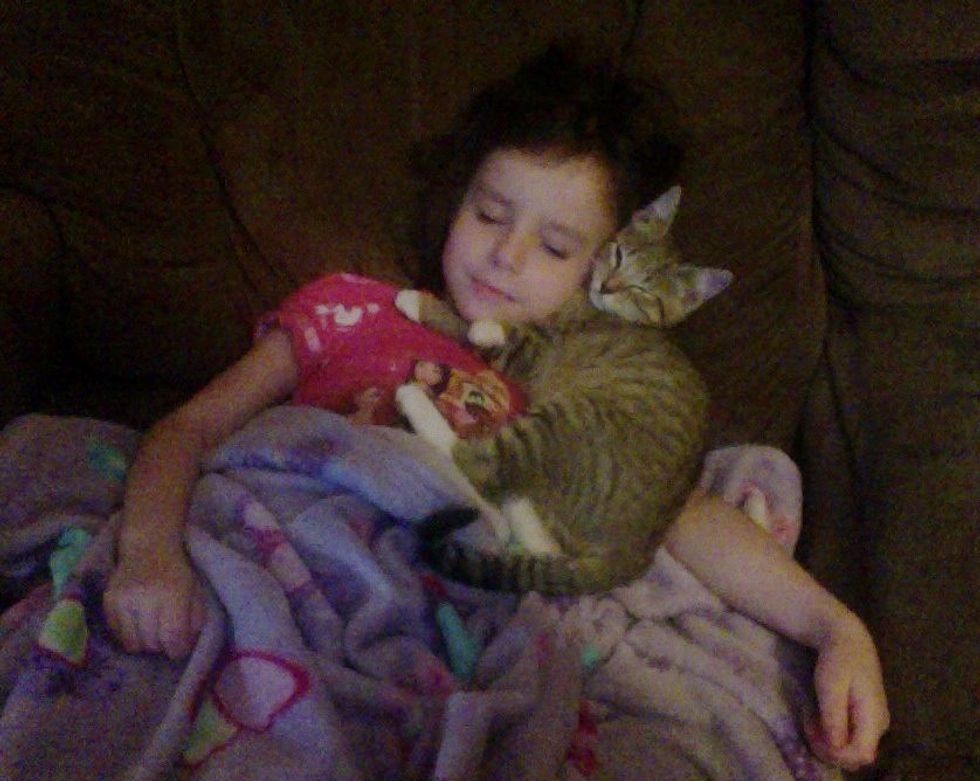 Courtesy: Britnee Jackson
It was on a summer day in August, 2014, Britnee Jackson, her husband and their two daughters were taking a family day at the lake when they spotted a scrawny kitten in the woods surrounding the lake.

"He looked to be about 12 weeks old and, although he was curious about us, would not let us get close to him," Jackson told Love Meow.
They tried to coax the kitten out but the little feline refused to budge. After a long while, when everyone had given up, Jackson's daughter Emmy refused to leave.
"She said, 'I know he can be a good cat if we can just get him to trust us.' So, we left and came back with a can of sardines from the nearest store," Jackson said.
Another hour passed, the kitten finally decided to poke his head out for the food. As soon as he sniffed it, he began frantically devouring the fish in front of him. That's when Jackson was able to pick him up and bring him to safety.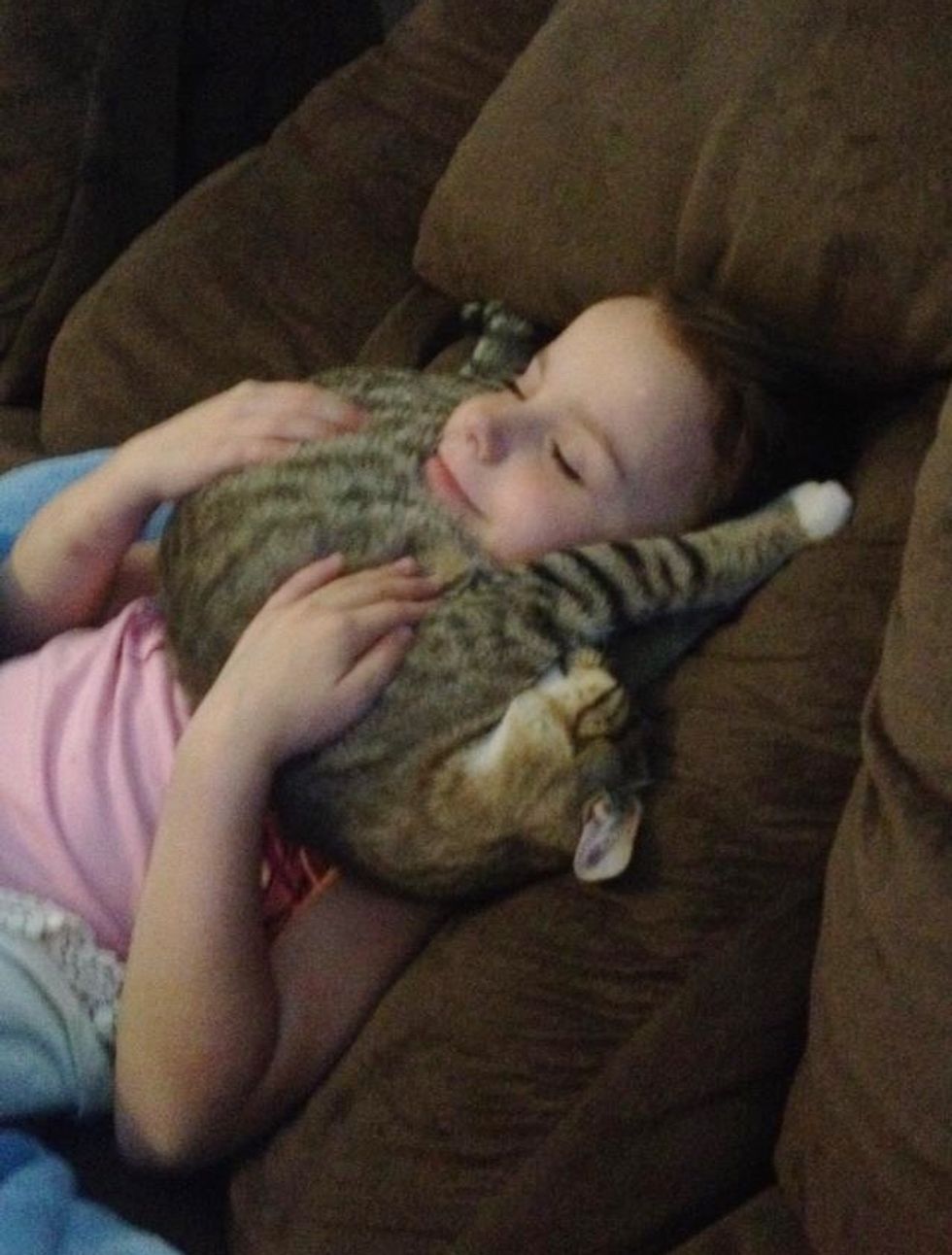 Courtesy: Britnee Jackson
"He was so scared and alone, so we took him home," Jackson told Love Meow.

When the kitten arrived in his new abode, he immediately took refuge. Even after he decided to come out from hiding, he would be startled by the smallest movement or the tiniest noise.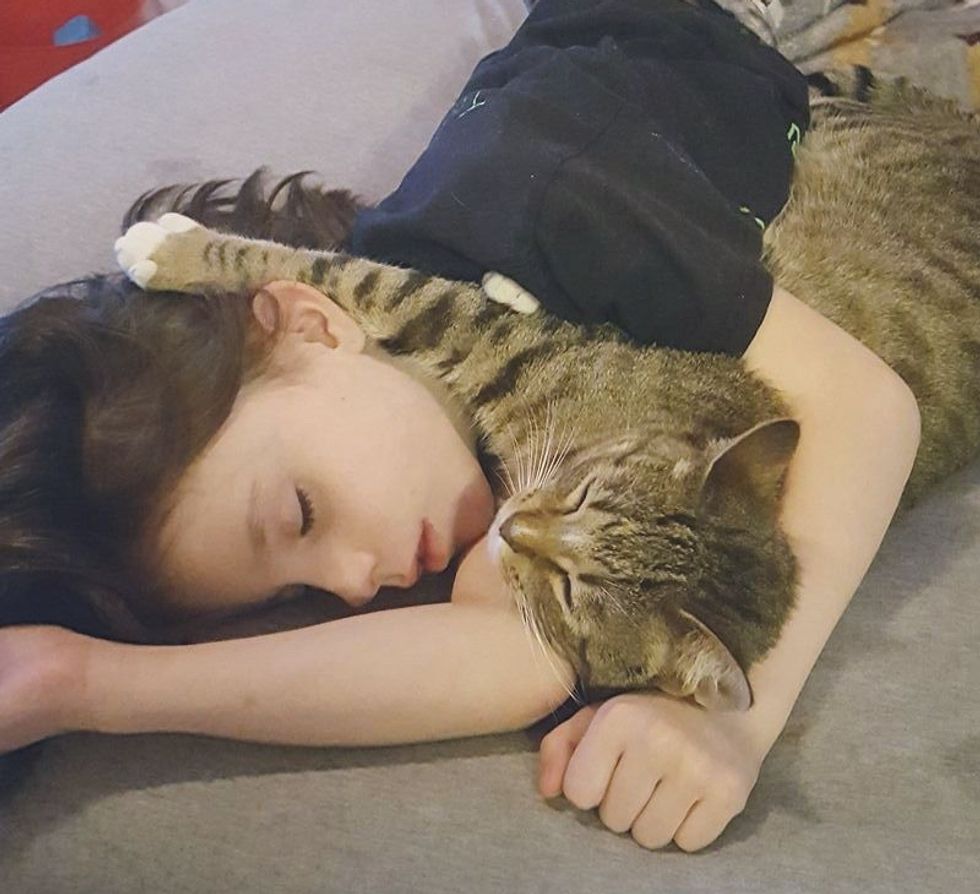 Courtesy: Britnee Jackson
"For awhile, it seemed like he did not belong here, that he was just too feral to tame, but Emmy never gave up on him."
Emmy, on the other hand, had a lot of faith in this timid shy tabby. She told her mother that he was the most special cat in the world and that he was HER cat. She knew that the kitty wanted to be loved and he just needed someone to teach him how.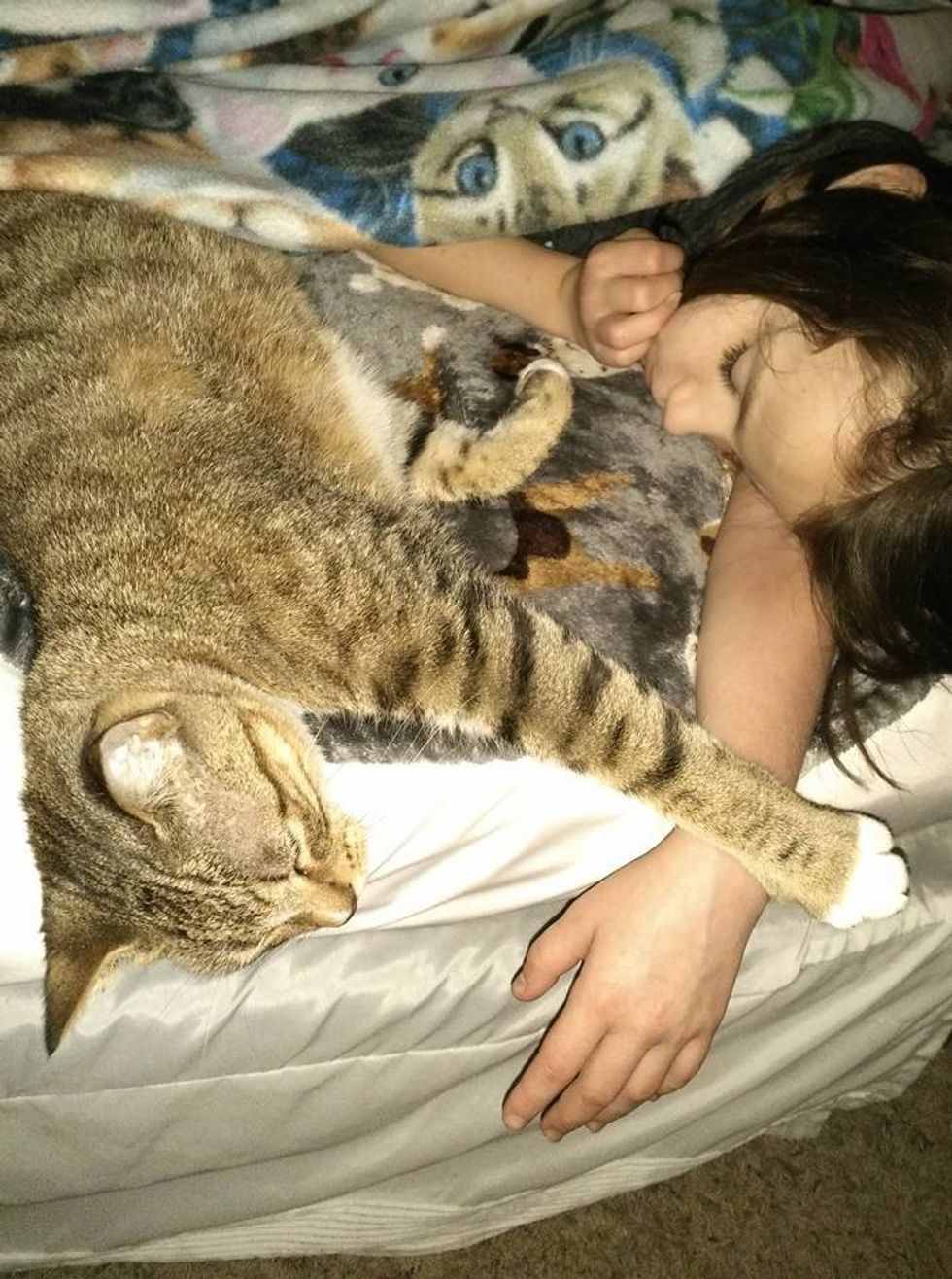 Courtesy: Britnee Jackson
Every day Emmy would spend hours just sitting with him, talking gently as she told him about her day at school or what she wanted for Christmas. She shared everything with him and doted on him whole-heartedly.
"She would reach over and touch him and tell him how much she loved him. With a little patience and a lot of love, the little striped cat my daughter named 'Dassy' finally came around."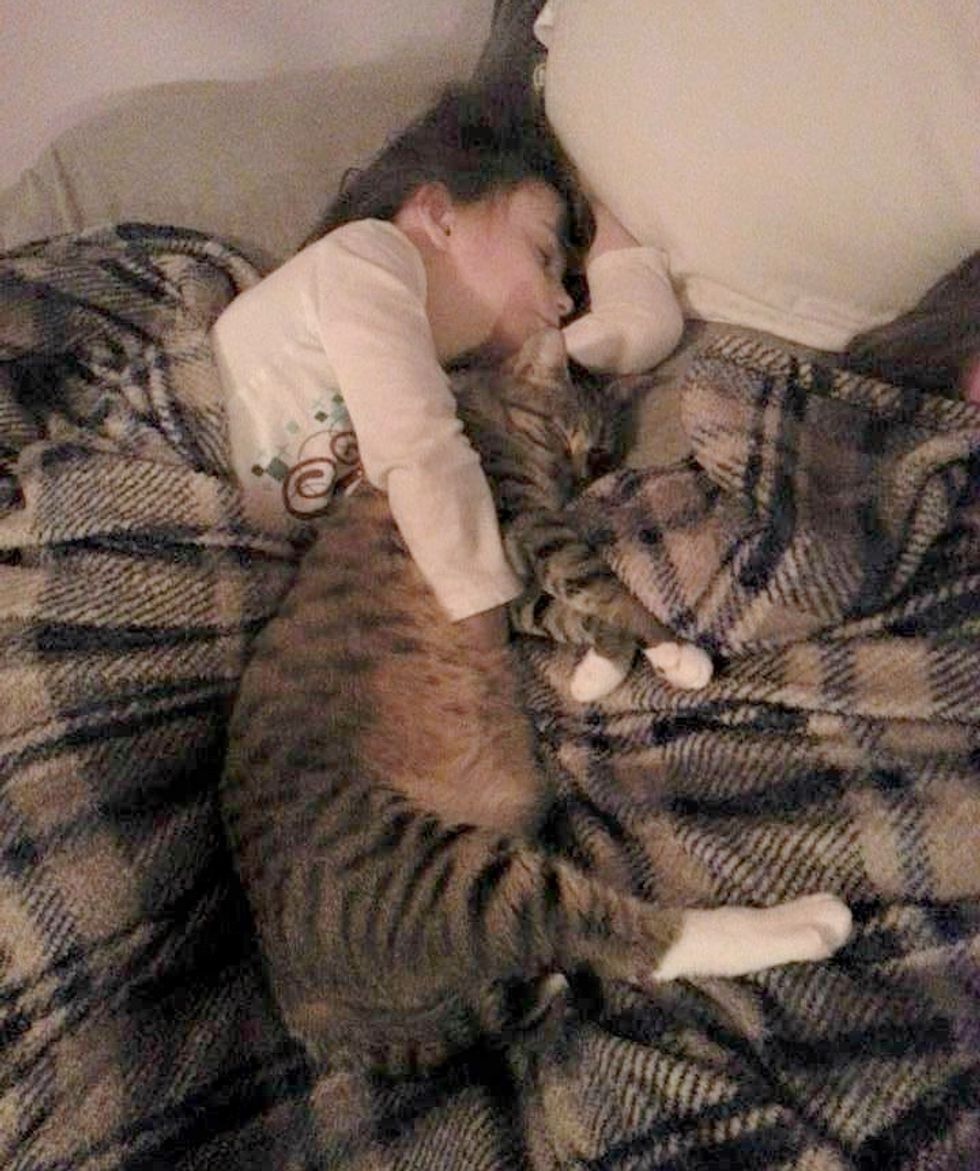 Courtesy: Britnee Jackson
The scared little kitten has now all grown up. Throughout this journey, Emmy has always been there to keep him company and assure him that he is safe, and now the kitty is returning the favor....
"Now at 2 years old, he is a wonderful cat, who is extremely gentle with my now three children, and he lets us love him everyday; however, he does not love anyone even close to how much he loves his Emmy," Jackson told Love Meow.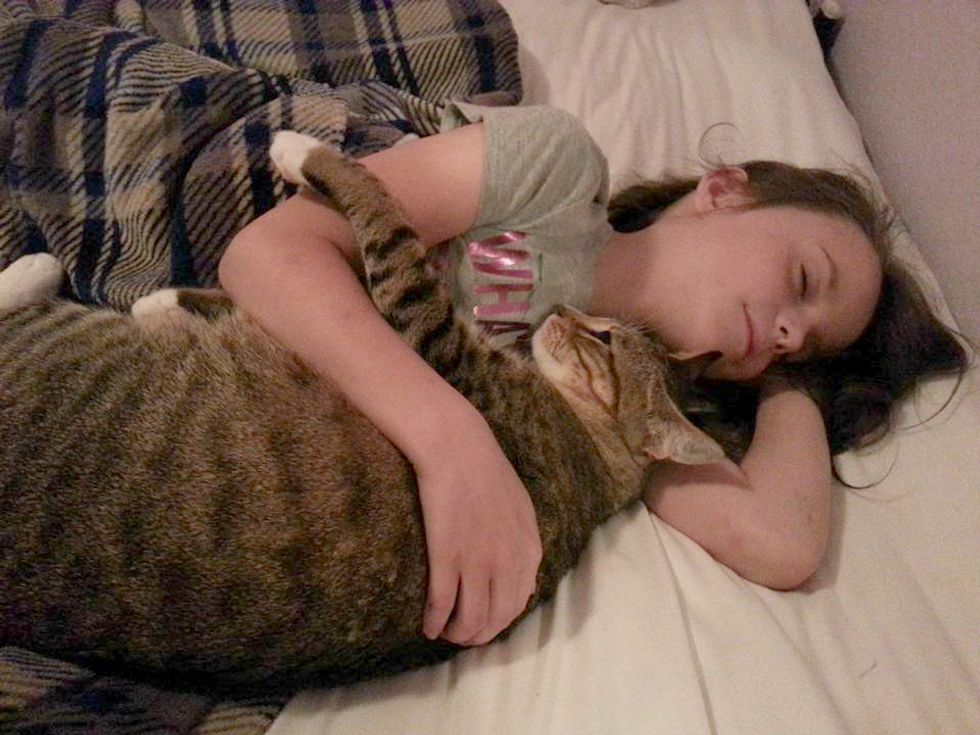 Courtesy: Britnee Jackson
"He waits in her bed for her to get home from school everyday, watching her beta swim to pass the time, and everyday she tells him all her secrets and wishes and worries."

The two bonded friends are closer than ever!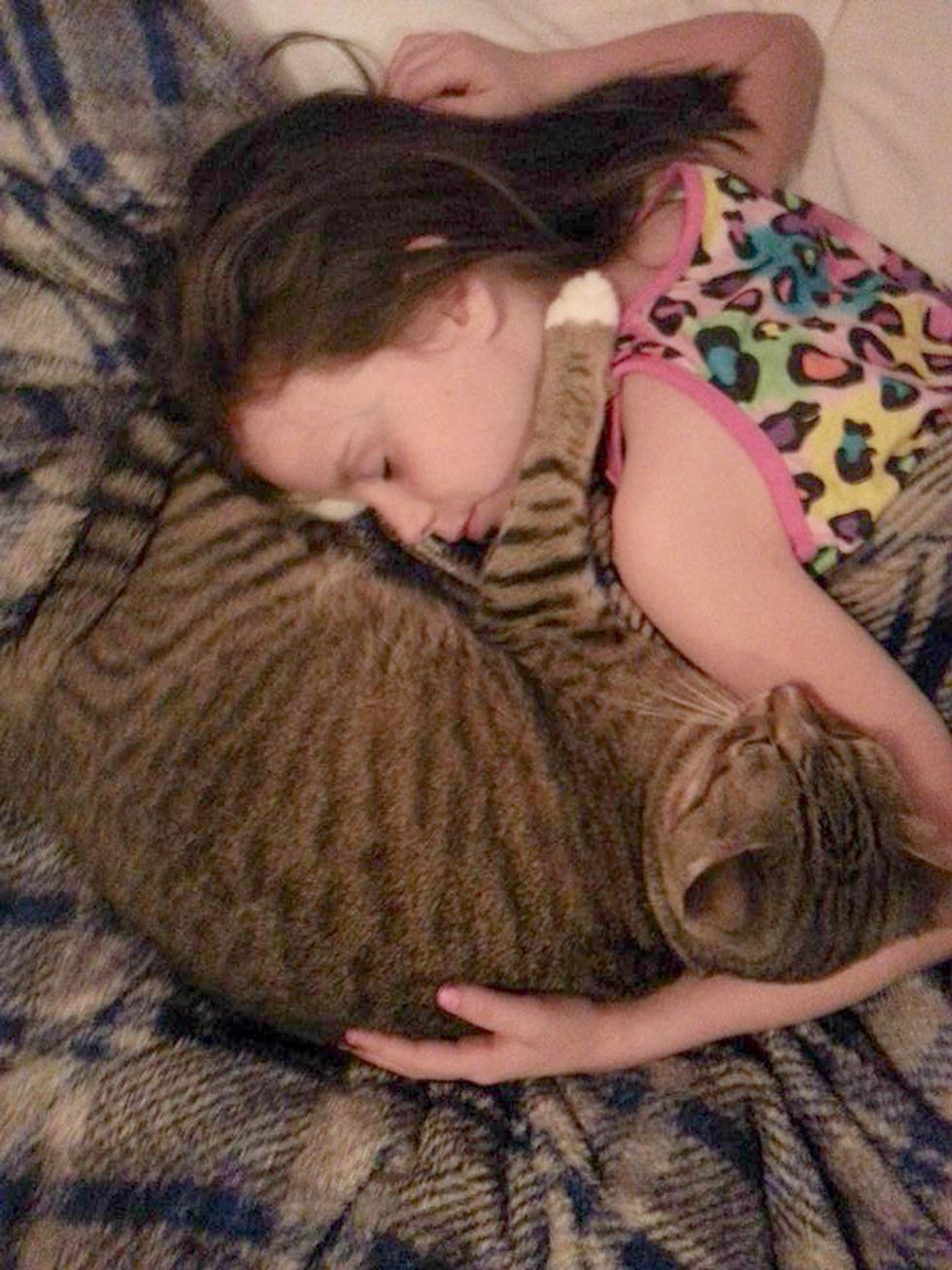 Courtesy: Britnee Jackson
"He wraps himself up in her arms every night when they go to sleep. He never leaves her side when she feels bad, and his favorite thing to do is to hold her hand by putting his paw in her palm."

"He is her best friend and her protector. I am so thankful that he has her and that she has him."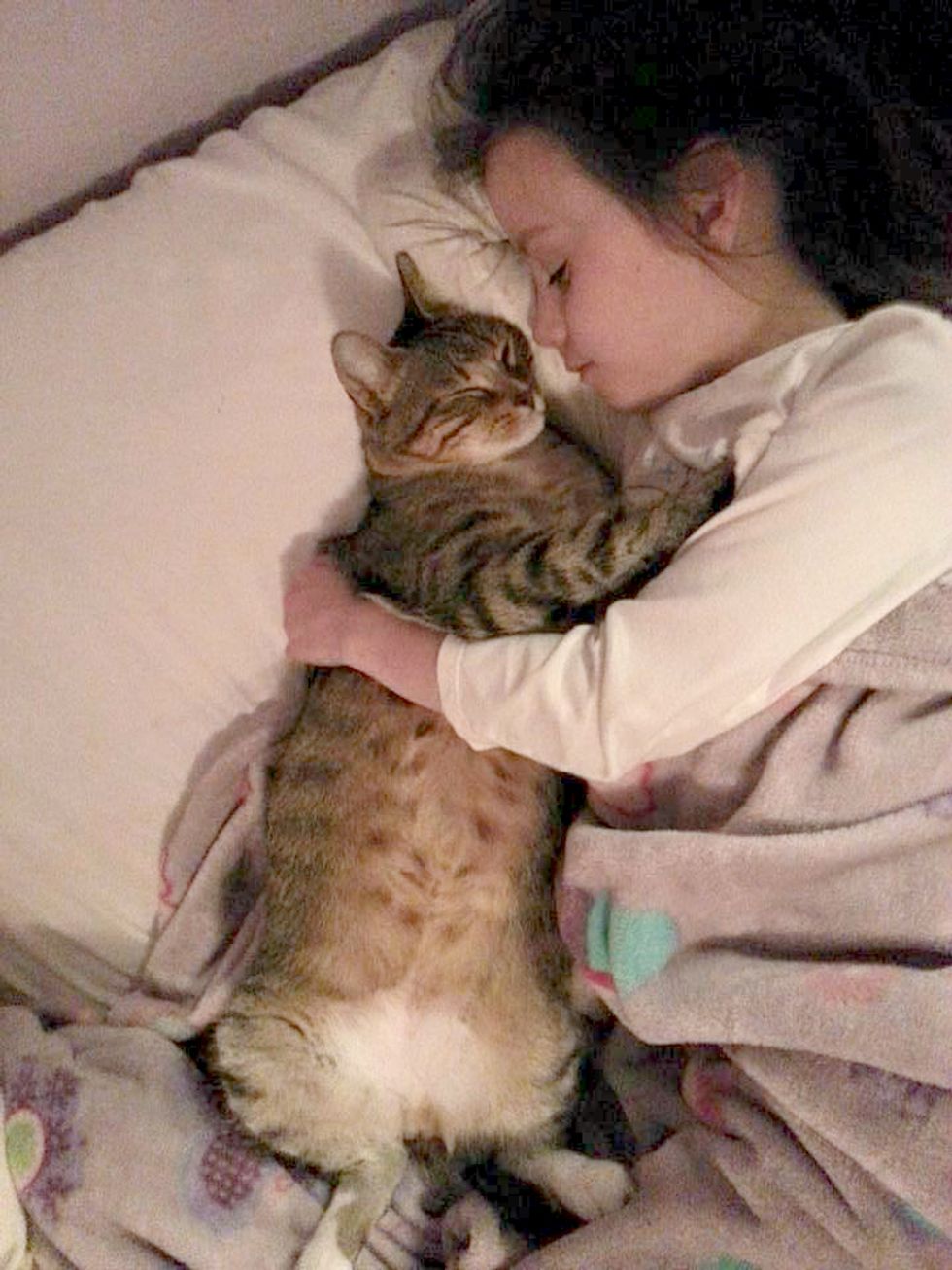 Courtesy: Britnee Jackson
When Emmy is under weather, Dassy comes to offer some healing purrs and cuddles.
Share this adorable story with your friends.

Related story: Family Saves 3-day-old Kitten and Gives Him an Unusual Friend to Grow Up with