After Hurricane Harvey devastated Texas, it weakened into a tropical storm and made its way up the western part of Louisiana.
Randall Kolb of Cat Rescue Guy received a message about a cat found stranded in the middle of a swamp. A bird-watcher spotted the feline crying pitifully when he was walking by the swamp. He quickly sought help.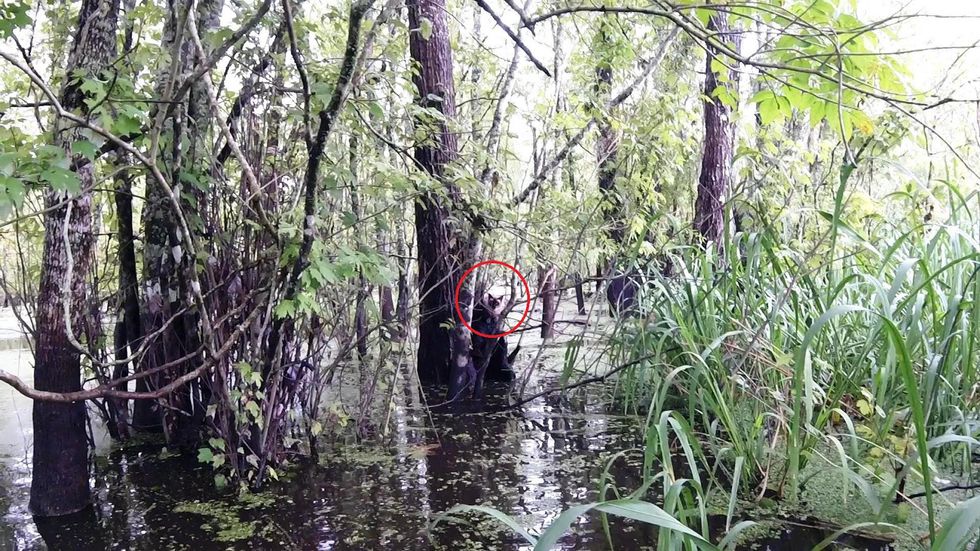 Cat Rescue Guy
"This kind soul spotted the cat and reported his sighting along with pictures and location information to CARA's House, the local animal shelter nearby. The shelter asked if I could help," Randall shared with Love Meow.

He didn't hesitate, brought his gears and off he went.
"It occurred to me that if the cat was able to climb the tree, then the tree must not be completely surrounded by water. Unless, that is, he climbed the tree when the ground was dry and stayed up there while the heavy rains flooded the area around him," Randall said.
The area is not always wet, and only becomes a swamp after heavy rain. "The rain from Harvey began falling four days before I rescued the cat, so the cat was probably in the tree at least four days, possibly longer."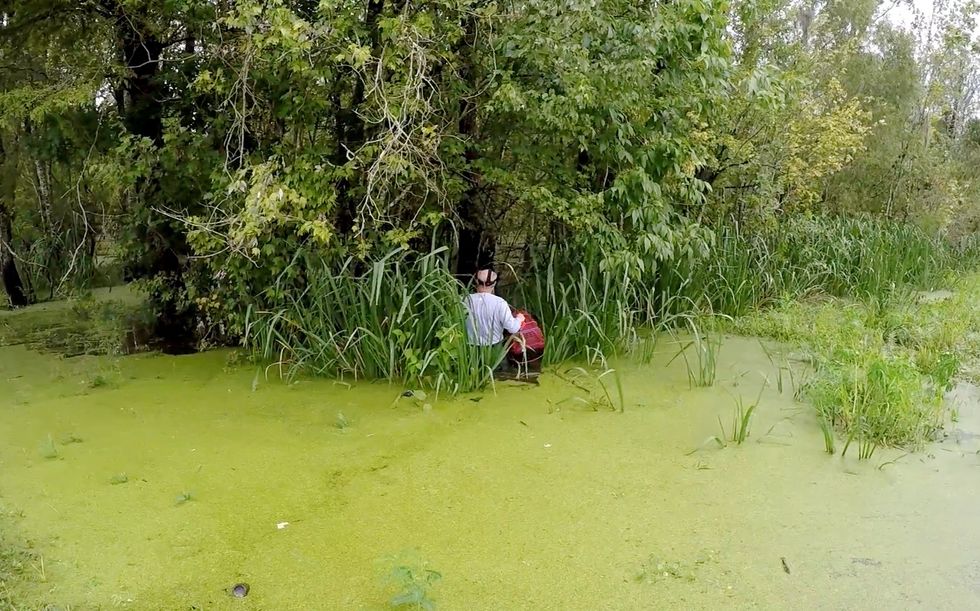 Cat Rescue Guy
Randall's wife Judy joined him in the rescue mission. After they arrived, they started looking for the cat by listening to his meows.

"I was not sure which side of the road he was on, but managed to locate the most likely place from the picture which the bird-watcher had provided." [Scroll down for video]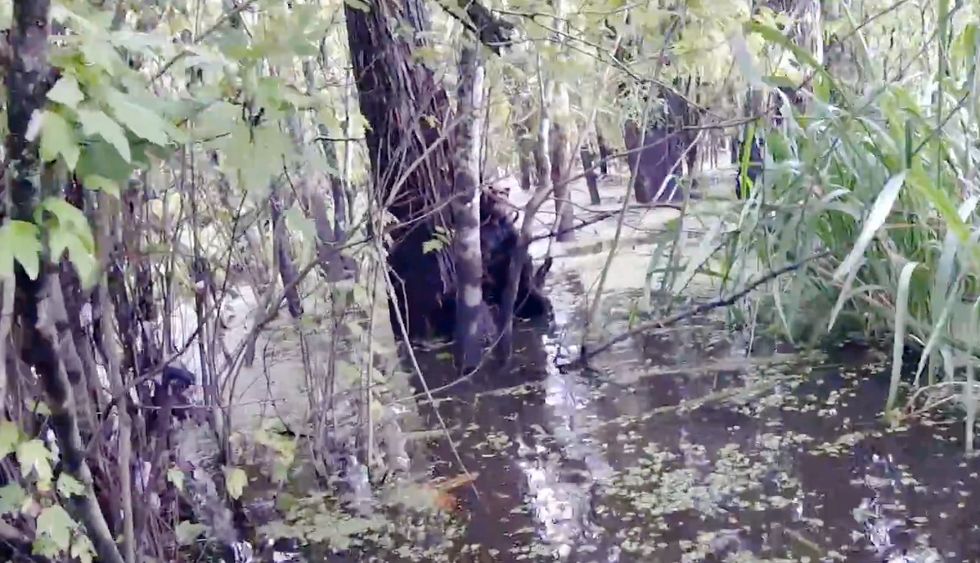 Cat Rescue Guy
They began to call for the cat, hoping he would respond. A couple of minutes later, a faint meow came about and it became louder and clearer. "Sometimes it sounded like he was high, sometimes low. Sometimes he sounded from the left, sometimes the right."
It was difficult to pinpoint the whereabouts of the cat with all the thick branches tangled up in the swamp. Randall took out his binoculars and began searching for the cat from every possible angle, and finally found him standing on a tree stump just two feet above water.
"We had been looking high while he was sitting low," Randall said.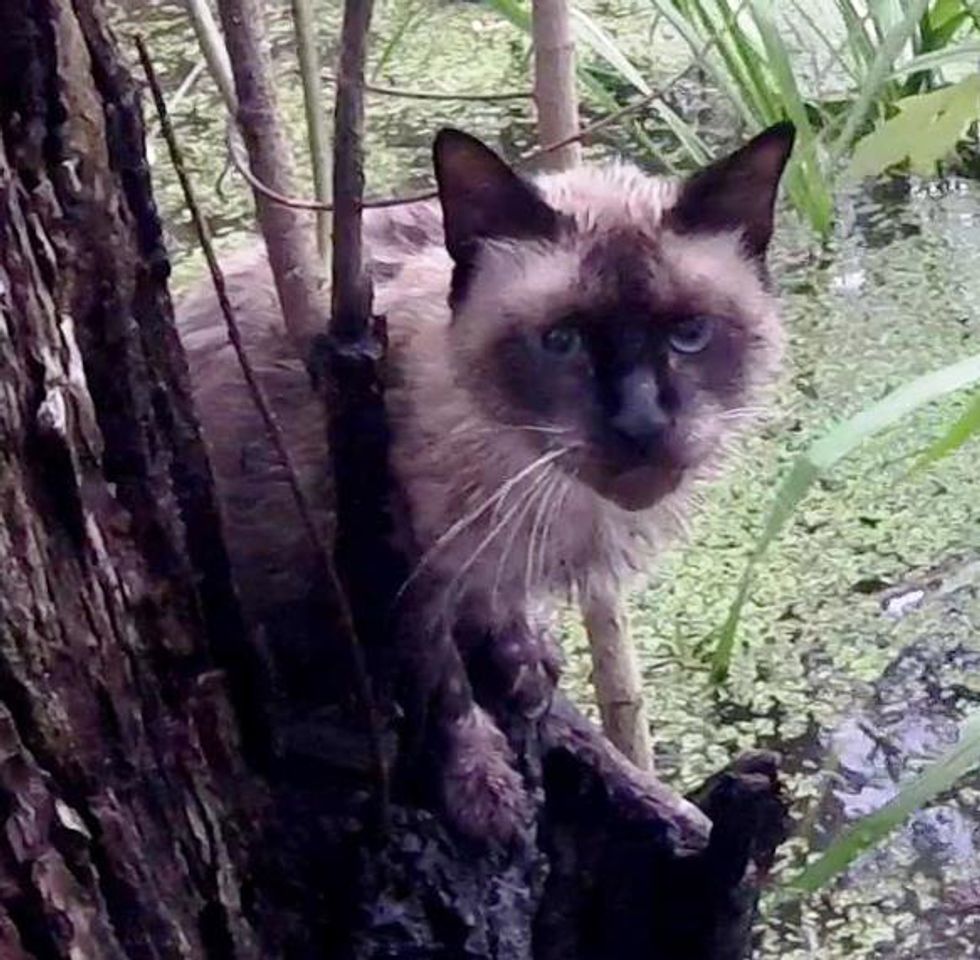 Cat Rescue Guy
Since they did not have a canoe or kayak with them, Randall waded out to the cat. "I grabbed a stick to use for balance and to flick away any snakes or to poke an alligator away from me."

Half way out, the water submerged his legs entirely. As he got closer to the cat, the kitty's cries became much more intense.
"I offered him a can of food just to let him know I was friendly. I knew he would not eat it, and he did not surprise me," Randall said.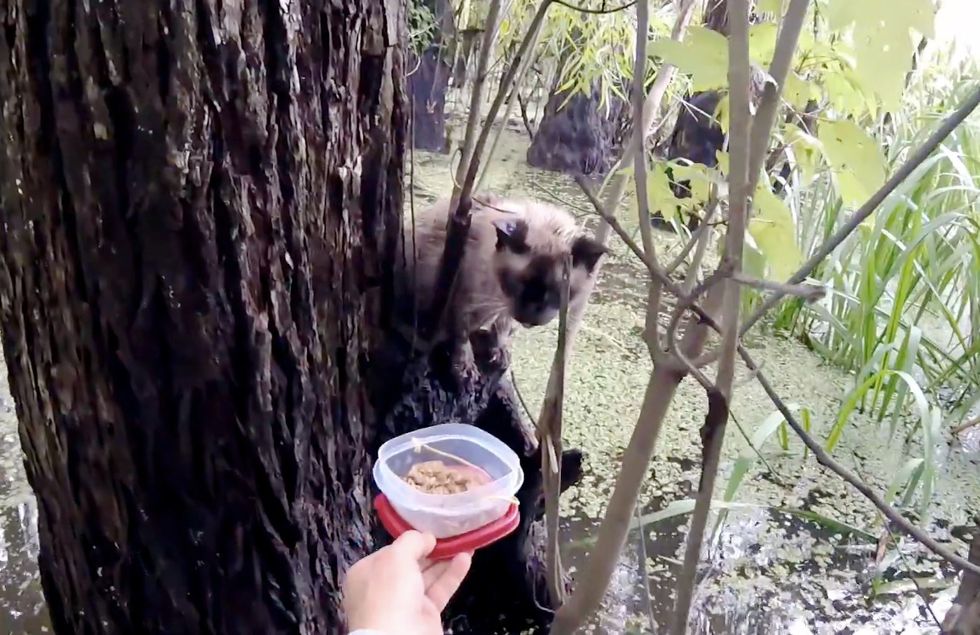 Cat Rescue Guy
The cat was very stressed hanging onto the stump unwilling to move. Randall calmly talked to him some more and reached out his hand for him to sniff.

Slowly the kitty was making progress and getting more and more comfortable with Randall's presence.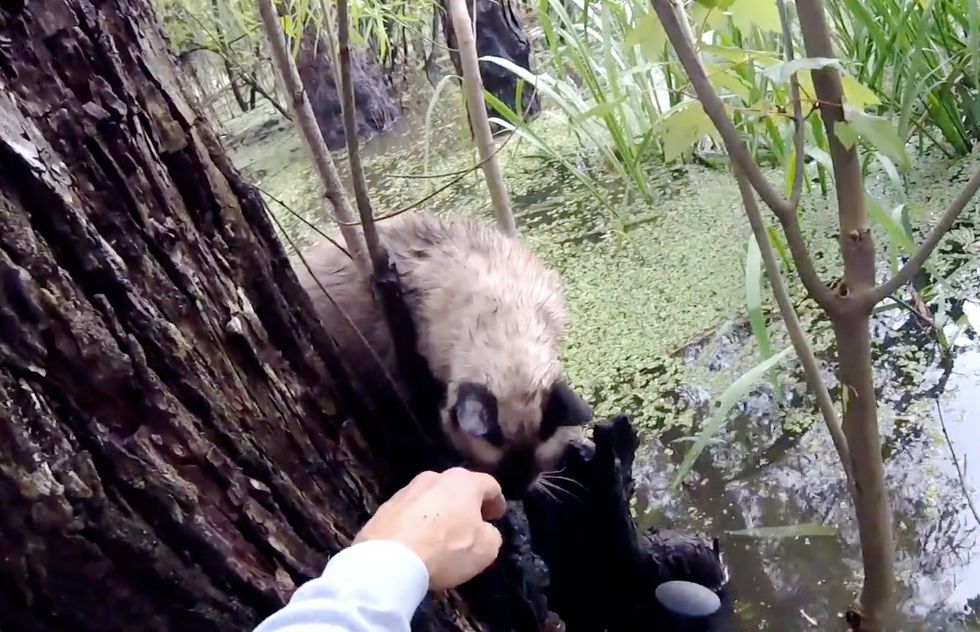 Cat Rescue Guy
"Again, I reached my hand out to him to sniff. He sniffed a bit and was a little more relaxed this time. I placed the carrier in front of him again. This time, he looked inside, placed his front feet in, thought about it a minute, and then pulled his back legs inside."

Randall closed the door with a huge sigh of relief. He carefully made his way out of the swamp with a crying kitty in the carrier. They named the little guy Chomper because of his long fangs.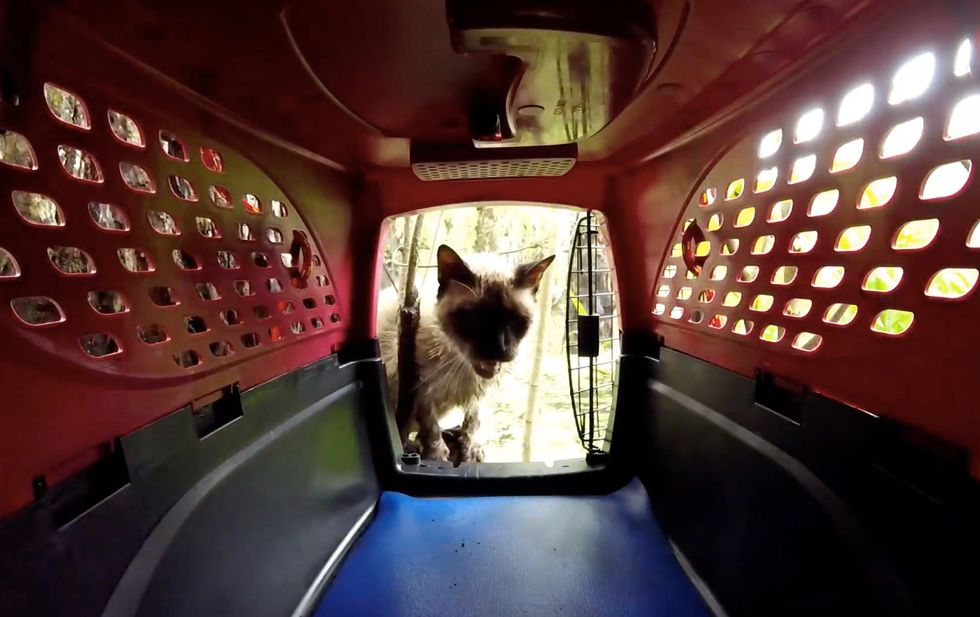 Cat Rescue Guy
The couple drove the cat to CARA's House where they discovered that he has a microchip. The shelter has not been able to connect with the owner so far and has posted a 'Found Cat' notice on the local Lost Pets page, hoping that will help reunite the kitty with his family.

"As of now, the cat is still a mystery, but at least he is out of the swamp and in a safe place getting good care," Randall said.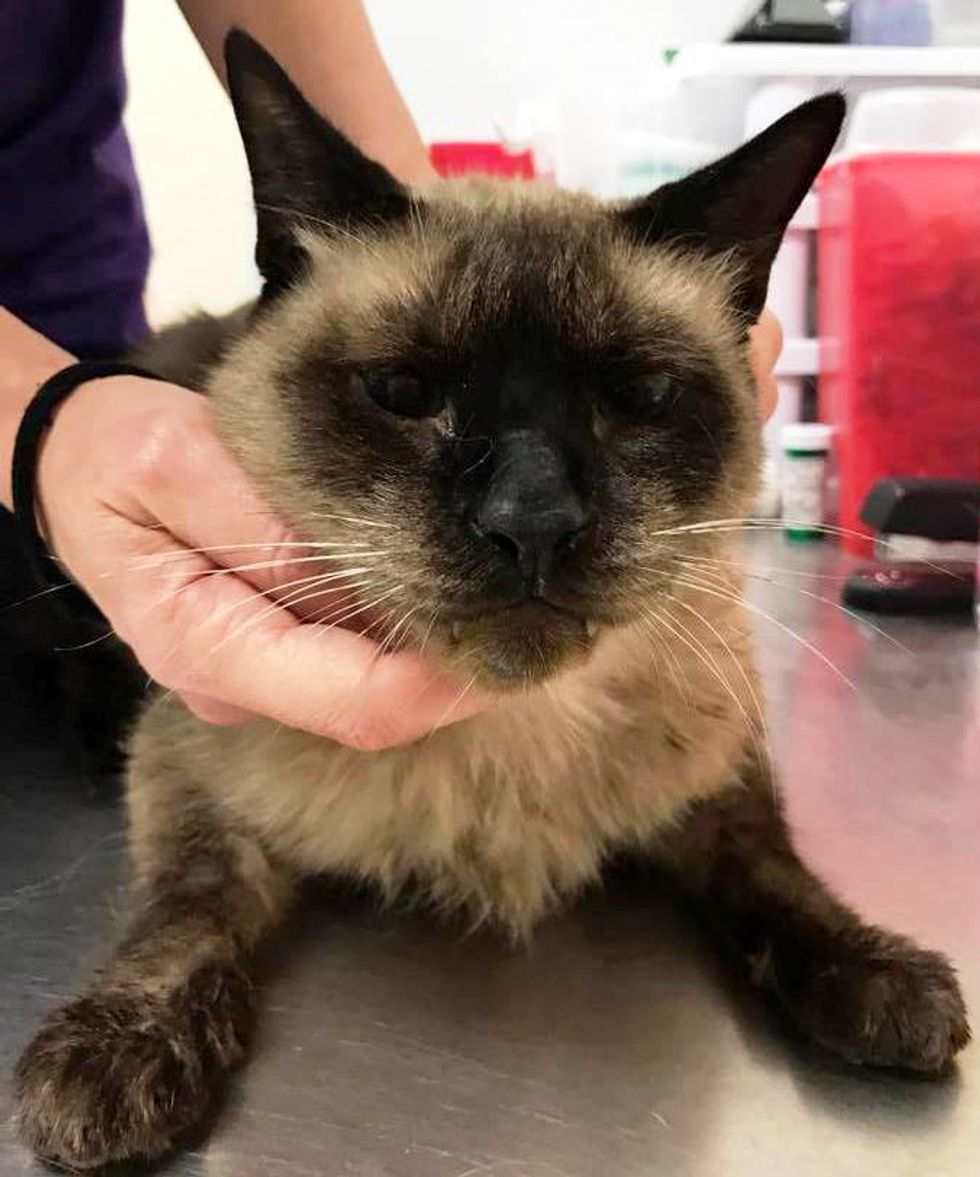 Cat Rescue Guy
Follow Cat Rescue Guy on Facebook.
Watch the rescue in this video:
Share this story with your friends.
Randall the cat rescue guy volunteers to save animals for anyone and refuses any offer of payment. "I love cats, I hate suffering, and I don't want the cat to suffer just because someone can't pay. Besides, I am retired, so I have the time... This is one way in which I am uniquely suited to reduce suffering, and it gives me great joy to do so. If you want to give something, I encourage you instead to make a donation to Cat Haven or any other animal welfare organization of your choice."

Related story: Houston Man Saves 3 Kittens from Hurricane and Goes Back to Find Their Mother