A cat mom was so relieved when she found a safe place for her only surviving kitten.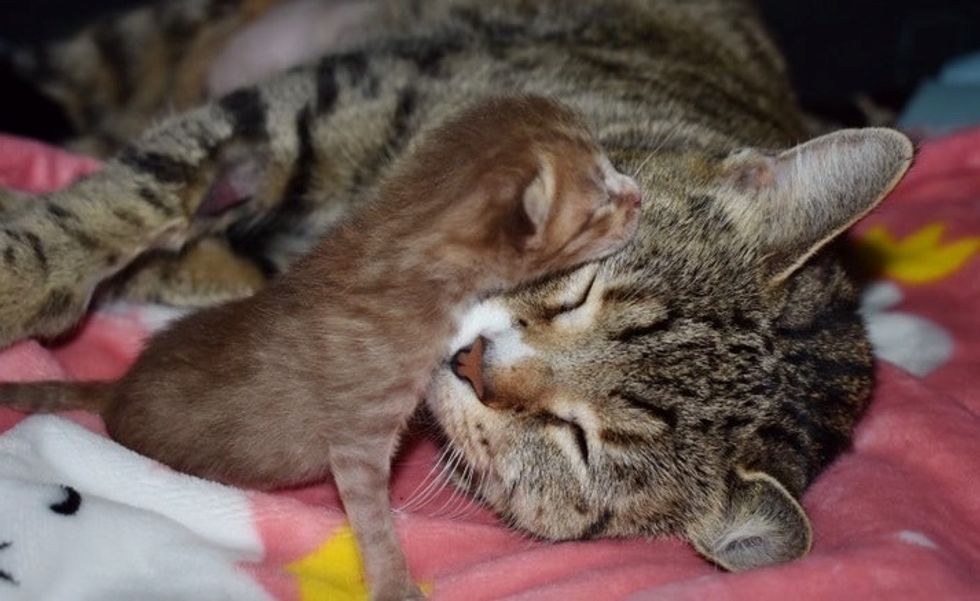 Kitten Rescue Life
Earlier this week, Amanda, founder of Kitten Rescue Life (in Oceanside, California) came across an online post about a pregnant cat that had just been abandoned at a shelter. The tabby was in active labor and desperately needed rescue.

"It was late at night when the post was made so I woke up at 4AM the next morning to drive the couple hours it would take to get to the shelter," Amanda told Love Meow.
By the time the shelter opened, they discovered a tiny ball of fur tucked under the cat's belly — a kitten had been born during the night. The mama was very protective of him, soothing him with purrs and licks and tending to his every need.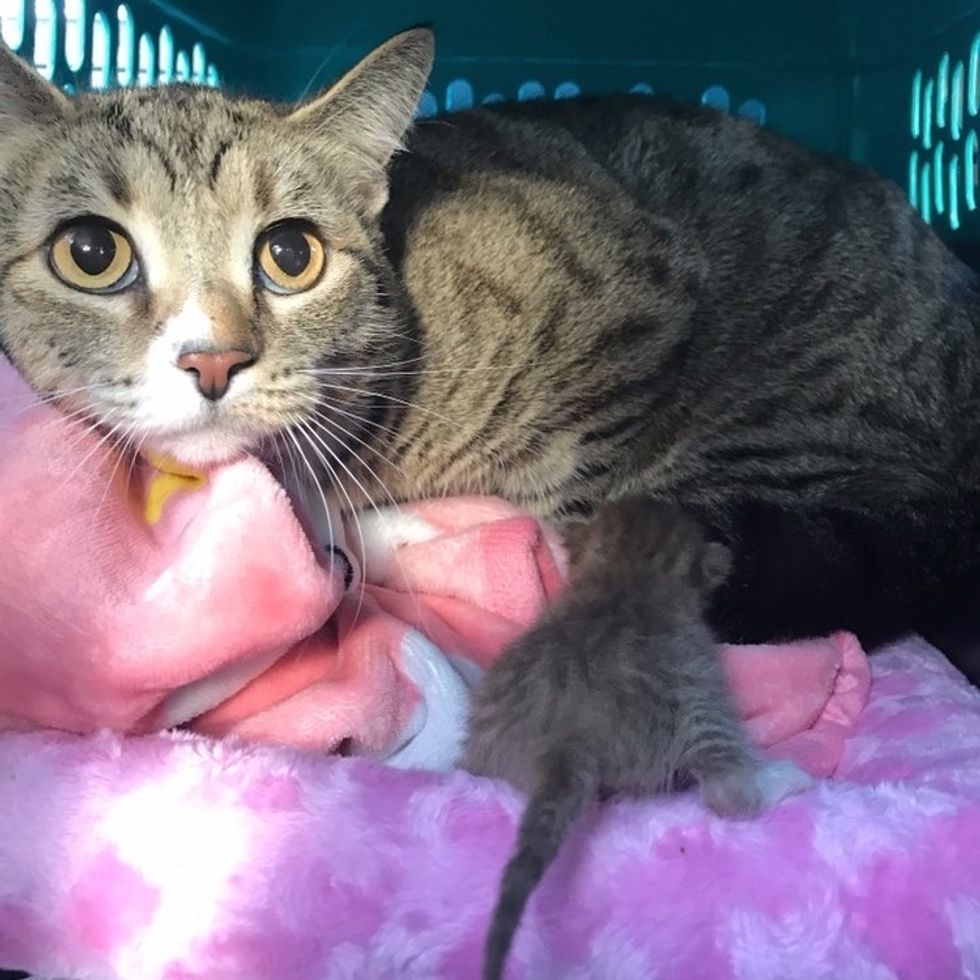 Kitten Rescue Life
"Once I got her home, we waited a few hours for more babies to come," Amanda added.

When nothing happened after a while, Amanda took her to the vet where they confirmed that there was one additional kitten stuck inside. The cat was then rushed into an emergency c-section. The second baby sadly didn't make it due to severe deformity, but the mom's life was saved.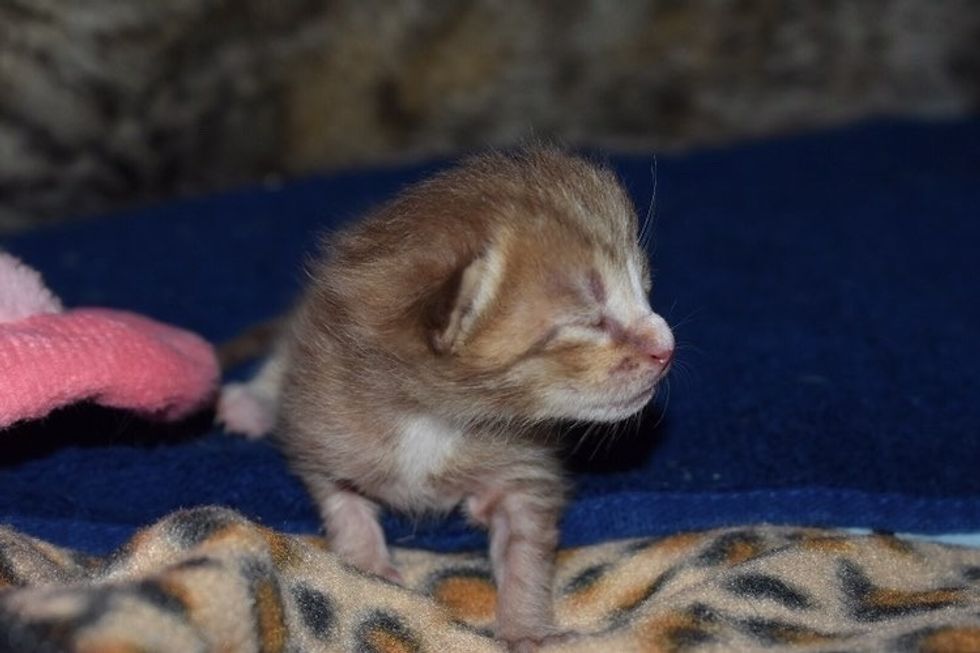 Kitten Rescue Life
Once they returned the tabby cat to her surviving kitten, she jumped right back into her role as a mother, nursing and grooming her little mini-me with unconditional love.

They named the cat mom Lasagna and her little singleton Meatball.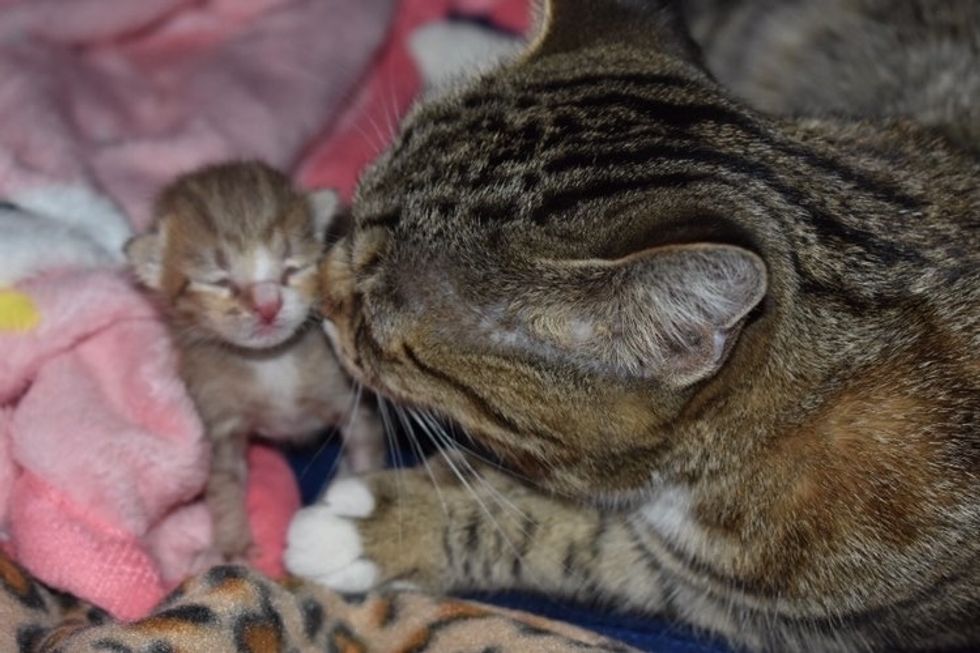 Kitten Rescue Life
"She's very protective and nurturing but she lets me handle her baby to weigh him and make sure he's gaining weight. She's the most attentive and affectionate mama I've ever rescued," Amanda told Love Meow.

After a long ordeal, mama Lasagna could finally relax and make up for lost rest. She purred up a storm in her comfortable nest, knowing her kitten was safe by her side.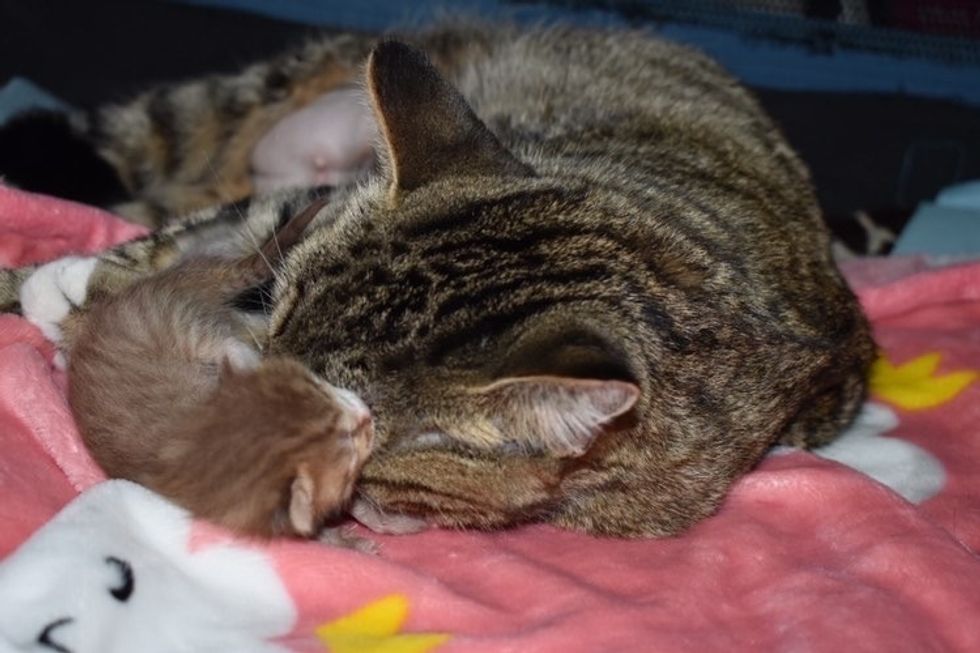 Kitten Rescue Life
Amanda has set up a nursing pen covered in blankets for the mother and son duo. Mama Lasagna blissfully stretches her paws while her kitten is nursing away.

Thanks to the rescue, both lives were saved. The kitten has bounced back from the initial health scare and is thriving having his mom dote on him 24/7.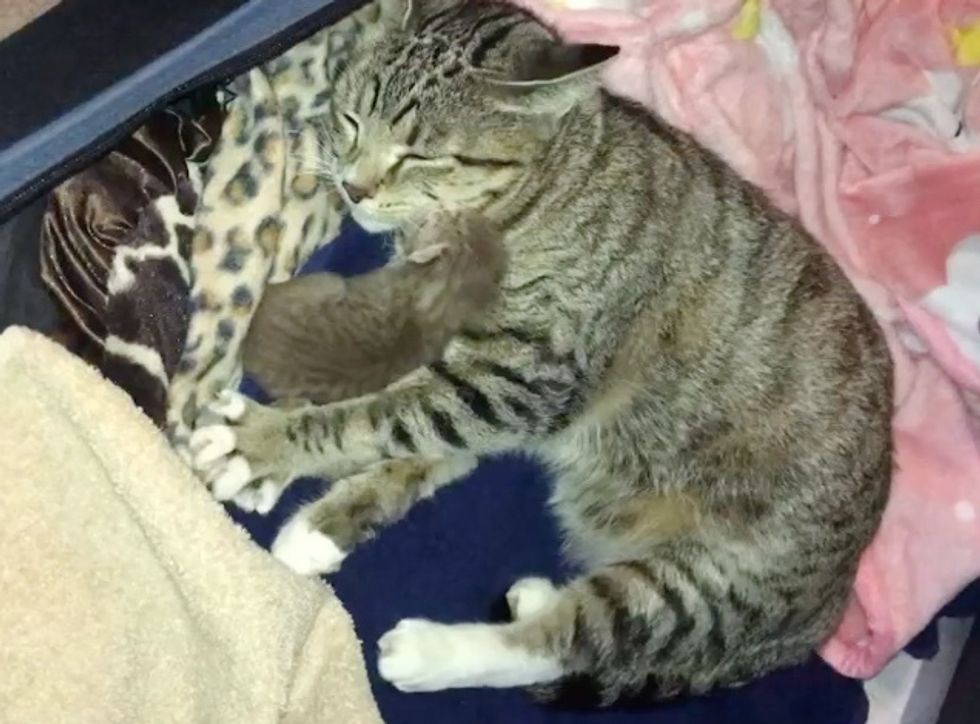 Kitten Rescue Life
Whenever Amanda comes into the room, Mama Lasagna happily greets her and is ready to get some help.
Watch them in this cute video:
Loving cat mom and her only kittenwww.youtube.com
She seems grateful to know that someone is there to look after both of them.

The little tabby boy is gaining weight steadily every day, and in two weeks, he will start to learn to crawl.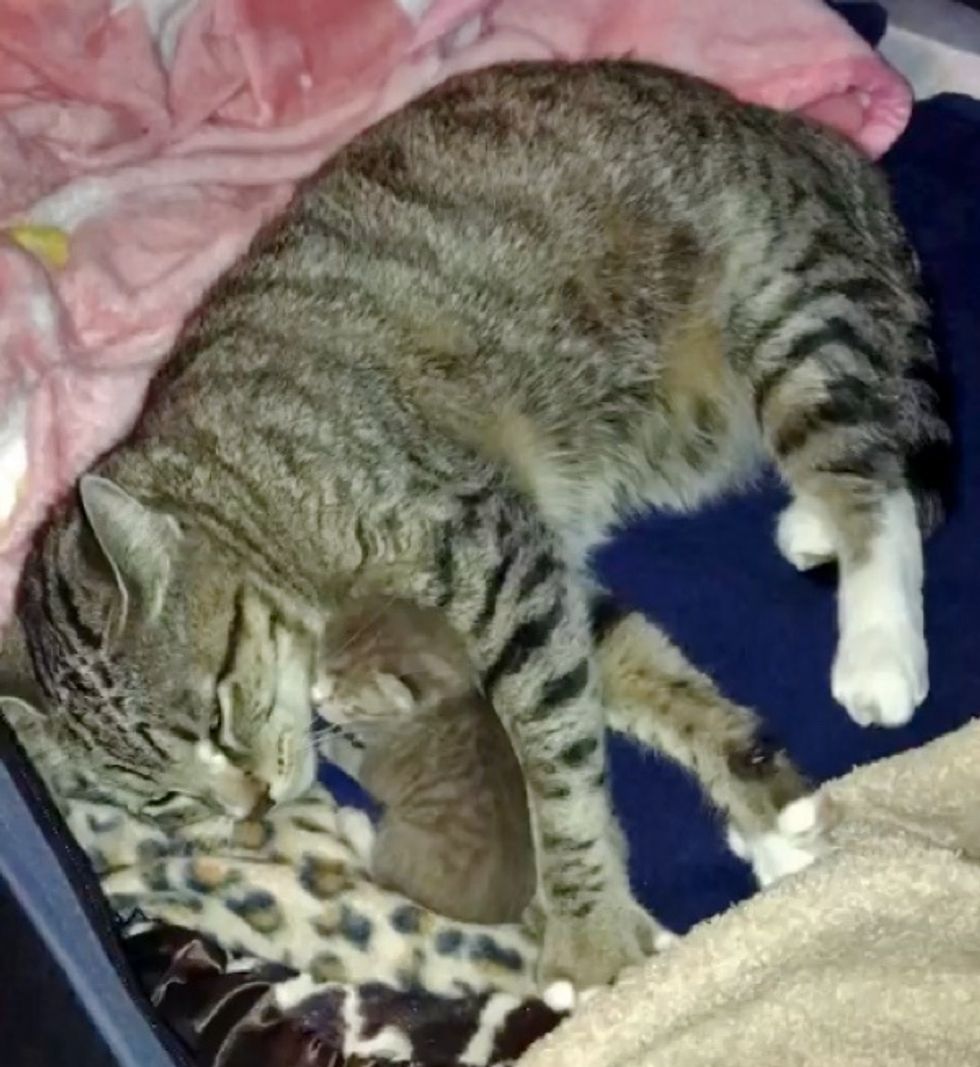 Kitten Rescue Life
"He is literally a miniature carbon copy of his mom. They have all the same facial and toe markings," Amanda said.

"Mama Lasagna loves him so much. She's very attentive and affectionate with him."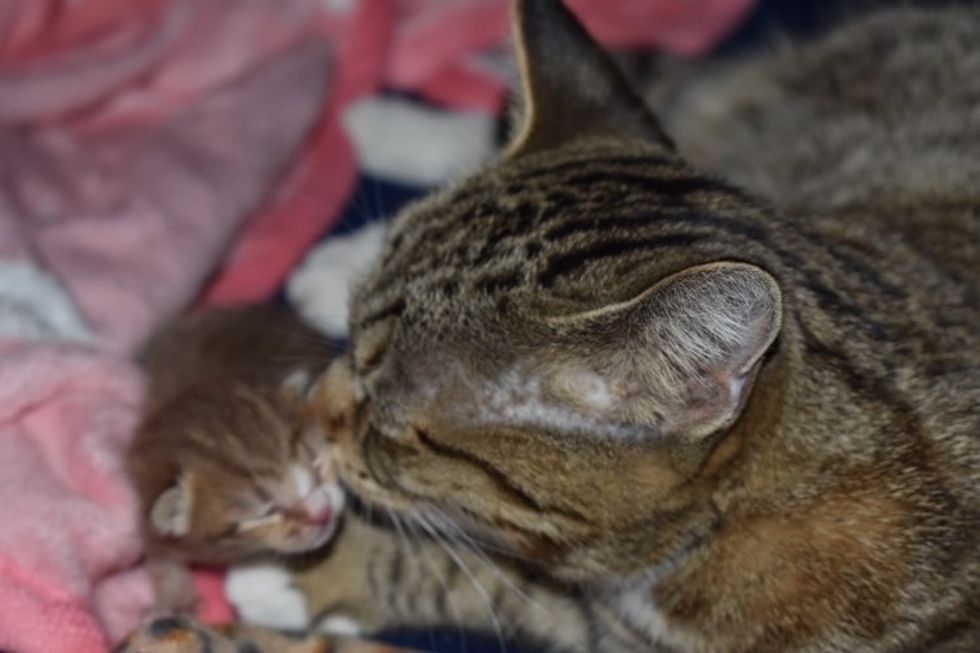 Kitten Rescue Life
Share this story with your friends. Follow updates on the mother and son duo on Facebook and Instagram.
Related story: Cat Who Spent Most of His Life on the Street, Helps Orphaned Kittens In Need