While Jerzy Targalski, a Polish historian and political scientist, was being interviewed by a Dutch news show, his beloved ginger cat decided that he would be part of it by climbing up his shoulder and perching on him.
Apparently, this is not the first time that his feline companions stepping in during his interviews.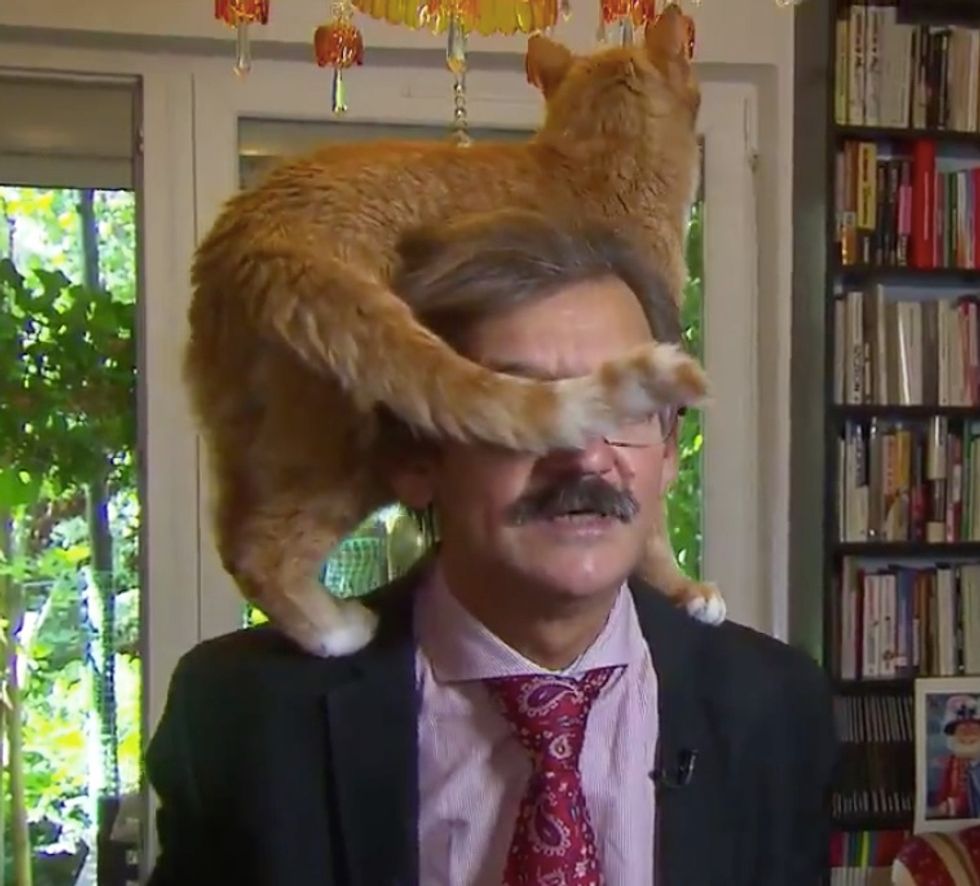 Targalski was on a live broadcast with a Dutch News program, Nieuwsuur, when his cat Lisio stole away the spotlight. The ginger feline placed his paw on his human and meowed before he proceeded to make his way up his shoulder and conveniently curled his tail over his face.

His vision was temporally blocked by his mischievous cat who went on cleaning his ear. Targalski remained completely unruffled. He gently moved the tail aside and continued talking about the subject matter.
His poise while handling the situation, indicated that this isn't the first time.
Video:
Lisio and Targalski's other cats often make their appearances when the camera rolls.

They somehow find a way to be part of his interviews either by snuggling behind his neck, being cradled in his arms or sitting comfortably in his lap.
Doktor Jerzy Targalski...z pupilami...hmm, tu są trzy koty😂😂😂 https://t.co/4MVJ5TF91Y

— Bink Dee🇵🇱💯⛰ (@Bink Dee🇵🇱💯⛰) 1506706651.0
Targalski gives the kitties pets and cuddles when they demand a moment in the spotlight.
Z kamerą wśród zwierząt. Jerzy #Targalski i dzikie koty. 😎 https://t.co/mxREcKwo9r

— Phil Backensky🇵🇱💯 (@Phil Backensky🇵🇱💯) 1496674885.0
The kitties love following him around and keeping him company even it means being in front of the camera.
自宅でこの人にインタビューをすると、漏れなく愛猫がついてくる模様w #猫 #cat https://t.co/cxtHuq4Amy https://t.co/enhoLQs0Qy

— Eleni / エレニ (@Eleni / エレニ) 1530964359.0
Share this story with your friends.
Related story: Stray Kitten Walks in Studio and Makes Surprise Appearance on Live TV