A cat who was misunderstood, found the family of her dreams and the perfect home she always wanted.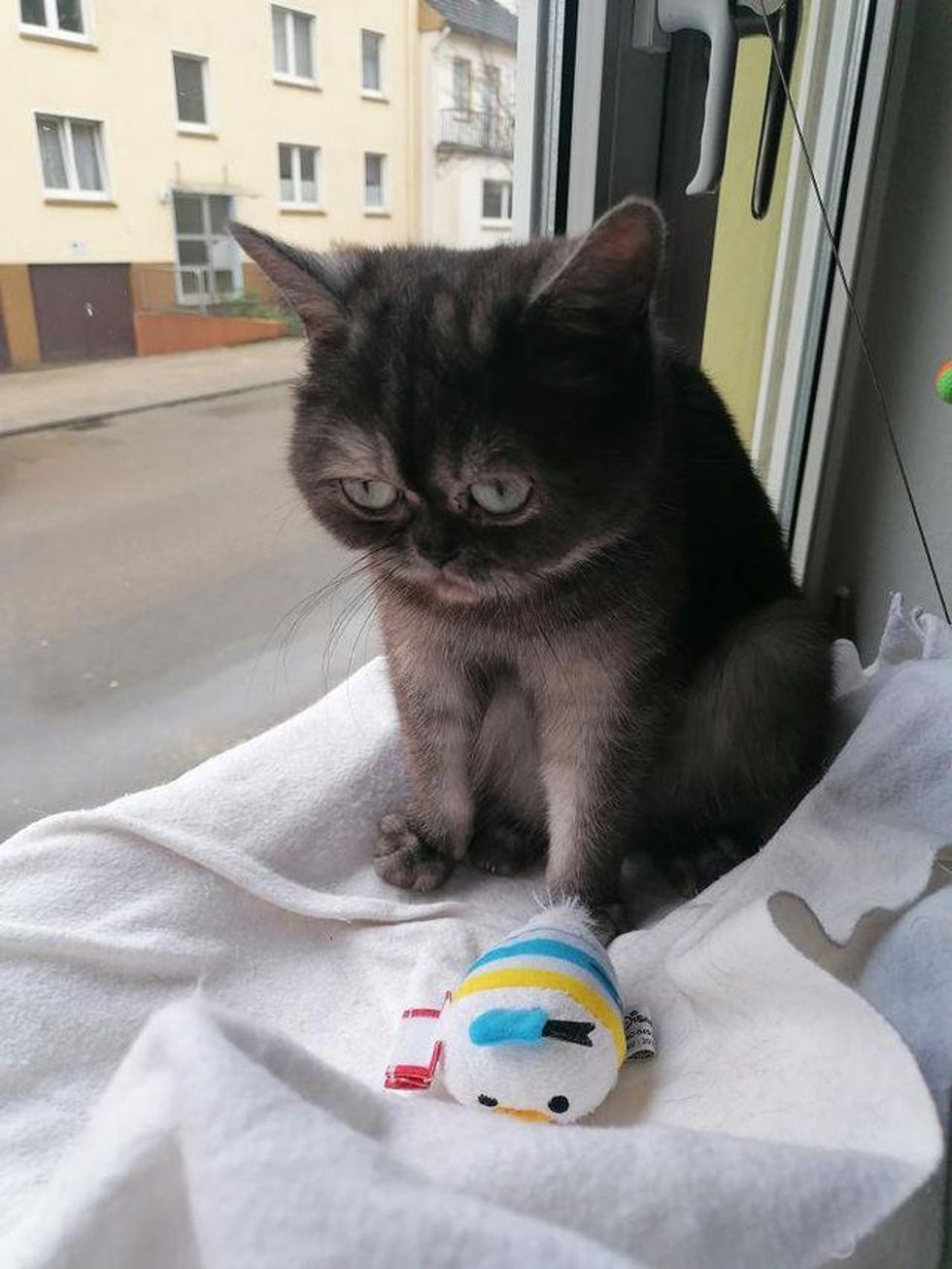 Francisca @bebbybeansprout
Francisca from Germany was looking to adopt a cat after she moved into her new home. A cat from her local shelter caught her eye. "She looked so special and cute, and I knew I had to meet her," Francisca told Love Meow.

The cat named Bean was found wandering in an abandoned trailer park last year. She was covered in battle wounds and came with a host of health issues. The shelter saved her life and nursed her back to health.
No one came to claim her while she was at the "Lost and Found," and she was then placed on the adoption floor. Every day, the sweet exotic mix waited patiently for someone to scoop her up and take her home.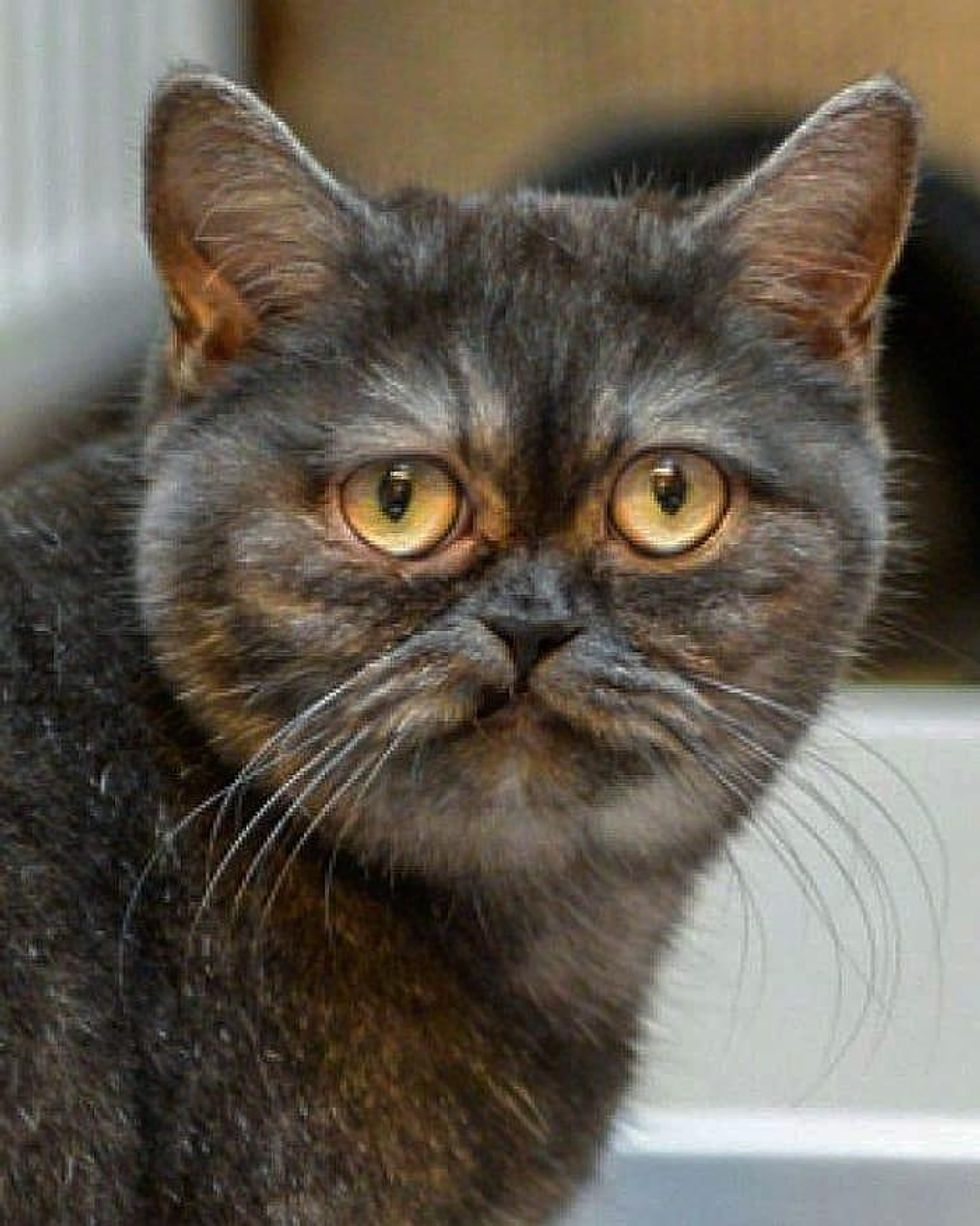 Photo from the shelterFrancisca @bebbybeansprout
Another month had past by when Francisca came across her post on the shelter website. "I wrote to the shelter and got a call back, asking if I was sure that Bean was the cat I wanted to meet, because nobody had ever been interested in her," Francisca shared with Love Meow.

"I teared up at the thought that no one wanted her. So I made an appointment with them, because I was even more determined to meet her."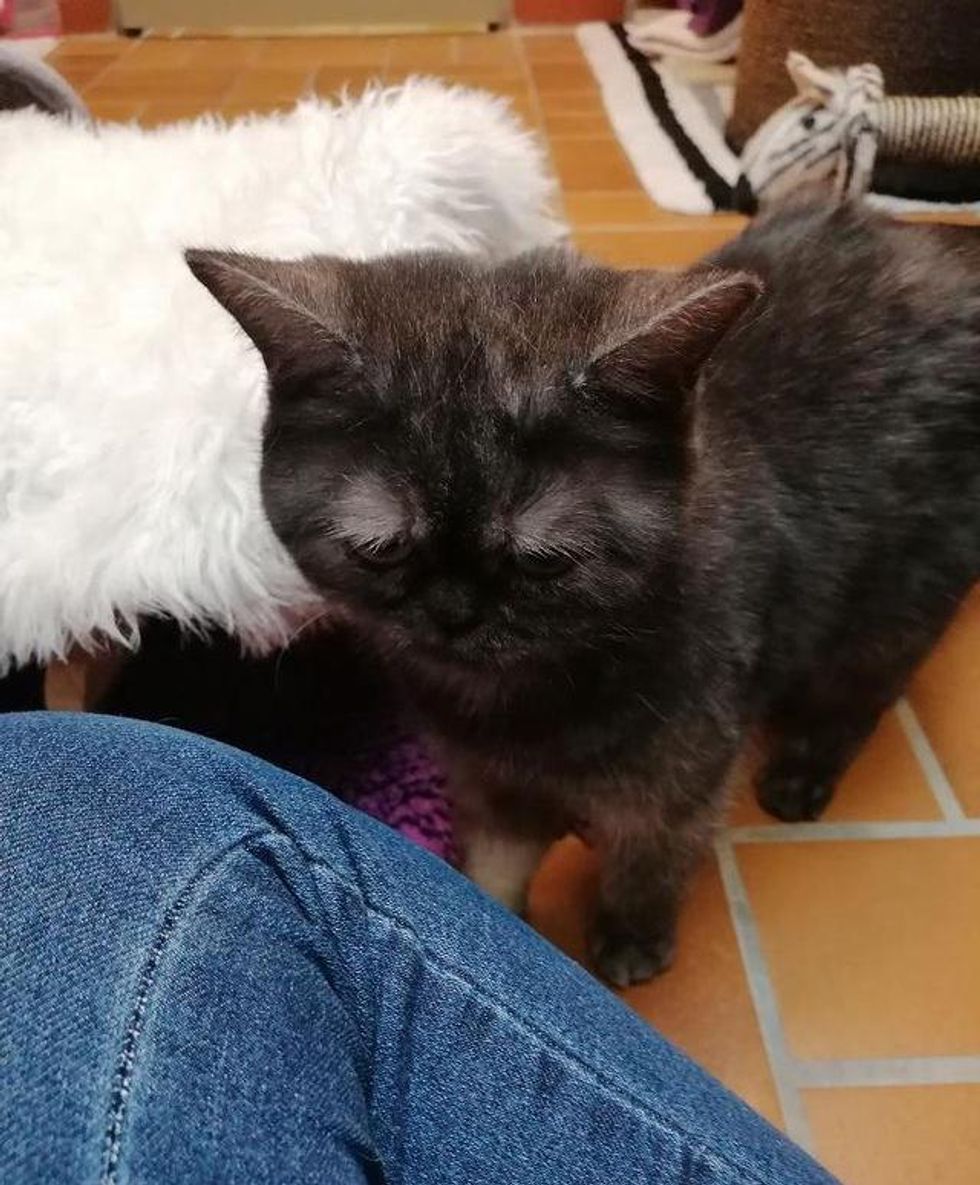 Francisca @bebbybeansprout
Francisca was expecting to see a 20-pound colossus of a cat, but Bean turned out to be a petite little kitty with the sweetest doe eyes. As soon as Francisca walked into the room, Bean jumped off her bed and proceeded to rub her face all over her human friend.

"She was more perfect than I could have imagined. She was a small little baby of 3-4 years. Tears were running down my cheeks as she rubbed against my leg," Francisca told Love Meow.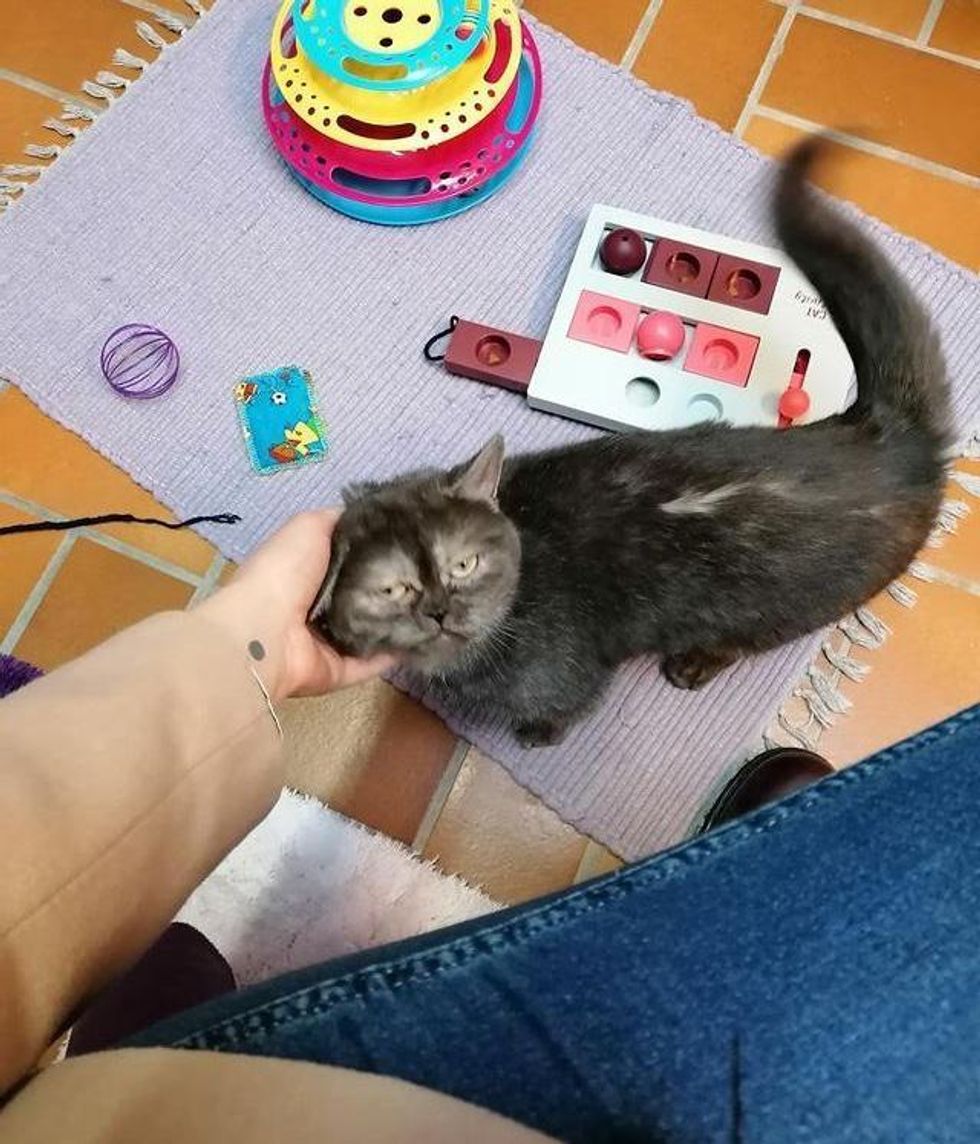 Francisca @bebbybeansprout
Francisca stayed with Bean for hours at the shelter, and couldn't bear the thought of leaving her there one more night. Bean was smitten with her human and followed her around for attention and pets.

That day marked the beginning of a new chapter for the former stray. She went home with the family of her dreams to a place of her own.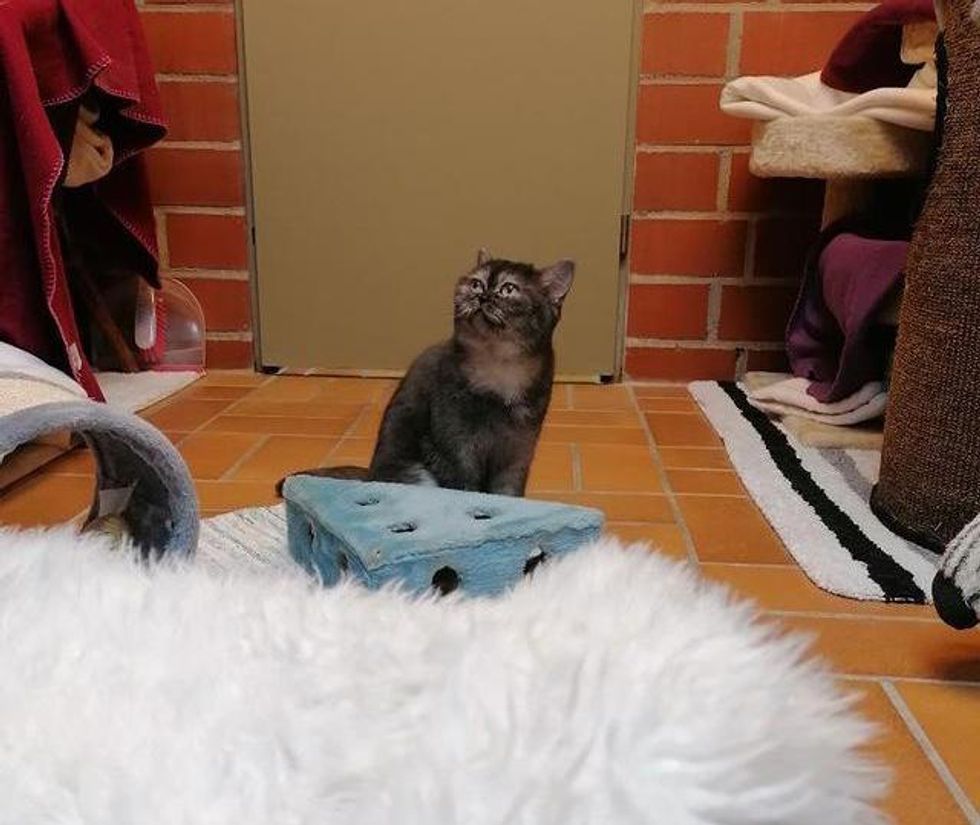 Francisca @bebbybeansprout
"She made herself at home from the very first second. She laid down on the sofa and took a nap as if the couch was the most comfortable thing she had ever experienced," Francisca told Love Meow.

Bean dozed off for hours to make up for lost sleep. "It was only after that that she started exploring. I was just so happy and grateful that she was finally home."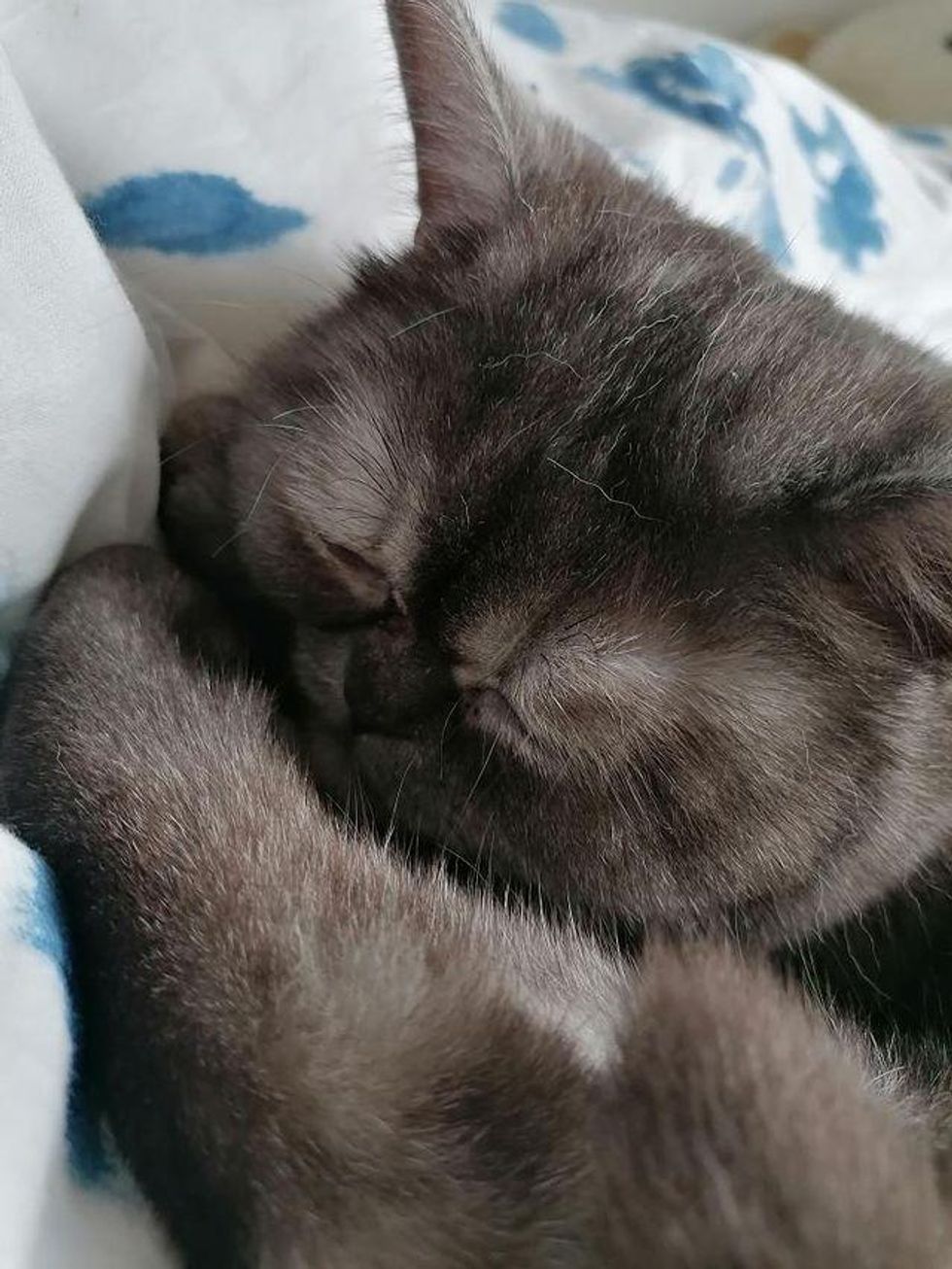 Francisca @bebbybeansprout
That night, Bean hopped onto her human's bed and curled up next to Francisca before she purred herself to sleep.

"She hasn't left my side at night ever since. She even waits for me around midnight to come to bed if I'm up late," Francisca added.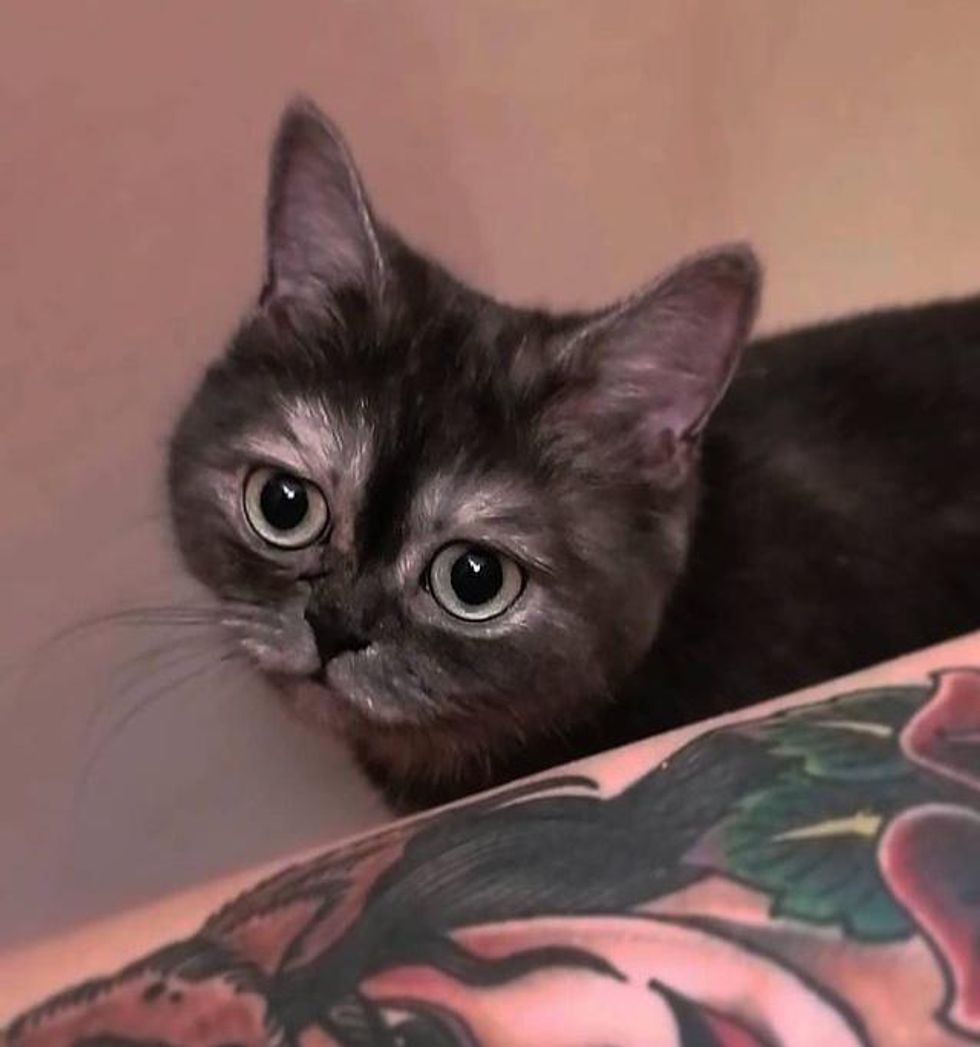 Francisca @bebbybeansprout
Bean was very clingy for the first couple of weeks fearing that her human would leave her. Over time, she realized that she was there to stay forever and her human wasn't going anywhere.
"It was then she finally decided to let her (inner) diva come out, her 'queen of the household' mentality."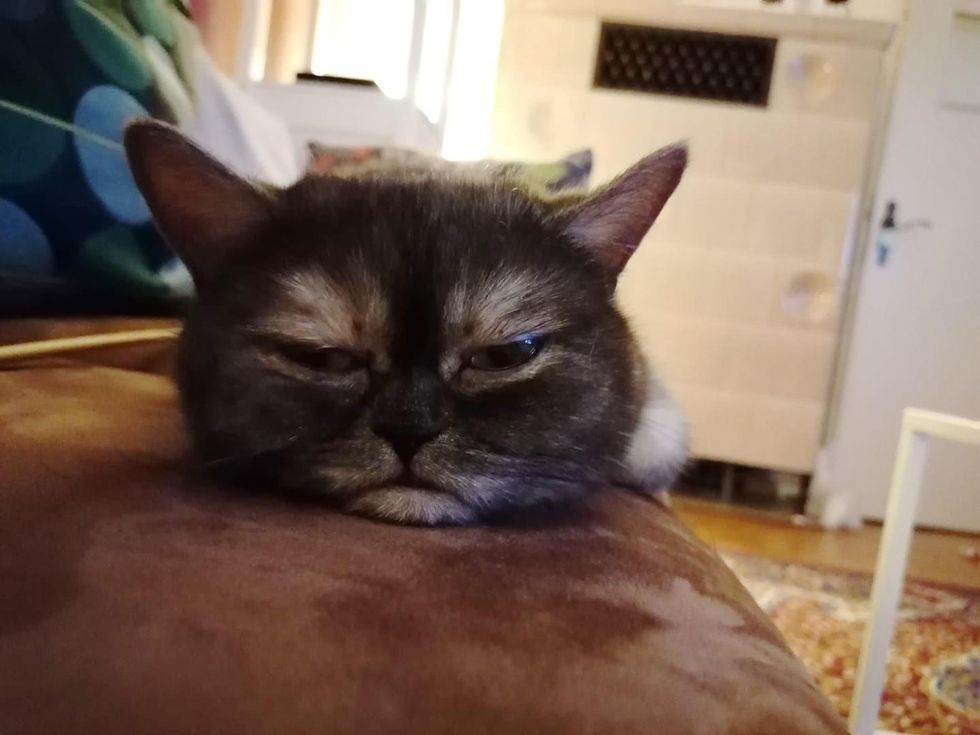 Francisca @bebbybeansprout
"When I work from home she spends all day next to the computer, even though her favorite spot is somewhere else," Francisca said. "When I go to work, she climbs up to the window and watches me until she can't see me anymore."

She is a love-bug at heart and that little grump on her face only adds to the cuteness and sass.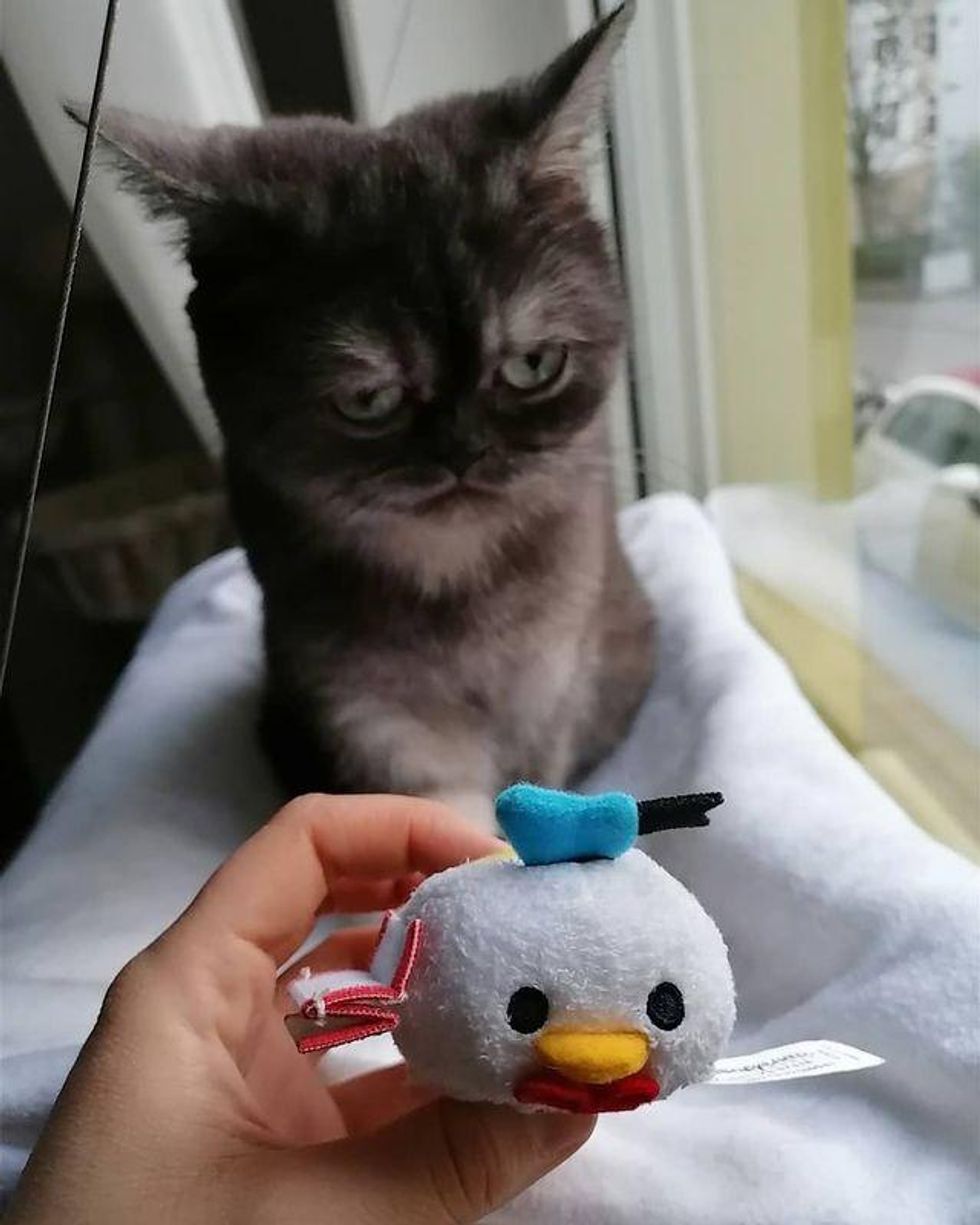 Francisca @bebbybeansprout
Bean has a trusty toy (a duck) that she carries around everywhere she goes.
She loves the Cat TV by the window and enjoys going on walks in a harness with her mom to breathe some fresh air. She is playful, silly and has so much to give.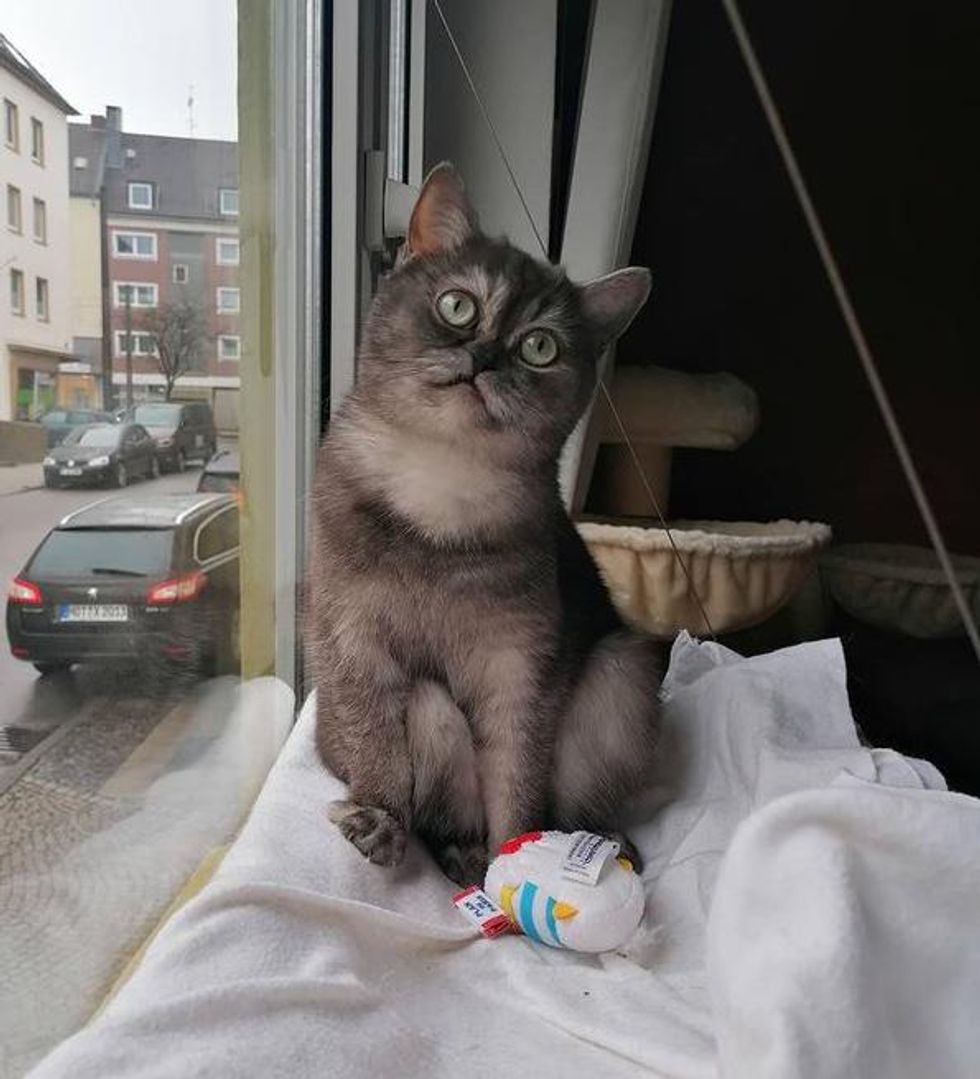 Francisca @bebbybeansprout
When she spots olives in the kitchen, she makes a dash for them and tries to steal one or two.
"I've never met a cat quite like her. She is feisty and definitely a diva, but so lovable and cute at the same time," Francisca told Love Meow. "She loves screaming at birds and the Amazon delivery driver (not other postal services)."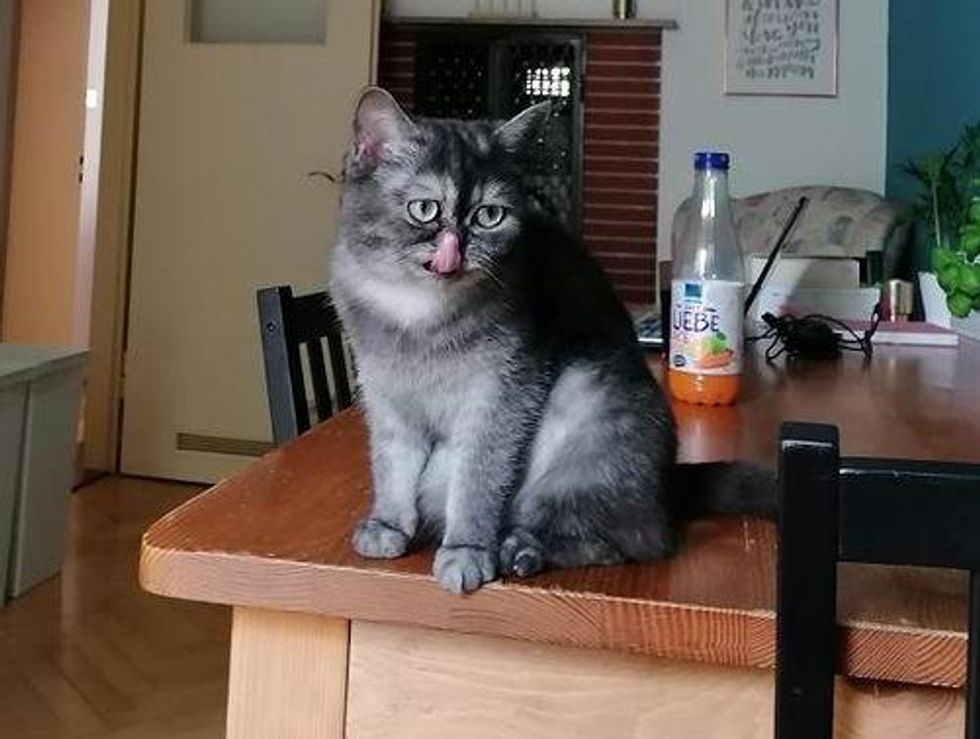 Francisca @bebbybeansprout
Bean is adamant about supervising her human mom whenever she's home, and tags along with her like her little shadow.
"She even follows me to the bathroom and watches me in the bathtub to make sure I don't drown."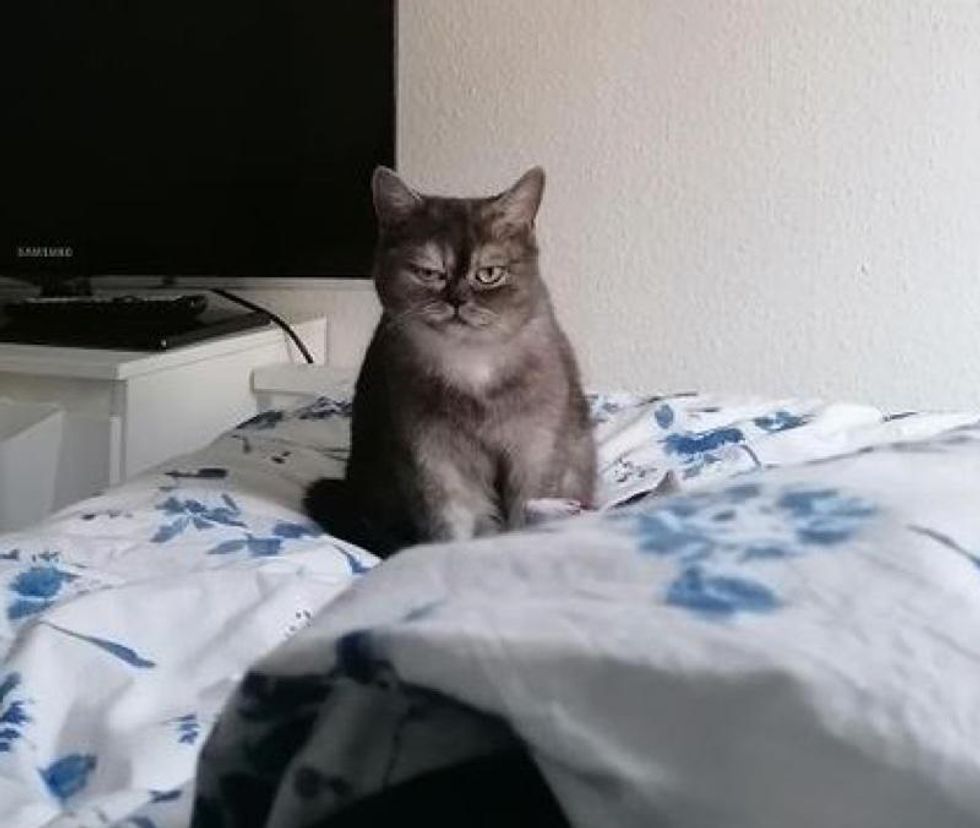 Francisca @bebbybeansprout
"She's my whole world and an absolute weirdo. I can't put into words how much I love her. Rescue works both ways. She helps me through the worst of days," Francisca shared with Love Meow.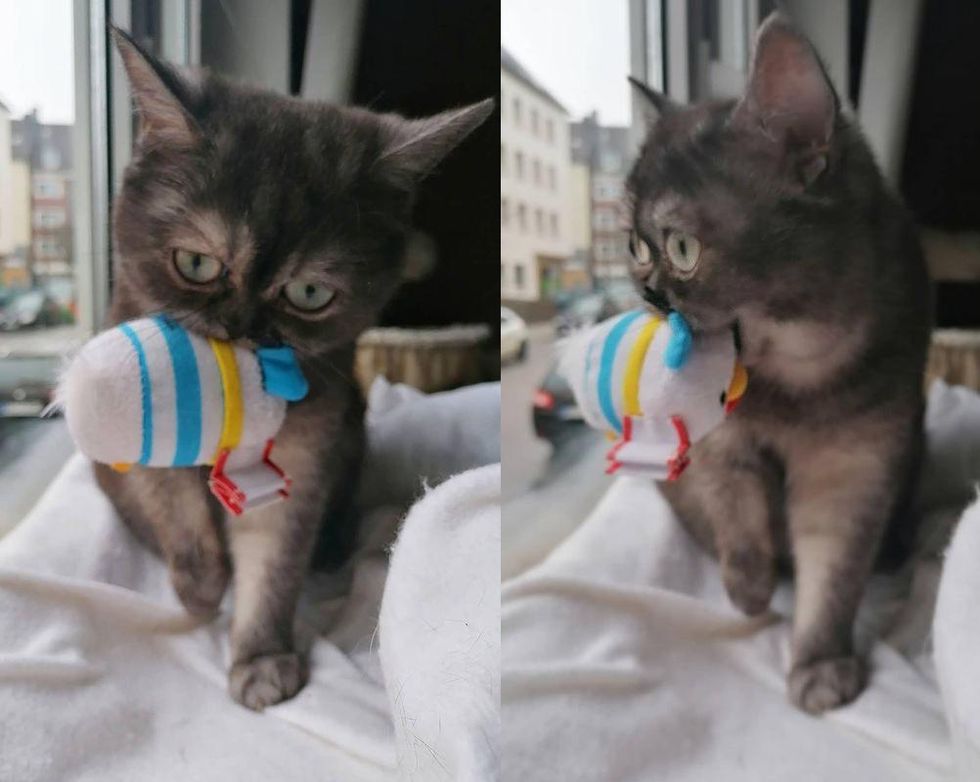 Francisca @bebbybeansprout
"She went through so much and is finally home and getting the love she deserves. I can't imagine my life without her. She is so special and amazing. I'm so happy she chose me to be her mother."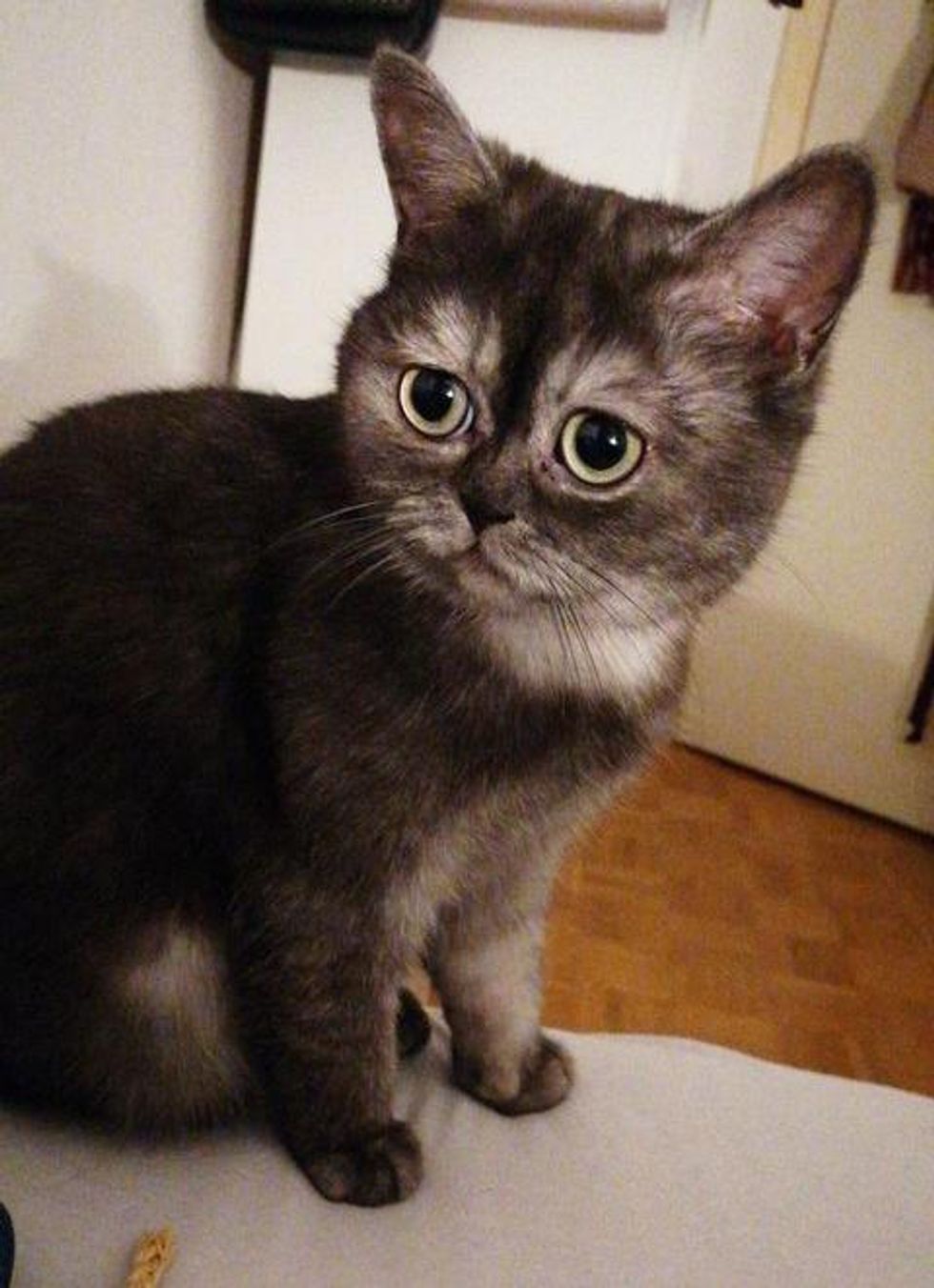 Francisca @bebbybeansprout
Share this story with your friends. Follow Bean and her adventures on Instagram @bebbybeansprout.
Related story: Cat Waves at Visitors at Shelter and Hopes Someone Can Take Him Home