A pregnant cat was surrendered to the county shelter along with her brother five months ago. Within 24 hours after they arrived, she gave birth to two tiny babies but only one survived.
She held onto her little calico kitten and wouldn't let her go.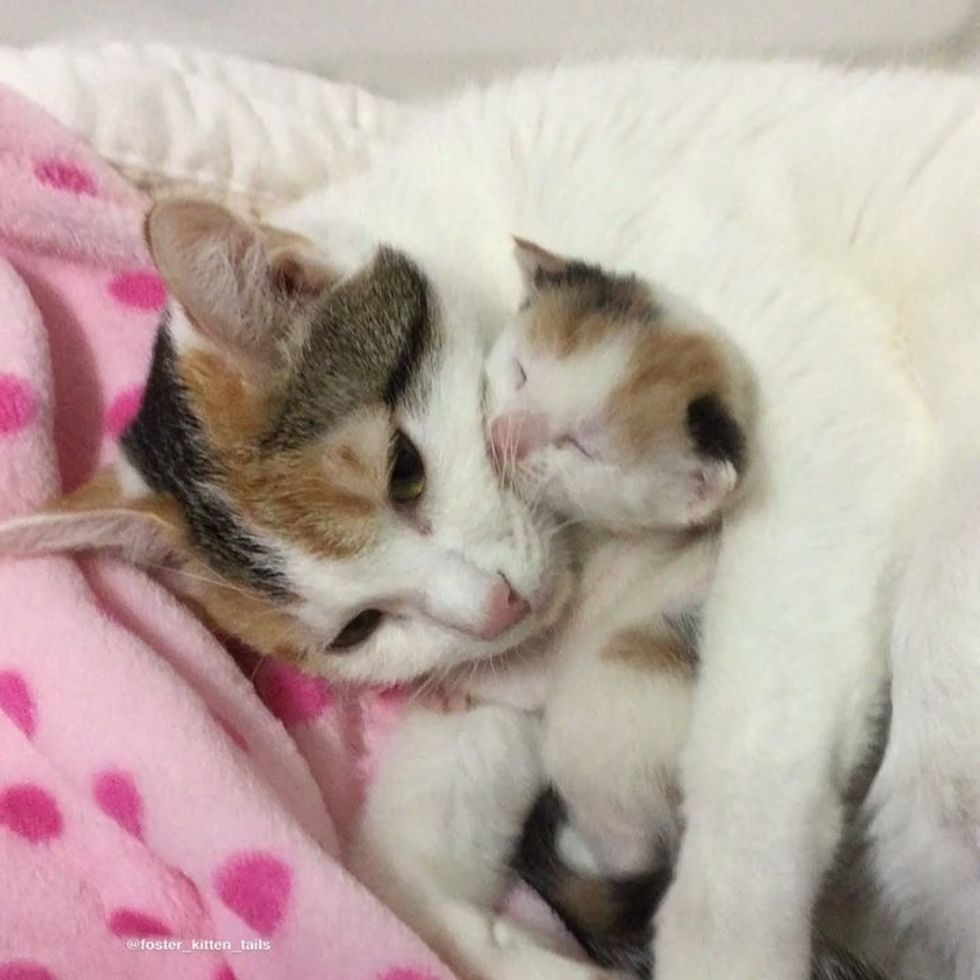 Ellen Richter @foster_kitten_tails
Homeward Bound Cat Adoptions (in Las Vegas) rescued the three kitties (mama cat Harmony, her brother Oliver and her kitten Haven) from the shelter and found them foster homes where they would feel safe and loved.
Harmony didn't know how to care for her baby but thankfully, Ellen Richter, an experienced foster, helped guide her into motherhood.
"She was alone, scared, and knew nothing about being a mother. I taught her how to nurse, lay on her back, but all she wanted to do was 'hug' the baby," Ellen shared with Love Meow.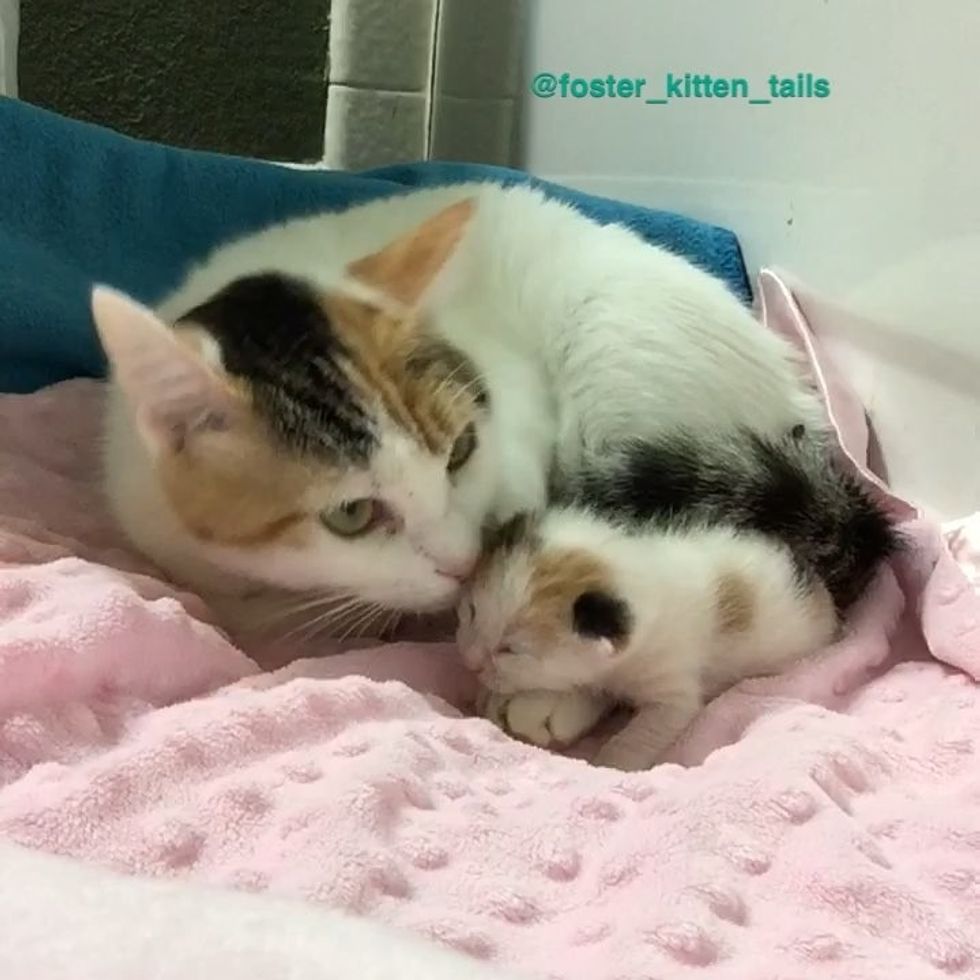 Ellen Richter @foster_kitten_tails
After the loss of one of her kittens, Mama Harmony kept Haven close to her and wrapped her arms around her all the time. Haven wasn't able to nurse when she was held. Ellen gently moved the baby to the right position so she could start feeding.
"Harmony refused to move away from her baby, always holding her tightly," Ellen added. "She didn't move to eat, drink or use the litter box."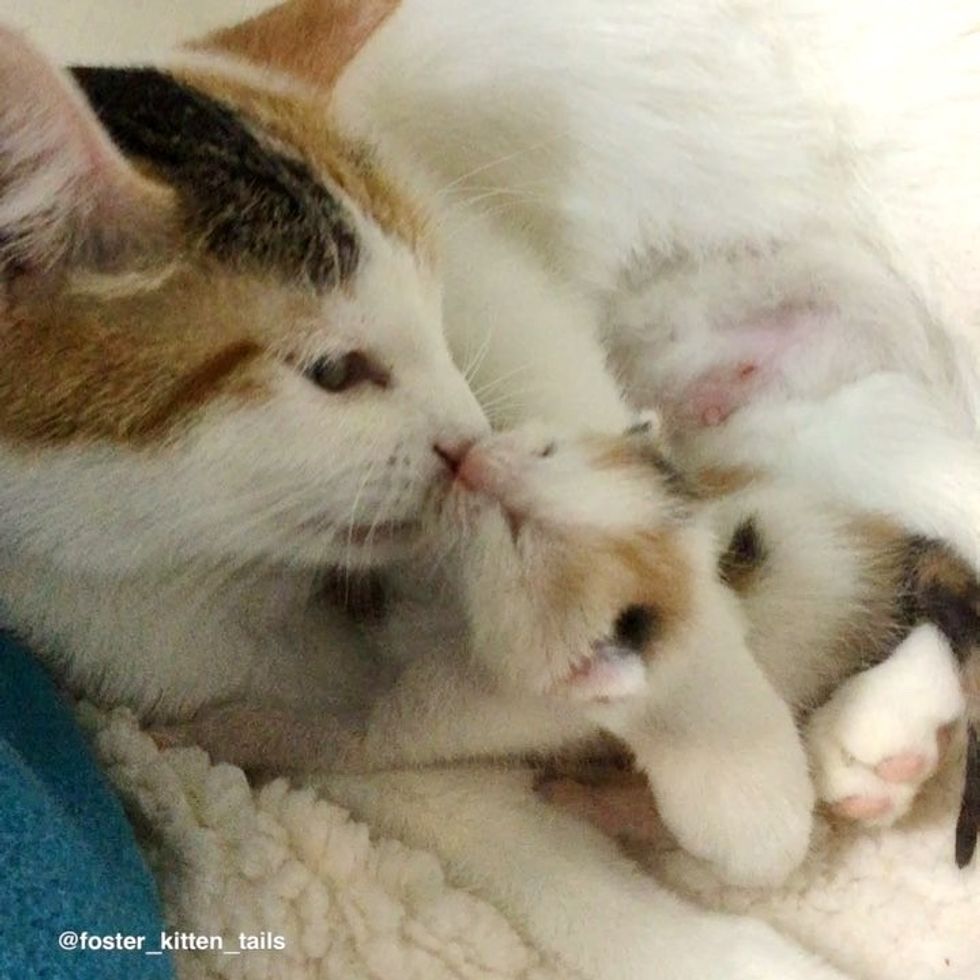 Ellen Richter @foster_kitten_tails
Ellen brought food and water to the mama and spoon fed her to make sure that she was eating enough. She had to put the litter box next to Harmony every so often so the mama would use it.

When Haven was big enough to learn to walk, Mama Harmony wouldn't let her out of eyeshot. At times, it was hard for her to let go of the embrace.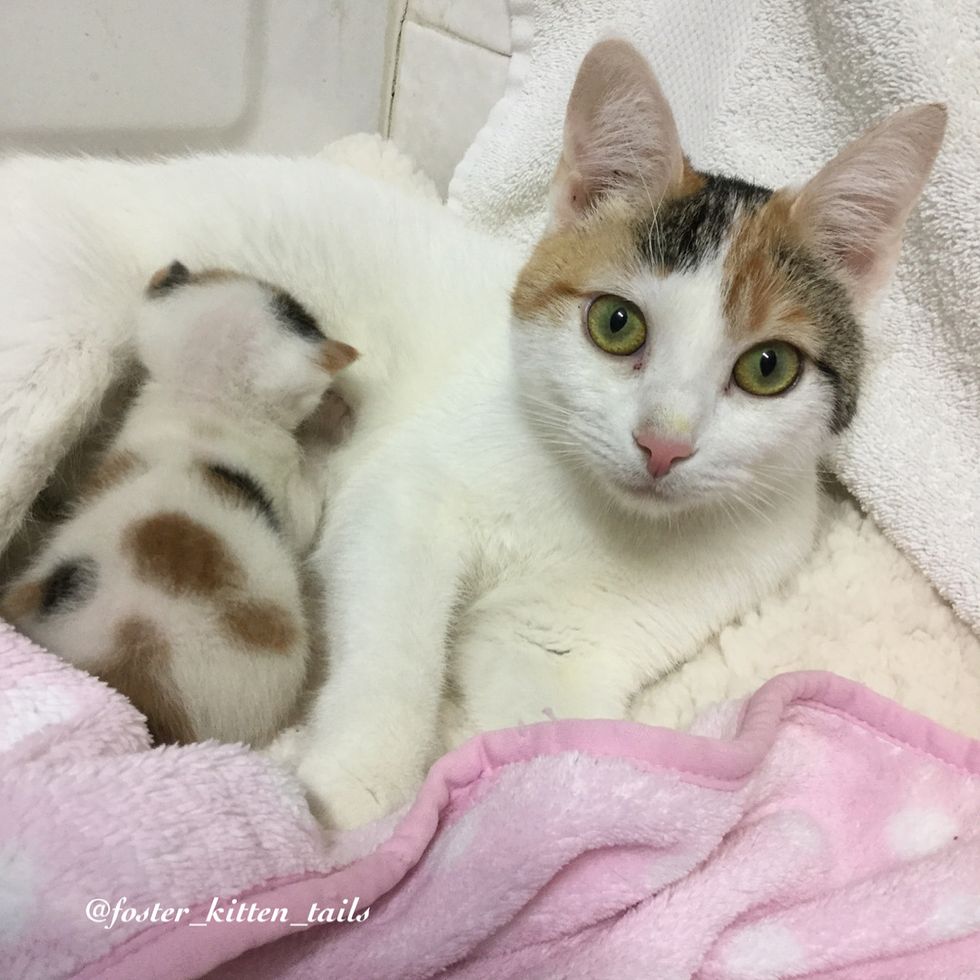 Ellen Richter @foster_kitten_tails
As the kitten grew bigger and more mobile, Harmony started letting her roam and explore a bit farther. (Scroll down for video)
"She felt comfortable enough to be about a foot away, no more. But each day she grew more confident, leaving Haven's side," Ellen told Love Meow.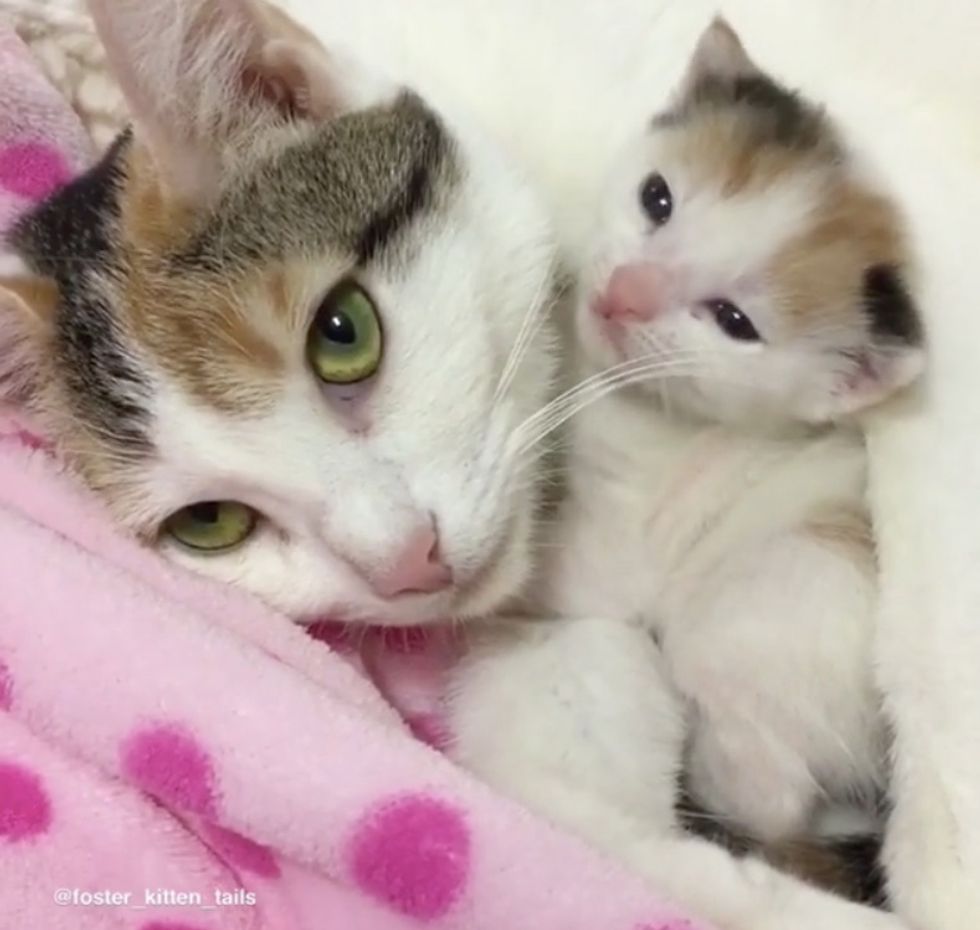 Ellen Richter @foster_kitten_tails
"Harmony let me guide her, as we raised Haven together, side by side, making sure she was safe and cared for. She's grown into a beautiful young girl, who learned to trust and feel loved," Ellen said.

Mama and her kitten share an unbreakable bond.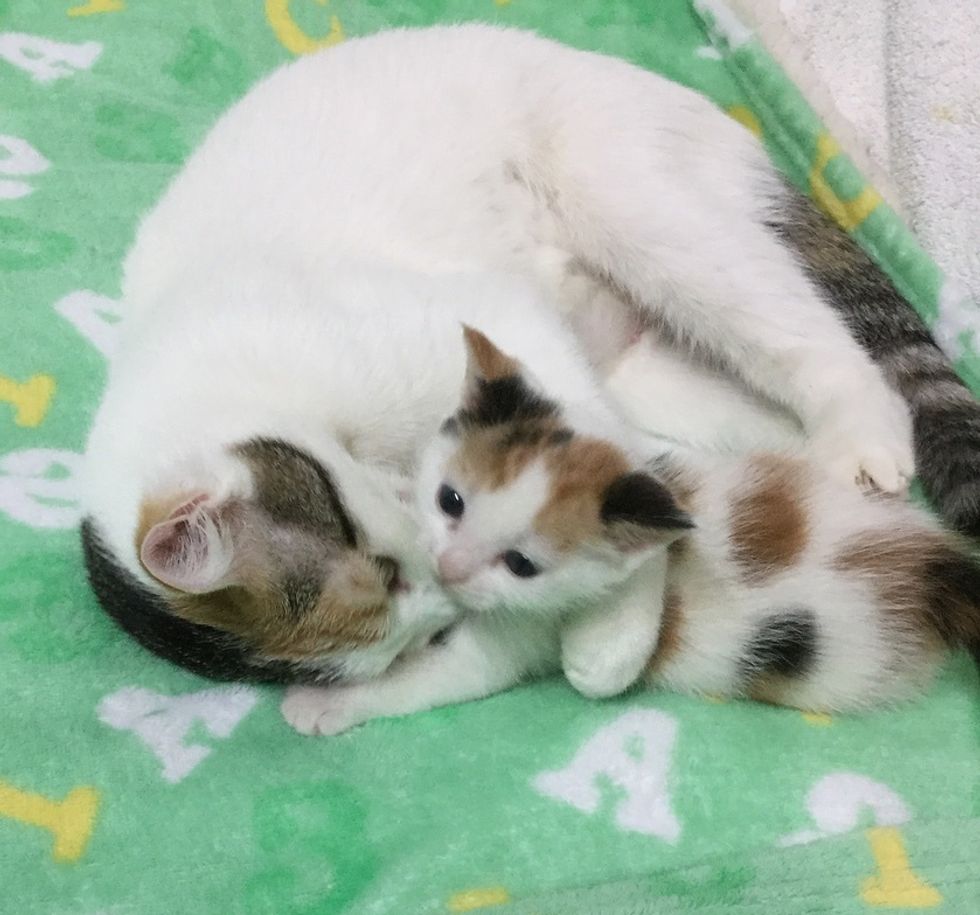 Ellen Richter @foster_kitten_tails
They are inseparable and Harmony is never far from her precious baby.
Before they were ready for adoption, Ellen knew that they had to stay together forever. "Harmony was anxious and needed Haven for support," she said.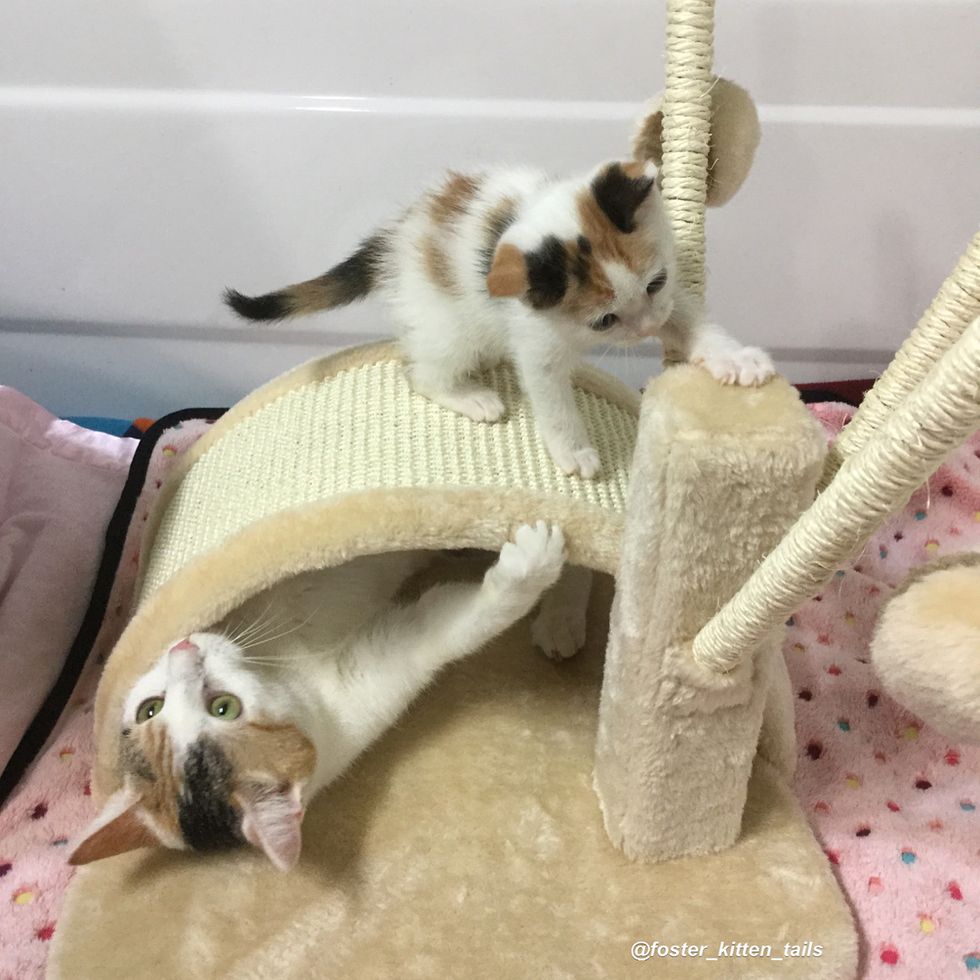 Ellen Richter @foster_kitten_tails
Harmony's brother, Oliver, found a good home, and it was time for two calicos to find theirs.
A week ago, a wonderful couple fell in love with the mama and daughter duo. After months of waiting, they finally found the perfect match.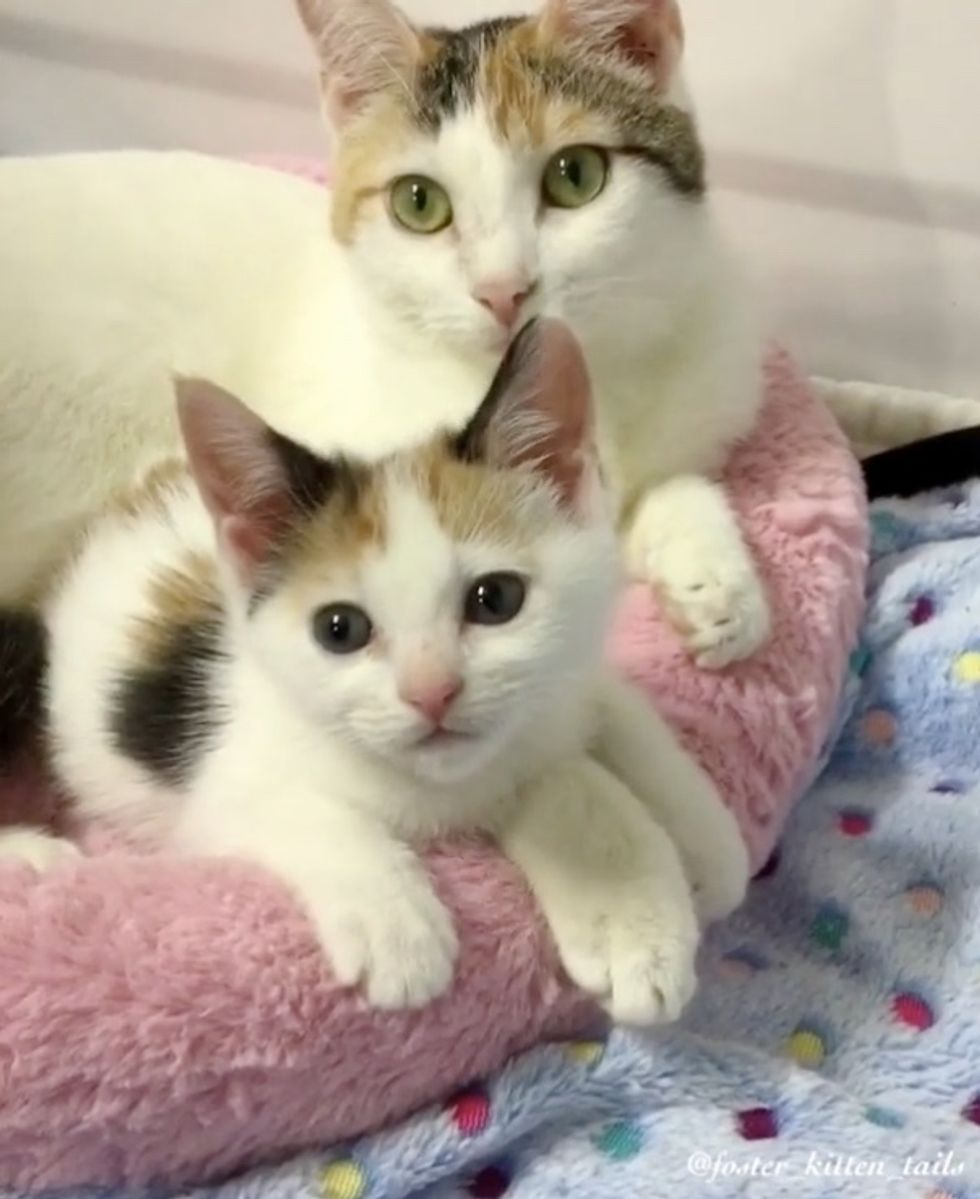 Ellen Richter @foster_kitten_tails
It was bitter sweet when they were off to their forever loving home. "I've cried happy tears all night, knowing what a great future they will have," Ellen said.
"Their new family will spoil them, cherish them, and love them beyond belief. They'll feel safe and know true happiness the rest of their lives."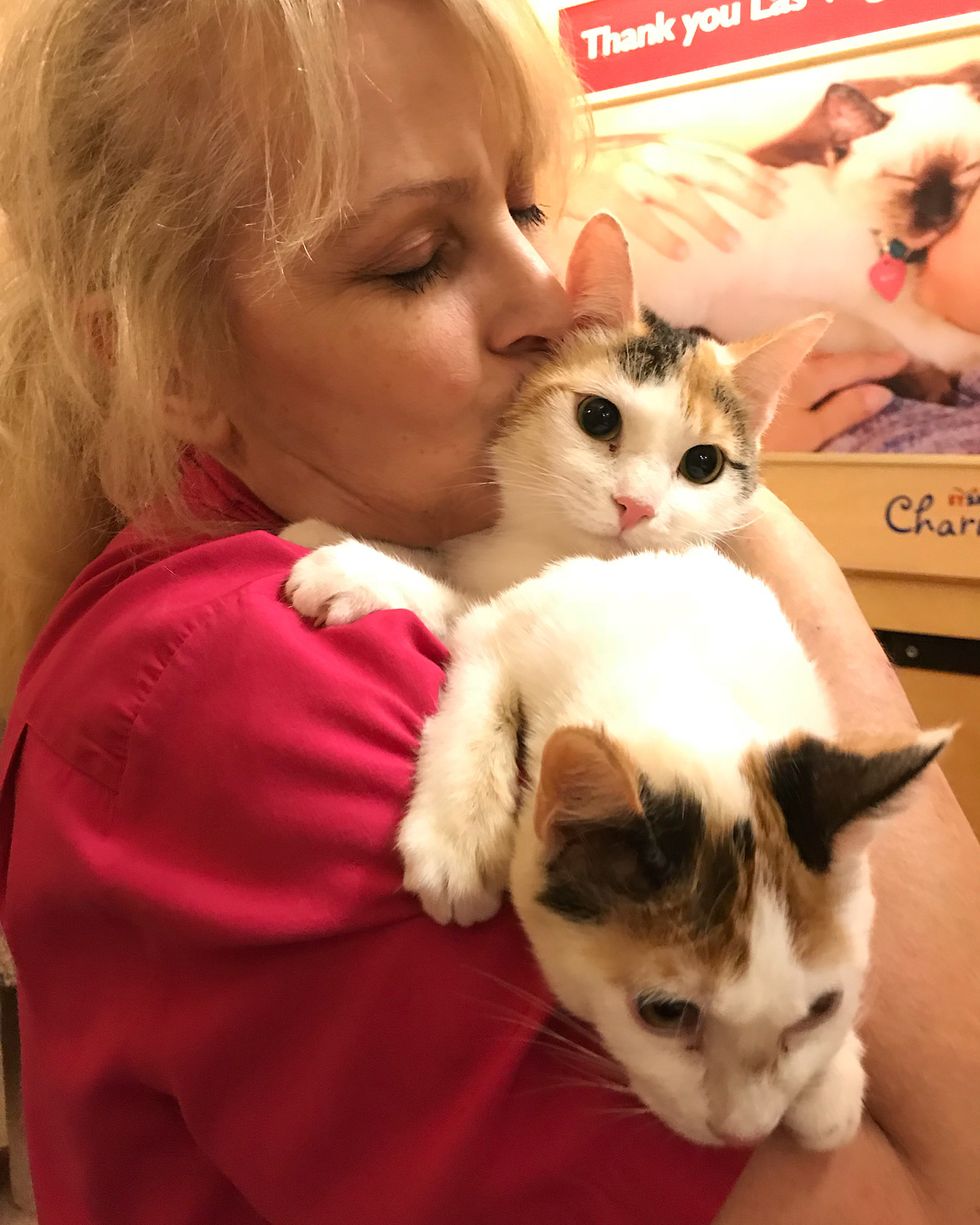 Ellen Richter @foster_kitten_tails
Within 24 hours after they moved into their new home, Mama Harmony and Haven snuggled in their new cat tree, purring up a storm.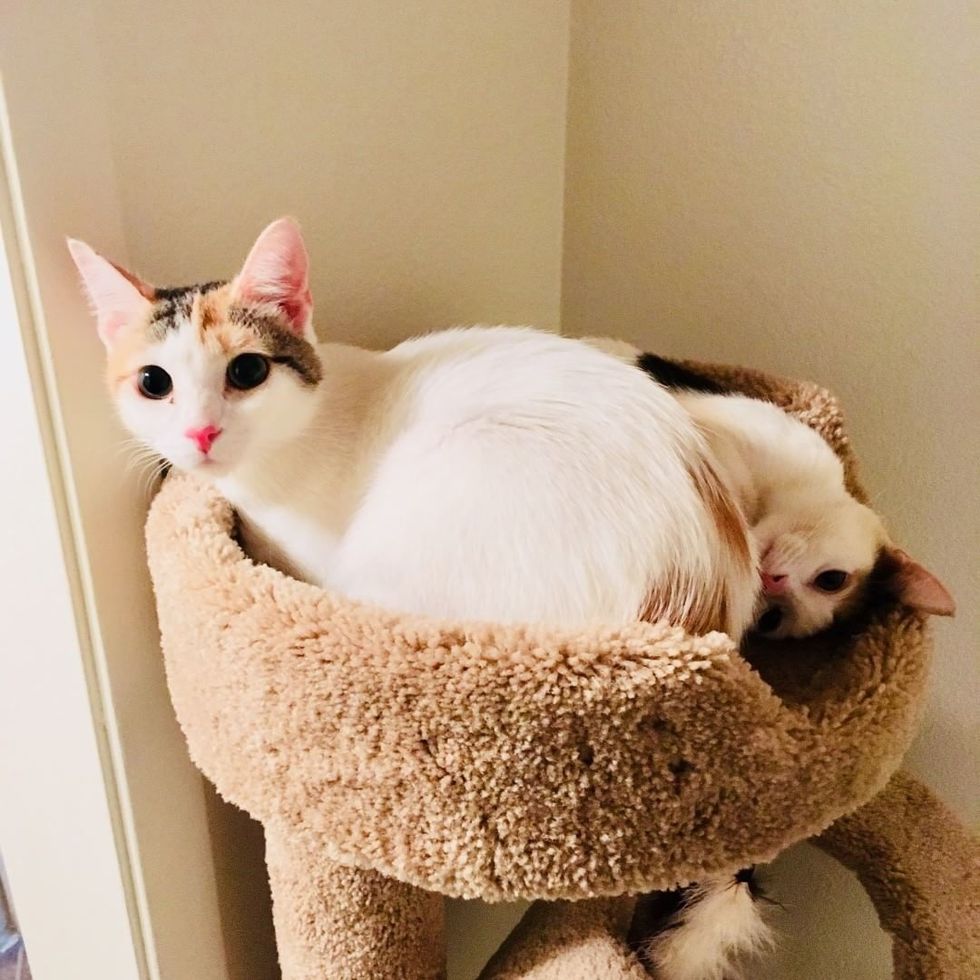 Harmony and Haven @harmonyandhaven
Follow Harmony and Haven's adventures on Instagram. Follow Ellen's foster kitties on Facebook and Instagram.
Watch Harmony and Haven's journey in this cute video:
Share this story with your friends.
Related story: Deaf Cat Mom Gets Help for Her Surviving Kittens and Can't Stop Purring