Two tiny kittens (born on March 9th) came to their foster home in need of intensive care.
As soon as they arrived, a nurturing cat named Benny could sense that these fur babies needed some serious TLC.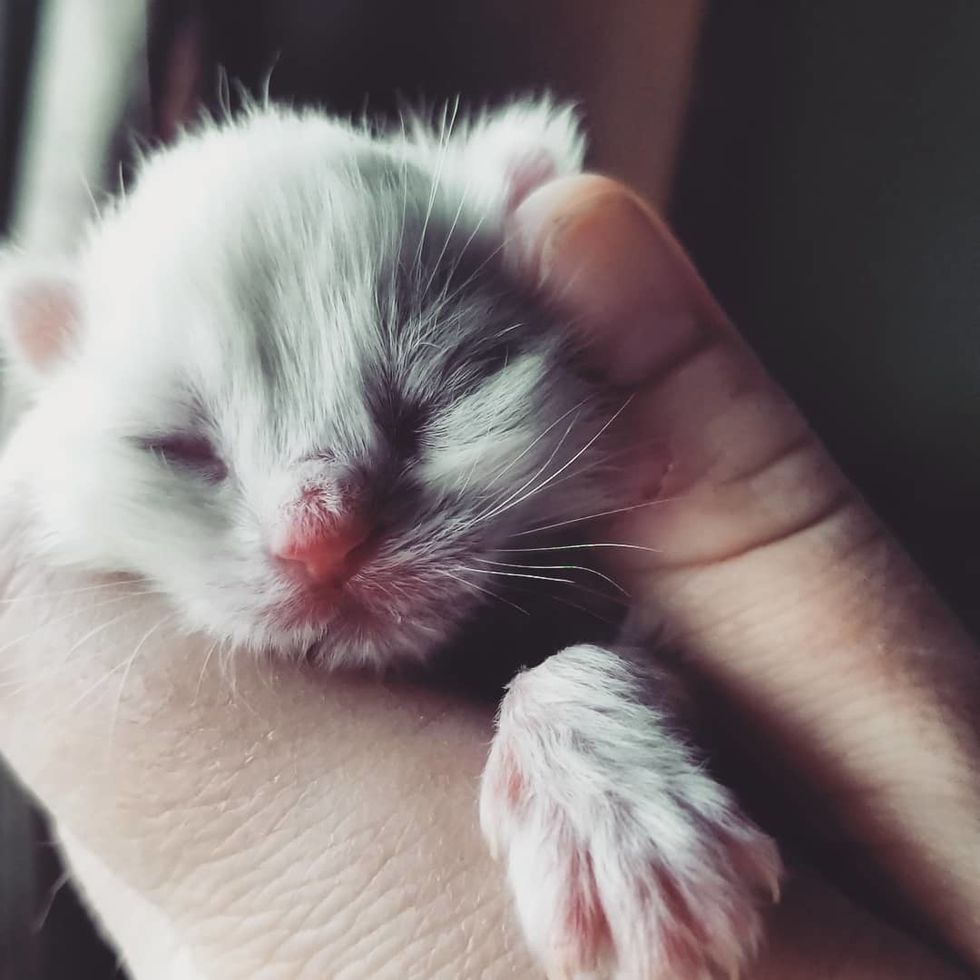 Ellen Carozza LVT
Ellen Carozza, Feline Licensed Veterinary Technician of NOVA Cat Clinic (in Virginia), took in a pair of newborn kittens from a local rescue group, Operation Hood. The kittens were severely ill.

"They knew these two babies needed more intensive care than what they could provide and drove from Spotsylvania, VA to Northern VA to drop the babies off," Ellen told Love Meow.
After a 2-hour drive, they had the kittens transferred over to Ellen so they could get a better chance at survival.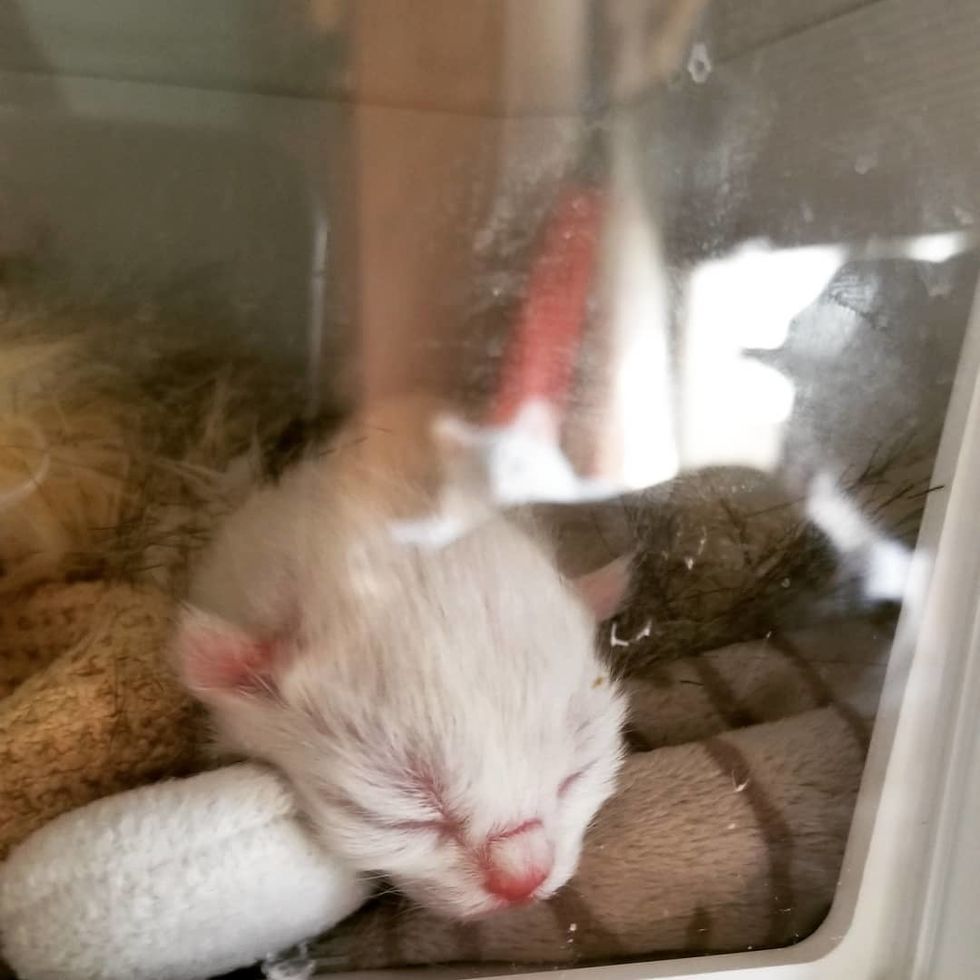 Ellen Carozza LVT
The kittens were 24 hours old. They looked like a mini version of Ellen's cat Benny who offers to care for every kitten that his human brings home.
Benny was smitten the moment he saw the kittens.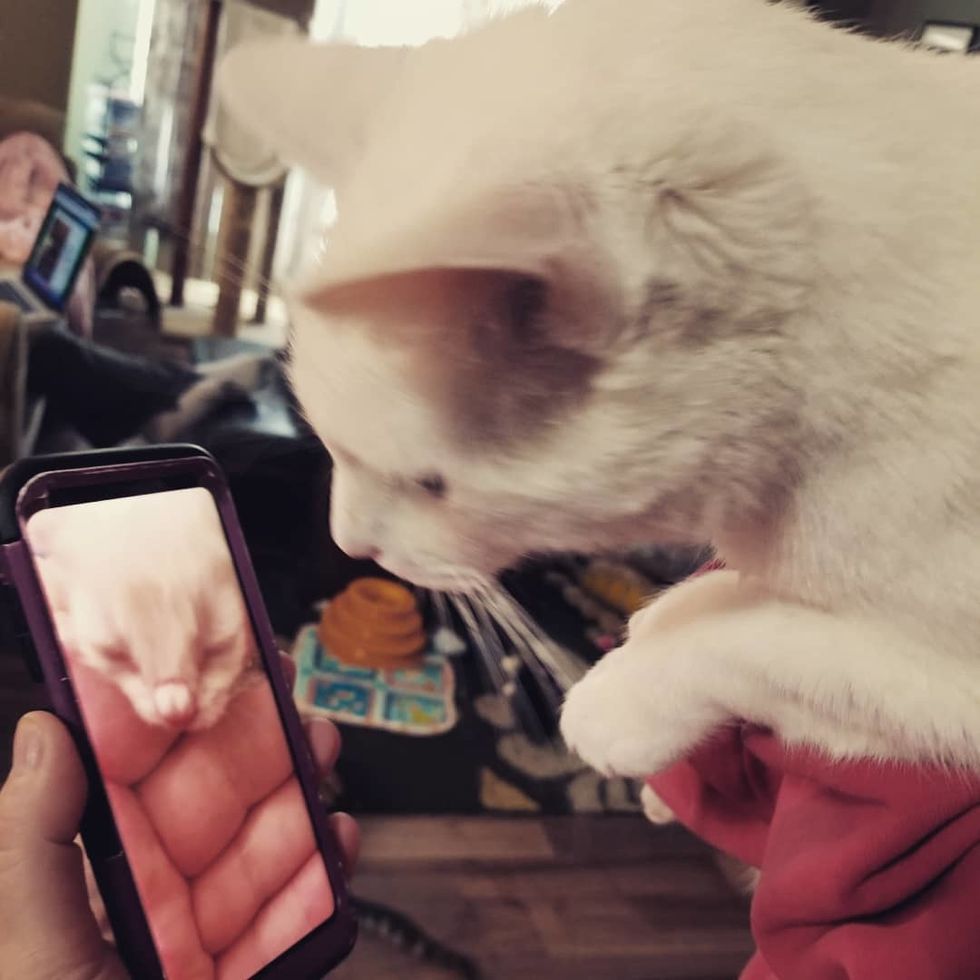 Ellen showed Benny his new foster baby before arrival.Ellen Carozza LVT
Ellen had to tube feed the feline babies around the clock. "We knew we had a severe problem at hand when one of the babies had blood in their urine, which indicates a significant problem that needed immediate attention."
Despite their best efforts, one of the kittens passed 48 hours later.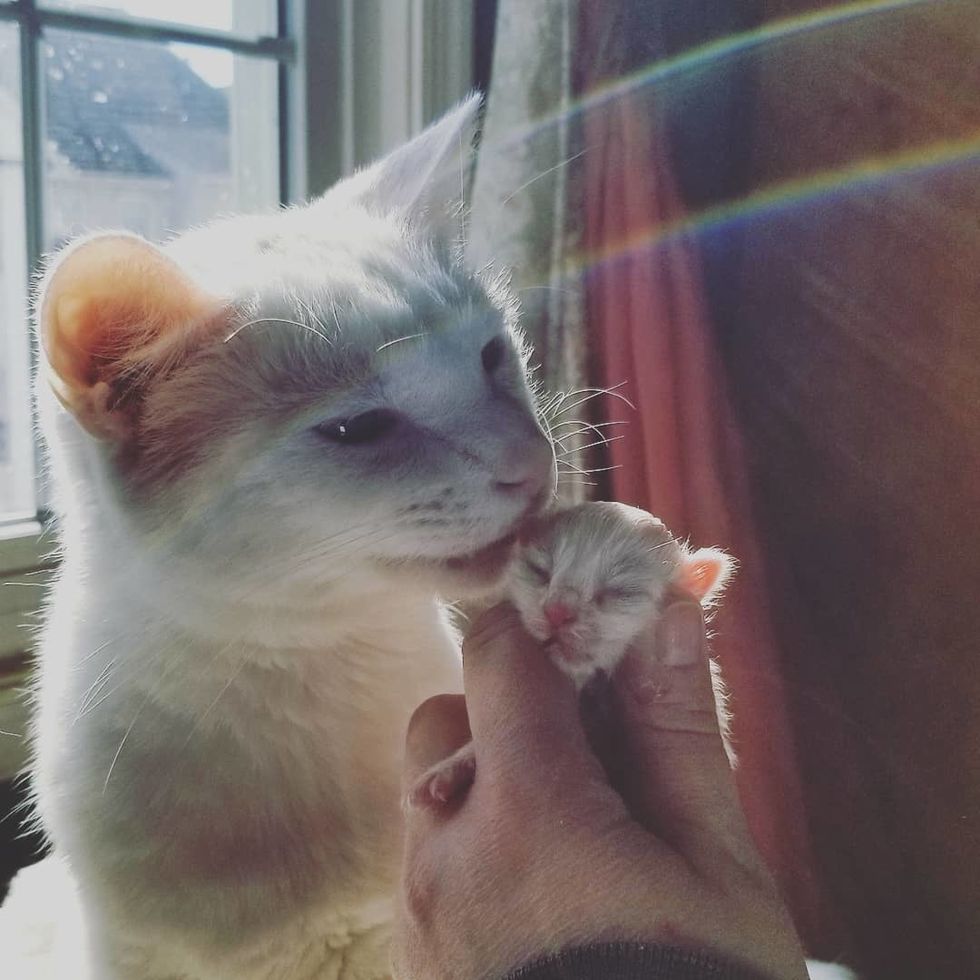 Ellen Carozza LVT
"Benny knew something was wrong with the critical baby as he would push his way into the hourly checks, tube feeding sessions and cleaning the sick baby," Ellen told Love Meow.
"We like to think he was prepping this baby on letting go as his attitude changes a bit and becomes more intense with his care."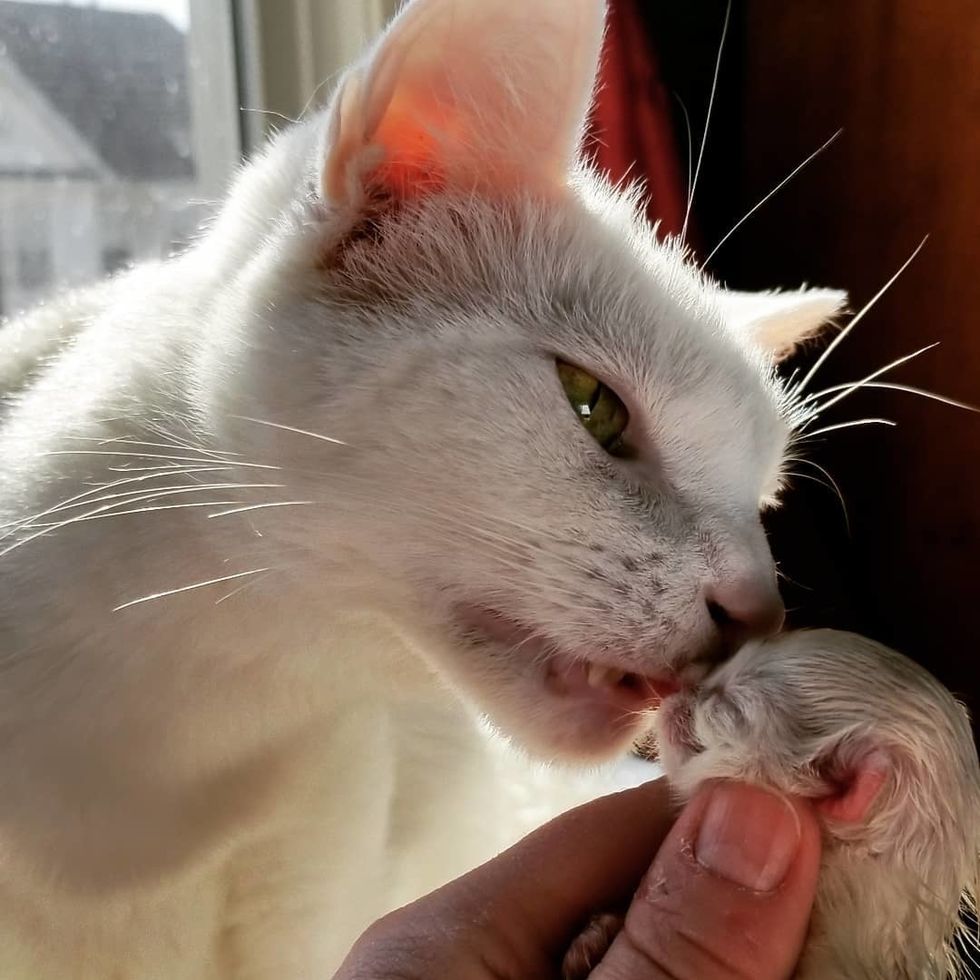 Ellen Carozza LVT
"Despite the intense care we provide with medical intervention, we still can't save them all. But we can learn how to create better protocols for care on the next case that may have similar issues."

The remaining baby girl, Jubilee, pulled through, and Benny amped up the TLC even more.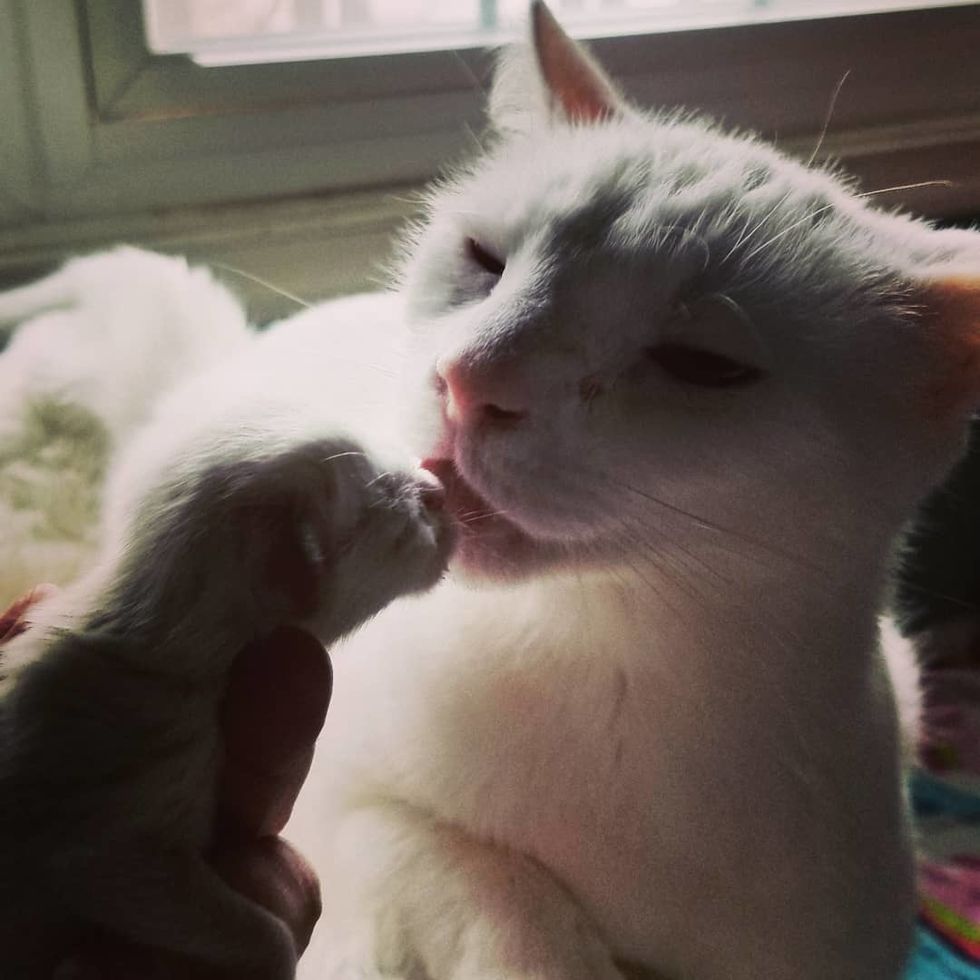 Ellen Carozza LVT
"From 24/7 monitoring at the incubator at home, to waiting at the window for us when I get home from work, he's ready to dish out the kisses (Benny blessings) and much needed grooming from another cat," Ellen told Love Meow.
Benny is very protective of his foster baby and guards her when she naps.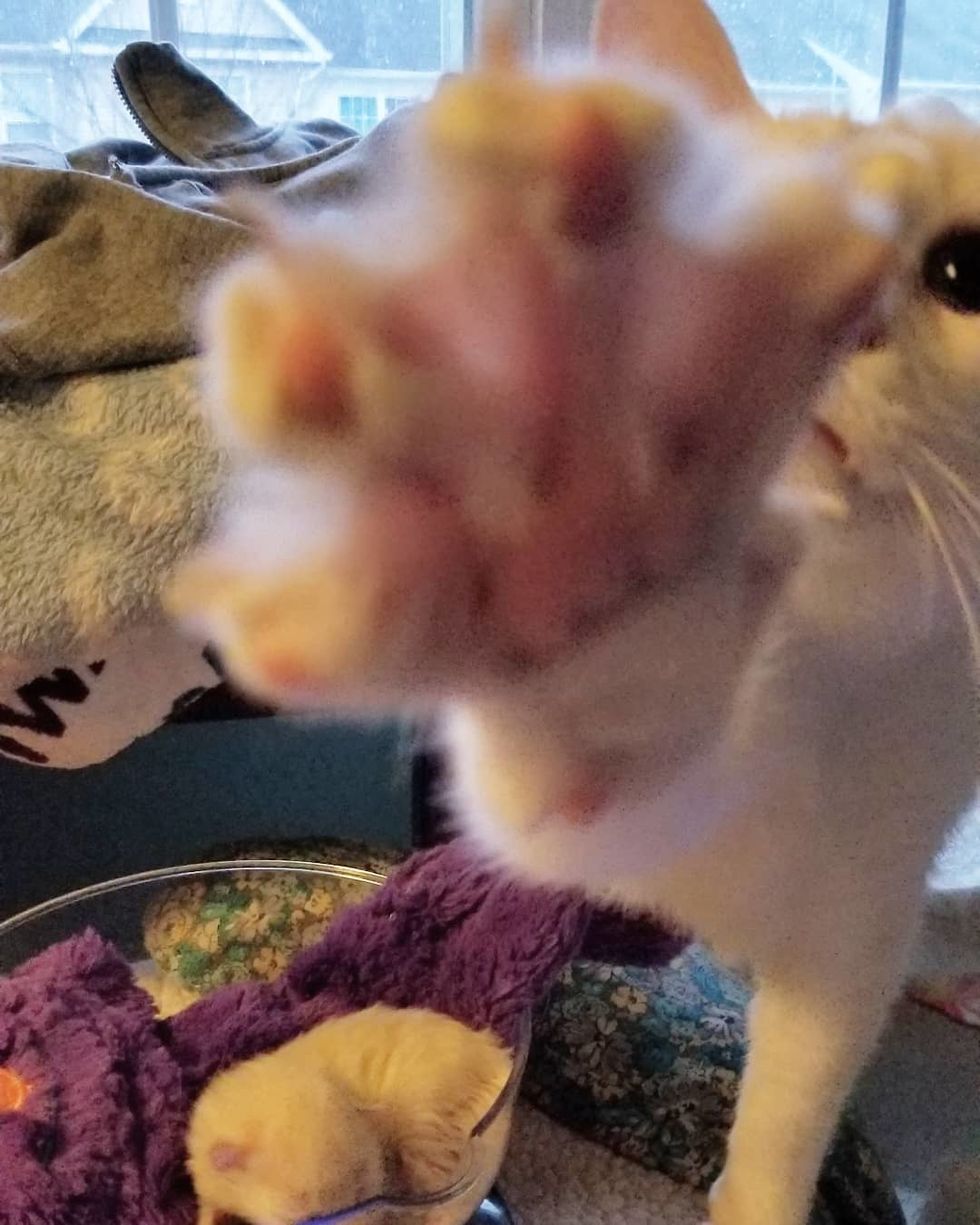 Ellen Carozza LVT
At five days old, Jubilee began to change color on her ears, tail, nose and toe pads.
"She started to look more like a polar bear than a kitten. We have a Siamese mix on our hands, not a white kitten," Ellen told Love Meow.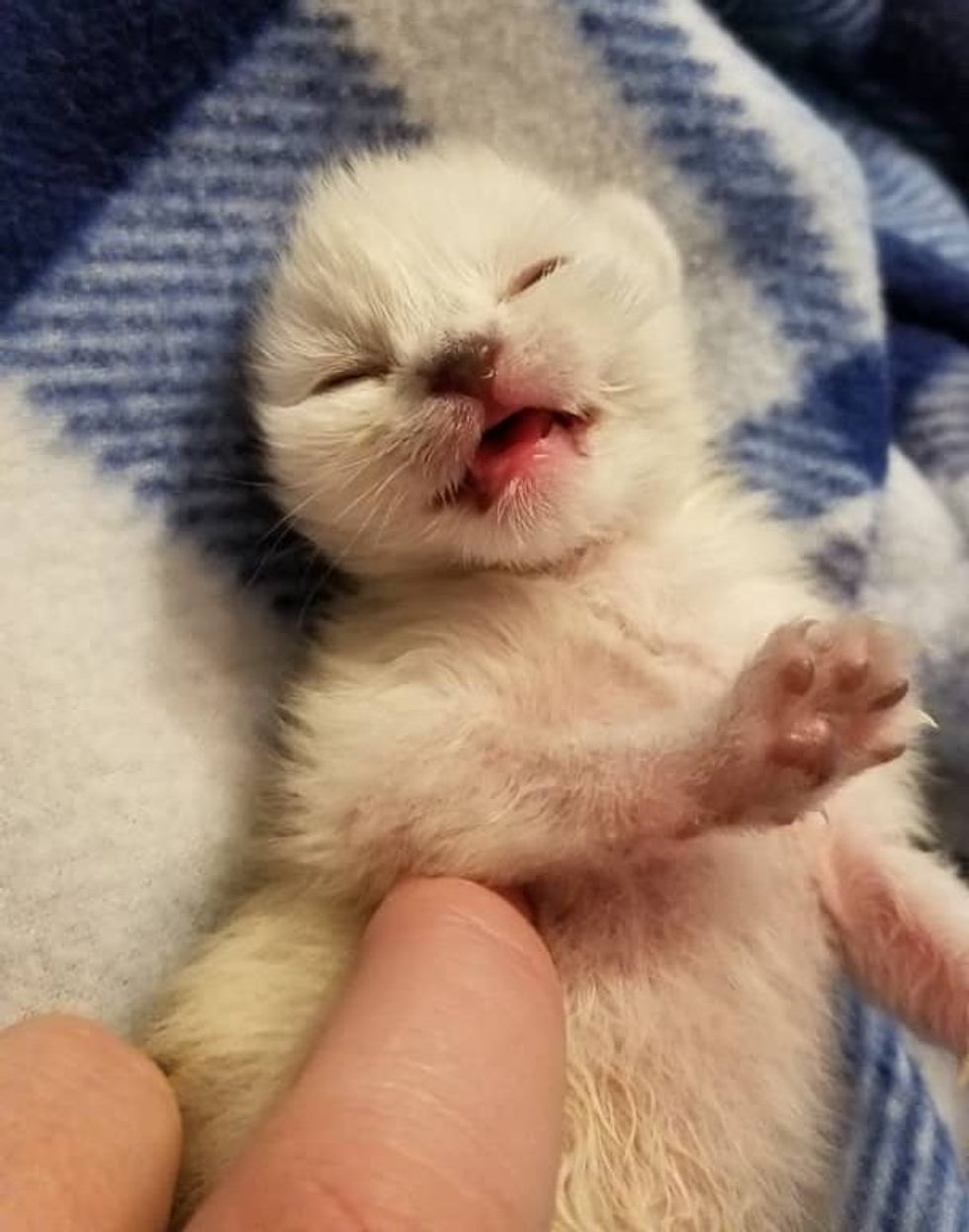 Benny stays by her side most of the time, making sure she is safe and loved.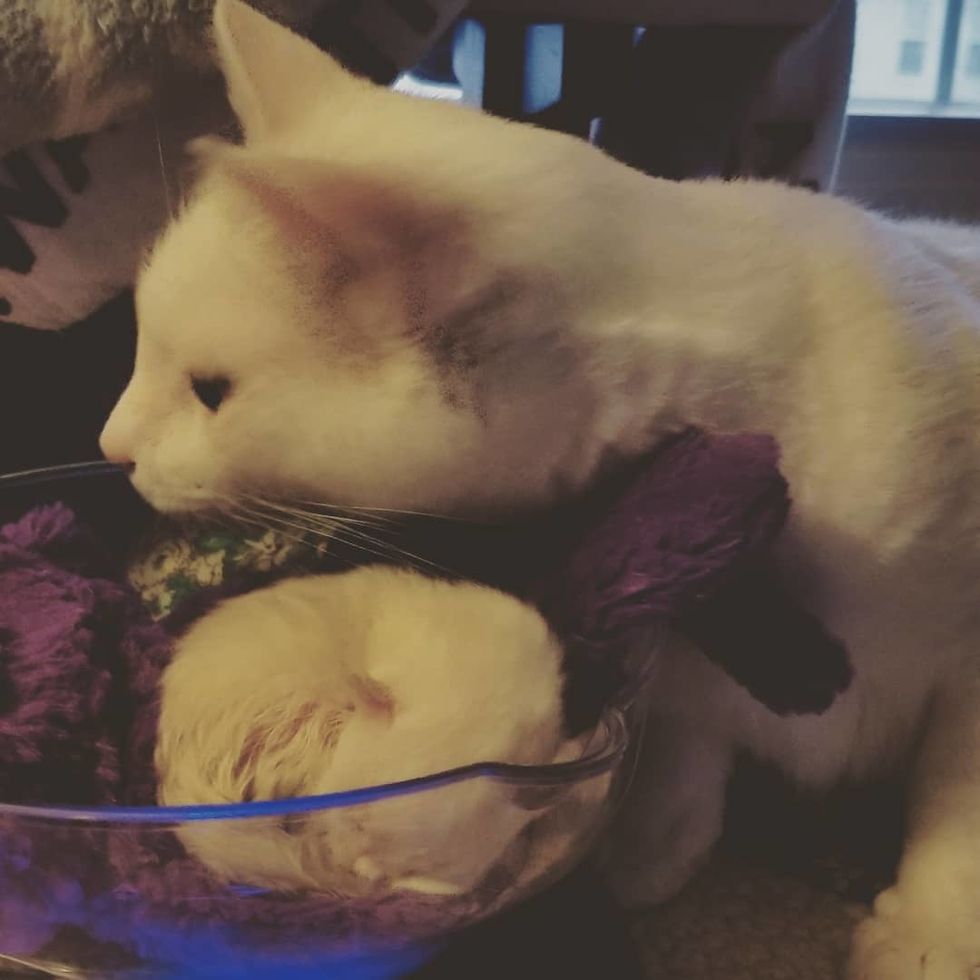 Ellen Carozza LVT
Thanks to Foster Dad Benny, she's found her purr and is thriving in foster care.
Benny waits for his human mom to finish bottle feeding so he can take over and wash her.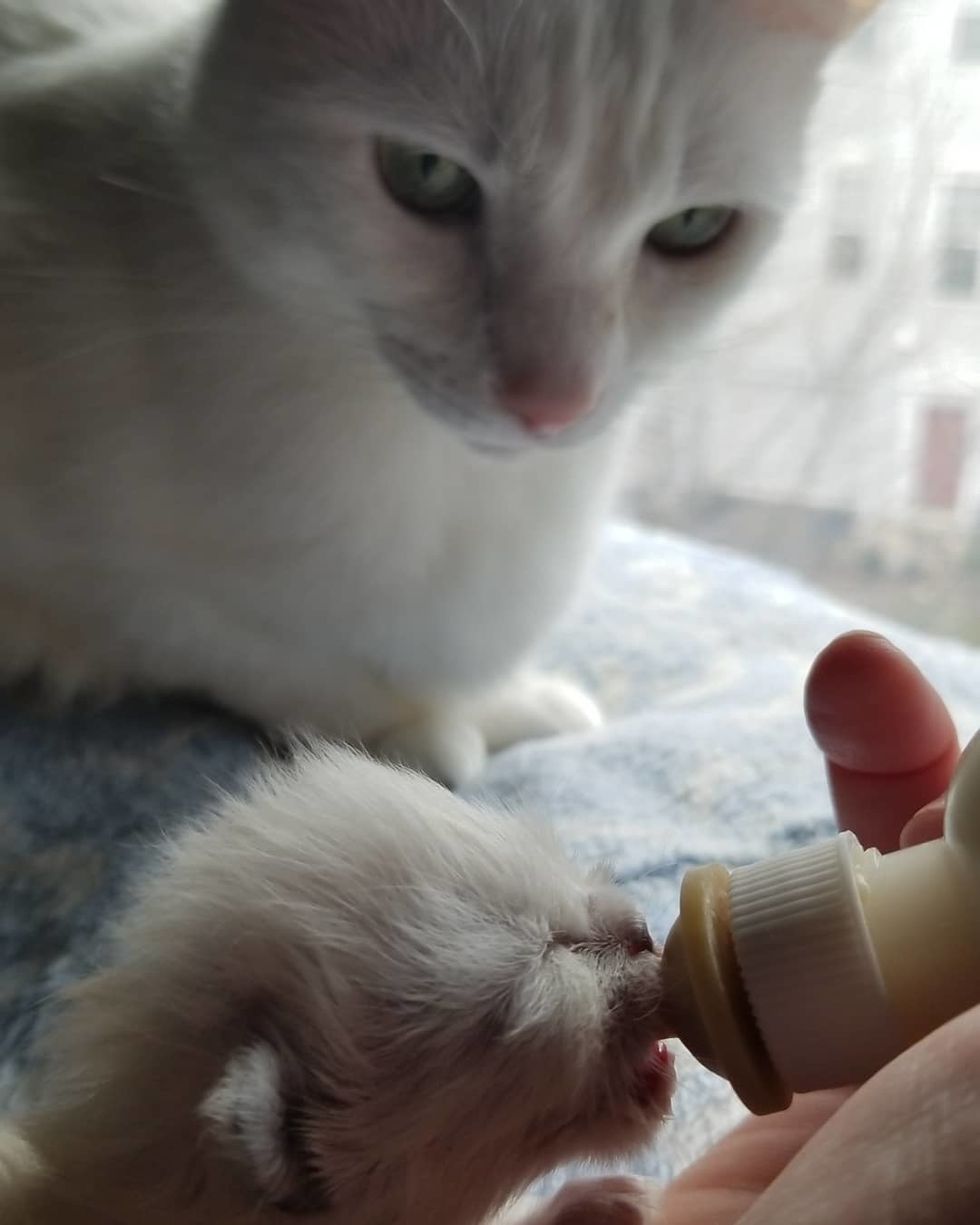 Ellen Carozza LVT
"Jubilee enjoys belly rubs and snuggling with anyone who will hold her cupped in their hands," Ellen told Love Meow.
"Benny thinks she is beautiful no matter what and continues to be the white knight. He is keeping vigil over his baby."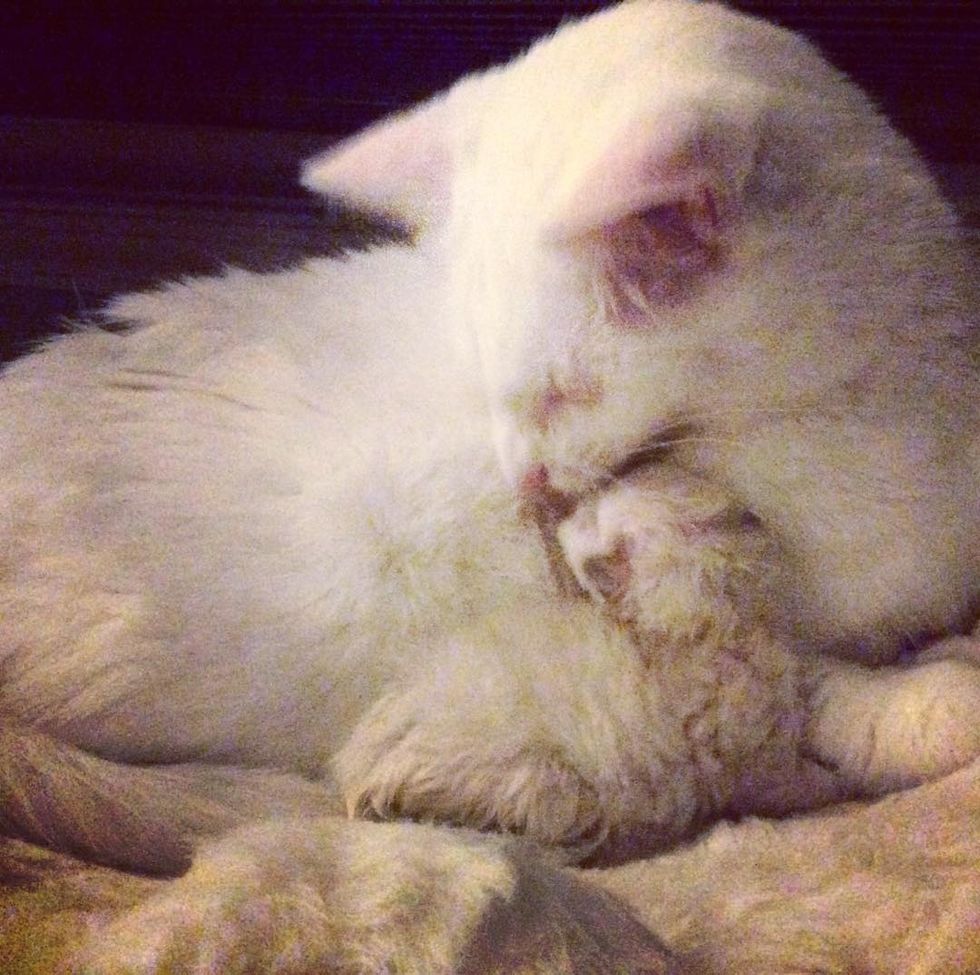 Ellen Carozza LVT
"As she grows Benny's care changes, and he will soon begin to teach her how to cat."

Jubilee has reached one milestone after another with her surrogate dad by her side, cheering her on. The little kitten is now eating like a champ and getting bigger and stronger every day.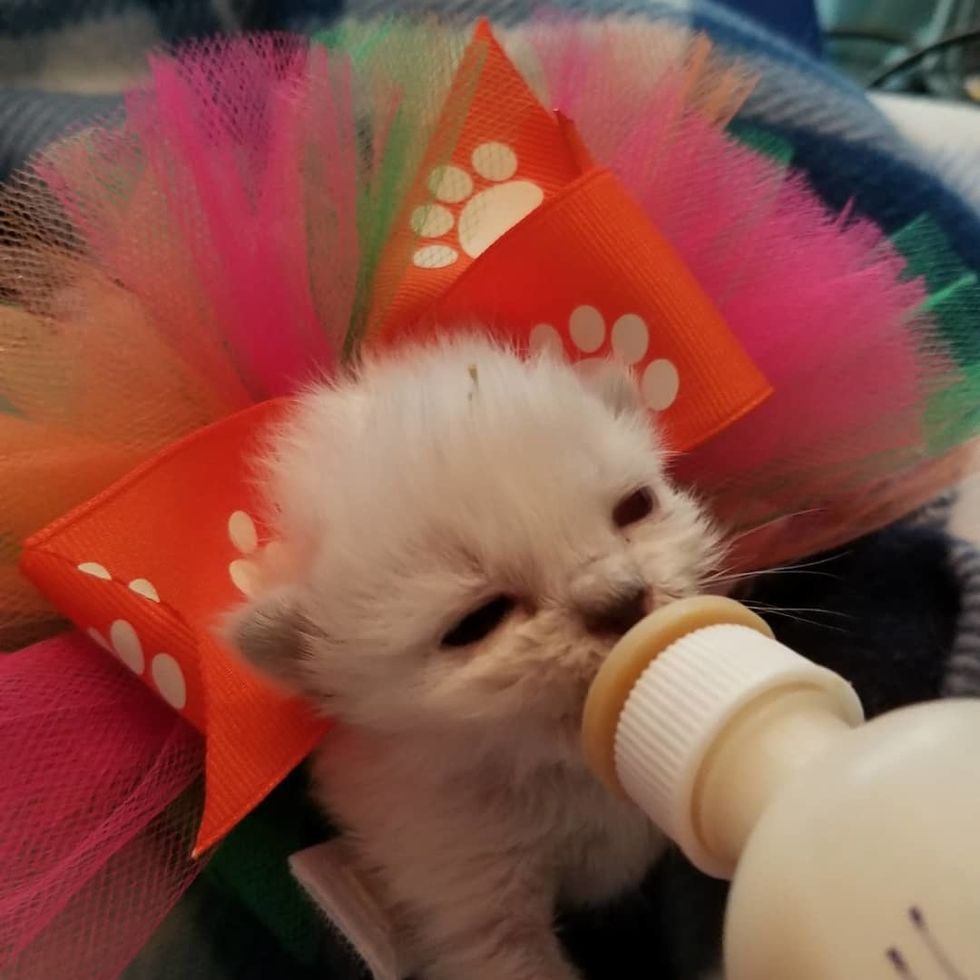 10 days old!Ellen Carozza LVT
Updates:
Guarding his feline baby!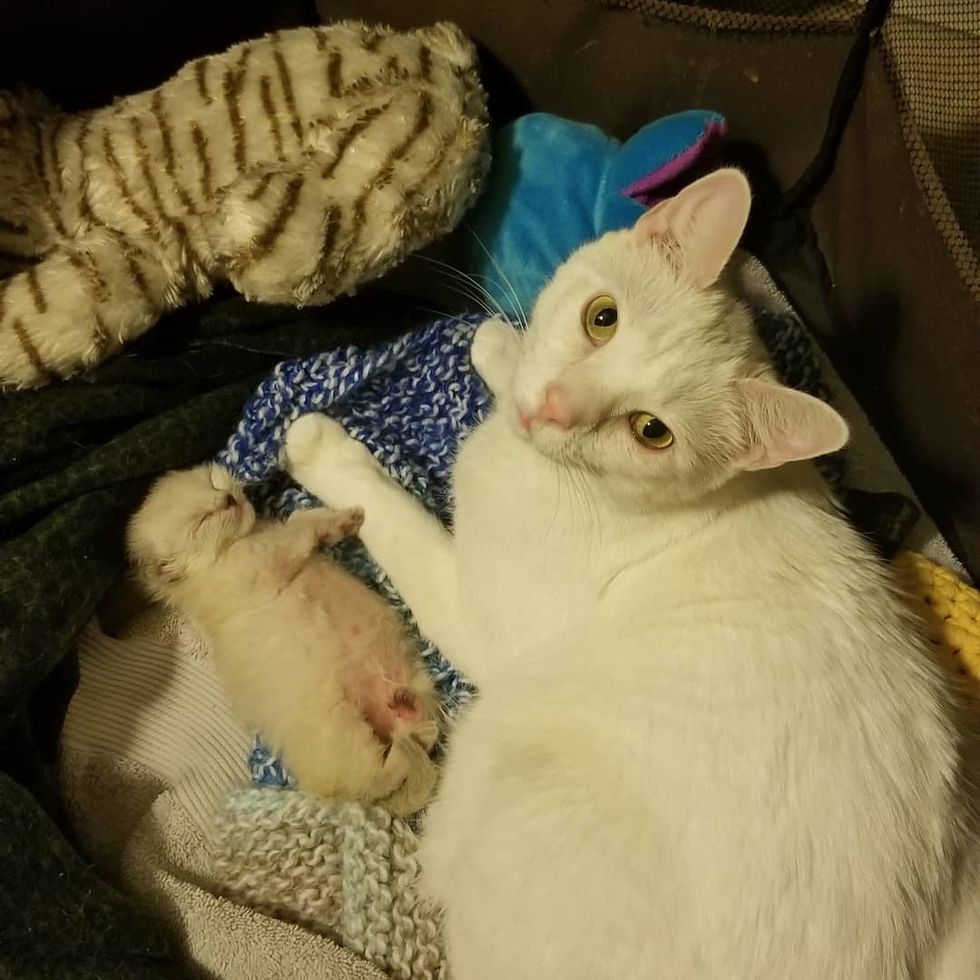 Ellen Carozza LVT
Snuggle time with Benny.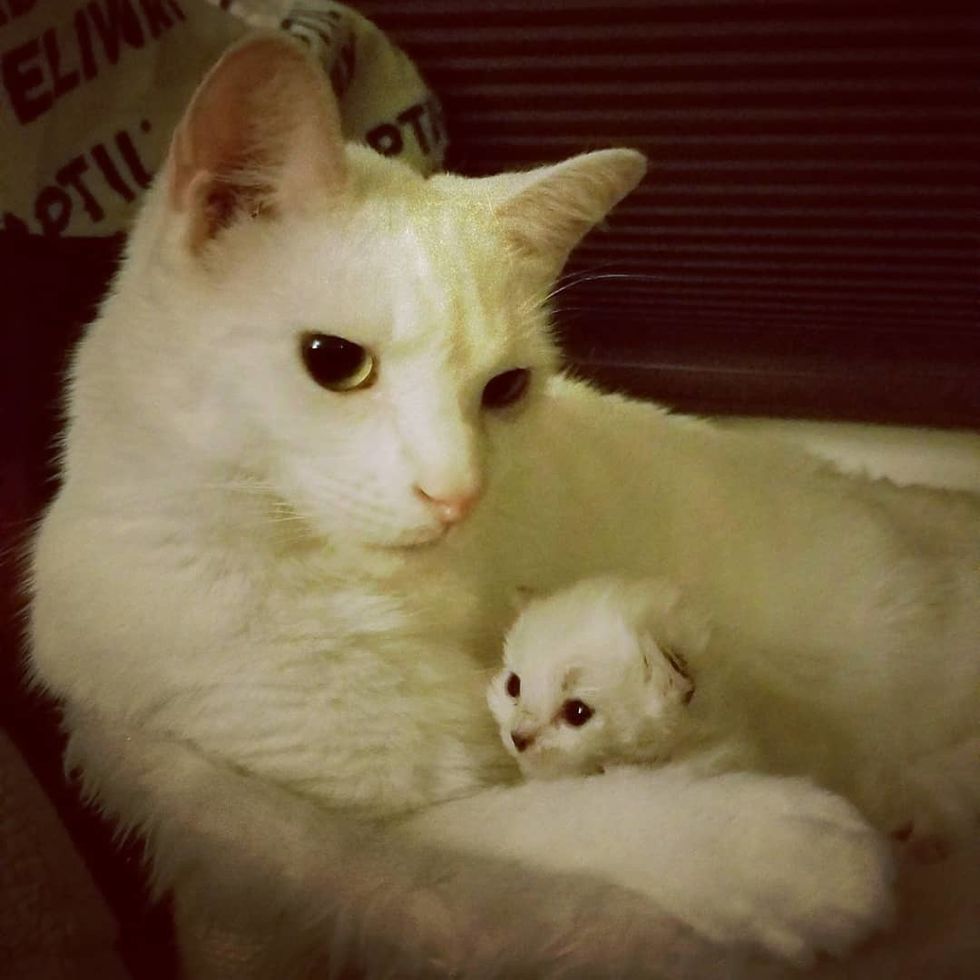 Ellen Carozza LVT
Proud surrogate dad!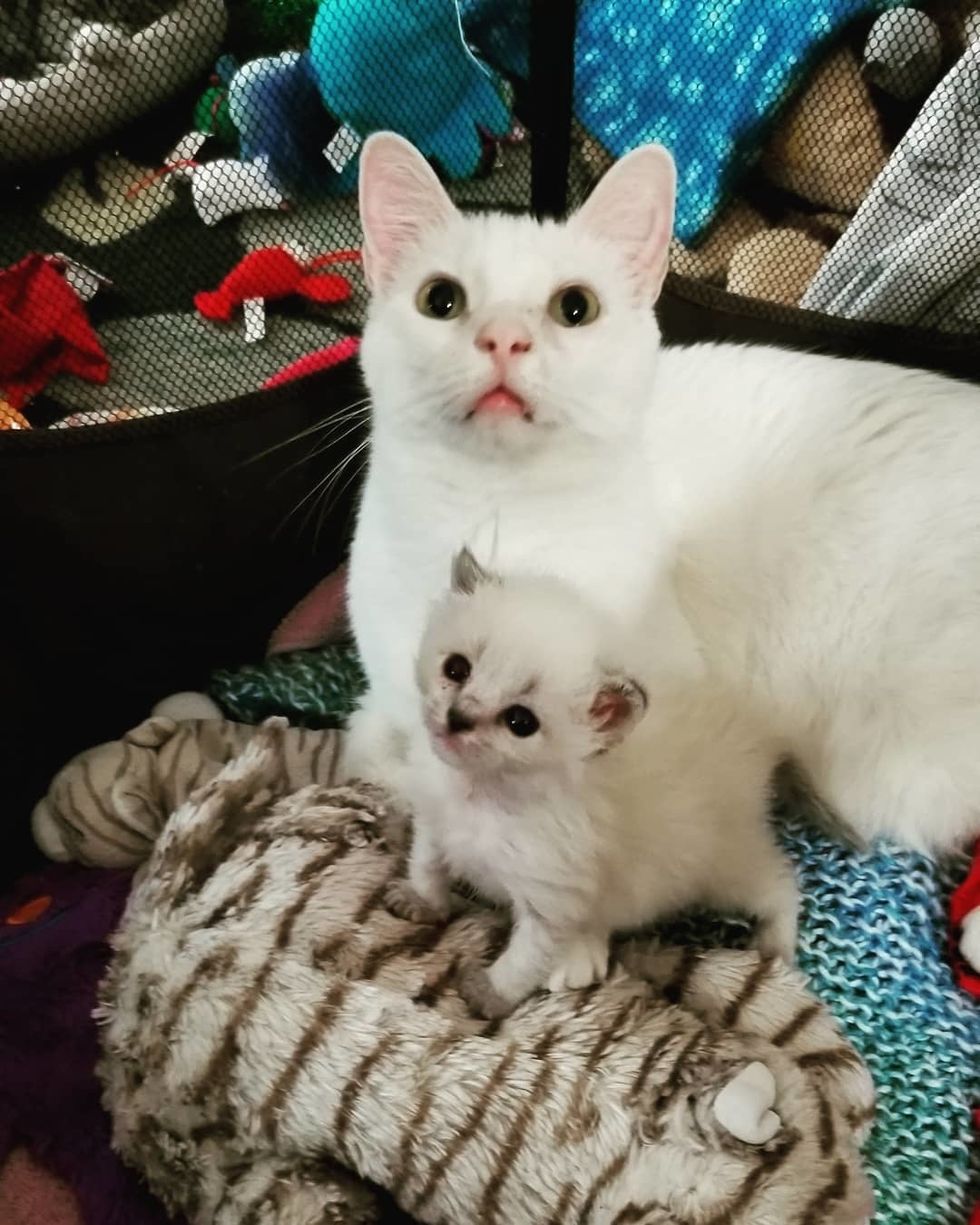 Ellen Carozza LVT
Sweet little Jubilee!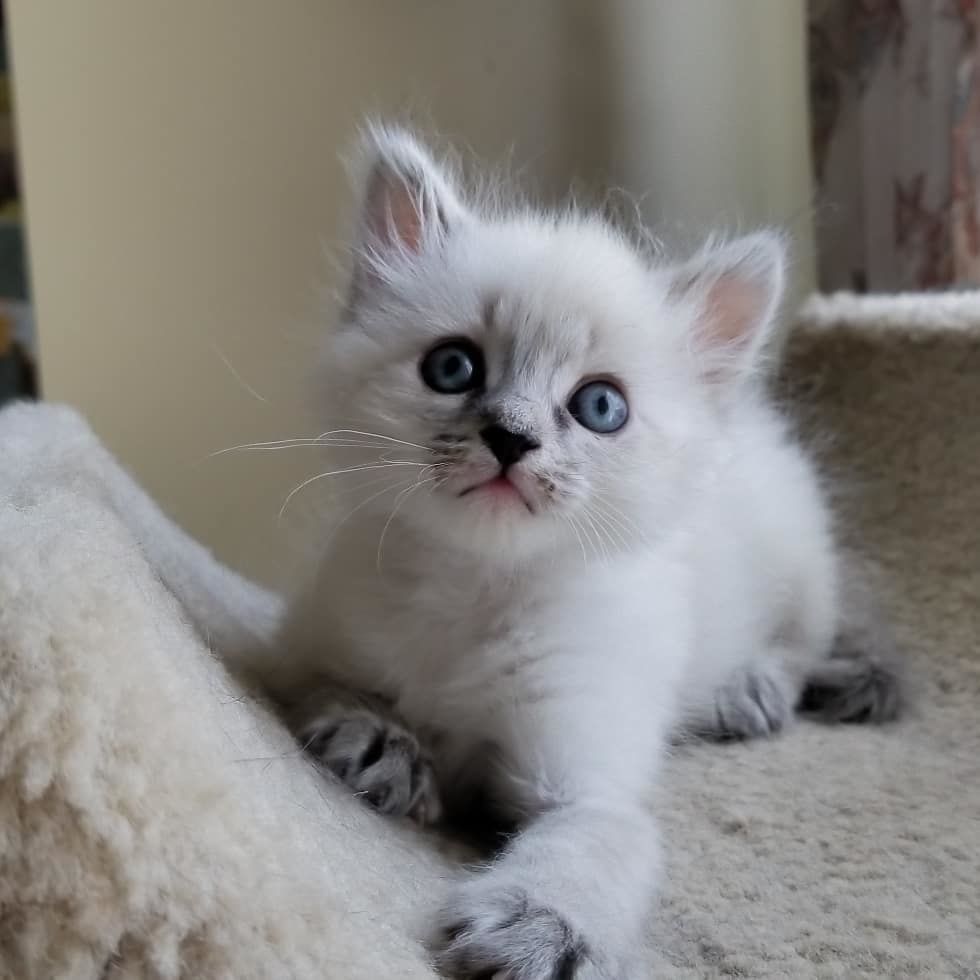 Ellen Carozza LVT
Follow Benny and Jubilee on Instagram @thecatlvt and Facebook. If you would like to support their rescue efforts, click here to see how you can help.

Watch their story in this video:
Share this story with your friends.

Related story: Male Cat Nurtures Two Rescue Kittens and Raises Them into Beautiful Cats