This sweet kitty was rescued after being attacked by dogs in Puerto Peñasco, Mexico. She had every reason to want to be away from any canines, but not only did she forgive, but she gave love to a tiny puppy who was a survivor herself.
Meet Gertrude!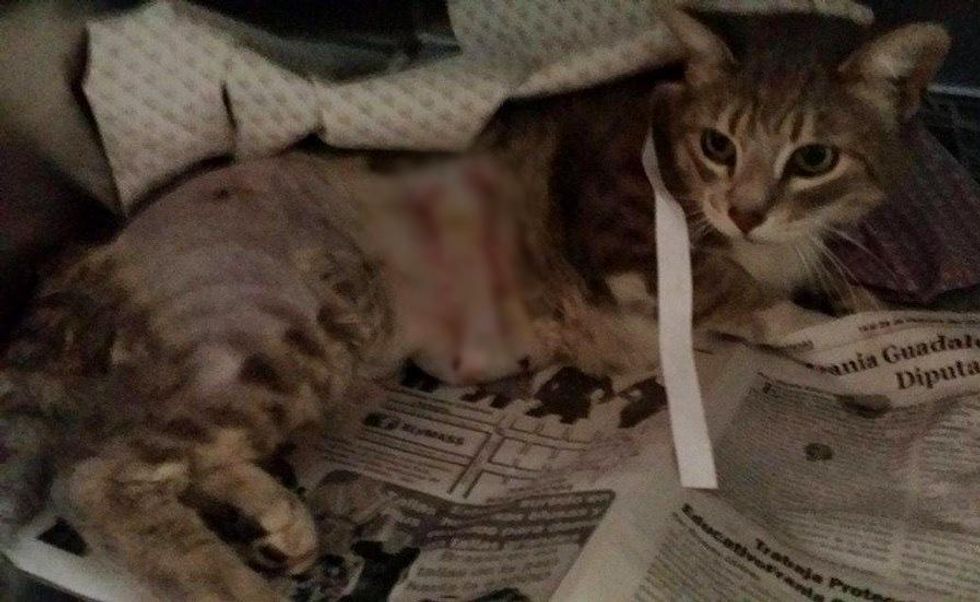 Compassion Without Borders
Gertrude was found by a good Samaritan who rushed her to Compassion Without Borders, an organization (in Santa Rosa, California) with a mission to rescue street dogs in Mexico.
The kitty had injuries so severe that she was taken to surgery immediately after they got her. To everyone's surprise, sweet Gertrude was pregnant but sadly lost her babies due to the attack. Gertrude hung on the whole time even though she was in bad shape.
The vet team worked together and saved her life. Though Gertrude was recovering every day, something was missing in her heart—her unborn kittens. A week after her surgery, a tiny motherless fur baby came to the clinic and helped fill the void in Gertrude's heart.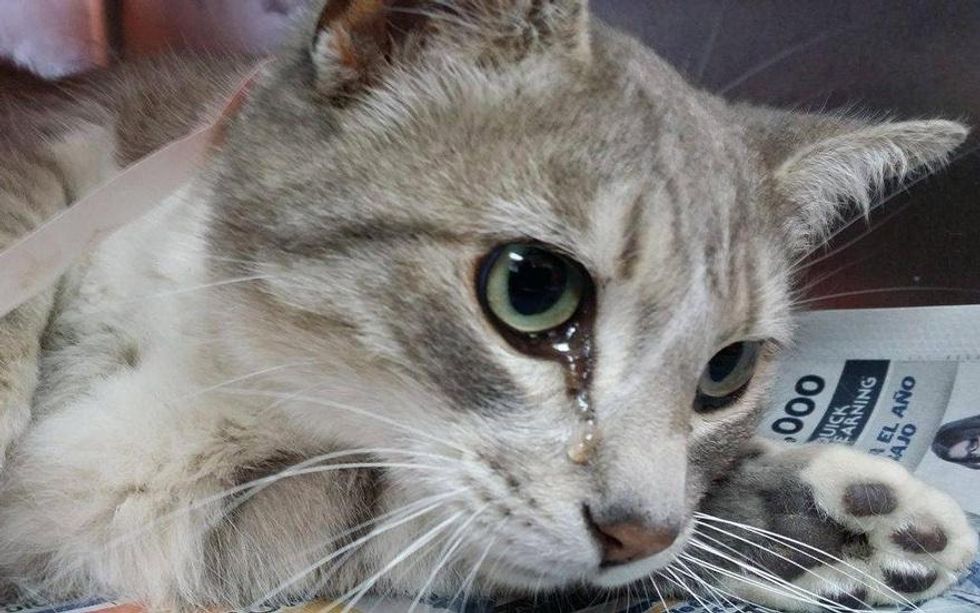 Compassion Without Borders
A little puppy named Clementine was brought to the rescue after she was abandoned at the clinic along with her three littermates. They were very sick without their mother. Though the clinic tried everything they could, the tiny puppy was the only one that survived, but every day she was looking for companionship and motherly love and warmth.
When the clinic manager, Claudia, was walking by Gertrude's cage with the tiny puppy in her arms, sweet Gertrude reacted in a way that they'd never expected.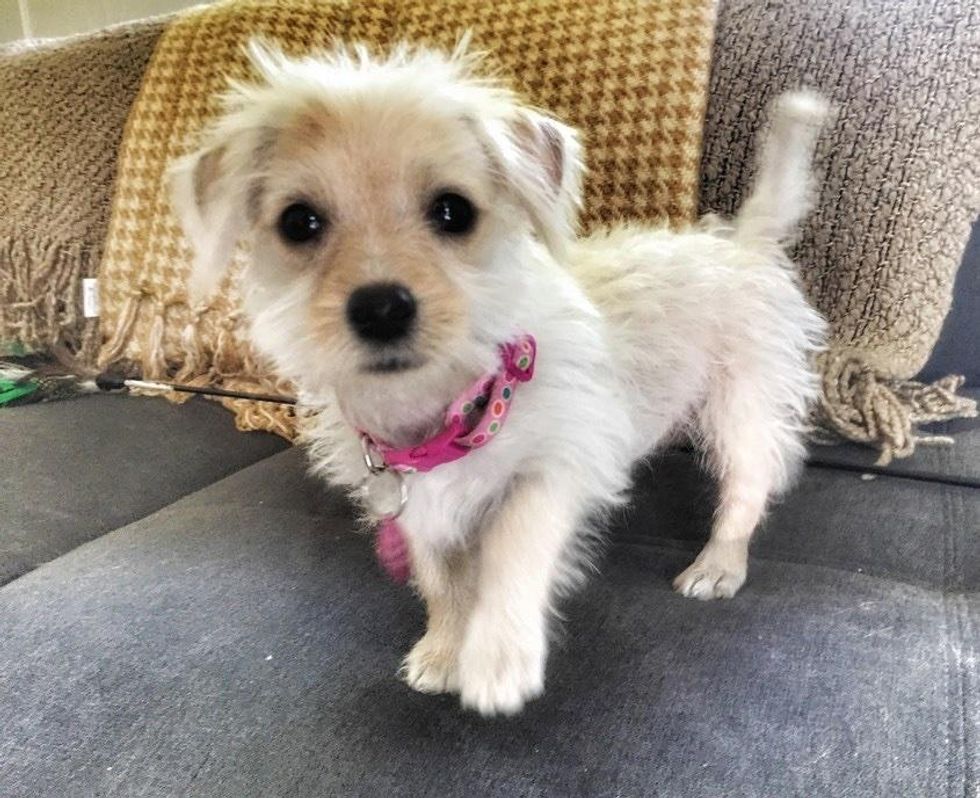 Compassion Without Borders
"Gertrude would approach the front of the cage and started chirping. She would also kind of head butt and press against the cage" Christi Camblor, cofounder of Compassion Without Borders, told thedodo.
Mama cats often chirp to their kittens as a way to communicate. It was apparent that Gertrude's motherly instinct kicked in when she saw the little puppy.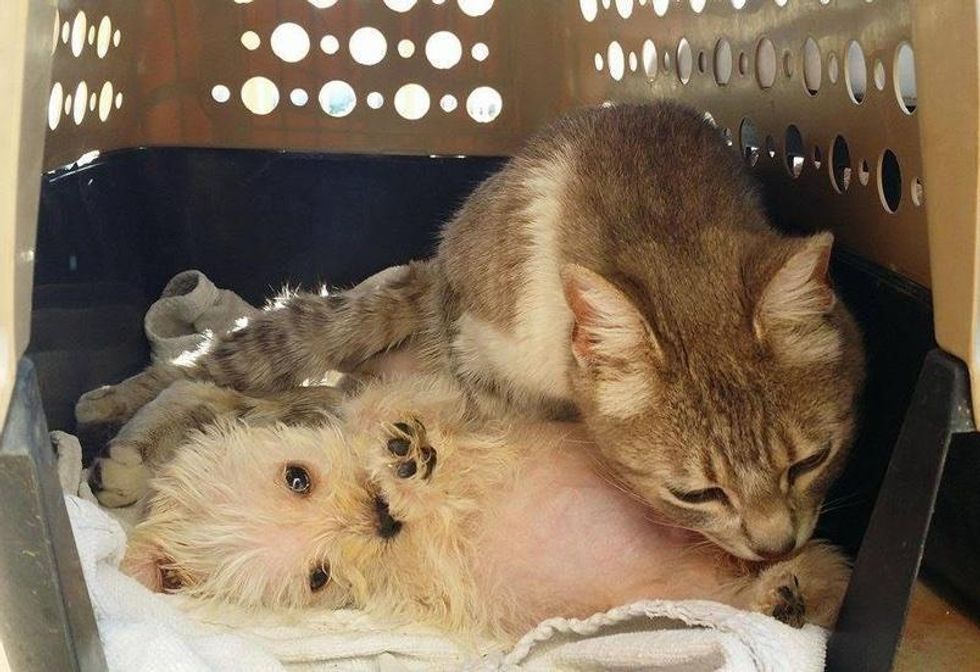 Compassion Without Borders
Since Clementine needed a mother, they decided to carefully introduce them. The two instantly bonded. Gertrude would bathe her puppy and care for her like a mother would, and Clementine would snuggle up to her new mama for that much-needed TLC.
Sweet Gertrude purrs up a storm with her pup by her side. She has never been this happy before. Having her puppy has lit up her world and little Clementine loves her surrogate mom and doesn't want to go anywhere without her.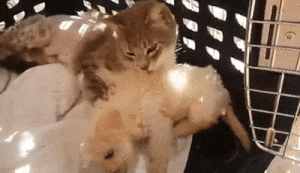 Compassion Without Borders
A couple weeks after they met, they moved into a foster home where they would be cared for until they are ready for adoption. The two are completely inseparable. Pup Clementine likes to curl up in mama Gertrude's arms when they nap.
Gertrude is doing a wonderful job keeping her baby cleaned and warm. It makes a world of difference to have a surrogate mother for an orphaned puppy. Gertrude doesn't mind little Clementine's rough puppy play and loves her unconditionally.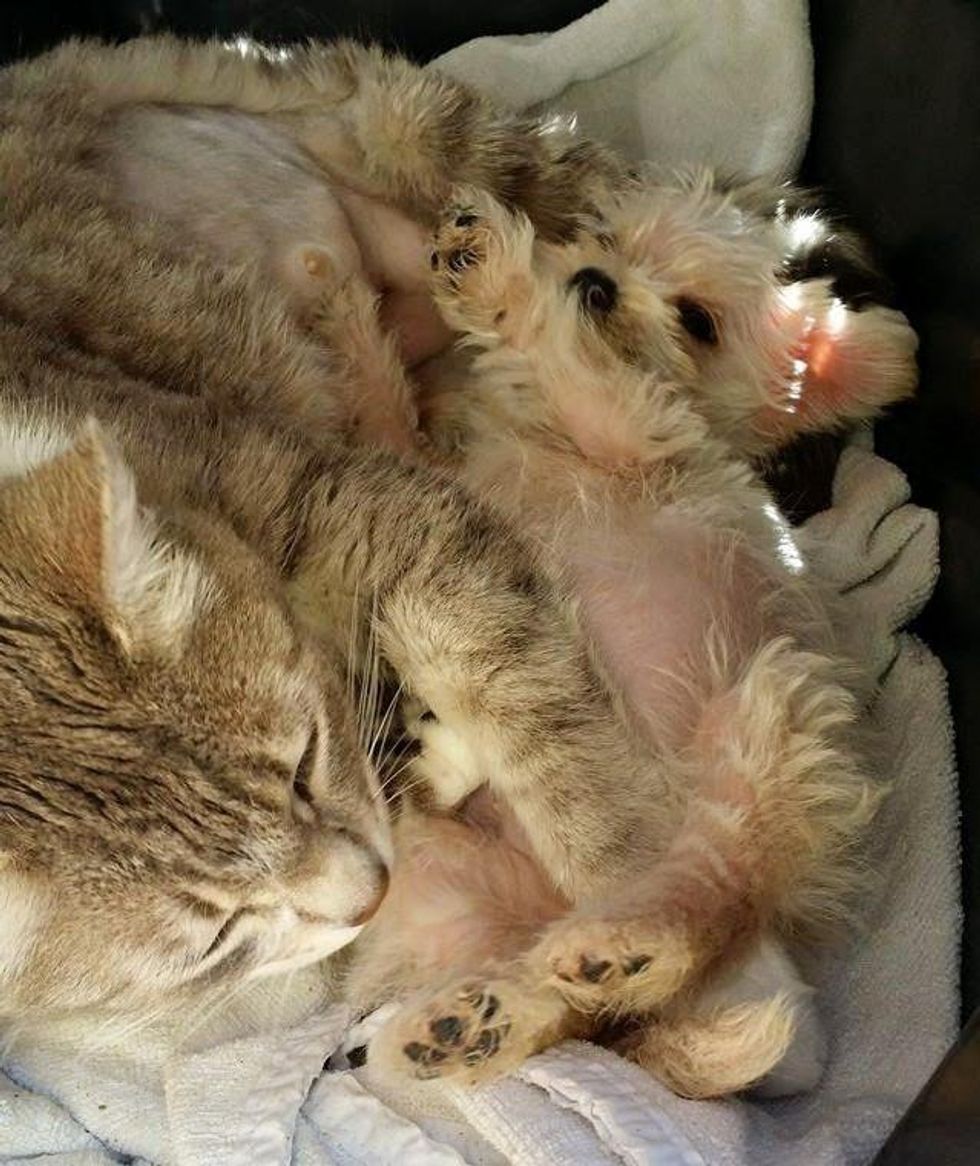 Compassion Without Borders
The two can't stand being away from each other. Mama Gertrude cries if her baby is away, and Clementine whines and whimpers whenever Gertrude is out of her sight.
"I think the whole thing is surprising. Even if she [Gertrude] hadn't been attacked by dogs, I personally, in all my years of rescue, haven't seen that kind of interspecies connection before," Christi told the dodo.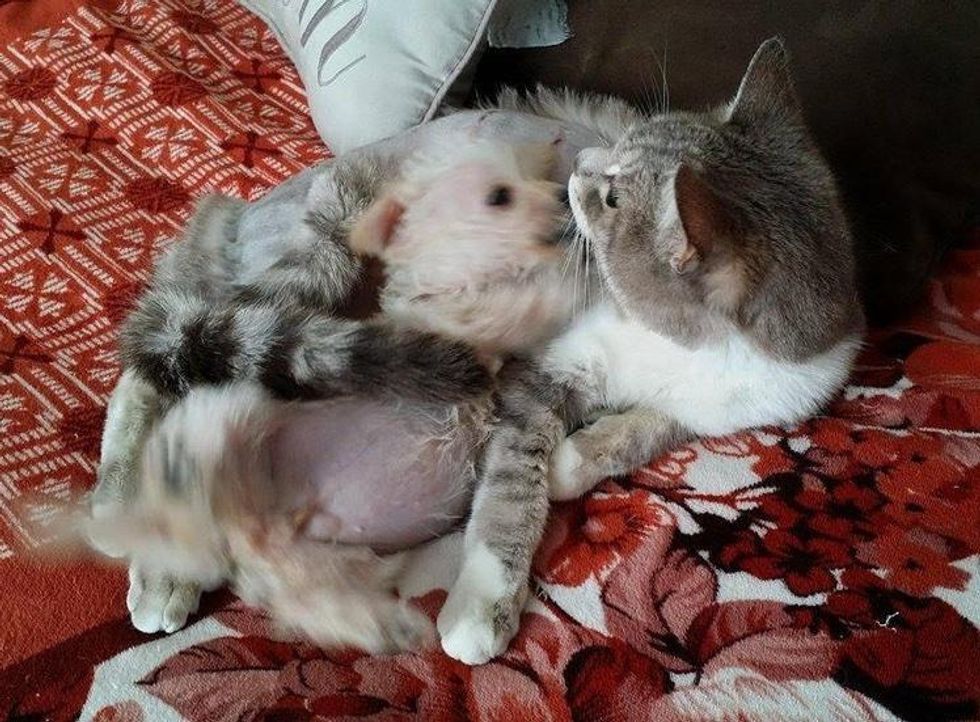 Compassion Without Borders
They are hoping to find a loving home that will adopt both together.
"We're going to try and see if there's anyone who'd be willing to open their home to both of these guys. We're hoping the right people will step forward who will be able to offer a cat and a puppy a home."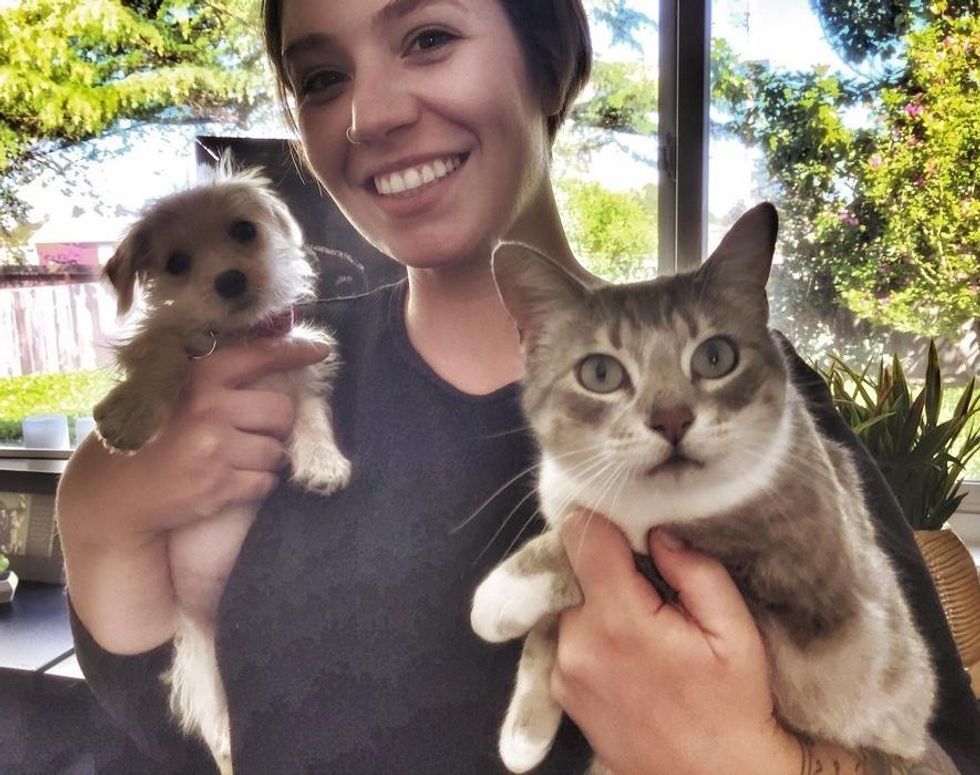 Compassion Without Borders
Gertrude and Clementine found each other and found love, and now they are family for life!
Watch this adorable pair in this video:
Share this story with your friends. If you are interested in adopting both mama Gertrude and Clementine, you can contact CWB here. If you would like to support their rescue efforts, click here to see how you can help. Follow Compassion Without Borders on Facebook. (h/t: thedodo)
Related story: Husky Dog Mothers Rescue Kitten and Raises Her Like a Pup