A cat with twisted legs and crossed eyes lived half of her life in a small cage, but a woman took a chance on her and turned her life around.
Meet Belle the cat!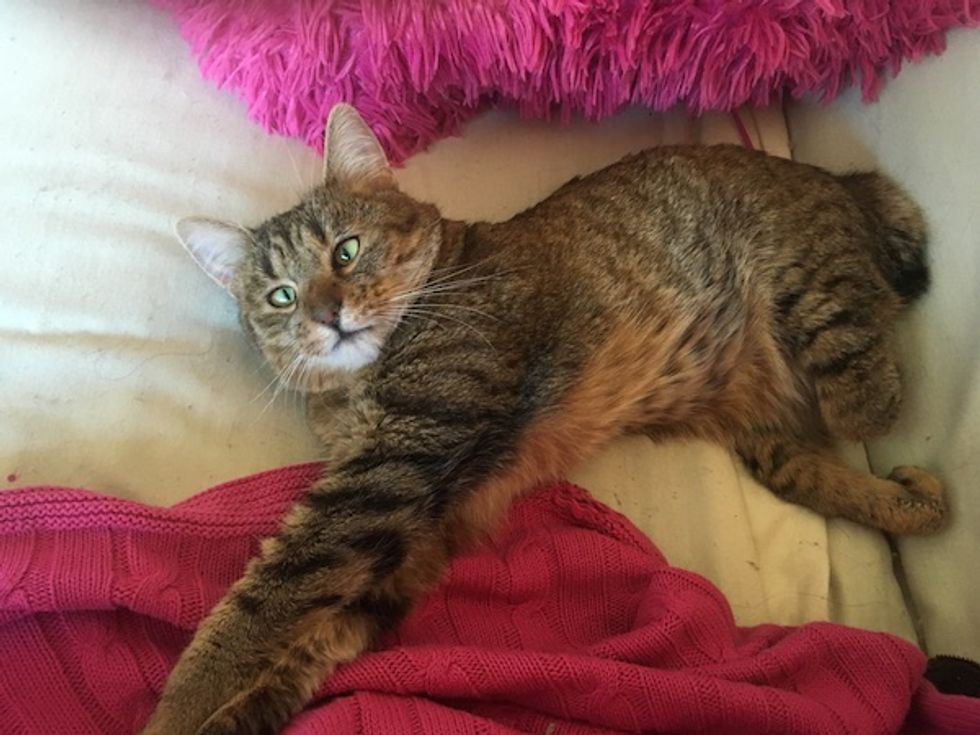 Courtesy: @starcairobelle
Elizabeth Rizki had always wanted to adopt a special needs cat. She had two Persian cats rescued from Egypt via Specialty Purebred Cat Rescue (SPCR) in IL/WI, and she knew her next addition to the family would be a special fur child.

"I had reconstructive knee surgery as a child so I wanted to help an animal with orthopedics issues," Elizabeth shares with Love Meow.
Before she found Belle, the sweet tabby girl was living a sad, confined life along with her sister who also has a disability. "She and her sister were being bullied by the other cats. So, sadly, the man who had her and her sister kept both of them in one small cage for the first six months of their life."
Belle has Twisted Leg Syndrome, a birth defect. Both sisters were later saved and taken in by SPCR. "Her sister was adopted quickly but Belle received no applications for four months."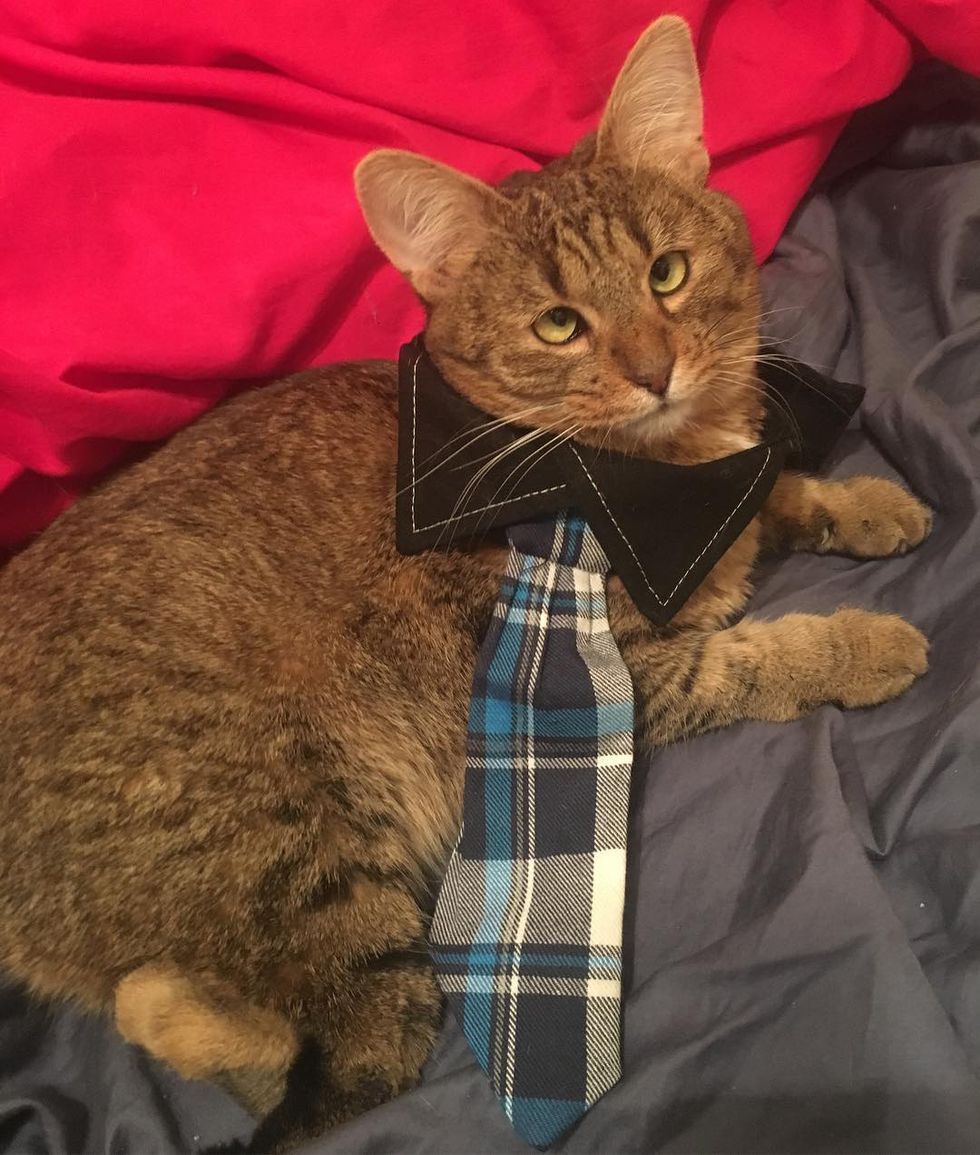 Courtesy: @starcairobelle
When Elizabeth saw a video of Belle on Facebook, she was smitten. "I immediately fell in love. She looked up with her little cross eyes, cocked her head and brought a ball to foster mom in her mouth," she shares with Love Meow.
She knew right away that Belle was the one.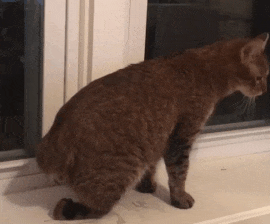 Courtesy: @starcairobelle
On the day of Belle's adoption, the affectionate furry gal never got to use her carrier. "She ended up sitting on my lap the whole ride home snuggled up next to me."

For the first time, Belle felt completely loved. She couldn't stop cuddling with her new human mom and purring up a storm. After living in a cage most of her life, the sweet kitty finally had her dream come true.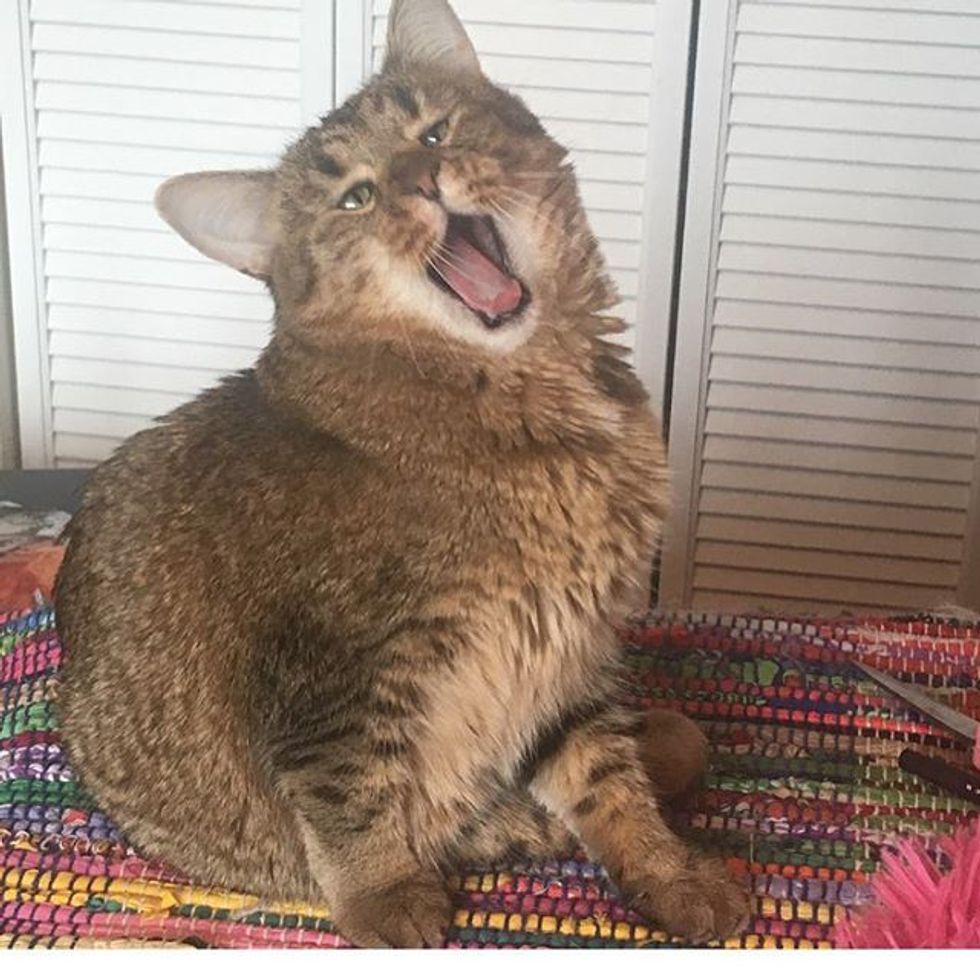 Courtesy: @starcairobelle
Belle is quite an inspiration. She cannot jump like other cats, but that doesn't stop her from climbing on anything that she can stick her claws into.
"She will literally climb up the side of my queen sized bed that is on risers," Elizabeth says. "One day I heard a lot of noise, walked over to the cat tree and there she was sitting in the top looking up at me with her innocent cross eyes!"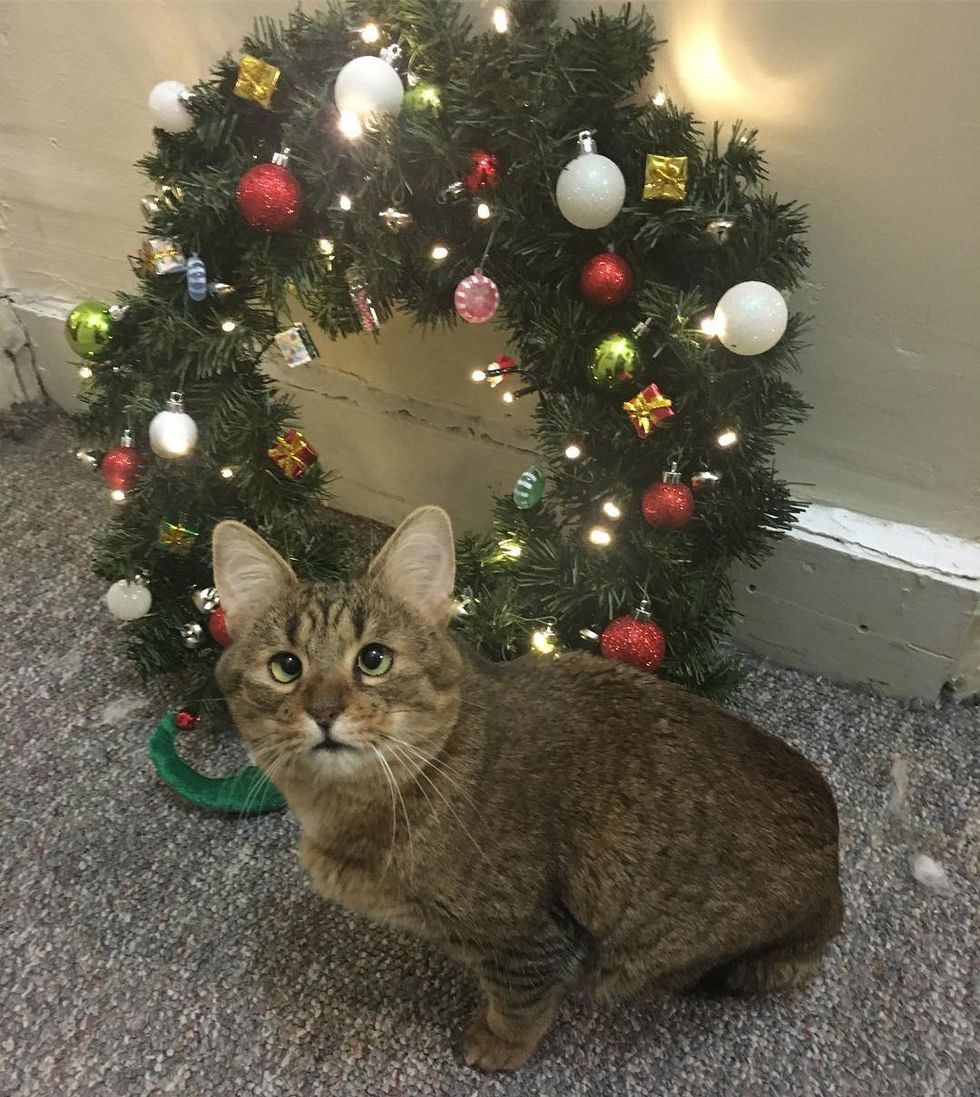 Belle's first Christmas!Courtesy: @starcairobelle
When Belle walks, she waddles by using her hips to pick up her legs. "I describe it as swimming or waddling across the floor. When she runs her back legs go up in the air."
Belle is half the size of Elizabeth's Persian cats. "She is 5 pounds of complete awesomeness- affectionate, playful, laid back, smart, attention hound, feisty and adorable. She is one of the funniest cats I know," she shares with Love Meow.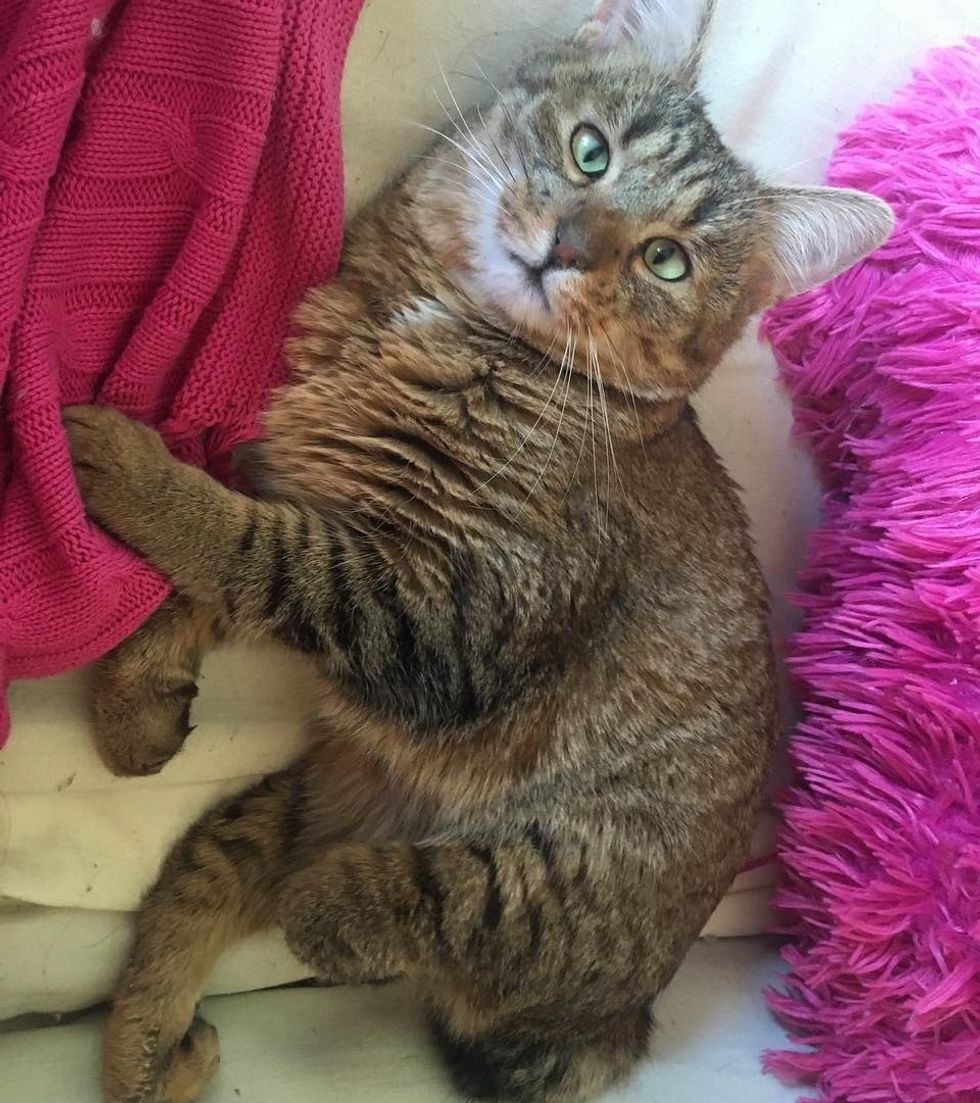 Courtesy: @starcairobelle
"My two Persians are each 11 pounds and even though she is 5 pounds, she acts like she's 20 pounds. She will chase them across the room and she will quietly sit in her paper bag and jump out of them so they become startled."
Belle is extremely playful and nothing can slow her down. "Her favorite toy is a laser pointer and I don't think she can get sick of the laser pointer. If she is hiding somewhere in the house, when I shake the cup that has a laser pointer she comes running as fast as she can."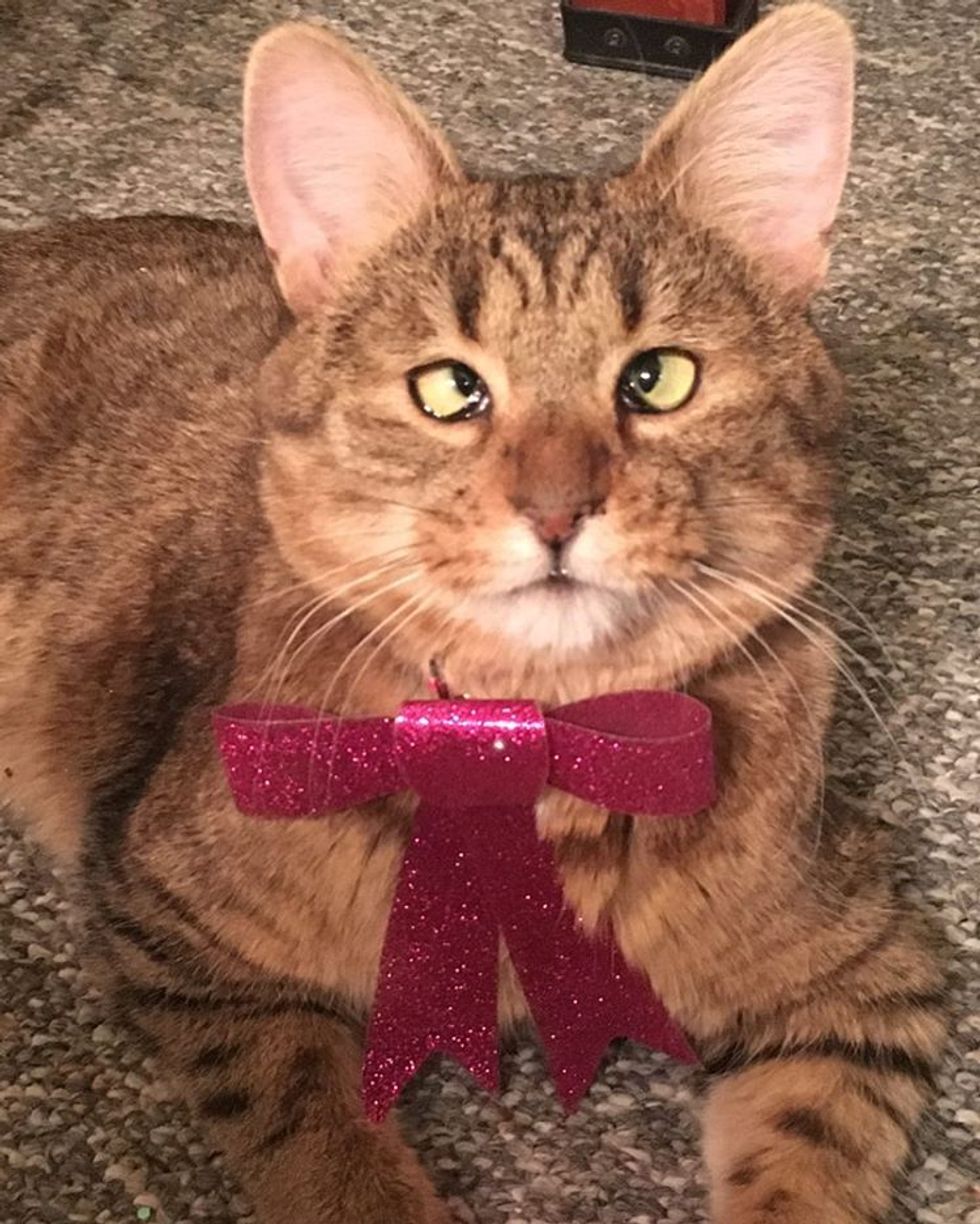 Courtesy: @starcairobelle
But most of all, she's a lovebug with a big heart!
"At 9:00 PM on the dot every night, she comes to snuggle. If I am not sitting down, she does this little weird type of meow not it's a mix between a meow and purr.
"Whenever I lay down in the bed sheet immediately climbed the bed and lay with me. She loves tummy rubs and loves nose scratches. She has the loudest purr!"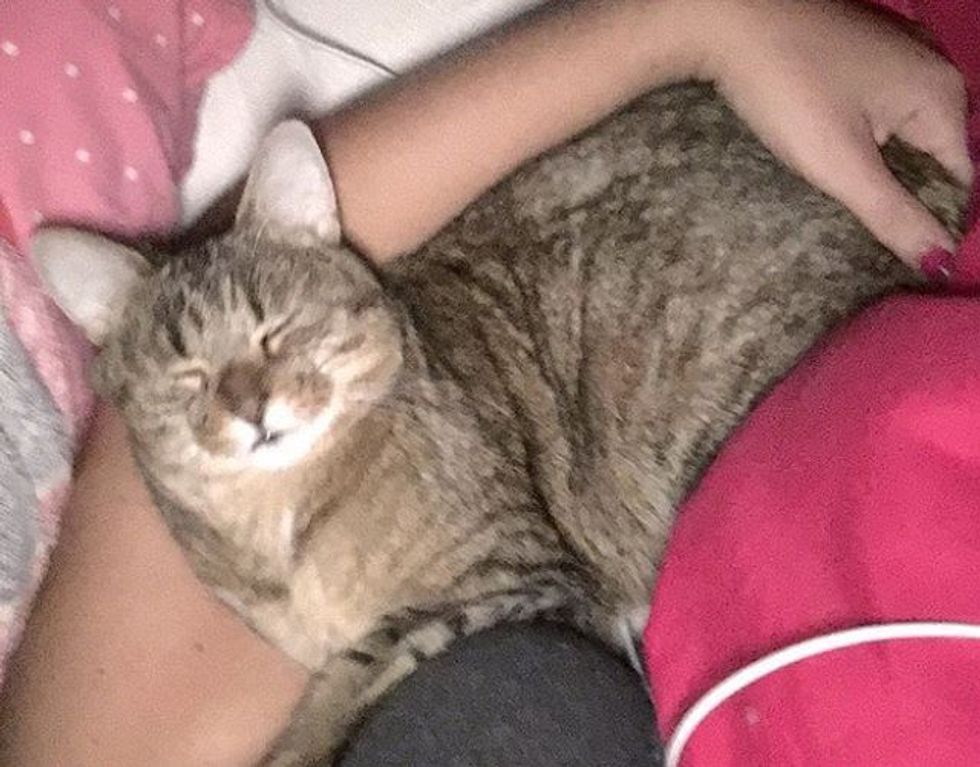 Courtesy: @starcairobelle
Belle loves to play in the tub!
She is crazy about the red dot!
Belle is living her life to the fullest, and she's the happiest she's ever been. What a difference a second chance can do!

Share this story with your friends. Follow Belle the cat on Instagram.
Related story: Woman Saves Blind Kitten with 'Backwards' Legs and Turns Her Life Around