A senior cat that had been missing for 2 1/2 years was reunited with his family after they found his pictures on a shelter's Facebook page.
Meet Jimmy!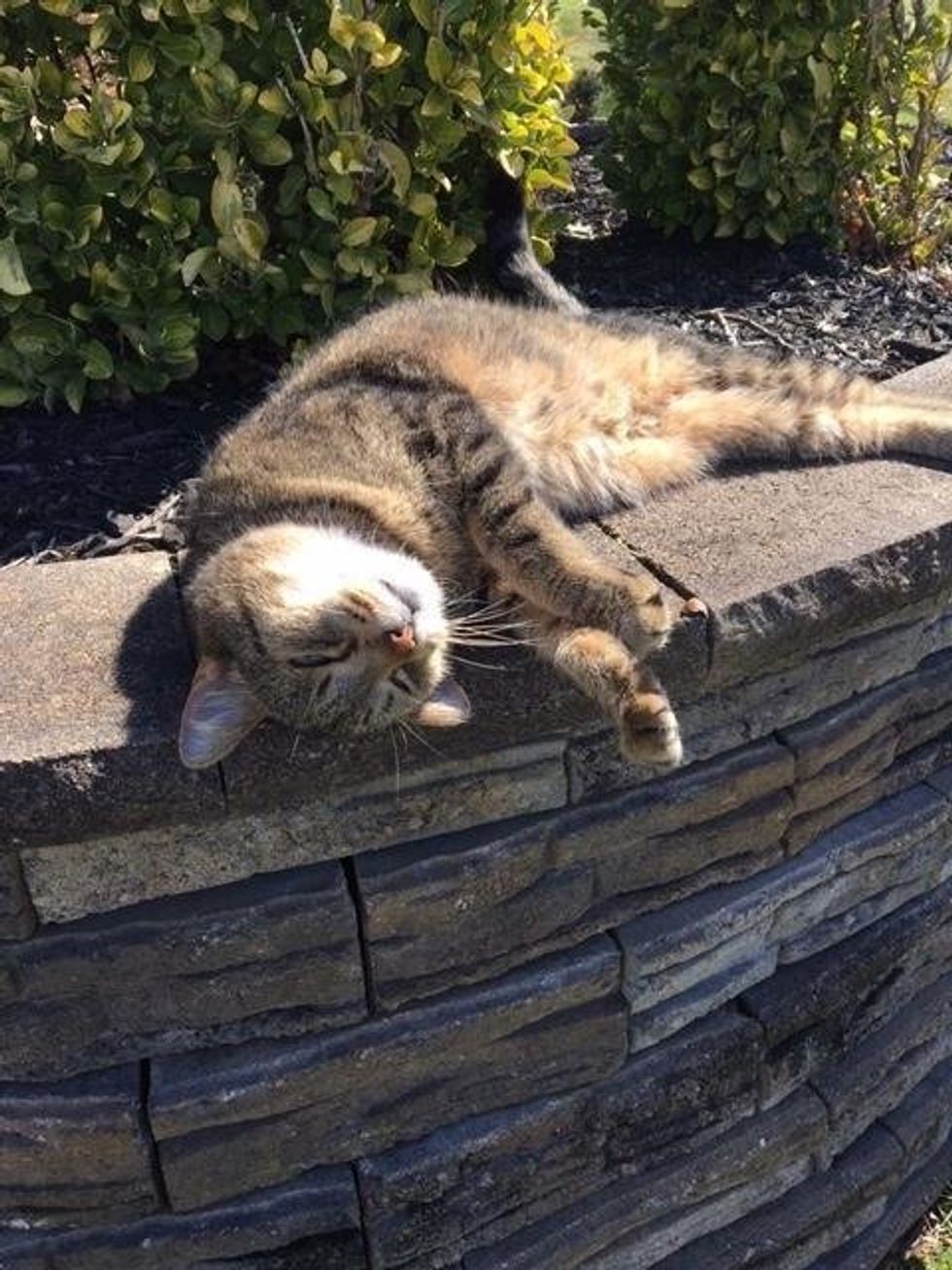 Sue Zelitsky
The 15-year-old tabby cat was rescued and brought to West Milford Animal Shelter (in West Milford, New Jersey) on March 17. One of the volunteers saw him that night and wanted to help get him to a good home soon.
"Jimmy was picked up not far from West Milford Animal Shelter and brought in as a stray after the blizzard," RC of The Real Cats at West Milford Animal Shelter told Love Meow.
They created a Facebook post for Jimmy and decided to boost it--paid to have it show up in the news feed of people in the area that have specific interests. "The post received 26,636 views and 581 shares."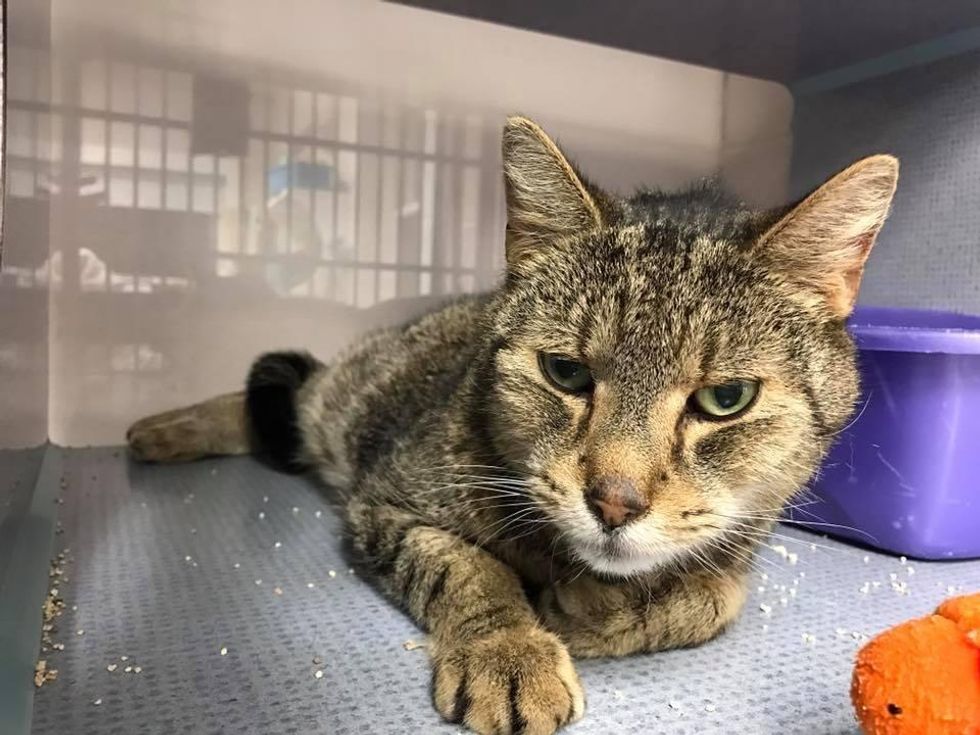 West Milford Animal Shelter
On March 21, they got a comment from Susan Zelitsky of Wanaque, who told the rescue group that the cat in question looked just like their beloved tiger who had been missing for two and a half years.

After exchanging a few messages, they arranged to have the family come in the next day to meet the cat. The family brought items (a pillowcase and dog toy that Jimmy had used for years) from home to see if the kitty would recognize the scent. The tabby boy's reaction to them was amazing!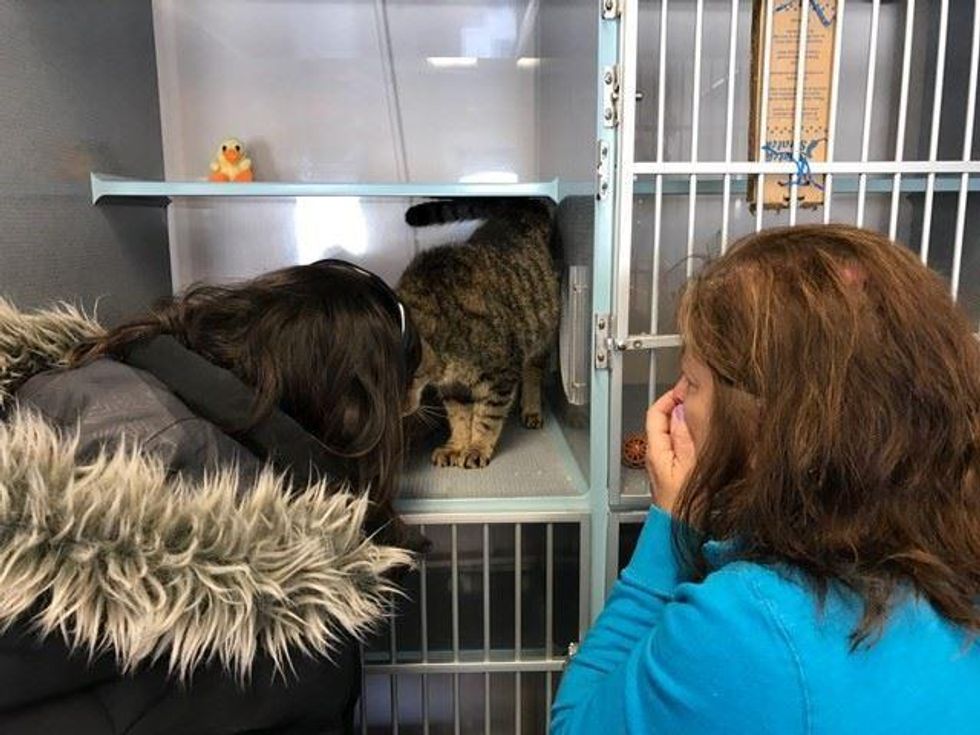 West Milford Animal Shelter
"When they opened the crate door, I said, 'Jimmy is that you, bud?' and he walked over and head-butted me and smooshed his nose into the dog's toy," she told North Jersey.
"I immediately started to sob. He started to rub up against us, and when I was rubbing his belly he nipped me, which he always did. He put his head in Dayna's hands and he started to purr loudly."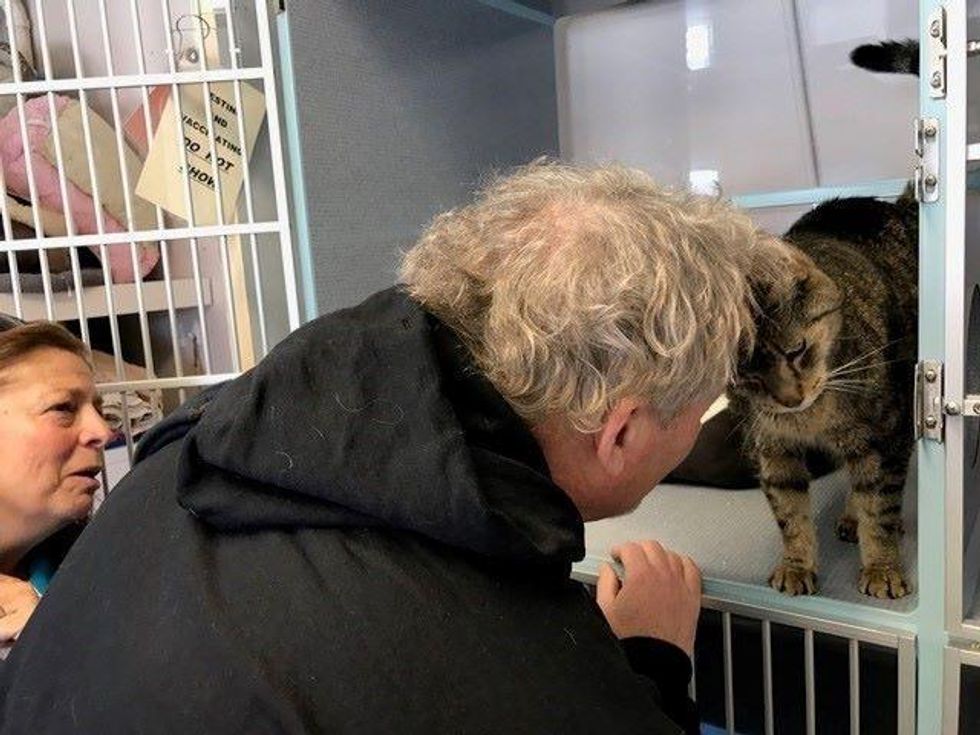 West Milford Animal Shelter
Susan's husband Bob, who was Jimmy's best friend, came later that day. "Her husband immediately said "that's my boy" and of course everyone was crying very happy tears!"
"Jimmy knew his family. He got up and gave them head bonks and rolled on his back. Especially as soon as he saw his dad," RC told Love Meow.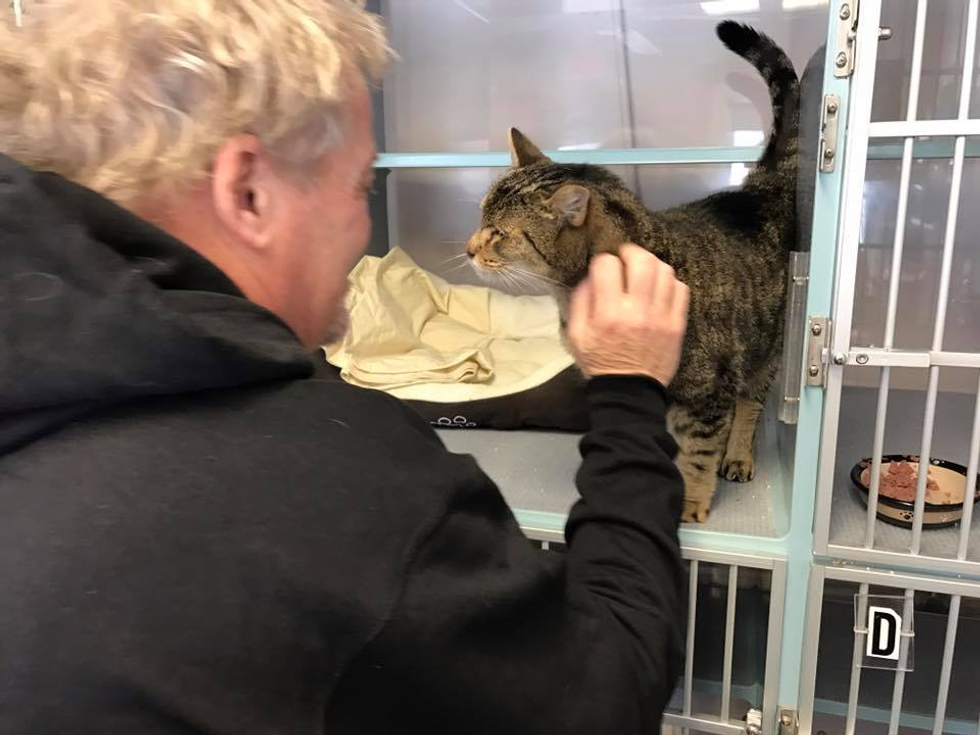 West Milford Animal Shelter
"He went missing the day someone in the family went to visit other friends in High Crest. At the time her cat would jump into the cars in the driveway and sleep in them- they think he must have hitched a ride to High Crest and been making friends there this whole time."
The sweet senior cat gave his family and their neighbor (whom he adored) headbutts.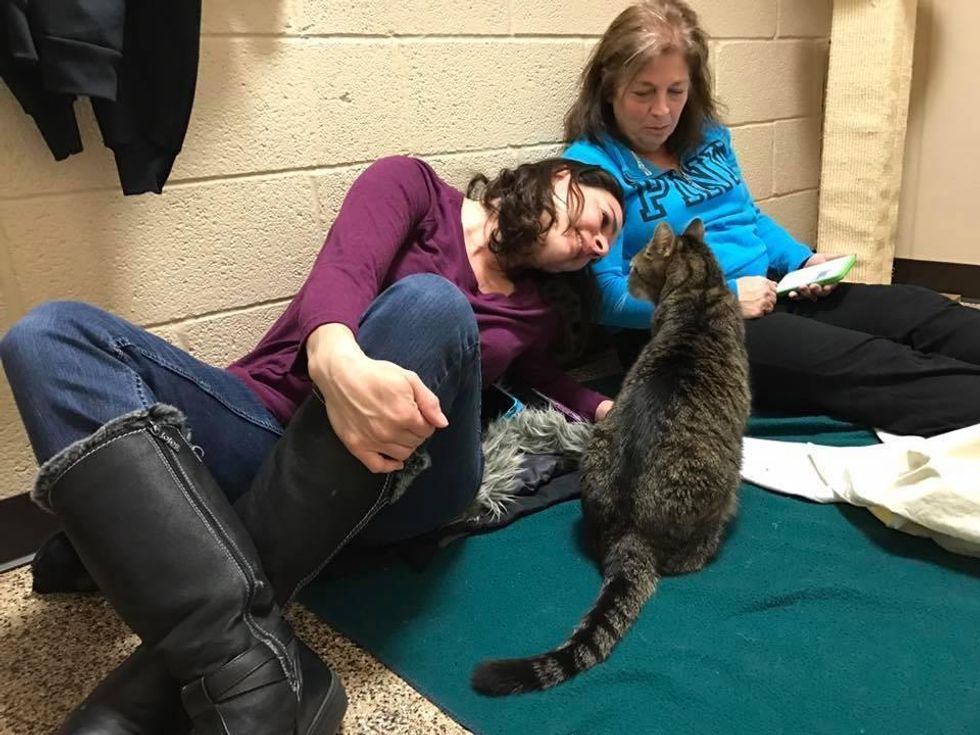 West Milford Animal Shelter
Jimmy went home that night with his family and they were all overjoyed.
"After 2 1/2 years our boy Jimmy has been found. A little frail a little tired a little lighter coat but he's home and we are over the moon," Susan said.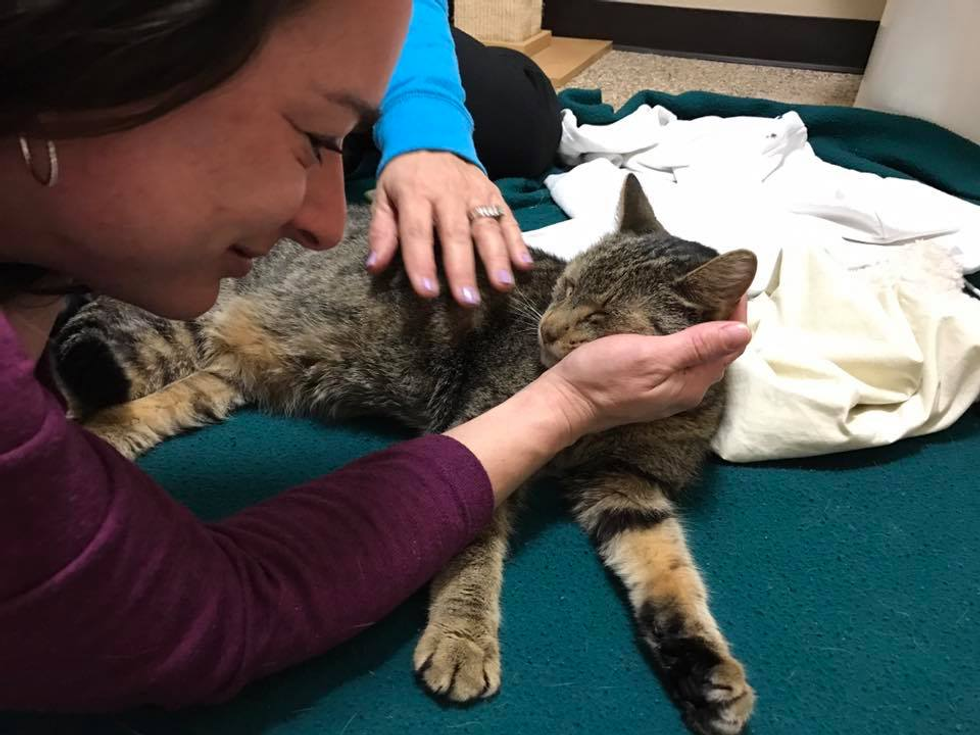 West Milford Animal Shelter
The tabby cat is 15 years old now, and he is so happy to be back with is family.
When their younger daughter came home, she couldn't believe her eyes! "He immediately rolled over for belly rubs, and she cried and cried," Susan said. "Life is great for all of us."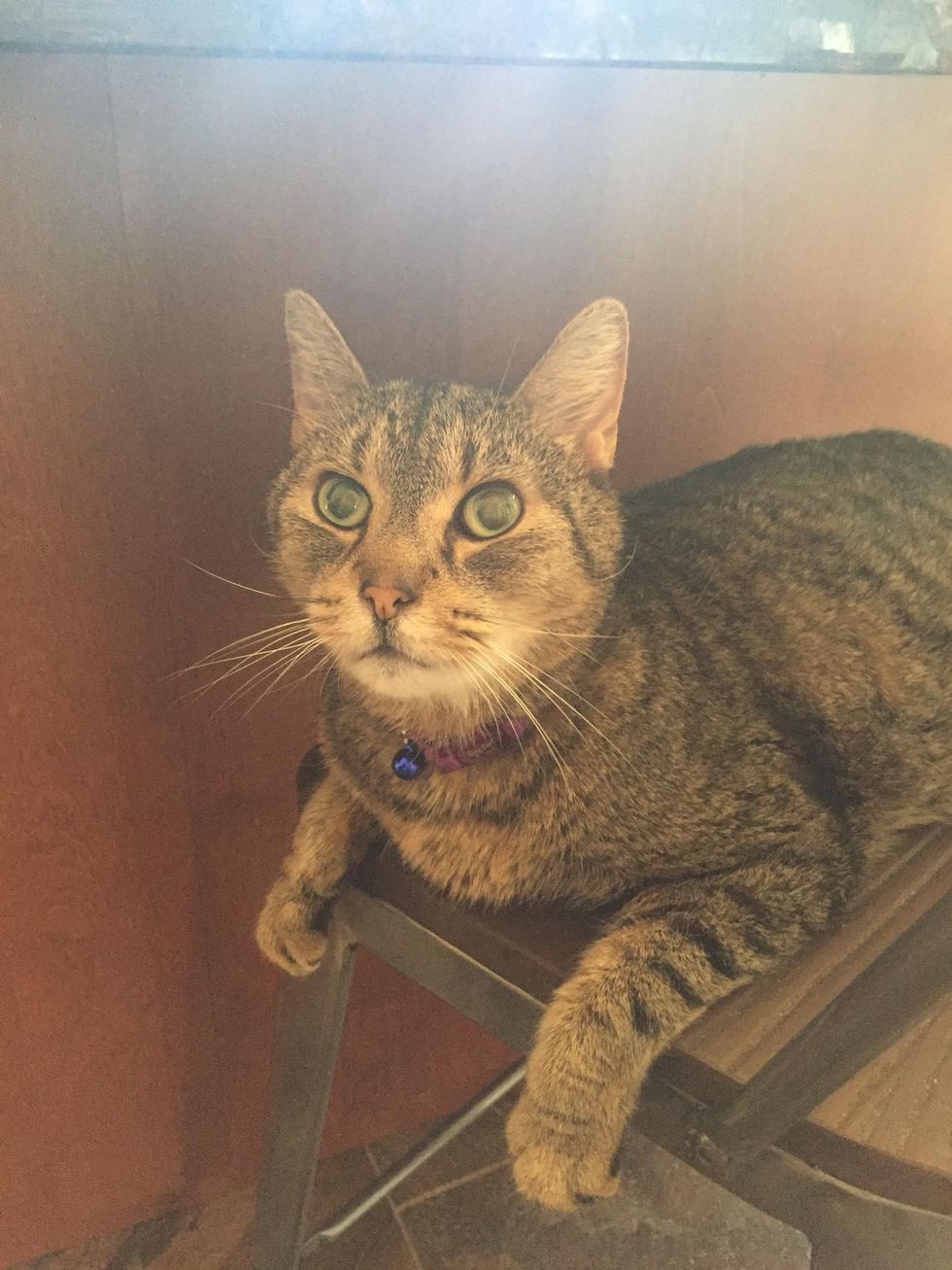 West Milford Animal Shelter
Share this story with your friends. If you would like to support their rescue efforts, click here to see how you can help. Follow The Real Cats at West Milford Animal Shelter on Facebook.
Related story: After 15 Months, Missing Cat is Found on River, Two Men Go to the Rescue