Firefighter Dave Thompson was reunited with his missing cat Salem after he went to deal with a garage fire that was half a mile from his home. Salem was standing in the street when he found him.
"We went out earlier this week to deal with a garage fire at a property in Armstrong Way, about five streets away from my home - perhaps half a mile away. The garage was badly damaged. As we were leaving, I saw two cats in the street and realized one of them was Salem. He didn't want me to pick him up - I was black from the smoke of the fire and I don't think he recognised me. We got him in the fire engine and went round to my house and handed him to my wife. She was hysterical - overjoyed. She was in tears to have him back," said Dave.
Salem is a rescue cat they adopted from Blue Cross when he was about two months old. "He went missing last Friday. We searched everywhere and put out a hand reds flyers and put posters up, and contacted the RSPCA and Cat Protection but couldn't find him anywhere."
Then on the day of the garage fire, Salem's distinctive collar caught his eyes and he knew he finally found his beloved cat.
Firefighter Dave Thompson found his lost cat, Salem, when he was called to a garage fire in Rawcliffe, York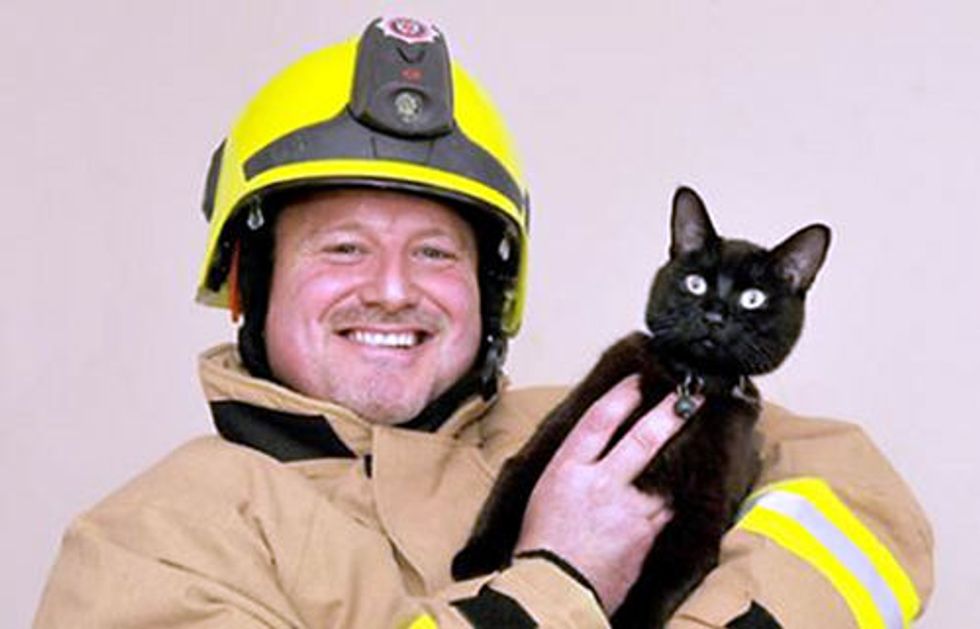 Source: York Press