A geologist was leaving camp when he heard a little meow. A tiny kitten ran right up to him for a cuddle.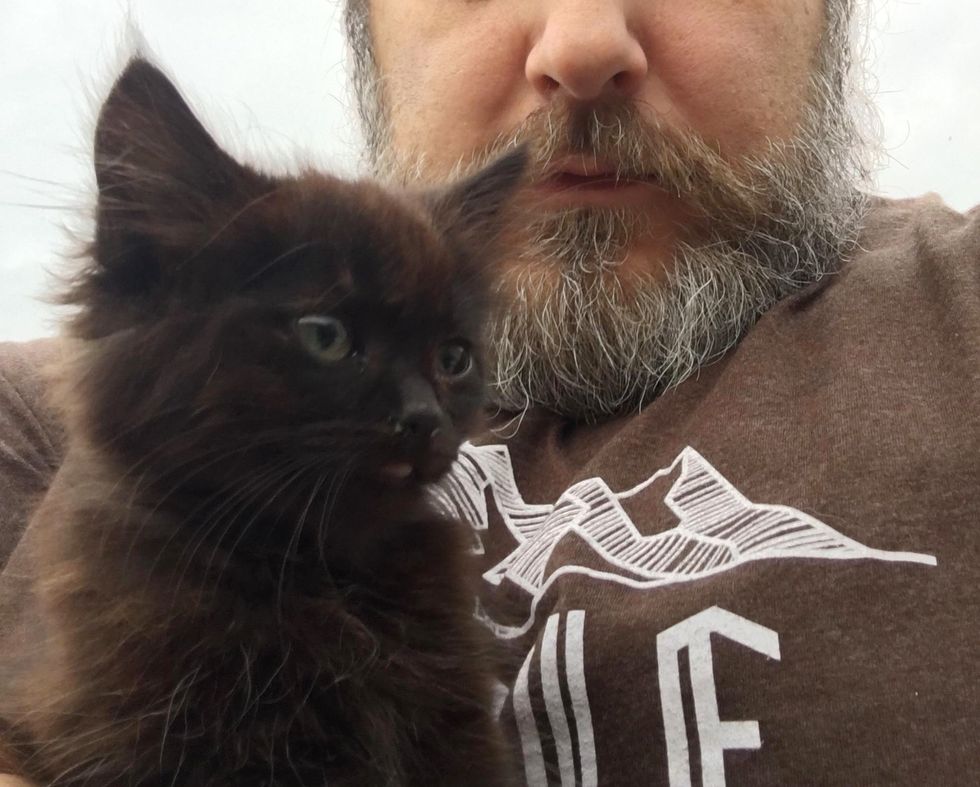 Tony
Tony, a geologist, was working on site in Pennsylvania when an unexpected visitor caught his attention early morning last week.

"I heard a teeny squeaky mew and I turned around. There was a little black floof sitting in the parking area," Tony told Love Meow. "I said, 'Kitty!' He just raced over to me as quickly as his little nubby legs could go and climbed me so fast I just laughed."
The tiny ball of fur made his way up his shoulders and decided to nuzzle in for a cuddle. Tony gently put him in his arms, and the sweet kitty just fell asleep.
Being in a remote area, the little feline had no home to go to, except the farm land.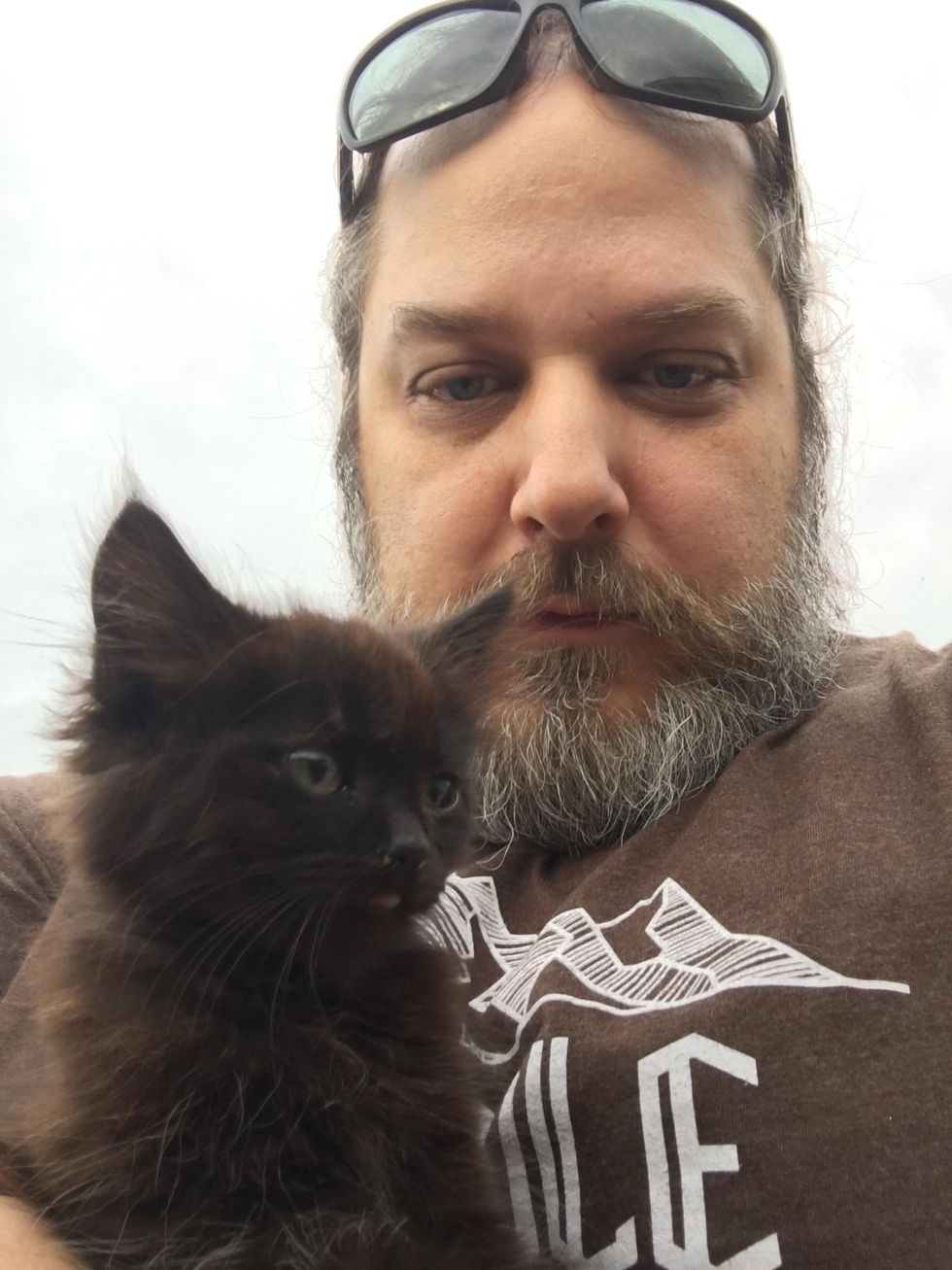 Tony
Other workers came to meet the little guy and were instantly smitten upon introduction.

Tony drove to the nearest store and grabbed some kitty litter and food. "I snuck him into my lab. He slept in a pillow on my spare chair behind me," Tony told Love Meow.
"I like to pretend I'm all tough but this little fella stole my heart."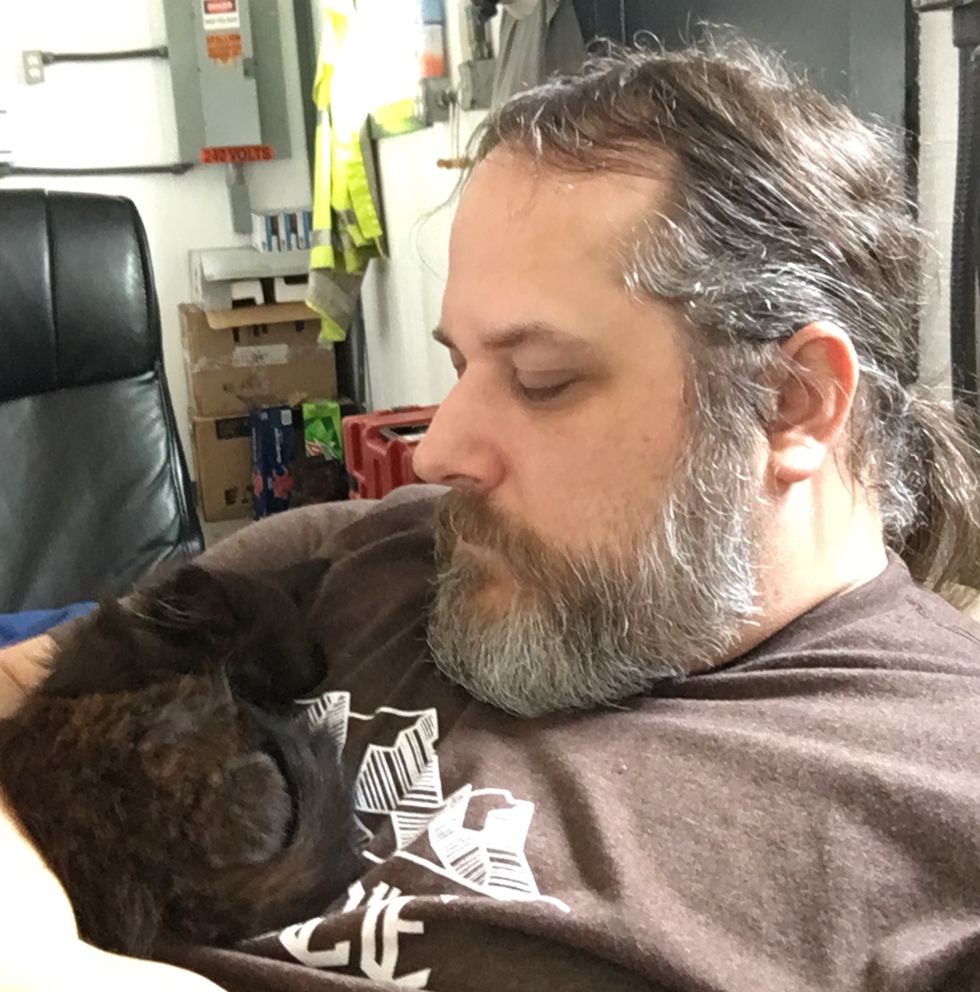 Tony
When it came time to name the kitten, Tony decided to call him Spud.
"Spud is what we call it when we dig in virgin areas. Since he was in a work camp for drillers, he should be a Spud."
The kitten spent all night snuggling with his rescuer and slept comfortably under his beard in his neck.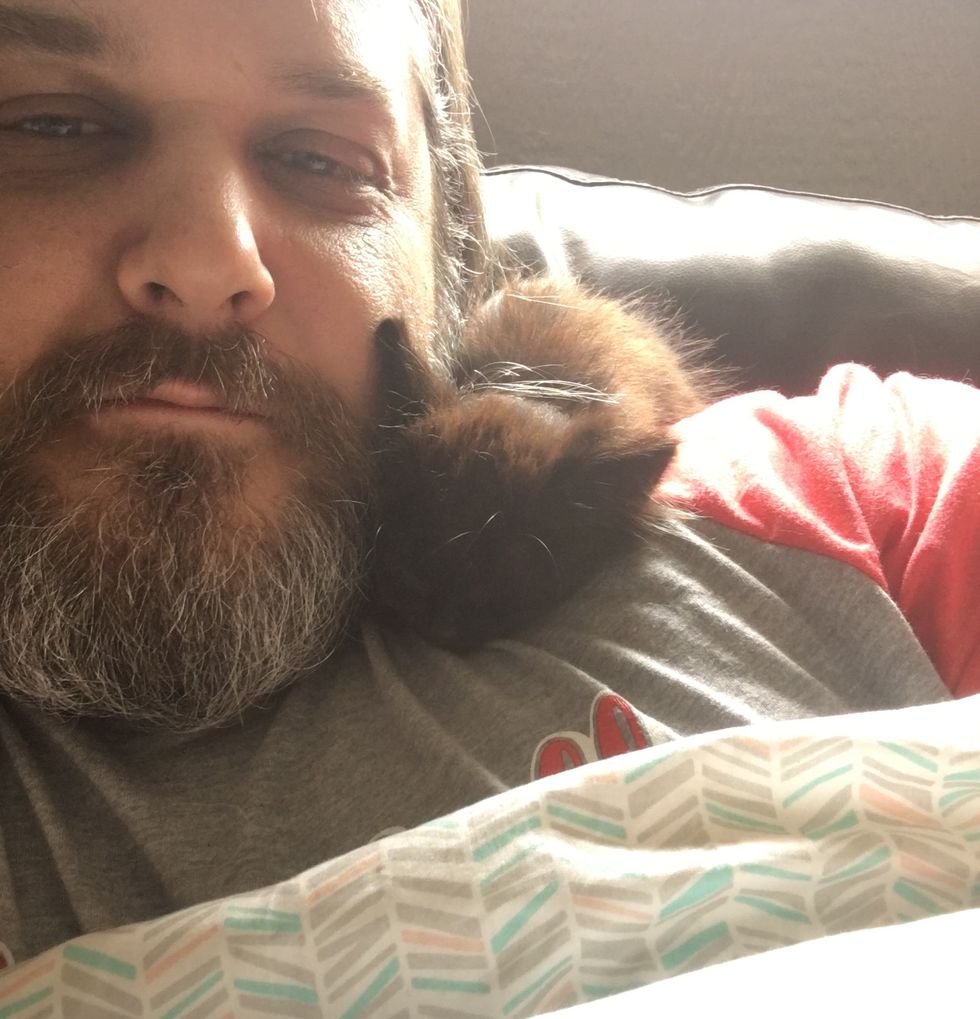 Tony
Tony had to stay in the field for a few more days until he could bring the kitten home. "If I left the lab, he would get up and look for me. I came back in, and this little ball of fluff rocketed toward me, climbed me again and fell back asleep," Tony said.

He made a makeshift bed for Spud with a pillow and a shirt as a blanket in his chair, so he could continue working while the kitten snoozed through the day.
Tony
Whenever Spud woke up, he crawled back onto his shoulders or lap for some extra TLC.

"I can't walk anywhere without my shadow following me. He has been eating like he's never seen food."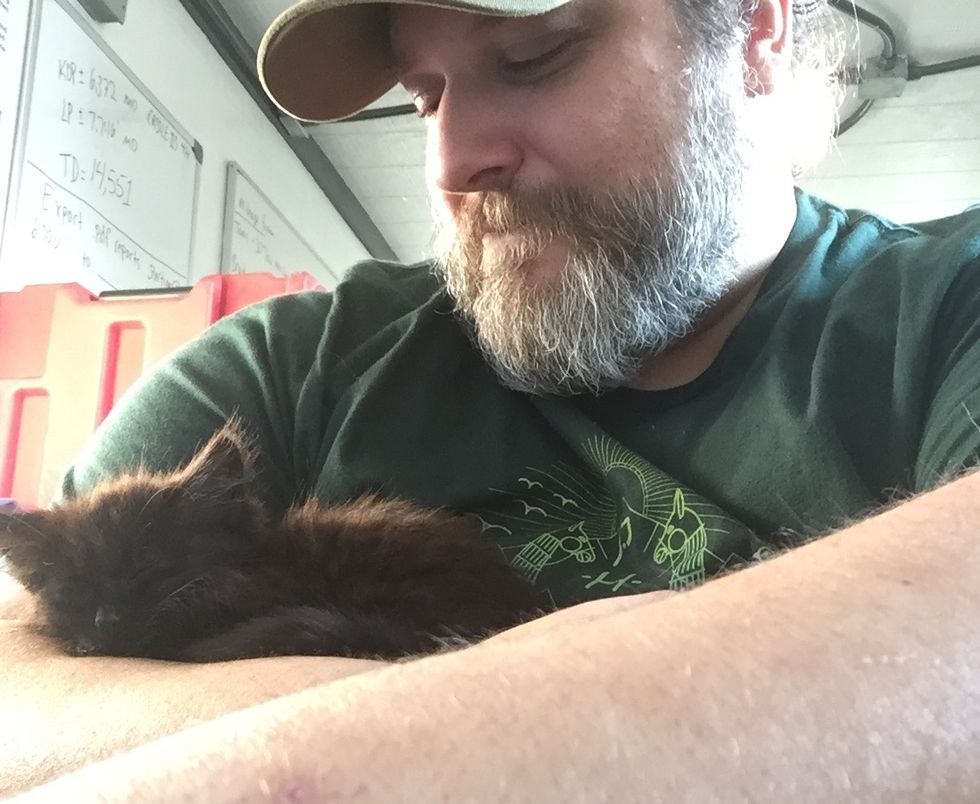 Tony
Watch Spud the kitten in this cute video:
Geologist chosen by a kittenyoutu.be
When it was time to head home to Buffalo, New York, Spud received the sweetest farewell.

"The remaining two hours I was there, everyone came to say good bye to him. It was by far the coolest time I've had in the field," Tony told Love Meow.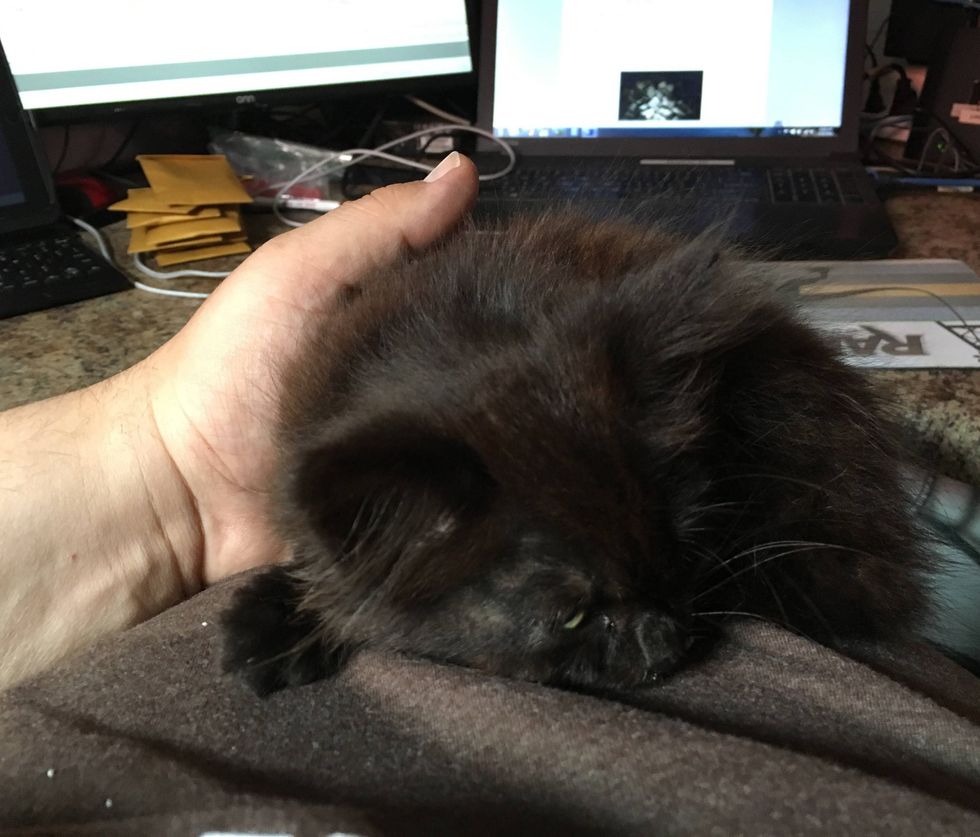 Tony
After a bath, the kitten settled right into his new abode and already found a good spot by the window for some bird TV.

Spud appeared out of nowhere and found a friend, now his forever human.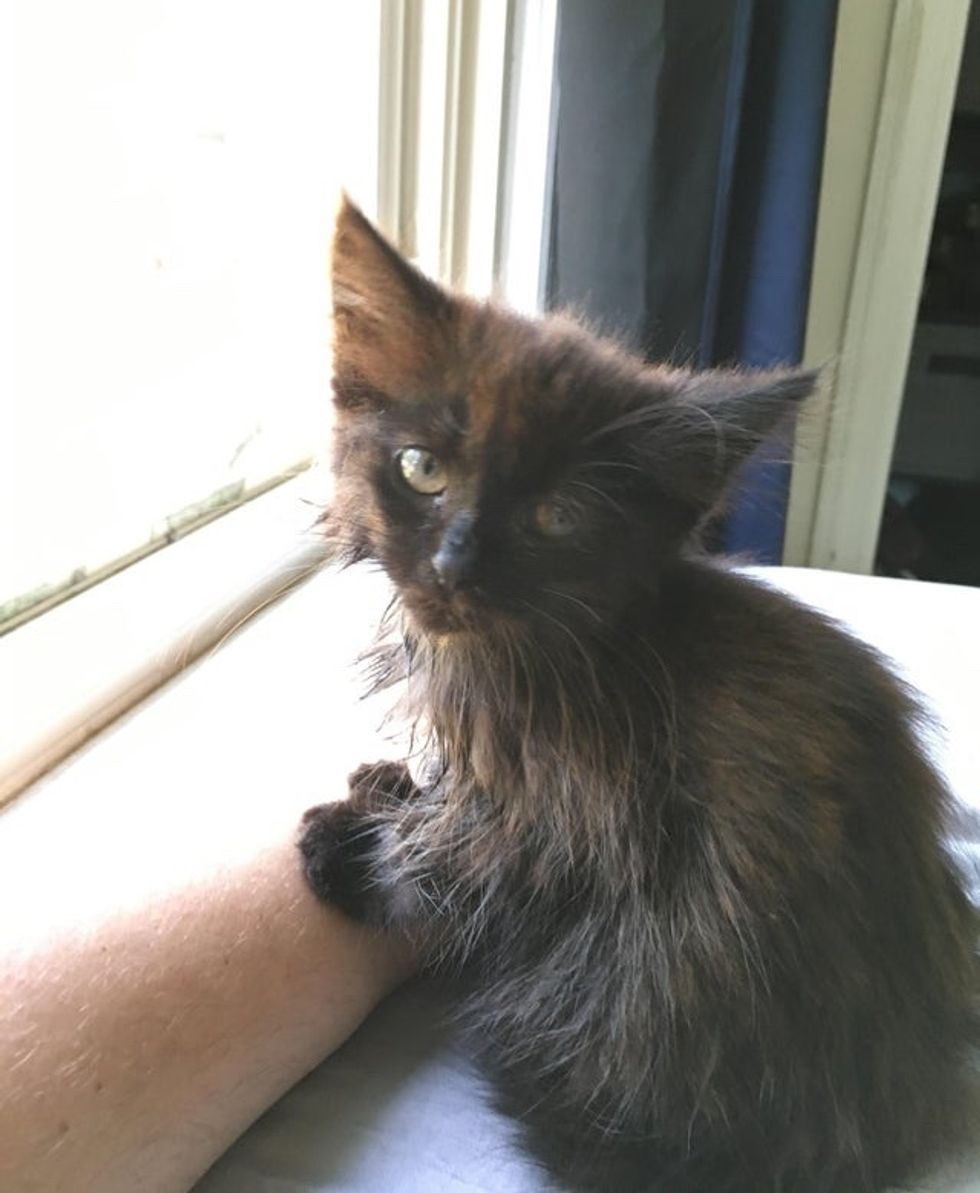 Tony
Share this story with your friends.
Related story: Man Gave Kitten a Home — Now He Wakes Up to a Kitty Cuddling Up to Him Every Day