A stray kitten curled up on a rescuer's shoulder after she was found on a busy road.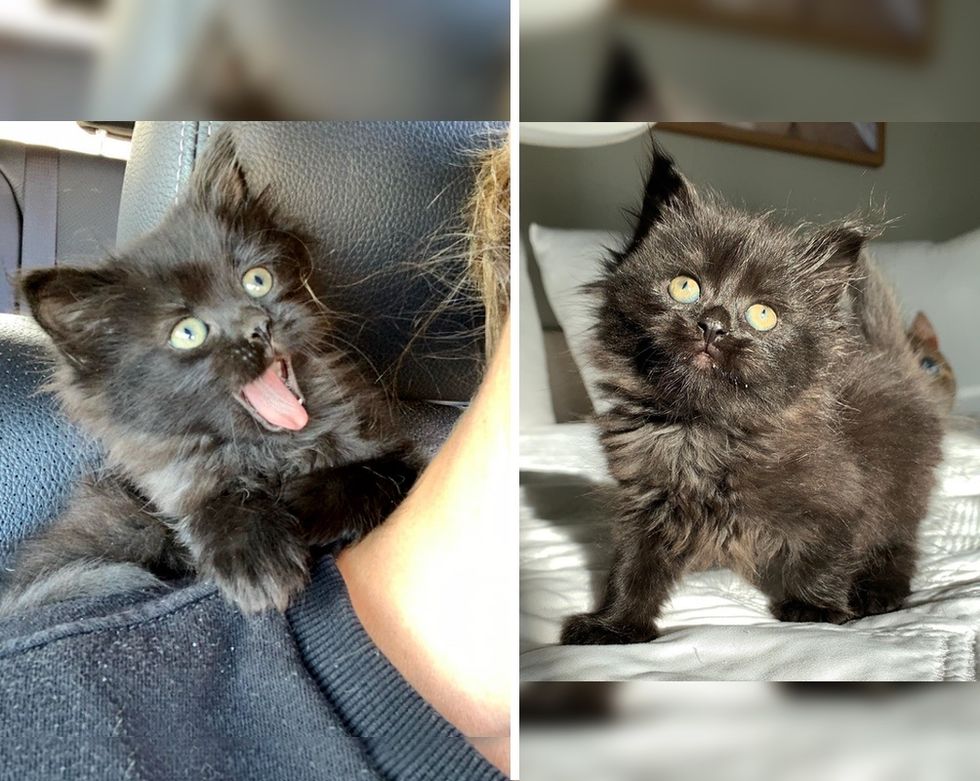 Holly @pawsofoz
Holly Brookhouser, an animal rescuer and fosterer based in Arkansas, was shopping for groceries last Thursday when she came across a post from her local Facebook group. A tiny stray kitten was in need of rescue.

A man witnessed the kitten trying to cross a major road with a lot of traffic. "She ran under his car, so he stopped, grabbed her and rushed home," Holly told Love Meow.
The guy reached out to social media and hoped someone more equipped could give the kitten a home. Holly who was on a break after having fostered multiple litters, immediately stepped in to help.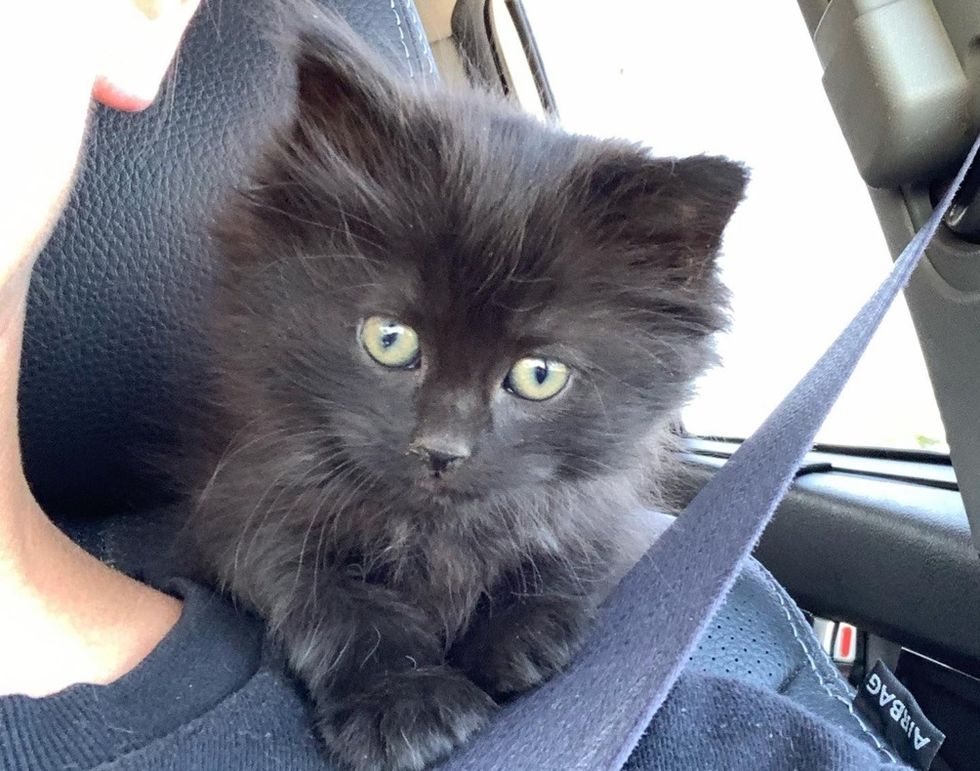 Holly @pawsofoz
That day happened to be the second year home anniversary for Holly's adopted son Marcelo. "I figured we'd commemorate this day by saving this baby!"

She got in contact with the finder and offered to get the kitten fully vetted before finding her forever home. When she picked up the little ball of fluff, Marcelo, who has been a great help for Holly's foster kittens, was beaming with joy.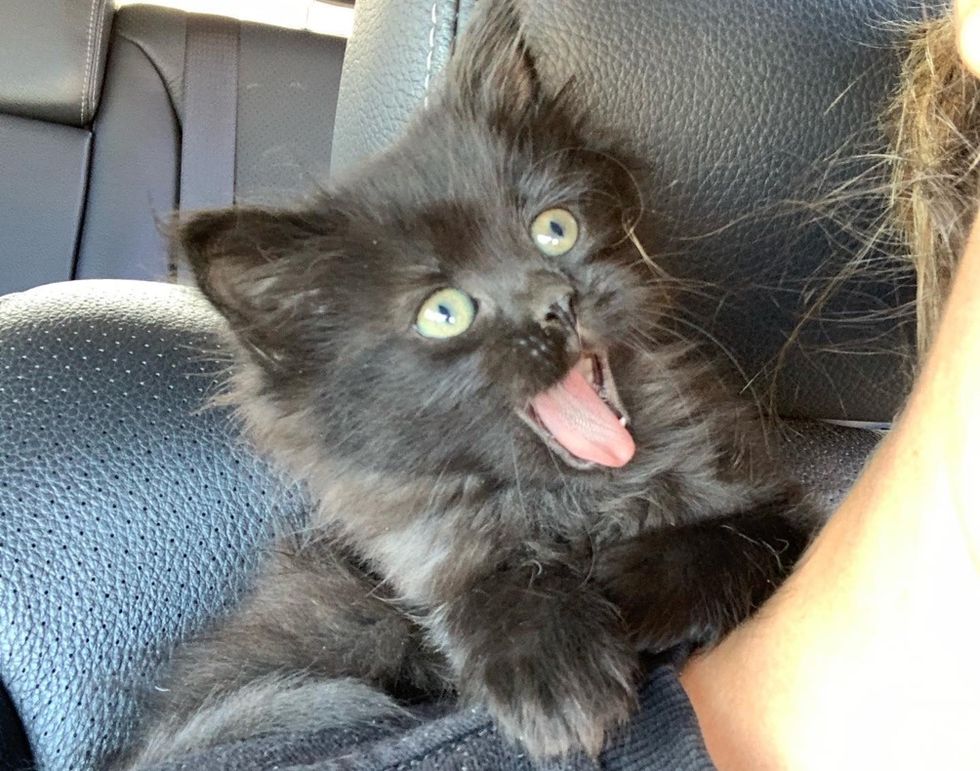 Holly @pawsofoz
"Marcelo was so eager to hold her when we got in the car! I told him he got to name her and to think of a really good name for a girl kitty," Holly shared with Love Meow.
"He thought for a long time. Then he said 'Appleseed!' with a big cheesy smile, and that was it!"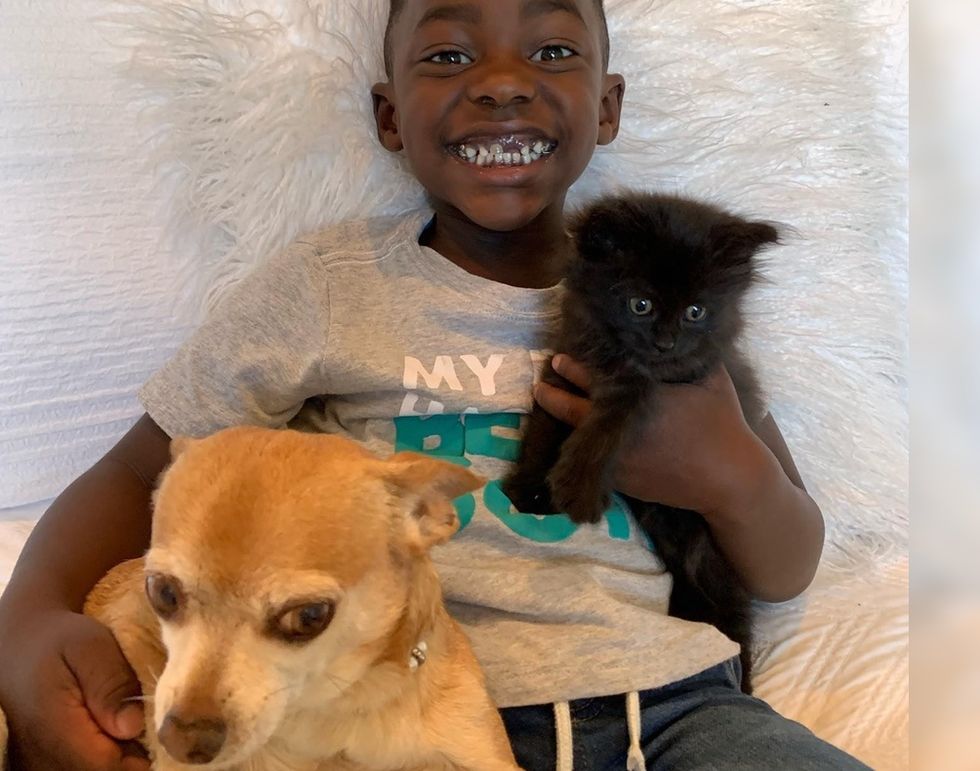 Marcelo home with the kitten and his best friend Mini the dogHolly @pawsofoz
The little kitten was about 5-6 weeks old and a bit underweight. She was an instant cuddle-bug and quickly made her way up Holly's shoulders.

"Appleseed curled up and slept on my shoulder the rest of the drive home."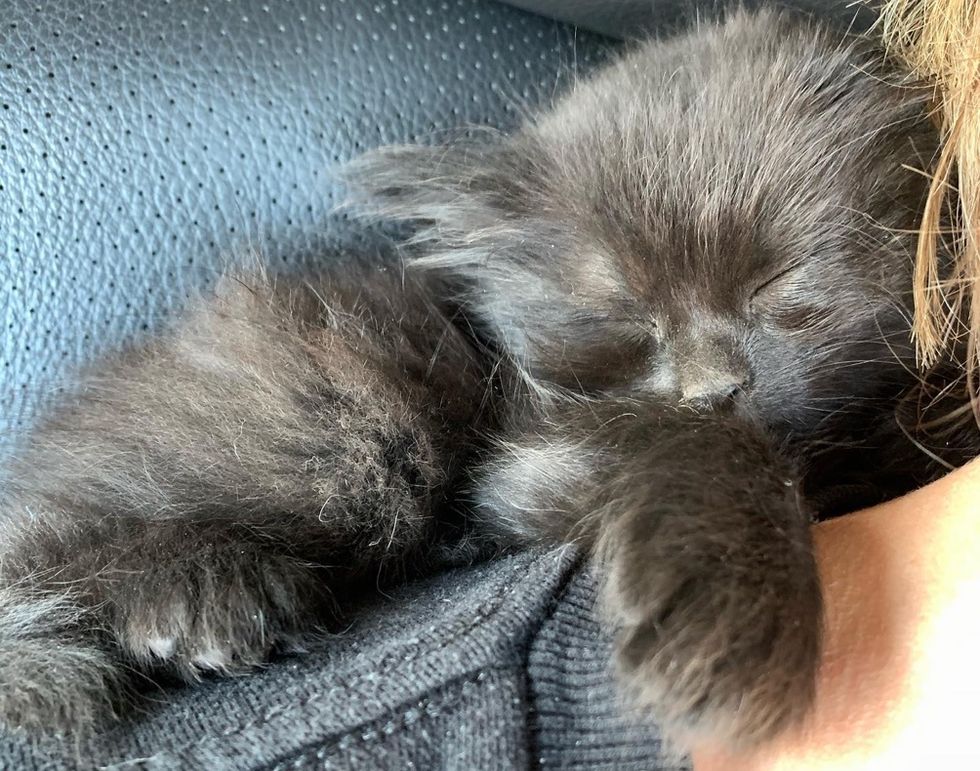 Holly @pawsofoz
They set up a comfortable area for the kitten and got her all cleaned up. Appleseed explored every nook and cranny of her new digs and scarfed down all the food that she could pack into her tiny body.

She was so happy to have a roof over her head, away from the noise and busy traffic.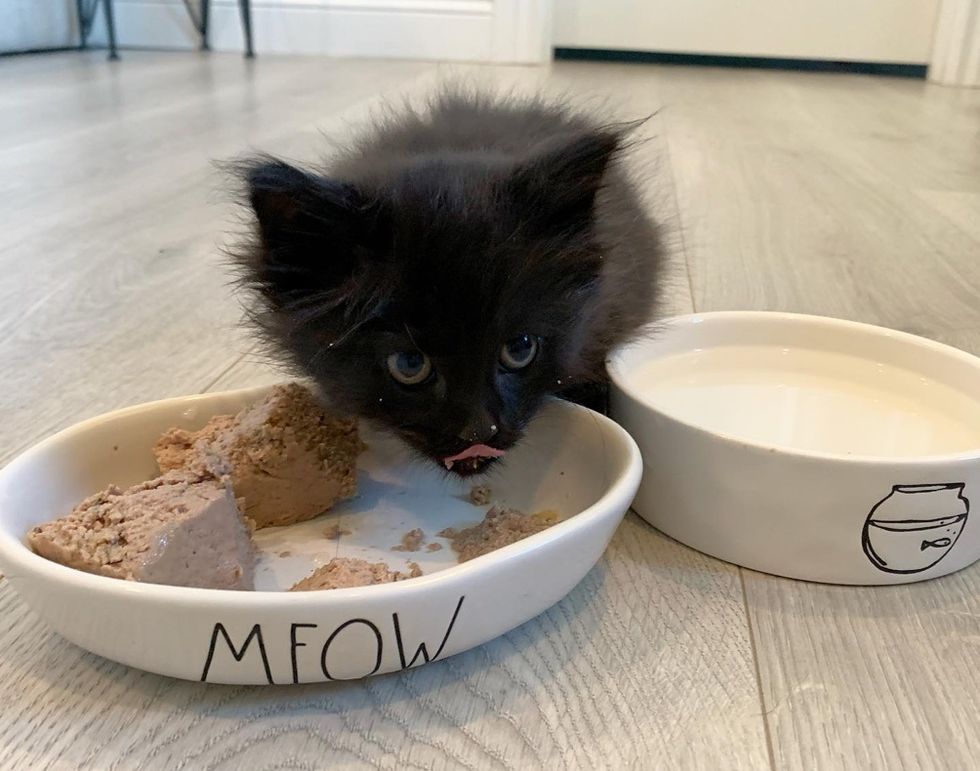 Holly @pawsofoz
That night, the sweet kitty went to sleep with a full belly, in a comfy, warm bed.
Watch Appleseed the kitten in this cute video:
Appleseed the kittenwww.youtube.com
"She was a little skittish of sounds and would hide but not for long. Since she's an only baby, I moved her into an area in our kitchen/dining area where she's safe behind some clear panels but can see us and not feel so alone," Holly added.

In just a few days, Appleseed has really blossomed and her personality is starting to emerge.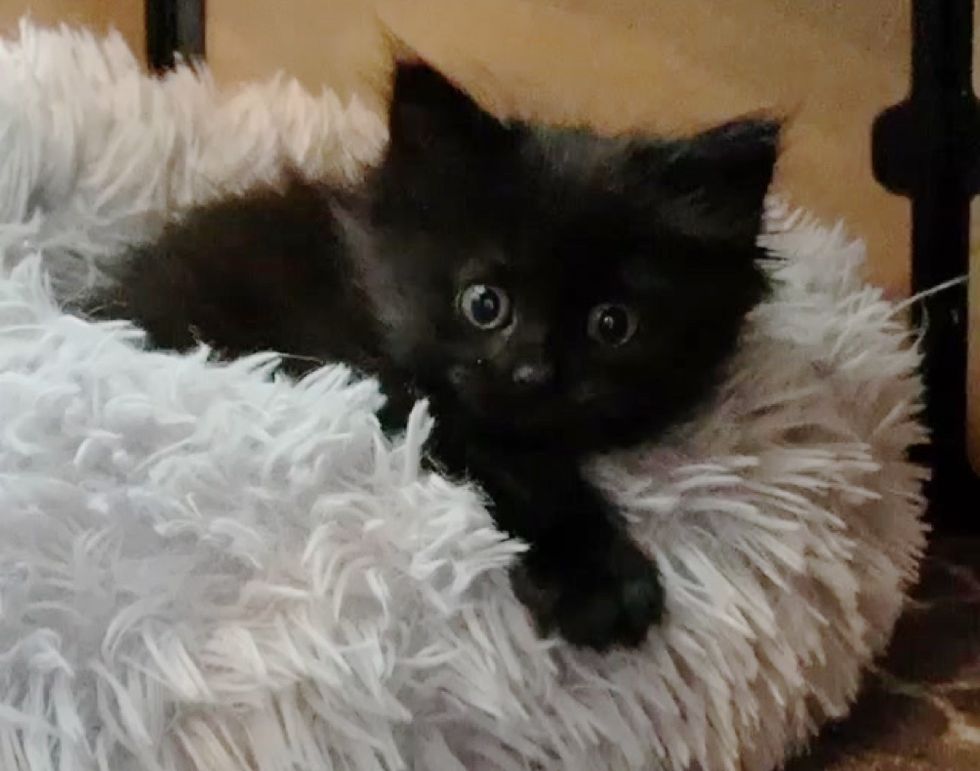 Holly @pawsofoz
"She's only been here 3.5 days but her sassy attitude is coming out, and she feels like the queen of her corner of the room," Holly told Love Meow.
Appleseed may be tiny but oh so mighty!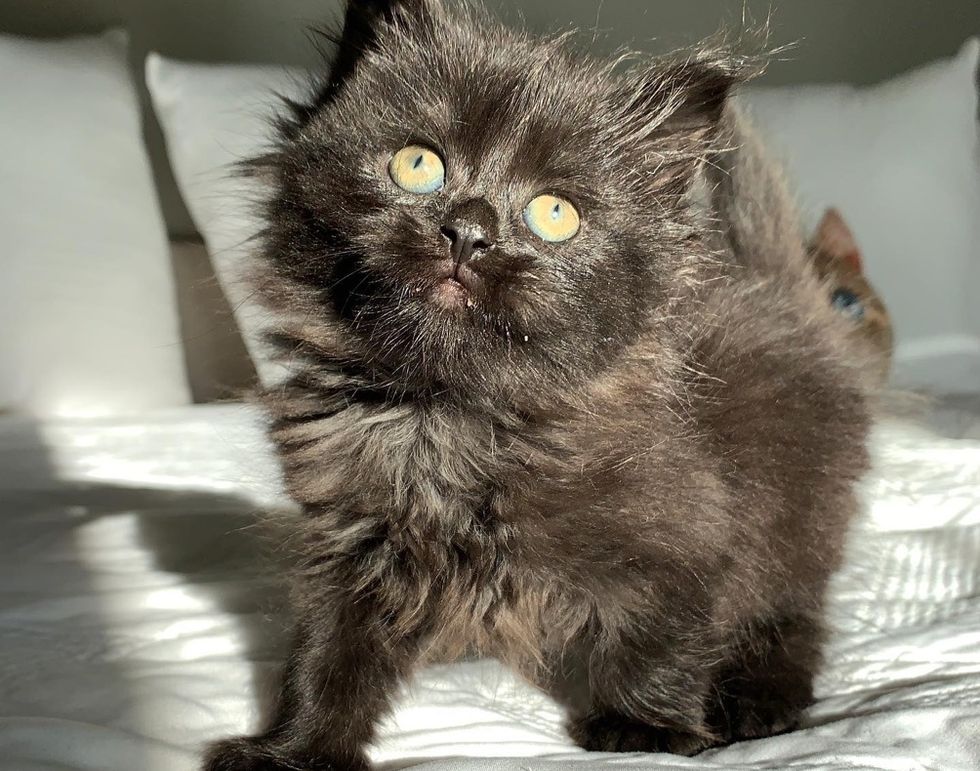 Holly @pawsofoz
She loves her cat condo and the sunbathing platform by the window. If anyone comes to her corner for a visit, she will come running and greet them with her paws and some major cattitude.

The tiny panther kitty still has a lot of growing to do, but what she lacks in size, she makes up for in personality.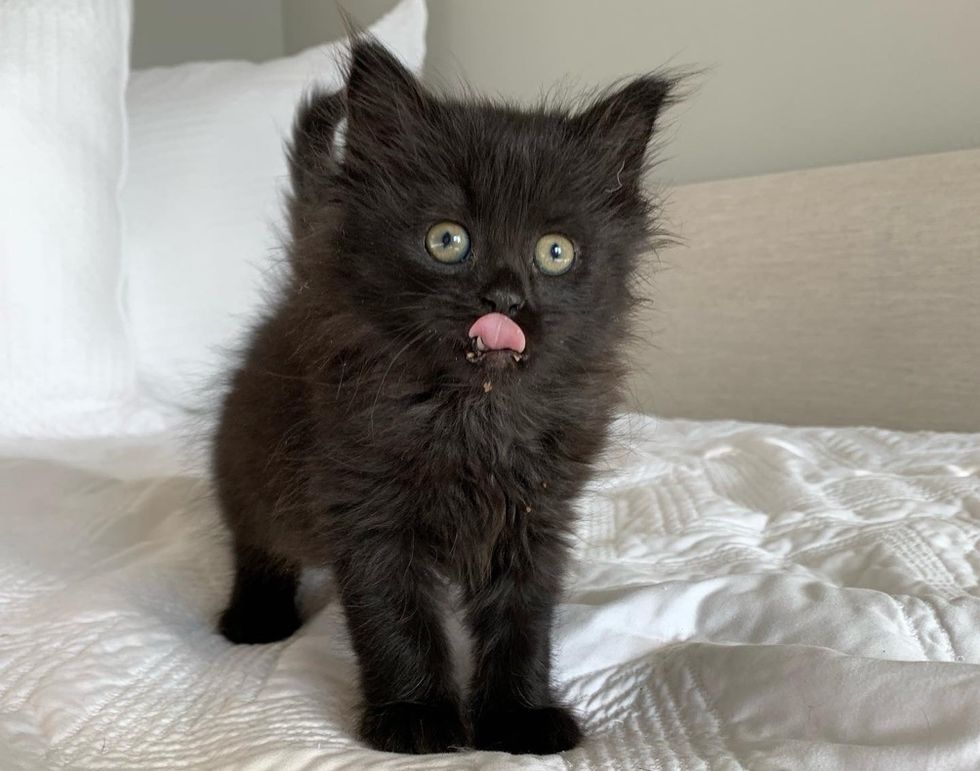 Holly @pawsofoz
The sweet kitten relishes playtime with her foster family and loves her assortment of cat toys. She likes to roll on her back for belly rubs and is always curious and adventurous.
Appleseed enjoys having a dog buddy nearby guarding her kitty fort and keeping her company. She is a great climber, constantly honing her feline skills.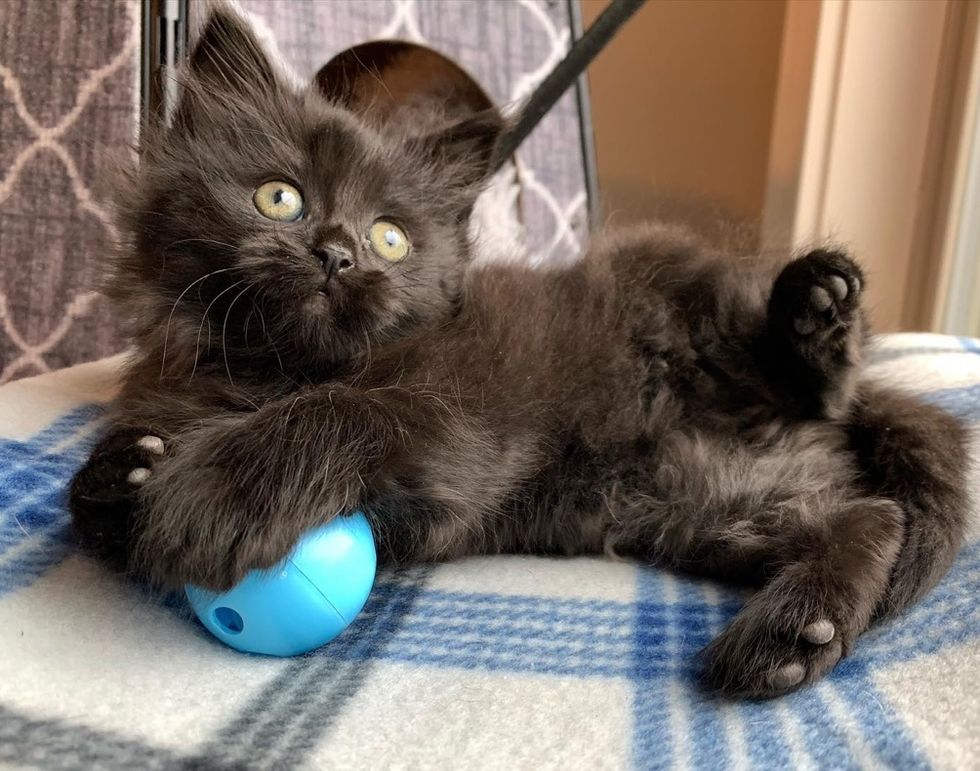 Holly @pawsofoz
From wandering the streets to living her VIP life, Appleseed is thriving and has a great future ahead of her.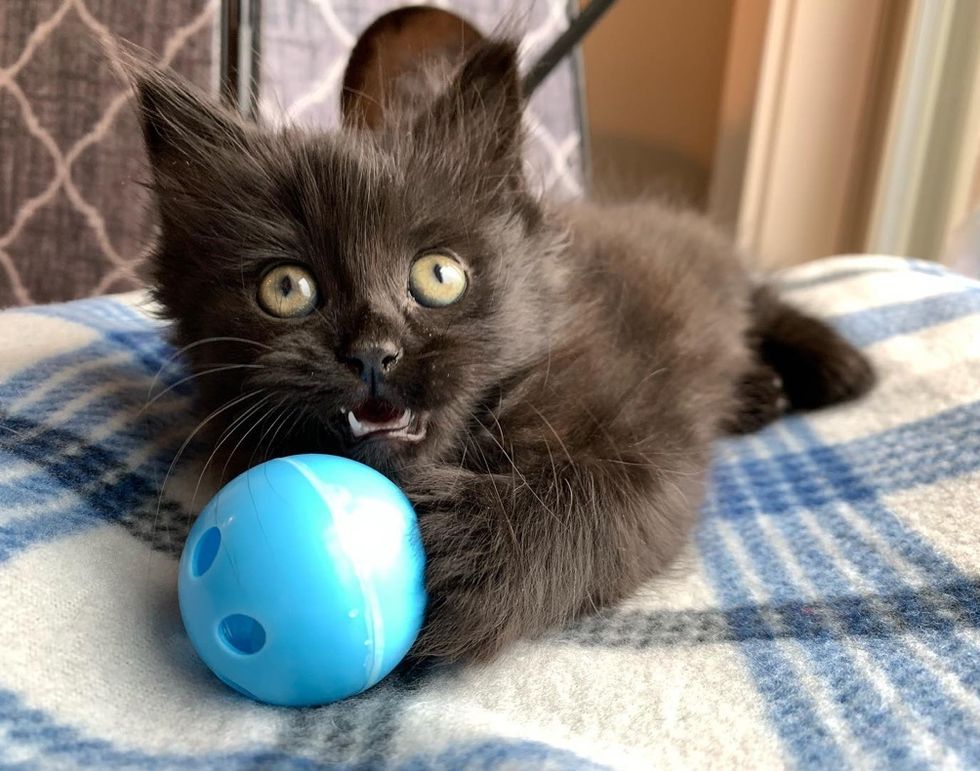 Holly @pawsofoz
Share this story with your friends. Follow updates on Appleseed and Holly's fosters on Facebook and Instagram.
Related story: Kitten Found Near Forest All Alone, Climbs on Cyclists and Won't Let Go