A little stray kitten held onto his rescuer after he was found alone outside. His life was forever changed.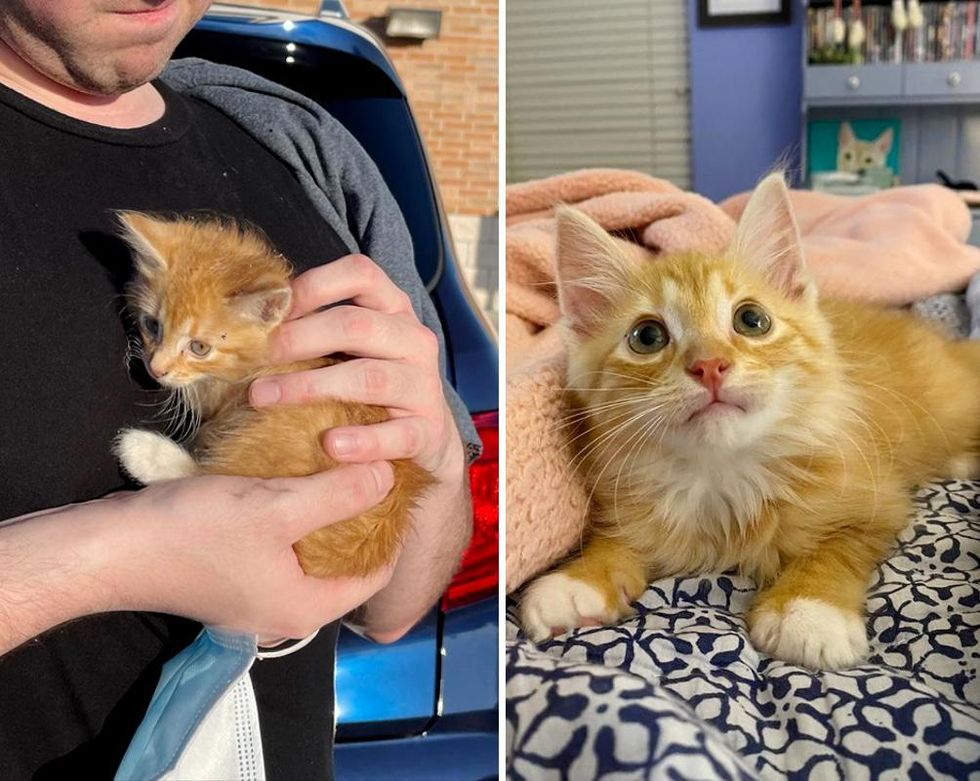 Coastal Bend Cat Rescue
A local business in Corpus Christi, Texas spotted a ginger kitten wandering around the area without any siblings or a cat mom. The little stray was very scared and confused, fleeing from people.

Coastal Bend Cat Rescue was contacted for assistance. "Shortly after our cat rescue team arrived on scene, he ran into an industrial yard to hide behind a huge forklift," Lindsay Haglund, Foster Coordinator of Coastal Bend Cat Rescue, told Love Meow. "He was so tiny next to the big forklift. He looked like a little ball of orange fluff."
Once the rescue team gained access to the industrial lot, they were able to bring the kitten to safety. "He was covered in fleas and dirt, but we knew there was a beautiful kitten underneath."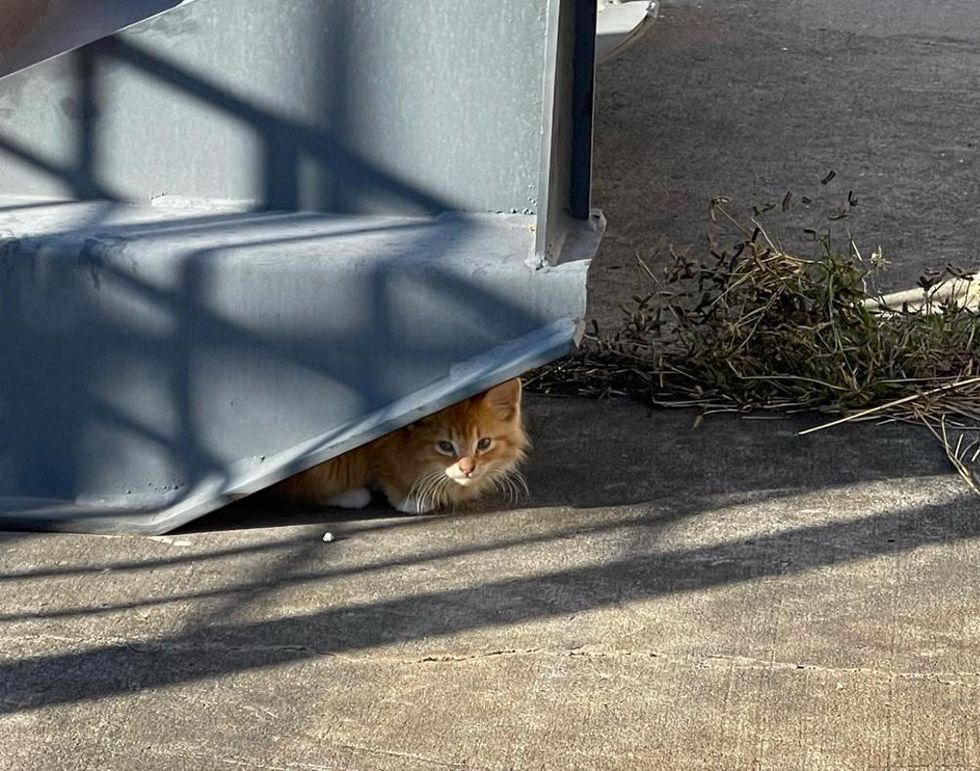 Coastal Bend Cat Rescue
Despite being very timid at first, the kitten immediately started to relax when he was picked up by a rescuer.
"We think he may have traveled to the business in a wheel well or car engine, since cats often seek shelter in cars during the colder months," Lindsay shared with Love Meow. "We always recommend people honk their horns or bang on the hood of their car before starting it, just in case a cat is hiding somewhere."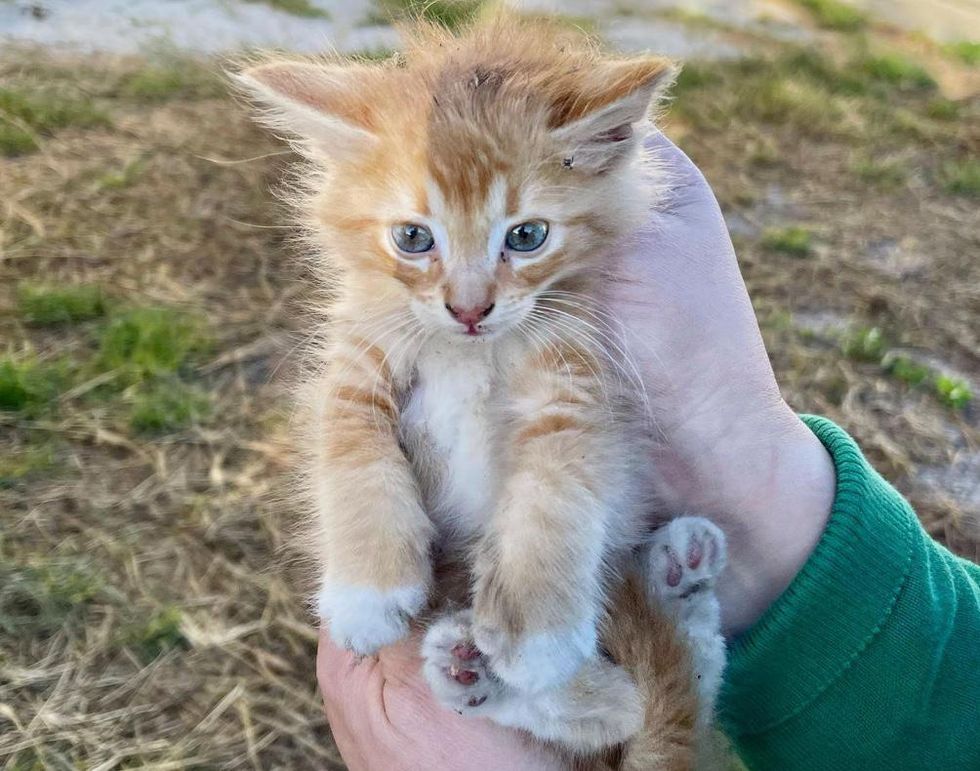 Coastal Bend Cat Rescue
The little orange ball of fluff clung to his rescuer for security as he bid farewell to life on the streets. He was in desperate need of a bath and a lot of TLC.

"He was found at the office of Del Cielo Home Healthcare, which means 'heaven sent' or 'from the sky', so we decided to name him Skywalker."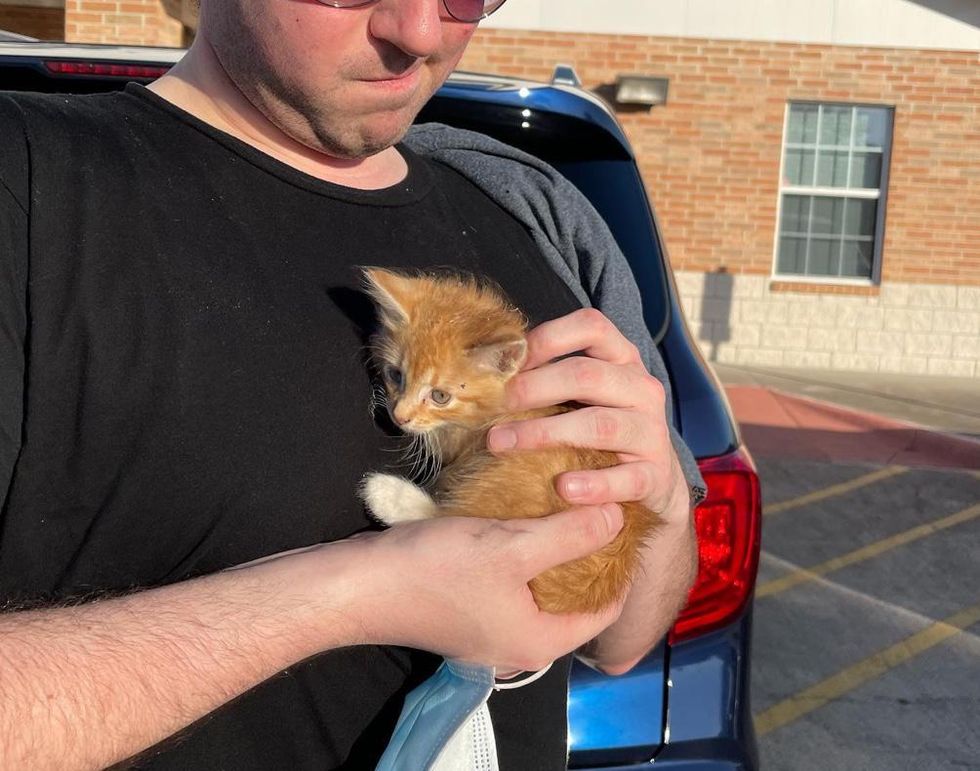 Coastal Bend Cat Rescue
When Skywalker arrived in foster care, he was still a bit fearful of people, avoiding eye contact and trying to hide.
His loving foster family gave him the time and space he needed, and plenty of good food within reach. The kitten slowly began to come out of his shell when he realized that he was safe.
"Over time, he started to trust and learn that indoor life was not such a bad thing after all."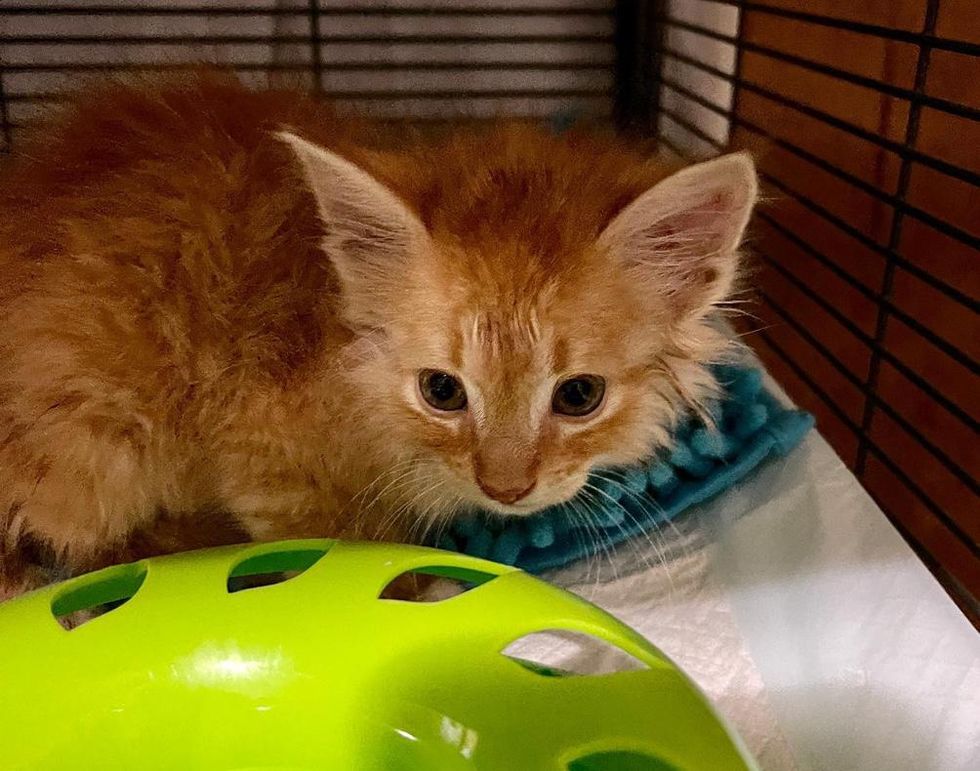 Coastal Bend Cat Rescue
They nursed him back to health, and the sweet ginger boy grew bigger and fluffier in a matter of days.
One day, the kitten mustered enough courage and decided that he would no longer be afraid. He jumped onto the couch and snuggled right up to his people.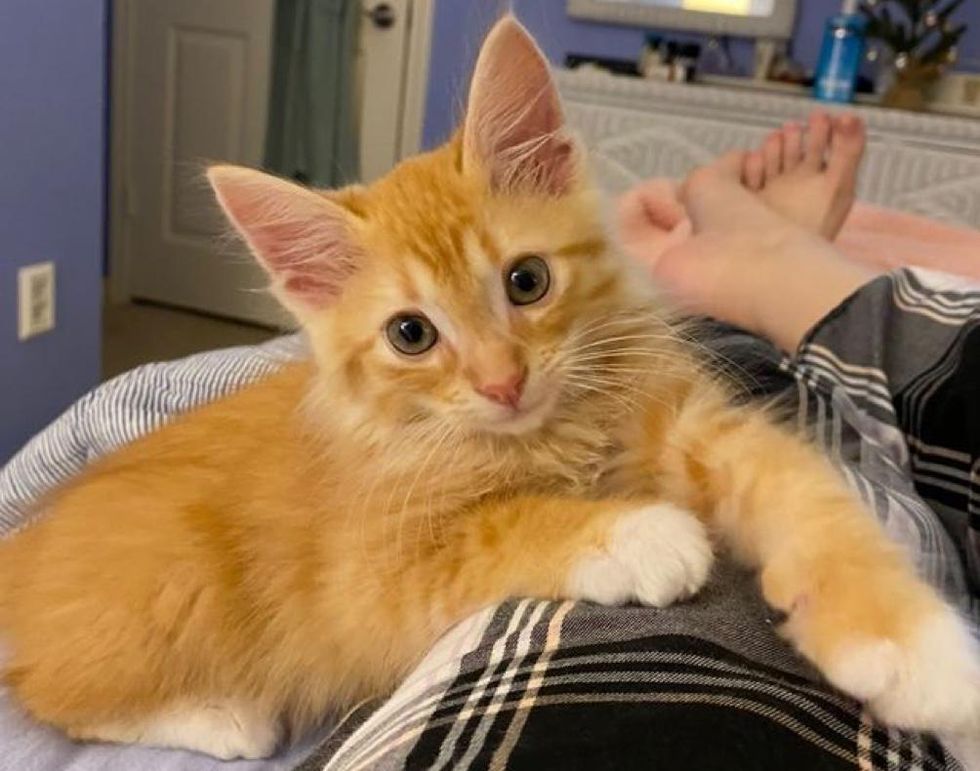 Coastal Bend Cat Rescue
He fell in love with life as an indoor cat and began to seek affection from everyone around him. The sweet kitty never wanted to be alone again.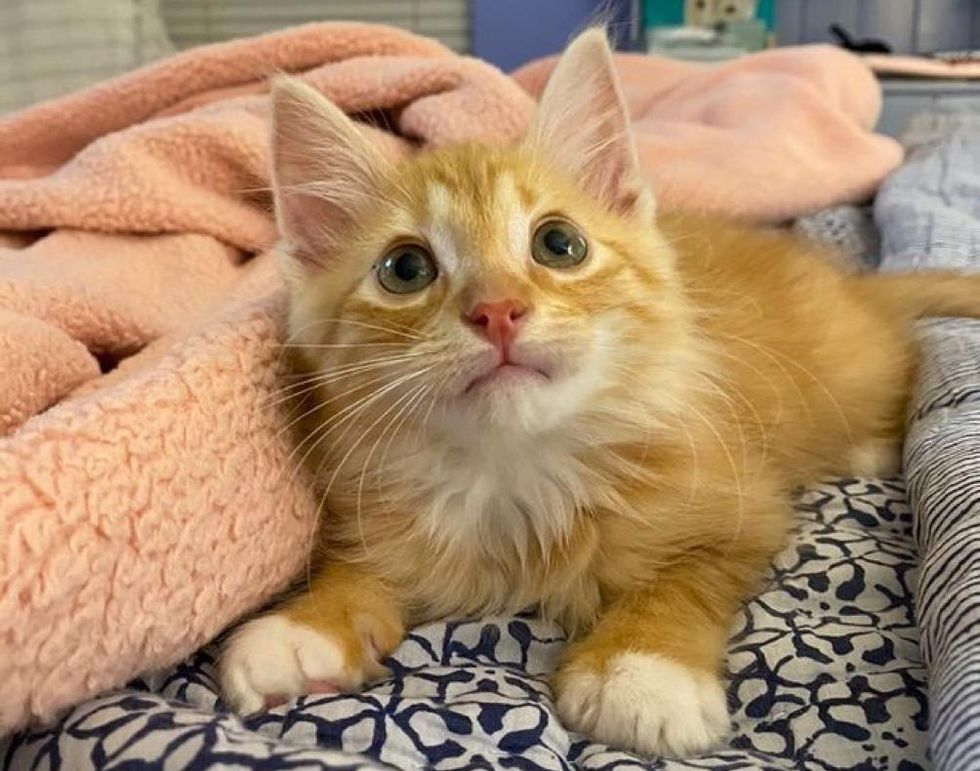 Coastal Bend Cat Rescue
"After he finished his treatment and received his first vaccine, he moved to another foster home where he could enjoy some playtime with other cats," Lindsay told Love Meow.
"He really bonded with the resident cats and his favorite activity was chasing them around the Christmas tree."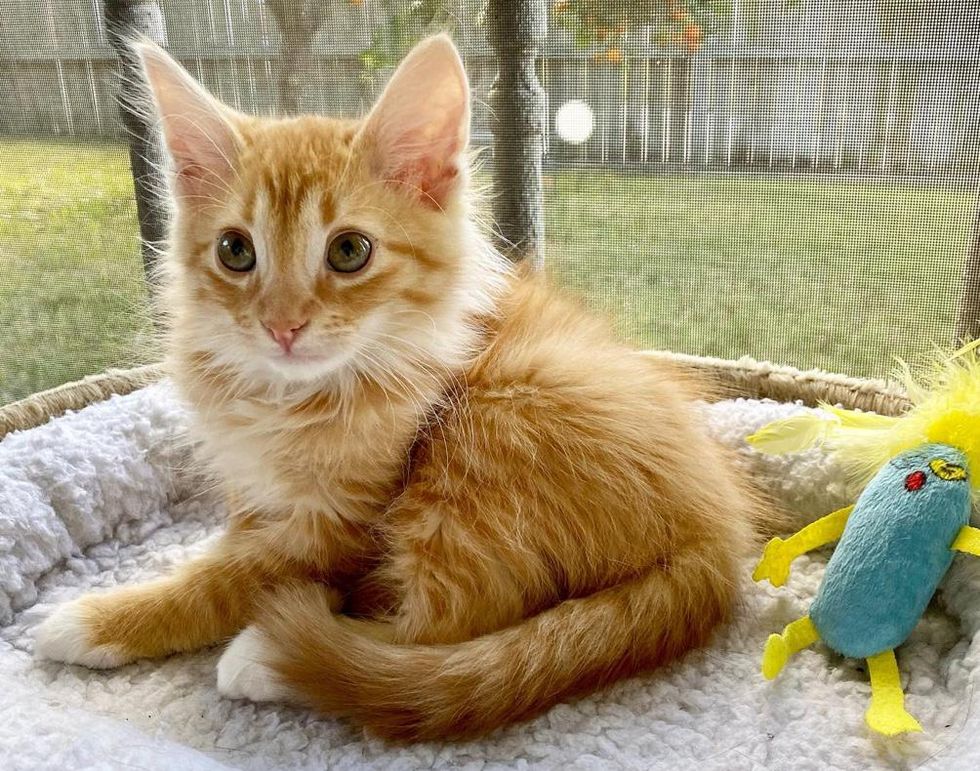 Coastal Bend Cat Rescue
"He loved to play nonstop and had so much kitten energy, he was truly such a joy to foster. Skywalker was a very lucky kitten to spend his first Christmas indoors!"
The rambunctious ginger boy quickly hopped in the tree for a thorough "inspection".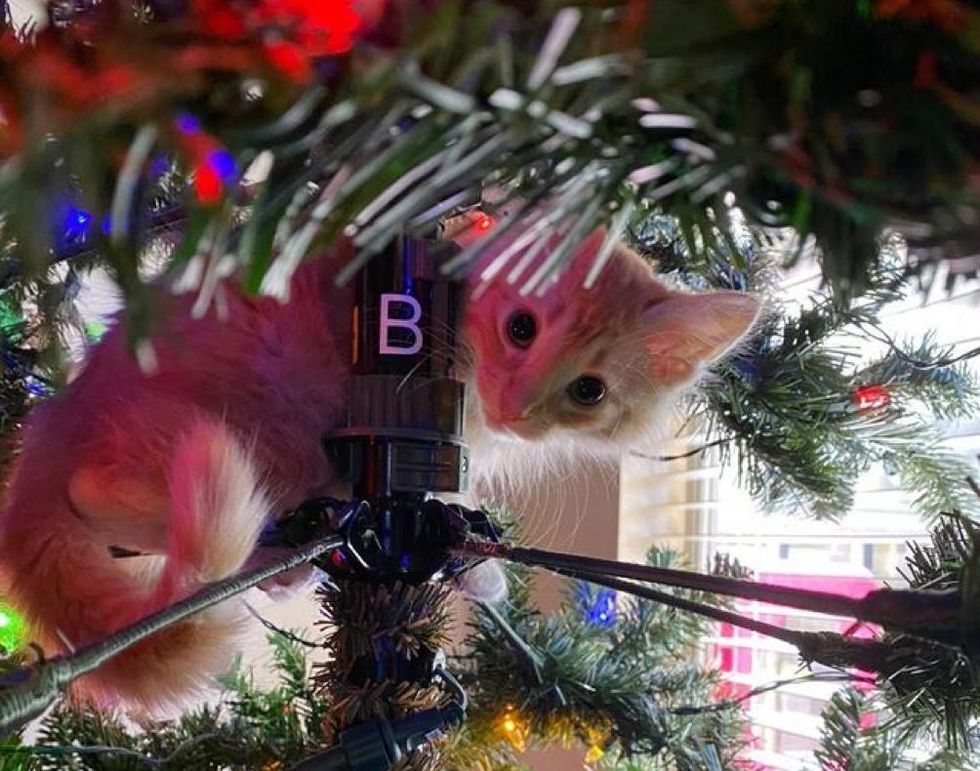 Coastal Bend Cat Rescue
The little kitty has flourished into a confident, playful cuddle-bug. He enjoys the company of his people and even tries to climb on their shoulders for some up-close and personal conversations.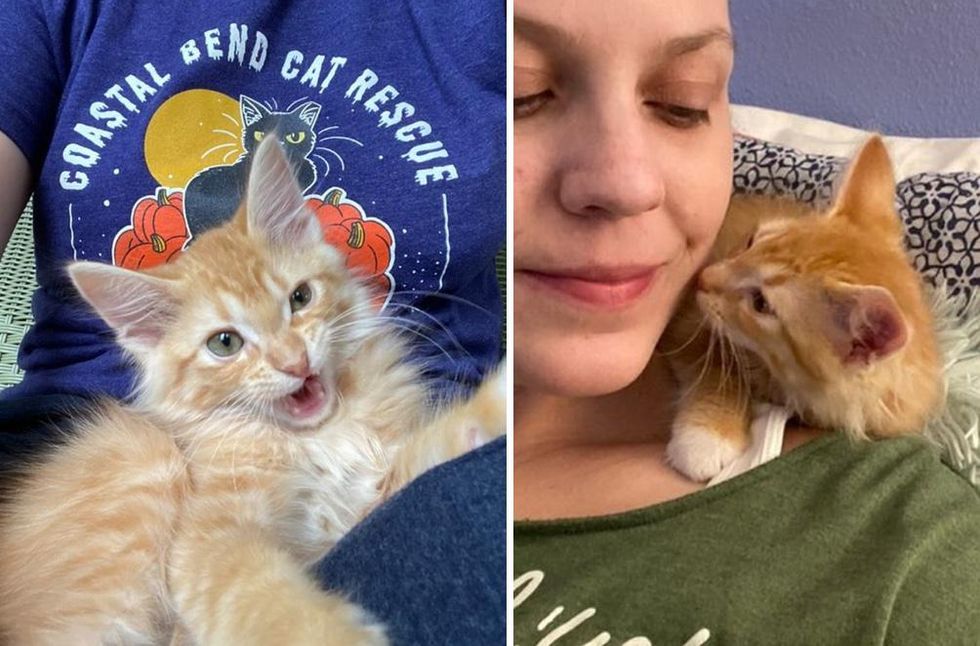 Coastal Bend Cat Rescue
The sweet tabby is now ready for his next chapter in life — a forever loving home for the New Year.
He is now available for adoption through The Cattery Cat Shelter in Corpus Christi, Texas (a partner shelter of Coastal Bend Cat Rescue).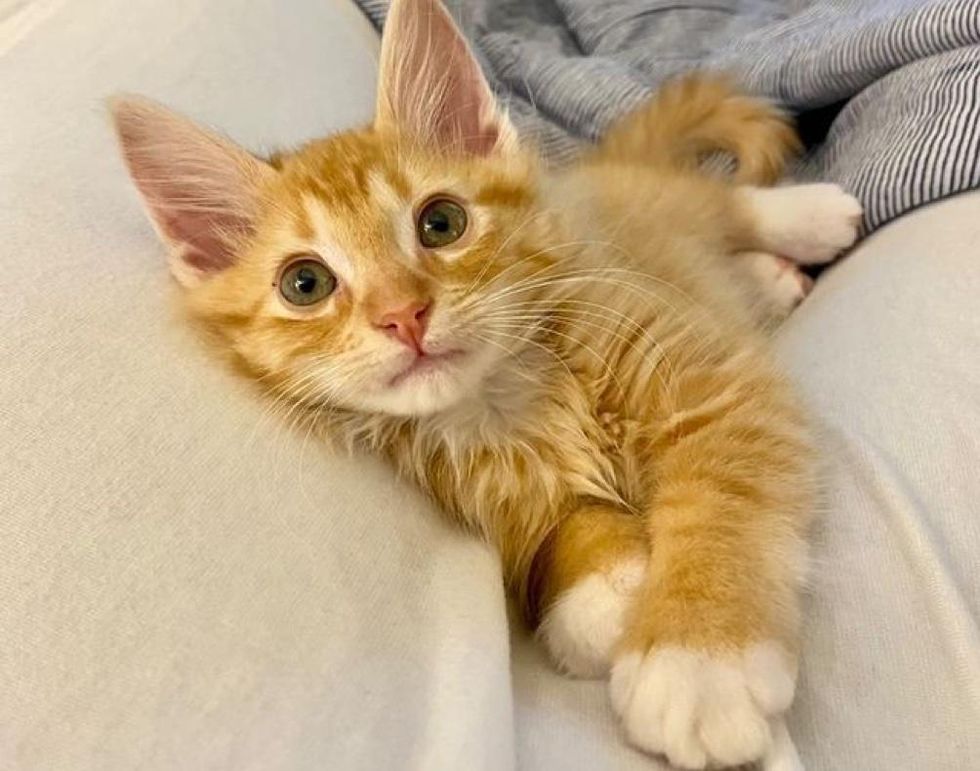 Coastal Bend Cat Rescue
"Skywalker was a very shy, scared kitten when he was first found. He has now blossomed into a sweet, lovable, cuddly kitten, who will make his future forever family very happy. Fostering saves lives and it's why we do what we do."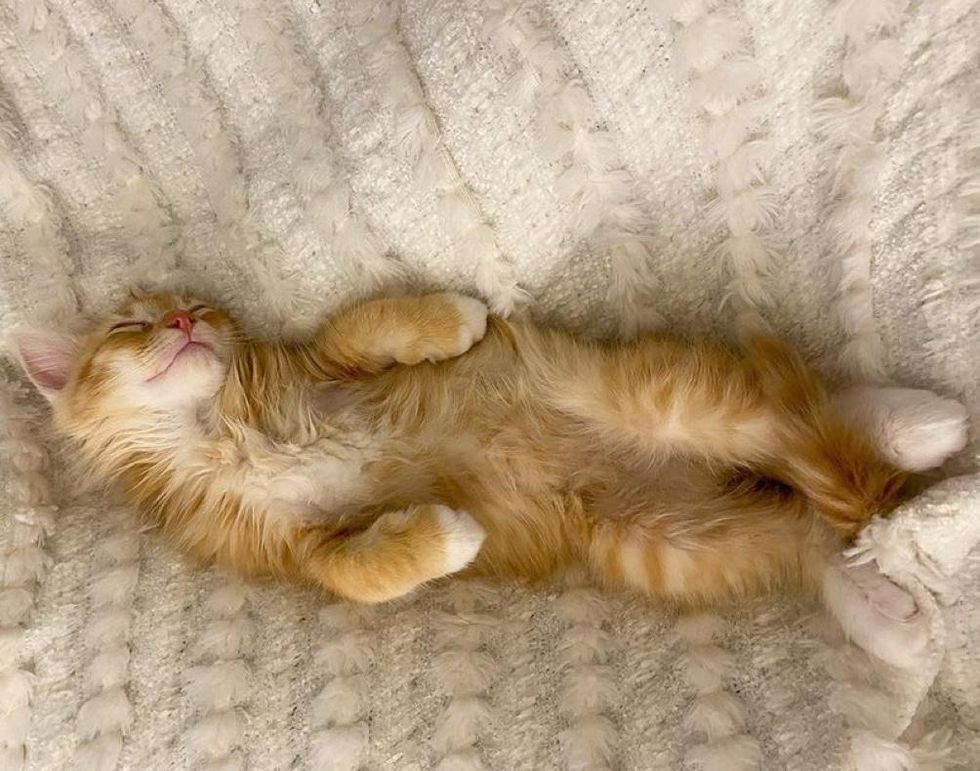 Coastal Bend Cat Rescue
Share this story with your friends. Follow Coastal Bend Cat Rescue on Facebook and Instagram.
Related story: Stray Kitten Came Back to Man Who Was Kind to Him, and Decided to Stay