This kitten with uneven eyes was found on the streets and got a chance at a better life.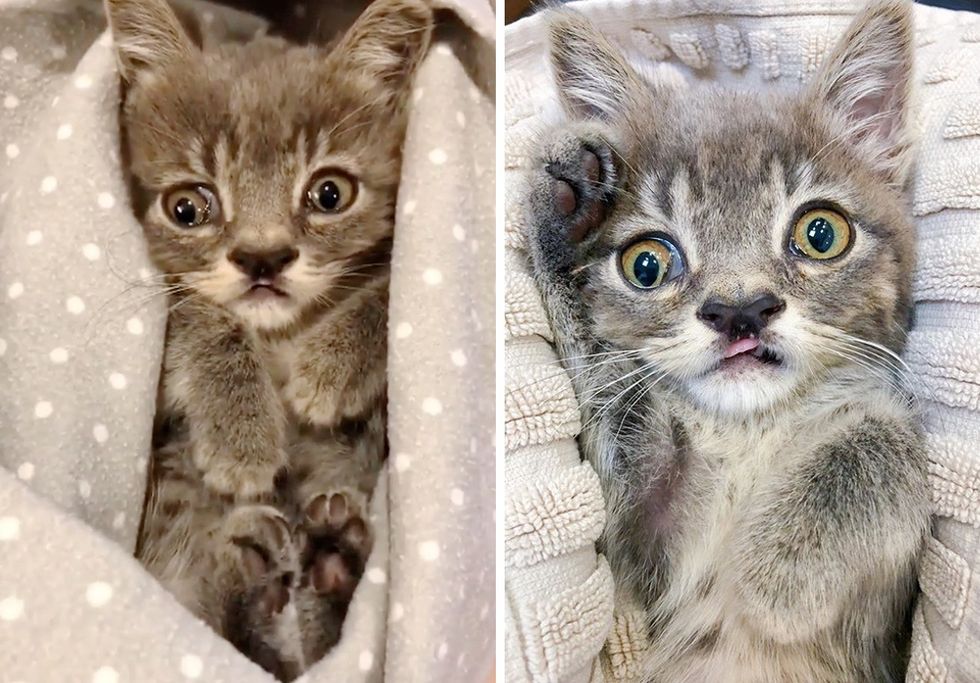 Friends for Life Rescue Network
A Good Samaritan spotted a kitten on the streets of South Los Angeles. The little stray appeared to have a mild upper respiratory infection and a deformity on his face.
The kind person scooped him up and reached out to a local rescuer, in hopes of getting him the medical attention and specialized care that he needed.

Jacqueline DeAmor, founder of Friends for Life Rescue Network, was notified about the little tabby. She immediately offered to help. "I saw that he had a cleft, and many cleft kitties have compounding medical issues so we offered to take him," Jacqueline told Love Meow.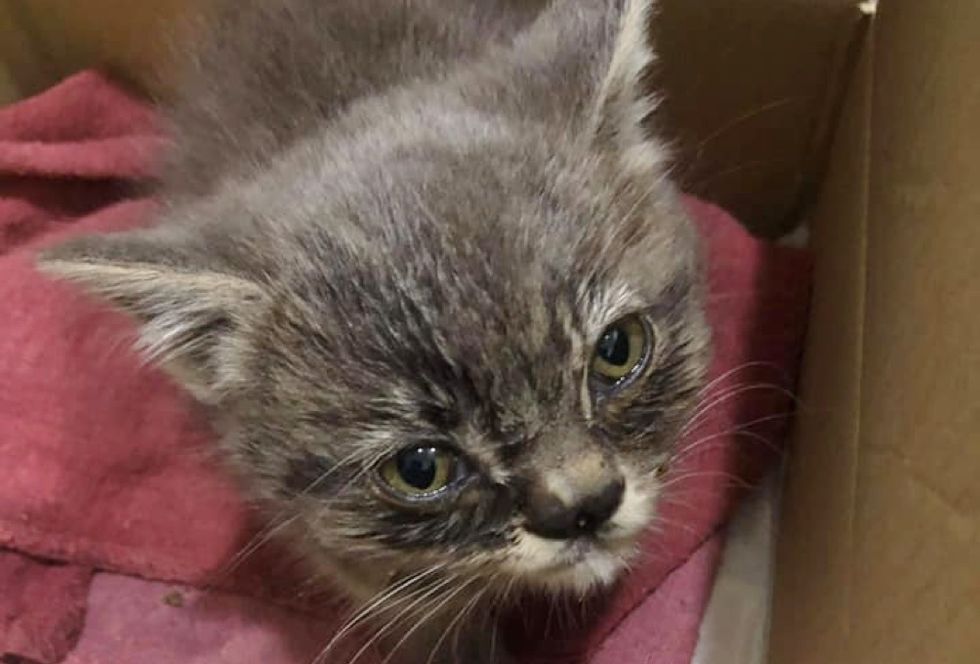 Friends for Life Rescue Network
With help from the rescue community, the kitten named Jacob was transported to Friends for Life Rescue Network the next day. He was around five weeks old, a bit malnourished and covered in fleas.
They cleaned him up, treated his eyes and gave him a full dish of kitten food. The little guy felt much better and went to sleep with a full belly that night.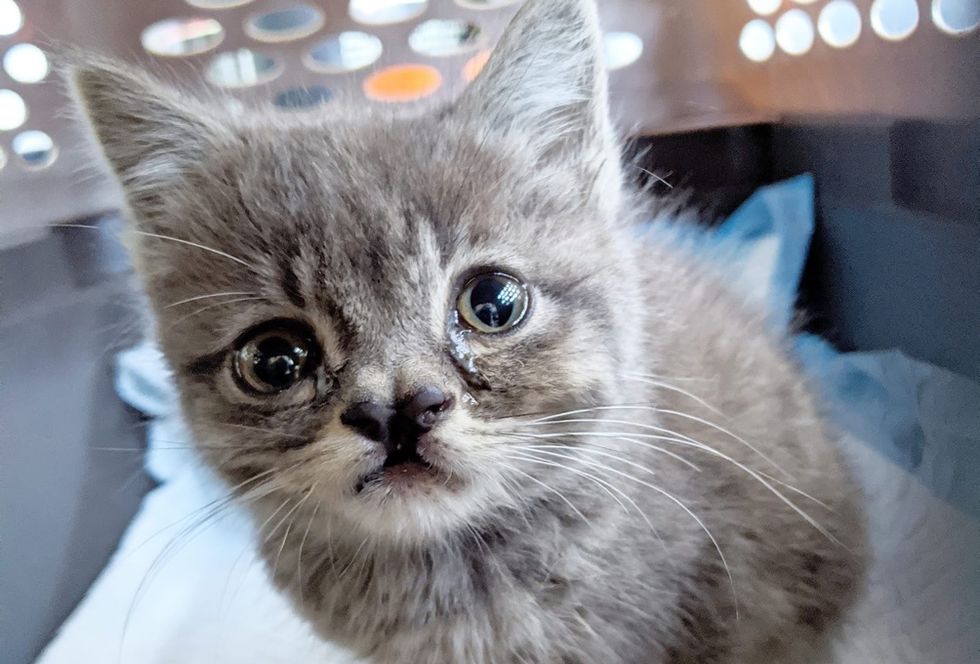 Friends for Life Rescue Network
The sweet kitten with a cleft nose may look a bit confused, but he is so happy to have a safe foster home and a loving family to care for him.
Mel Lamprey and her husband Zane, foster volunteers of the rescue, have been looking after the little tabby and tending to his needs.
Jacob's uneven eyes are due to his skull shape being a bit different. His jawline is not centered properly, and one of his eyes pushes out a bit more.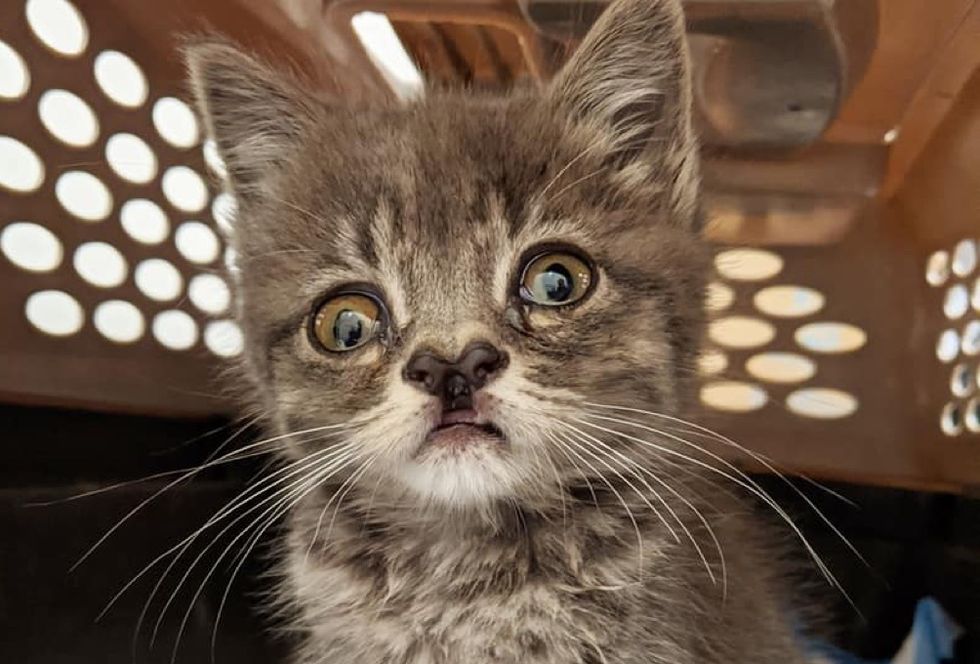 Friends for Life Rescue Network
Watch little Jacob the kitten in this video:
Jacob the kittenwww.youtube.com
"His jaw is misaligned and a tooth is poking into his upper plate," Mel said. The kitten will be seeing a dental specialist this Wednesday and will also visit another specialist to confirm if he has hydrocephalus.

No matter the results, the rescue is determined to ensure quality of life for the deserving little guy.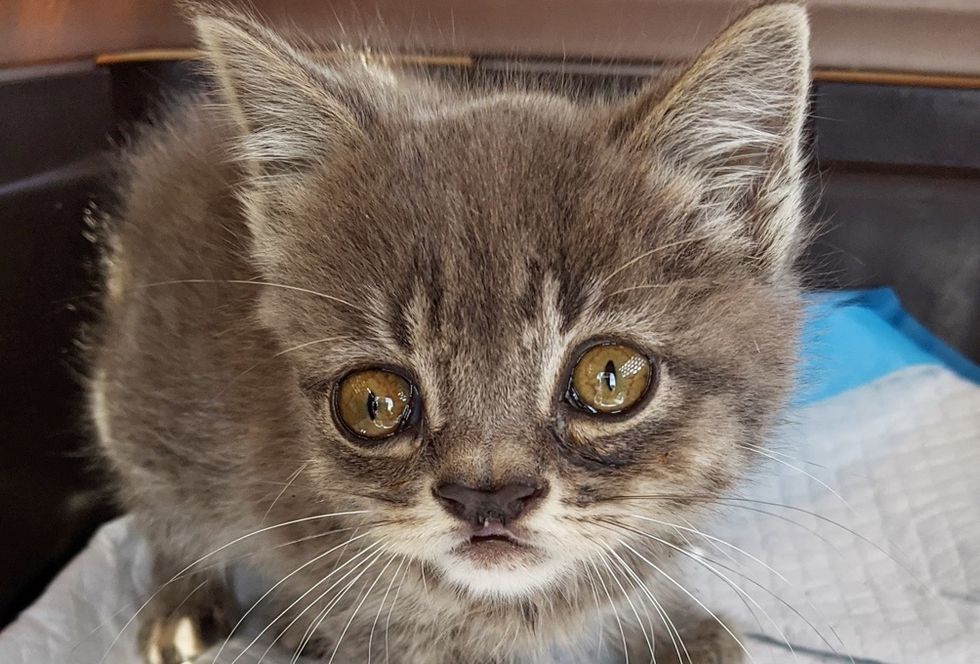 Friends for Life Rescue Network
Jacob has healed up nicely from the kitty cold. His eyes are clear and bright, and he has put on a lot of weight.

Not only has he figured out how to purr but also he has learned to enjoy cuddles. Jacob likes to be held like a purrito. It makes him feel comforted and loved.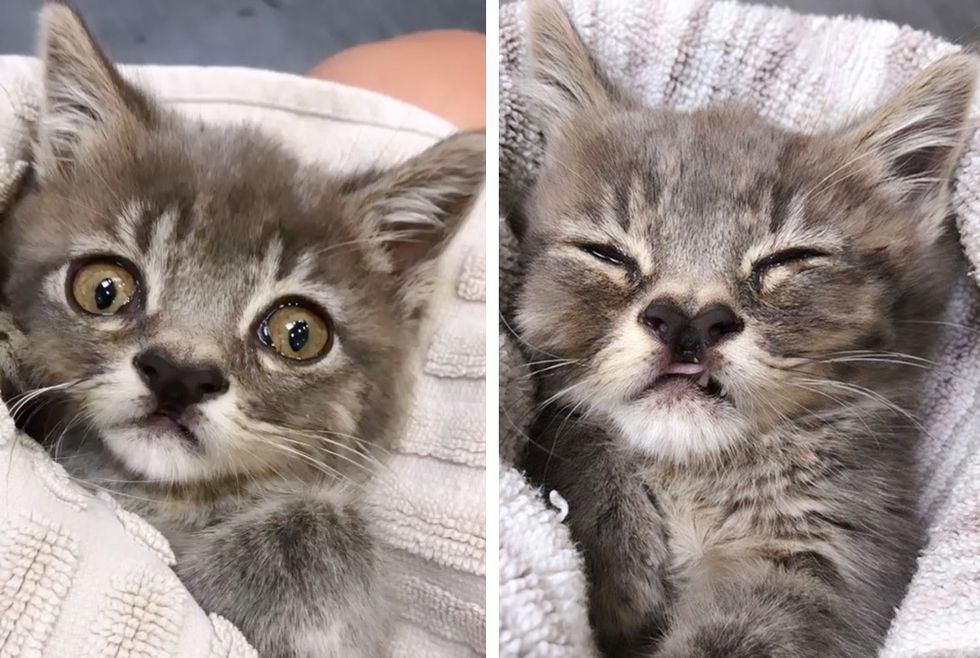 Friends for Life Rescue Network
In just a couple of weeks, the tabby boy really filled out and doubled in weight.

He recently hit the two-pound mark and is getting more active each day. No more worries about food and shelter, the sweet kitty is loving his VIP life and all the cuddles and belly rubs he can get.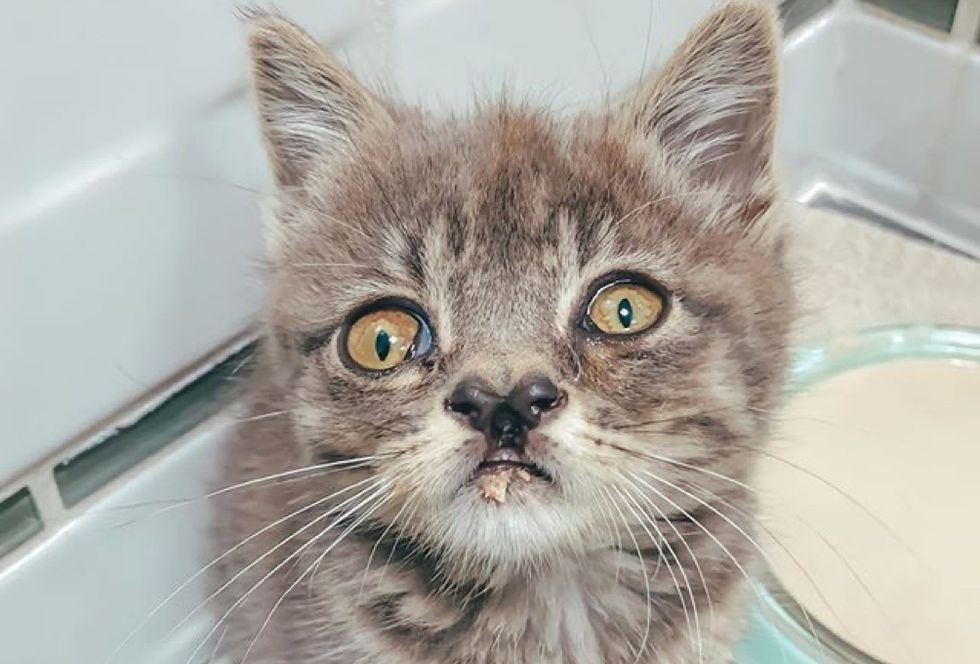 Friends for Life Rescue Network
Jacob is partial to snuggling with his humans while purring up a storm. He has found his favorite napping spots -- his foster dad's chest and neck.

"We'll do our best to get this little werewolf healthy, keep him safe, and show him all the love and support we can," Mel added.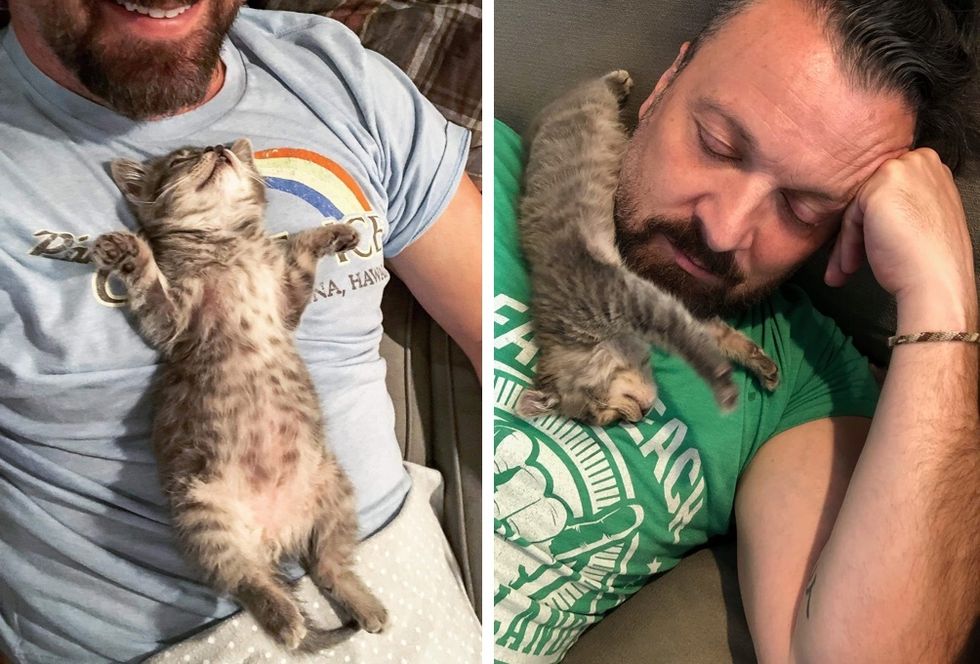 Friends for Life Rescue Network
Jacob is in the best hands and getting what he needs to thrive. The little former stray is on his way to a purr-filled life.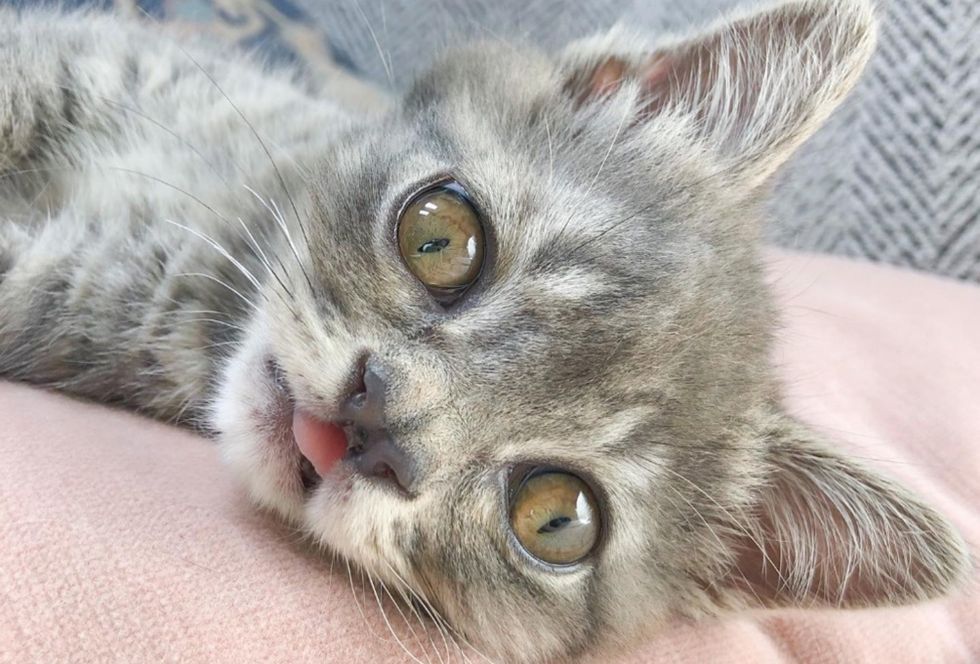 Friends for Life Rescue Network
Share this story with your friends. Follow updates on Jacob on Mel's Instagram and follow Friends for Life Rescue Network on Facebook and Instagram.
Related story: Kitten with Cutest Nose is Thriving After She Was Found in Backyard