This tiny kitten is quite special. She prefers sitting upright on her two hind legs and hopping around like a little bunny.
Meet Alealani aka Lani!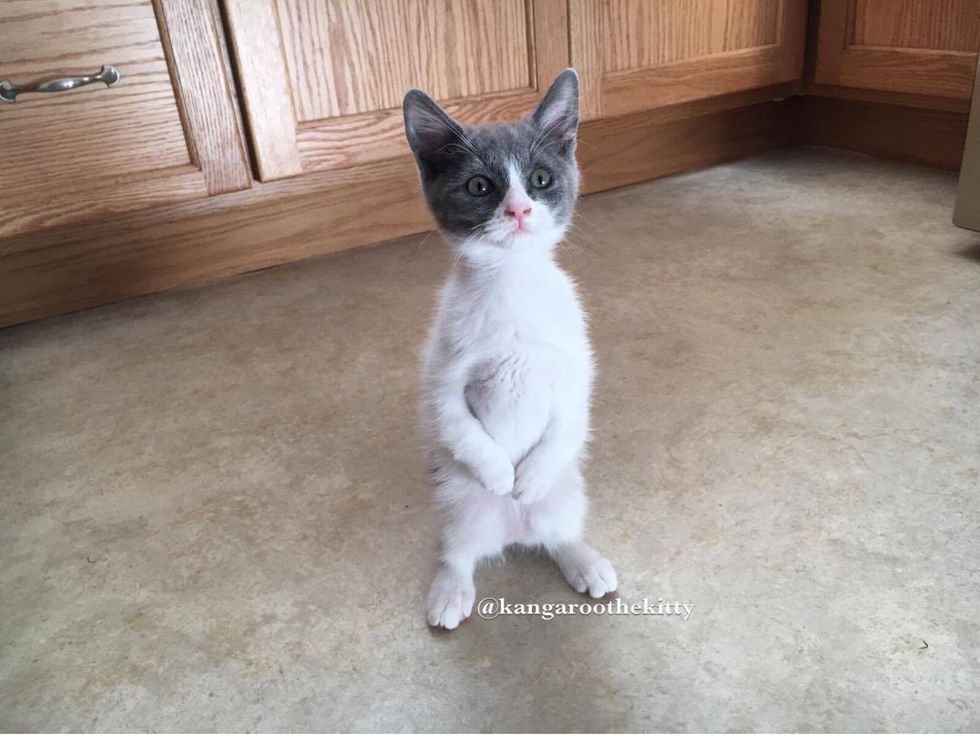 Kanga Roo
Lani came to Saving Grace Rescue in San Francisco for a second chance at life.

The little girl was rescued along with her cat mother and siblings, but she was much smaller in size. Her front legs appeared to be bent inwards due to a congenital defect called radial hypoplasia (same condition as Kanga Roo the cat), but nothing seemed to slow her down.
As soon as they got her into foster care, the little bundle of joy wanted to play and cuddle. She was hopping, jumping and running around like any other playful kittens. Her bent arms didn't bother her a single bit.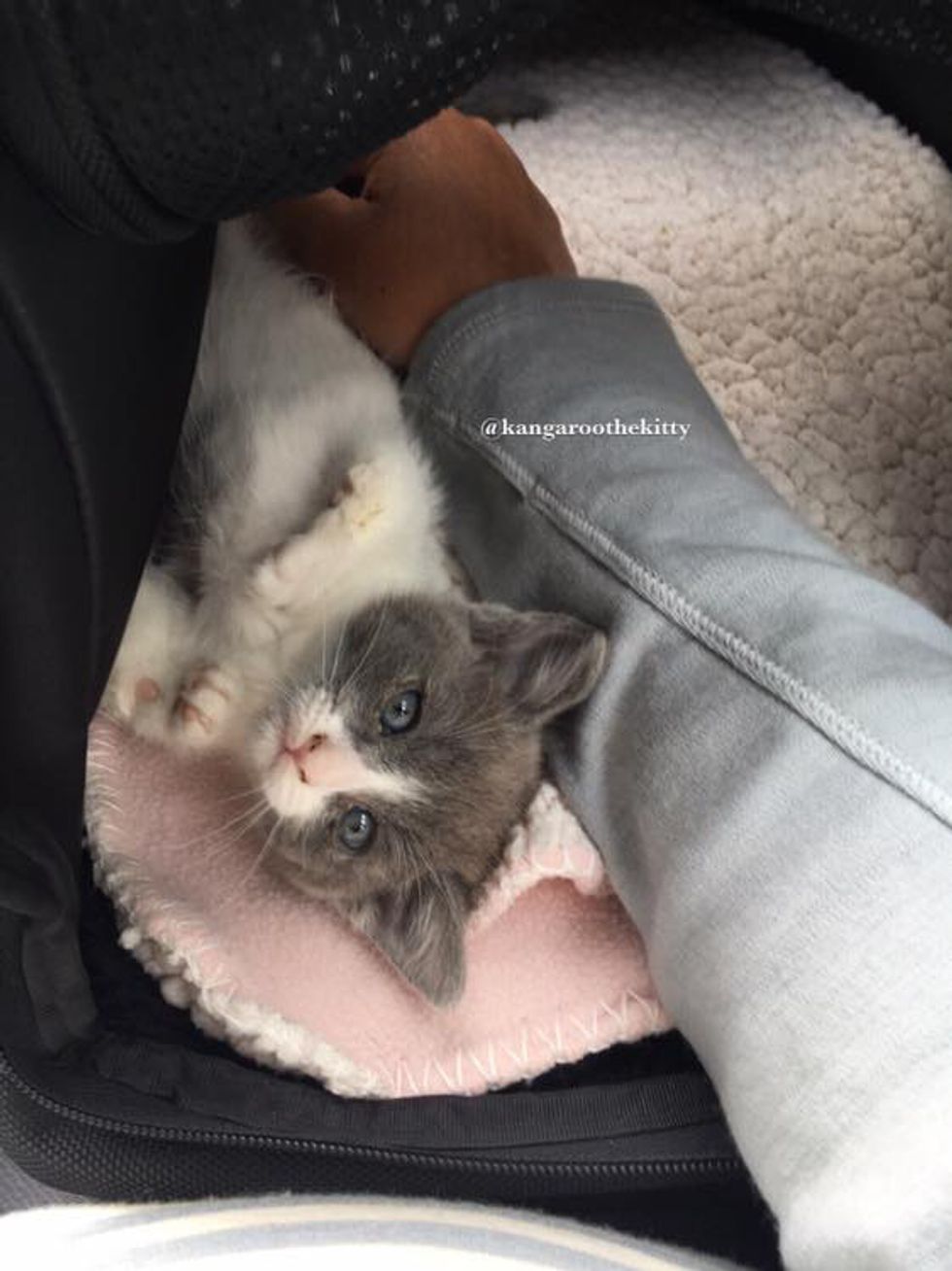 Kanga Roo
"Alealani came from Northern California, and was fostered by Cheryl Bush who also fostered Kanga Roo. Cheryl took care of the family of four since the babies were three weeks old," Joyce told Love Meow.
When her siblings and cat mama were almost ready for adoption, Lani was still too tiny and had a lot of growing up to do. At seven weeks old, she weighed just 14.8 ounces (less than a pound).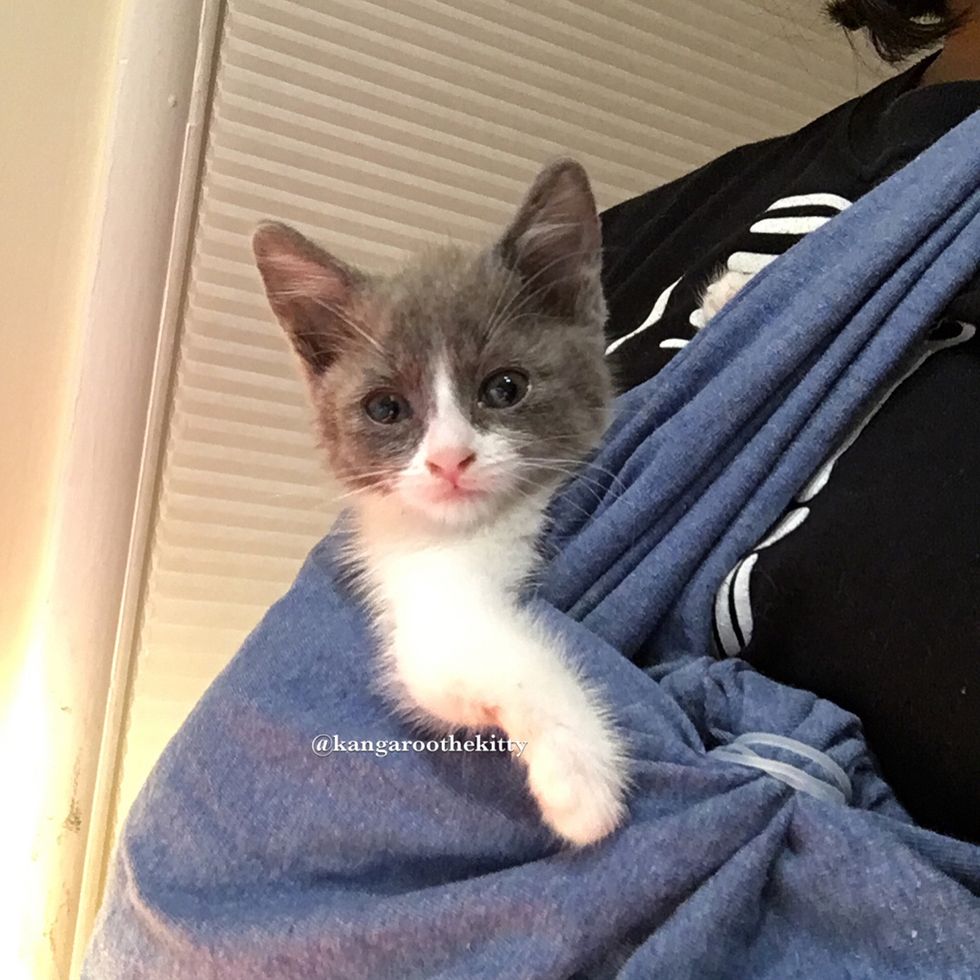 Kanga Roo
On August 20th, Joyce, who adopted Kanga, took Little Lani into her foster home.
"This little girl didn't even weigh one pound. She had a kitty buffet and only nibbles. I had to make slush out of kitty wet food to give her some through syringe."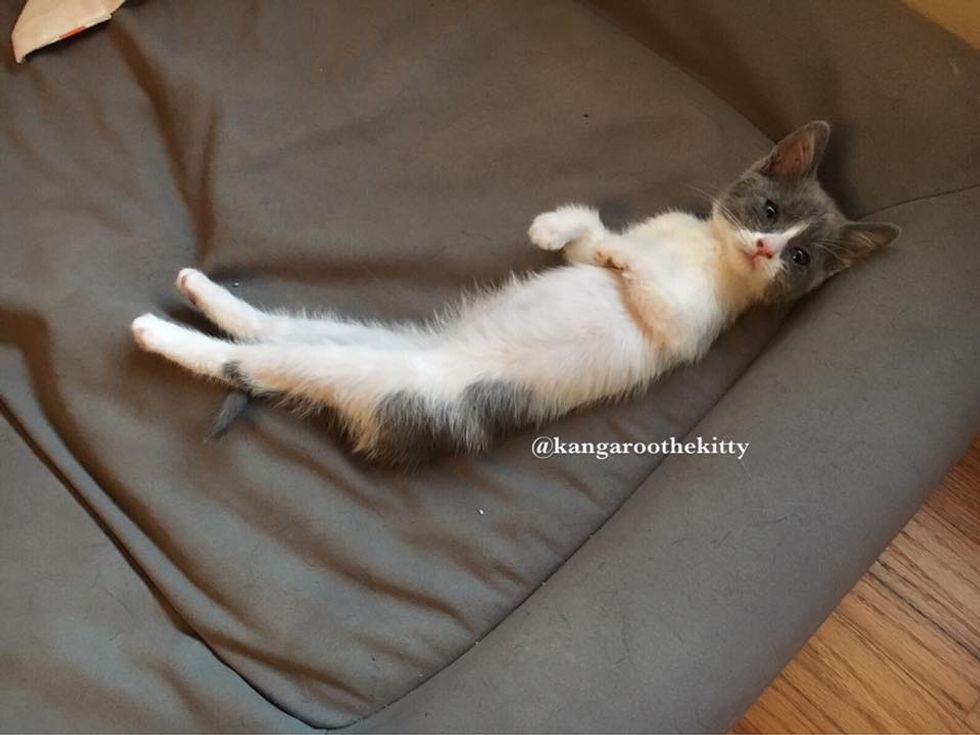 Kanga Roo
It took a whole week for her to gain one ounce despite the around-the-clock care. "I was worried… What my husband heard every day was me asking, 'why isn't she eating and why isn't she gaining weight?'"

Then one day, Lani reached the one pound milestone. Her foster parents were so proud and cheering with joy.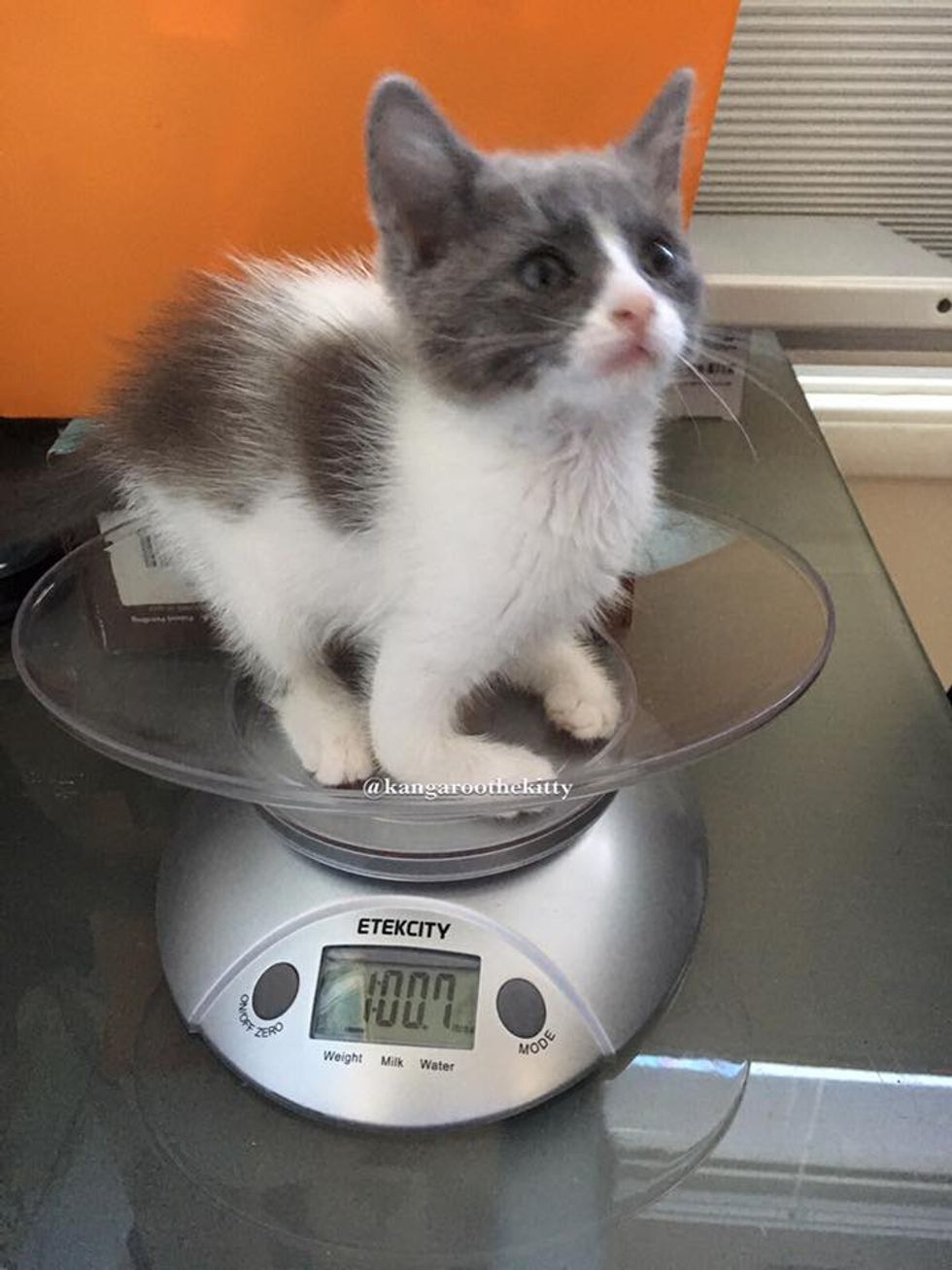 Kanga Roo
A week later, she put on another 5 ounces and had also mastered going down stairs all by herself.

In week three, she continued to get bigger and stronger. Though she was still very tiny, she never felt less than any other kitty.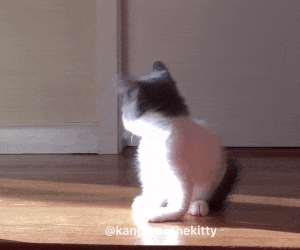 Kanga Roo
"We had Milo and Otis, two other fosters, with us for about 17 days and she played with them like she was in the same weight category as them.
"They were bigger than her even though they were younger than her," Joyce told Love Meow.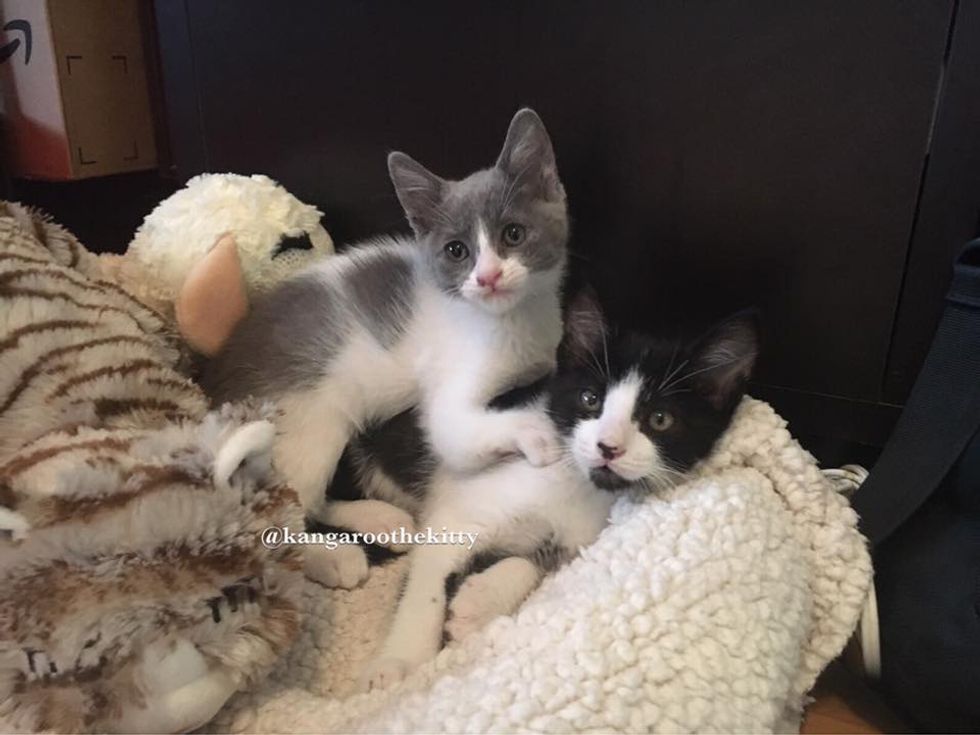 Kanga Roo
Today Lani is 13 weeks old and has finally reached two pounds!

"She is really sweet and feisty and very adaptable."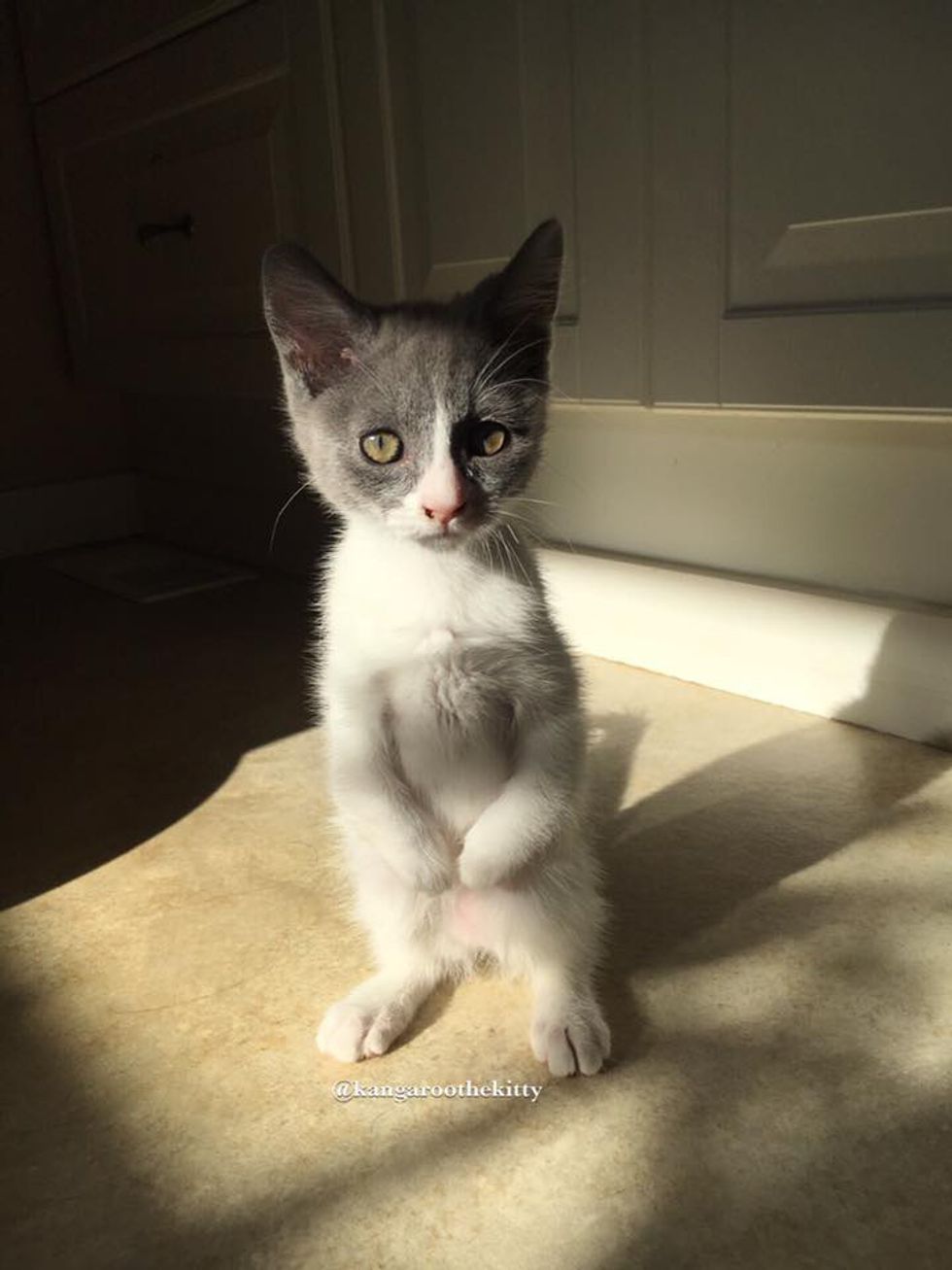 Kanga Roo
The adorable little girl is full of purrsonality and loves people and other kitties.
Lani demanding attention right meow!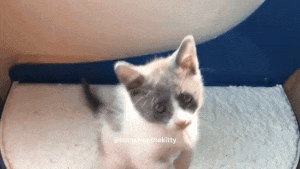 Kanga Roo
Lani may look a bit different, but she knows she's purrfect!
"She is feisty! She can do anything and everything. She is so sweet too," Joyce told Love Meow.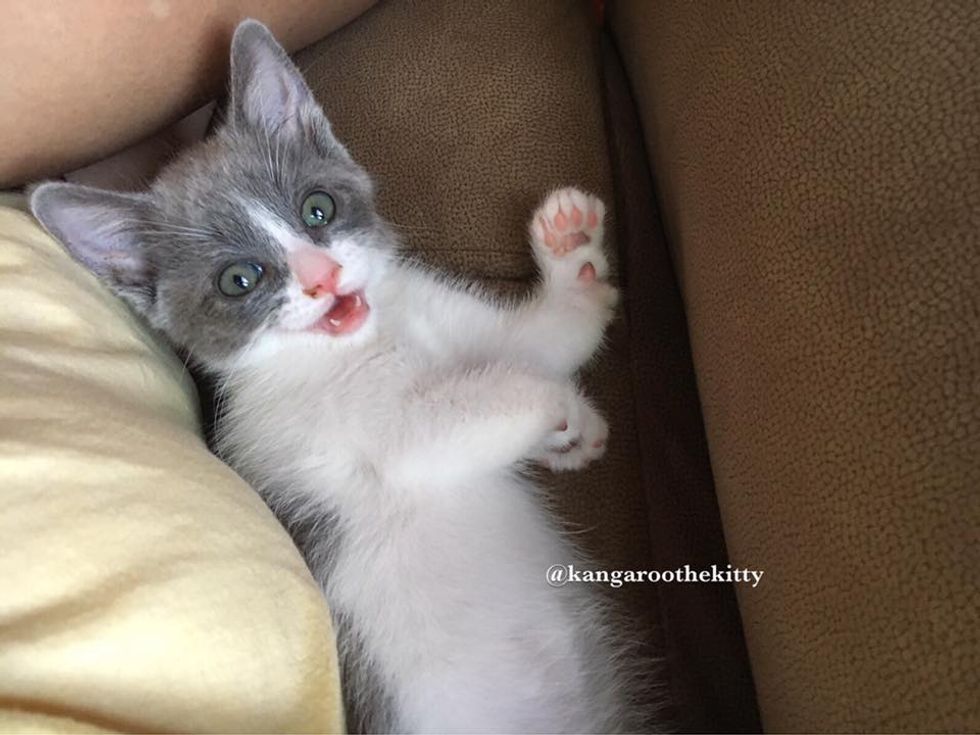 Kanga Roo
Lani welcomes a new foster baby into their foster home with a hug :)
Watch her play!
Share this story with your friends. Follow Lani and her furry friends on Facebook and Instagram. If you would like to support their rescue efforts, click here to see how you can help. Follow Saving Grace Rescue on Facebook.
Related story: Kitty, Who was Born with a Special Paw, Fights His Way to a Loving Home