A tiny orphaned kitten was rescued from the brink of death. He returned the favor by saving his rescuers.
Meet Yoda the cat.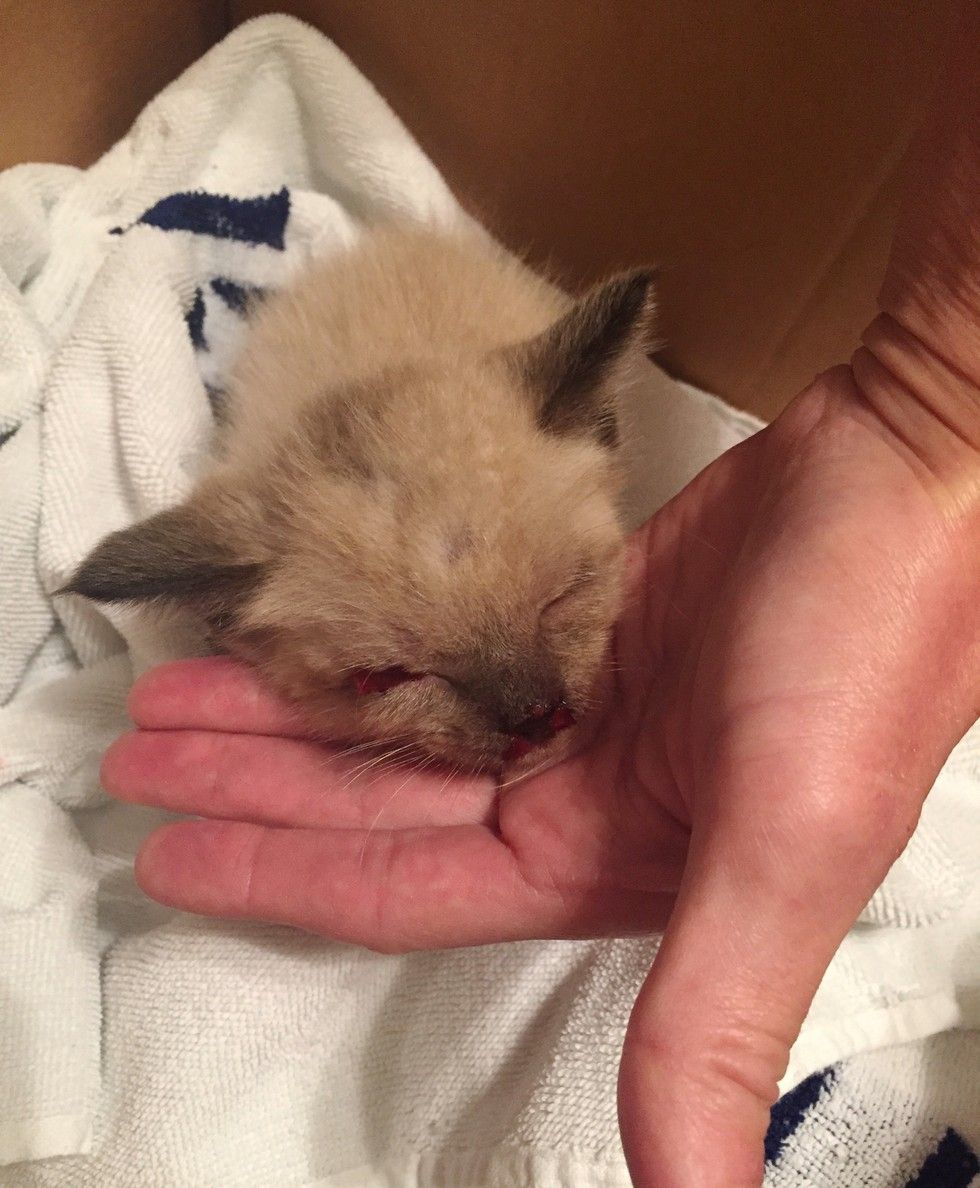 Courtesy: Aspen Smith
"One morning, my mom and I were driving down a rural highway, and in the distance, we saw a little creature scurrying in the middle of the road," Aspen Smith told Love Meow.
"As we got closer, it was obvious that it was scared and had no idea where to go. It would barely move and when it did, it moved a little to the left and then a little to the right, obviously disoriented."
They quickly stopped their car, scooped up the kitten and brought him to safety. The kitten was trying hard to hang on. "He had bloody cuts on the top of his head, and his nose and mouth were bleeding pretty badly. For a while, we didn't know if he even had an eye because his eye was so swollen."
It was remarkable that the kitten survived the ordeal.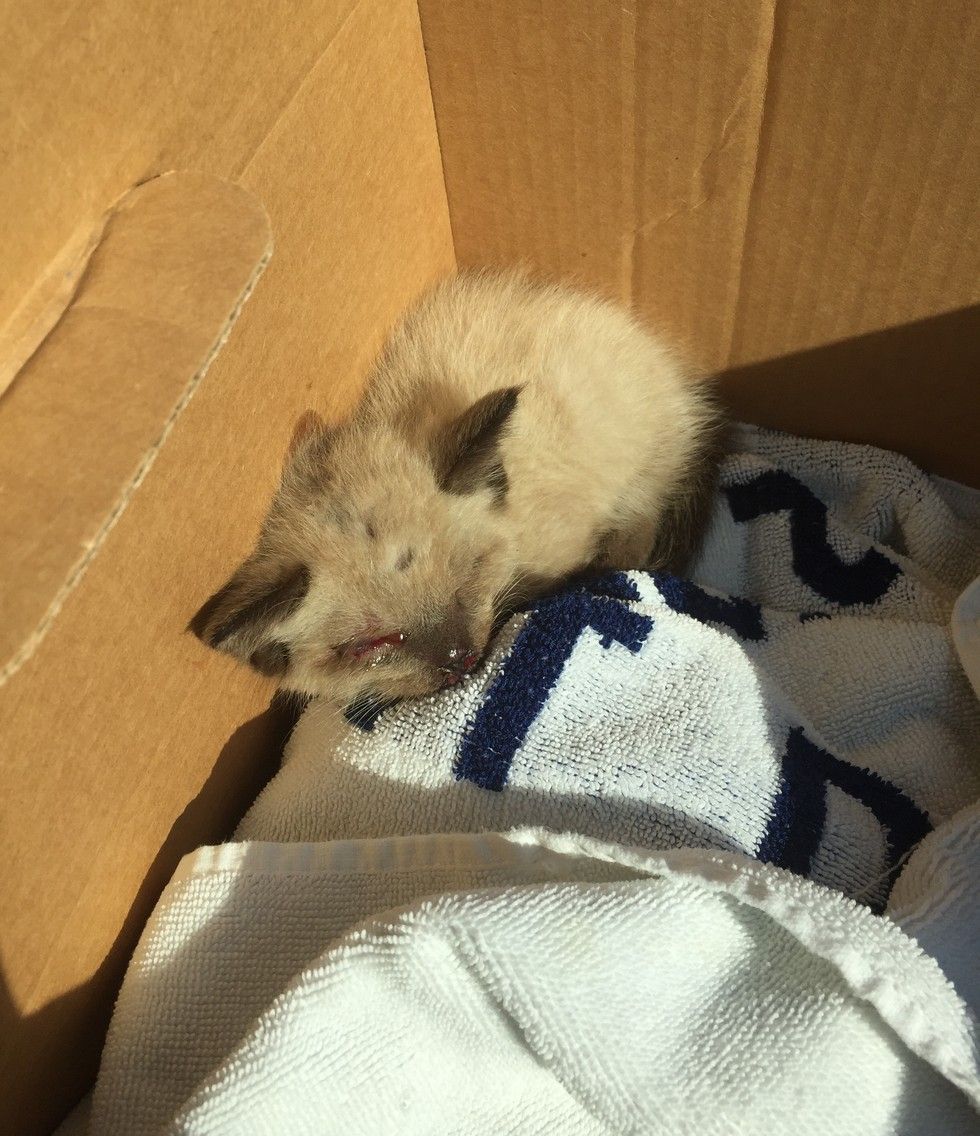 Courtesy: Aspen Smith
No one is certain how Yoda ended up on the highway. "Our guess is that he crawled up into a vehicle and fell out when the vehicle was on the highway. But it's also possible he was thrown out or abandoned. We have no idea!"
They brought the kitten to the vet's office to get medical help as soon as they were open. The 4-week-old kitten was covered in fleas, weighed just one pound and had a severe eye infection, but he was finally on the mend.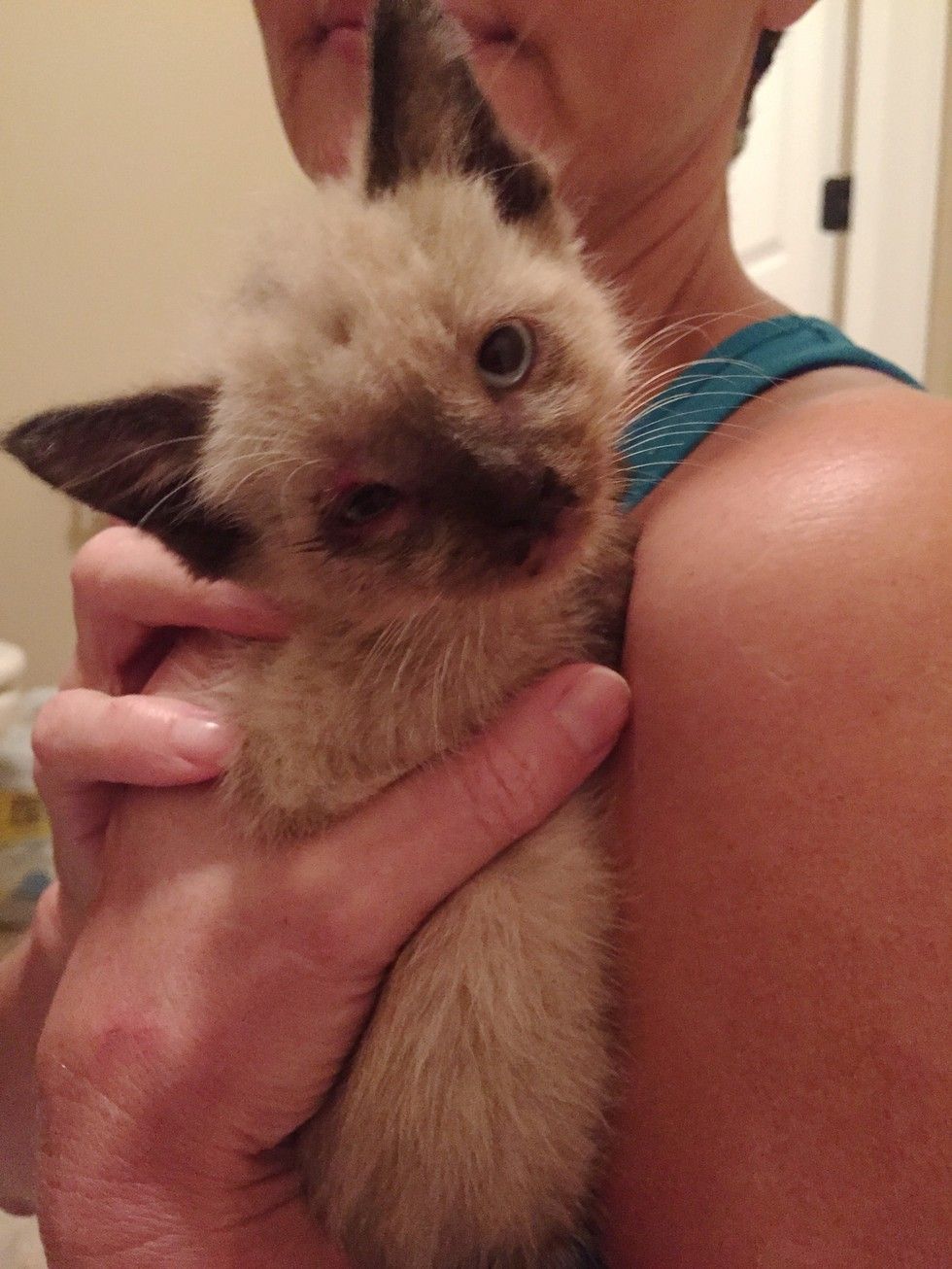 Courtesy: Aspen Smith
"He was so shy at first and had no idea what to think of us. We put out some food for him, but he wouldn't eat at first. I decided to spoon feed him," Smith told Love Meow.
"He devoured all of the food on the spoon so I kept feeding him until I was sure he had enough."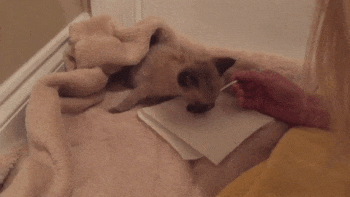 Courtesy: Aspen Smith
From that time forward, Yoda became a different kitty.
"He started eating regularly without us having to spoon feed him and he learned to use his litter box quickly."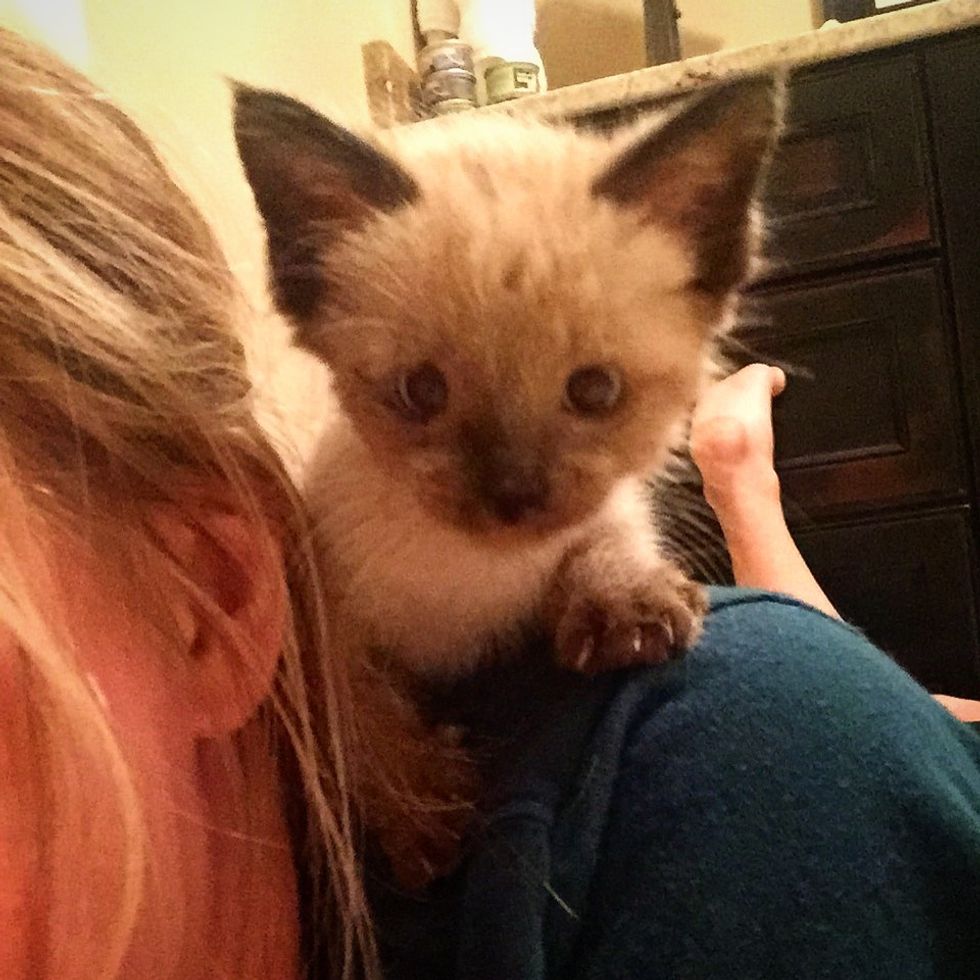 Courtesy: Aspen Smith
Yoda became very attached to his family.
"He sleeps with us at night. He sleeps right between Mike (my boyfriend) and me, and sometimes, I wake up to him biting on my ponytail holder I keep around my wrist," Smith told Love Meow. "Yoda is always by mine or Mike's side. He does not like to be left alone."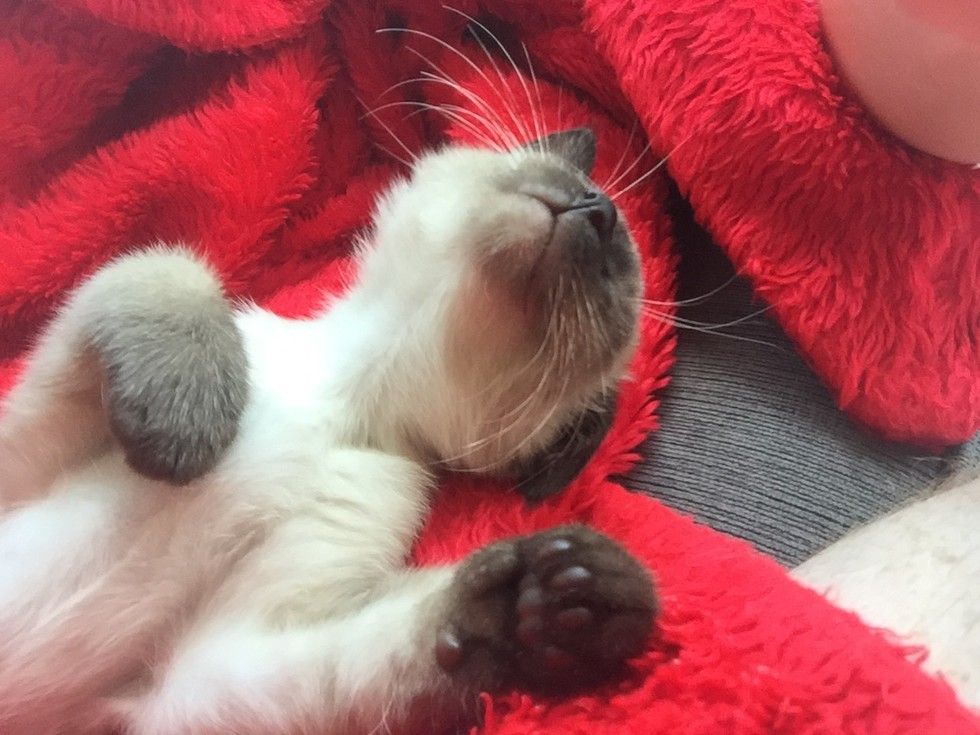 Courtesy: Aspen Smith
Every time they are on the computer, Yoda will come and sit on the desk and supervise them as they work.
"When I lie on the couch, he snuggles up with me and gets as close as possible."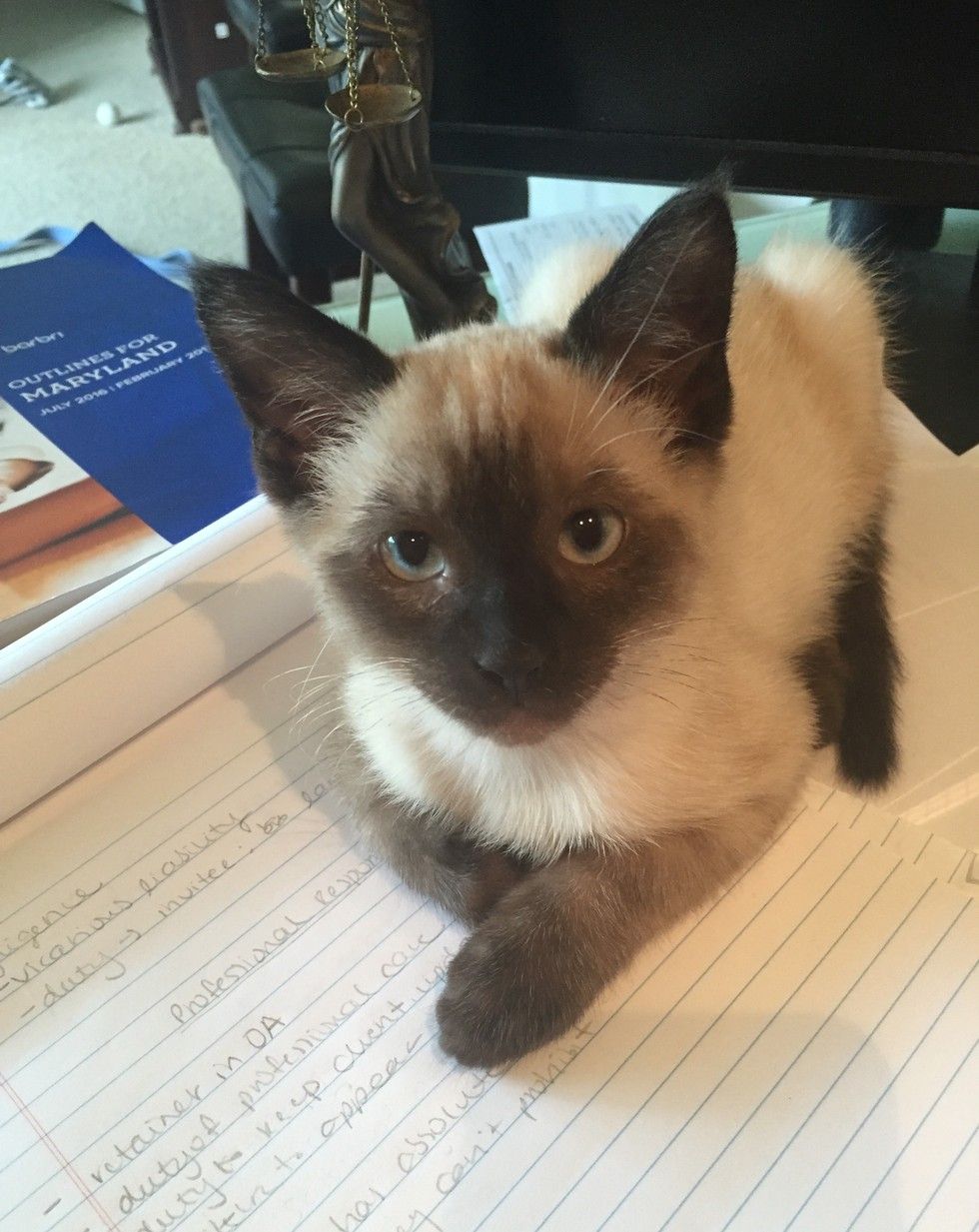 Courtesy: Aspen Smith
The little fur buddy has come a long way!
"I took him to the vet about a week ago, and he now weighs about three pounds. He is growing!" Smith said.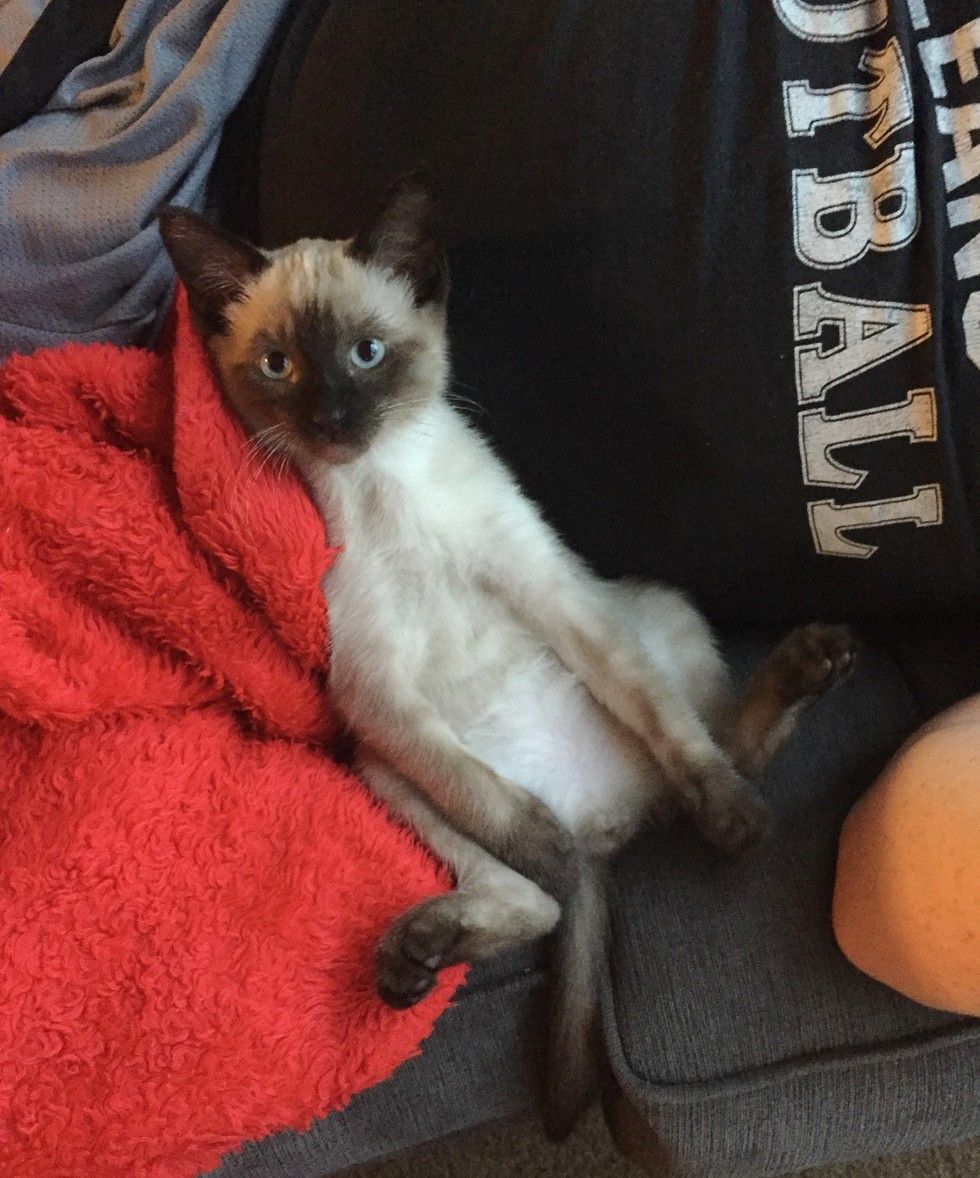 Courtesy: Aspen Smith
He's even made a friend, Piper. Yoda is her biggest fan.
"Yoda constantly jumps on Piper trying to get her to play. He also watches her use her litter box (it's so funny)," Smith told Love Meow. "He will sit outside of the litter box and watch her use the bathroom without fail."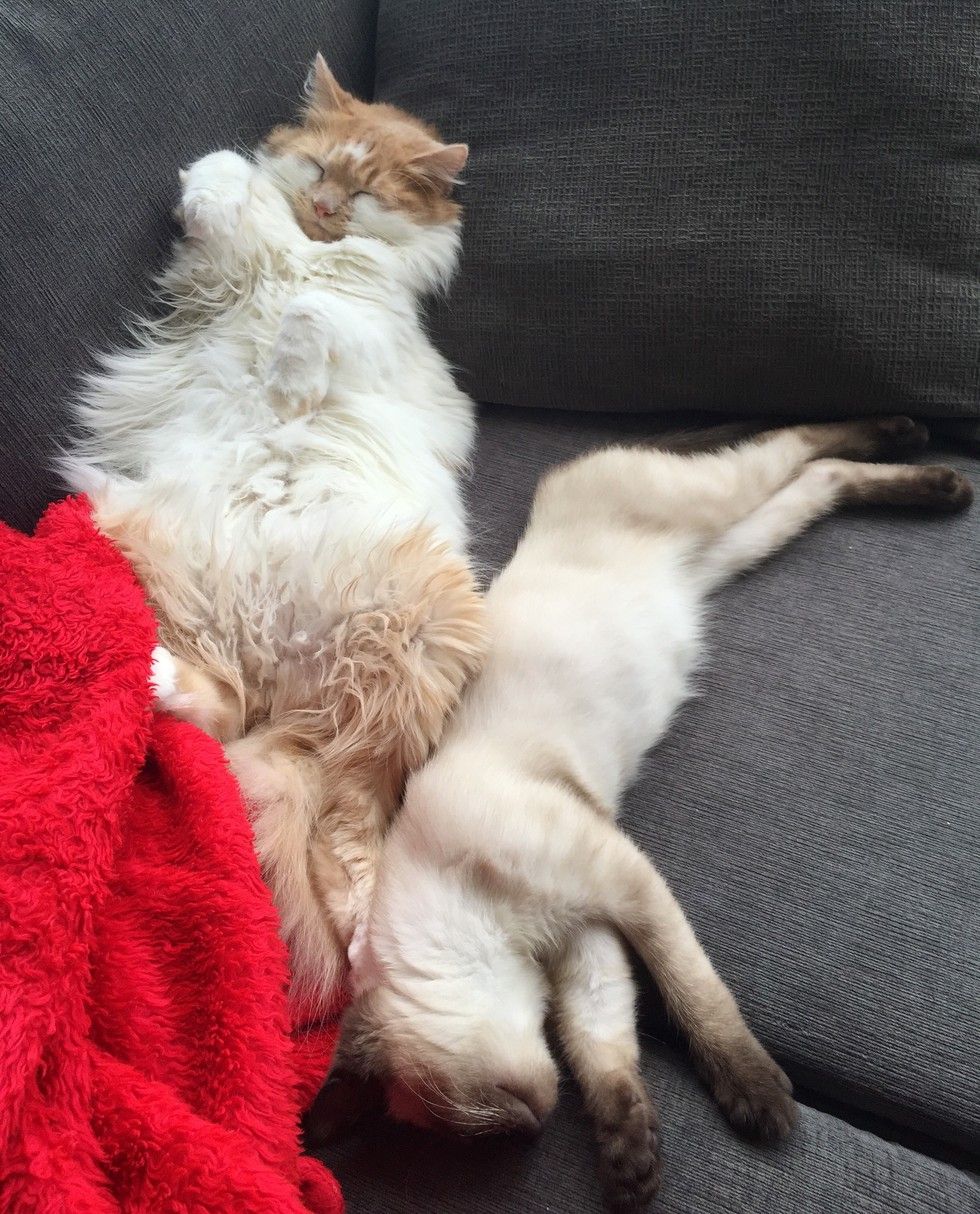 Courtesy: Aspen Smith
"He is healthy so I'm happy! He has brought so much joy to our lives."

Smith's grandmother passed away the week before they found Yoda. The little rescue kitten came into their lives at the time where they needed much comfort.
"He took our minds off of the passing of my grandmother as much as possible," Smith told Love Meow. "He was definitely a blessing to both of us!"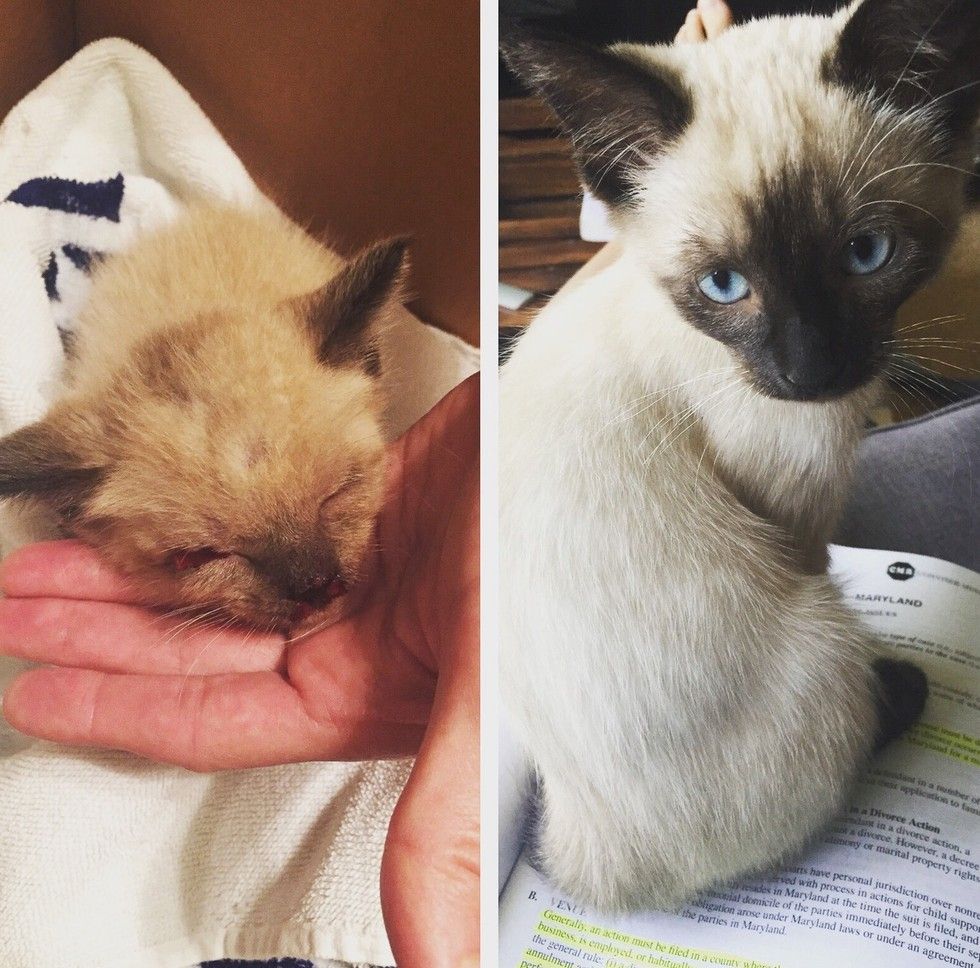 Courtesy: Aspen Smith
"When you rescue... you too are rescued." Share this story with your friends.
Related story: Motorcyclist Ran into Busy Intersection to Save Kitten