A 13 year old cat was so happy to be free from a pound of matted fur and to feel comfortable again that he cuddled with his rescuer in pure bliss.
Meet Buttercup!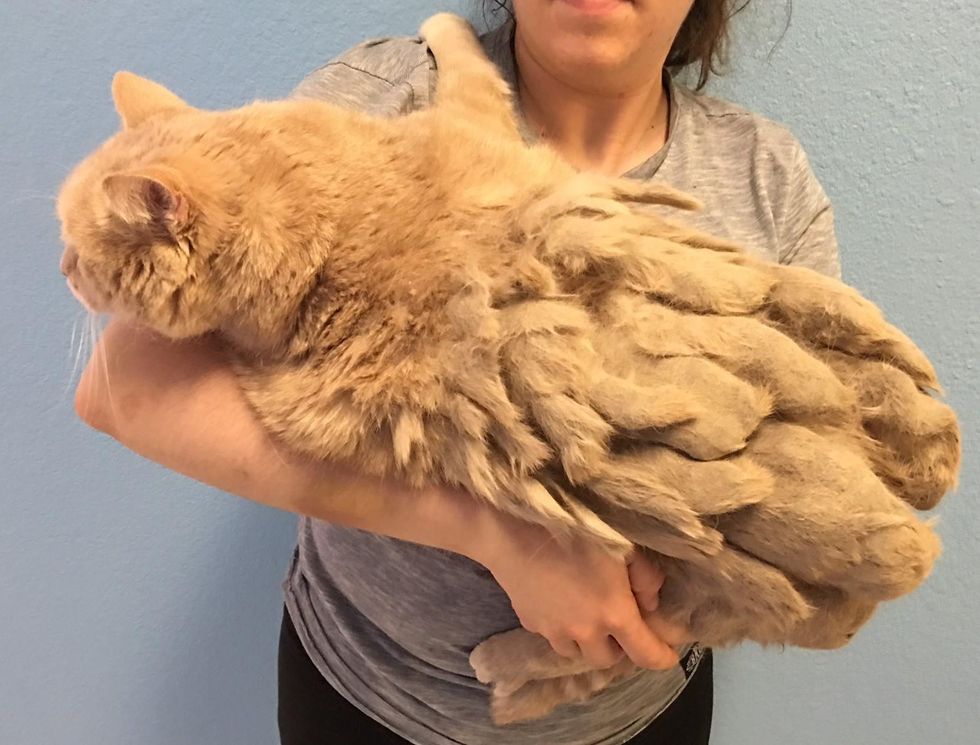 Nevada SPCA No-Kill Animal Shelter
This sweet senior cat had been carrying an unthinkable amount of matted fur on his back for a long time. For many years, the ginger feline had been living a stray life wandering around the neighborhood without a roof over his head.

His previous owners let him roam outside, and when they moved out, Buttercup was left behind. Neighbors gave him food and kept him fed, but the cat never received help to remove the knotted fur until a good Samaritan who spotted him last Thursday and brought him to the Nevada SPCA.
"This docile boy, 13 years of age and 24 pounds in weight, was suffering from some of the most severe matting on a feline that we have seen in years," Nevada SPCA said.
Getting rid of all the mats wasn't easy for Buttercup, but he was such a champ. "It took hours to shave him. I believe they had to take many breaks to reduce the stress," Ellen Richter, volunteer of Nevada SPCA, told Love Meow.
Nevada SPCA No-Kill Animal Shelter
It was an emotional process to shave off all the mats and knots. Many staff members that were there, couldn't hold back their tears, knowing what Buttercup had endured all these years.

The ginger boy held onto his caretaker while they were helping him get the much-needed relief. He was the sweetest he could be, "and let them shave away years of accumulated knots and giants matted folds."
"His skin was horrible and dry. They applied oils and lotions to help heal and soothe," Ellen told Love Meow.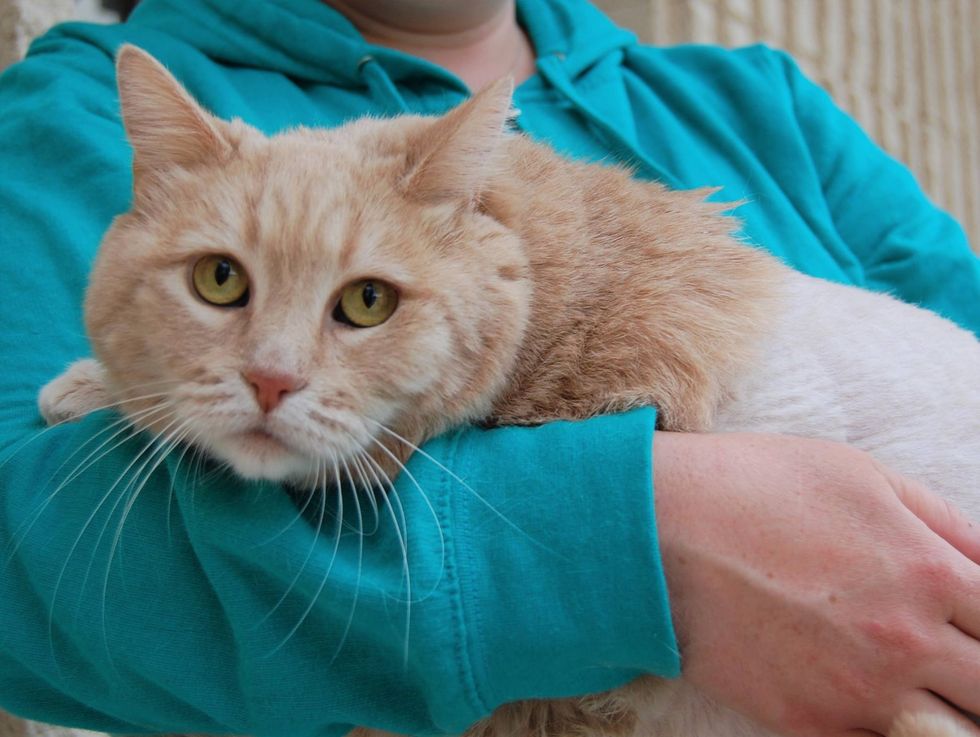 Nevada SPCA No-Kill Animal Shelter
To help with his skin, they put the kitty on a diet with premium food and continue treating his skin daily with special oils. Buttercup is making incredible improvement every day.
"Buttercup loves being held in gentle arms or cuddling up in cozy cat beds. He is great with other sweet cats. Please share his post to help him finally know and experience what a loving and responsible home feels like, at long, long last."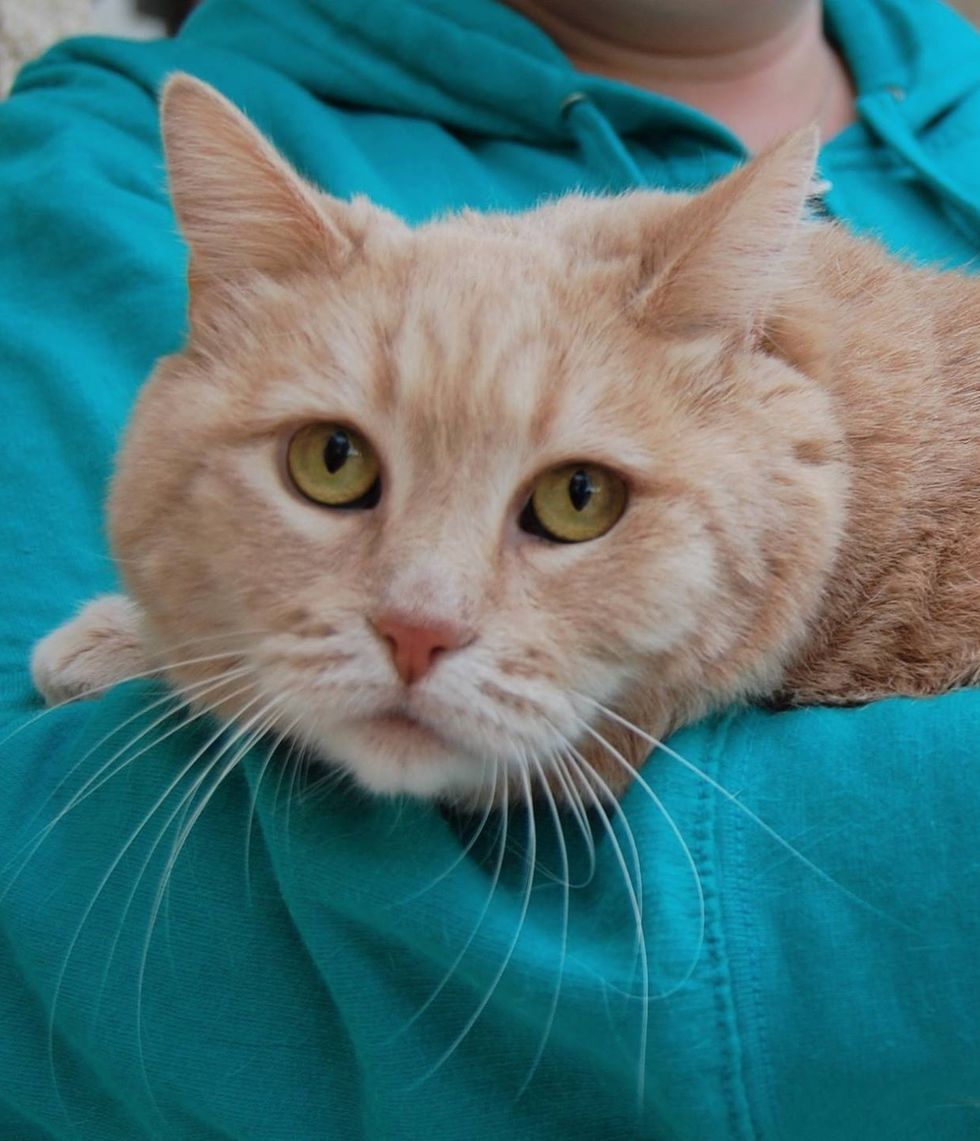 Nevada SPCA No-Kill Animal Shelter
Share this story with your friends. If you are interested in adopting Buttercup or other kitties at Nevada SPCA, click here for more info. Follow Nevada SPCA on Facebook.
Related story: Cat Covered in Matted Fur Looks Like He's Dragging a Carpet Until He's Completely Shaved