Steve Austin, Jamie Summers, & Kate Mason, 3 tiny ginger orphan kittens are unlike any other rescues at Brooklyn Bridge Animal Welfare Coalition. They walk a bit different than other kitties - they use their front elbows to help them move around, but that doesn't slow them down. They are happy and healthy, and they probably don't even think they are any different.
"(They) were rescued as bottle babies from a kill shelter when they were 3 weeks old. They were found as orphans, and it was immediately clear that something was very wrong with their arms. Dr. Danielson at Brooklyn's Blue Pearl Vets was very helpful. After x-rays were taken, we discovered the kittens were born with a very rare condition: Radial Agenesis. It means they are missing one of two bones in their forearms," said the shelter.
They have the same condition as Harvey the kitten who has learned to walk and play on his elbows.
"Radial Agenesis has an unknown cause. It could be genetic. It could be the result of toxicity and/or malnutrition during gestation. It will NOT affect their quality of life! Steve, Jamie, and Kate are happy and healthy kittens! Right now, we are working to help them build up their muscles so they gain strength in their limbs. They will likely put most of their weight on their rear legs, and use their front legs to pull."
"Jamie's arms are twisted back (she is the one with the looping bone) so she has more difficulty. At their current age, all kittens with healthy legs are unstable and wobbly, so its an ongoing process. We are trying to strengthen muscles in their legs, build calluses along arms, and see how they learn to maneuver. They are very active and play with each other. All of them can climb out of the box they are in, and use their back legs to push themselves over the side!"
Despite their condition, these little ones are happy and are taken in by Grace the shelter cat who become the mom they never had. What they need next is a place to call their forever home.
Steve Austin, Jamie Summers, & Kate Mason, tiny orphan kittens born without bones in front legs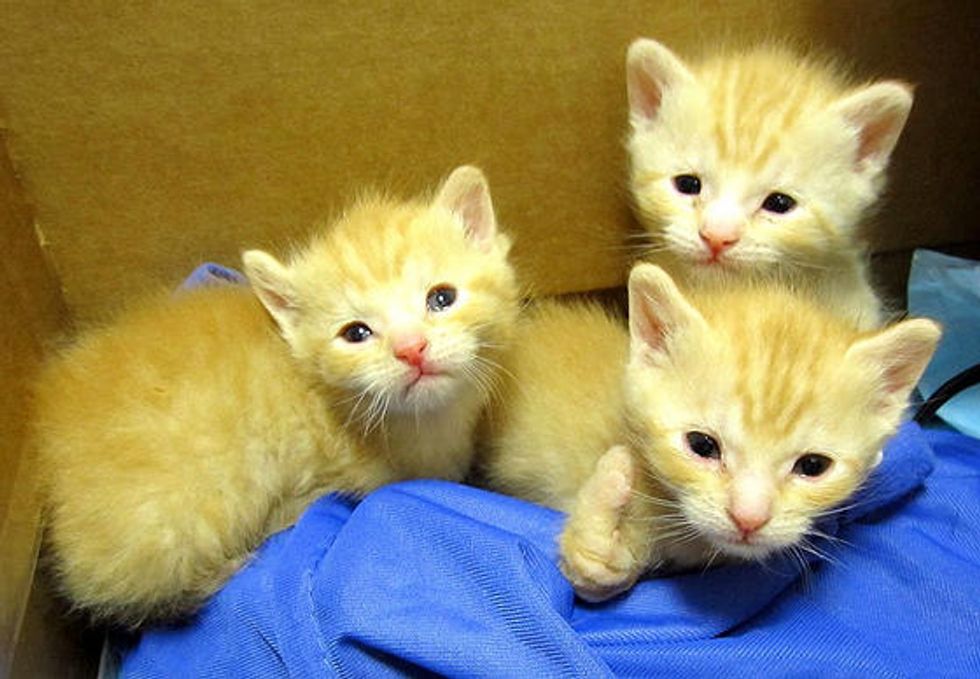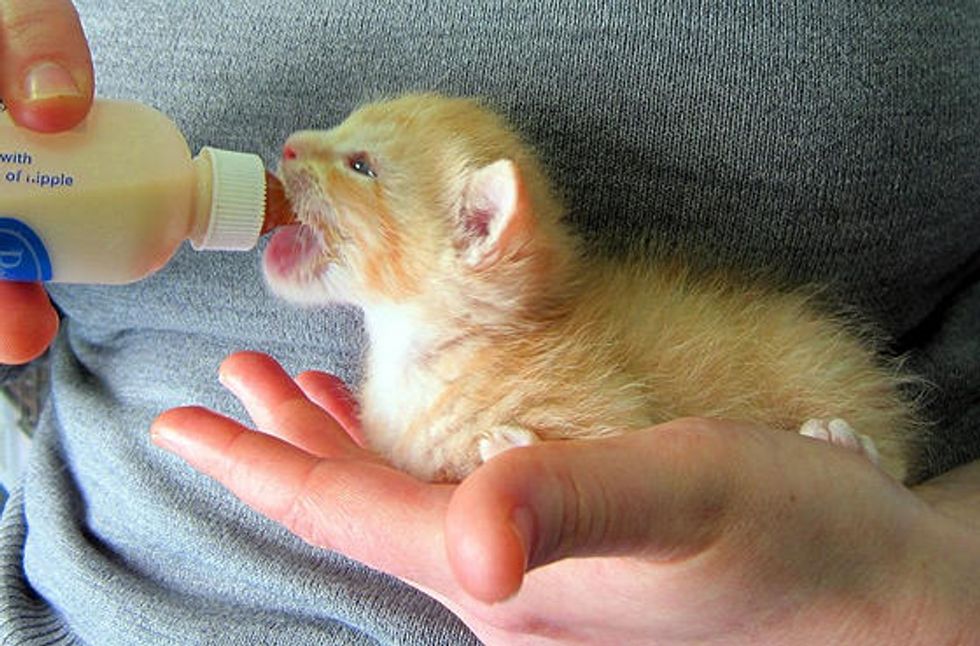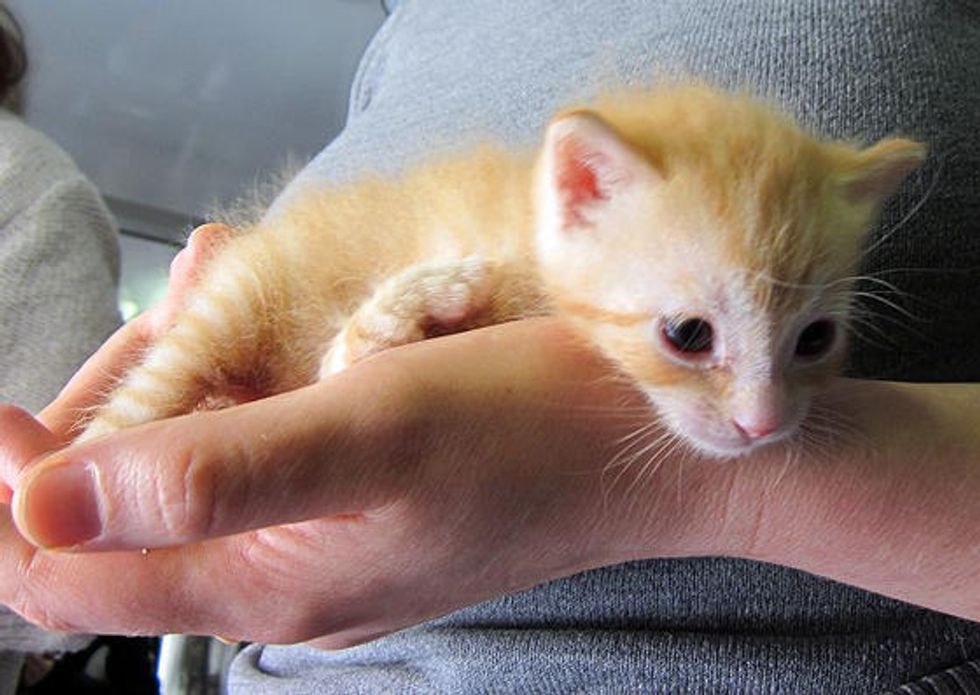 They are taken in by Grace the shelter cat who becomes the mother they never had.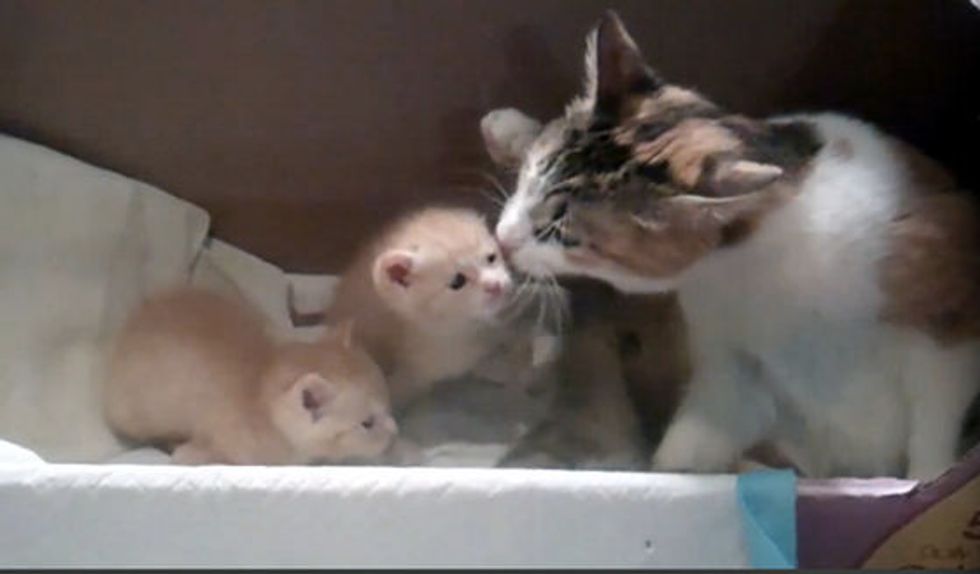 Photos by Brooklyn Bridge Animal Welfare Coalition (follow their updates on Facebook), watch them in action on YouTube.