Bernie the cat came to the shelter with a limp, a heart murmur and a genetic condition that caused him to be nearly blind.
Despite having a rough start, all he wanted was someone to cuddle.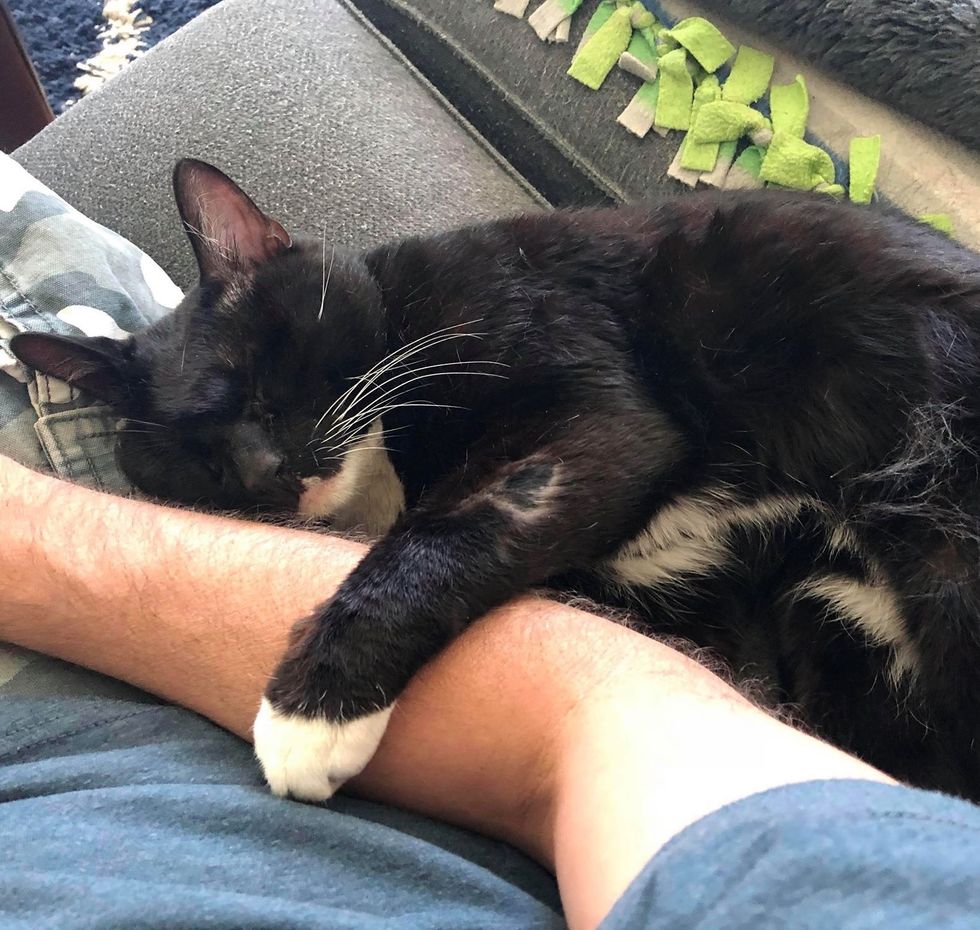 The Furrtographer
Bernie was brought in to a shelter six months ago. The kitty was very affectionate and his sweet and mellow personality touched everyone at the shelter. Staff reached out to Saving Grace Rescue (in San Francisco) and asked if they could help him. The rescue took him in with open arms.

The tuxedo cat was born with eyelid agenesis, which means he is missing his upper eyelids. He also had a severe limp and an enlarged heart.
"But Bernie doesn't care. He is grateful to be loved," Saving Grace Rescue said.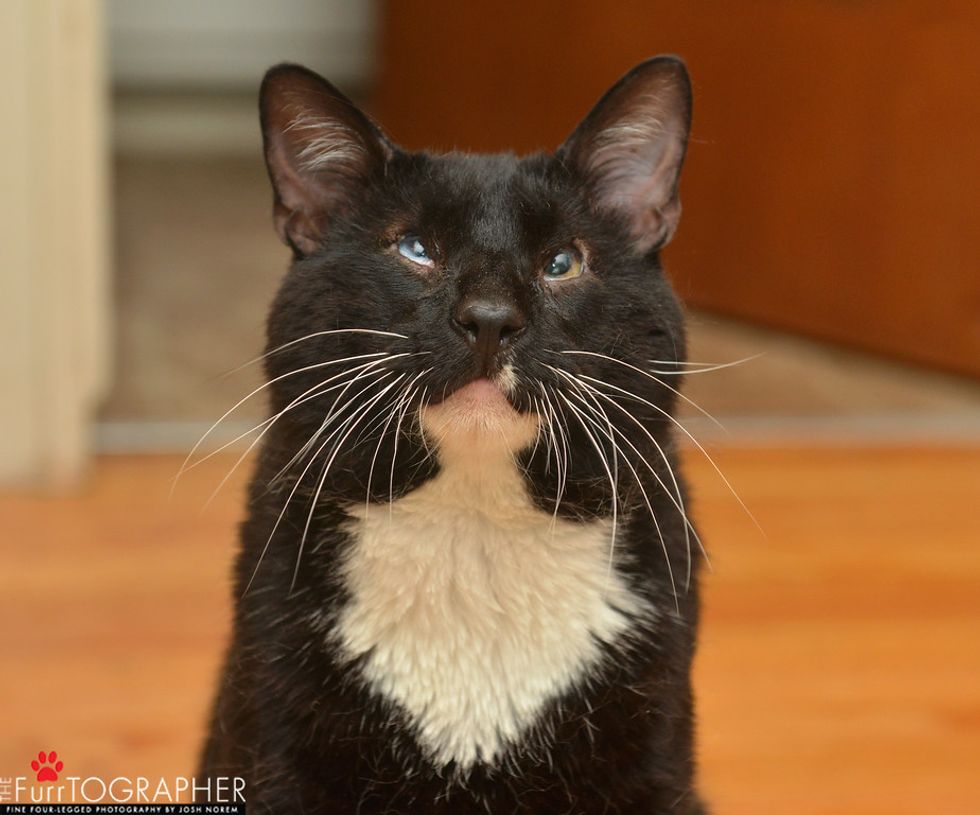 The Furrtographer
Josh Norem (The Furrtographer) took him in to foster. Right away, he noticed his sweet temperament and a penchant for giving everyone snuggles.
Over the next two months, Bernie had to undergo three eye surgeries, which would allow him to open his eyes and live a pain-free life.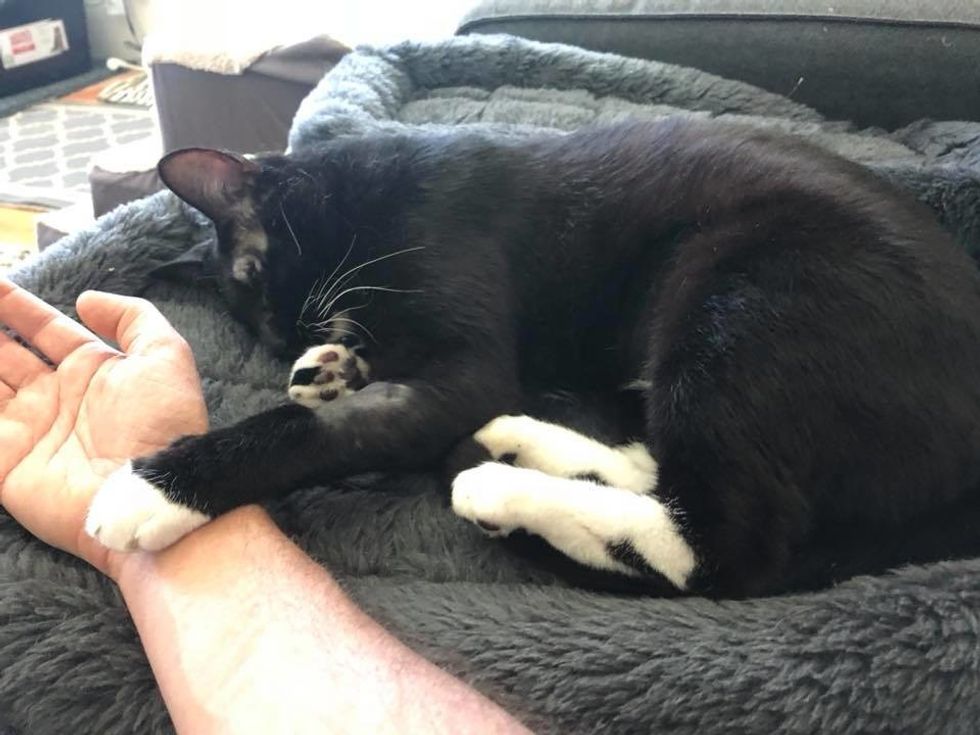 After his first surgery, Bernie went right back to snuggling with his Foster Dad and purring up a storm. "Throughout all of this he had been incredibly sweet, and was so affectionate," Josh said.

Bernie gives everyone cuddles, both human and furry kind.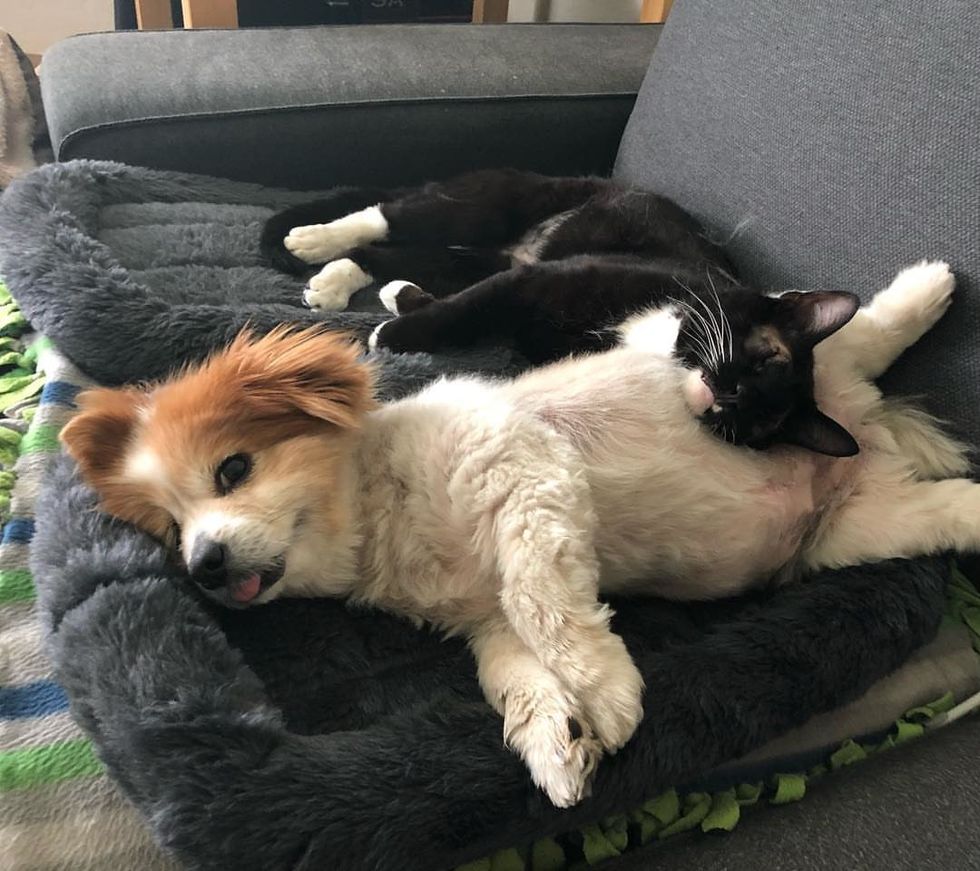 The Furrtographer
The second surgery opened up his field of vision and revealed his beautiful different-colored eyes. "The pain in his eyes had been relieved by the surgery. He was more playful than ever," the rescue added.

Watch Bernie giving snuggles in this cute video:
Bernie the Cat Gives Everyone Snugglesyoutu.be
With lots of love and good food, Bernie's leg was also healing nicely.

"We are not sure how his leg was injured but it healed at an awkward angle. We often guess hit by car...if only he could tell us. His leg improved greatly with stretching and movement. Cats are amazing," Amber Rose, founder of Saving Grace Rescue, told Love Meow.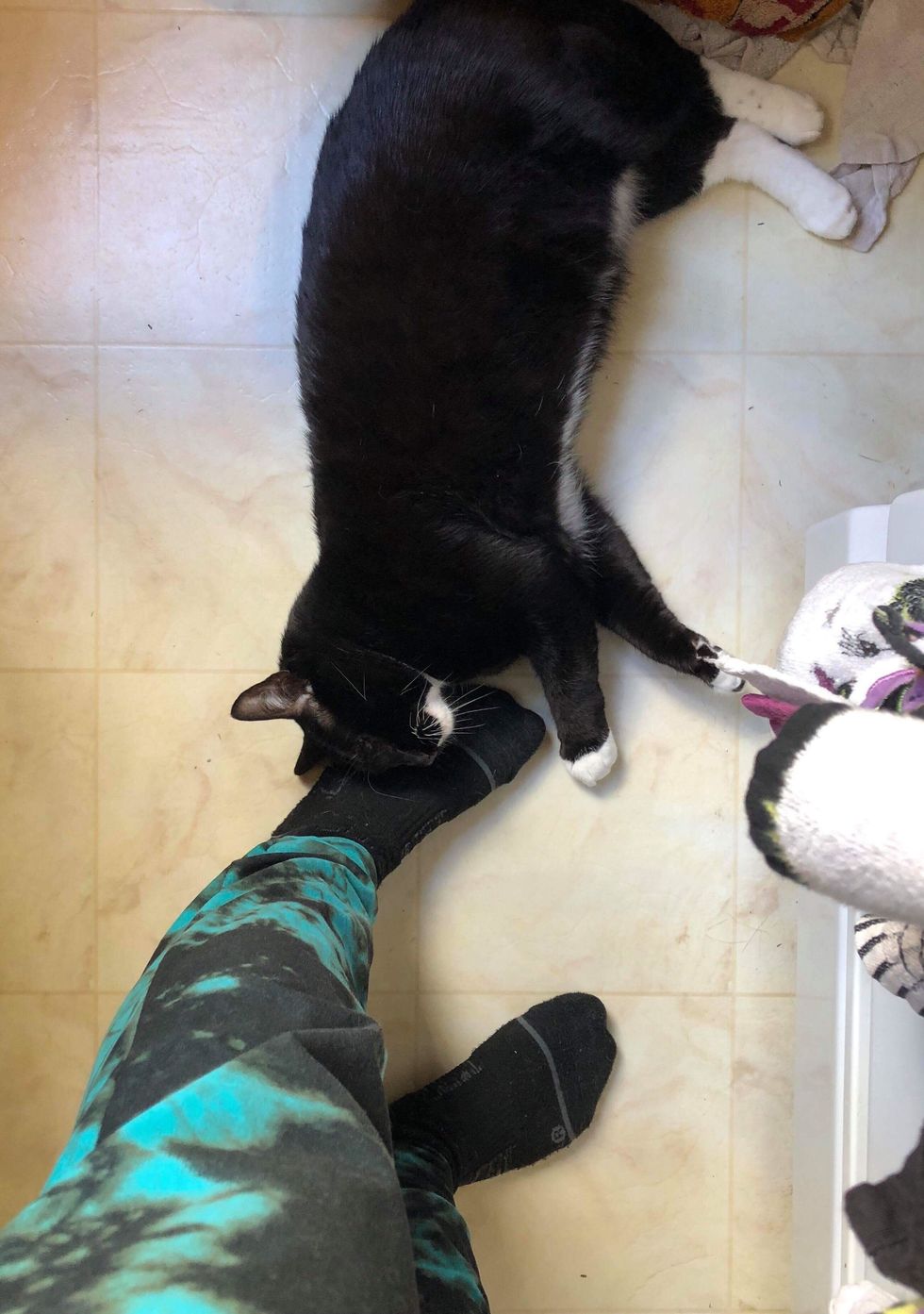 The Furrtographer
After the final surgery to correct his eyes, the tuxedo boy felt like a brand new kitty. He would spend more time playing, running around and giving everyone love and cuddles.

Bernie will always have limited vision, but nothing can stop him from being a snuggle-bug.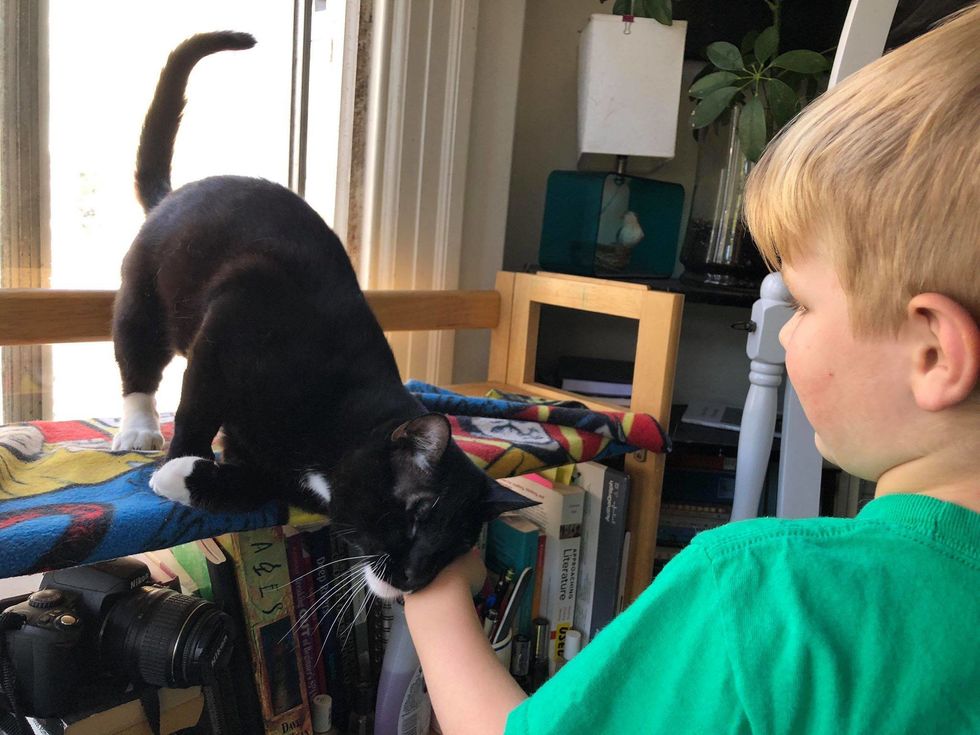 The Furrtographer
A family with two special needs cats met Bernie and fell in love. After a month of recovery, the kitty moved into his forever home.
He showers everyone at home with Bernie's cuddles.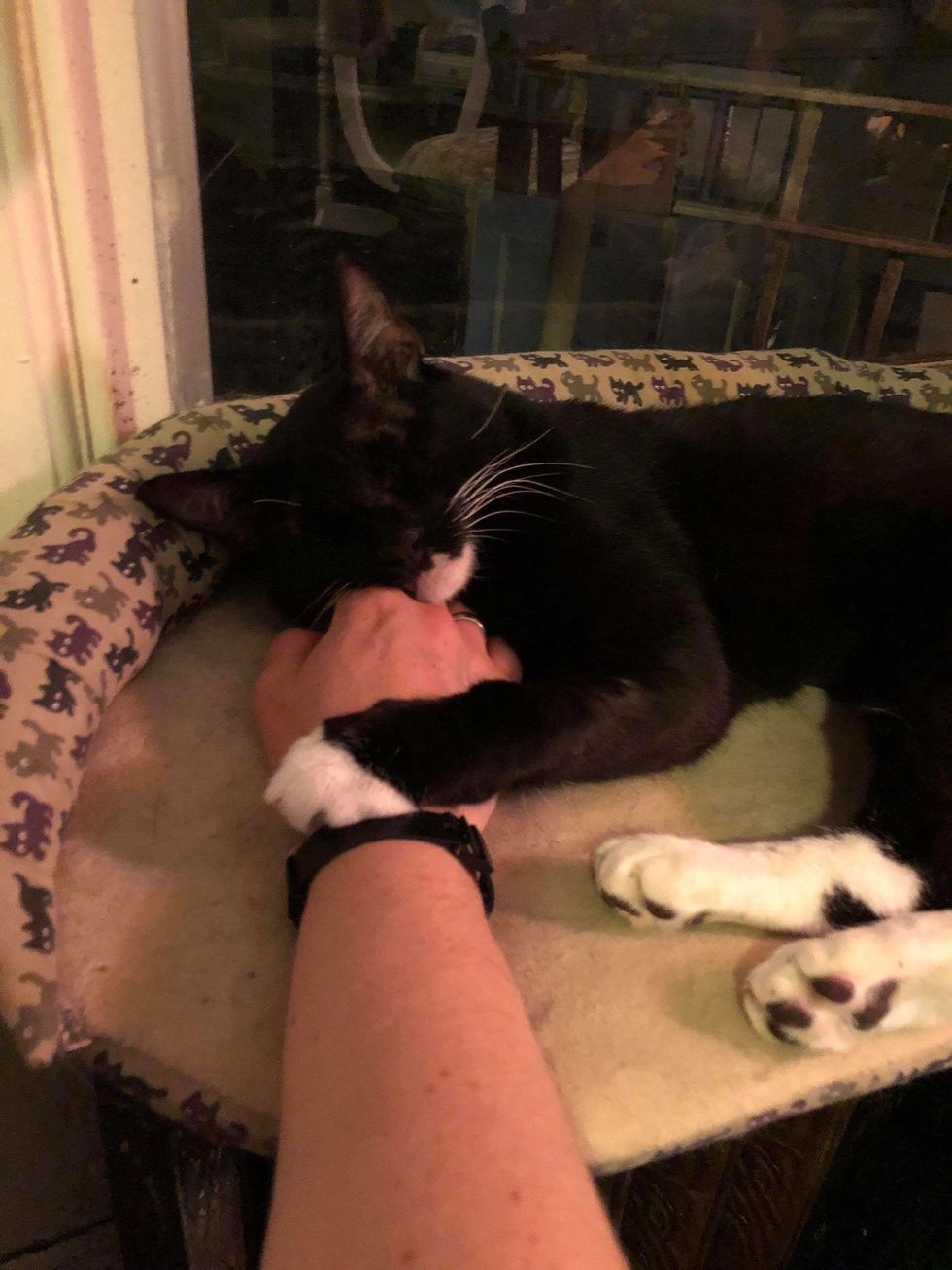 The Furrtographer
"He's gone from living on the street to a loving home with two other cats and a family that loves him dearly," Josh said.
"Bernie is 100% love."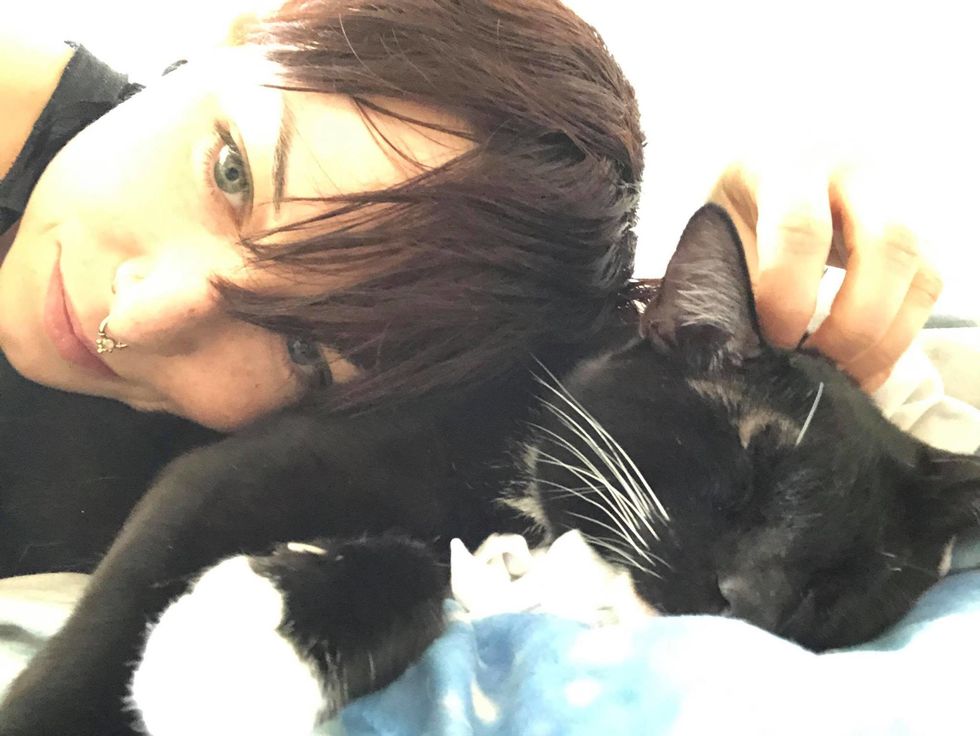 The Furrtographer
Share this story with your friends. Follow Josh's foster kitties on Facebook and Instagram. If you would like to support their rescue efforts, follow Saving Grace Rescue on Facebook or click here to see how you can help.
Related story: Woman Saves Blind Cat From Shelter and Comes Back to Find His Brother.