A ragged looking cat was spotted on the streets of Montreal. He looked as if he'd been fending for himself, living an outdoor life for quite some time.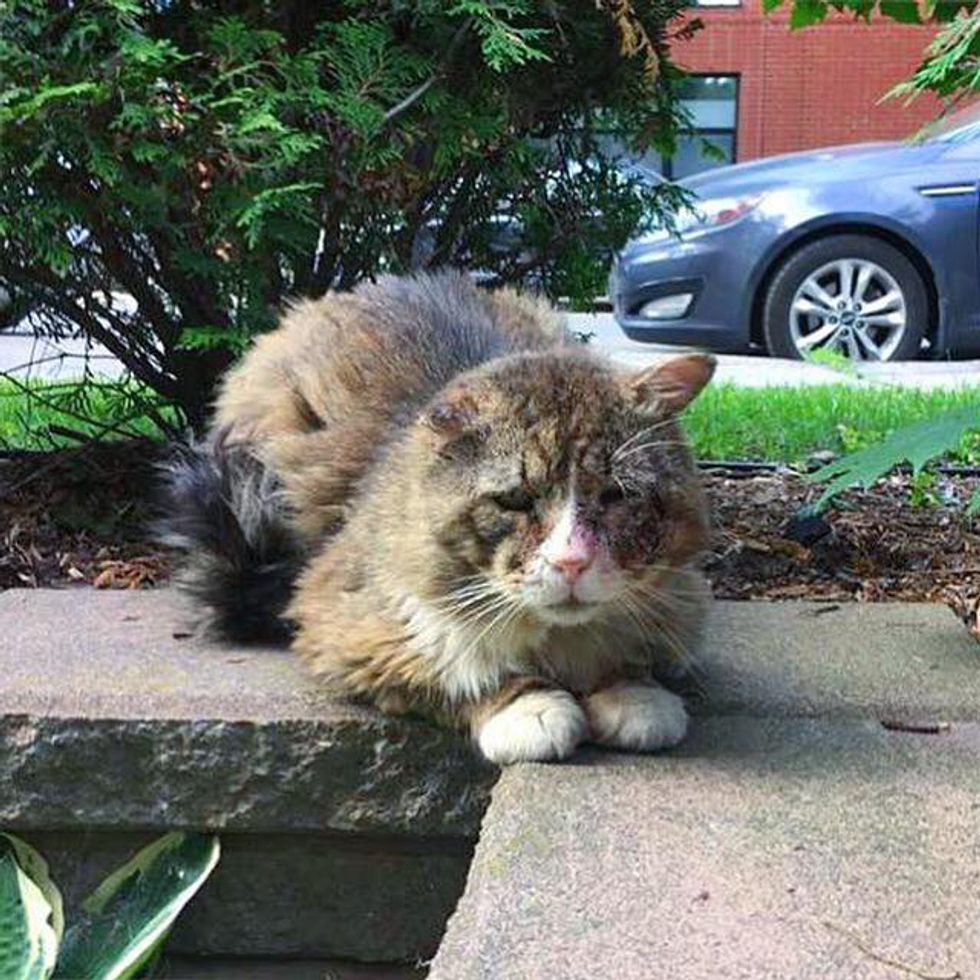 Chatons Orphelins Montréal
Marie-Eve from Montreal spotted the kitty in her neighborhood and knew she had to help him. The stray cat was covered in dirt and matted fur and was clearly in pain. The sadness from his eyes broke her heart.
She made it a mission to get the kitty off the streets and get him help, so set up a rescue plan in mid July.
However, capturing the cat was much more difficult than she'd expected.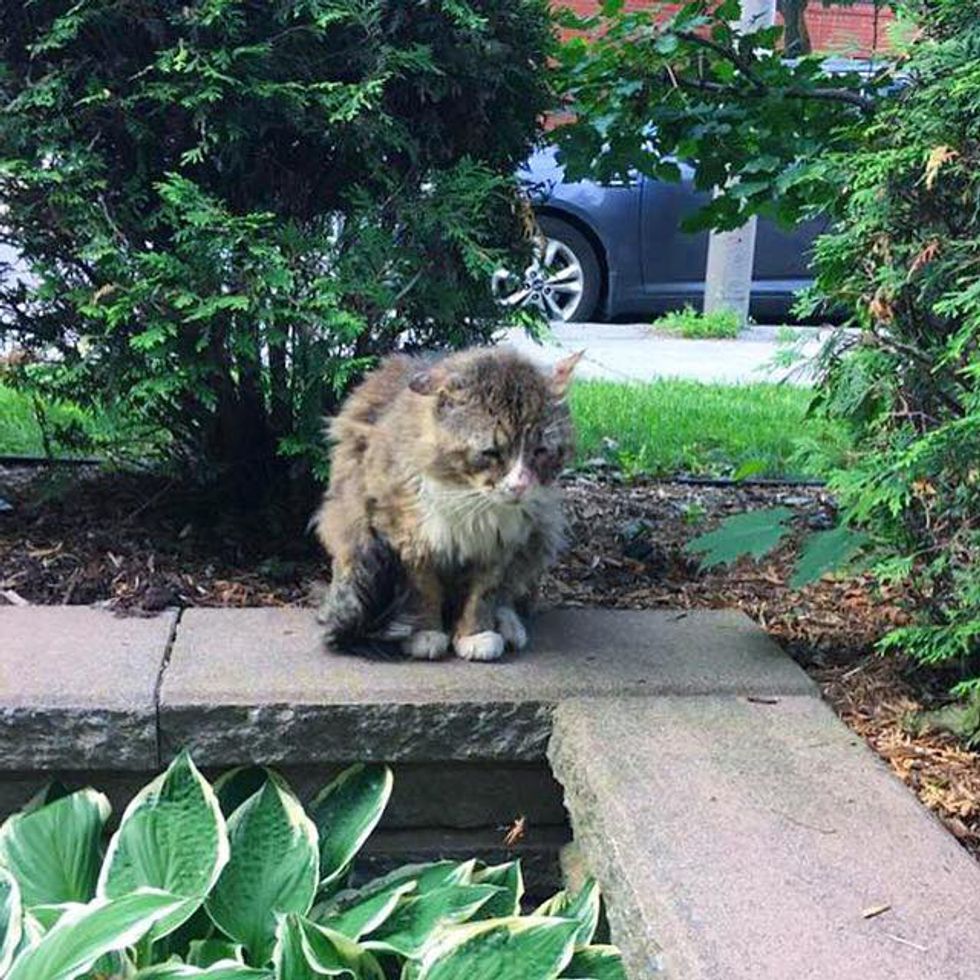 Chatons Orphelins Montréal
After having lived as a stray for so long, the kitty's survival instincts made it challenging for his rescuer to catch him.
The clever cat avoided the trap for nearly three weeks until his hunger became so great that he couldn't resist the food any more. Marie-Eve could finally breathe a sigh of relief when she got him safely in the trap.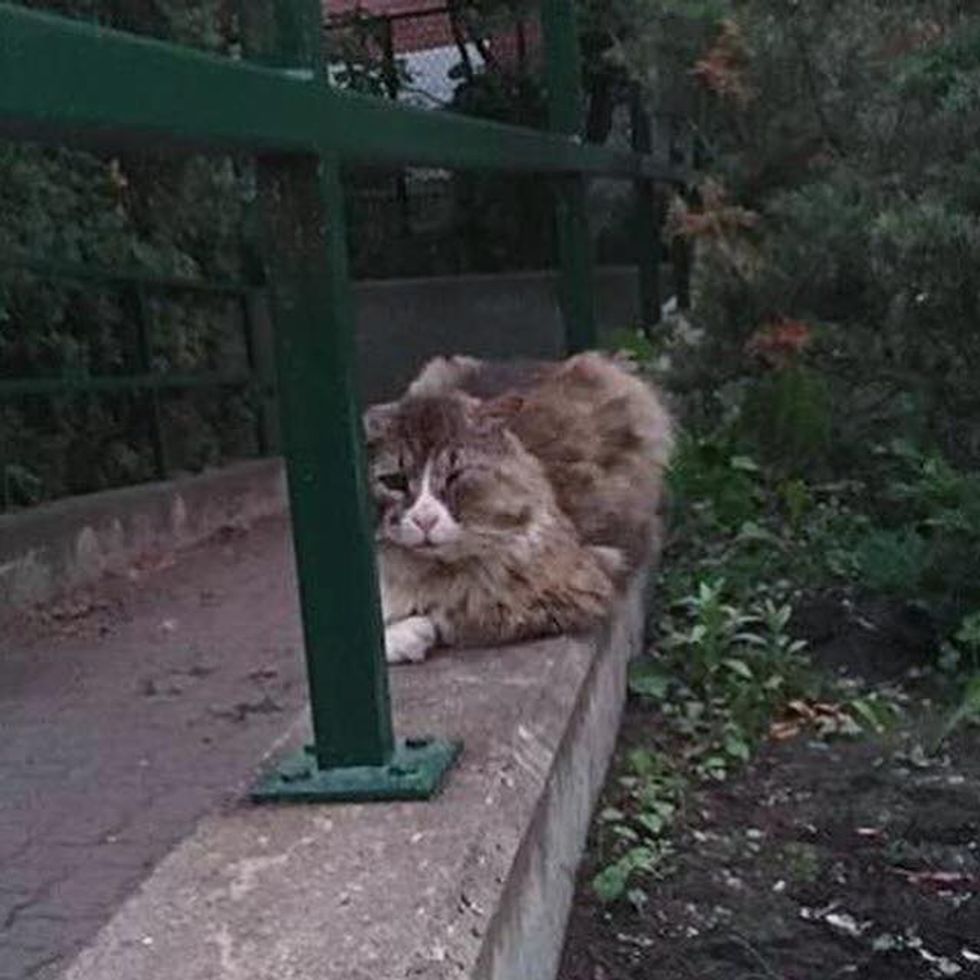 Chatons Orphelins Montréal
All the shelters were full at the time so Marie-Eve took the kitty to the vet on her own to get him treated and shave off all the knots and mats from his coat.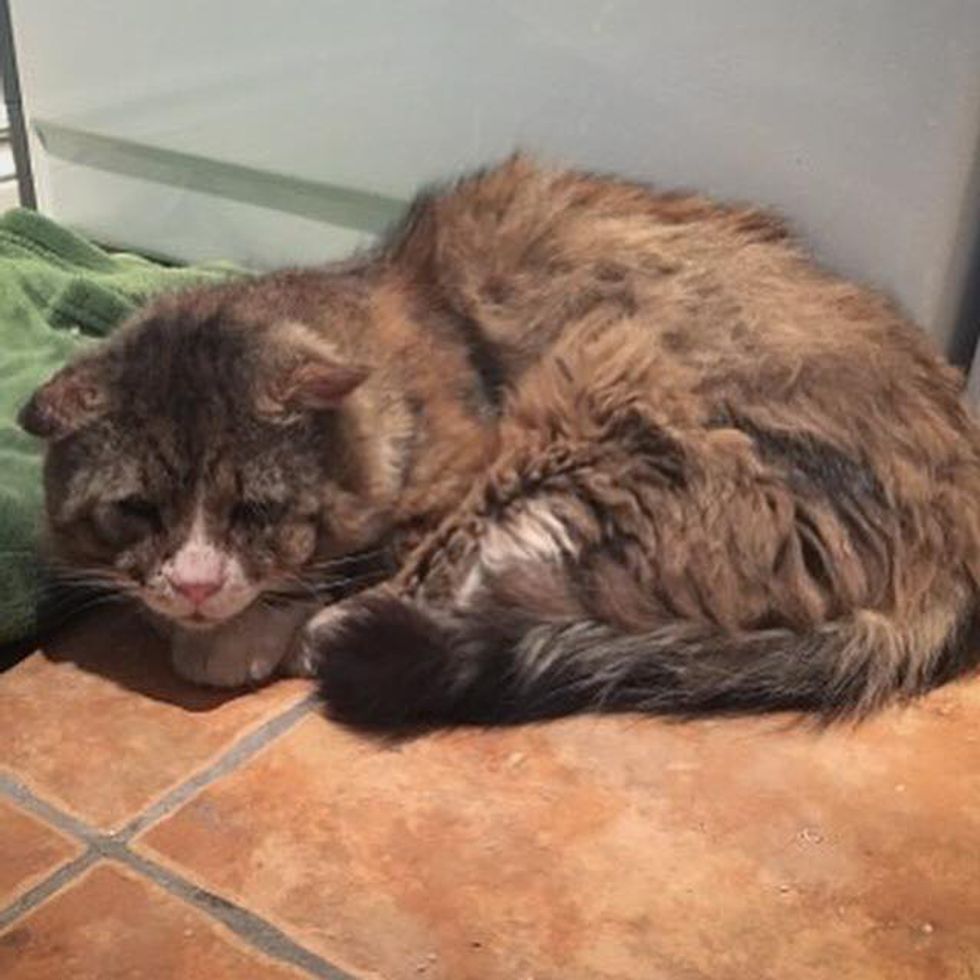 Chatons Orphelins Montréal
That day, the kitty went home with his rescuer and was able to get some much-needed shut-eye in a comfortable, warm bed.

For the first time in a long while, he felt safe and pain free.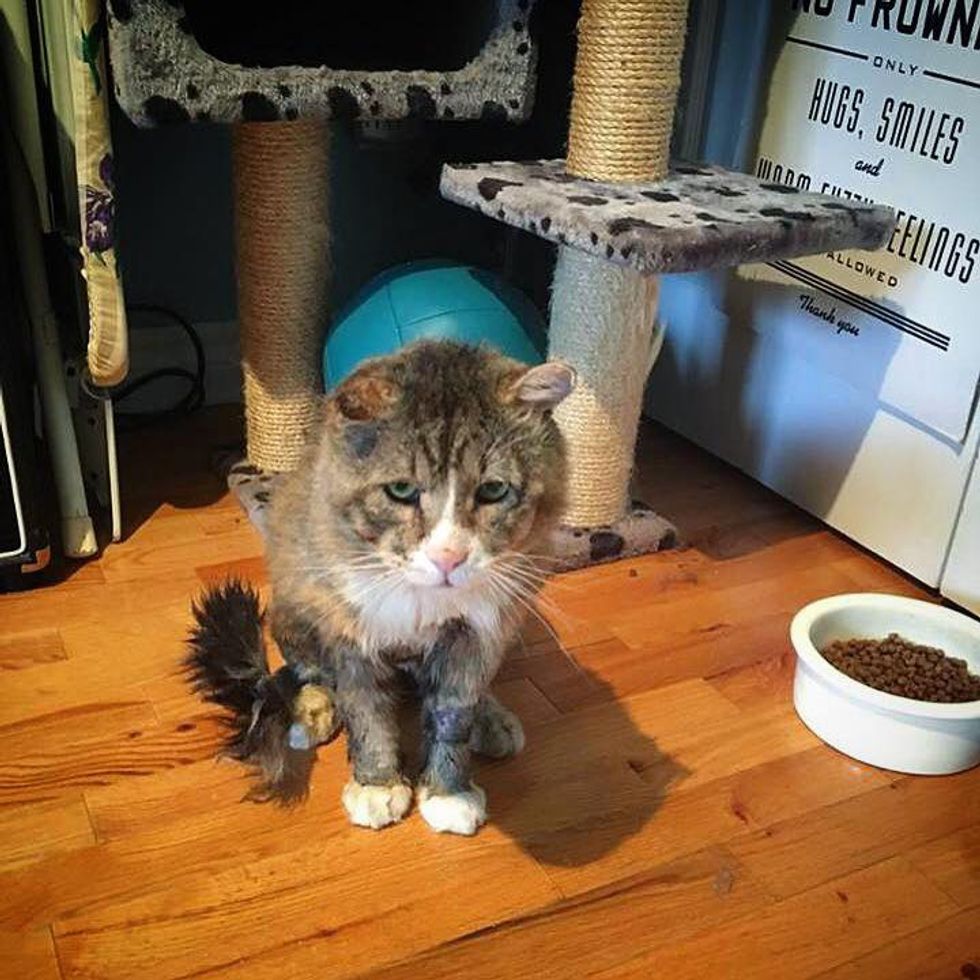 Chatons Orphelins Montréal
Chatons Orphelins Montréal offered to foster the kitty and provide additional medical care and rehabilitation.

"He had war wounds including an abscess on his cheek. His ears were frostbitten which indicated that he'd spent at least one winter outside. His rescuer saved his life just in time as he wouldn't have been able to survive another winter on his own," Celine Crom of Chatons Orphelins Montréal shared with Love Meow.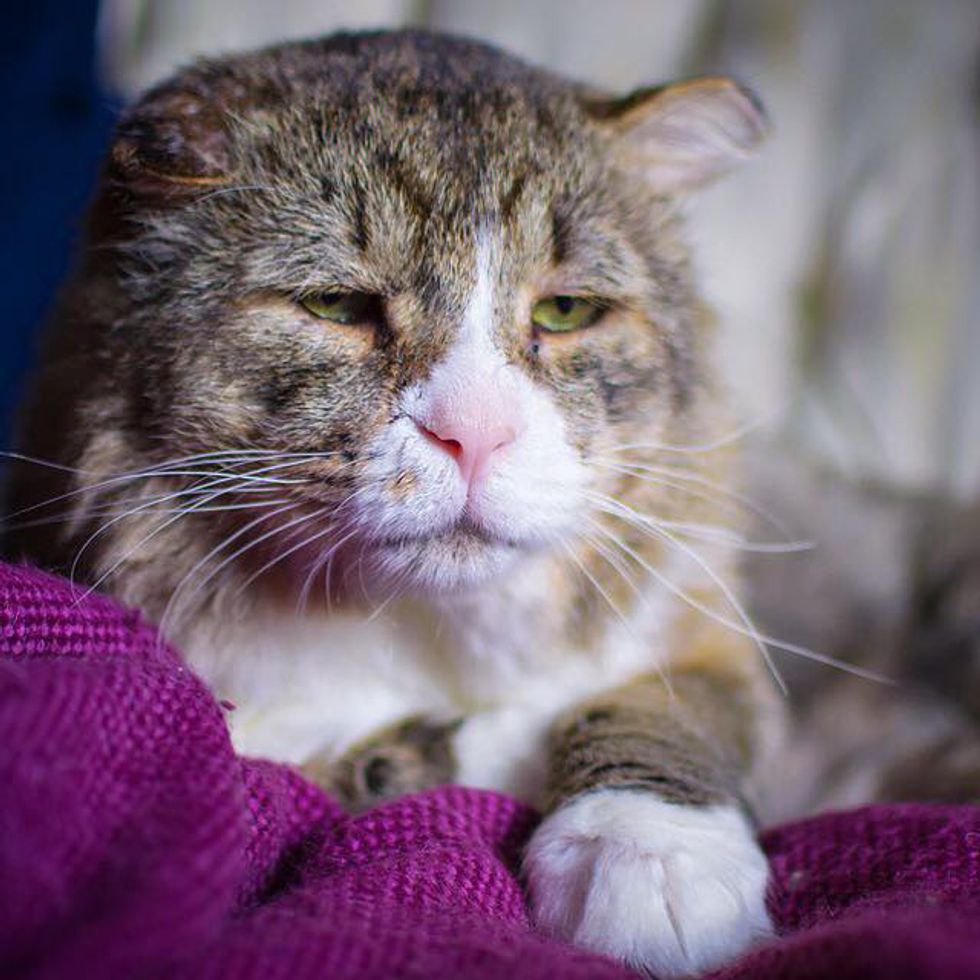 Chatons Orphelins Montréal
They named him Marcel. The 4-year-old cat was very nervous and shy at the clinic and kept his head down to avert eye contact.

"He was terrified of all the changes. He was missing a few teeth, and his ears had scars from frostbite. His wandering life must have been very difficult."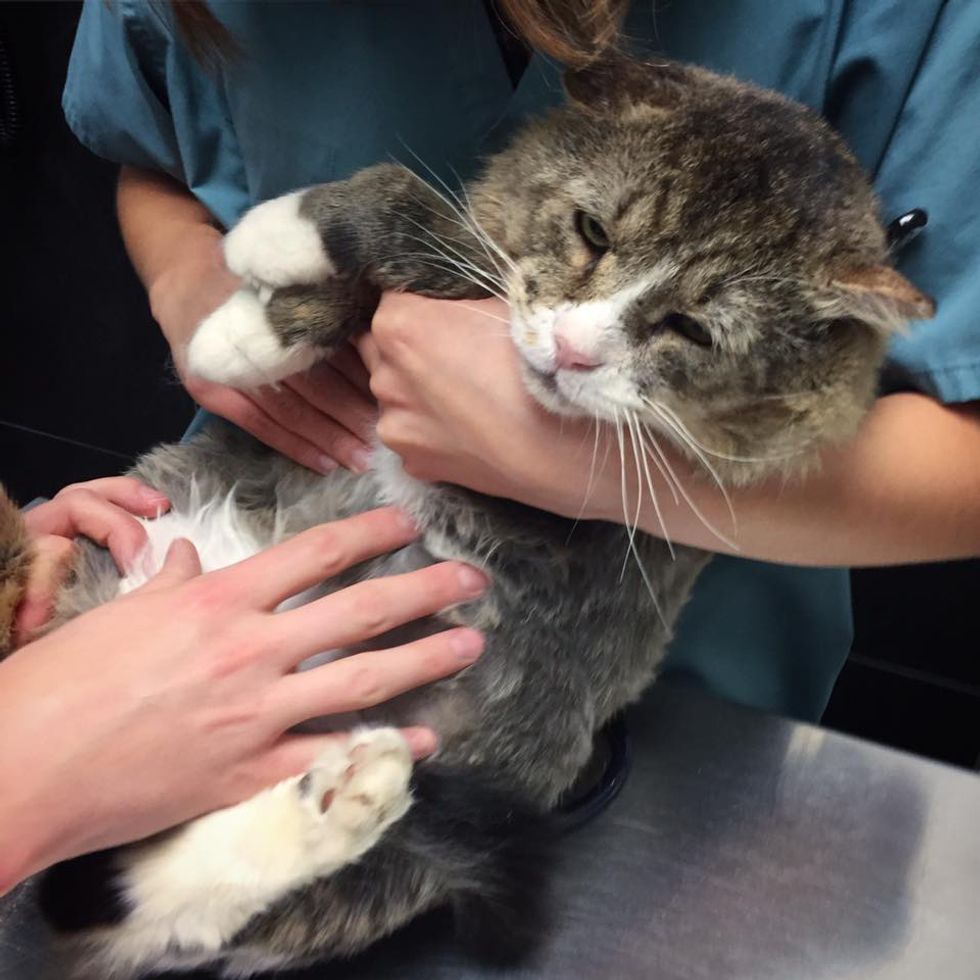 Chatons Orphelins Montréal
Lily, a volunteer of Chatons Orphelins Montréal, took Marcel home to foster. Within 24 hours, he went from a very timid kitty who buried his face out of shyness to lying in his foster mom's lap purring.
"Marcel fell asleep next to his foster mom. It was a very promising beginning. Though he got startled easily with some sounds, with time he began to understand that there was no more danger there."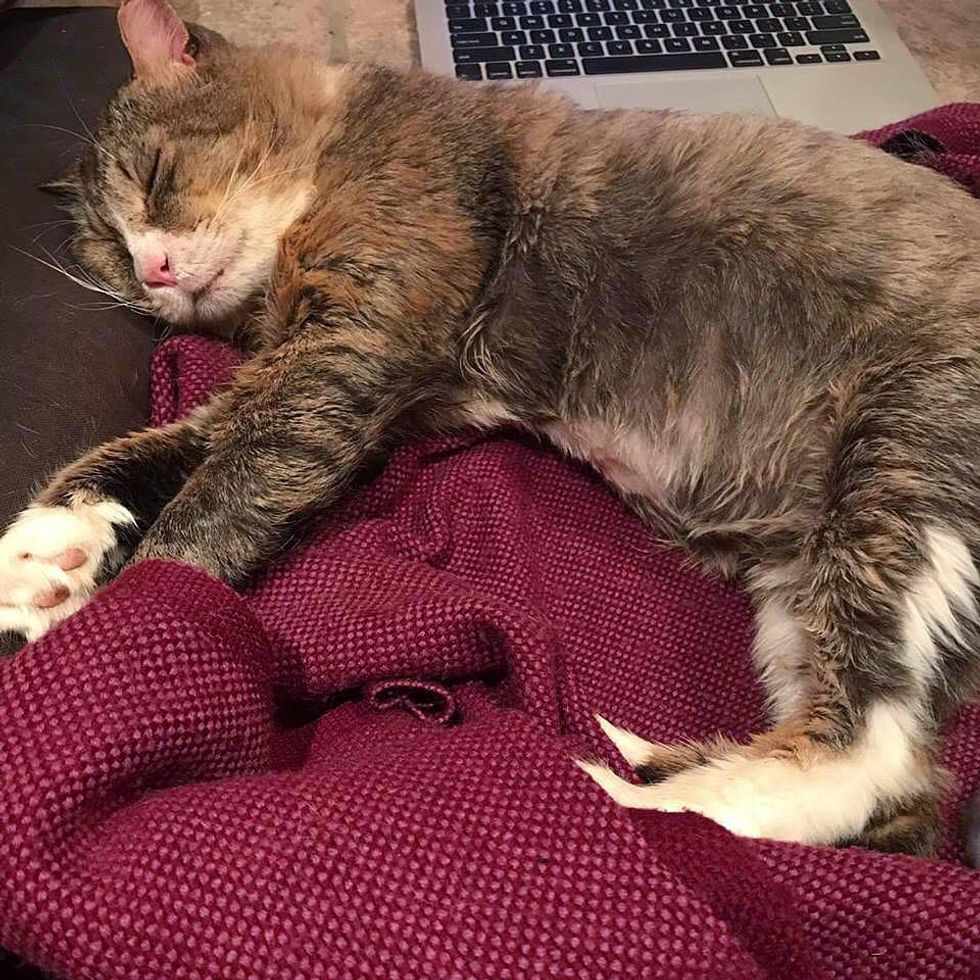 Chatons Orphelins Montréal
Marcel is a big kitty, weighing at 14 pounds. He's very strong but a kitten at heart.
Over the next few weeks, Marcel came out of his shell and began to love and trust. He came running for attention when he heard his foster mom. The sweet and gentle boy wanted hugs and would cling to his human every night for cuddles.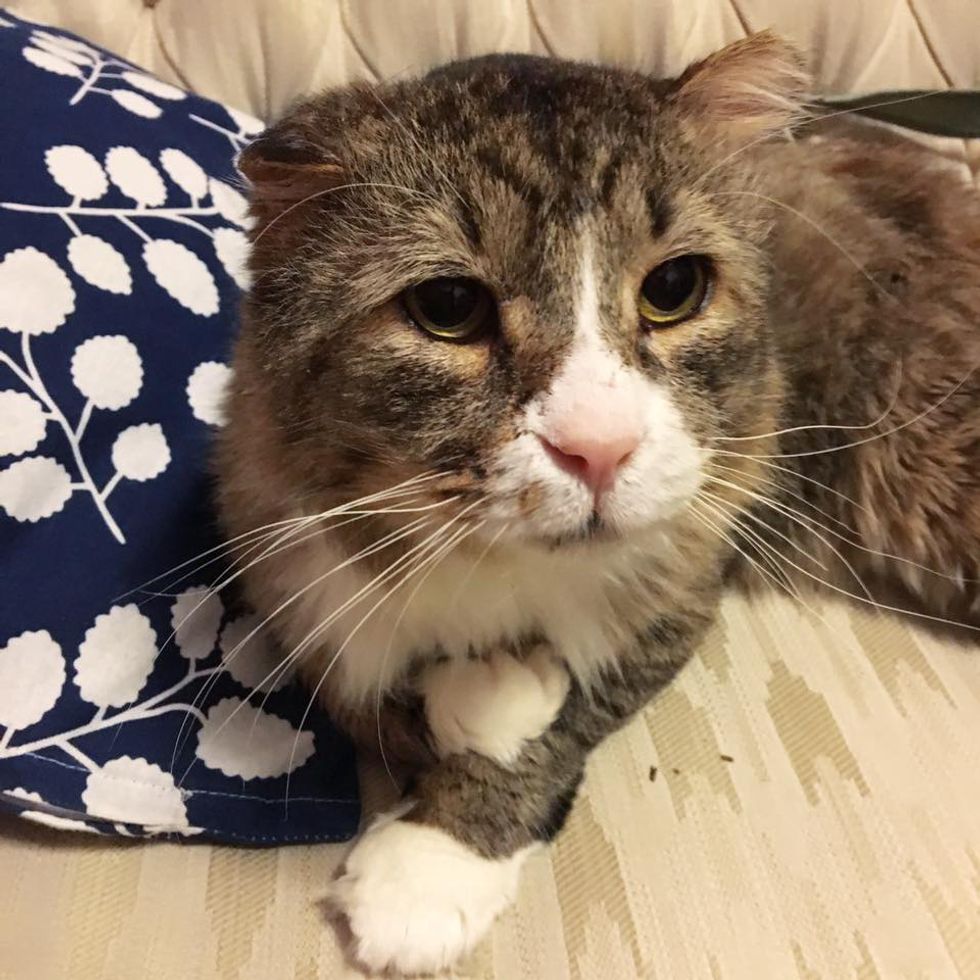 Chatons Orphelins Montréal
"He was pampered and he got his hugs every day. This sad-looking bear became happier and happier.
"Marcel likes to be the center of attention. If we talk to him, he answers."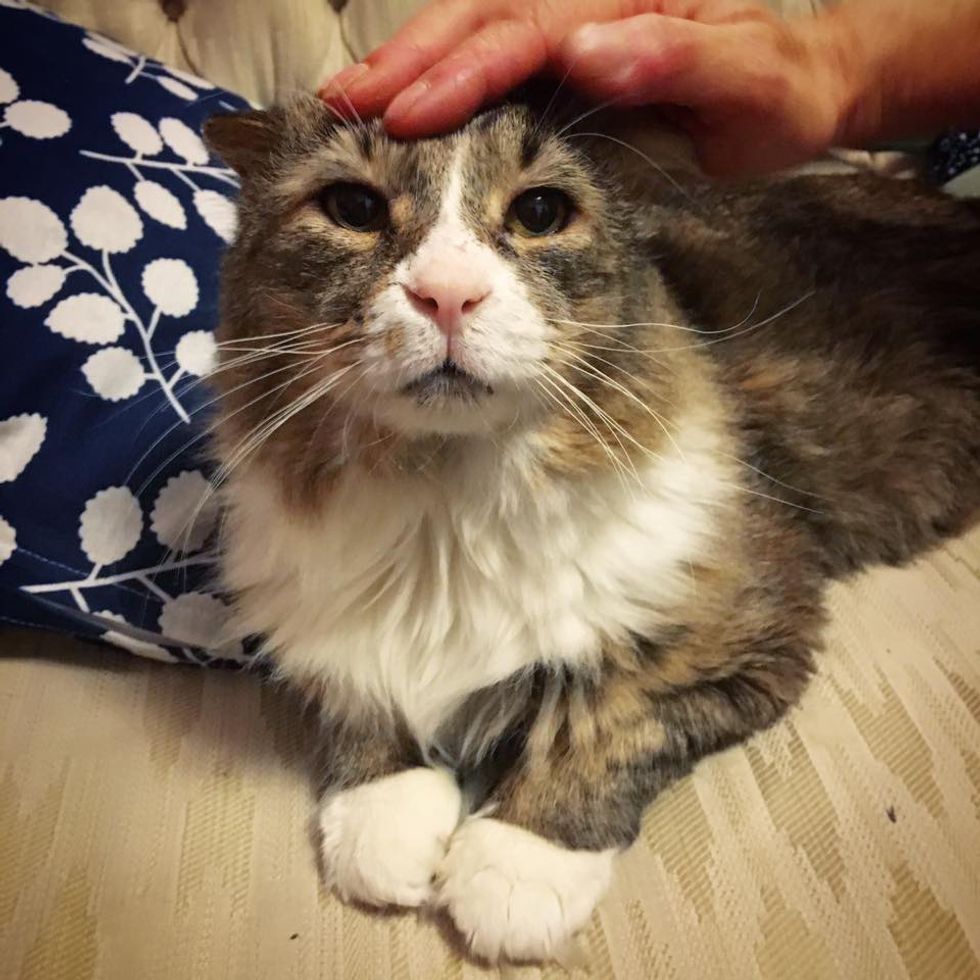 Chatons Orphelins Montréal
"He had a difficult past so changes worry him. He carries part of his past on his shoulders but thanks to the love and care he's received from his foster home, Marcel has really blossomed."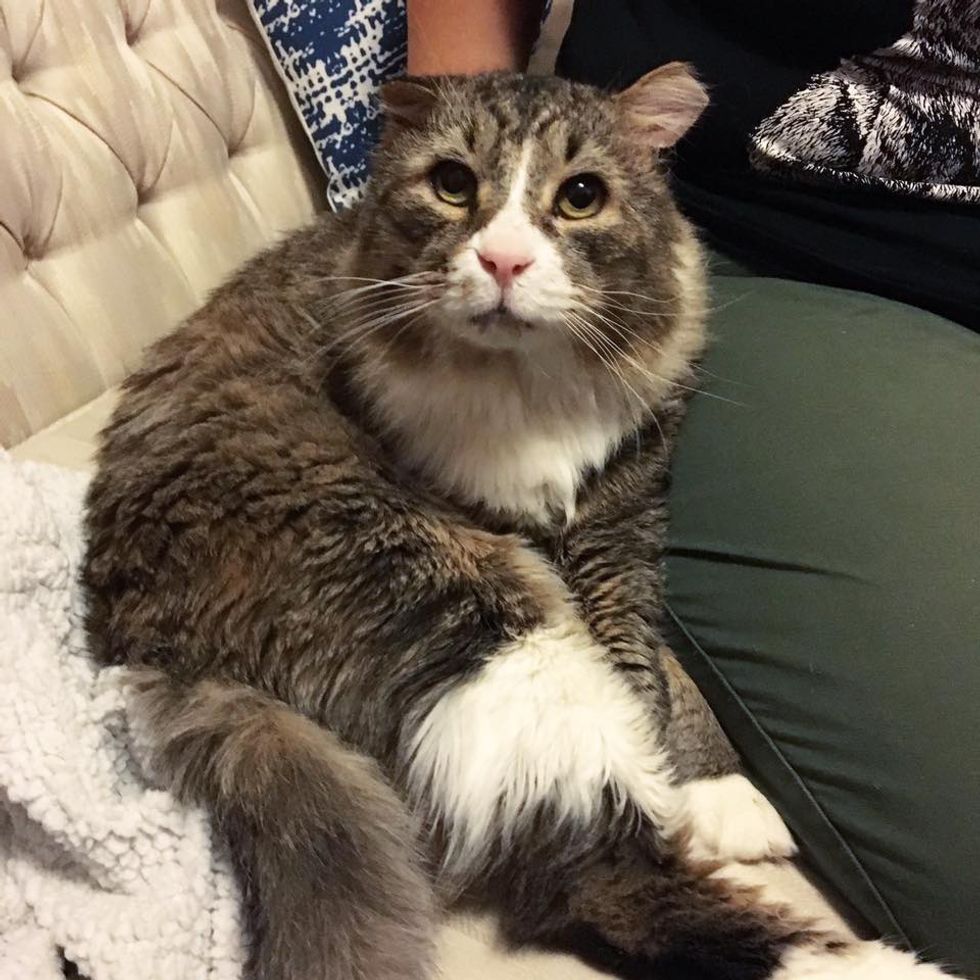 Chatons Orphelins Montréal
Two months after he was rescued, the sweet boy was adopted into a loving home.
"Marcel has found his perfect match."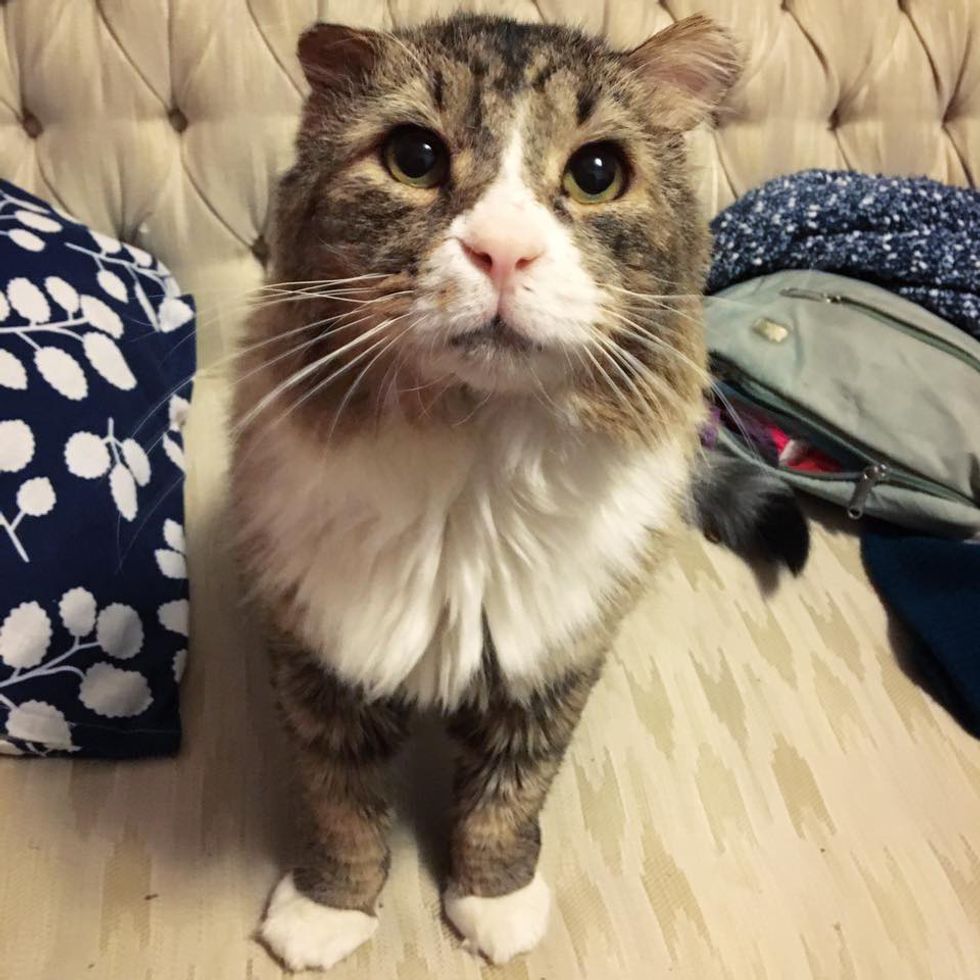 Chatons Orphelins Montréal
It's hard to believe that he's the same kitty that kind woman rescued from the streets.
The sadness from his eyes has vanished completely, and now they are filled with the joy and promise of a love-filled life.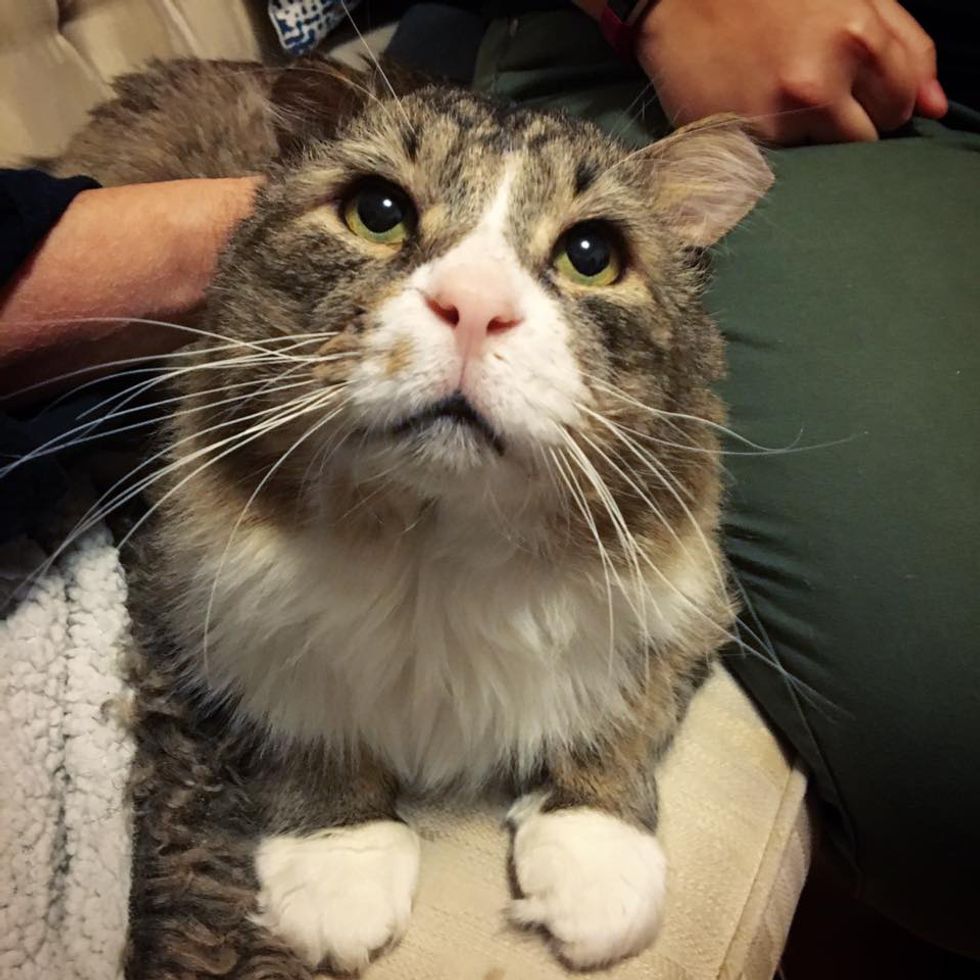 Chatons Orphelins Montréal
Share this story with your friends. If you would like to support their rescue efforts, click here to see how you can help. Follow Chatons Orphelins Montréal on Facebook.
Related story: Cat Gets Help to See Again and Surprises Rescuers with His Gorgeous Eyes