A cat had been living blind in the outdoors for a while until a good Samaritan saved him and got him help. With a second chance, he regained vision and surprised his rescuer with his gorgeous eyes.
Meet Cotton the cat!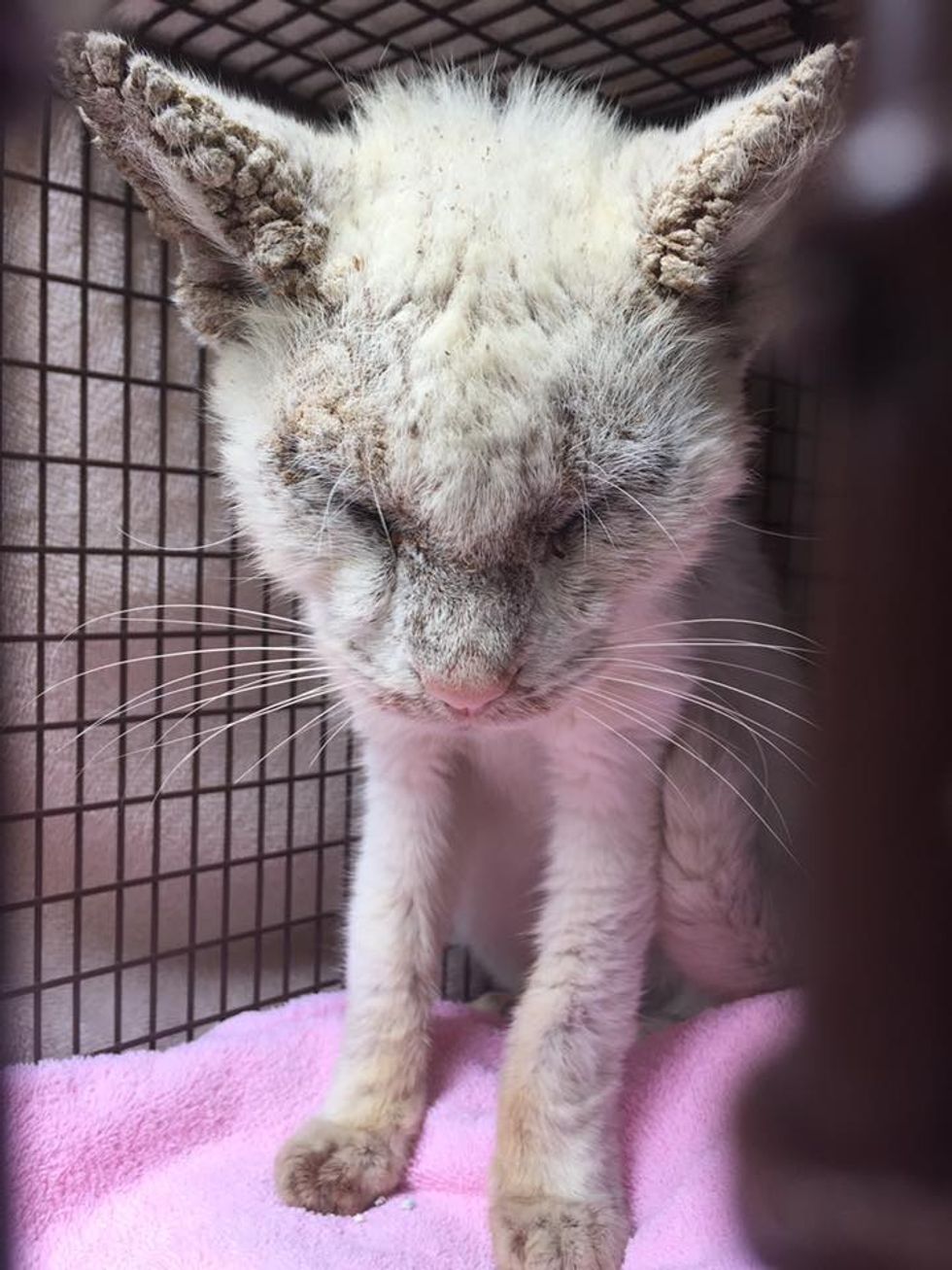 Carmen Weinberg
A stray cat was found wandering outside a home in Royal Palm Beach, FL. Joe, the owner of the property came outside and couldn't believe what he saw.
"He said Cotton came out of nowhere and started eating from the bowl of food he had for his cat. He said Cotton seemed very hungry, like if he had not eaten in days," Carmen Weinberg, founder of Animal Friends Project, told Love Meow.
Soon he noticed that the cat was suffering from a severe case of mange. The kitty's eyes were crusted shut and he was unable to see.
The man rushed to his house to get a carrier and placed some food inside. Cotton was so hungry that he walked right into the carrier.
After Joe posted a plea in a local group on Facebook, no one was able to help. Carmen came across the post through a friend and she just couldn't say no. Having treated cats suffering from the same condition, she knew she had to help. [Scroll down for updates]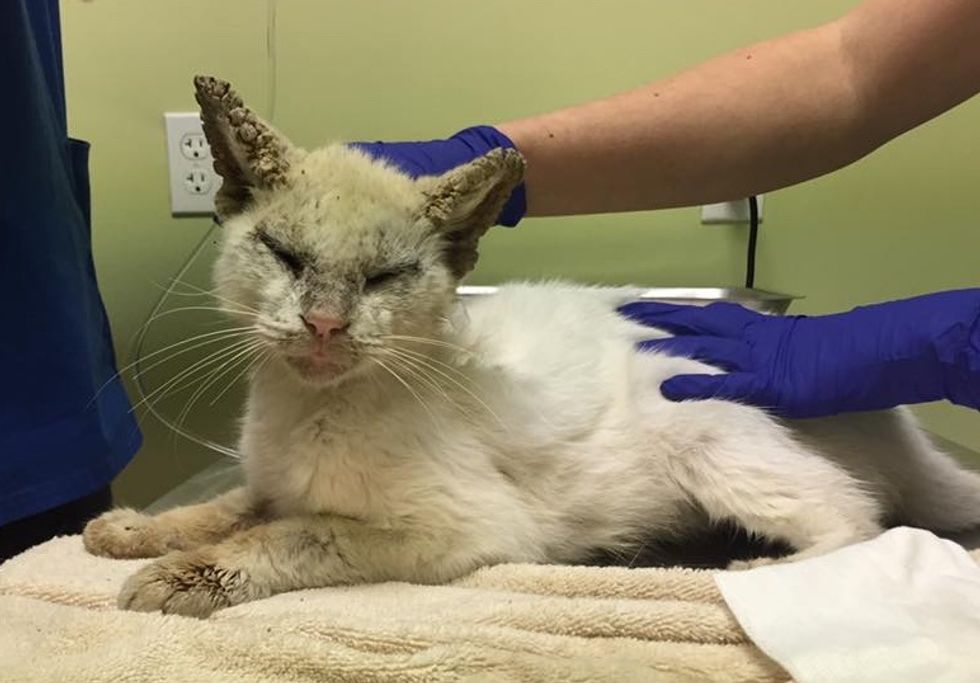 Carmen Weinberg
"Early the next morning, I drove to pick him up. I took him immediately to my vet, Justin Bartlett Animal Hospital, and they confirmed that he was suffering from mange, was very dehydrated and malnourished," Carmen told Love Meow.
Cotton couldn't open his eyes due to the disease, and he had been walking outdoors completely blind for who knows how long.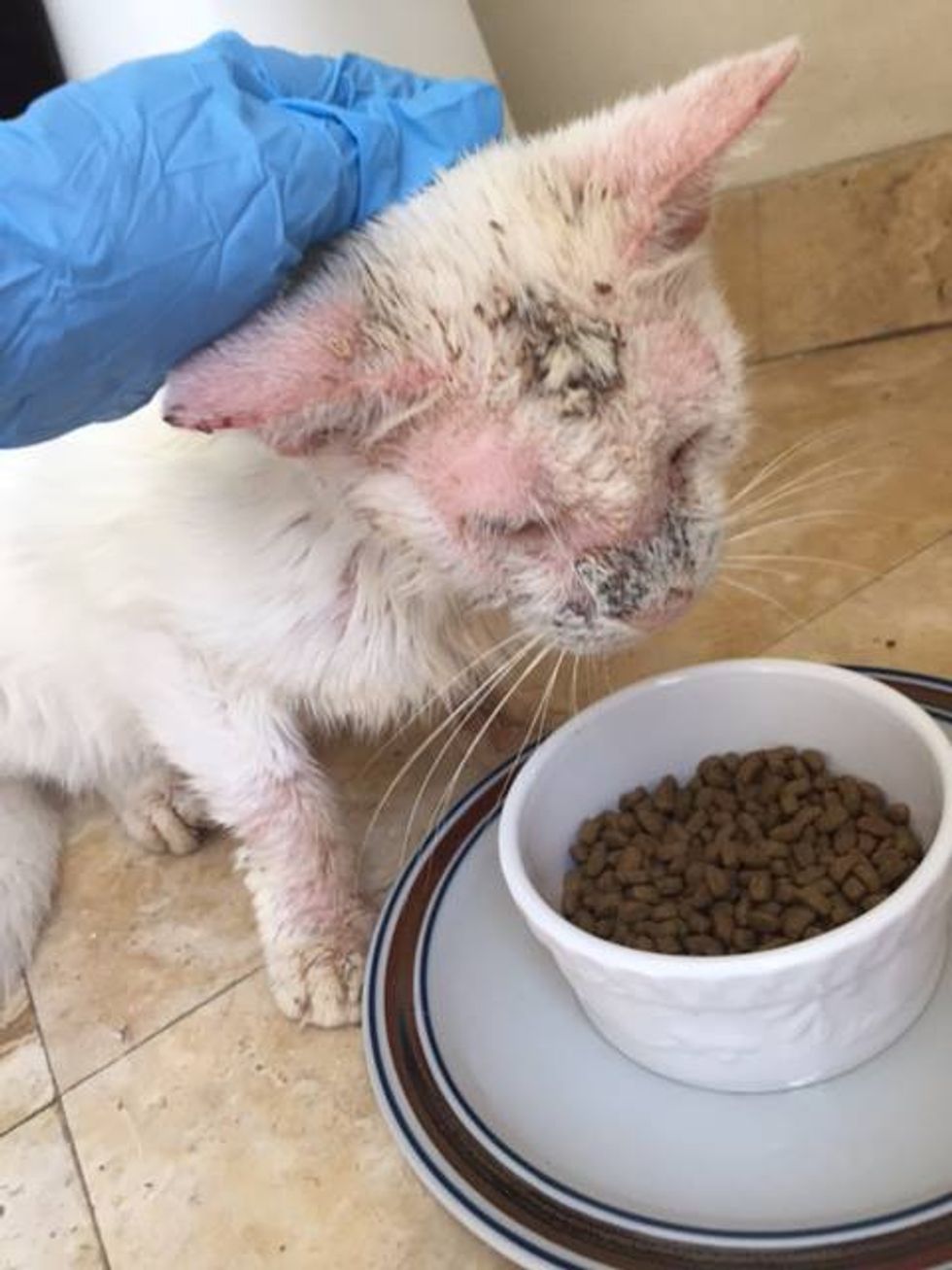 Carmen Weinberg
"He purred the whole time they were examining him! He received antibiotics, a dose of Revolution and fluids and we went home. Fortunately, I had a spare bathroom where he could stay.
"Cotton was very skinny but fortunately, he ate well and was in good spirits. He must have sensed we were trying to help him and he loved to be touched.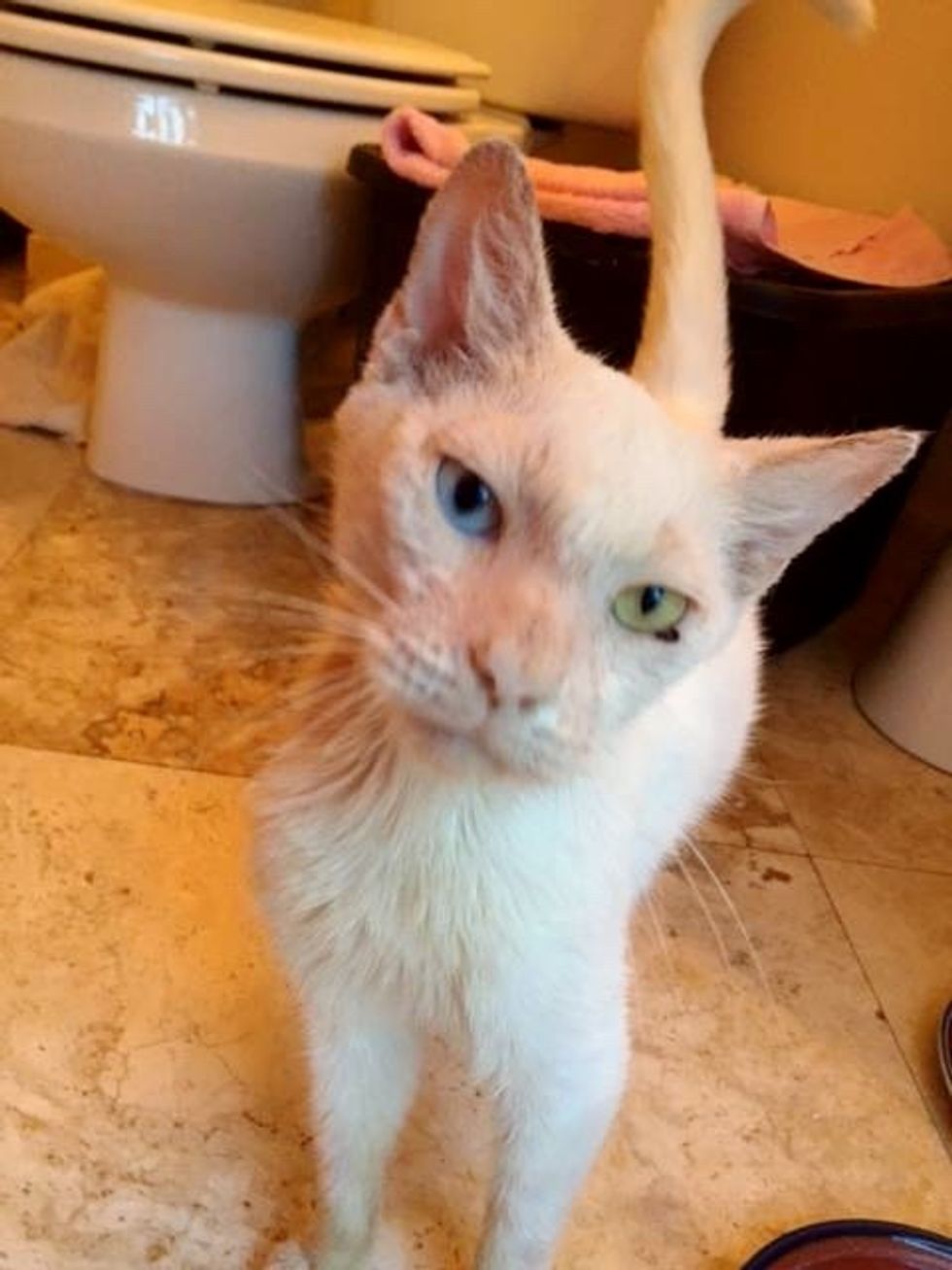 Carmen Weinberg
"My husband Don, son Carlos and daughter Elisa, are used to dealing with cats with many illnesses and we knew that if we took some precautions, that we could still touch and love Cotton to help him heal."

Within a few days, the crust on his ears started to come off. The brave little boy began to heal.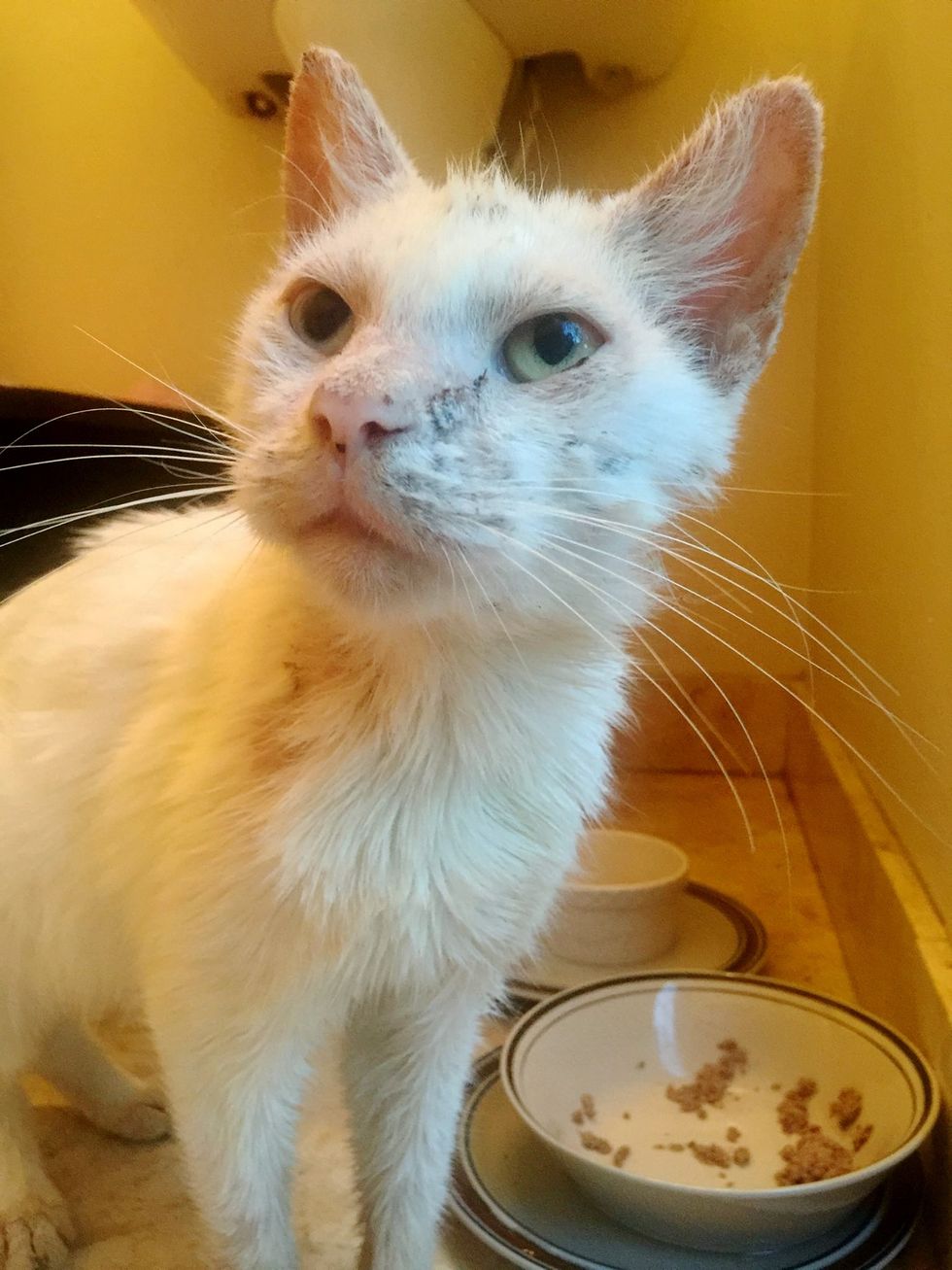 Carmen Weinberg
"We put Coconut oil to soothe his skin and gave him lots of water and canned food to keep him hydrated. Cotton stayed hunched over for days and days and seemed very uncomfortable. It was hard seeing him in that condition, knowing only time would heal him.

"Little by little he started to gain weight. It was a nice surprise to see that he had one blue eye and one yellow eye. His hair started to grow again."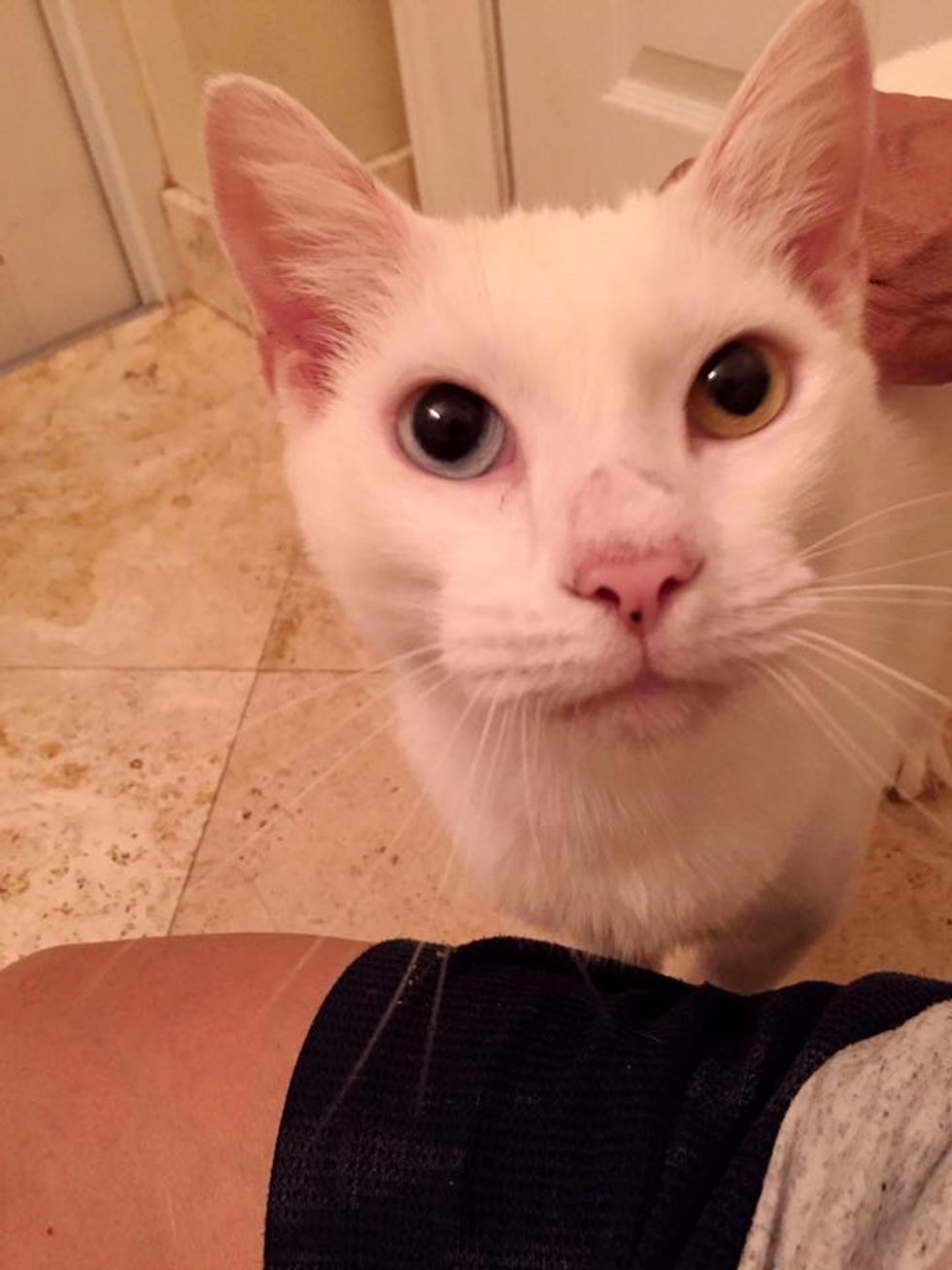 Carmen Weinberg
"Cotton is very vocal and he would make noise to let us know that he wanted attention. He loves people and searches for attention. He wants to be where you are."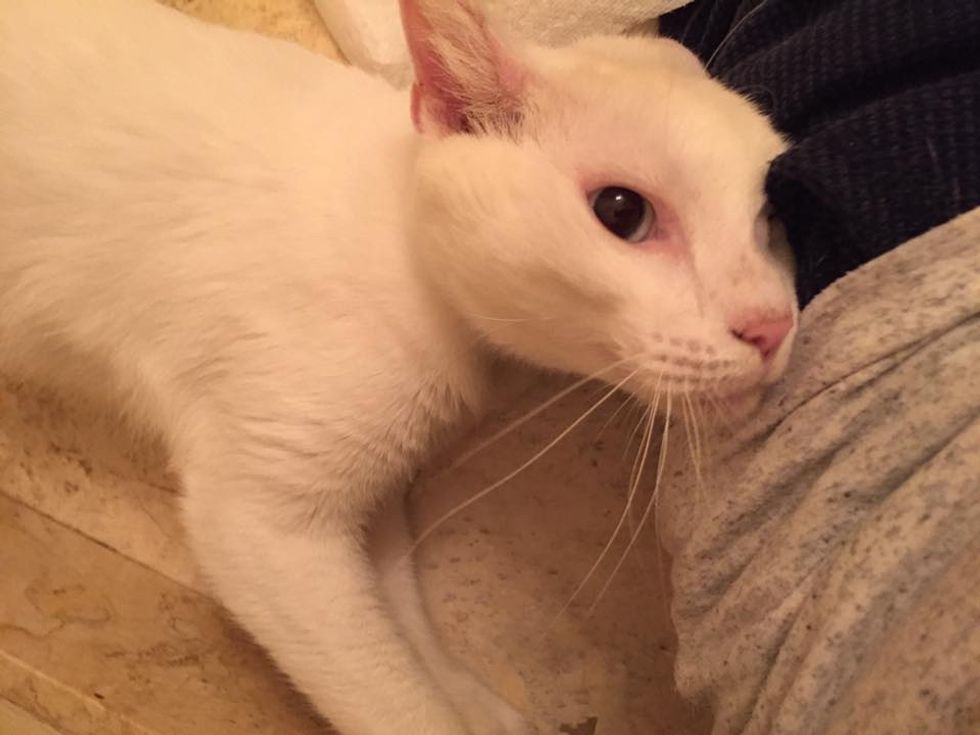 Carmen Weinberg
A few months later, look at him now!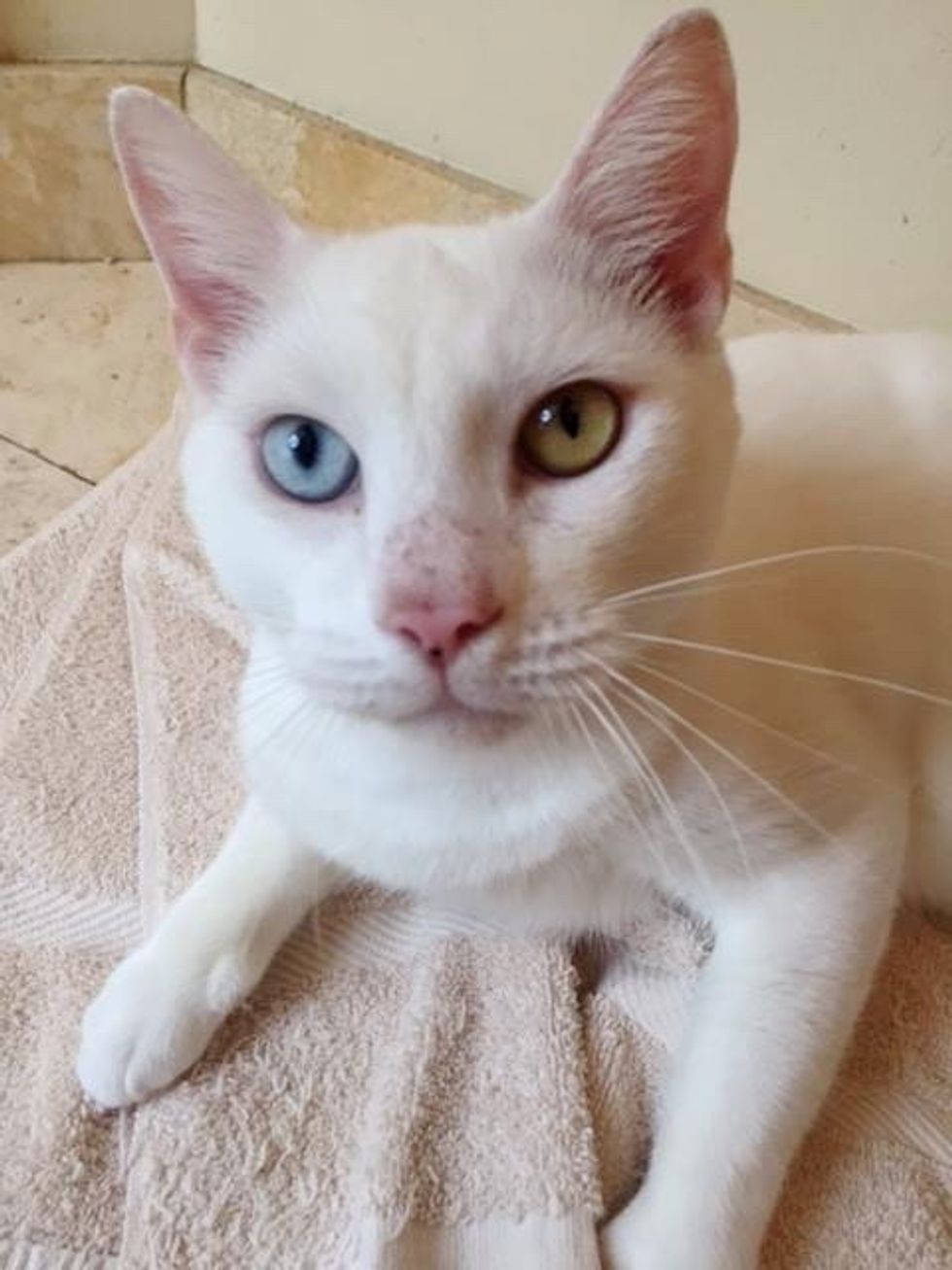 Carmen Weinberg
This handsome boy has totally transformed.
He is loving his new life and can't get enough of love. Cotton can't wait to find a place to call his forever home!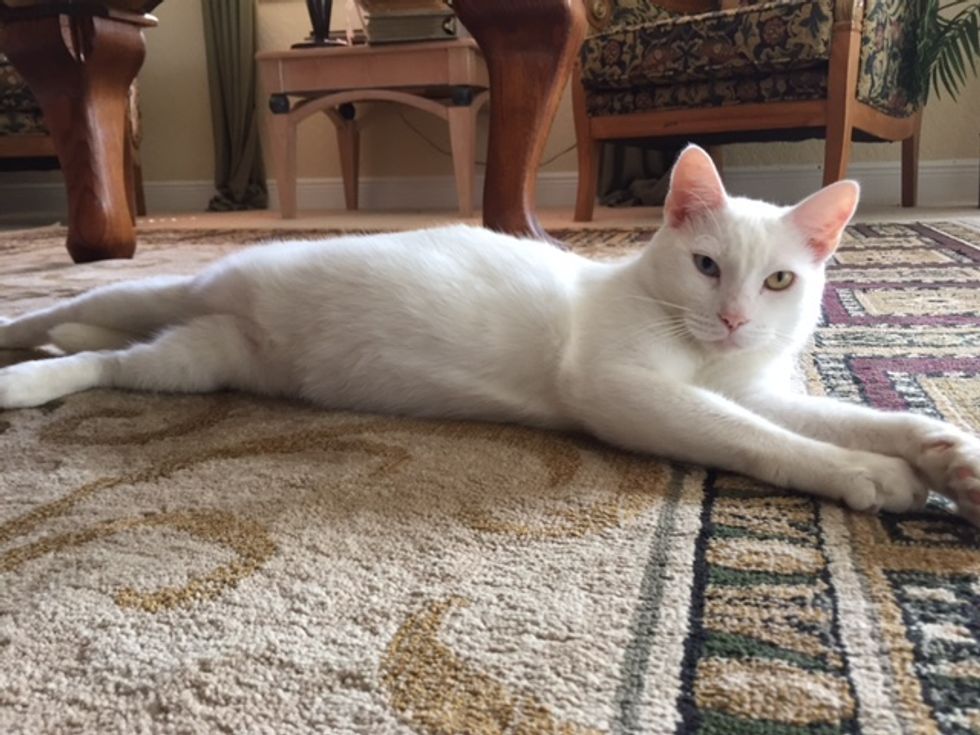 Carmen Weinberg
Updates:
Cotton is still with his rescuer, living the life like a king.
"He is very attached to me and follows me around all day. If I go to my bedroom and close the door, he cries and cries until I come back and he can see me. Same going to the bathroom," Carmen said.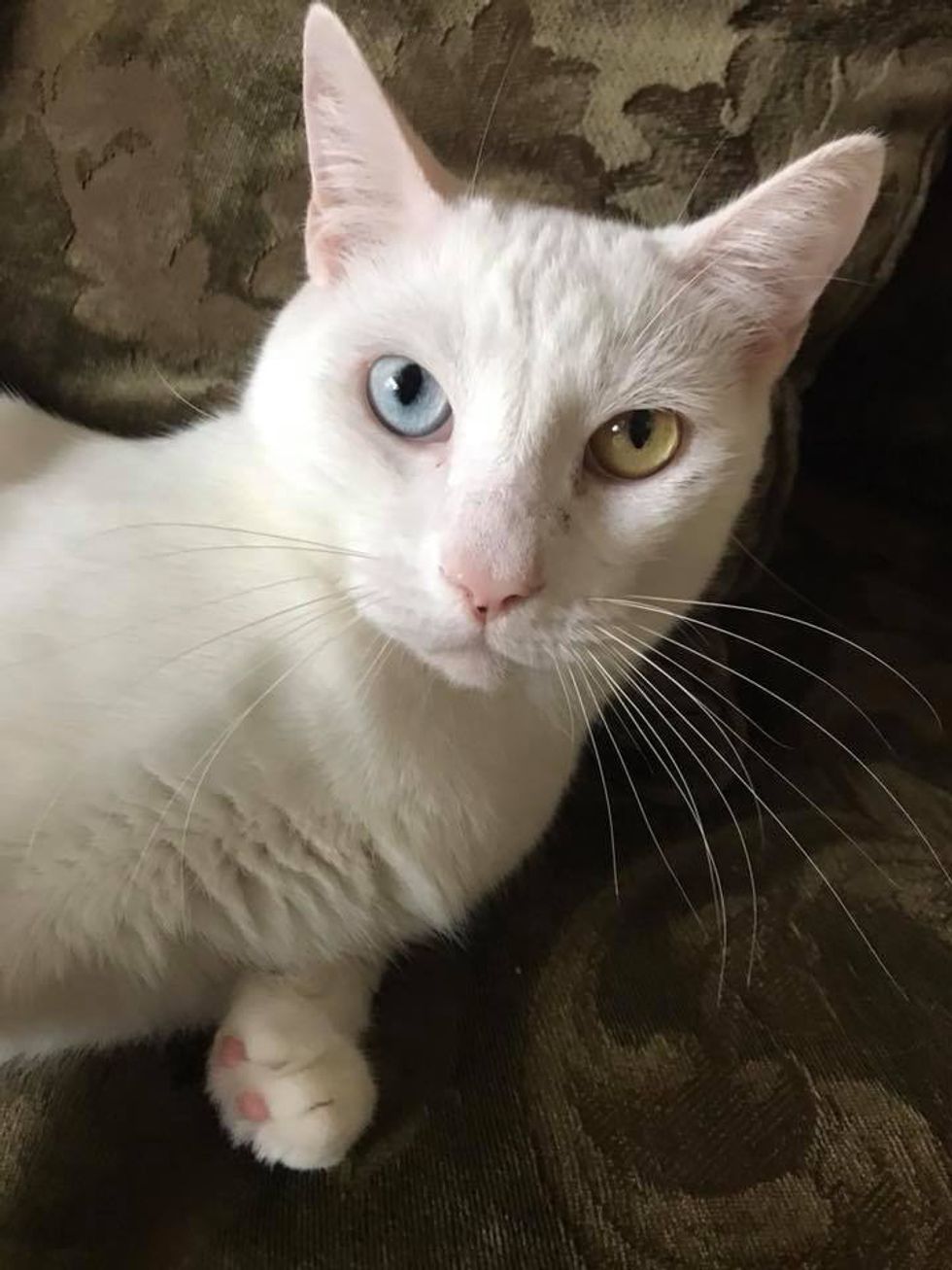 Carmen Weinberg
"His personality has changed over time. He used to not have a lot of patience when touched. He is much more affectionate now. He gives me kisses and comes looking for attention often."

Carmen gives the sweet boy all the care and love he needs to live a comfortable, healthy life.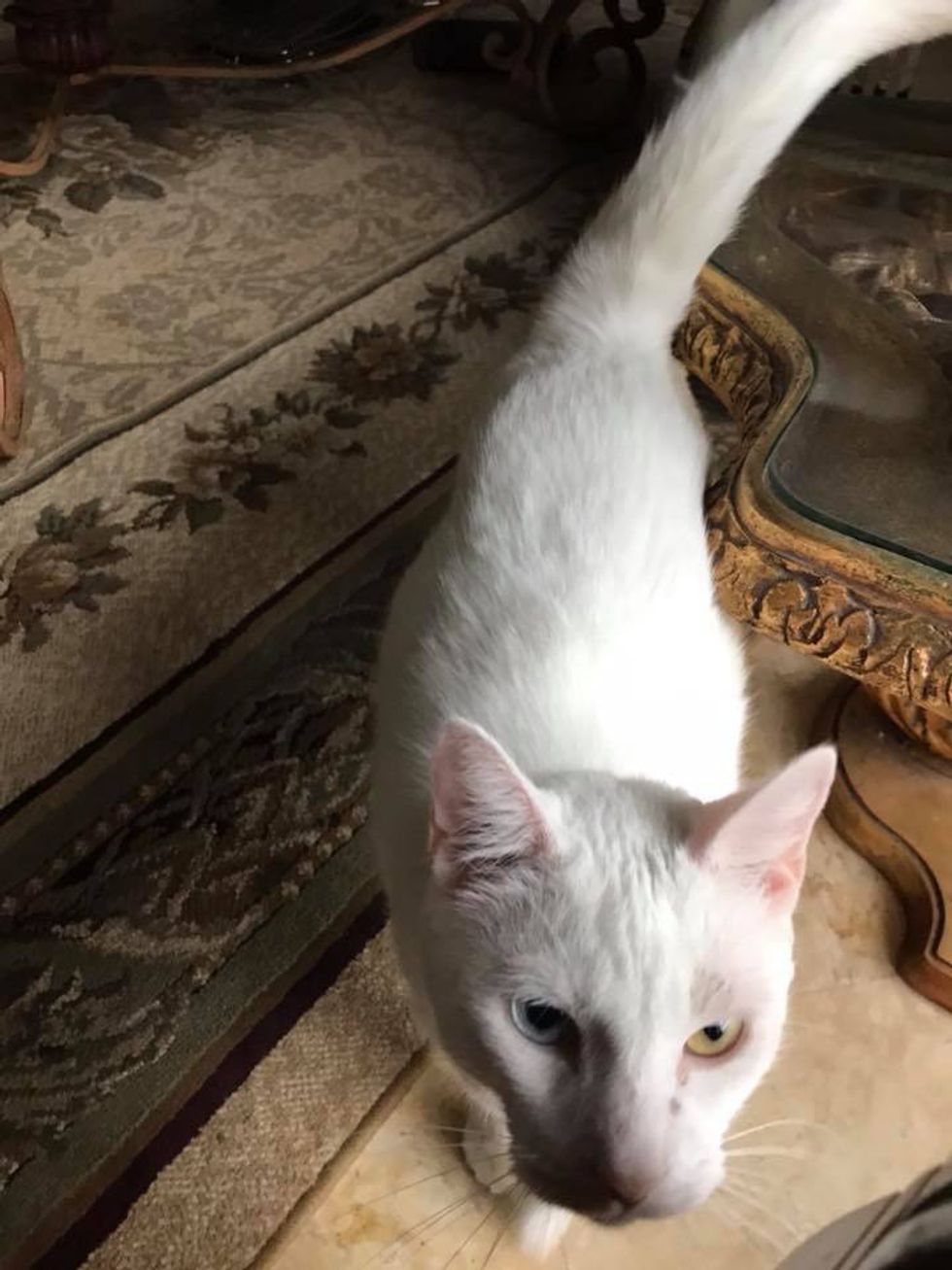 Carmen Weinberg
"Cotton is doing very well. He is home. He loves me and follows me around the house all day. I don't have the heart to put him through changes," Carmen told Love Meow.
"He used to not like having foster kittens around but he is getting better. We have a foster, Neo, who had eye surgery and now Cotton is friends with him."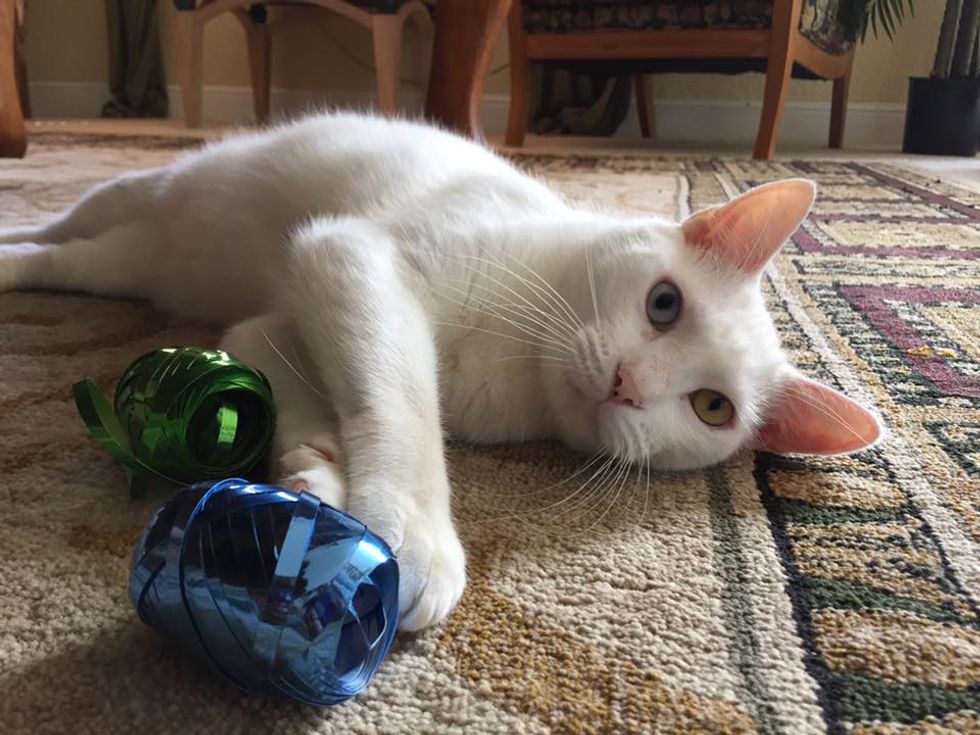 Carmen Weinberg
Share this story with your friends. If you would like to support their rescue efforts, click here to see how you can help. Follow Animal Friends Project on Facebook.

Related story: Woman Saves Sick Kitten While Others Gave Up - The Transformation Will Amaze You!