A feral cat mama moved straw into a large bin so that she could keep her babies warm and safe against bitter cold. When a couple saw the furry family in their backyard, they knew they had to get them help.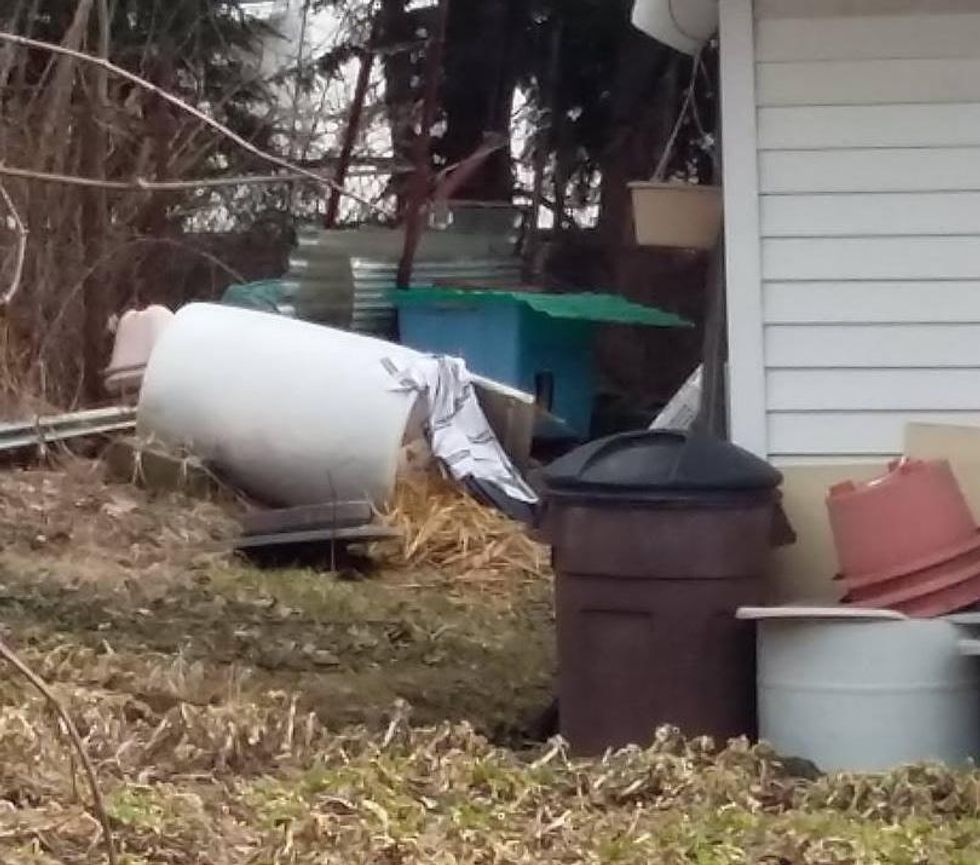 Cat Catching Crew
Linda of Animal Care Council in Binghamton (New York) has been feeding a colony of cats for a few years. All of the cats live happily in an elderly couple's yard.

"They like the cats there because they have a huge garden and the cats keep the critters away but the cats began multiplying. Linda asked me if I would help her trap the cats and get them spayed/neutered," Des of Cat Catching Crew told Love Meow.
Last Saturday they learned that one of the feral cats had given birth to kittens, so Des and Mark set on a trip to rescue the feline family as the temperature dropped to a frigid cold. "It was so cold out, under 30 degrees F. (below -1 degrees C.) in the morning and at night. We went the next day to trap them."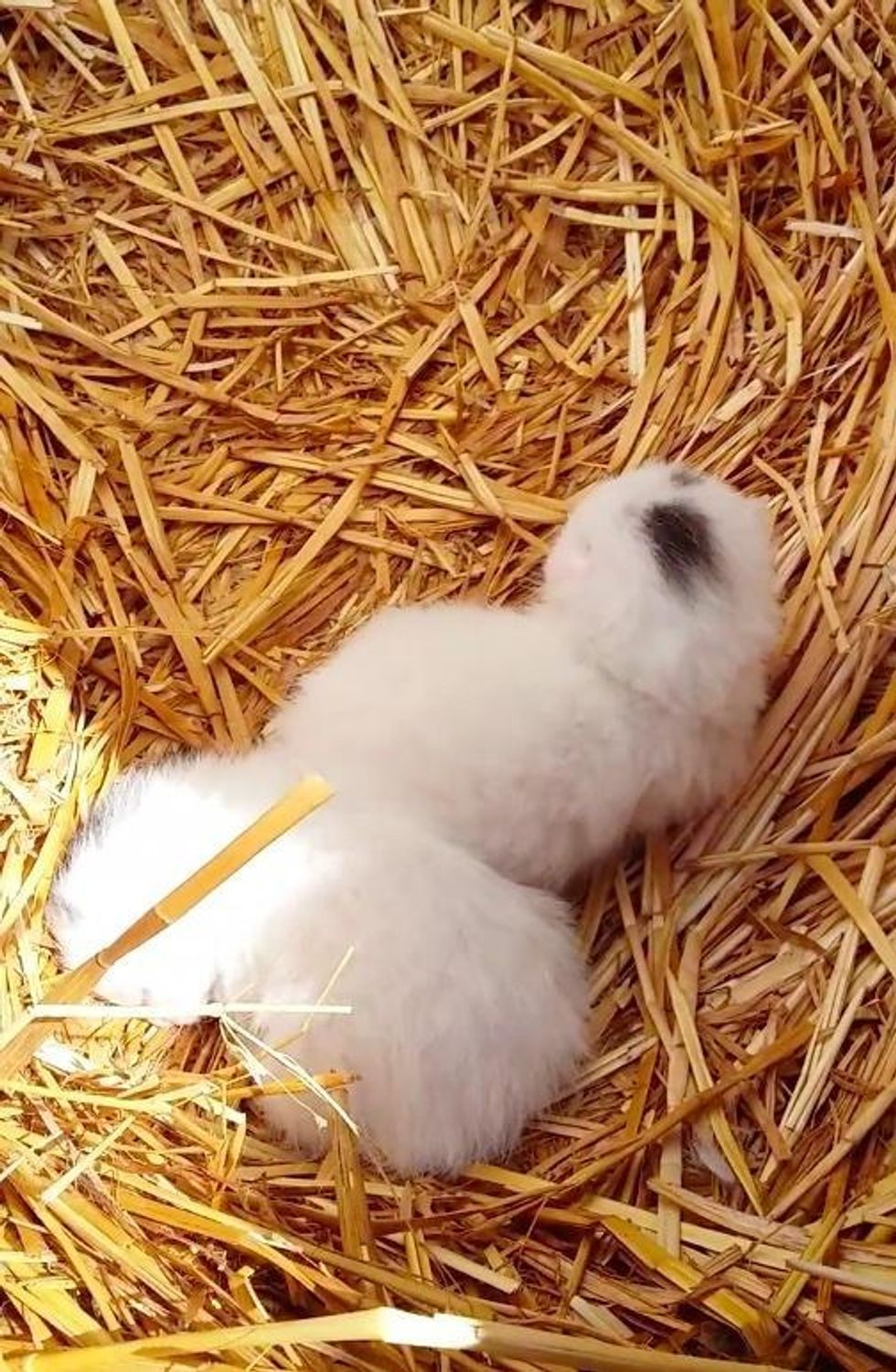 Cat Catching Crew
Turns out, the mama cat went ahead of the rescuers to make sure her babies were safe and warm. She found dry hay in the backyard and moved it into the bin.
"The momma cat was living in a big white bin. The elderly couple saw that the momma cat moved hay into the bin to make a nest. The elderly couple covered it with a lid for them to stay safe and warm," Des told Love Meow.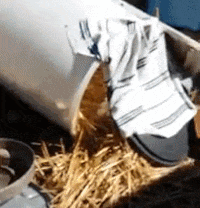 Cat Catching Crew
About 30 minutes after the rescuers arrived, they safely got the cat mama in the trap. She was understandably frightened. Mark put mama in the car while Des went to retrieve the babies.
"I picked up the two newborn kittens with gloves to ensure I wouldn't get my scent on them. We brought all the cats home and momma was very scared!"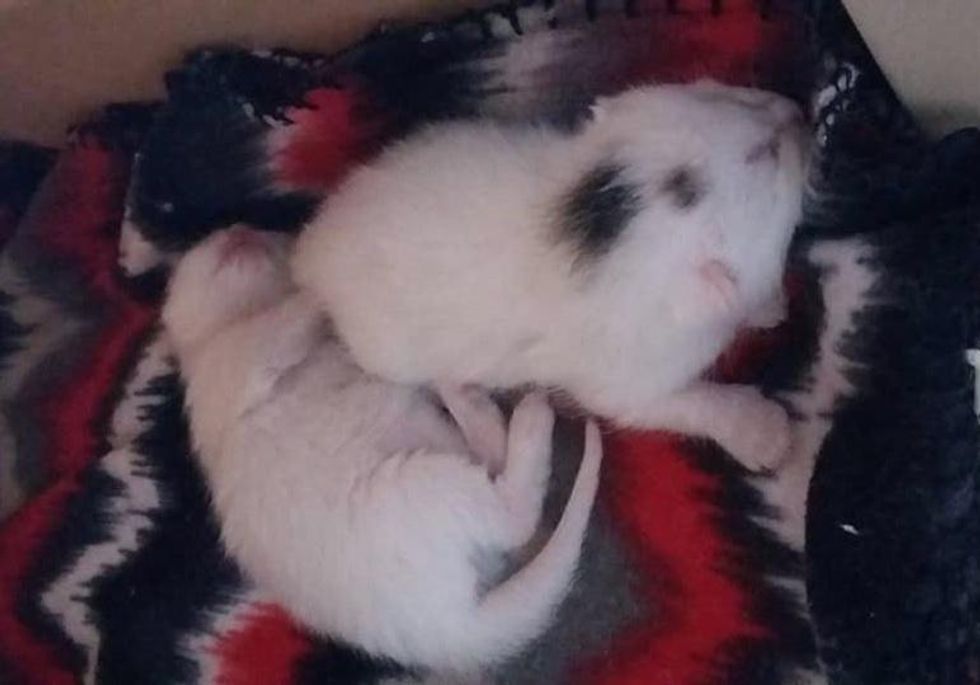 Cat Catching Crew
"She was running and jumping all around the room and wouldn't feed the kittens. I had to bottle feed them at first but a few hours later momma cat calmed down and took care of her babies again," Des told Love Meow.
Mama found a spot under the shelf and began feeding her two precious babies.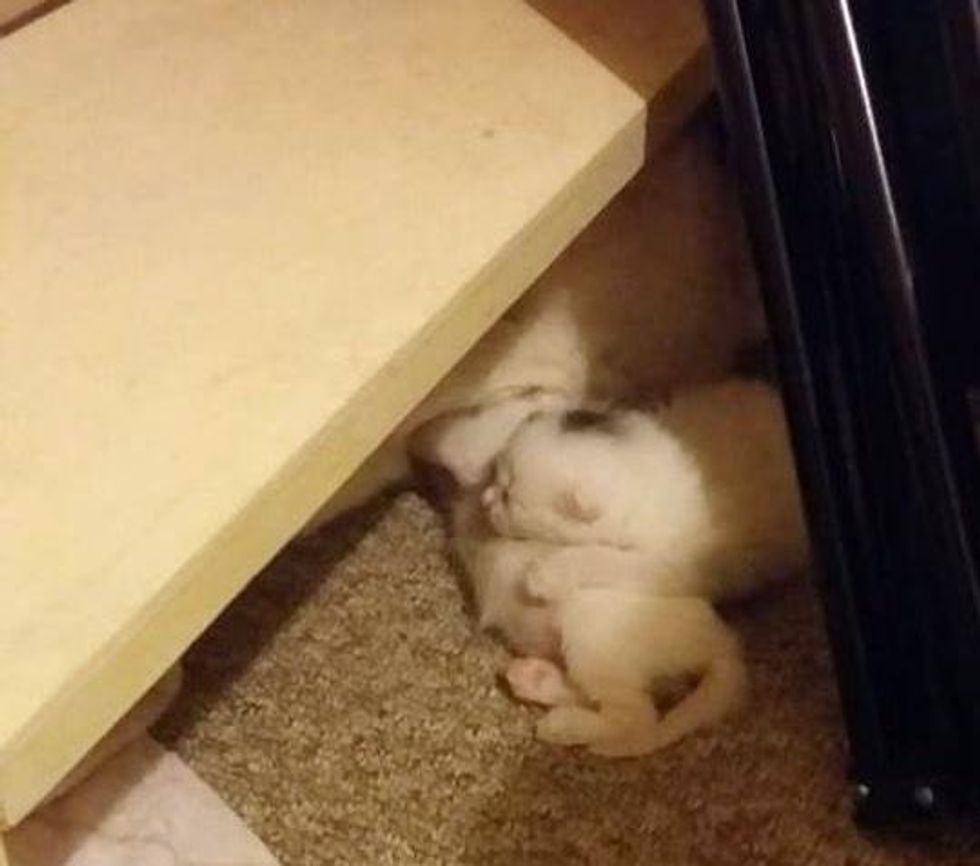 Cat Catching Crew
They named her Marshmallow and her kittens Spot and Oreo.

Momma cat is still very afraid of humans but she is doing much better at a safe and warm home with her babies by her side.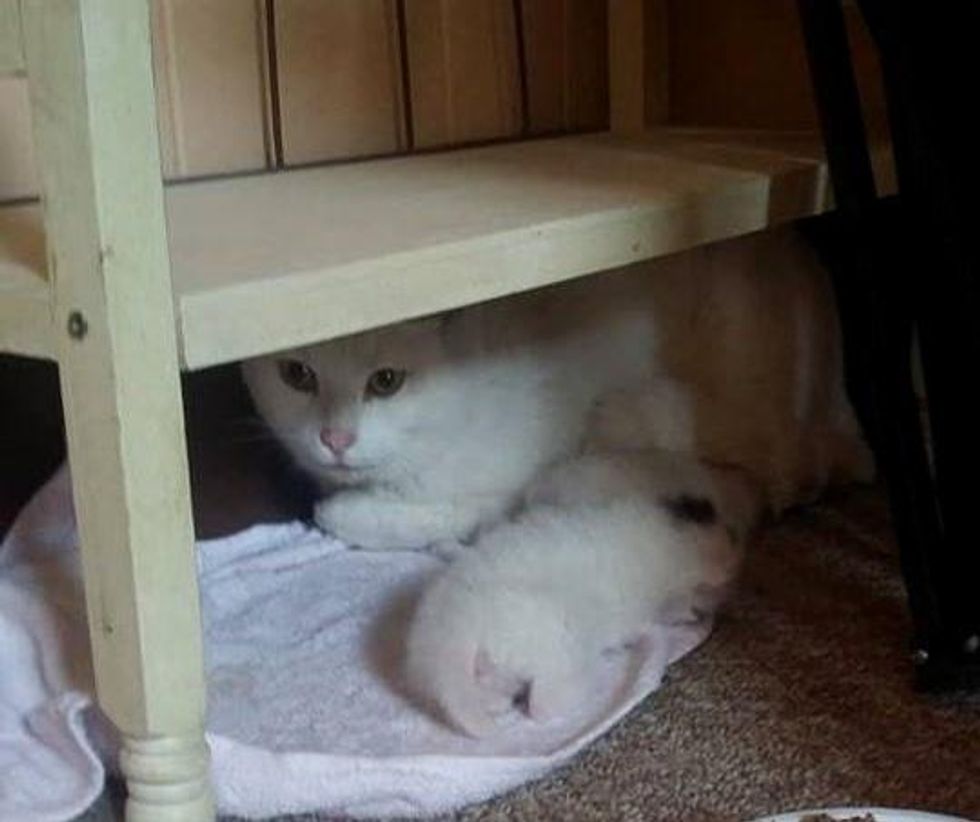 Cat Catching Crew
"Her kittens look bigger and healthy. They can't walk yet but they just started opening their eyes and they wiggle around."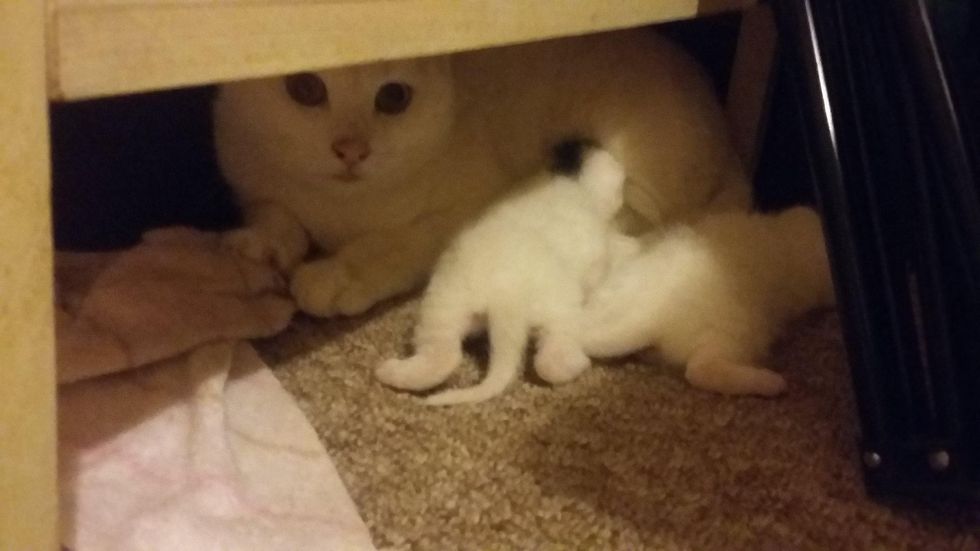 Cat Catching Crew
They will have mama spayed once the kittens are weaned, and the kitties will be put up for adoption at Animal Care Council when they are old enough.

Des hopes to socialize momma cat and help her learn to trust. No matter what, they will make sure Marshmallow and her kittens will be loved and cared for and live a quality life they so deserve.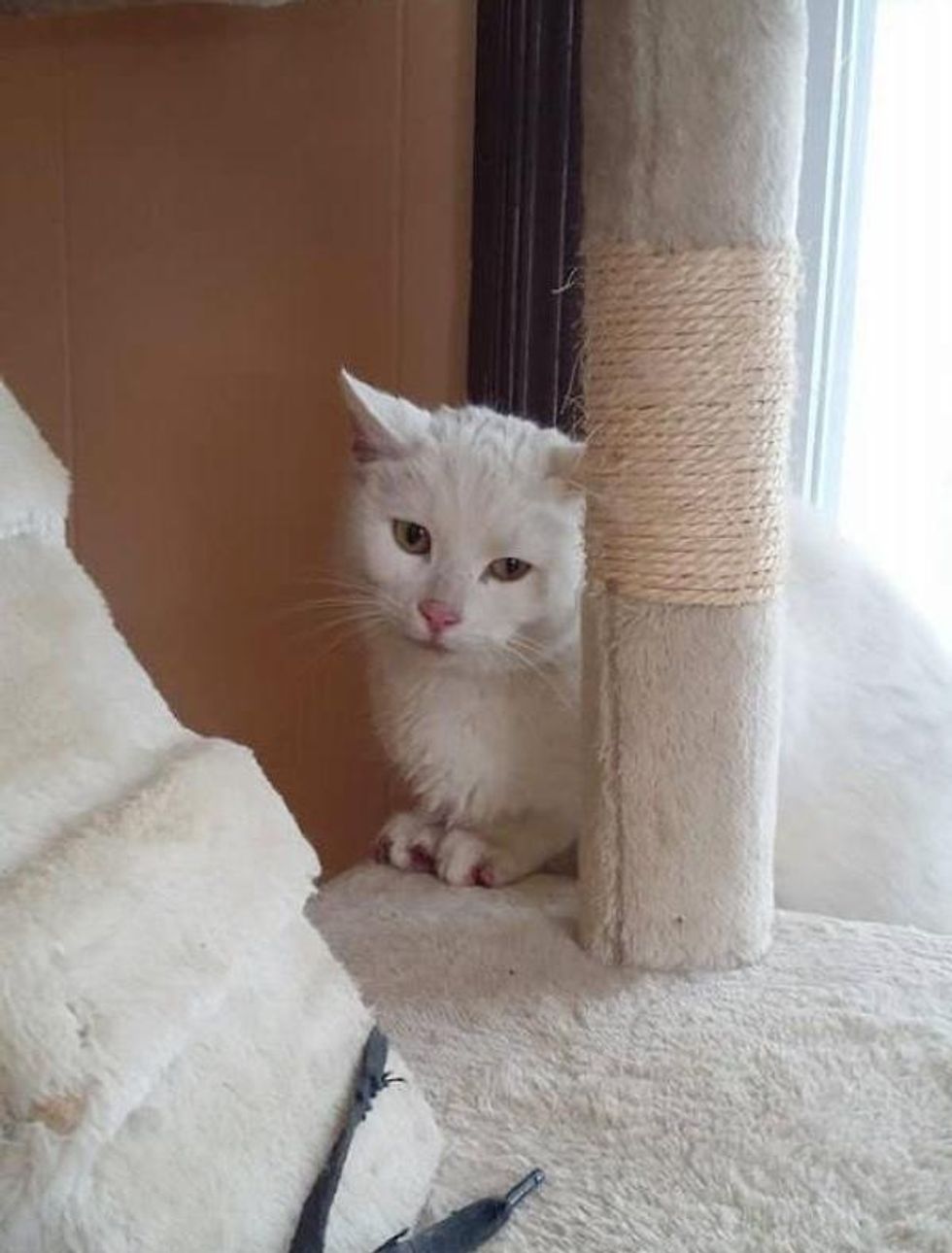 Cat Catching Crew
Watch the rescue in this video:
Share this story with your friends. If you would like to support their rescue efforts, click here to see how you can help. Follow Mama Marshmallow and her babies' updates at Cat Catching Crew's Facebook page.
Related story: Stray Cat Mama Brings Her Single Kitten to Cat Loving Man