Inky the kitten was found in a woodpile next to an art studio in Matthews, North Carolina. He was very scrawny and his eyes were covered in debris.
A young woman offered to catch him and get him help.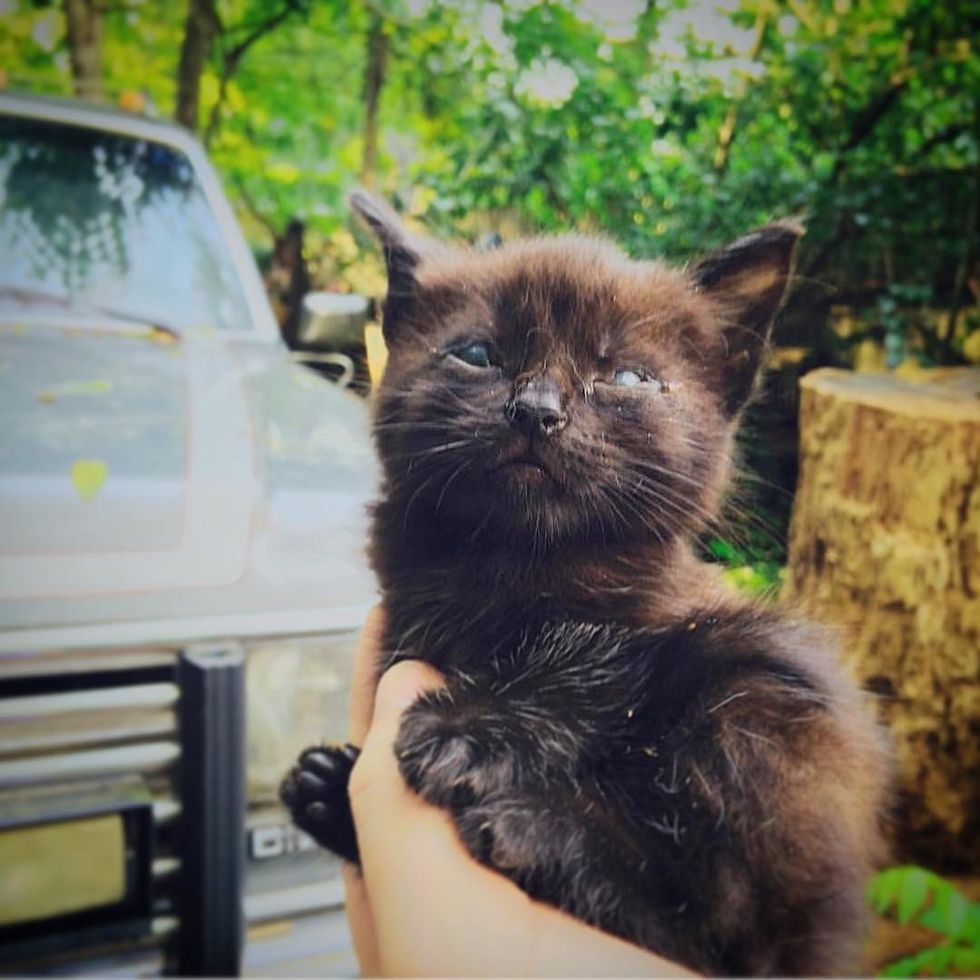 Hannah Erbe
Hannah Erbe was at her art class when she spotted the kitten trying to eat some fried chicken that her art teacher had put out. "He was starving and was out eating it. When my teacher led me to him, I was able to corner him and pick him up," Hannah told Love Meow.

The kitten couldn't see due to the debris. After a trip to the vet, they discovered that the 3-week-old kitten was born without upper eyelids.
"He was close to death when he was found, nothing but skin and bones, totally blind from all the discharge and debris in his eyes. My vet calls him a miracle kitten."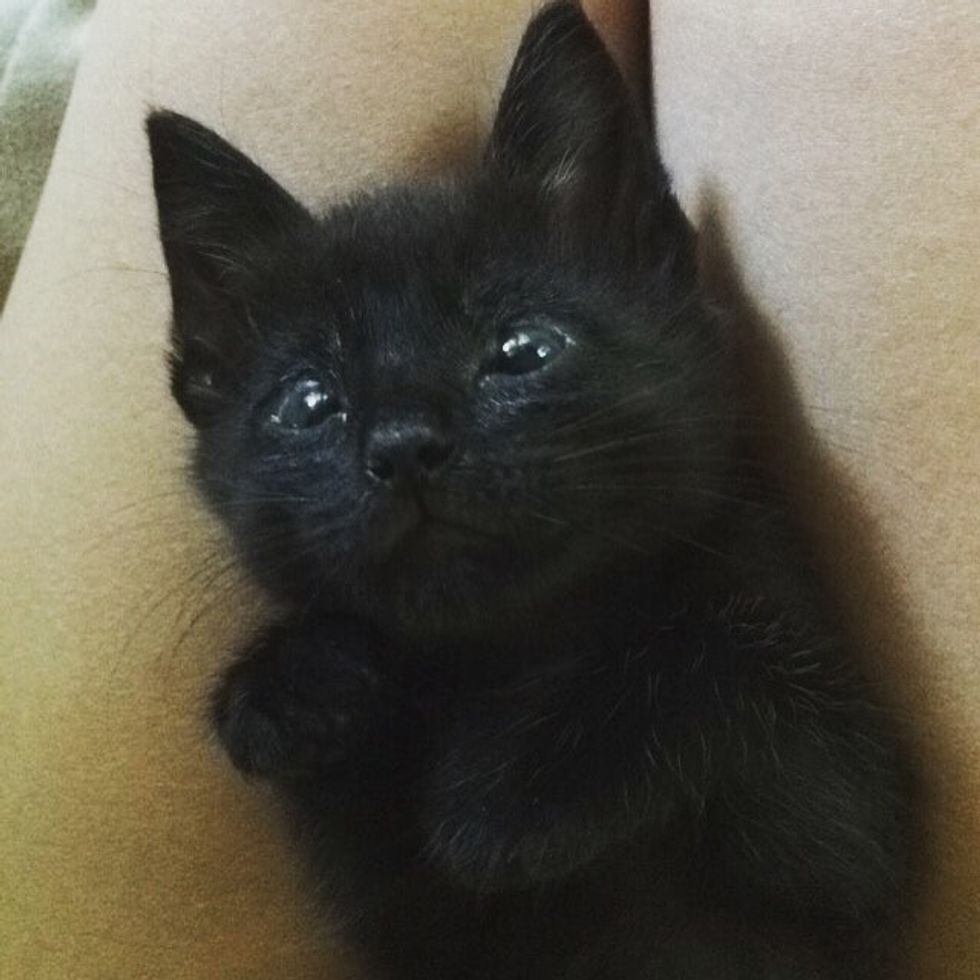 Hannah Erbe
"When we cleaned his eyes for the first time, he just stood and stared at his paw like he had never seen it before," Hannah told Love Meow.
The kitten was born with a congenital defect called Feline Eyelid Agenesis, where the upper eyelid is not formed. Inky couldn't close his eyes when blinking, and hair was constantly poking and scraping against his eyes, causing a lot of pain and discomfort.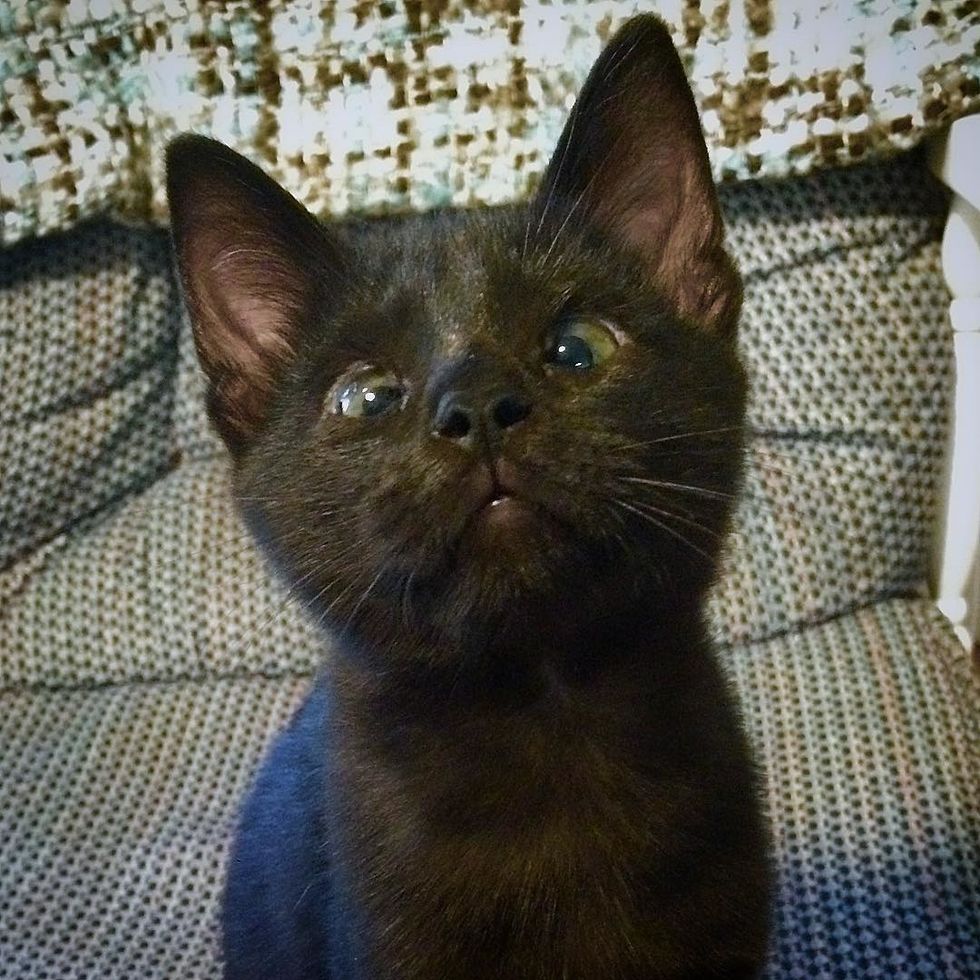 Hannah Erbe
He needed surgery, a procedure called Cryotherapy, to have it corrected. "Cryrotherapy will permanently kill the hair follicles around his eyes and eliminate the painful hairs that are growing into his eyes, ultimately saving his vision."

It took Inky some time to acclimate into his new home. For a while he was very timid but a gentle giant named Jasper brought him the comfort that he needed.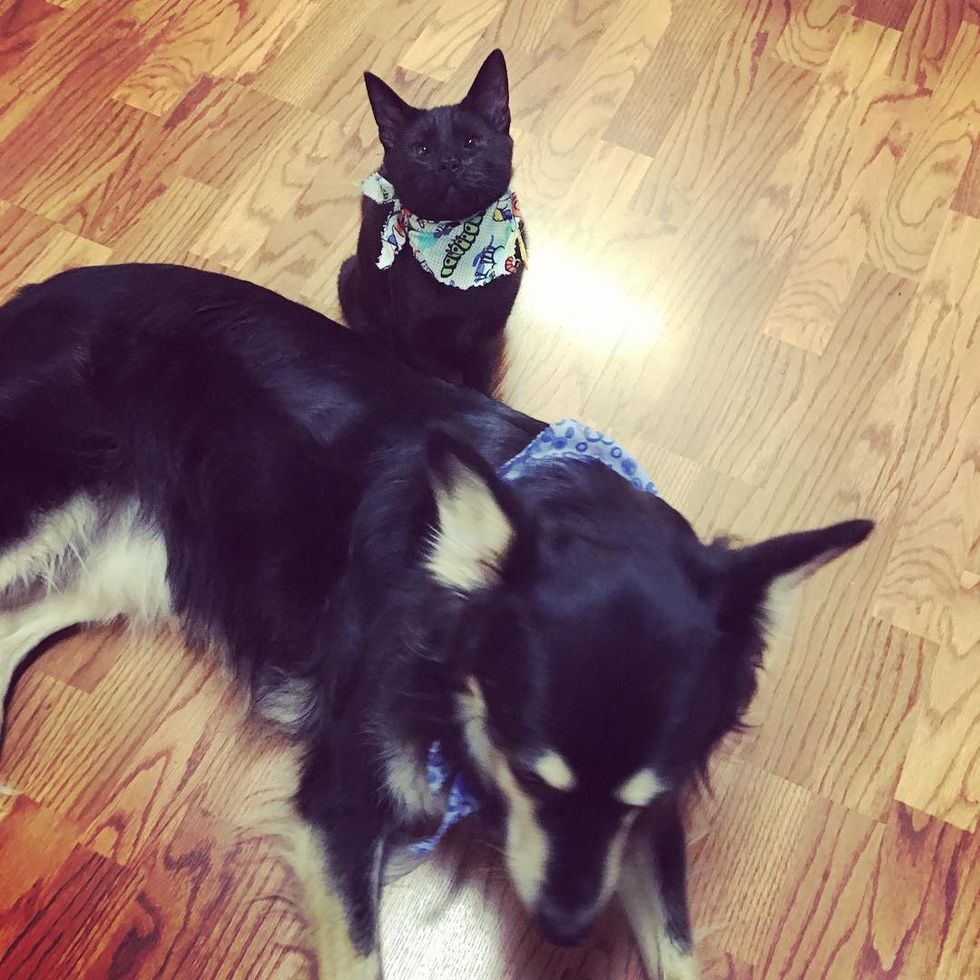 Hannah Erbe
"I remember that the first time they 'met' was from under the bathroom door, they could smell each other. Jasper is always near me and used to lay outside the bathroom door while I sat in there with inky for hours, helping him get used to being around people," Hannah told Love Meow.
As Inky grew bigger, he became more confident. Then one day, he decided that he would no longer be afraid. He snuggled up to Jasper and even tried to play with him.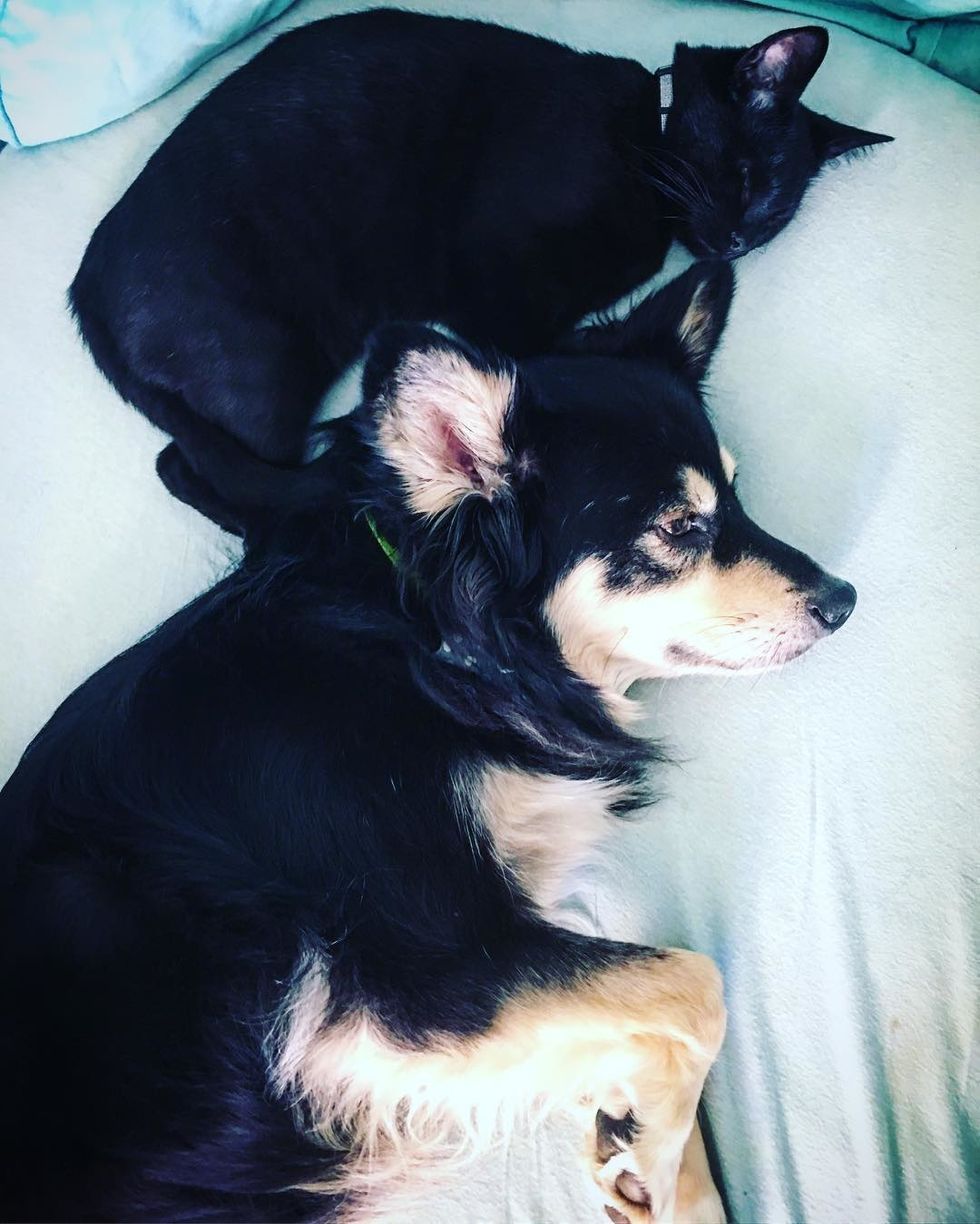 Hannah Erbe
The two became bonded friends and have been inseparable ever since. "After his eyelid surgery I had to watch them very closely because Jasper wanted to lick his face, and Inky wanted him too," Hannah told Love Meow.
"Jasper has been such a comforting presence to Inky as he heals."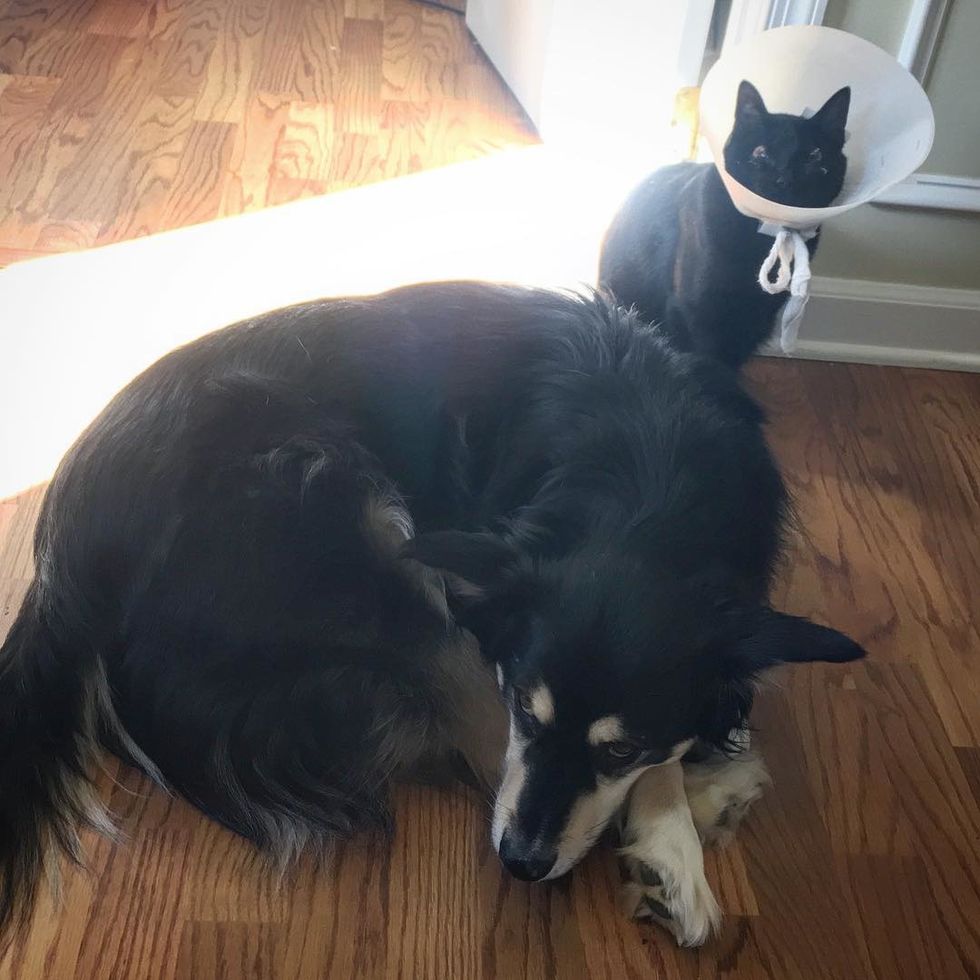 Hannah Erbe
The two best friends have a lot in common.
"They are both rescues and have matching colors. They are both confident and very sweet and affectionate. They follow me around together, so they are almost never apart."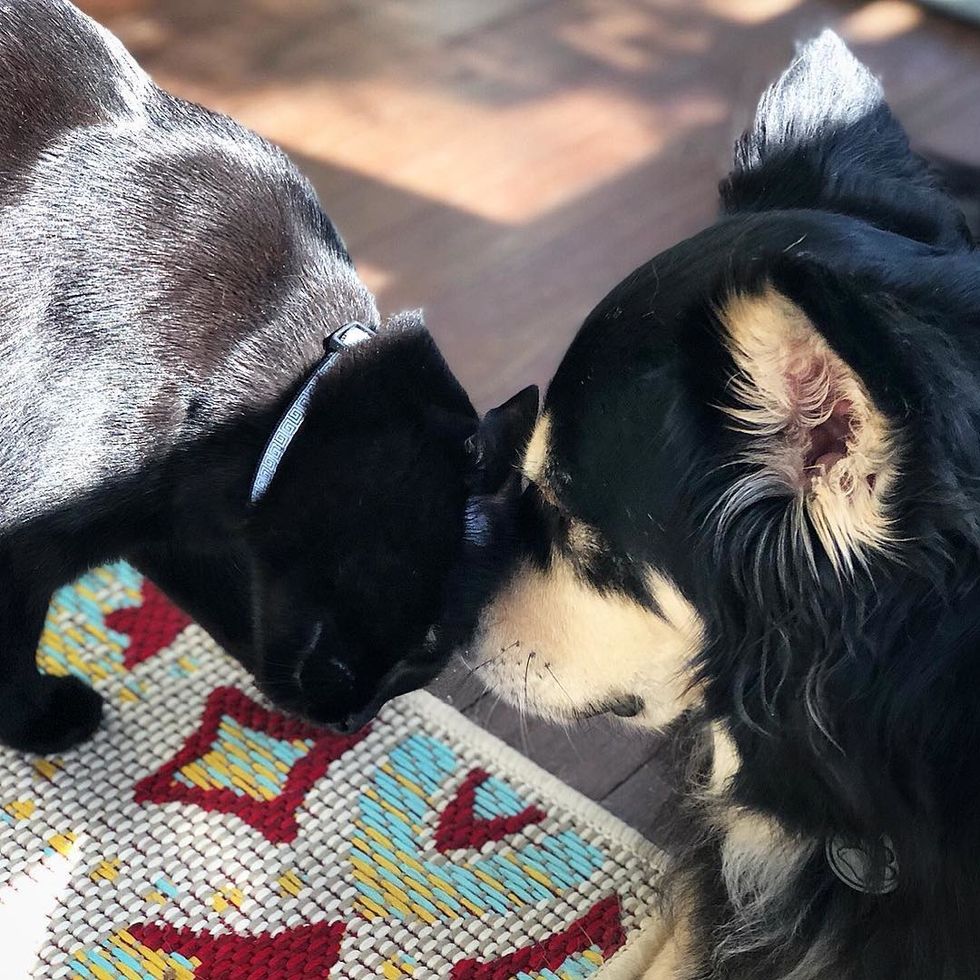 Hannah Erbe
"Inky lets Jasper lick his head and face, and Jasper lets Inky rub on his neck."
Snuggles and more snuggles!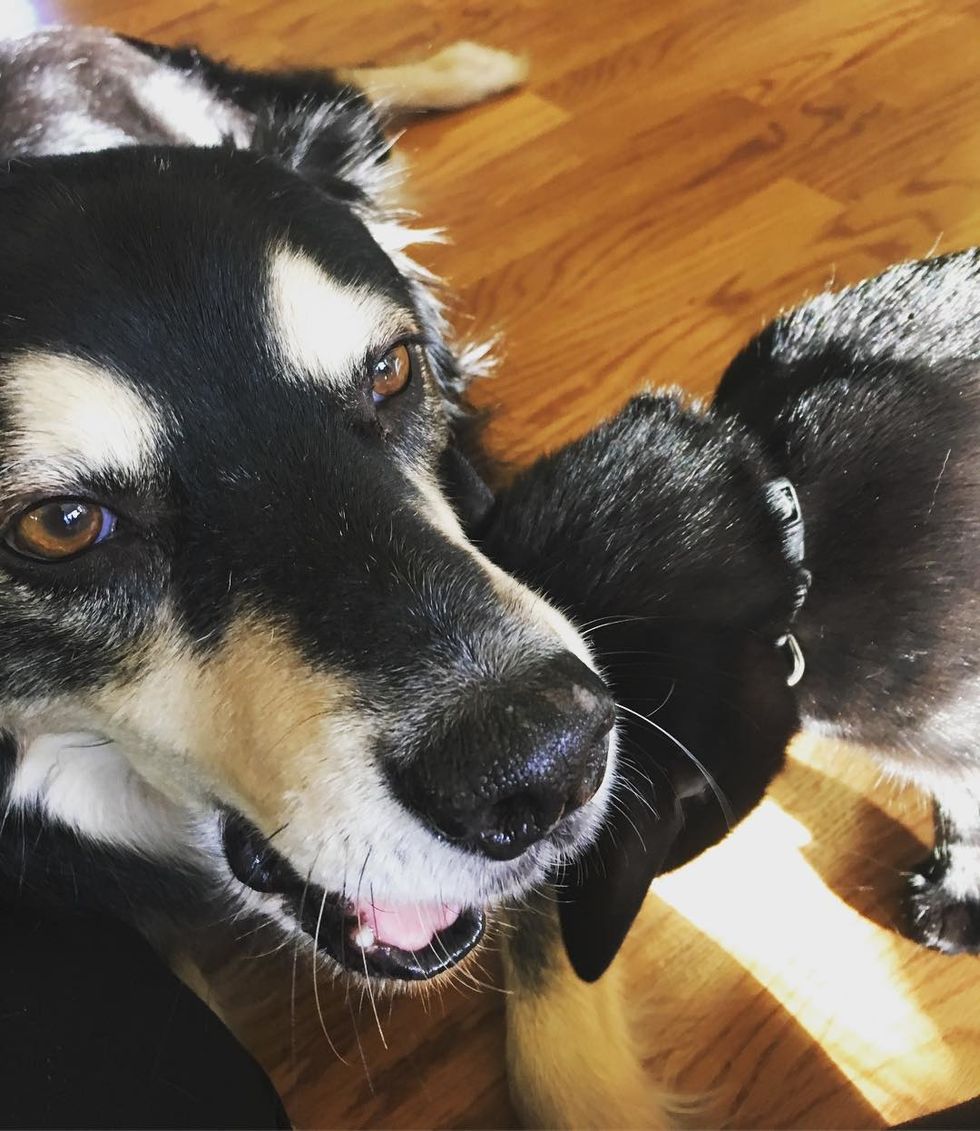 Hannah Erbe
Inky doesn't have perfect vision, but nothing can slow him down.
"He's adapted very well and doesn't know any difference," Hannah told Love Meow.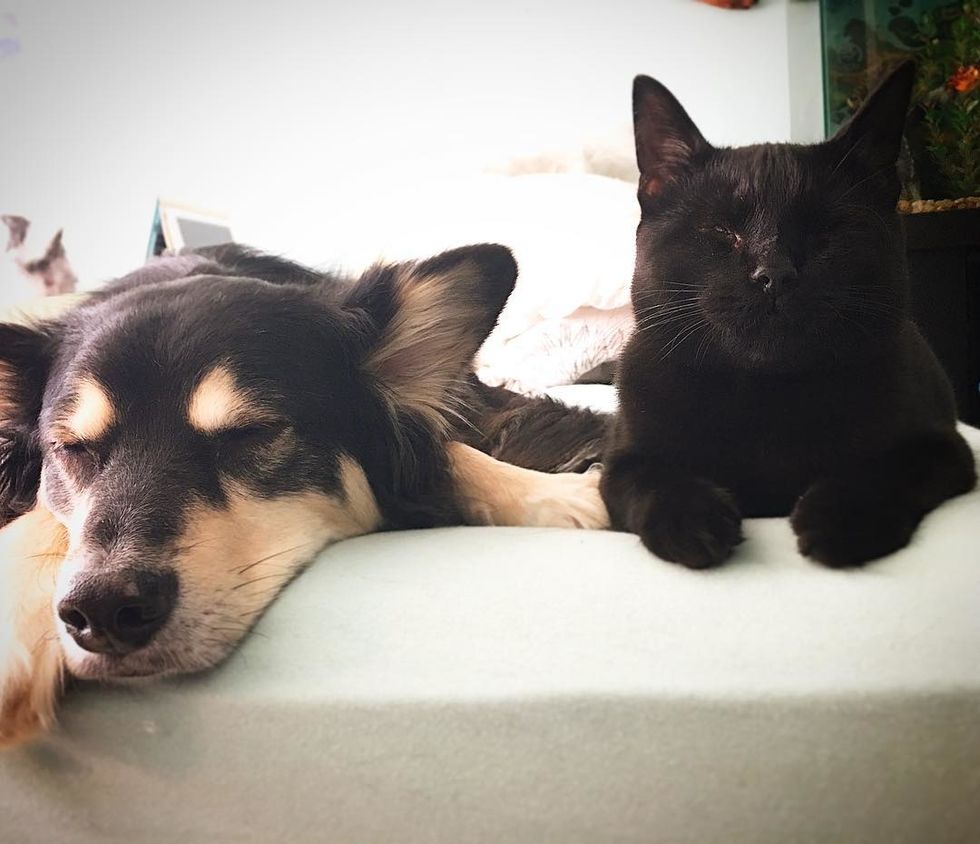 Hannah Erbe
Where Jasper is, Inky is there, too.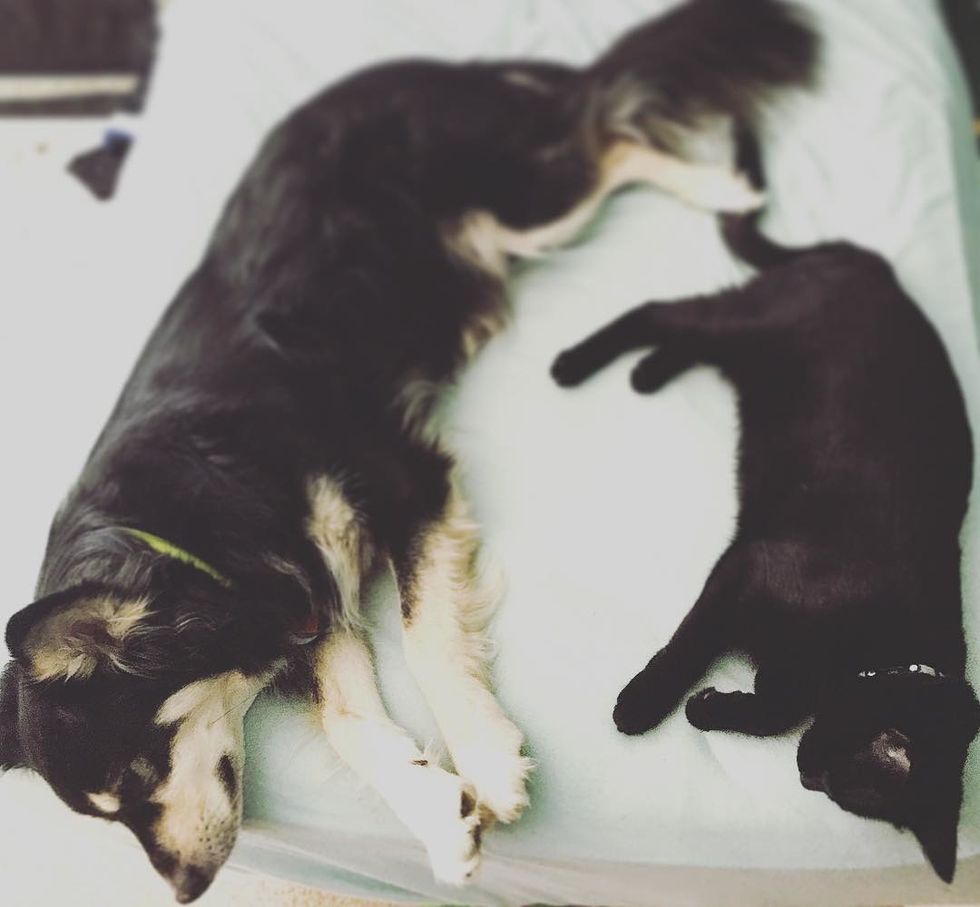 Hannah Erbe
They are always next to each other.
The two brothers like to watch Hannah cook while snuggling and holding paws.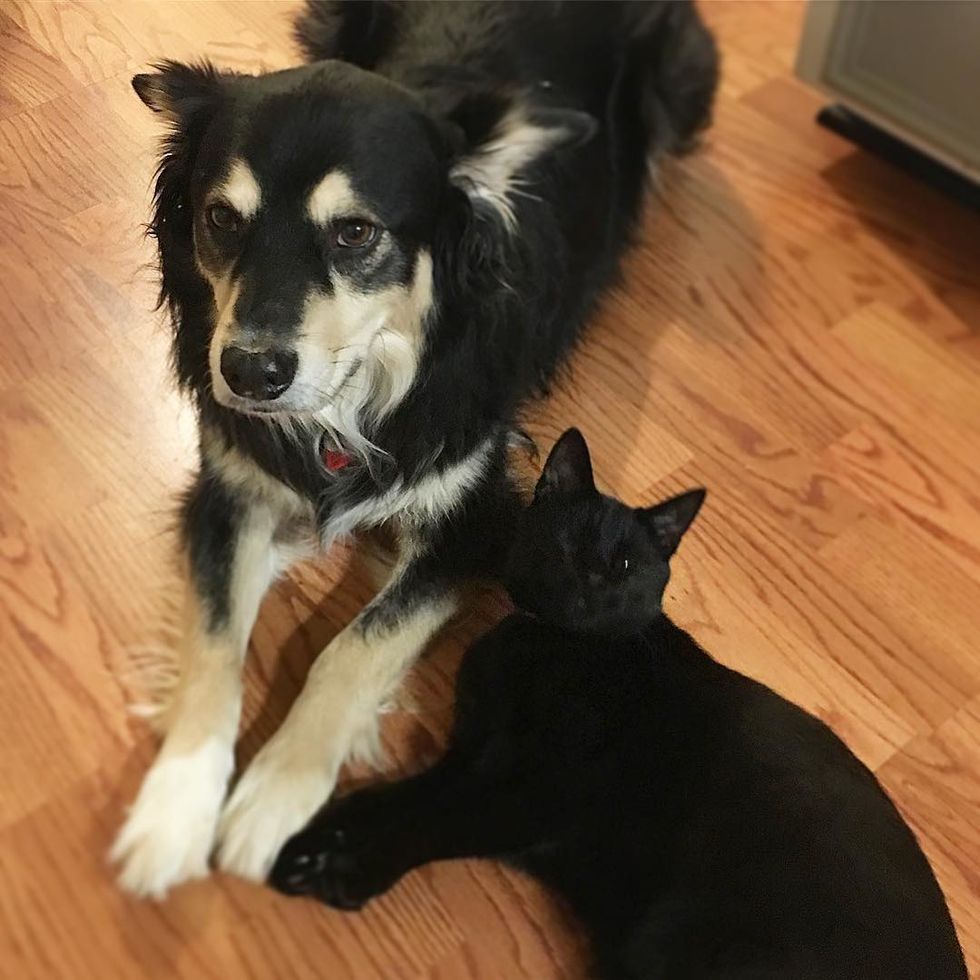 Hannah Erbe
It's been 20 months since Hannah found little Inky in a woodpile.
Look at him now!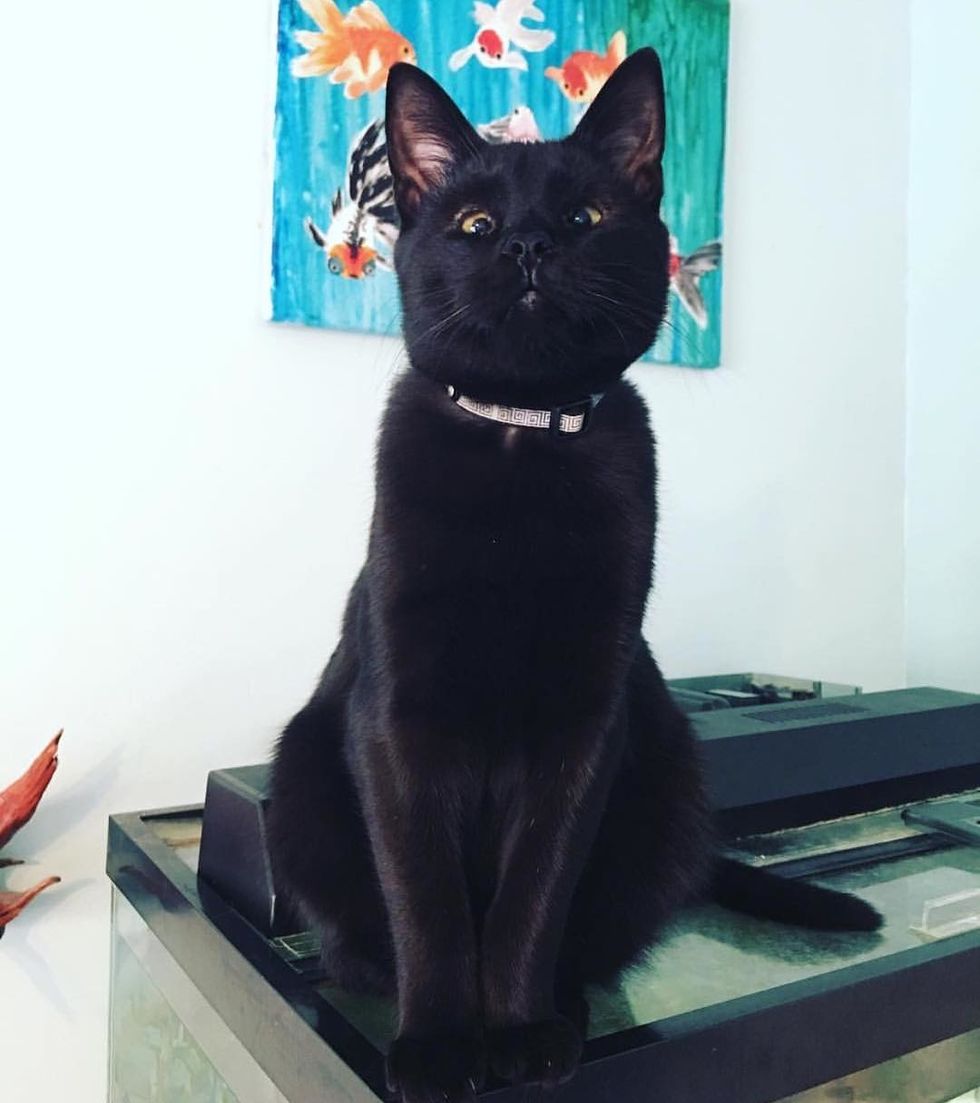 Hannah Erbe
Jasper's calming presence has helped Inky learn to enjoy being around humans.
Inky still needs additional medical care, but with his canine brother around him 24/7, he is completely at ease.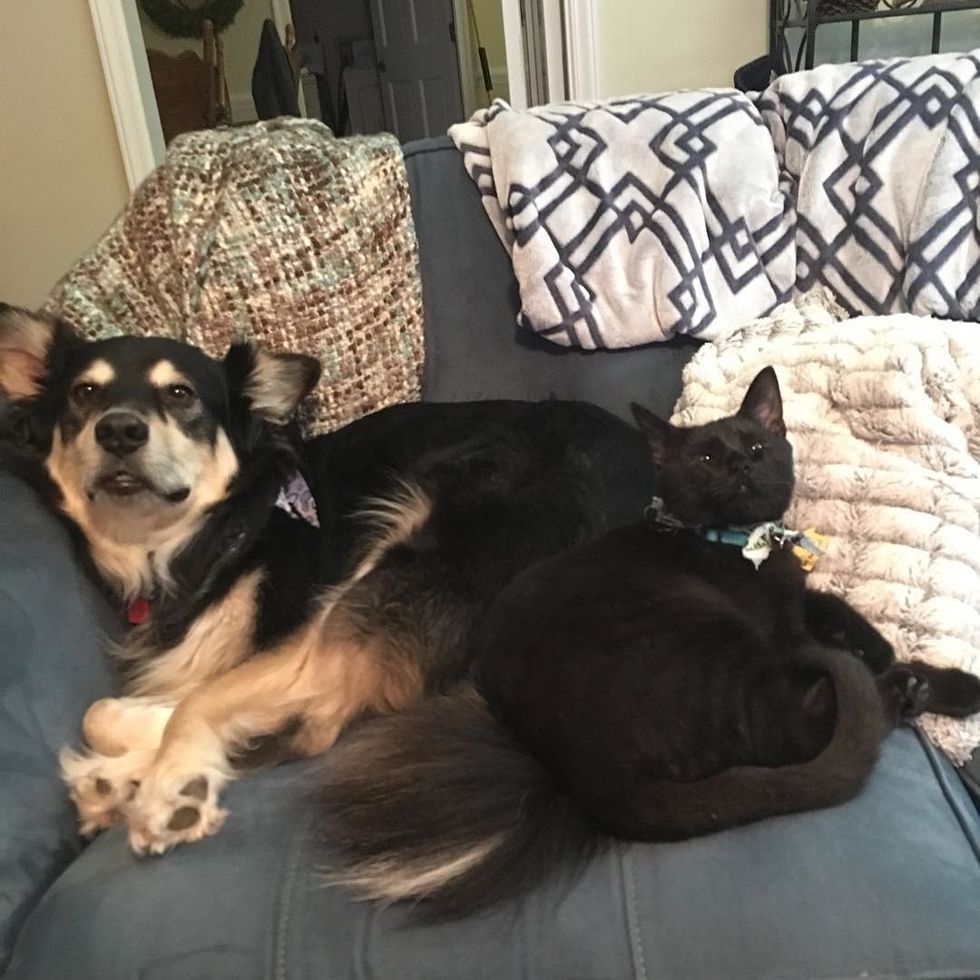 Hannah Erbe
Share this story with your friends. Follow Inky and Jasper on Instagram @jasper_inky_and_friends.
Related story: Kitten with Thumbs Found Love in Giant Dog Who Raised Him Into the Cuddliest Cat