Six months ago, in the middle of a heat wave in Santa Ana, California, a tiny kitten was found stuck inside a wall all alone.
His loud cries alerted the home owners, and they were determined to find him.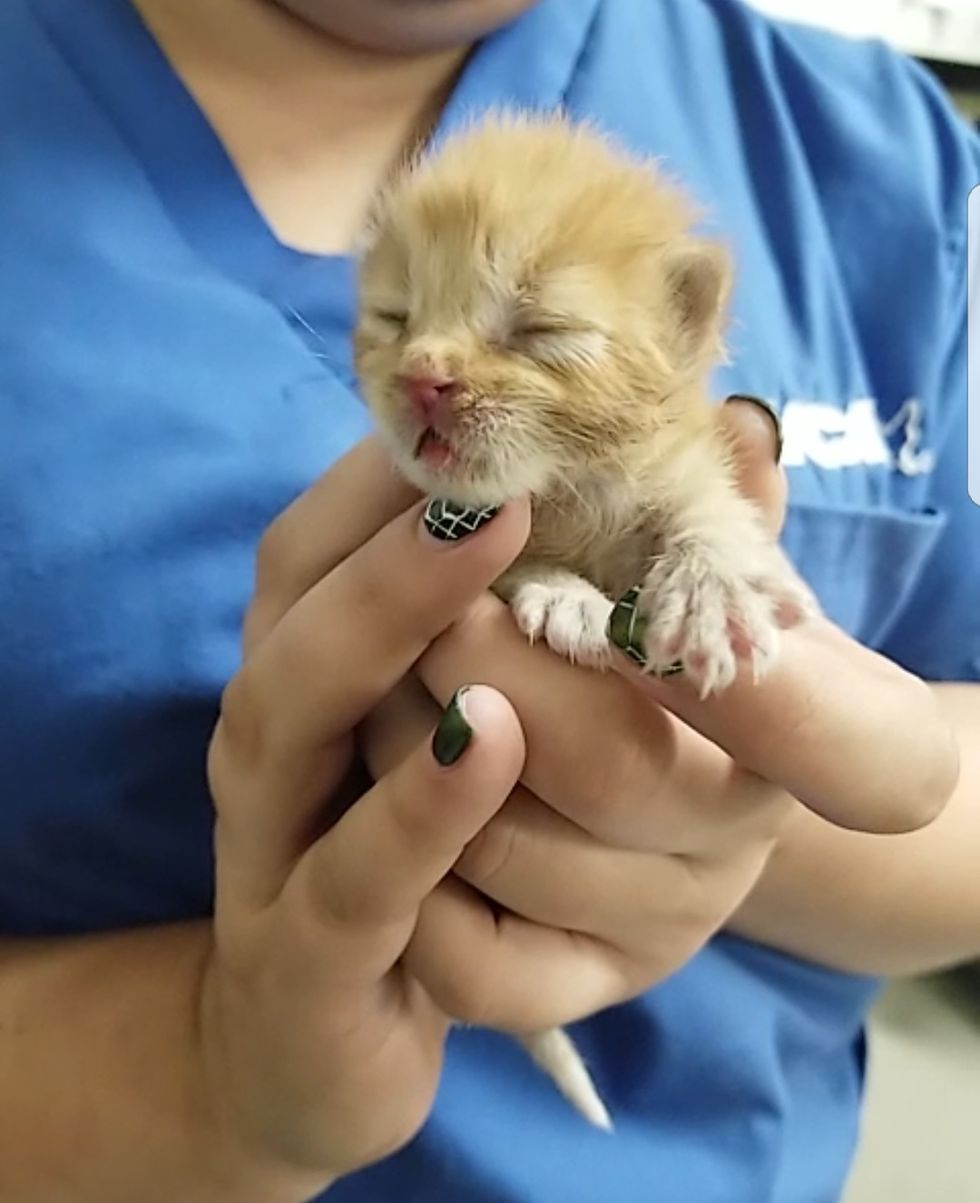 Supplied by Christine Stephenson
They began searching by following the sound. To their surprise, it was coming from behind the drywall.
"They grabbed tools and started breaking holes in their own house on the off chance that this little cry was coming from something alive and needing help," Christine Stephenson, a horse trainer, told Love Meow.

After cutting a few holes in the wall, they finally found the kitten - a tiny 3-day-old ginger, meowing loudly for his mother, who was nowhere to be found. It was believed that the cat mom accidentally lost him inside the wall while moving her kittens.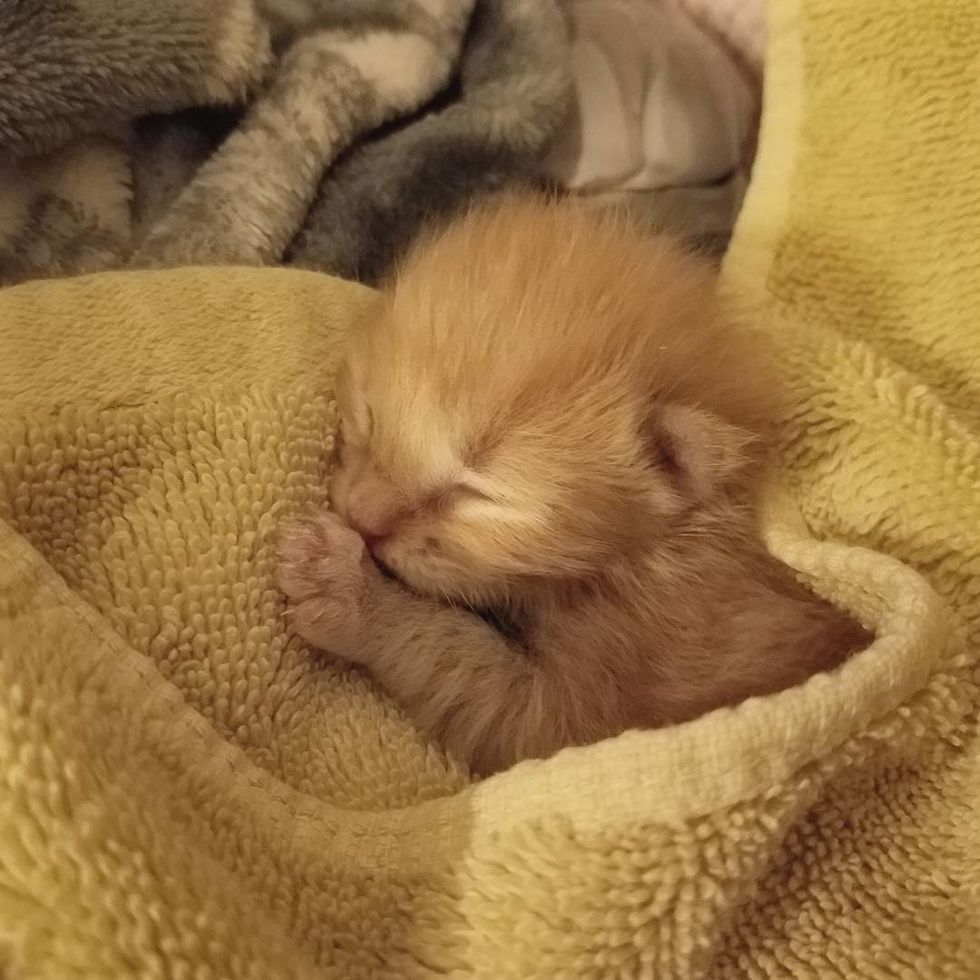 Supplied by Christine Stephenson
"They immediately brought him to the nearest emergency vet hospital (VCA Yorba Regional Animal Hospital). My good friend, who works at the hospital, contacted me that night and told me the story," Christine added.
According to the vet, if they hadn't gotten the kitten out, he wouldn't have survived even a few more hours in the increasing heat.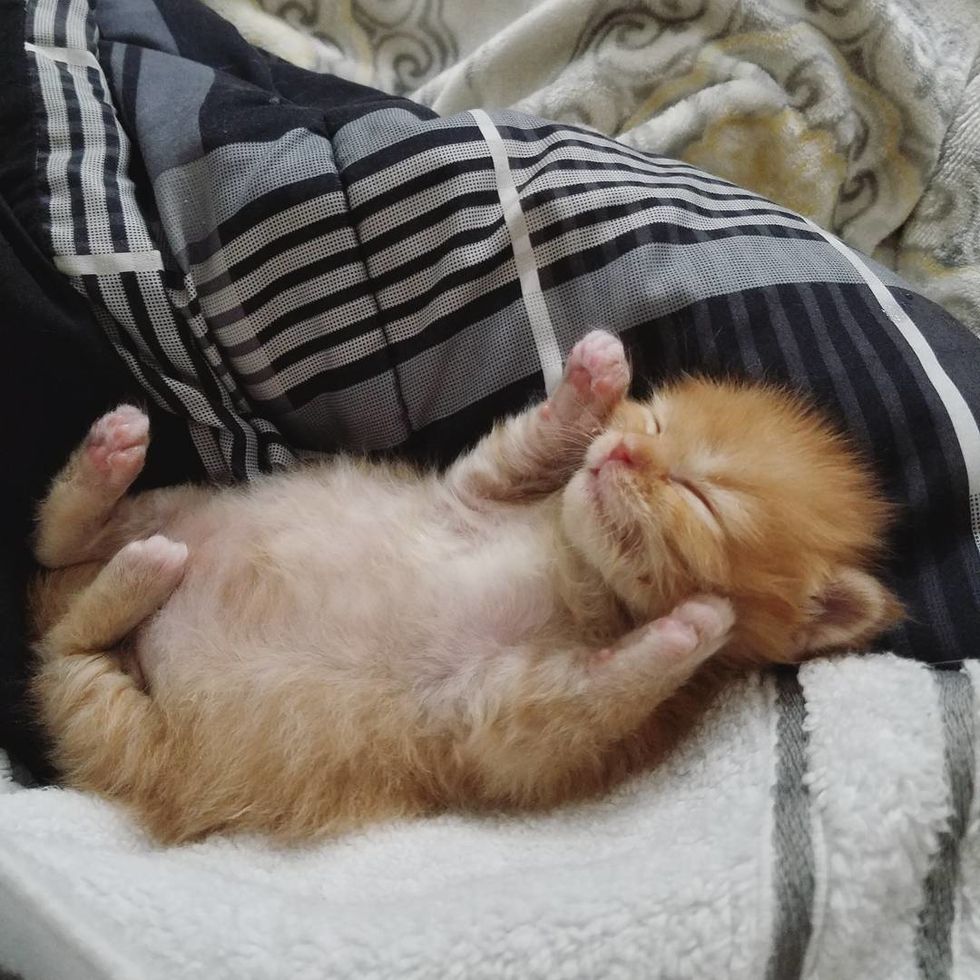 Supplied by Christine Stephenson
Christine was asked if she could foster the kitten as he needed bottle feeding every two hours, around the clock.
"I took him with me everywhere I went - home, work, appointments. I slept with him next to my bed, carried him in a pouch like a kangaroo at work," Christine told Love Meow.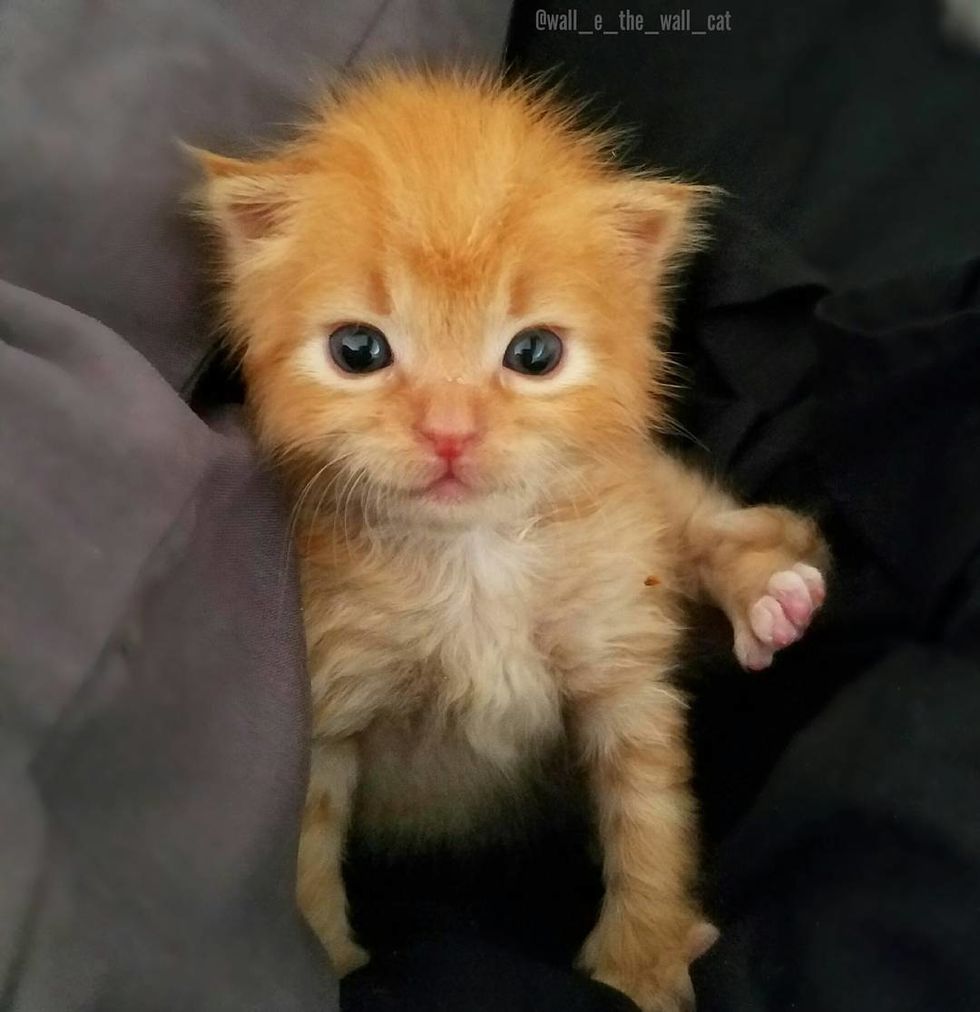 Supplied by Christine Stephenson
Everywhere she went, she brought her kitten supplies and carrier with her. "All of my clients joked that, 'I had a new son!' It was a lot of work and a very consistent loss of sleep, but it was beyond worth it."

The little ginger boy was named Wall-E. He snuggled up to Christine after every meal and would cry for her attention and more cuddles.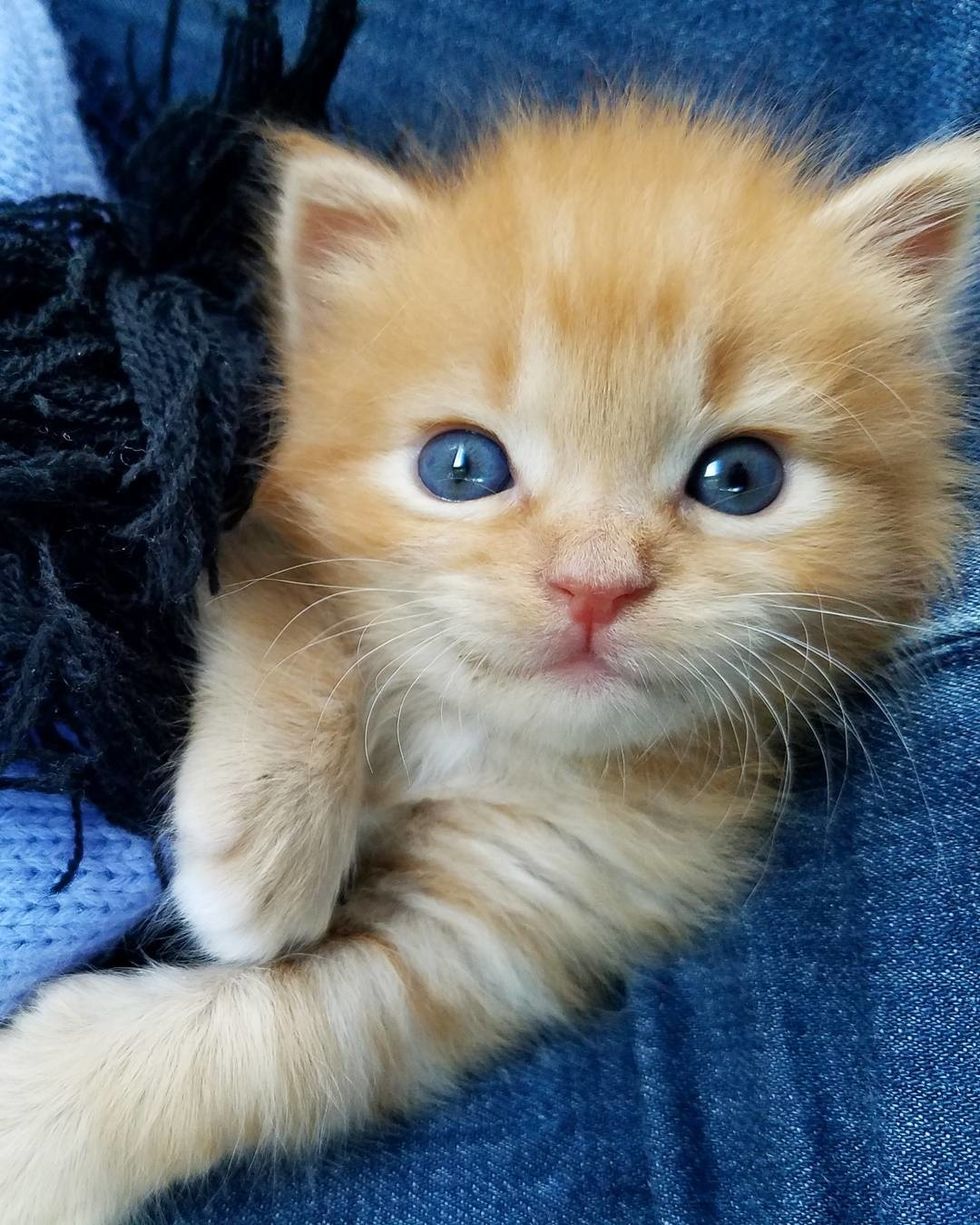 Supplied by Christine Stephenson
"Despite having a hard start in life, he's strong, fearless and persistent, and thankfully was a very loud baby. He was destined to live and no wall was going to get in his way!"
Wall-E met his feline sister, Squeakers and the two became fast friends. "They love to play and run around the house, and try to wake us up at 4AM."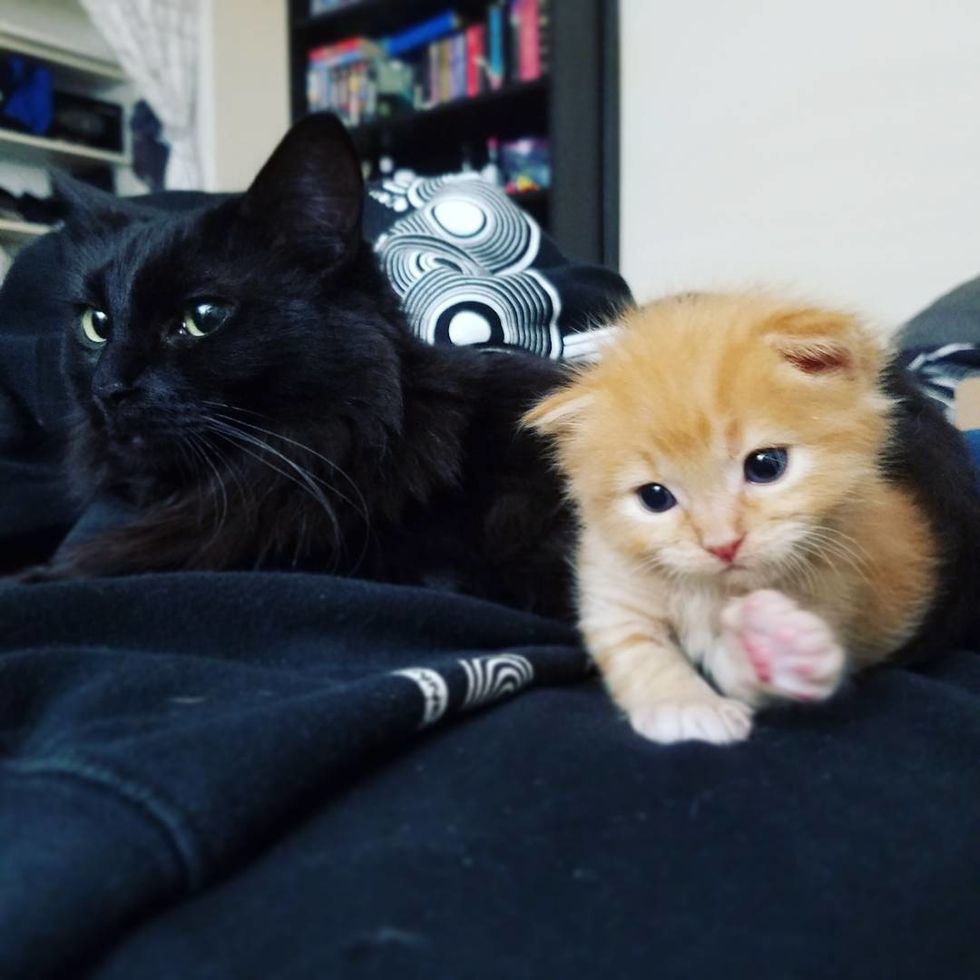 Supplied by Christine Stephenson
"Wall-E was initially going to be a foster, as I already had two cats (Squeakers and Panda, who I also found as lost orphans and raised in previous years)," Christine told Love Meow.
But the kitten quickly crept his way into their hearts. "After a week or two with Wall-E, my fiancé and I became so attached that we decided to keep him. He has since become a permanent member of the family."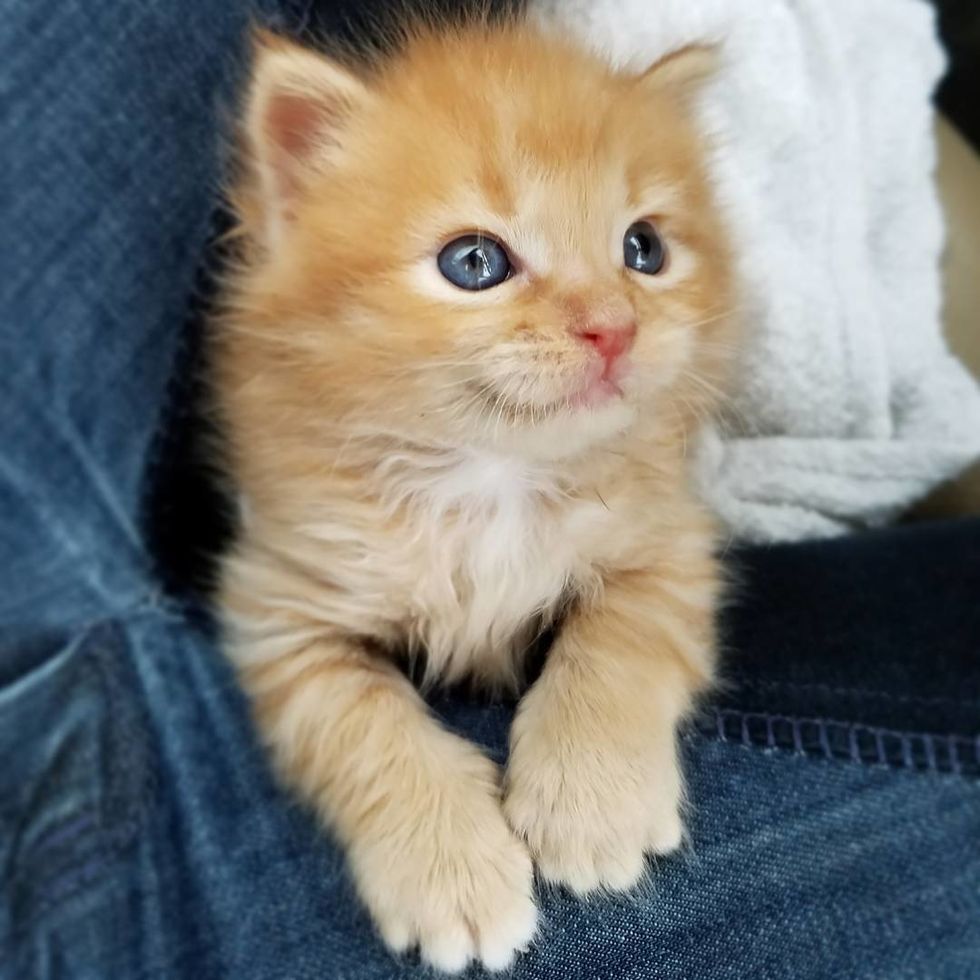 Supplied by Christine Stephenson
The affectionate ginger boy has been his human mom's little inseparable shadow since the day they found each other.

"Today he is a happy spoiled guy who never stops purring! He basically gets to do anything he wants. He rides in the car, walks on a harness and leash, has even gone camping and ridden a horse!"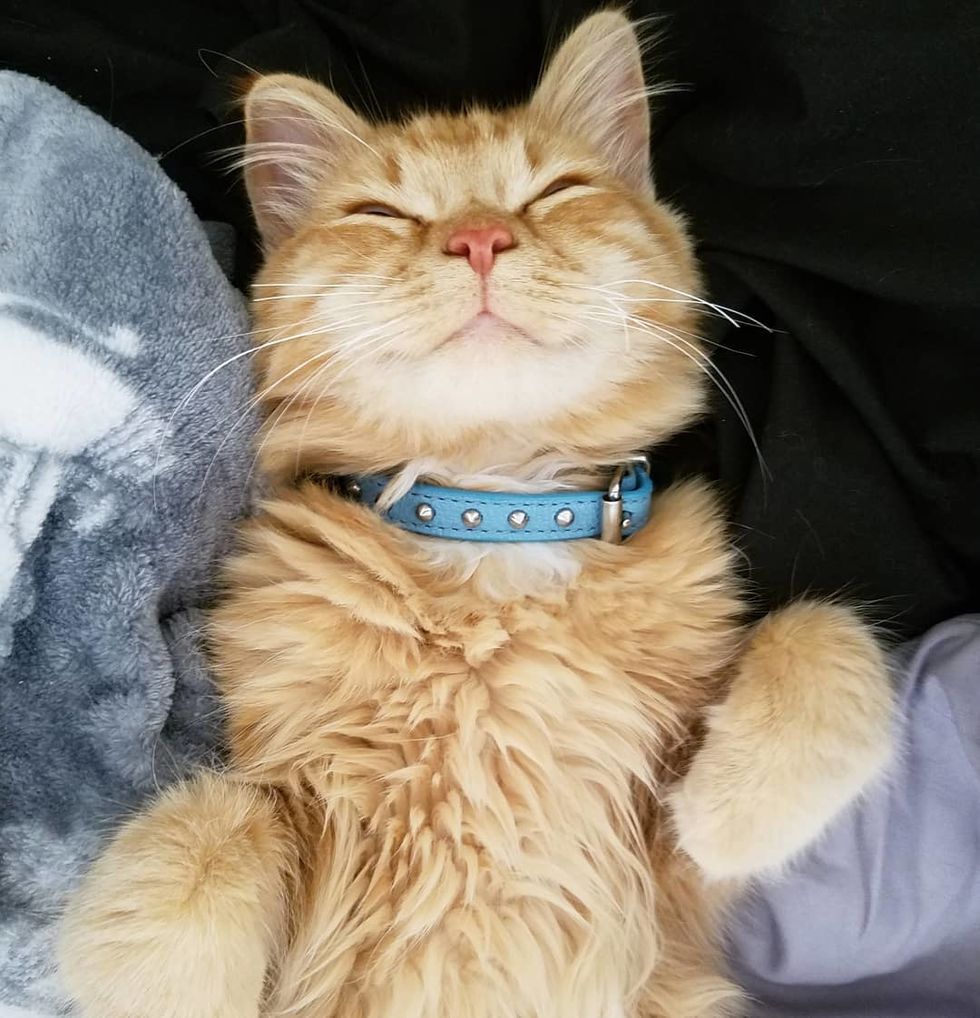 Supplied by Christine Stephenson
"I'm so thankful for this little orange fluff ball, who brings us all so many smiles. I hope everyone gets to feel the joy of rescuing an animal," Christine said.
"Wall-E is my angel and we will always have an incredible bond."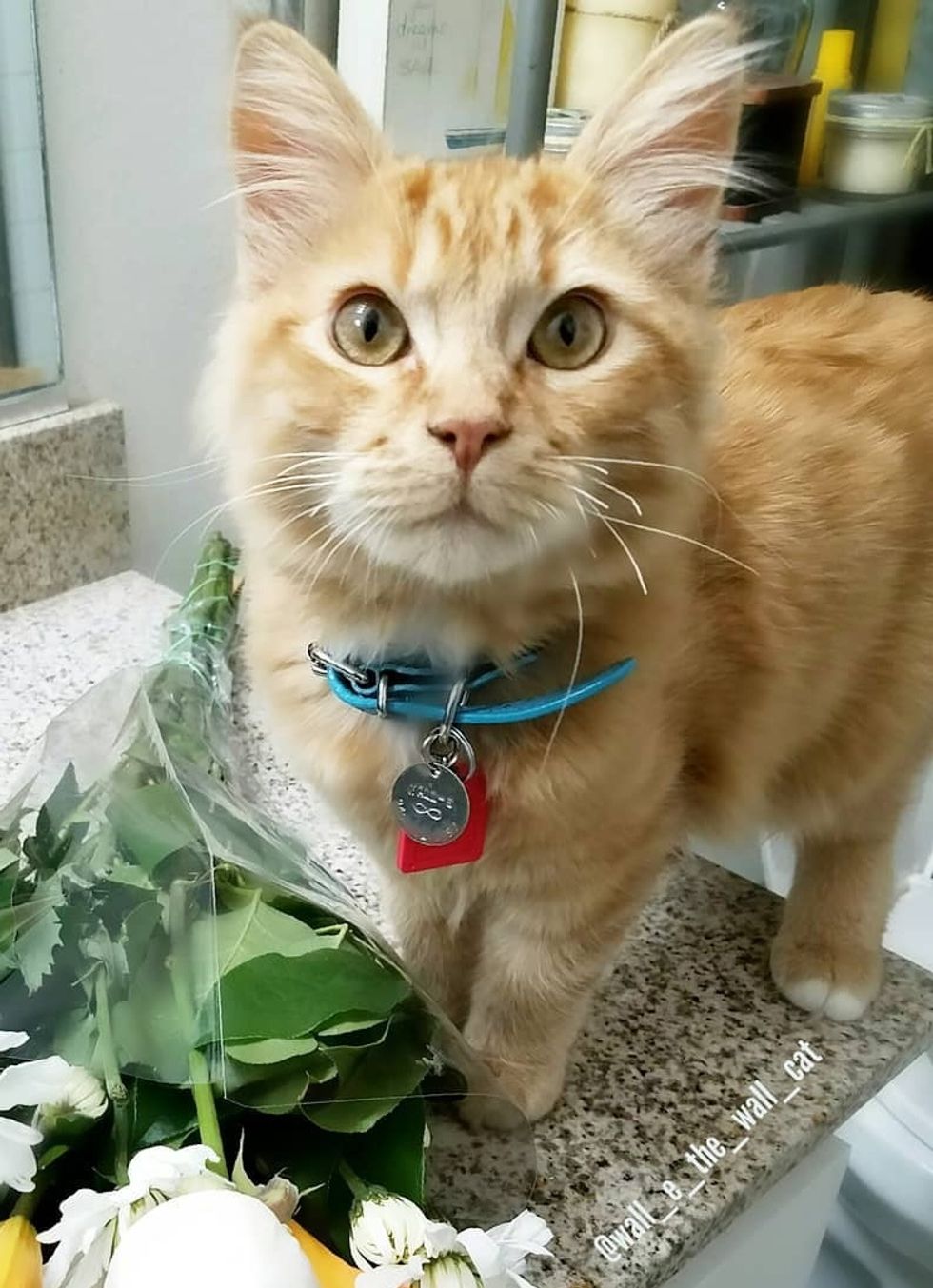 Supplied by Christine Stephenson
Follow Wall-E the kitty on Instagram @wall_e_the_wall_cat.
Watch Wall-E in this cute video:
Share this story with your friends.
Related story: Tuxedo Kitten Falls From Ceiling Into Tenants' Hearts and His New Home