A kitten snuck out of her room and moved in with the new foster kitten. It was love at first sight.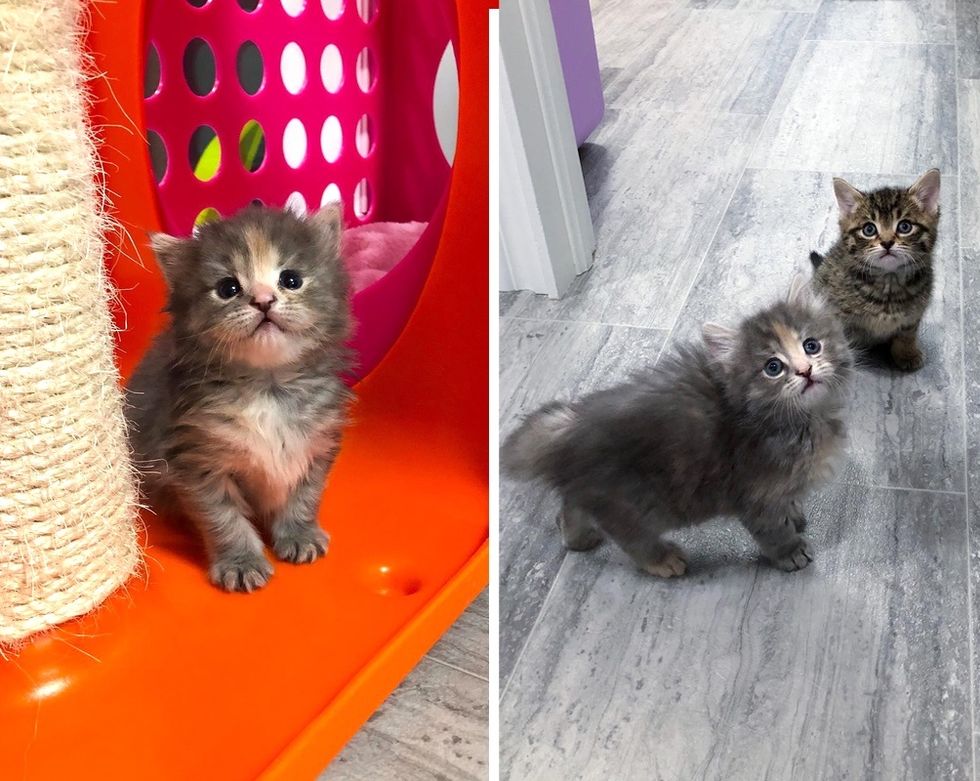 Tiny but Mighty Kitten Rescue
Earlier this year, a tiny cream calico was rescued through a TNR (trap-neuter-return) project. She was the only survivor of her litter and her feral cat mom was unable to safely care for her.

The kitten was then brought to Tiny but Mighty Kitten Rescue in Ontario, Canada for a chance at a better life. Right away, they noticed just how sassy and vocal she was. The kitten named Lucy embodied the spirit of a diva and wouldn't take no for an answer.
Baby Lucy was around three weeks old when she arrived. It took her three tries to grasp the concept of a bottle. Once she figured out how to suckle, she went to town, eating like a champ.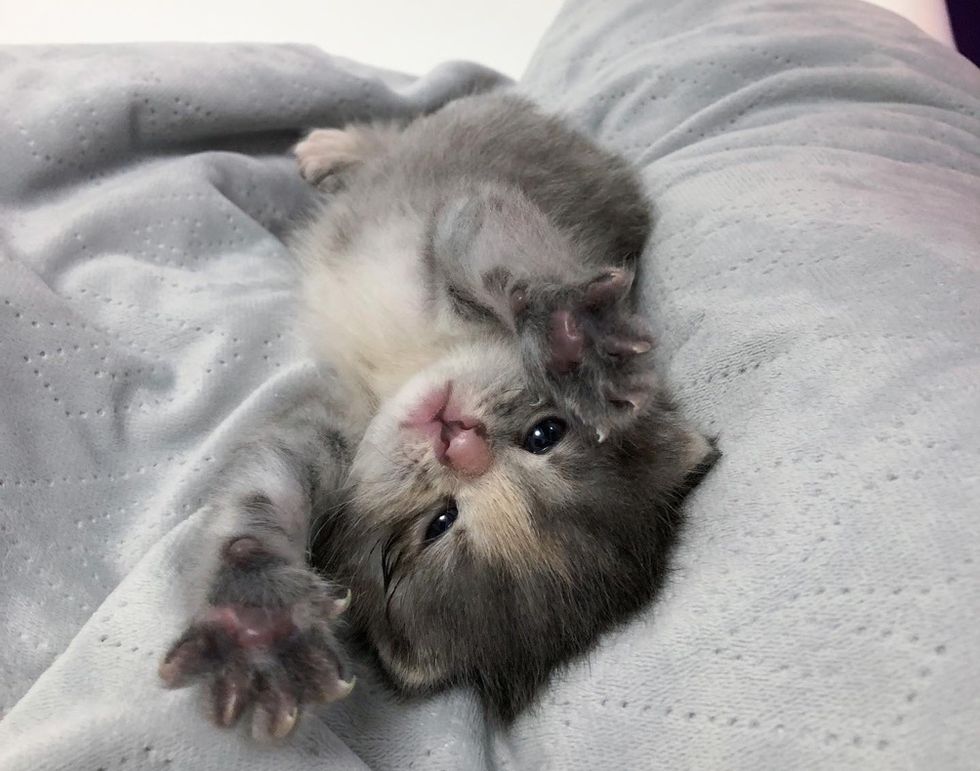 Tiny but Mighty Kitten Rescue
The sweet calico was a cuddle-bug from the start and needy for attention.
"I gave her a stuffed bunny cat toy that was just about the same size as her, and she loved it," Mellissa, founder of Tiny but Mighty Kitten Rescue, said.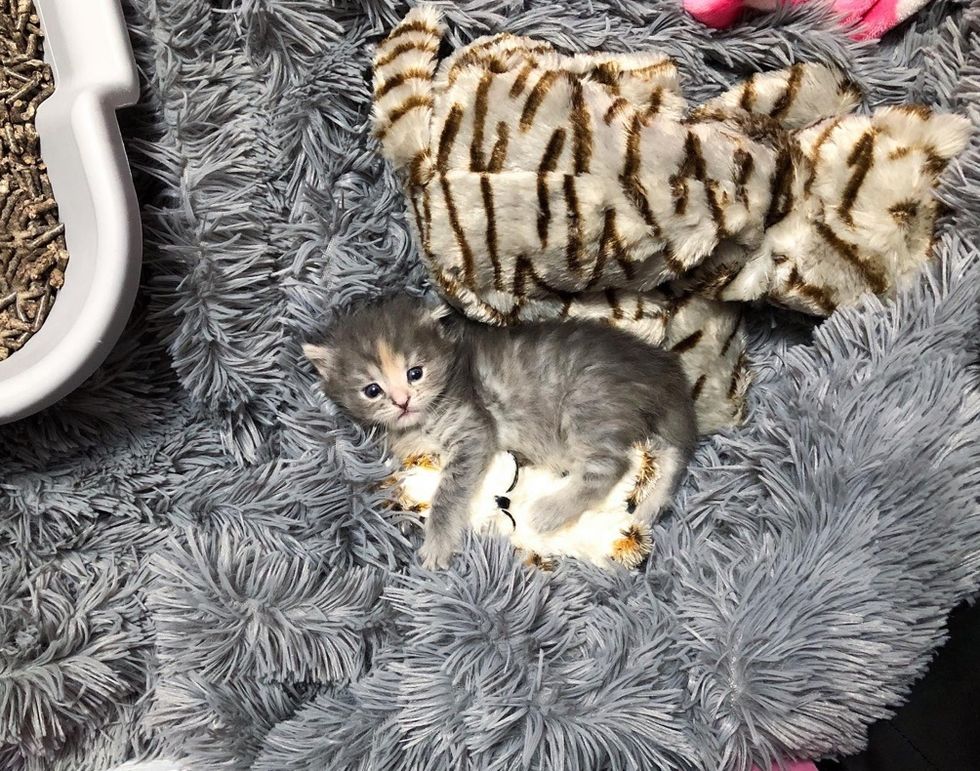 Tiny but Mighty Kitten Rescue
"She got a lot of attention, cuddle time and walking practice after each bottle."

If Princess Lucy was tired, she would cry to be carried back to her cozy incubator for naps. The little girl with a big attitude had no trouble getting whatever she wanted.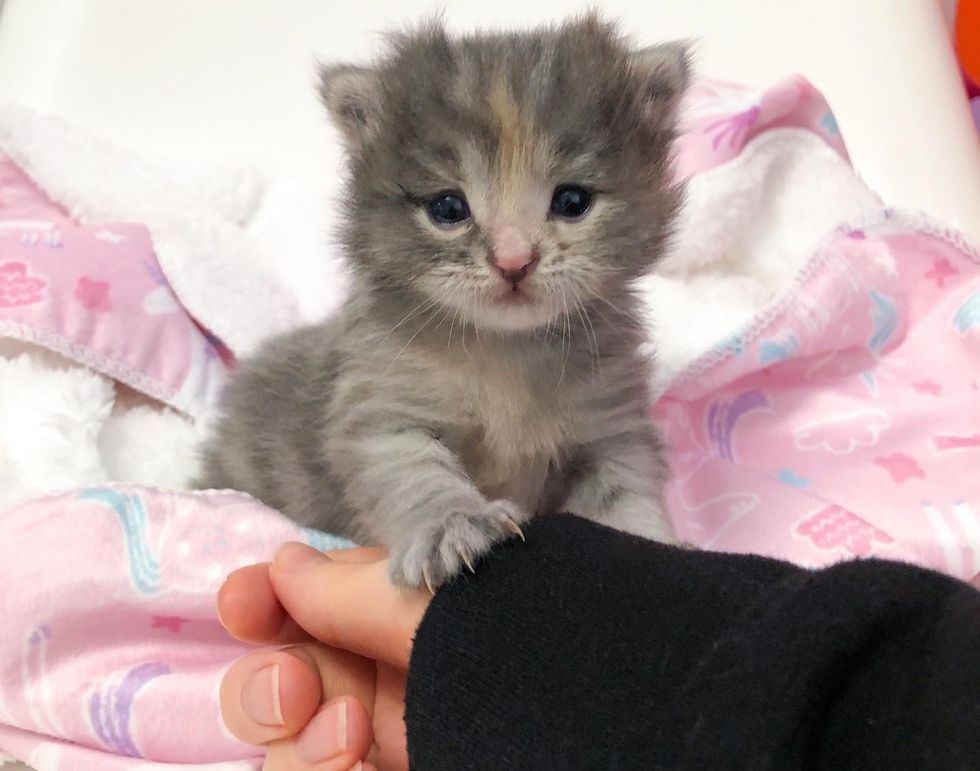 Tiny but Mighty Kitten Rescue
When Lucy reached four weeks old and hit the one-pound mark, she began to demand more time and attention from her foster mom.
Around that time, she started to hear squeaks coming from the room next door. Mellissa had just brought home a new foster — a future friend for Miss Lucy.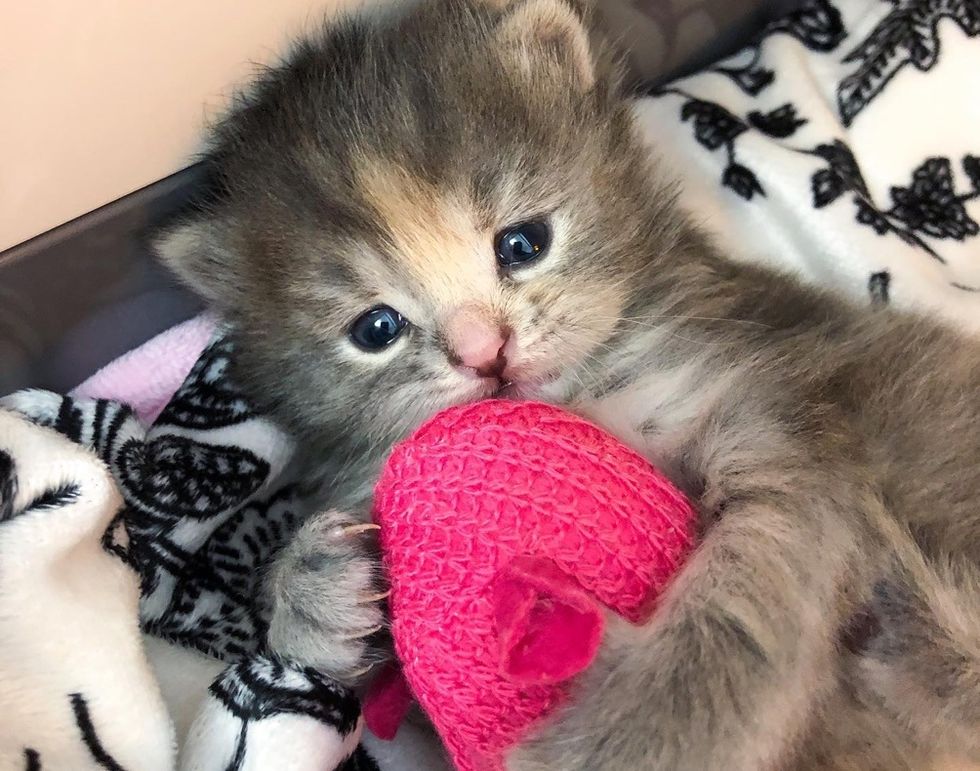 Tiny but Mighty Kitten Rescue
The initial plan was to get the new kitten treated and monitor him for two weeks before introducing the two, but the little calico couldn't wait.

The new kitten named Luke was found alone under someone's porch. He was the same age as Lucy and a little purr machine. "He was super energetic and liked to attack his Snuggle Kitty. He started making air muffins when I held him."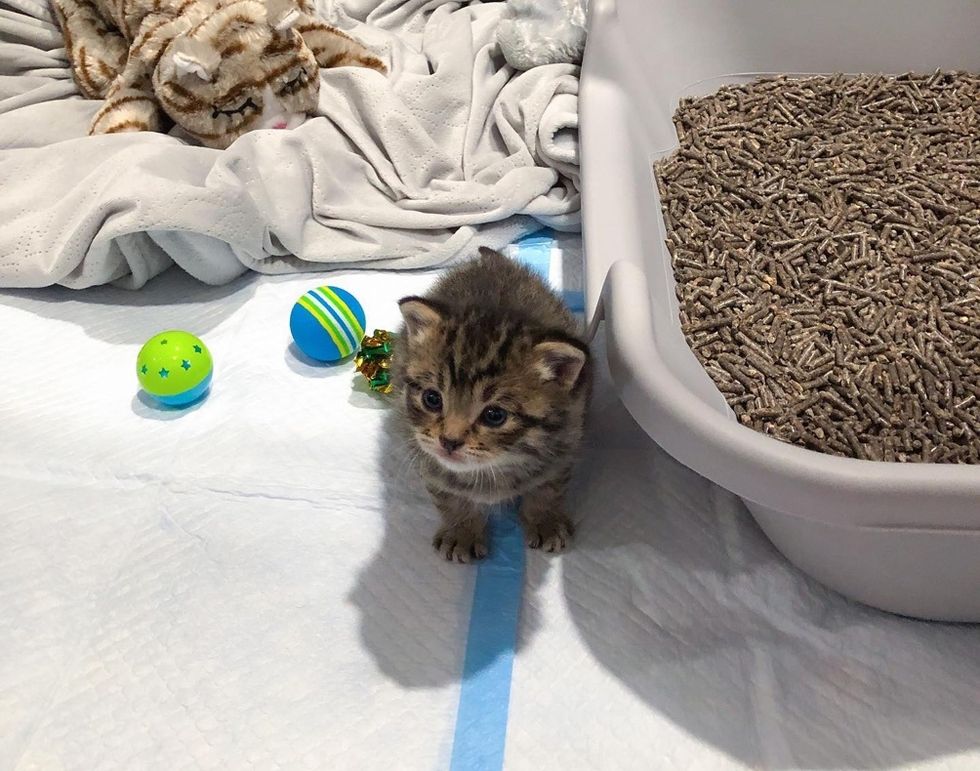 Tiny but Mighty Kitten Rescue
Every day during bottle time, Lucy could hear Luke's meows and was getting increasingly eager to find him. A few days later, while Mellissa was cleaning her room, the clever little calico set out on a little escapade.

"I went out of Lucy's room to put something in the garbage and she ran for it, towards Luke. She was so excited to see another kitten her size. They started playing instantly," Mellissa said.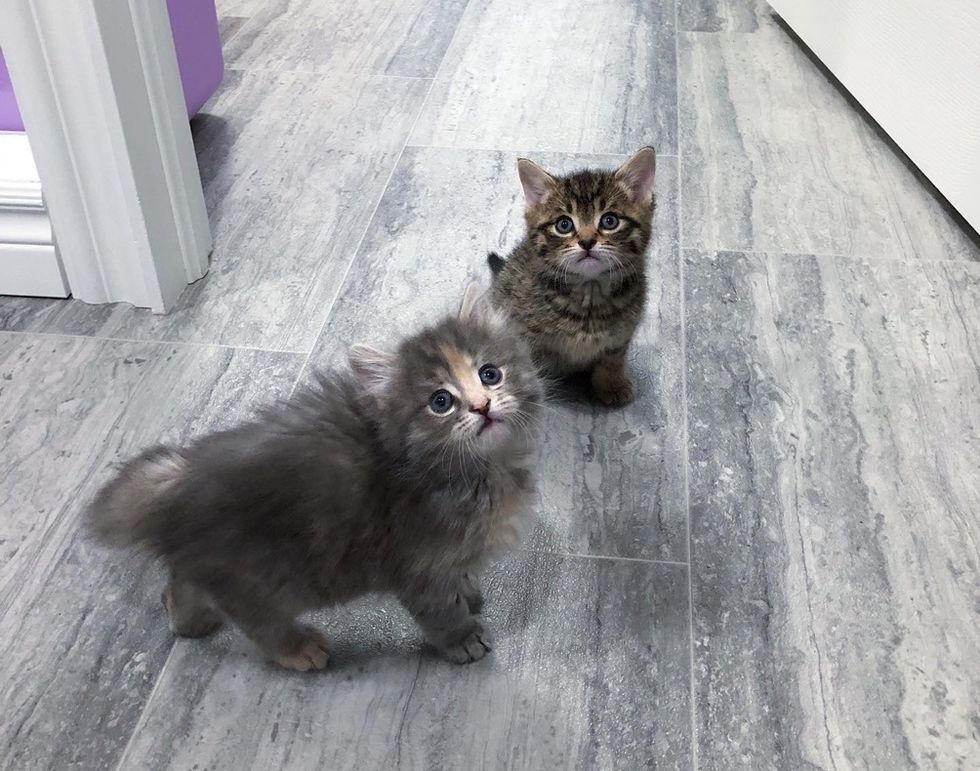 Tiny but Mighty Kitten Rescue
The two little singletons were so thrilled to have a friend at last, and they started cuddling. Mellissa moved Luke's playpen into the main kitten room, so the two buddies could have supervised playtime together between bottle feedings.
"When these two singleton orphaned kittens met for the first time, they became new best friends."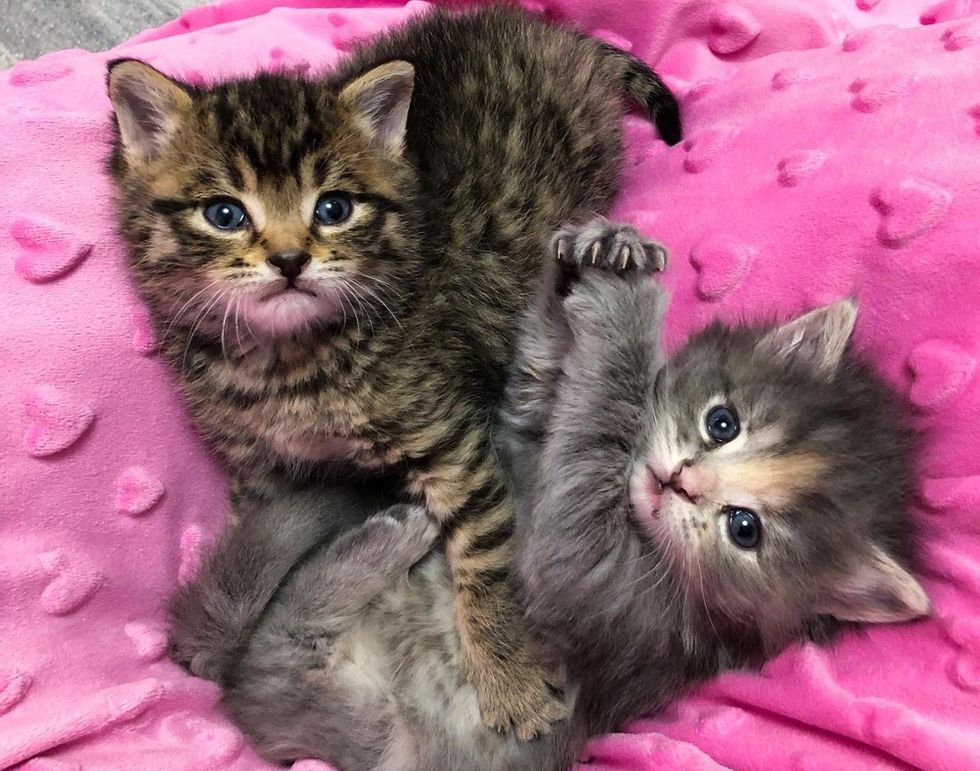 Tiny but Mighty Kitten Rescue
Lucy the boss kitty decided to move into Luke's apartment, aka his playpen, for good one day. She insisted on being with her brother from another mother wherever he went.
When they were not scampering around the room or wrestling with each other, they were cuddling and napping away as a duo.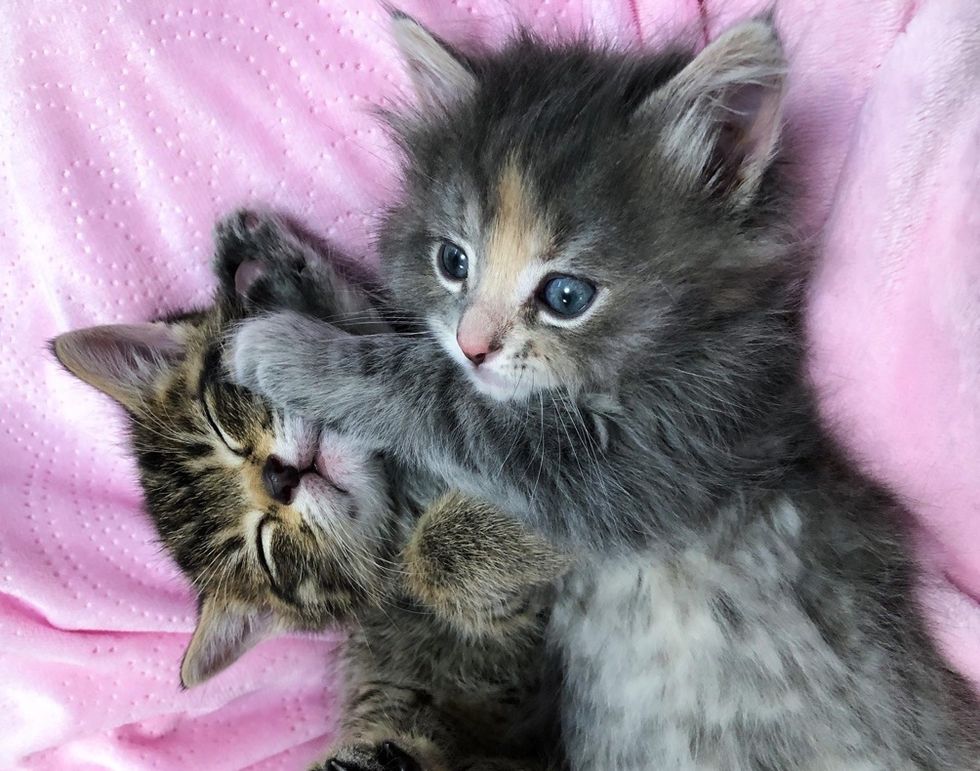 Tiny but Mighty Kitten Rescue
The two best friends shared every adventure together over the next few weeks in foster care. They were always within eyesight of each other.
They played to their heart's content and then fell asleep, wrapping their arms around one another.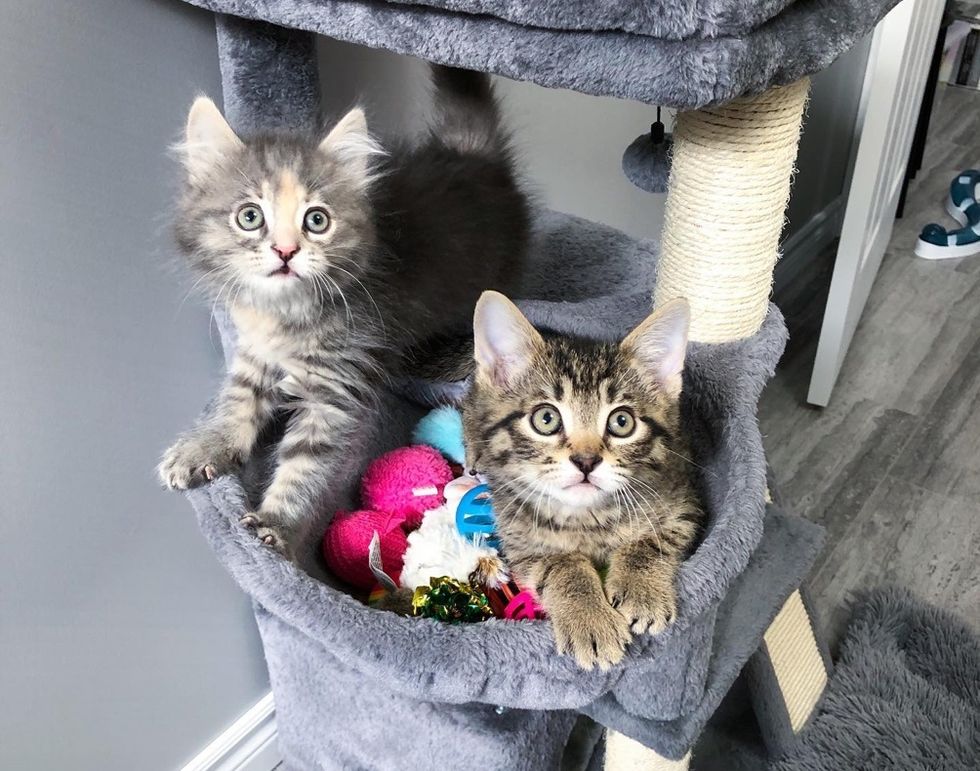 Tiny but Mighty Kitten Rescue
The bonded pair was ready for the next adventure - to find a place of their very own.
A family fell in love with Luke and Lucy and welcomed them into their loving home where they befriended a ginger cat and a sweet canine.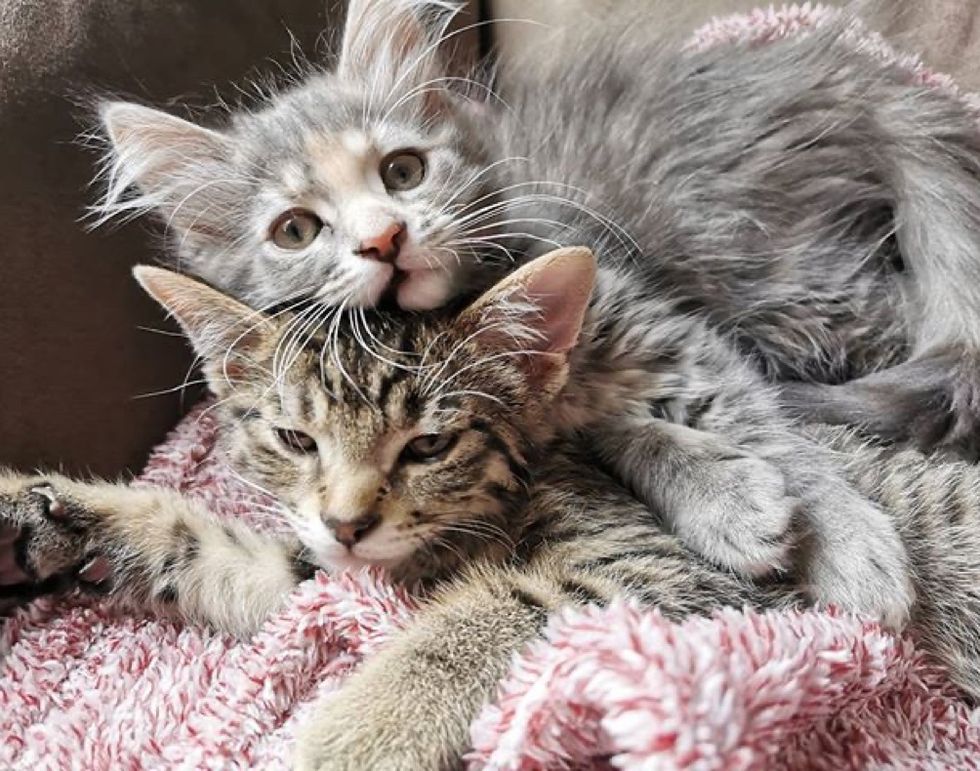 @_luke_and_lucy_
Luke and Lucy quickly settled into their new abode and claimed their humans' bed.

The two besties learned to enjoy their new feline entertainment system (the bird TV) with their feline brother Beans. London the dog was smitten with the kittens and became their nap buddy.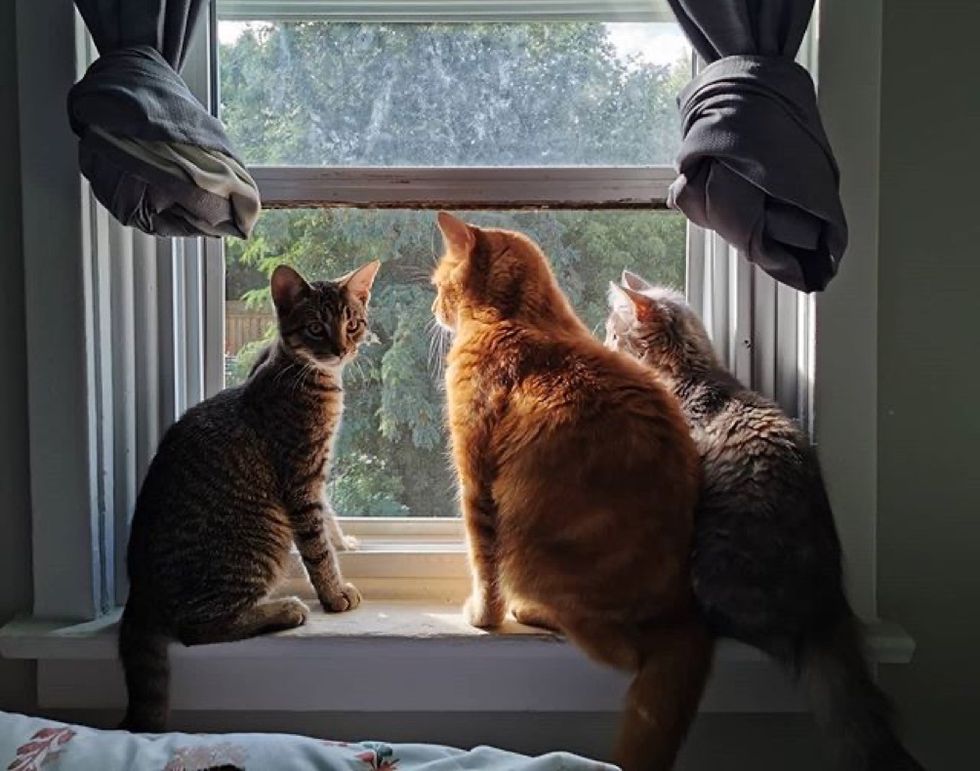 @_luke_and_lucy_
Luke and Lucy have grown by leaps and bounds, but some things never change.

The two little singletons found each other in their foster home, and they have been family ever since.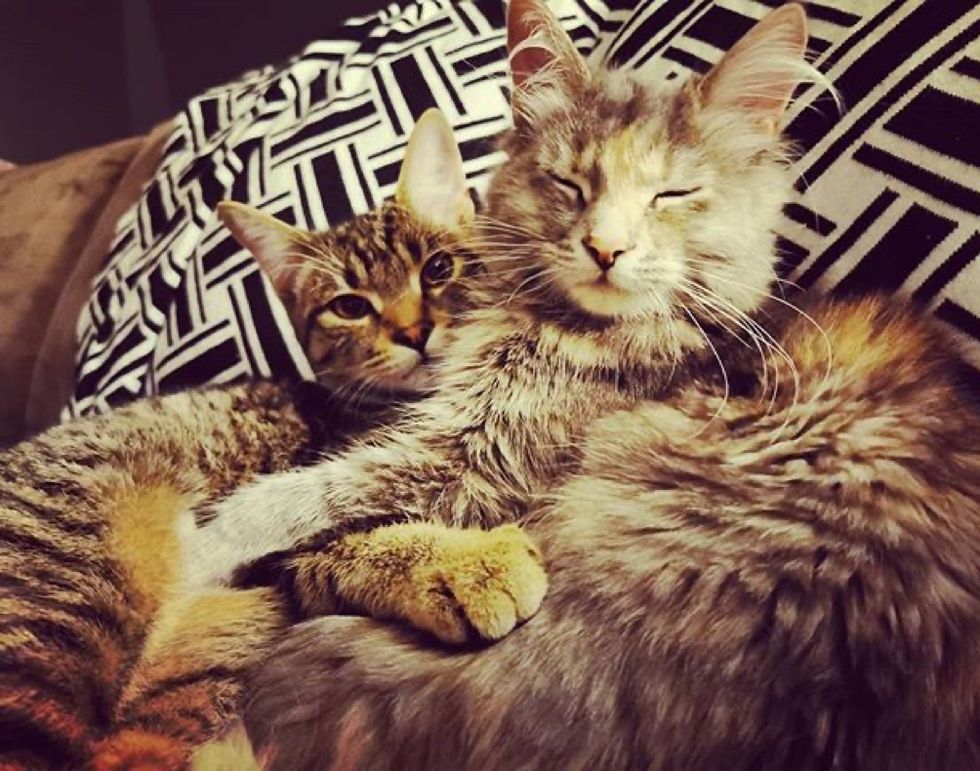 @_luke_and_lucy_
Share this story with your friends. Follow Luke and Lucy and their adventures on Instagram. Follow Tiny but Mighty Kitten Rescue on Facebook and Instagram.
Related story: Family Brought Kitten Home to Foster But Their Cats and Dogs Took Him in As Their Own