A tiny kitten was brought to a shelter in San Fransisco. Right away, staff noticed he was quite special.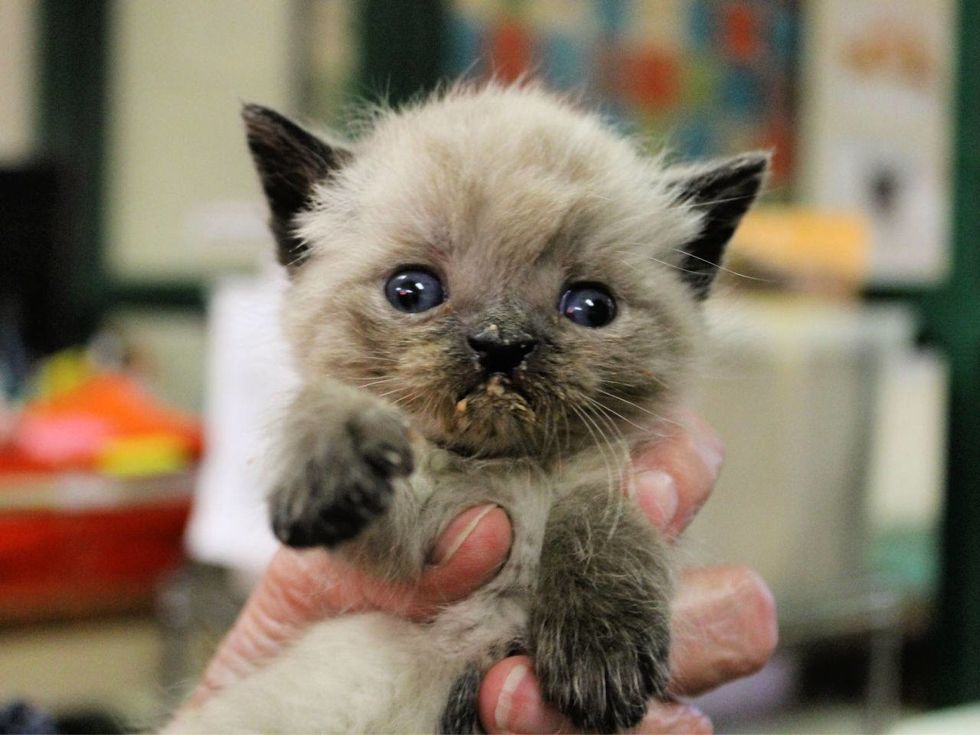 Brenda at Tonis Kitty Rescue
A young kitten was found as a stray and brought to the Animal Care and Control in San Fransisco. After seeing a vet, they discovered that the kitten was born with an open fontanel, cleft lip and other deformities likely associated with hydrocephalus.

With limited resources, they weren't sure if the kitten would survive. Tonis Kitty Rescue learned about his plight and immediately took him in so he could get a chance at a better life.
Despite his congenital abnormalities, the kitten loved his food and was always in good spirits. Realizing he would need specialized care for his neurological needs, they reached out to Amber Rose, founder of Saving Grace Rescue for help.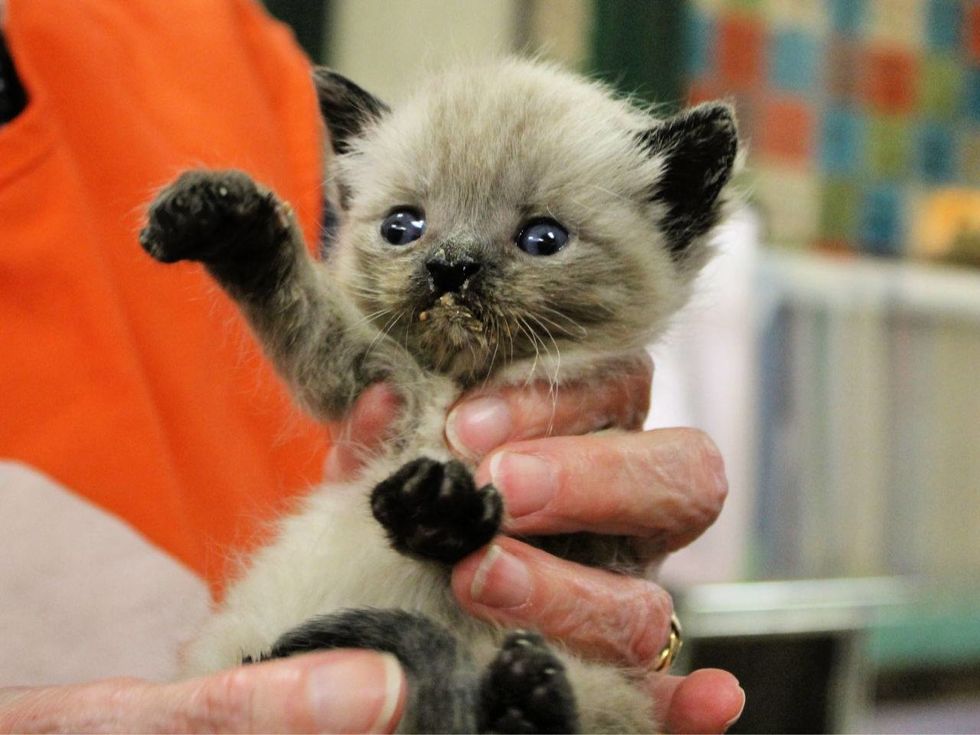 Brenda at Tonis Kitty Rescue
Amber quickly secured a foster home for the little special needs kitty, and he was lovingly named Pug.

Joyce, a foster volunteer of Saving Grace Rescue, welcomed him home last Tuesday. Before they knew it, little Pug started rumbling with his adorable purrs and instantly put a smile on everyone's face.
"He's really a sweetheart. He loves to purr and boy, is he loud," Joyce told Love Meow.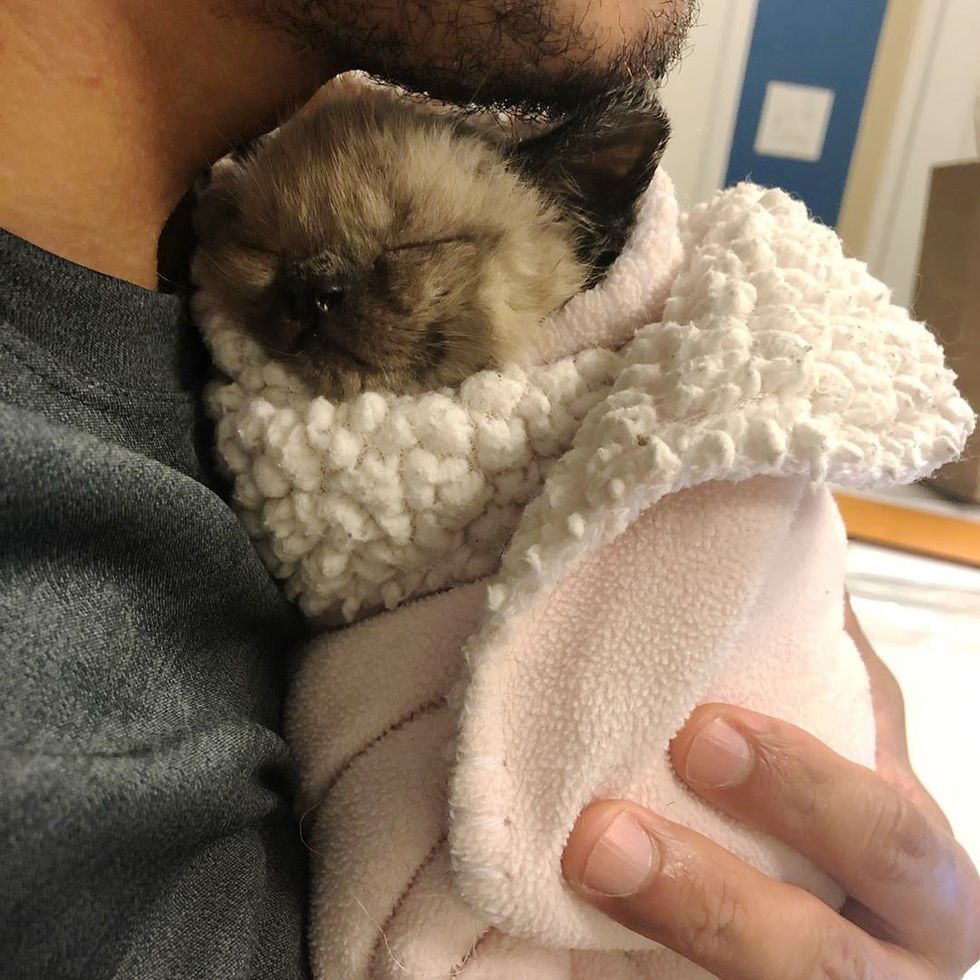 Joyce @kangaroothekitty
The little guy weighed only one pound when he arrived in foster care. He was friendly and affectionate from the start. "Hydrocephalus kittens can thrive depending on the severity of their condition," Amber said.

Pug is eating and growing so well that he's exceeded everyone's expectations.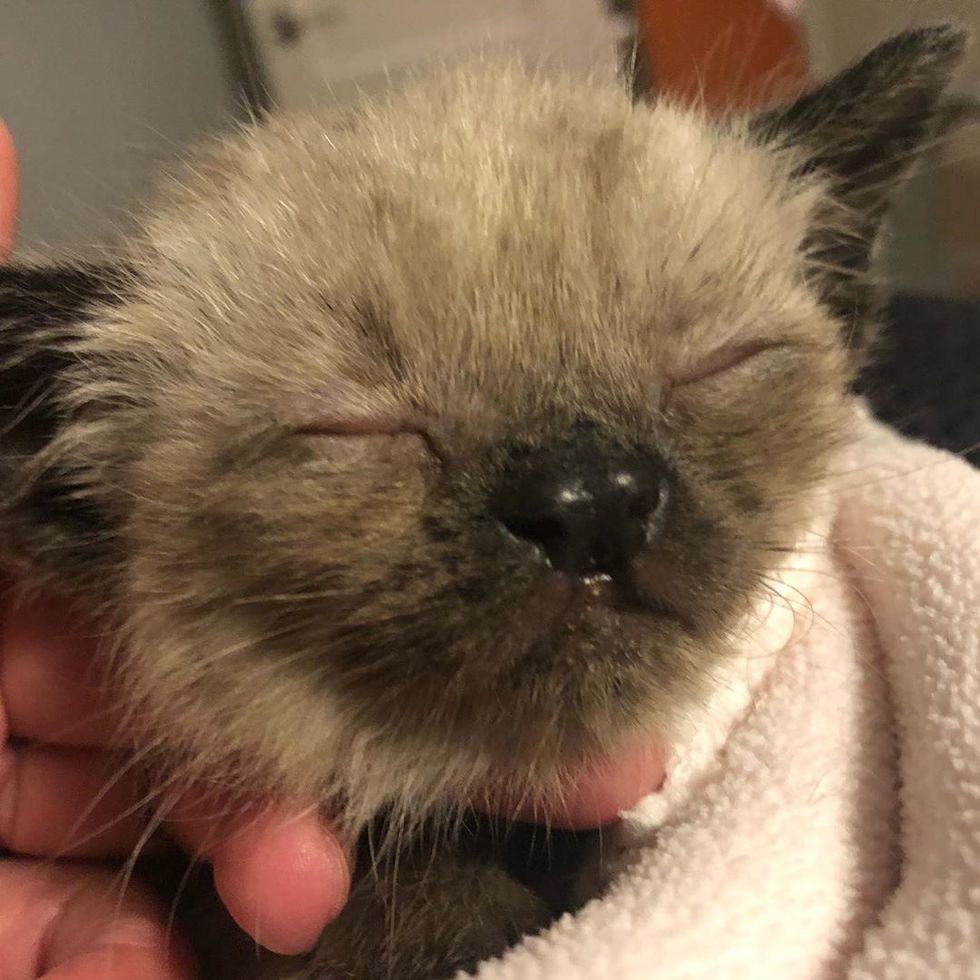 Joyce @kangaroothekitty
Before he came to his foster home, he had to be syringe-fed, and now he can eat on his own like a champ. They are hopeful that Pug will be able to live a happy and fulfilling life just like any other kitties.
Watch Pug in this adorable video:
Kitten born special gets second chance at lifeyoutu.be
When Pug is not cuddling with his foster parents, he's playing, exploring, and looking for a playmate to wrestle with.

They paired him up with another special needs kitty, Moxie, and the two quickly hit it off.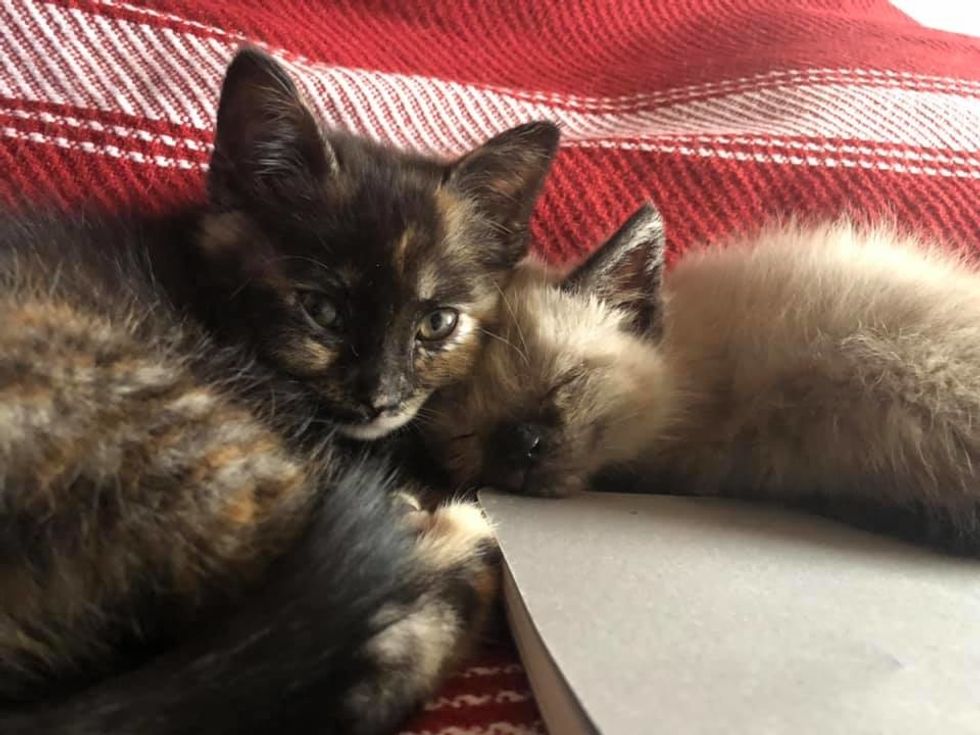 Joyce @kangaroothekitty
"Moxie has a broken femur and Pug has hydrocephalus, yet look how happy they are!"

The two are constantly creating antics around the house. They play hard and nap even harder. In just a few days, the two buddies have formed an adorable bond.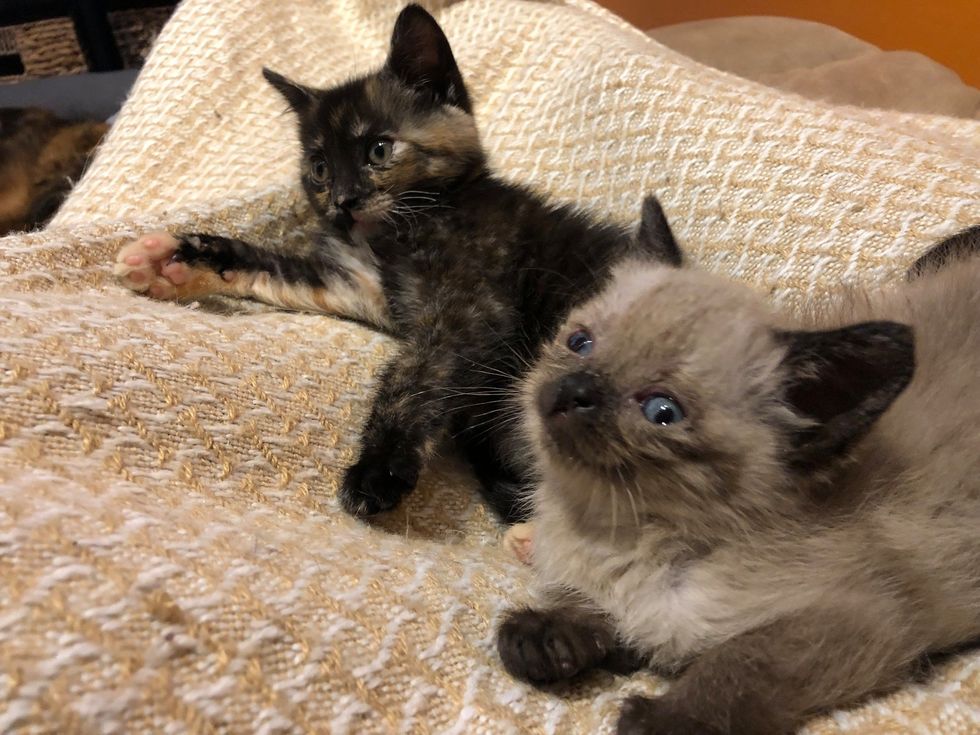 Joyce @kangaroothekitty
Pug may have some needs, but he loves life and can't get enough of cuddles and his best friend.
They gave him a fighting chance, and now he's as happy as can be!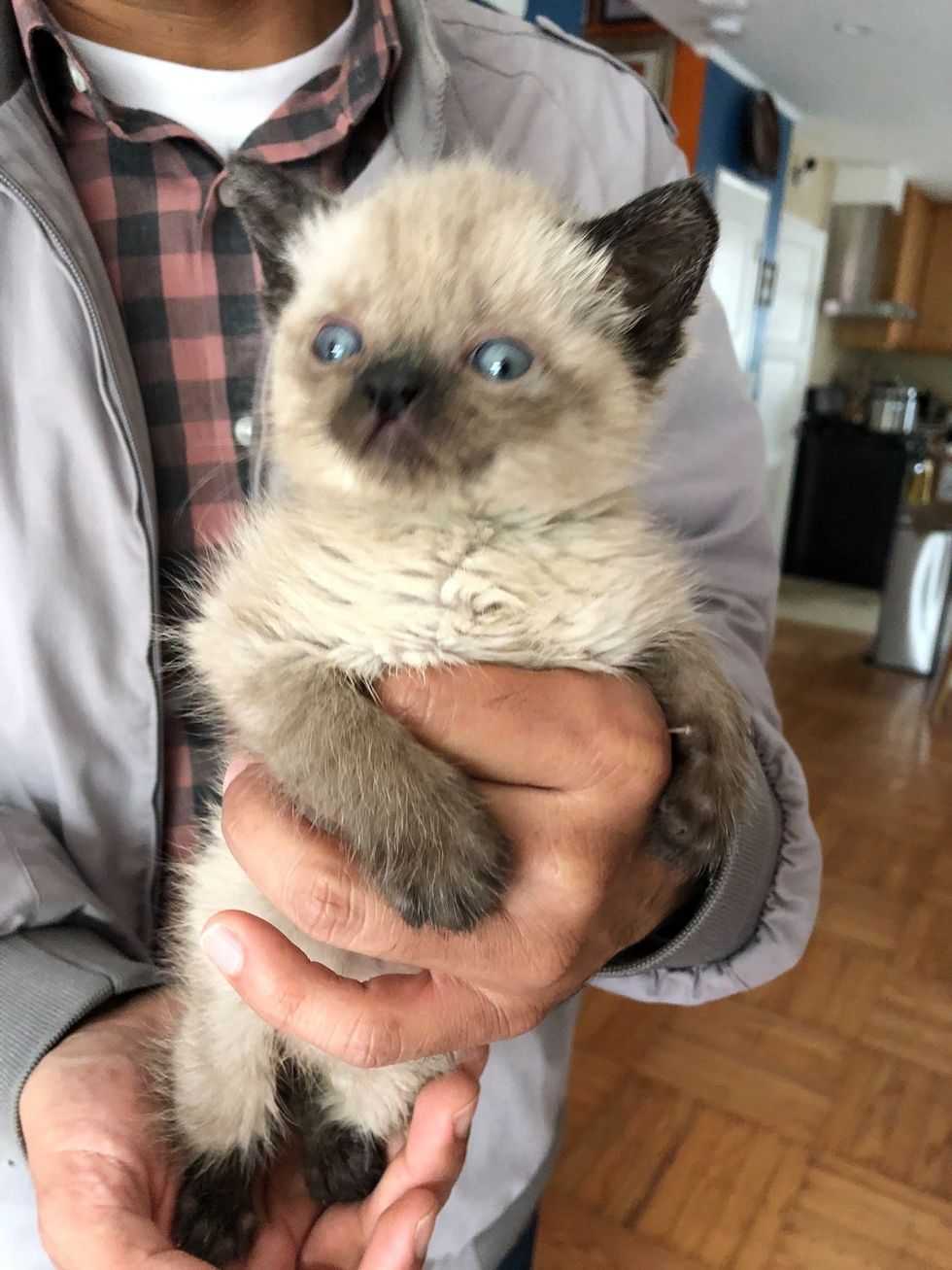 Joyce @kangaroothekitty
Share this story with your friends. Follow updates on Pug on Facebook and Instagram. Follow Saving Grace Rescue on Facebook.
Related story: Kitten Who Can't Grow, Comforts Other Cats with Special Needs With Cuddles Every Day