From the moment this special needs kitten came to a local rescue group, he was looking for love and cuddles.
They knew just the perfect Foster Mom for him.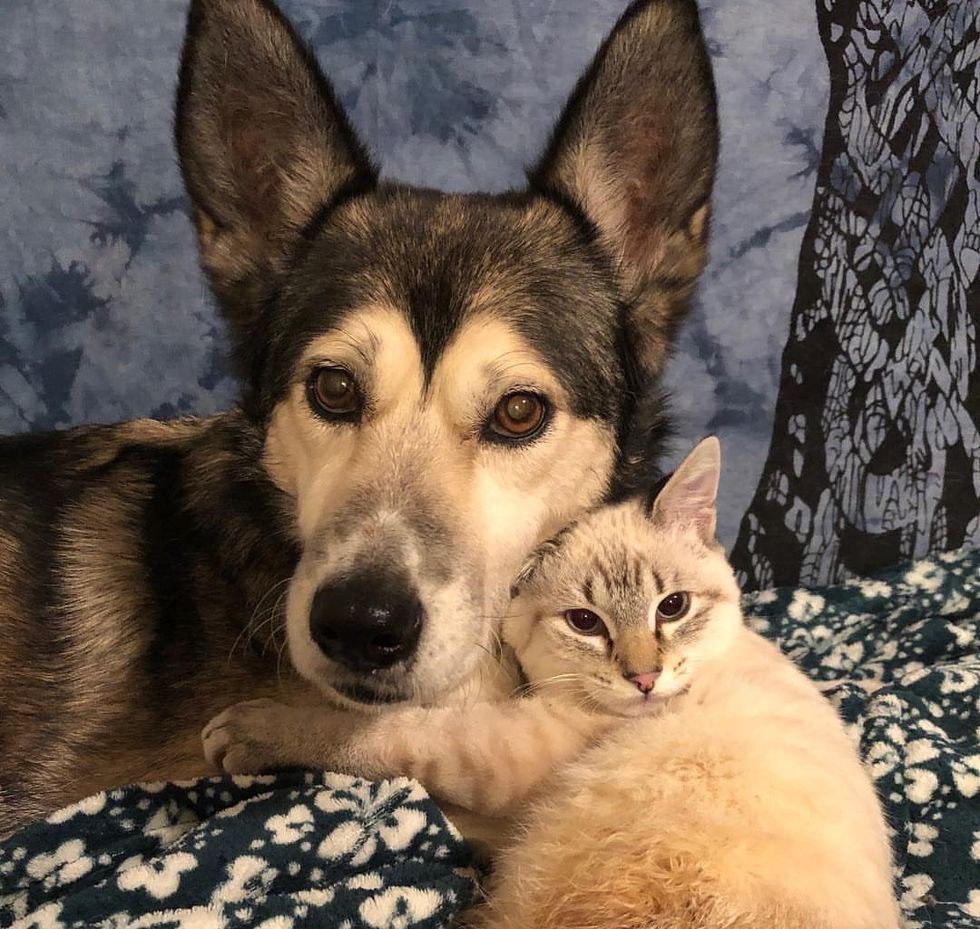 Shannon R Basner
HarPURR was a 3-week-old kitten when he was found by a family from Alaska. He couldn't use his hind legs, and his cat mother, who had been caring for him, dropped him in a yard out of panic as she was scared.

"We were contacted by a fellow cat rescue group Tundra Cat Rehabilitation and Adoption and Alaska Cat Adoption Team. They knew he needed a unique place to help meet his needs," Shannon R Basner, founder of Alaska's KAAATs (a rescue in Anchorage, Alaska), told Love Meow.
HarPURR arrived with several challenges but he was amazingly positive with his warrior spirit.
Besides being paralyzed in his hind quarters, he was not able to eat on his own. Volunteers fed him every 2-3 hours for several weeks until he was nursed back to health.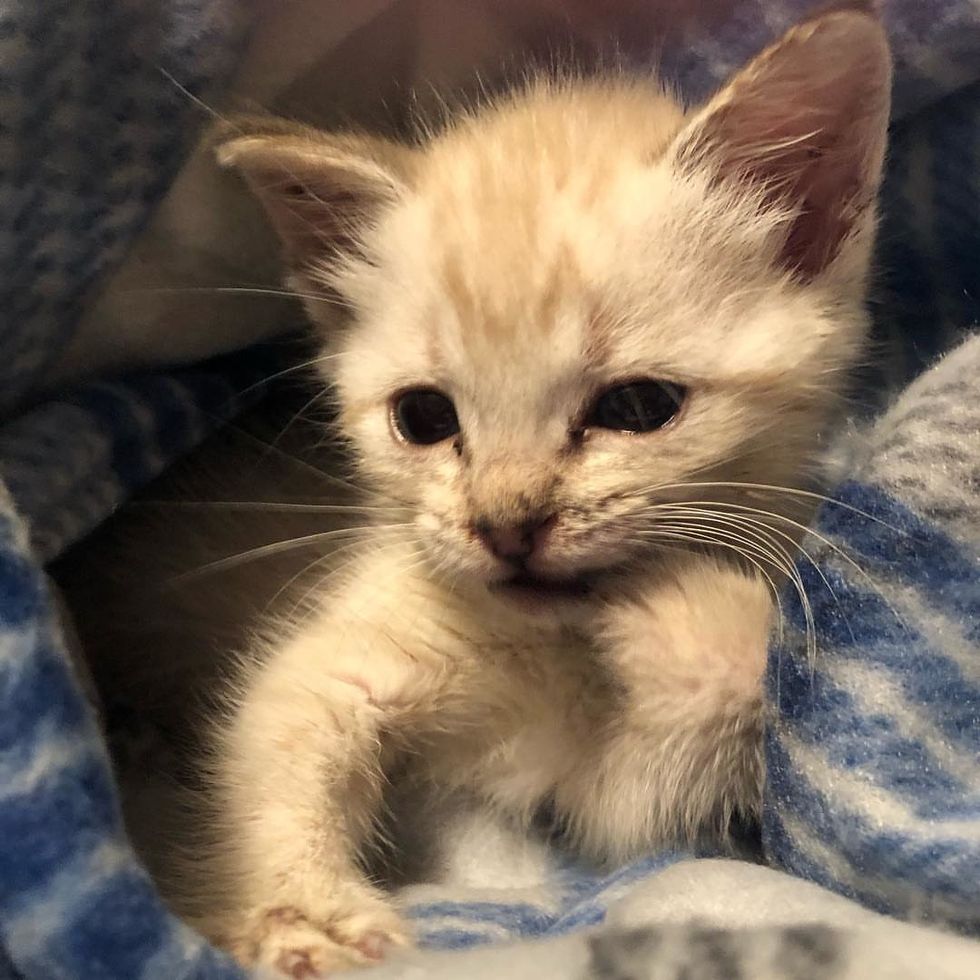 Shannon R Basner
"When we took X-Rays of his little body, the damage done to his hind area was healed a long time ago, so our vet thinks he may have been crushed in the birth canal," Shannon said.

Despite it all, the kitten lets nothing stop him. He has persevered and continues to do so.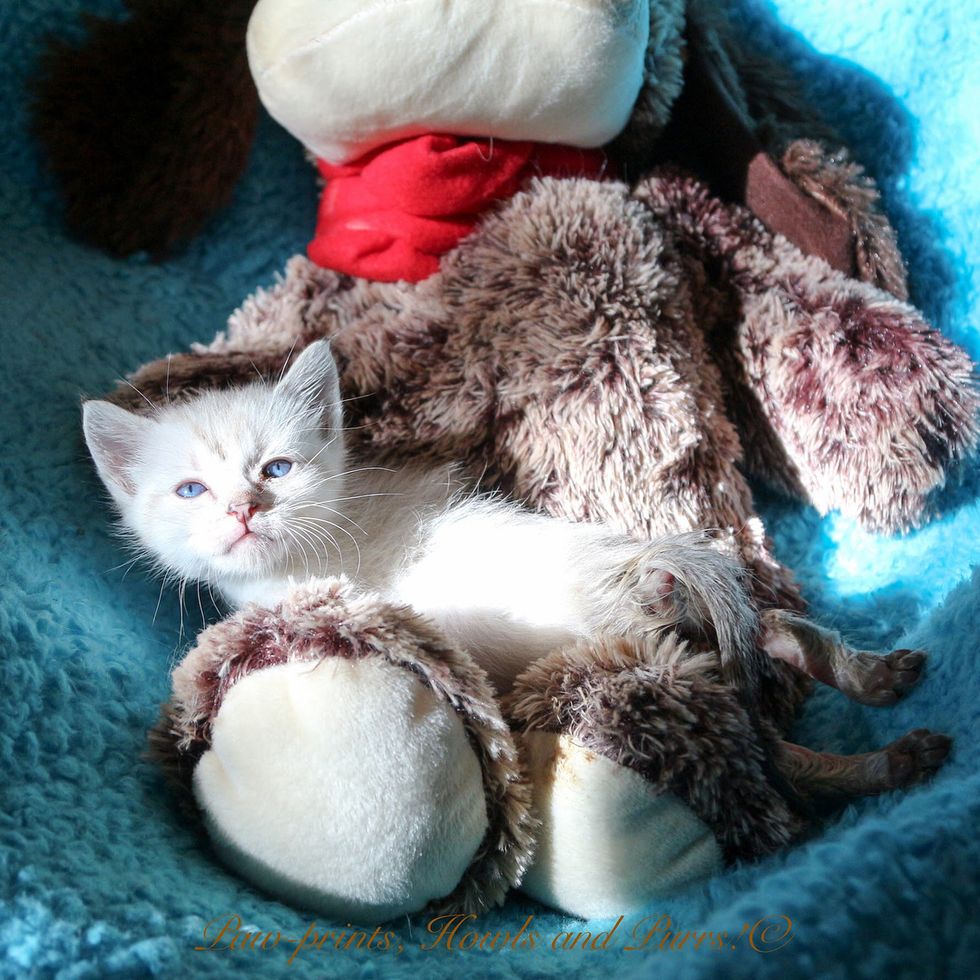 Shannon R Basner
HarPURR was a cuddle-bug from the start. "He was getting more curious and loved to snuggle up in his purrito!"

Volunteers surrounded him with snuggly toys and even brought him a "surrogate" comfort companion, but the little one demanded more.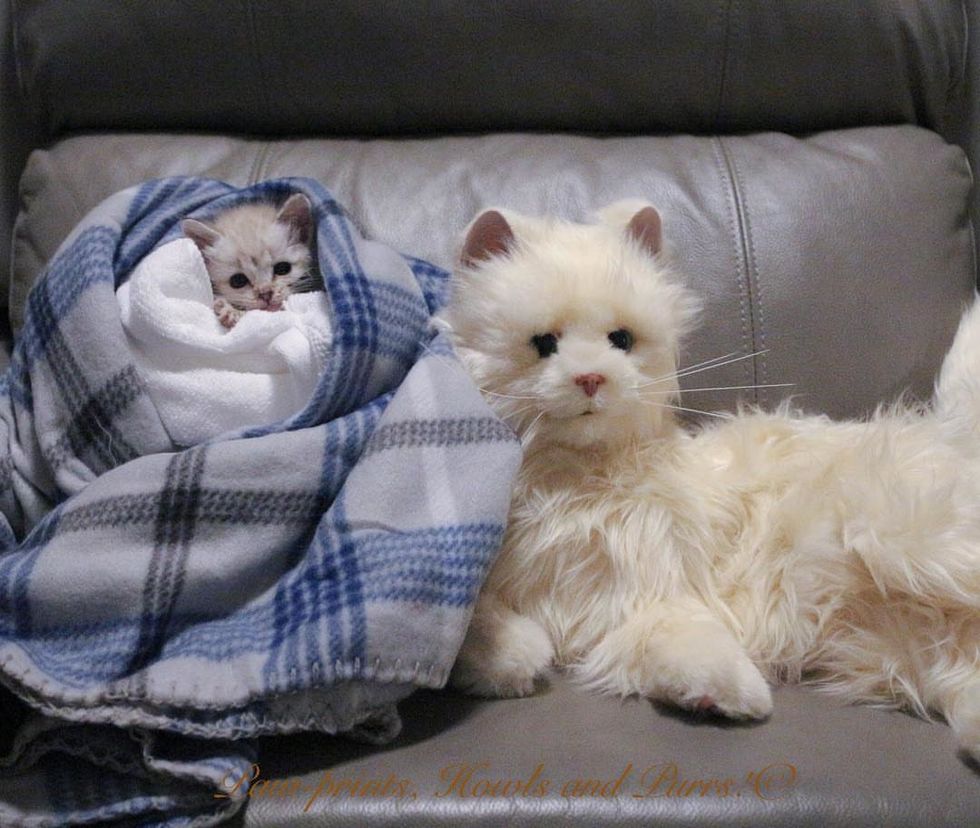 Shannon R Basner
"In my home, I have three cat-friendly pups, with Cinder being the magical soul who is the most beautiful of mentors," Shannon told Love Meow.

"We wanted to ensure HarPURR had socializing time with other fur friends so this was critically important."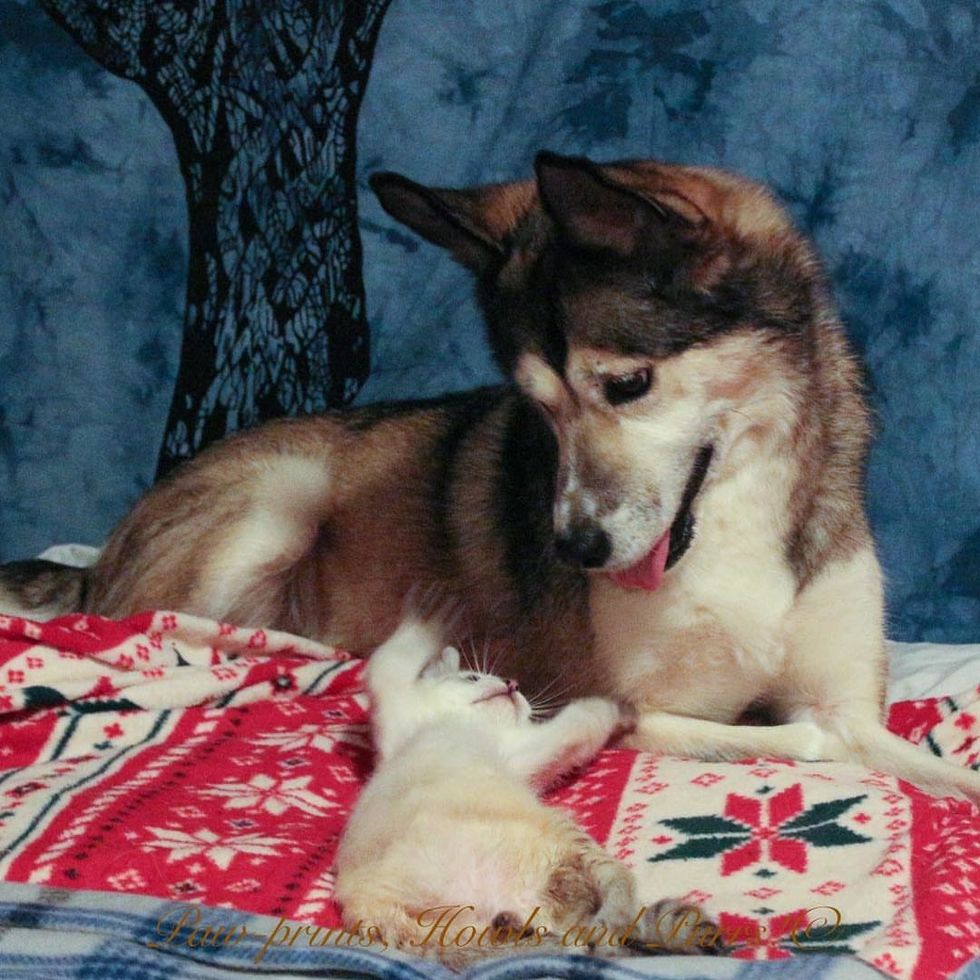 Shannon R Basner
Cinder, who lived majority of her life outdoors, has been a wonderful Foster Mom for other rescued dogs and cats.

When she was introduced to HarPURR, she immediately took him under her wing. Before anyone noticed, the kitten nuzzled into her arms, purring up a storm.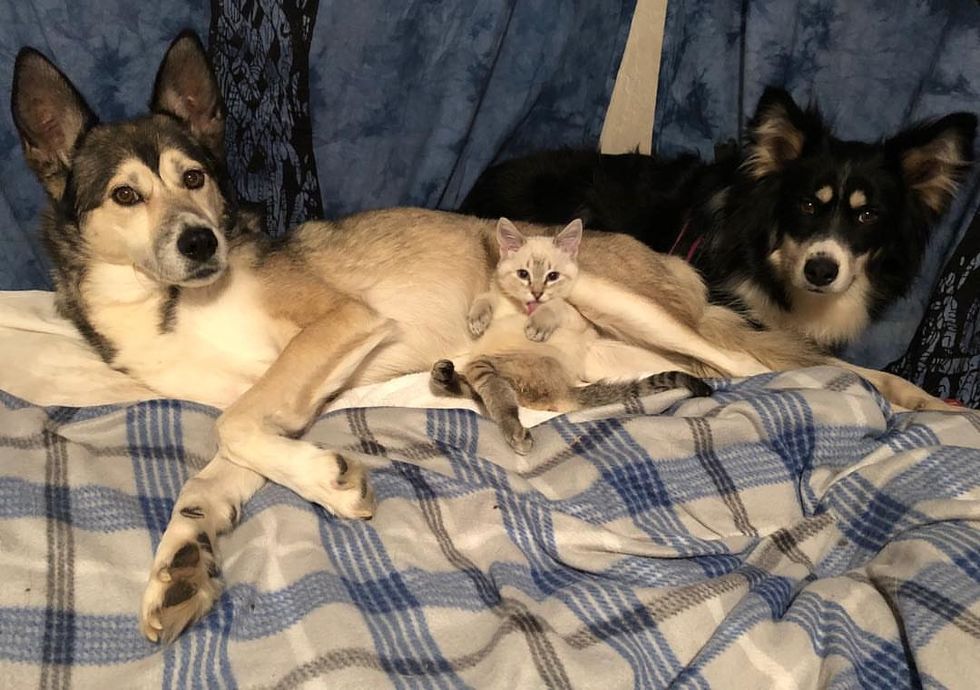 Shannon R Basner
Cinder spent years outside in the woods, had multiple litters before she was finally rescued. She is a gentle spirit and extremely nurturing. Whenever she spots a baby in need, her motherly instinct kicks in.

HarPURR feels safe and really takes comfort snuggling with her.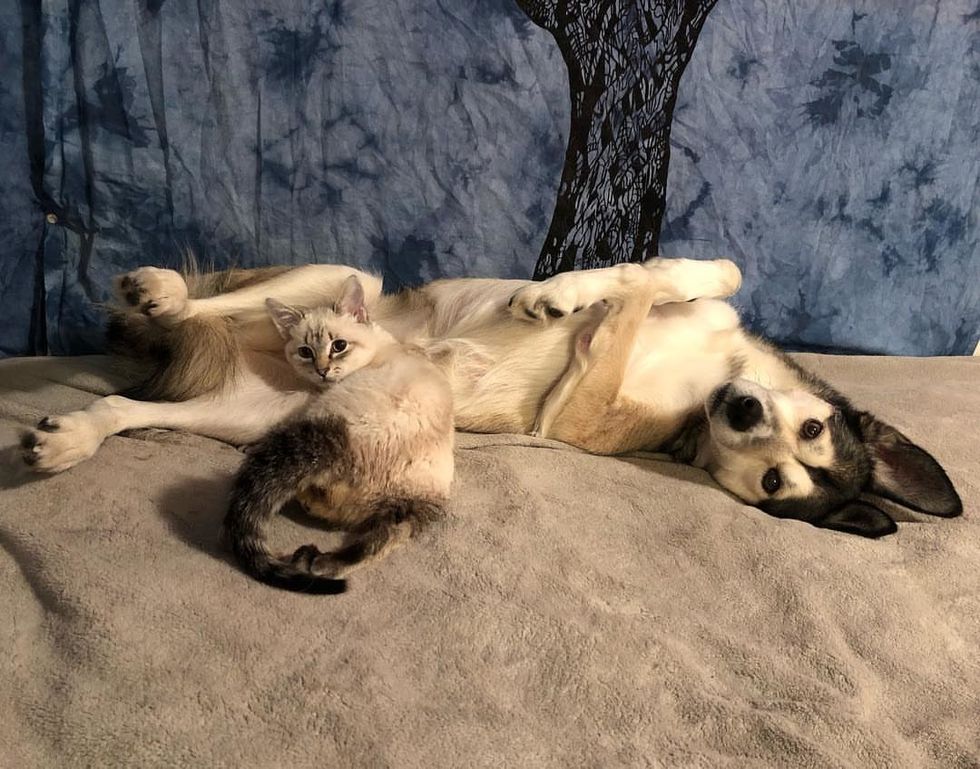 Shannon R Basner
When HarPURR was big enough, Shannon introduced him to his cart.
"I slowly scaffolded the steps, first just by showing it to him, treating him or playing and then continued each step until he was comfortable," Shannon told Love Meow.
"He took to the cart rather quickly and was zipping around."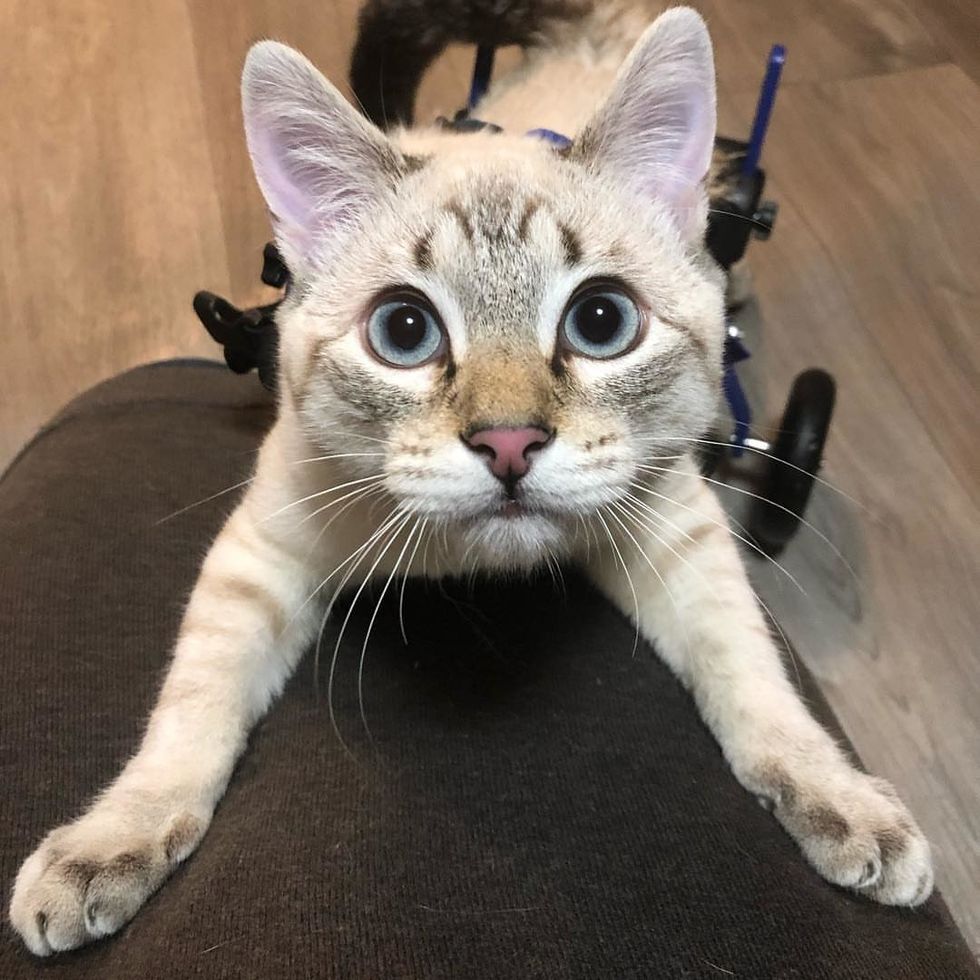 Shannon R Basner
Cinder will lick his legs after every exercise. She puts up with all his antics and showers him with unconditional love.
Watch HarPURR and Cinder in this adorable video:
Special Needs Kitten Finds Loving Foster Mom Husky Dogyoutu.be
"What a survivor he is and the friendships he is building with the pups, especially Cinder. He is playful and his personality is starting to come out more and more.

"When he nestles into Cinder, purring away, and she has that sweet gentle look on her face, all is right in the world and our hearts smile."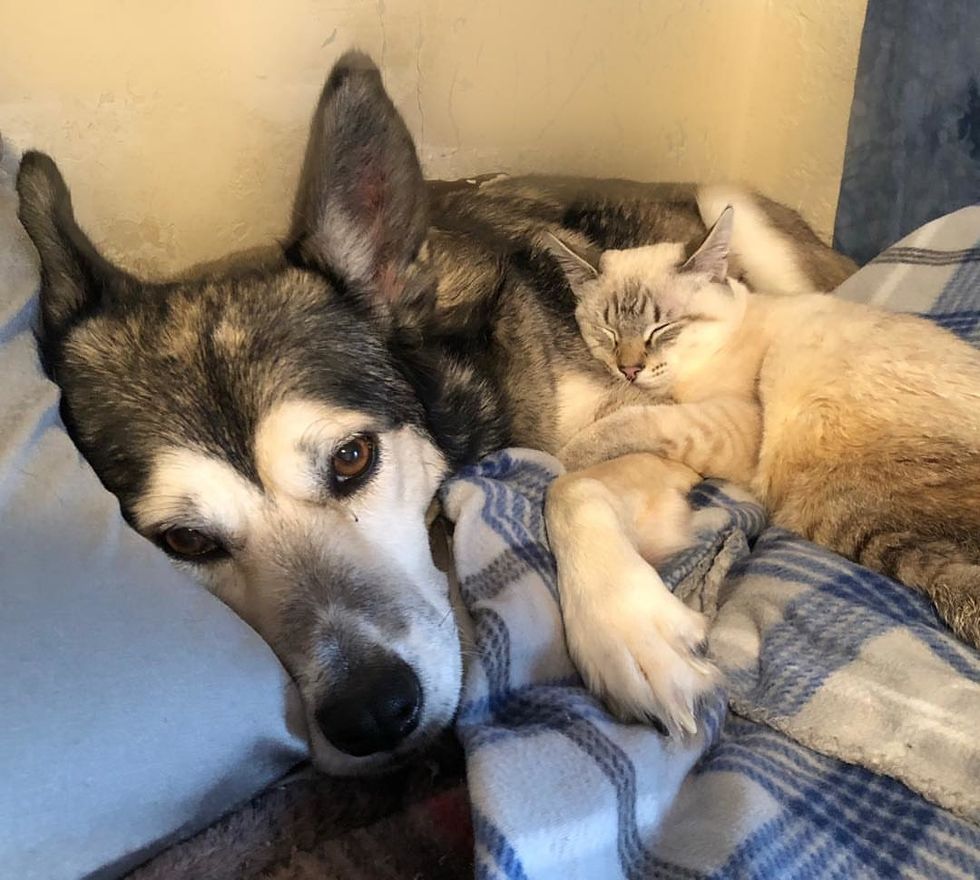 Shannon R Basner
Rescuers continued to look for the cat mom and eventually got her along with the rest of her kittens.
HarPURR is about six months old now and still clings to Cinder like a baby. "Cinder not only loves to play with him, she lets him do his kitten thing."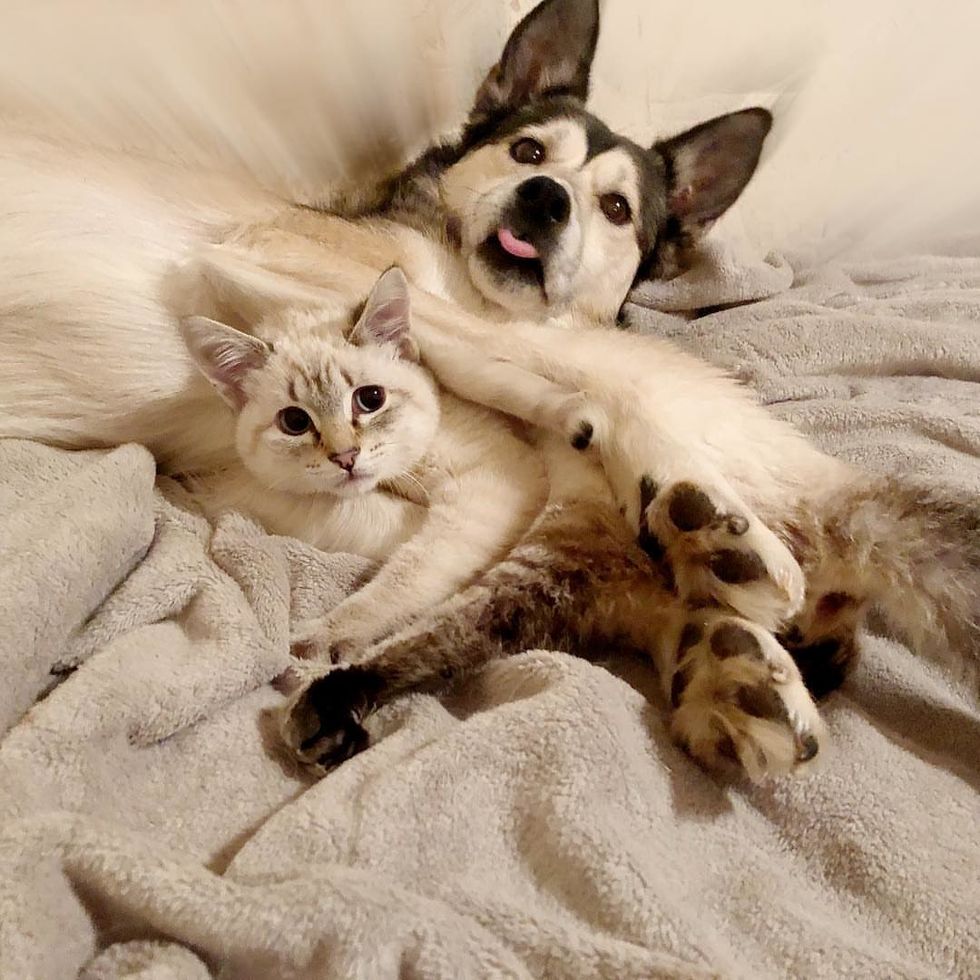 Shannon R Basner
HarPURR is thriving in foster care. He's learned a great deal from his Canine Foster Mom, and can run around and play in his cart like a champ.
"He is a true inspiration. He has been such a sweet boy. Cinder's hard work has totally paid off."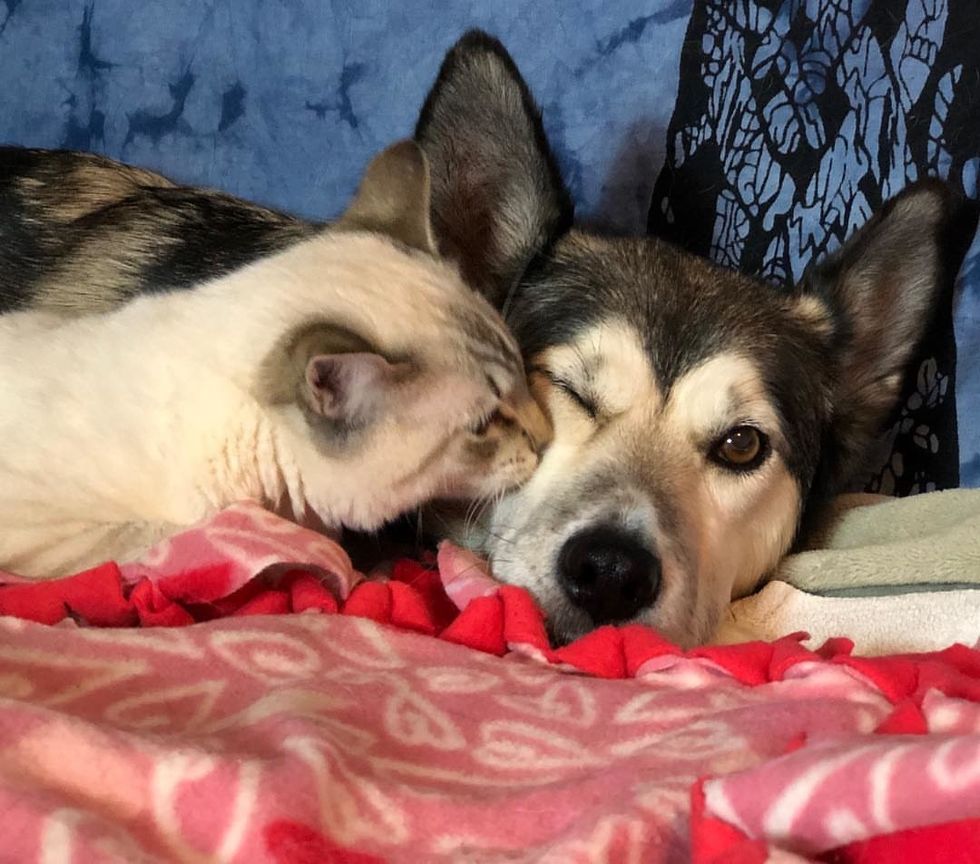 Shannon R Basner
Share this story with your friends. Follow updates on HarPURR and his adventures on Facebook and Instagram.
Related story: Kitten with Thumbs Found Love in Giant Dog Who Raised Him Into the Cuddliest Cat