Three weeks ago, a Good Samaritan from Virginia spotted a dog and a kitten huddled up together at a local soccer field.
They refused to leave each other's side.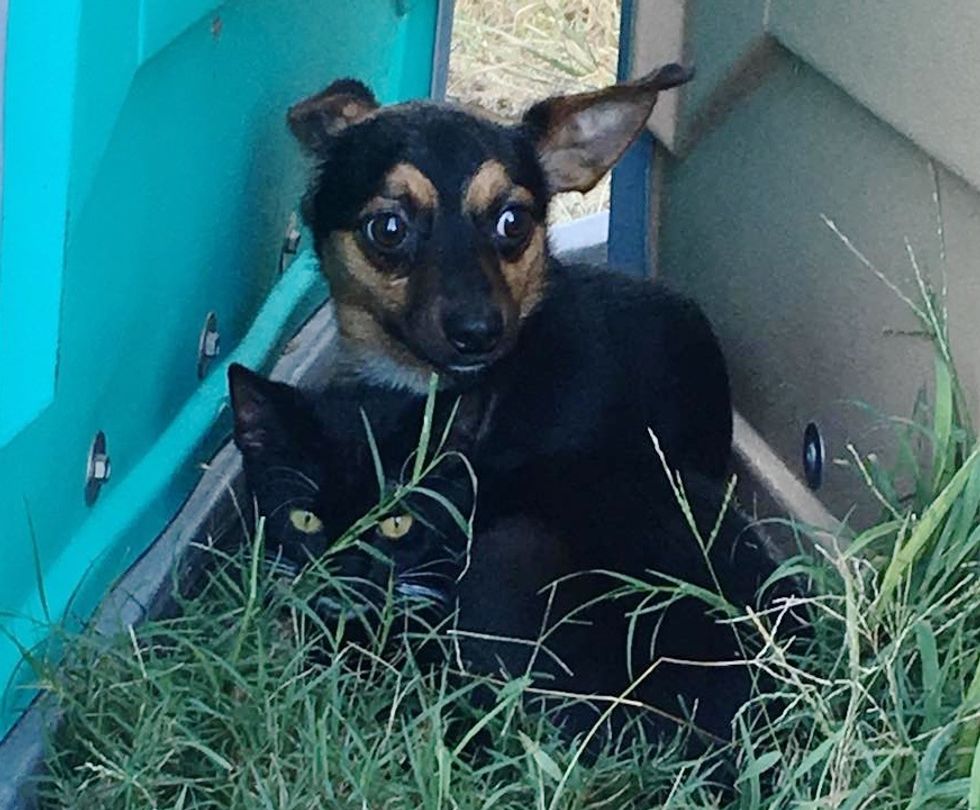 Angela Ward
Angela Ward saw a plea about the animals needing rescue. She and her daughter Madison, along with her friend Kristin Schultz rushed to see how they could help.

"We are all huge animal lovers and couldn't stand to see them left there. We have a lot of coyotes in this area that come out at night," Angela told Love Meow. "Sure enough, these two were still cowering between the porta-potties."
The dog was very protective of his feline friend and would growl as they approached. The tuxedo kitten stayed close to him the entire time and wouldn't leave his side.
They contacted Animal Control for help. "We waited on both sides of the porta-potties as we didn't want them running away. They were obviously very bonded."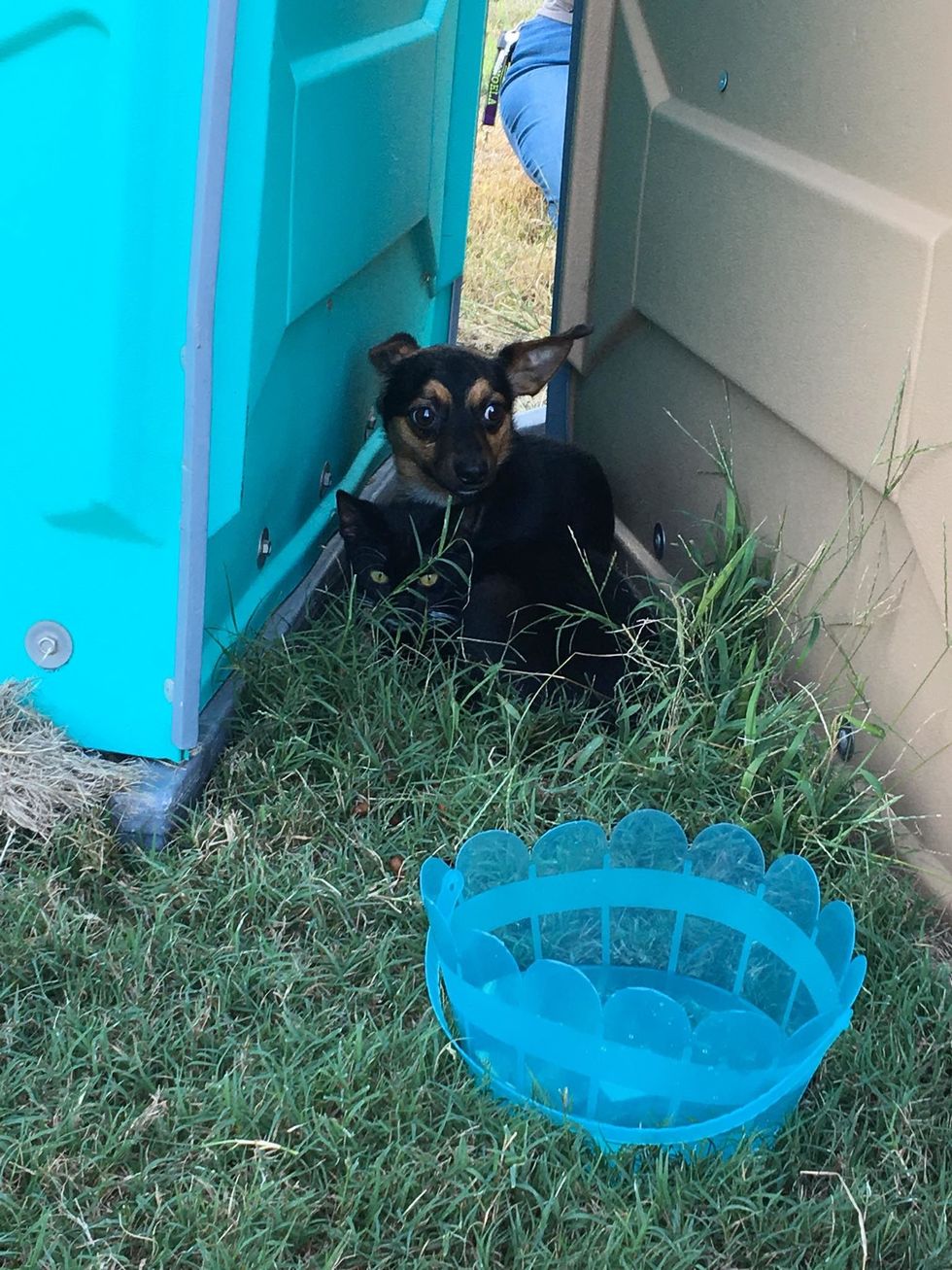 Angela Ward
When the rescuer arrived, they got the pair to safety and took them to the vet to receive medical attention they needed. "The dog was very sweet, just scared. The cat did have something wrong with her fur so the officer was taking both to the Emergency Vet."

No one came forward to claim them as their lost pets, so the shelter decided to adopt them out but was unable to guarantee that they would be kept together, as bonded pairs often take much longer time to find homes.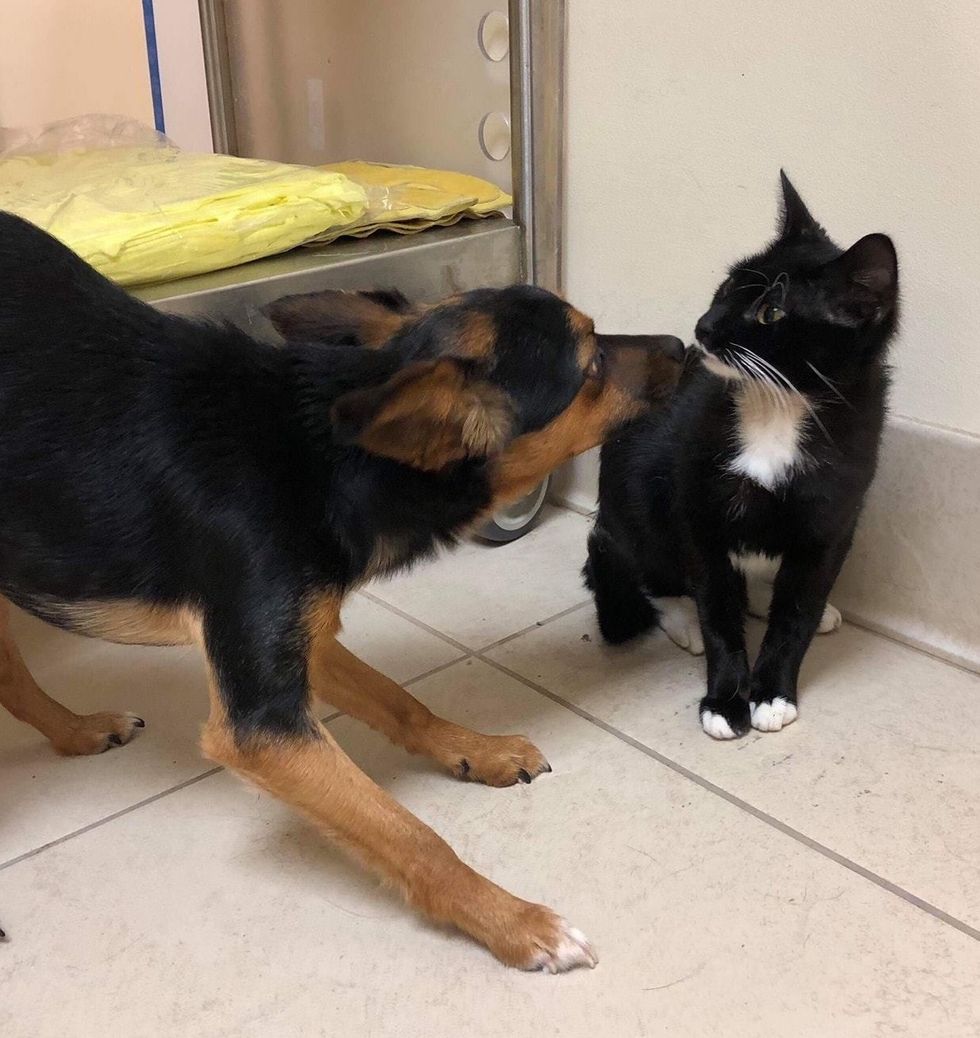 Saver of Souls Pet Rescue
Saver of Souls Pet Rescue, a local rescue in Va Beach, Virginia, learned about their plight and couldn't bear the thought of them being separated. The two furry friends depended on each other to thrive.
The rescue immediately offered to take both in and help them find a home together. "Our rescue stepped up to the plate. We couldn't bear to separate these sweet friends," they shared with Love Meow.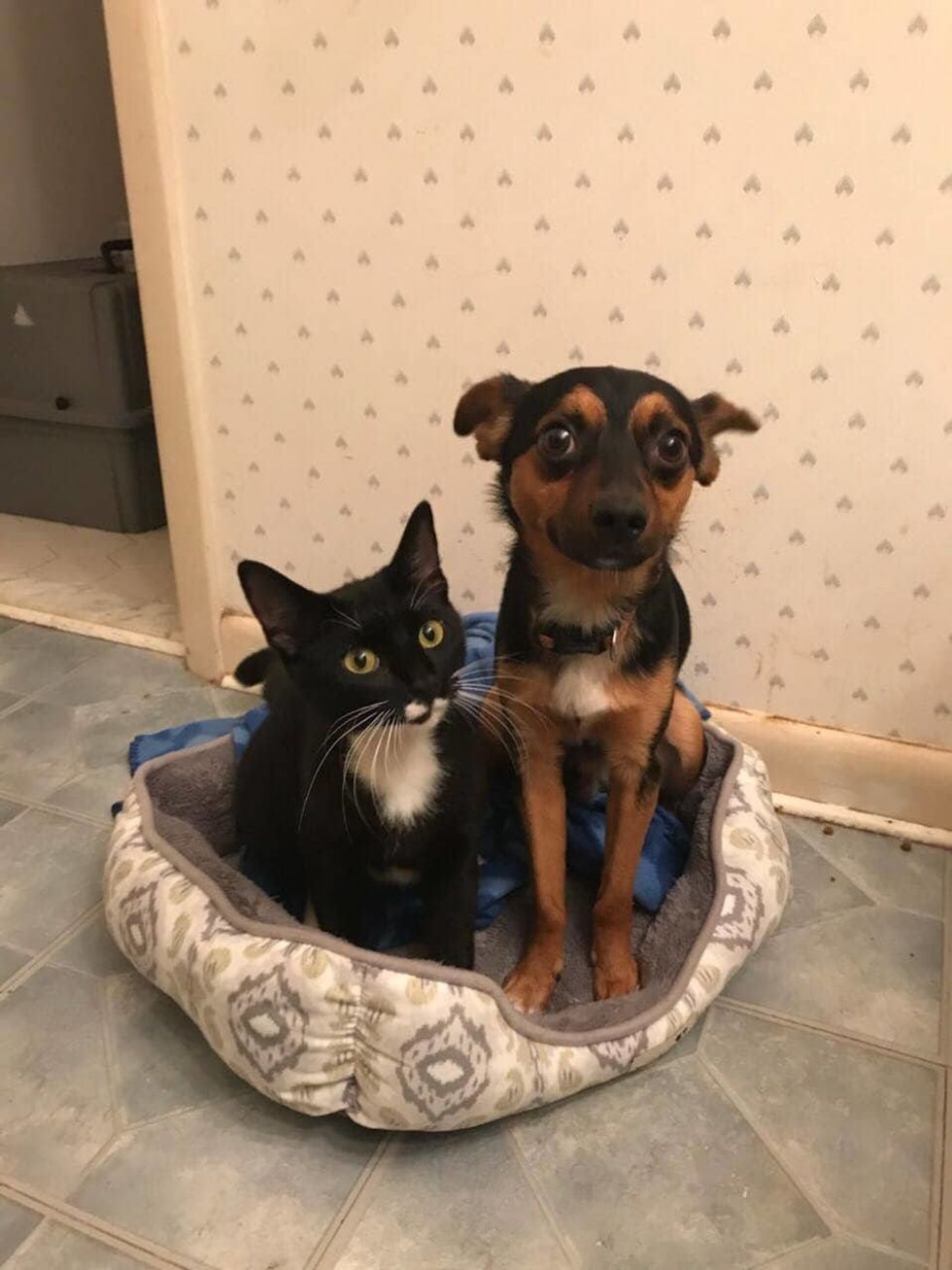 Saver of Souls Pet Rescue
The two best friends have been named Gomez (Chihuahua mix) and Morticia (tuxedo kitten). They are like two peas in a pod, completely inseparable.

Watch the two best friends in this cute video:
Gomez is a bit shy around people but quickly opens up when Morticia is around. They do everything together and share a bed for naps.

"They are doing well in foster care and will be available for adoption once they are spayed and neutered."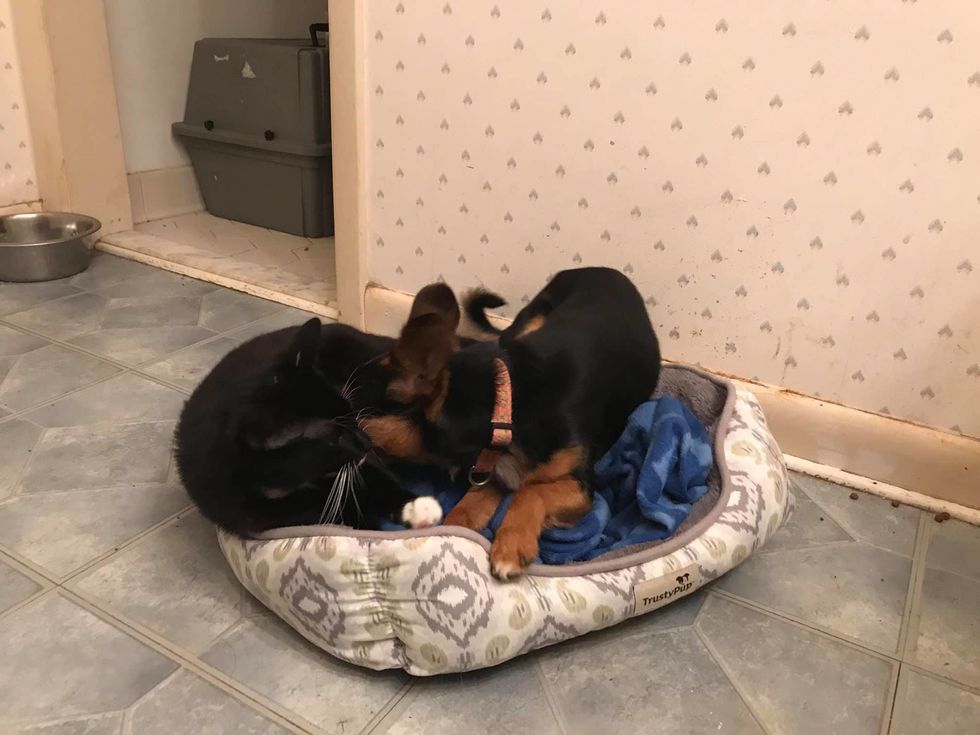 Saver of Souls Pet Rescue
No one knows how Gomez and Morticia found each other, but the two best friends need one another and deserve a loving home together.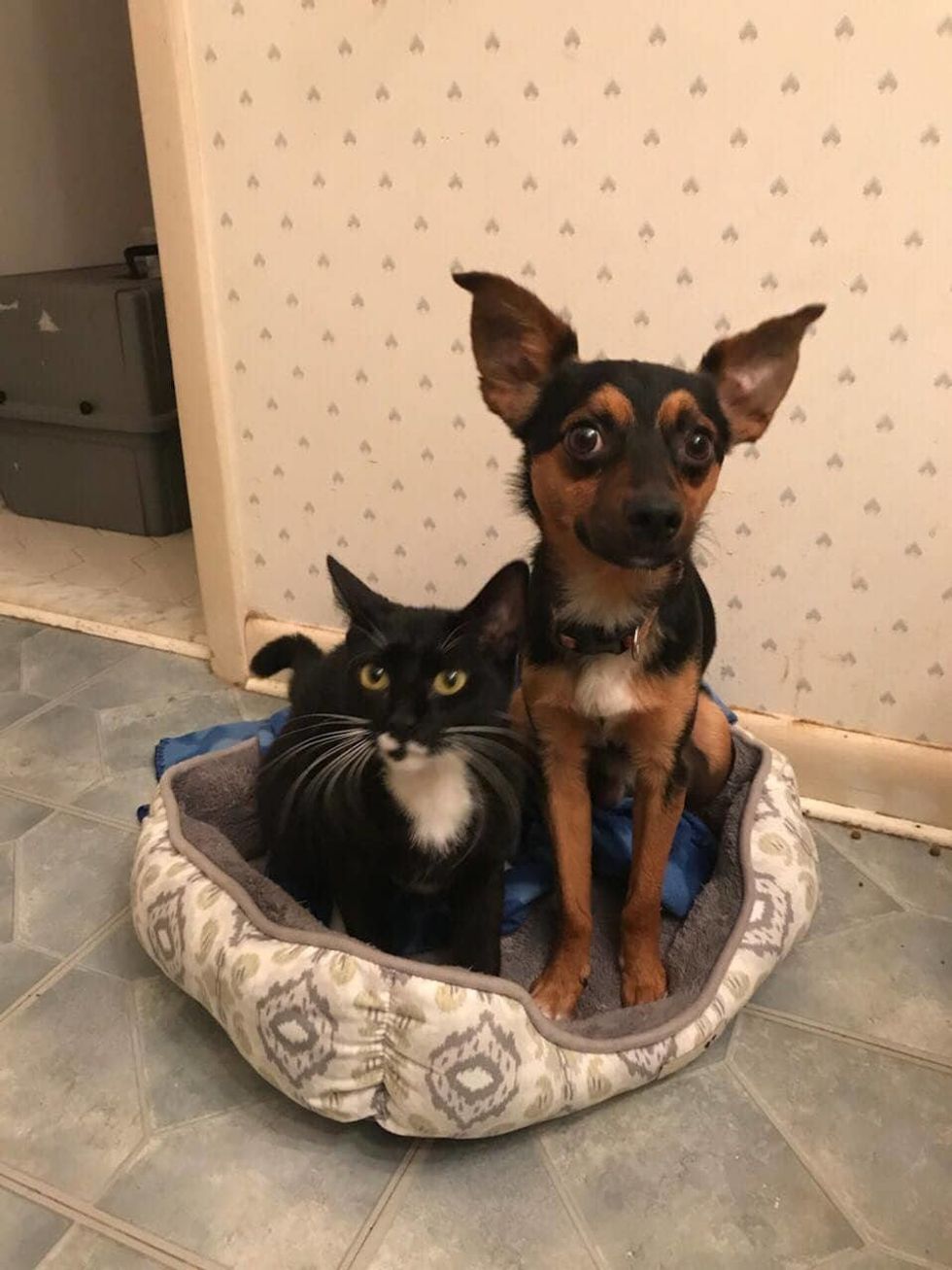 Saver of Souls Pet Rescue
Share this story with your friends. If you are interested in adopting the pair, click here for more info. Follow updates on Gomez and Morticia on Facebook.
Related story: Kitten with Thumbs Found Love in Giant Dog Who Raised Him Into the Cuddliest Cat