A sweet calico kitten kneaded her way into the hearts of a family after being found by herself in a backyard.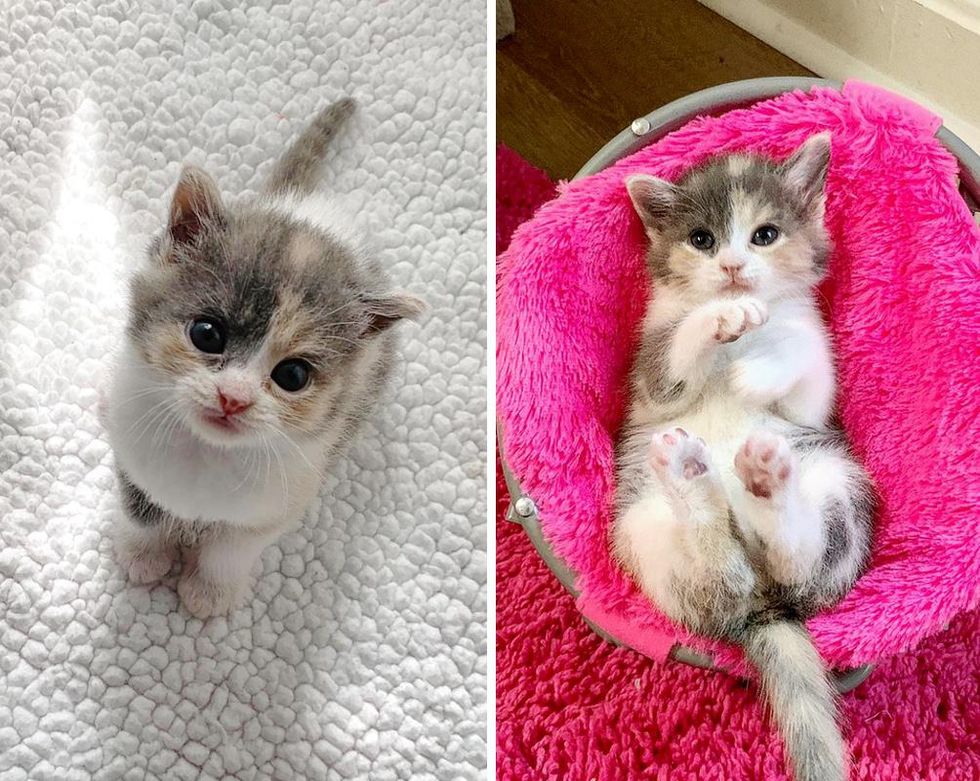 Sarah Kelly @kellyfosterkittens
A little kitten was discovered outside a resident's home in North Carolina. The man who spotted her, looked around for other kittens but could't find any.
There was no sign of a mother cat after hours of waiting. He reached out to Sparkle Cat Rescue, a volunteer-run organization, and hoped to get the kitten the care and medical attention that she desperately needed.

Sarah Kelly, a volunteer of the rescue, rushed to get the kitten as soon as she received the plea for help. The calico was hungry and had an eye infection. Despite it all, she started kneading with her front paws when she was placed on a soft blanket. She went on stretching her toe beans throughout her trip to her foster home.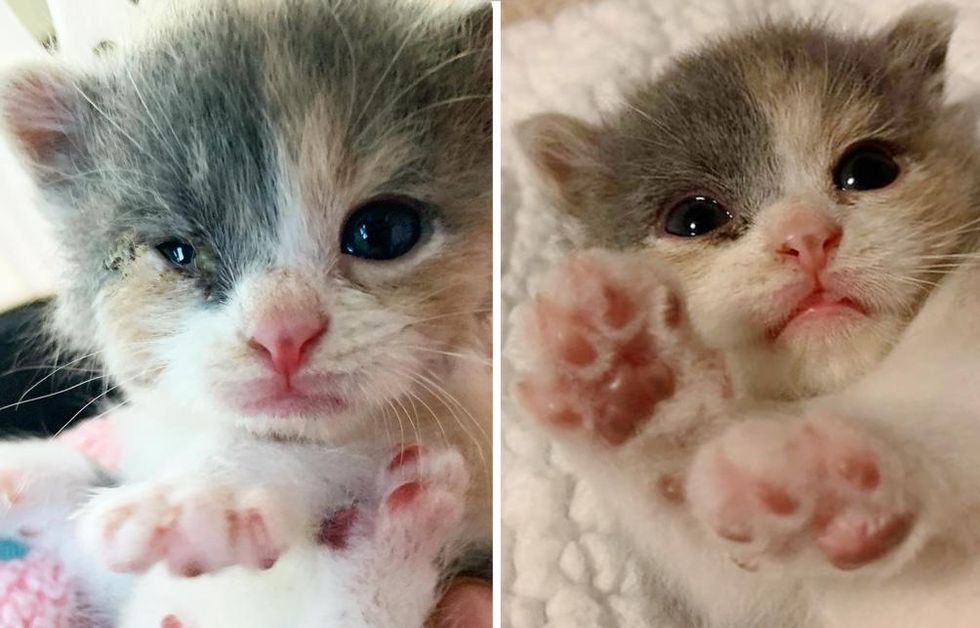 Sarah Kelly @kellyfosterkittens
After two days of around-the-clock care, the kitten perked up and her eyes started to clear up. They named her Julia Child, and the little "baker" continued making the cutest biscuits on all the soft things she could lay her paws on.

"It was evident she's a baking queen. She is cheerful, sassy, and so incredibly sweet," Sarah shared with Love Meow.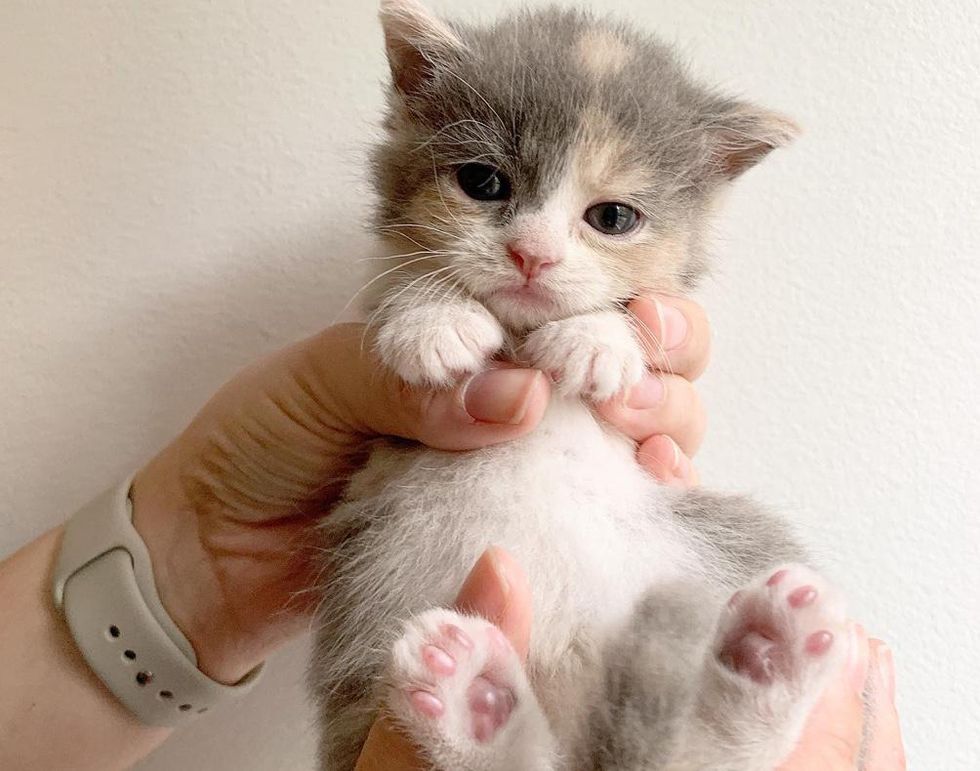 Sarah Kelly @kellyfosterkittens
Over the next few weeks, little Julia never skipped an opportunity to knead with her happy little mittens. Even when she was served with a bottle, she'd prefer eating while waving her paws in bliss.

After getting her fill, the tiny bundle of fur would ask for pets and belly rubs from her foster mom, all the while exuding her joy with her very knead-y paws.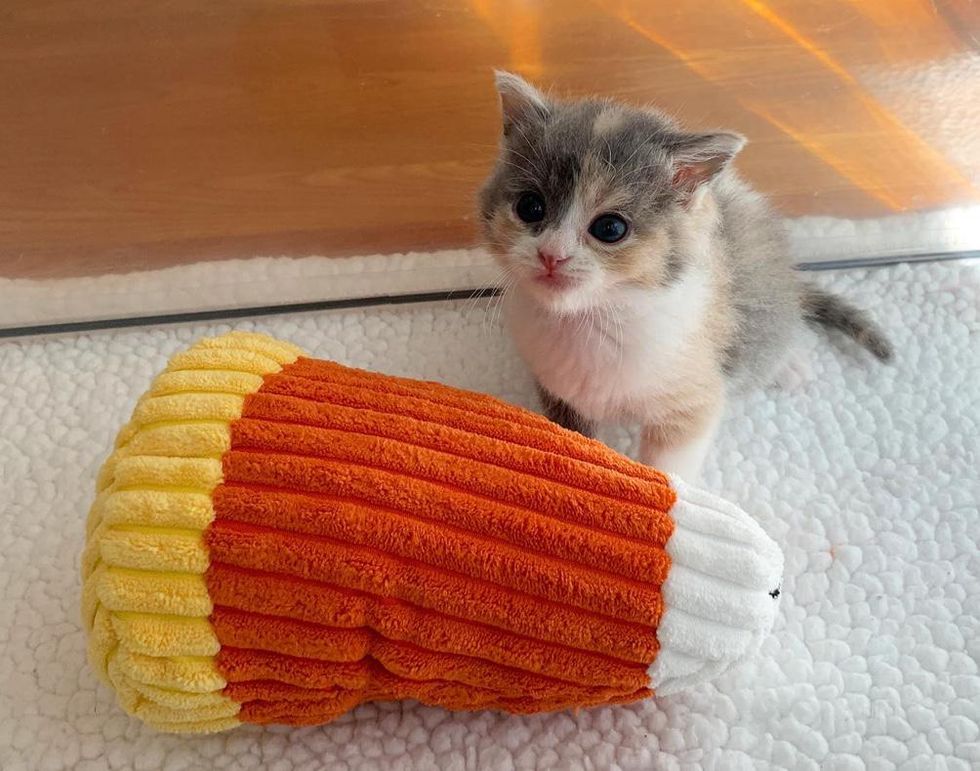 Sarah Kelly @kellyfosterkittens
The kitten was determined to grow big and strong after a rough start to life. She would eagerly wait for her foster mom to feed her at meal time and eat to her heart's content.
She's also an expert at hide and seek.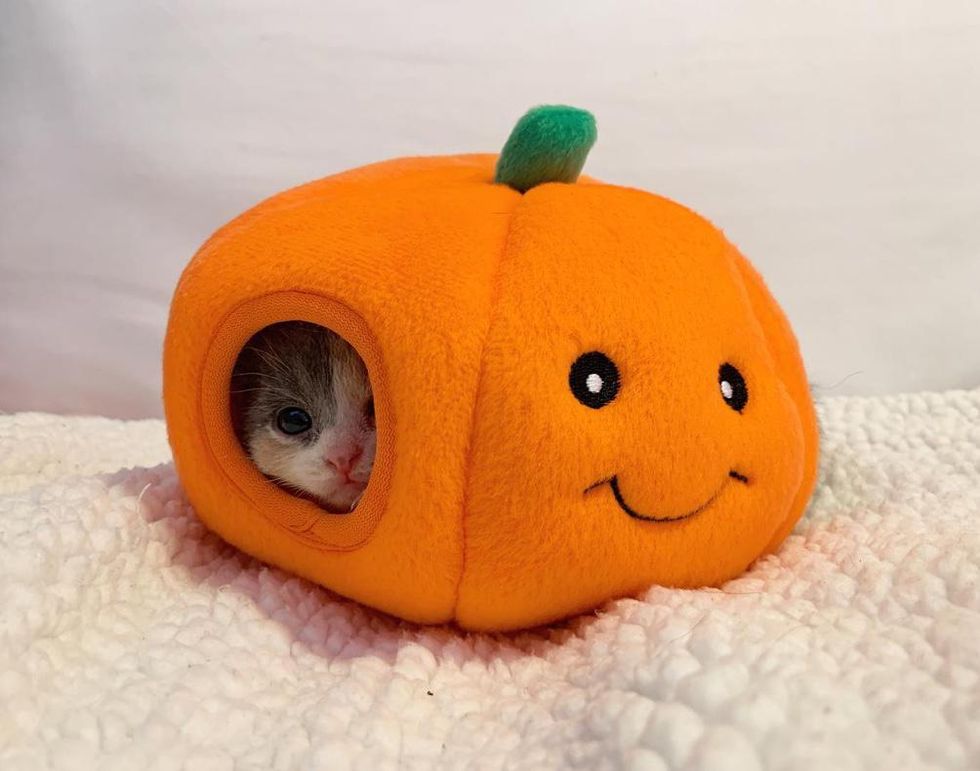 Sarah Kelly @kellyfosterkittens
The calico adores people and other cats. When she was introduced to other fosters, she took to them right away and started sharing beds and toys with them.
Julia was always in good spirits. Her sweet nature and confidence rubbed off on even the shyest kitties.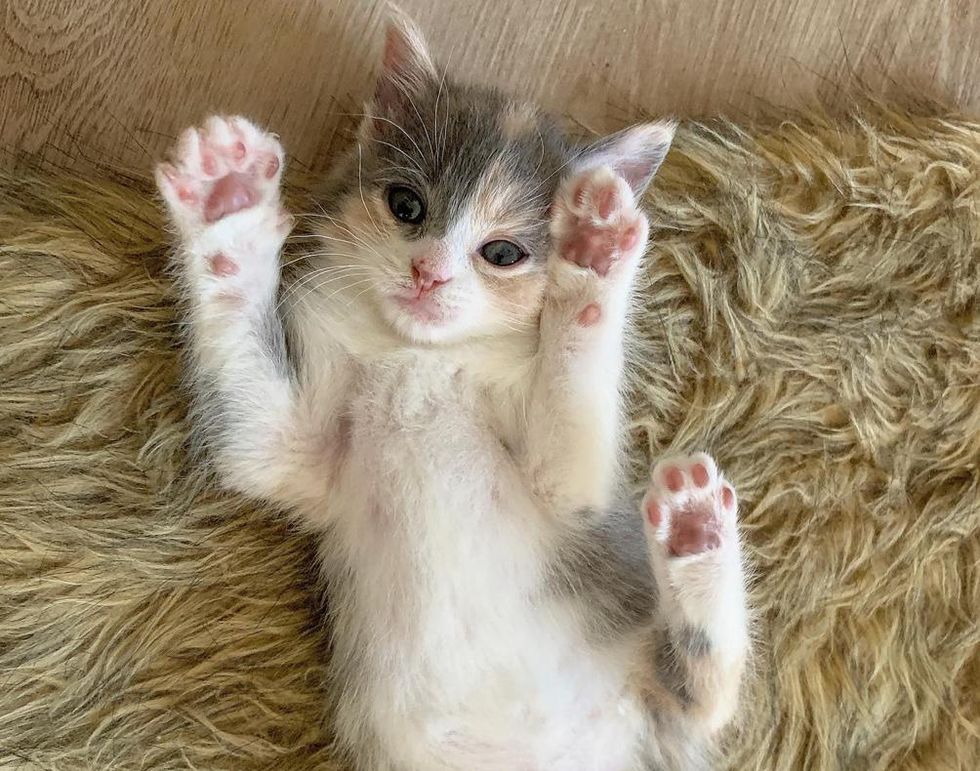 Sarah Kelly @kellyfosterkittens
Watch the sweet calico's journey to forever home in this video:

Calico kitten journey to forever homewww.youtube.com
Around that time, Marissa Carter from North Carolina was looking for a friend for her cat Stella, who was rescued as a feral at six months old. Stella needed a feline companion to socialize with.

When Marissa saw the friendly calico, she knew they would be a great match.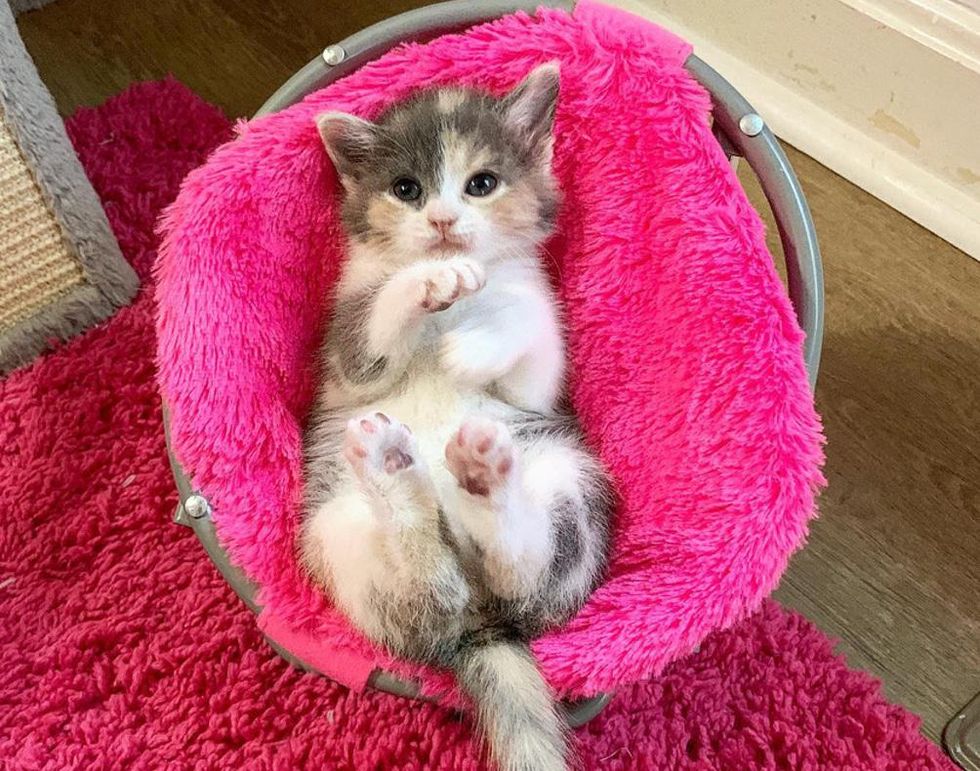 Sarah Kelly @kellyfosterkittens
It was love at first sight when she met the kitten. The sweet calico quickly crawled her way into the arms of her forever human.
"Her first day home was great. She acclimated very quickly, cuddled up with us and slept on my chest for three hours," Marissa told Love Meow.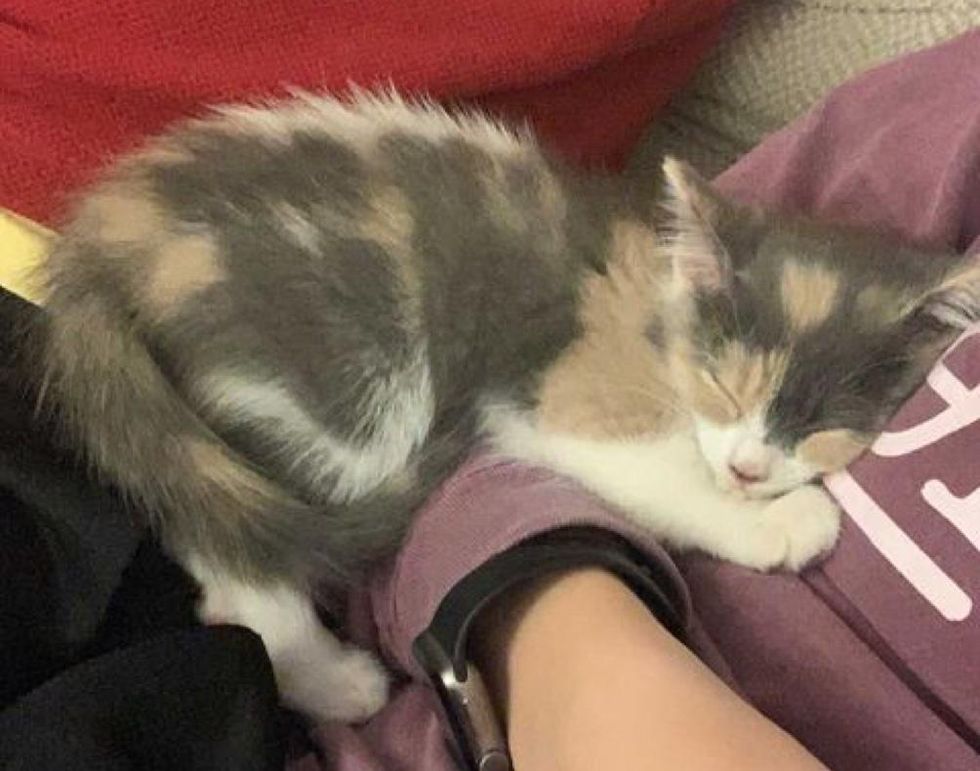 Marissa Carter @the_carter_kitties
The kitten, now renamed Sola, showed off her kneading skills on her fresh blankets — once a baking queen, always a baking queen.

The calico has blossomed into quite the cuddle-bug. She refuses to be alone and will go around the house, offering kisses and snuggles. "Her favorite thing is most definitely cuddling with me and her daddy," Marissa shared with Love Meow.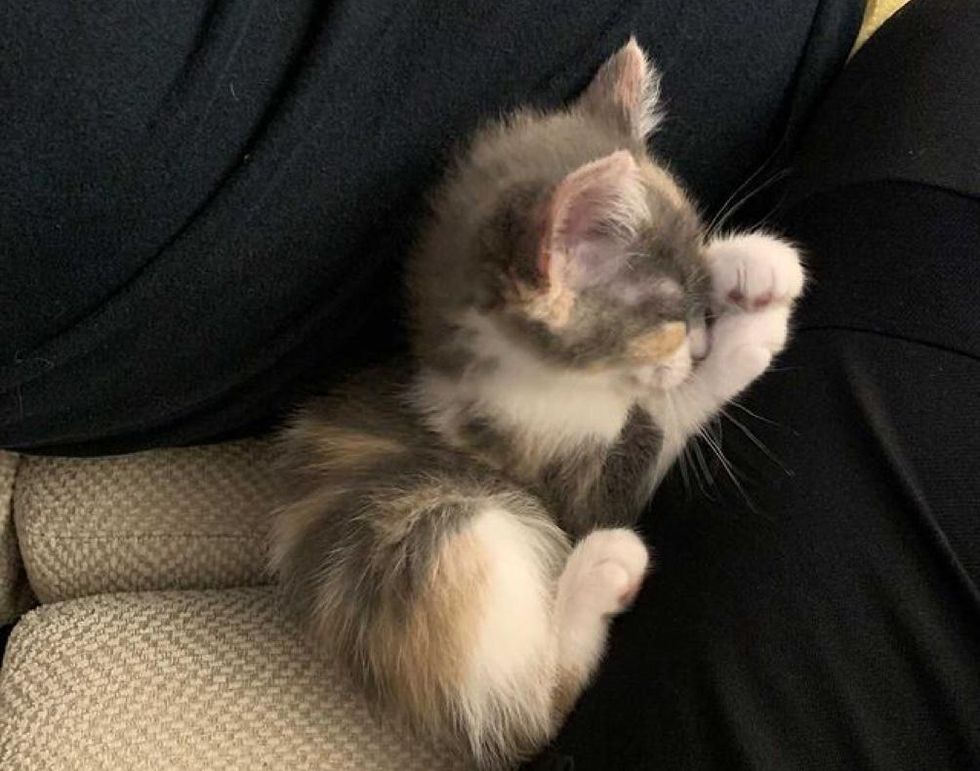 Marissa Carter @the_carter_kitties
"She also likes chasing her tail, running up and down the steps of the cat tree. She loves to lay on the back of the couch and watch cars drive by."

Sola has been home for a few days and already exchanged paw-shakes with Stella through the gap under the door.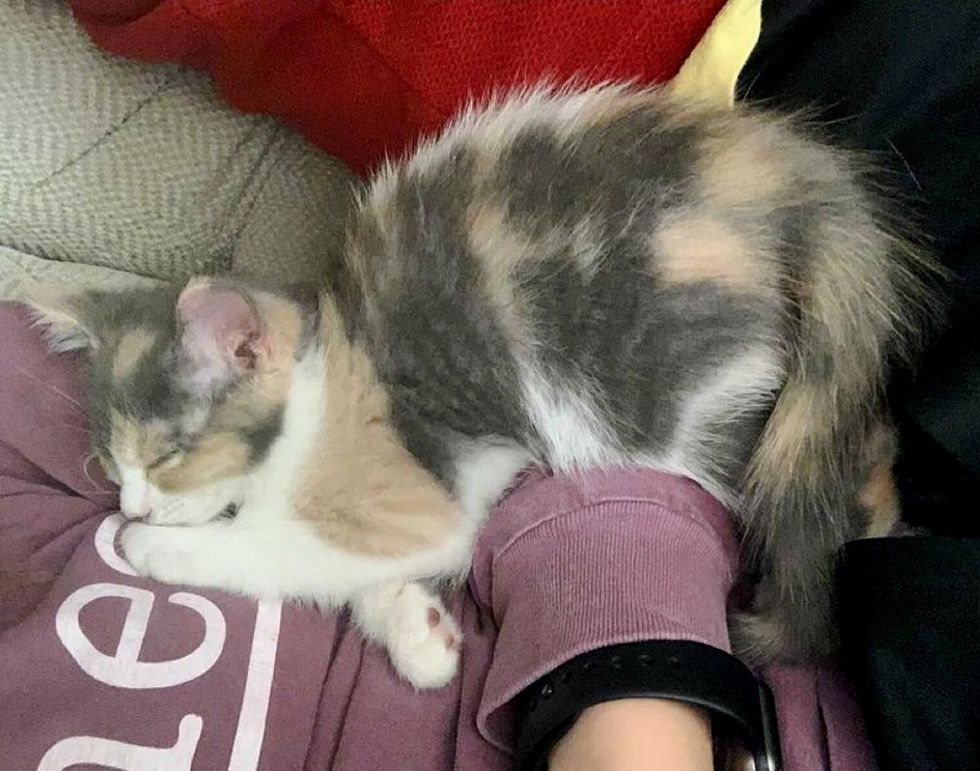 Marissa Carter @the_carter_kitties
The sweet kitten initiated play time with her feline friend, who was a bit shy at first but couldn't resist the offer.
Sola keeps going back to the door to greet Stella and can't wait to run around the house with her new friend when she is ready. "I really think they are going to be the best of friends," Marissa told Love Meow.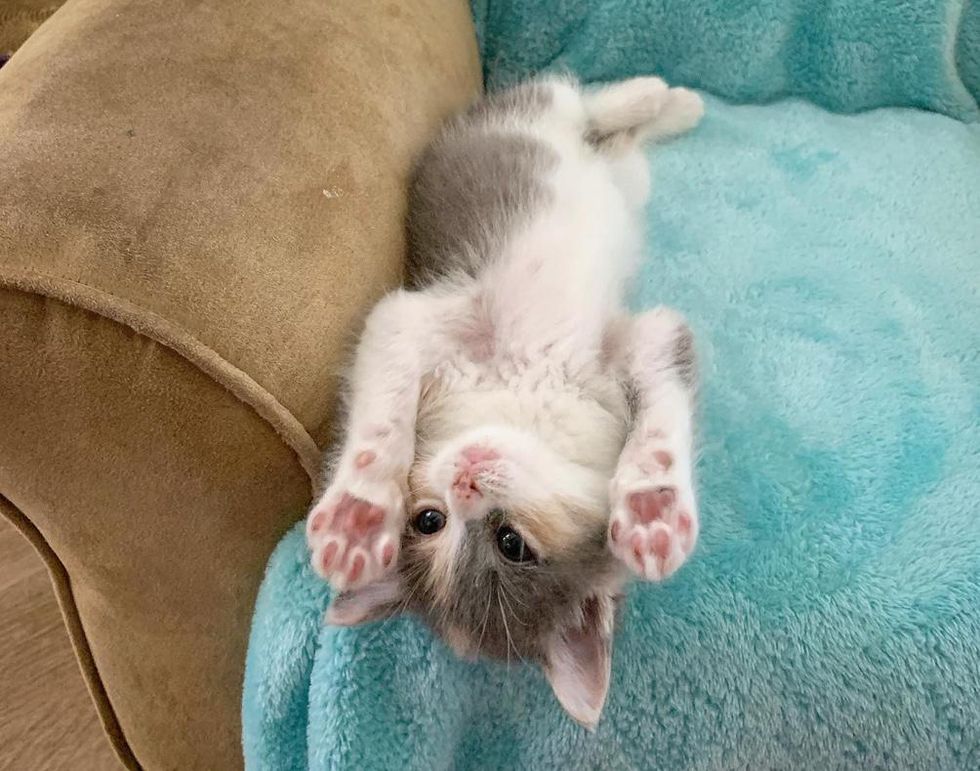 Sarah Kelly @kellyfosterkittens
Share this story with your friends. Follow Sarah's foster kitties on Facebook and Instagram. Follow Sola and her adventures on Instagram.
Related story: Cat Befriends Stray Kitten from Yard and Brings Him into His Home